Ancient Water God Surfaces In Lake Chapala
Welcome to Lake Chapala
We have been delighted to spend the last few weeks enjoying the mild weather on the banks of Lake Chapala in Jalisco, Mexico. We've been enjoying our regular Ajijic house sit — and relishing the chance to slow down a bit, unpack and eat some darn good tacos! 
As you may know we loooove to travel, although sometimes it's really refreshing to live in a town and visit for longer than a few nights. With the extra time, we get to redevelop our routines, catch up on Netflix shows, cook some awesome food, and even dabble in a in a little art! 
Check out these colorful splashes!
Curtiss is a very talented artist, although he doesn't always have the time or the space to create! While house sitting in Ajijic, he was inspired by the landscape around us, and by a local Aztec legend. 
Here's an email that that he sent to his family, introducing our new buddy and crafty-creation from Pre-hispanic mysticism.
Hi loves,
Here's a little buddy who has surfaced in our lives. He's a water god from Aztec times. I was inspired to paint him in the waters of Lake Chapala, presiding.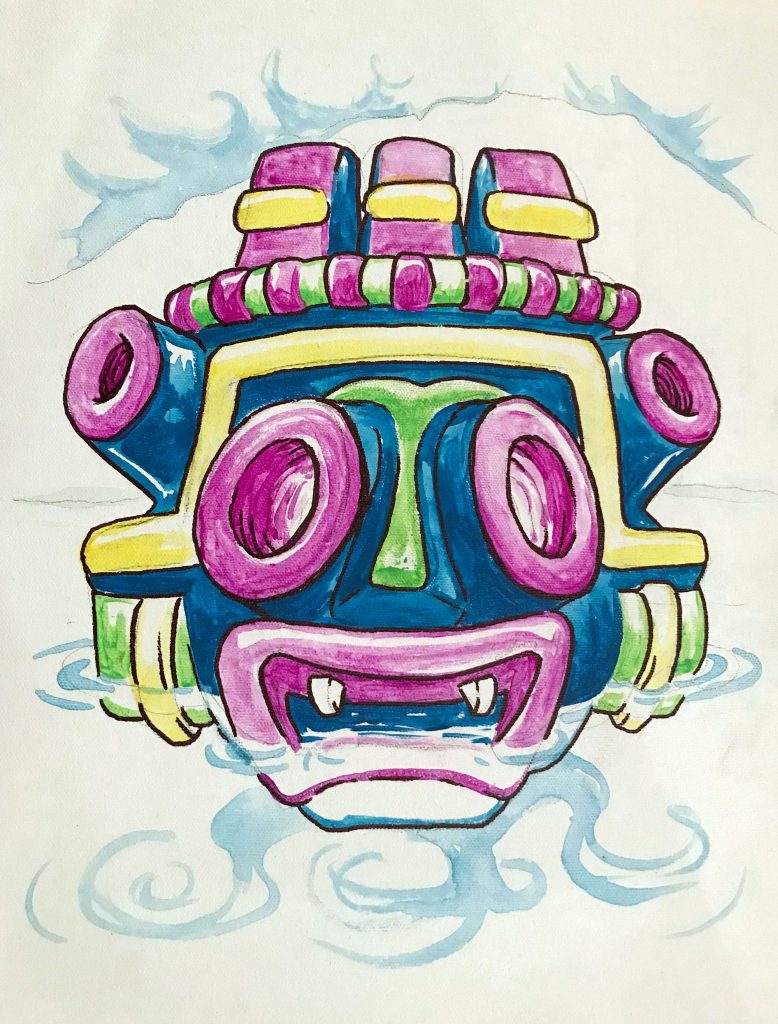 Mystical splashy hugs from afar! Xo
A moment of honesty…
We do indeed travel with a few paints, brushes and a pad of canvas paper.
What do you pack that's a just-for-fun item?
What inspires your creative side while traveling?
We'd love to hear from you!
Enjoy this post? Pin it for later!
Ashley is exuberant about location independence! She relishes new experiences and working with boutique hotels and resorts. She's always thinking about design and food… and where they'll travel next!