We had the chance to visit Clarum 101 at a very exciting time — they're currently in the middle of completely redoing the hotel! We were fortunate to stay in one of their older rooms, as well as a newly designed room… so we had the unique opportunity to experience the "before and after"!
Clarum 101 is sleek and clean.
The hotel combines new and old elements in a very unique fashion. Rarely do you see a boutique hotel embrace their local history and culture, then present it in a new and fresh way, quite like Clarum does.
I bet you're wondering, "What in the world do the rooms look like!"
All the rooms have clean white walls and luxurious furnishings.
But the new design is going to bring more color into each room with art inspired by the Huichol People.
Each room will feature a different color and Huichol folk hero, for a grand total of 12 different guest rooms. The centerpiece of each room will be the large custom Huichol wall piece. Unfortunately, those were still being created at the time of our stay. But they're going to be so incredibly cool!
At the time of this post, two of the new rooms are currently finished and waiting for their Huichol art.
We stayed in the purple room that is associated with the Huichol's two-headed eagle folk tale. The room looks amazing — and you may get to see it with the two-headed eagle art added!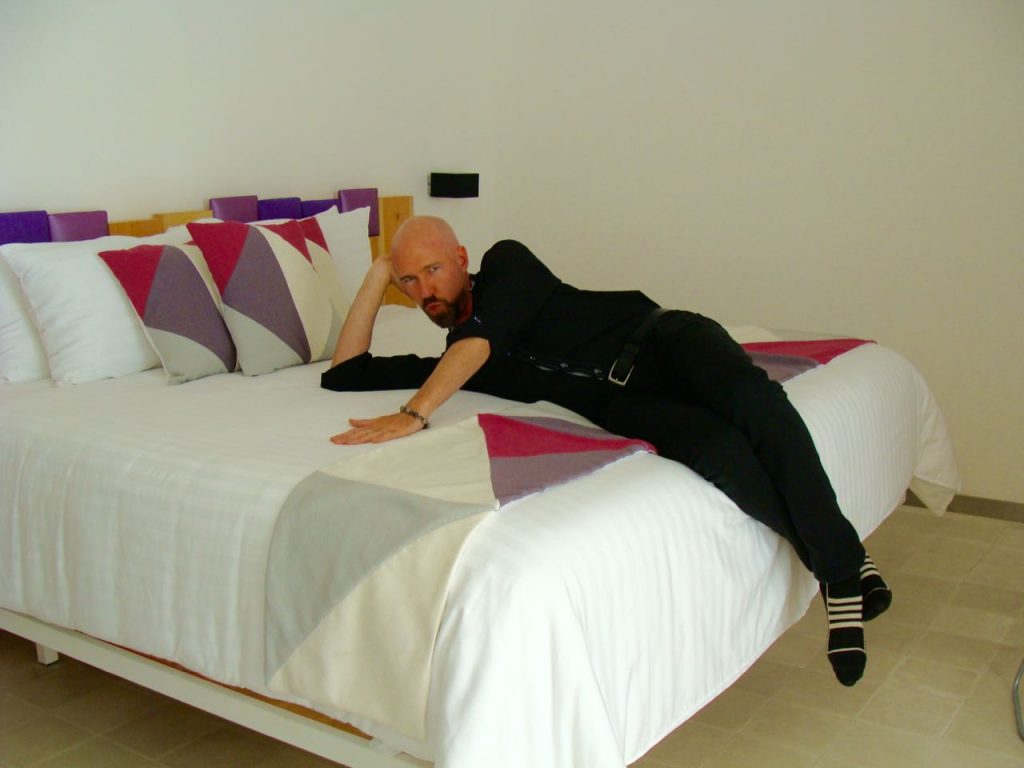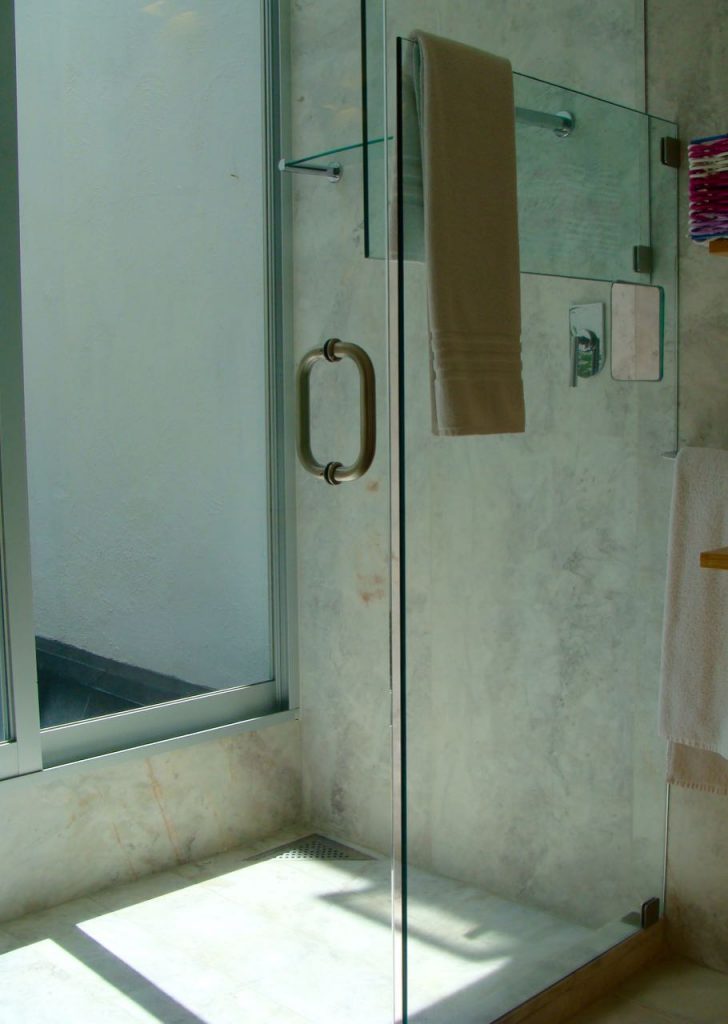 The shower had an incredibly innovative design!
The wall inside had a hole so you could stick your hand through to turn on the water, without the need to climb in and get wet. What a great way to let the shower warm up while you finish brushing your teeth!
The shower also had a cool bit of overlapping shower glass, which made a waterproof pocket for your towel so you could grab it from inside the shower.
We absolutely loved starting our day with a breakfast on the terrace.
At the time of our visit they were renovating their restaurant, so we enjoyed a simple continental breakfast — every morning fresh fruit, yogurt, nuts, coffee and juice awaited us. Yum! And you may get to enjoy even more when the restaurant is open, with full breakfast offerings.
Wow, and such cool hangout areas.
Clarum 101 currently holds events and special dinners on their huge terrace; although they will soon be building a martini bar, lounge area and large jacuzzi for guests to enjoy.  From the terrace you can't see any buildings — only blue sky and colorful flowering trees.
Actually, a huge part of the coolness is due to the location of Clarum 101 in one the most lush and verdant parts of Guadalajara.  After just a short stroll down the street you'll see gardens and green parks that are beautifully manicured.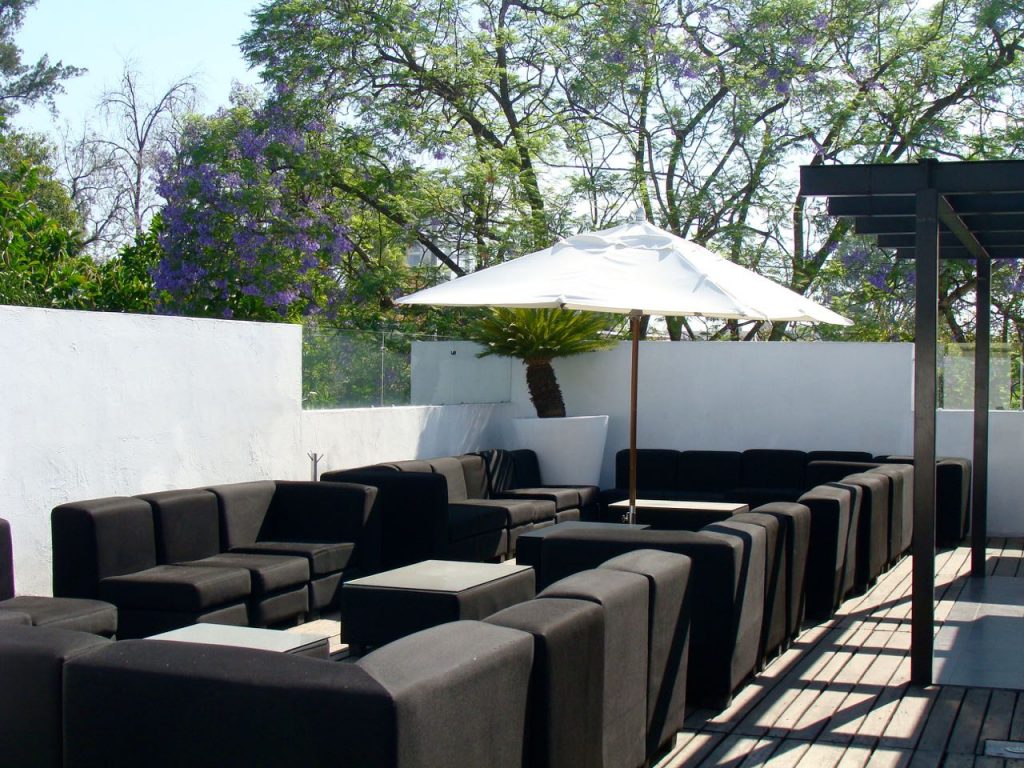 If you keep walking, there are incredible restaurants.
We were absolutely blown away by how innovative and tasty the food was in this part of the Chapalita neighborhood!  You can nearly eat your way around the rotary, day after day. Actually, I think we may have done just that!
There are many great cafés and restaurants that are nearly empty during the day, so it's not an issue if you order a meal and some coffee and settle down to work for a few hours.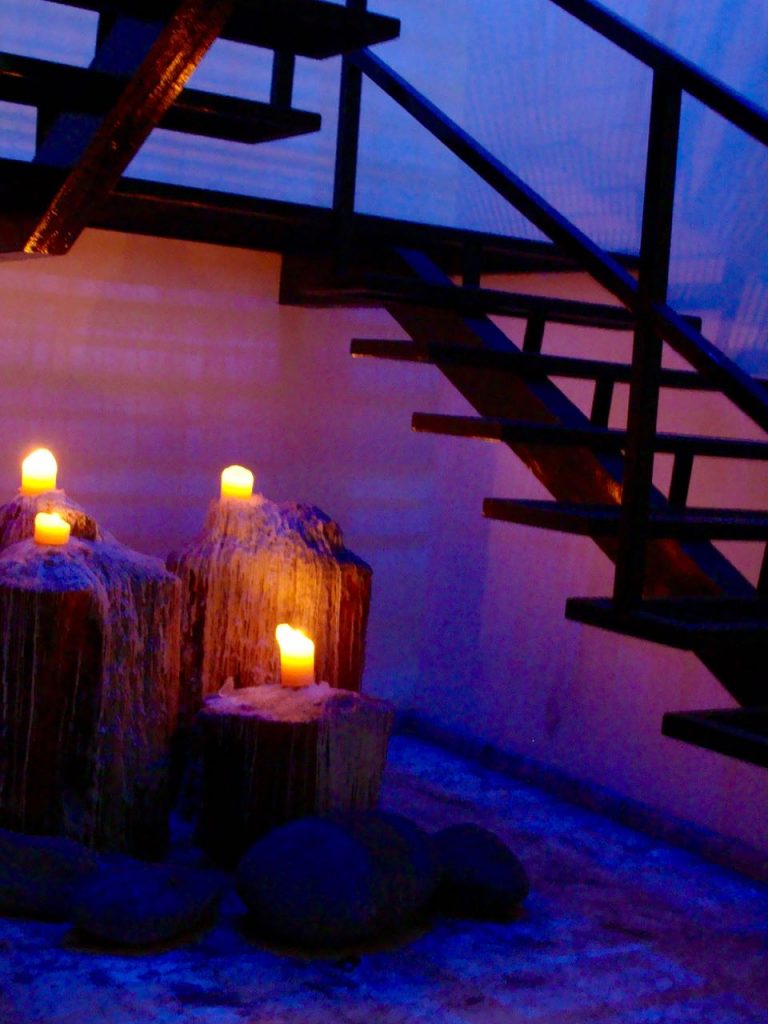 We usually returned back to the hotel in the evening, and loved the ambiance then, too.
On the way to our room, we were warmly greeted by lit candles positioned beautifully under the metal stairs. They're easy to miss during the day, but at night — with the low lighting — they're exquisite!  The candles cast a warm glow as you go up the stairs contrasting with the bright blue lights glowing down from above. It's such a cool visual effect!
Our room had a lovely private courtyard.
It wasn't huge, but it was the perfect size to boast a bamboo garden, two chairs (made by local artisans) and a party-sized hot tub.
It was incredibly relaxing and sexy to enjoy the tub in the evening with a bottle of wine, and do a little star gazing. It bears mentioning that the minibar is priced quite appealingly, with great variety.
We really loved the attention to design put into each room.
The designers incorporate local art into the designs, and it works. In fact: the colorful woven chairs and baskets were made just down the street from the hotel! We regularly saw those very same furniture artisans on our way to lunch… and we couldn't help but marvel at the wonderful colors they were weaving into their latest chair designs

Even more improvements are on the way!
Clarum will be building an outside restaurant, redoing their lobby, and will continue to refurbish all the remaining rooms. This is no small undertaking, but they plan to do it in stages, so as not to disturb guests.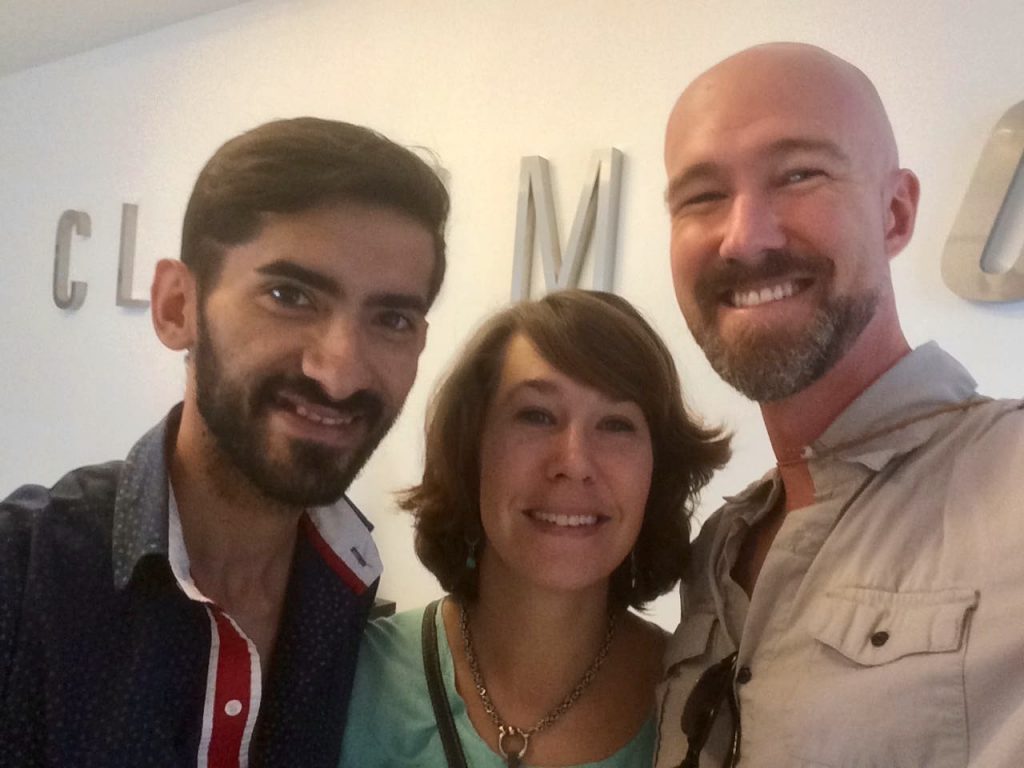 Thank you Jared and the wonderful folks at Clarum for such a great experience!  We can't wait to come back someday to see how Clarum 101 has transformed!
We know you're curious, so check out more pics, and the hotel availability!
Like this and want to save it for later? Pin this image to Pinterest and enjoy!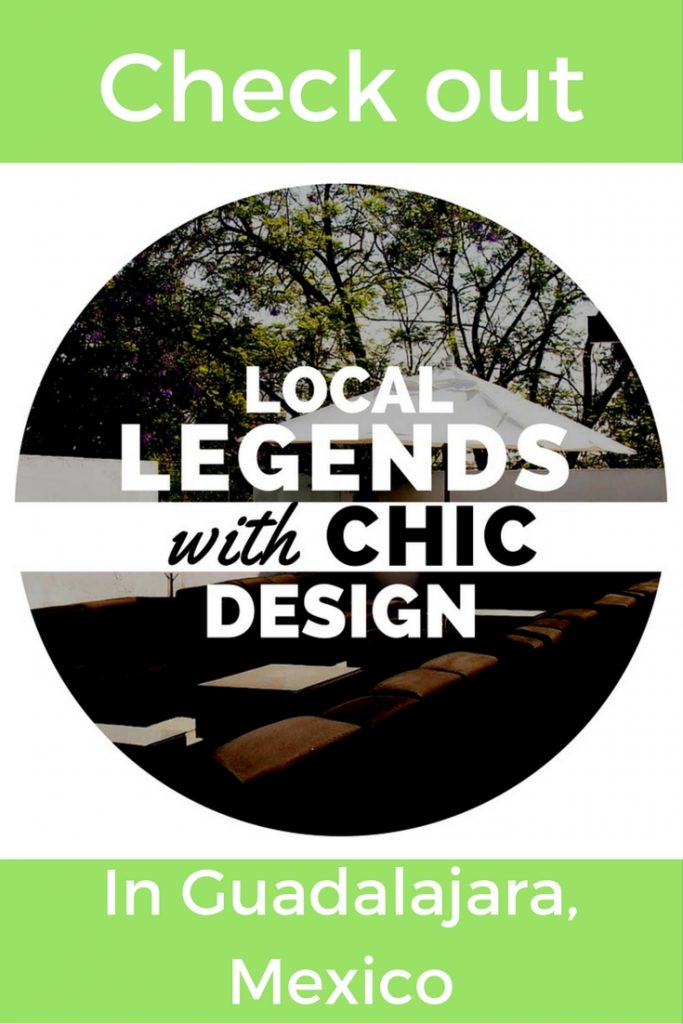 Ashley is exuberant about location independence! She relishes new experiences and working with boutique hotels and resorts. She's always thinking about design and food… and where they'll travel next!