Relaxing Road Trip To Niagara & Blue Mountain, Canada
Being from Massachusetts, I've spent surprisingly little time in Canada.
With a few months to play with in the US, we decided to take a road trip to check out Niagara Falls and then head North to Blue Mountain, Ontario — we were going to use this time as a creative sabbatical, to create the space to focus and to plan.
We loaded the car and hit the highway early in the morning, after our weekly video call with our remote team. We started to listen to Pat Flynn's book Will It Fly?  on audio. We absolutely love Pat and his podcast, Smart Passive Income  and this book is fantastic! Pat provides great exercises to help you find your direction and determine if your ideas will float or sink. We found it very easy to listen to while driving, although some of the exercises were a little challenging to do while on the road — nevertheless, they were thought provoking and were easy to go back to. 
It was a healthy drive to the falls and we arrived a little before sunset.
We enjoyed the falls from the Canadian side.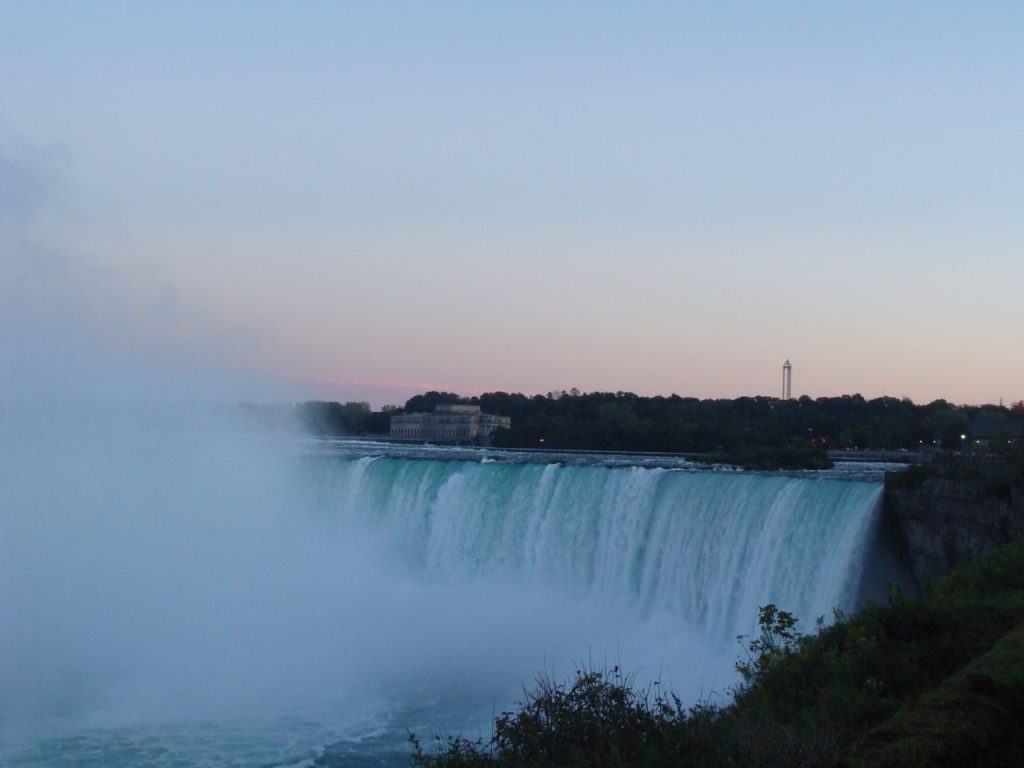 Mist stuck to our clothes and faces. As the sun set, looking over the falls was incredibly romantic. C and I totally made out a bit, as families and couples milled around us.
After driving and enjoying the sites a bit, we were starving. We found a fantastic Halal restaurant that served some incredibly tasty and healthy Mediterranean dishes, Casablanca Restaurant really hit the spot!
We were amazed by how touristy Niagara Falls is!
We compared it to Las Vegas, complete with casinos, colorful lights, and weird shows. Here's a list of fun kitschy things that you can do in the area that shouldn't be missed! There's definitely a lot to do, although we were glad to only stay one night and head up to Blue Mountain.
Our first glimpse of Blue Mountain happened as we crested a hill going down a dirt road.
Trees, water, and a quaint village opened up below us. As you can see — there are few cars — so we stopped in the middle of the road and took photos through the sunroof of our car.
We stayed in a one bedroom suite at Embarc Blue Mountain. The space was incredibly comfortable, with a fully stocked kitchen and gas fireplace. I'm generally not a huge fan of gas fireplaces, but it's incredibly nice to be able to flip a switch and magically have a roaring fire. There was a fantastic on-site gym that was incredibly convenient to use, and the lodge had comfortable couches and a huge gas fireplace that we enjoyed working next to.
Book a stay! Embarc Blue Mountain | TripAdvisor | Booking.com 
Blue Mountain village is incredibly cute!
We visited during the low season, so there were fewer people around, and it was perfect!
There's so much to do in and around the village!
No matter your age or interests, you'll be able to find something to entertain yourself… from hiking in the mountains, mini golf, vineyard tours, Segway tours and beyond!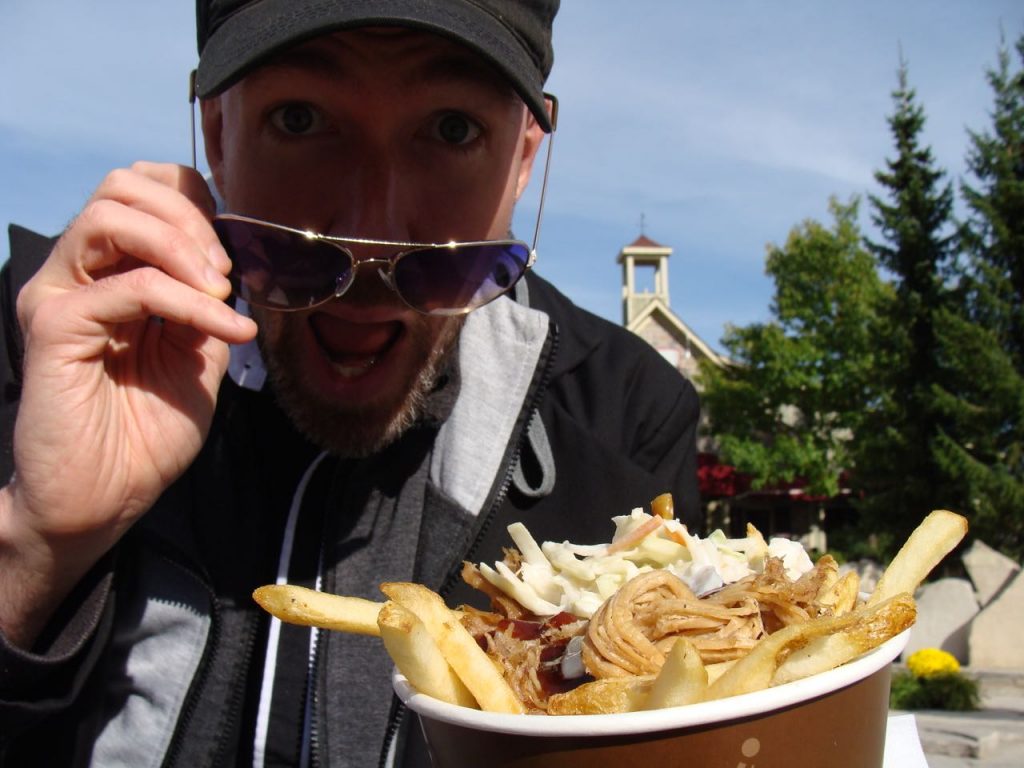 There are boat-loads of fantastic restaurants and bars to enjoy, many with live music every night.  Of course, we could not miss the opportunity to enjoy poutine for lunch.
We took this time at Blue Mountain to relax, plan out the next few months and to work. We also watched movies, cooked up some tasty pulled pork and brainstormed about the future of Blissy Life and Skytemple.
A highlight was visiting Scandinave Spa!
I wasn't quite sure what to expect, although everyone we spoke to, from the wine lady at the grocery store, to our waitress, raved about the experience. And we certainly weren't disappointed!
Scandinave Spa has 3 hot baths and 3 cold plunges for guests to enjoy and to help promote blood flow and relaxation. Folks are requested to be silent or to speak in hushed voices, making the experience feel meditative and calming. We started with the stream room, then meandered into the hottest pool; after a healthy 15 minutes, we attempted the coolest pool. I say "attempted," because my body barrrrrrely made it into the frigid water. But I got the point, it was very refreshing. We also enjoyed lounging next to a wood burning fire in our fluffy white robes.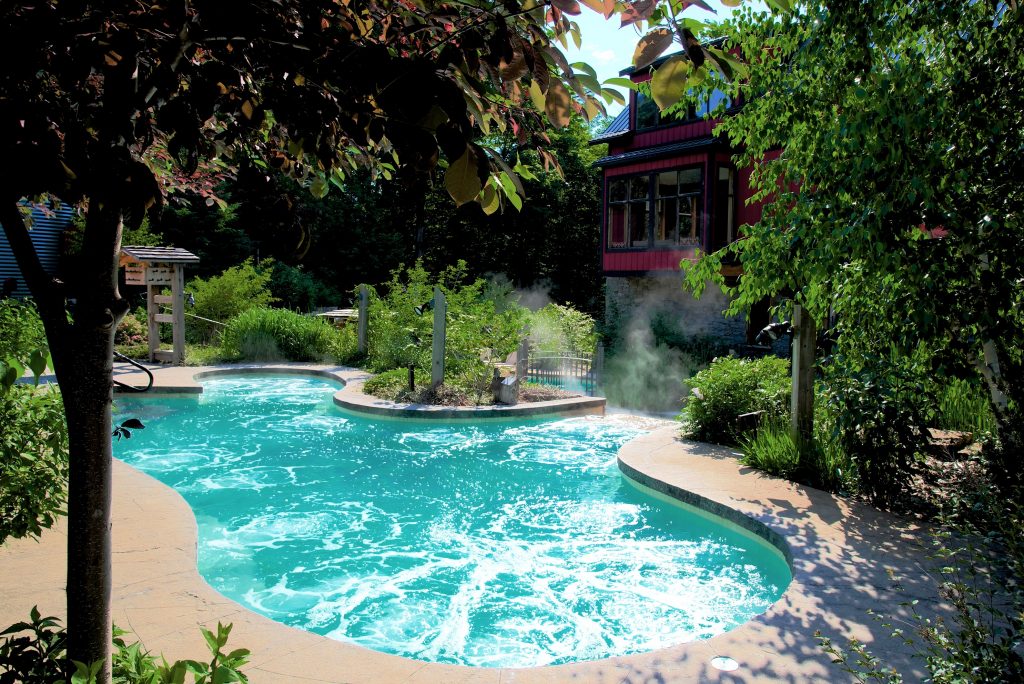 At one point, it started to drizzle while we relaxed in the warm pool, and the effect was truly magical! We snuggled in the warm water as drizzle cooled our faces… it was rather romantic. Scandinave has three other locations (four total) in Canada, someday I hope we have the opportunity to visit in the winter — it's possible we would never leave Canada!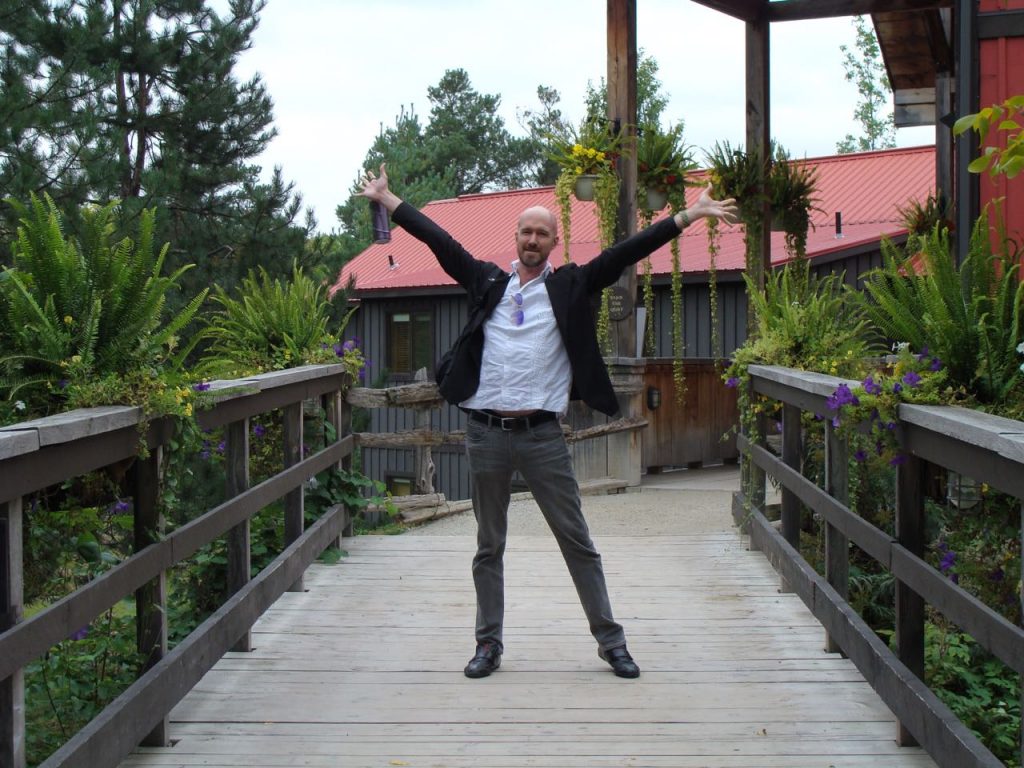 The on-site bistro offers tasty and healthy goodies. After lunch, we sat in a window seat with a mug of herbal tea and discussed the businesses and travel plans for the next six months.
It's moments like these that embody why we chose this lifestyle.
It felt absolutely wonderful to talk about our plans and dreams for our various ventures, in such a relaxing setting. We were enjoying a mug of hot herbal tea from the bistro, wrapped in bathrobes, discussing our lead magnets and beyond. How sexy is that?!?!
If you're planning a trip to Blue Mountain, we highly suggest checking out Scandinave Spa! Plan to go early in the morning, because there can be a waiting list for the baths, and make an appointment for a message as soon as you can — we hear their 65 talented massage therapists can get booked solid months in advance. 
Book a treatment! Scandinave Spa | TripAdvisor 
Be sure to drive around and explore other cute towns.
Blue Mountain is surrounded by many quaint towns that boast incredible restaurants and boutique shops.  Also the drive is beautiful!
Blue Mountain was perfect for our creative sabbatical!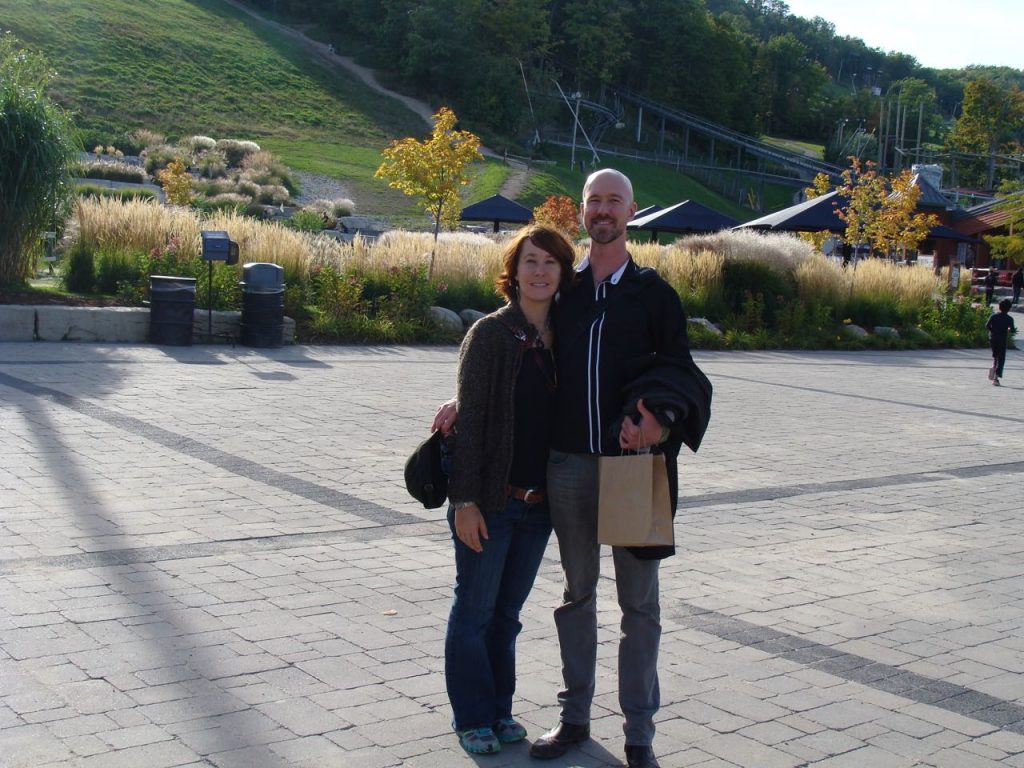 We feel so fortunate for the time we spent here! It was wonderfully rejuvenating and inspiring time and provided the space for us to think and brainstorm. I'm sure the village is completely transformed during the winter months when it's high season and more people visit — although I'm sure it doesn't lose any of its charm.
Maybe you'll see us back again next year!
Enjoy this post? Pin it for later!
Ashley is exuberant about location independence! She relishes new experiences and working with boutique hotels and resorts. She's always thinking about design and food… and where they'll travel next!