Elaborate Style And History Around Damascus Gate
Jerusalem is a special place that intrigued us.
When we discovered that the upcoming session of TBEX — the big travel blogger conference — was to be held in Jerusalem, we were intrigued. Honestly, we didn't know much about the city. It was a place that held a lot of import, and history; that's for sure. But we really weren't sure what to expect.
Chances are that you aren't sure what to expect, either. You may be surprised about the day-to-day life in this ancient city. We certainly were!
The Jerusalem Hotel has a really special vibe.
Many of our formative experiences began at this hotel, in a building with a lot of history.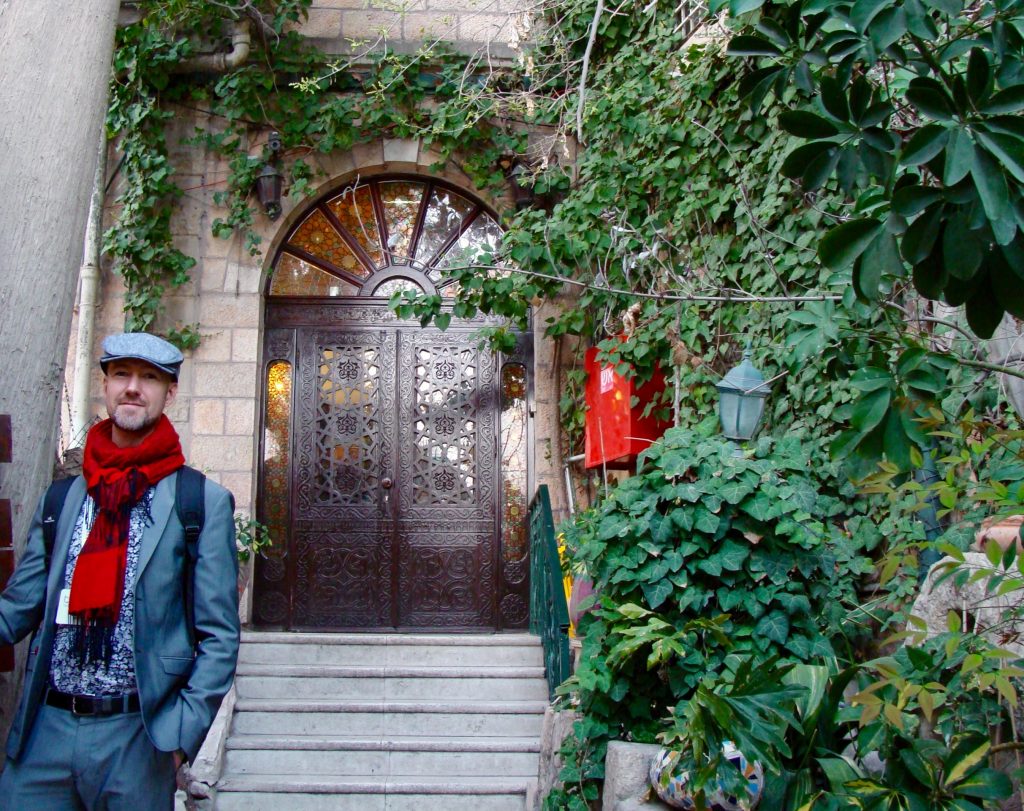 When you first arrive, there's a garden path up to an elaborately-designed door. It's a really nice segue to the antiquities and style within.
When you push open that intricately-styled door, you discover a variety of decorations, in every corner of the space. Plants hang from the ceiling. Woven tapestries and ceremonial garments hang on the walls. Antiquities line the halls. There is the sense that every corner of the hotel holds a story tied to history and tradition.
It's an intriguing welcome. Our next moments in the lobby piqued our curiosity even further.
"This place is great. You're gonna love it."
I had never had such an experience before: a rave review, unprompted, right from a guest. As we were checking in for our first night at the Jerusalem Hotel, a guest strolled by with his luggage, smiled, and shared his review of the place on his way out. "This place is great. You're gonna love it."
I thanked him, and smiled. It seemed we were in for a treat.
Soon Raed greeted us with a smile, and a solid handshake.
The owner of the Jerusalem Hotel, Raed, has both a commanding presence, and a serene thoughtfulness about him. He is fascinating. Over lunch, we chatted a bit about the history of the hotel — and that conversation led seamlessly to further insights and discoveries about the whole neighborhood, the city, and its complex history.
I have to confess that it was difficult to take it all in, especially while enjoying a distractingly delicious breakfast of fresh fruit, veggies, falafel, hummus — and a variety of other tasty delights. Listening to the histories and cultures Raed's descriptions, we relished every moment.
My historical knowledge is limited — but my interest is certainly piqued.
Ashley and I were enchanted with the style of the décor found around every turn of Jerusalem Hotel. I especially loved the thick, heavy woven blankets and pillow covers, which made our bed look like a work of art.
As Raed explained, the history of the area is quite special.
The area has attractions from all kinds of influences.
Just across the street from the hotel, The Garden Tomb attracts many visitors, as well as the stunning Damascus (Shechem) Gate. It seems like every building in the area has a tale to tell. Raed described origins in ancient Rome, and time of the crusades, Ottoman times, and beyond.
Thanks to our fresh curiosity, we ventured out into the neighborhood that evening — and we discovered some unexpected delights.
As we strolled around, we found a side street that had some lights and activity a ways down. As we ventured in, each step got brighter, more lively, and more active.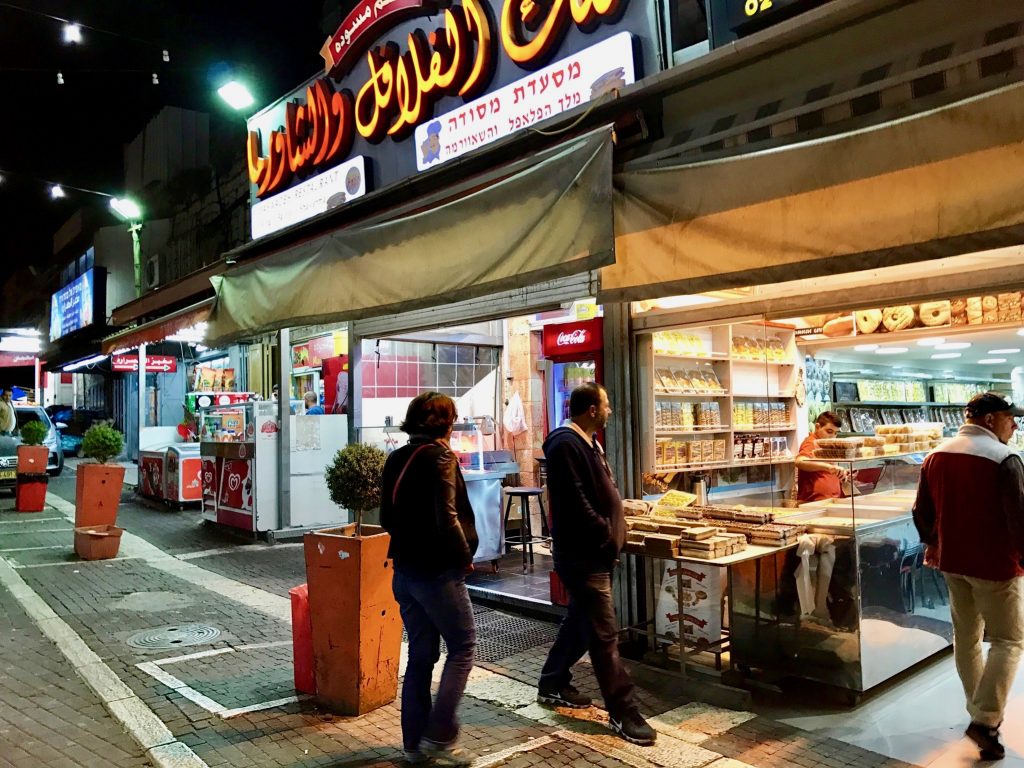 We found a night market! There were restaurants, groceries, pastry shops, butchers, and all kinds of cool spots to explore. Some restaurants had open-air seating, as well as indoor dining. We found a little restaurant and gave it a try. We were really pleased.
We enjoyed a little banquet of falafel, hummus, salad, mashed eggplant, and a variety of other small dishes. Everything was quite fresh, and folk were really welcoming and friendly.
Oh man, you guys. The dessert pastries are incredible. When a hot tray of mystery appeared, the folks ahead of us in line were all about it — so of course we went for it. When the friendly guy at the counter scooped it up, we discovered that it was a warm, gooey cheese with interesting things on top.
It broke my heart that we didn't have the time to explore more.
Since we were attending that big travel blogger event known as TBEX, our time was really crunched. It felt like we could spend a couple weeks here easily, relishing in the day-to-day bustle and relaxed evening dining at the Jerusalem Hotel restaurant.
The various gems of the neighborhood are numerous and rich with history and meaning. Raed pointed out many, and there was much to be discovered.
Jerusalem is a city deeper than any single story.
As Raed described this ancient place, he highlighted myriad examples of complexity: various interacting groups, beliefs, neighborhoods, traditions, and transitions — and it seemed there were exceptions to every rule.
We can all appreciate that important point: none of us is a generic example of the groups we're a member of. Each one of us has a story that's a bit more complex than it first appears on the surface. Our personal story is woven from a variety of influences, and our neighborhoods are the tapestries that are woven by the sum of us.
I felt like I could listen for hours about the neighborhoods heydays of artisans, scholars, charities, merchants… many fine days of freedom of expression, compassion, and coexistence.
Jerusalem has great depth, and the story is ancient and complex.
Our brief visit to Jerusalem was all too short, and it whet our appetite for discovery and learning. If you have the chance to explore it, we strongly encourage a diverse view of discovery and insight. Jerusalem seems to be a place to be thought of with an open mind, and loved with a wide, open heart.
Check prices at Jerusalem Hotel: hotel site | TripAdvisor | Agoda
Enjoy this post? Pin it for later!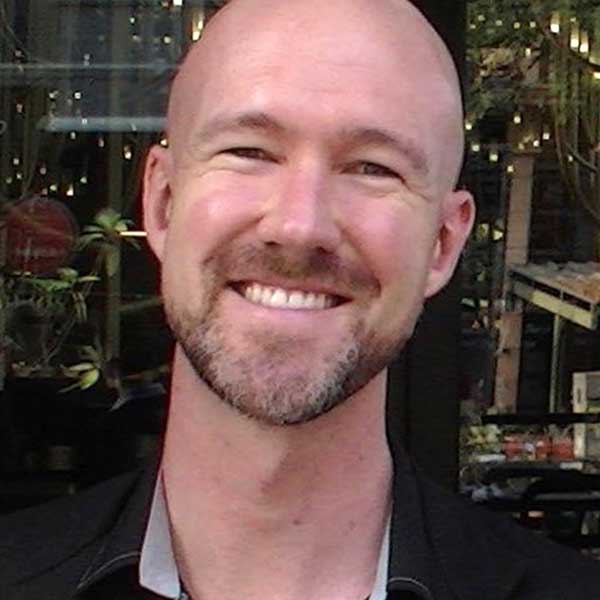 Curtiss is a lover of delicious atmosphere, experiments in location independence (and digital nomadism), and that magical place where wifi and paradise overlap.