Experience The Romance Around Montmartre, Paris
Paris is a very special city, unlike any other — it also holds a very special place in our hearts. Many years ago we both spent time in this magical city and fondly reflect upon the memories. As this trip came together, it was really special to plan and to look forward to creating new memories together.
Paris is undeniably sexy.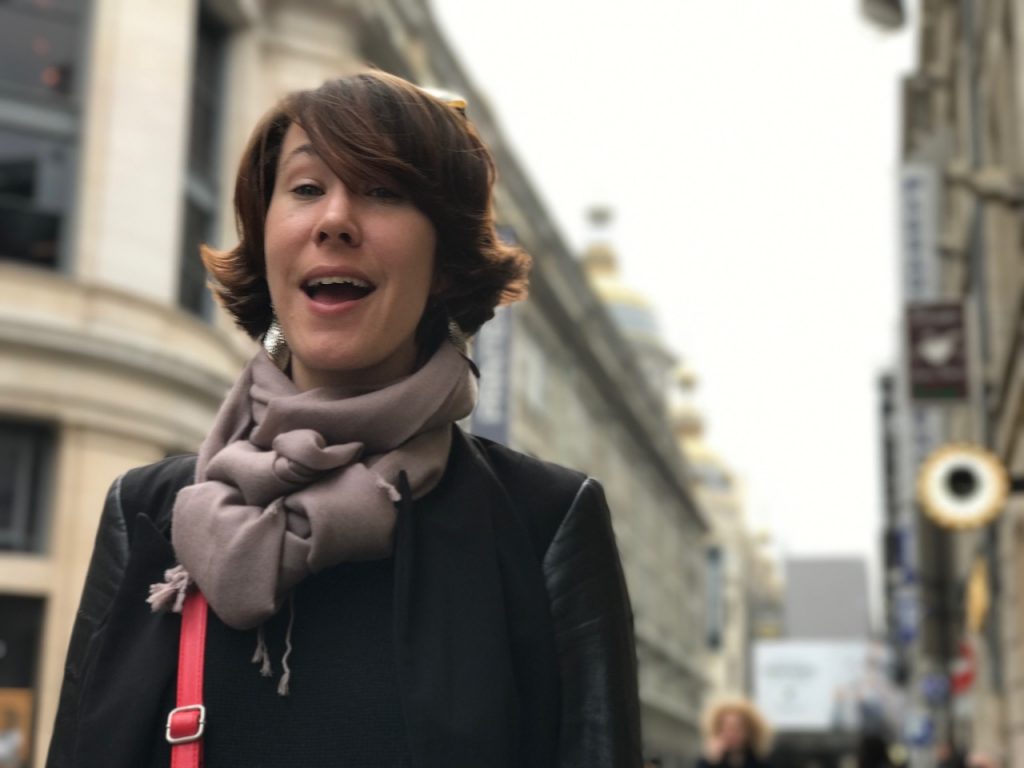 The food, the people, the design and the art all ooze something special that you can only find in Paris. Romance and art is everywhere and surrounds you in a Parisian haze. As we composed our plans, it seemed that our stay was turning into a foray of themed hotels, and truly Parisian experiences.
It started with Sunday brunch at a street cafe.
We had just arrived in the city, and we were famished! We nearly fell into our seats with glee when we saw a cute street cafe advertising… brunch! And boy — did it hit that special spot!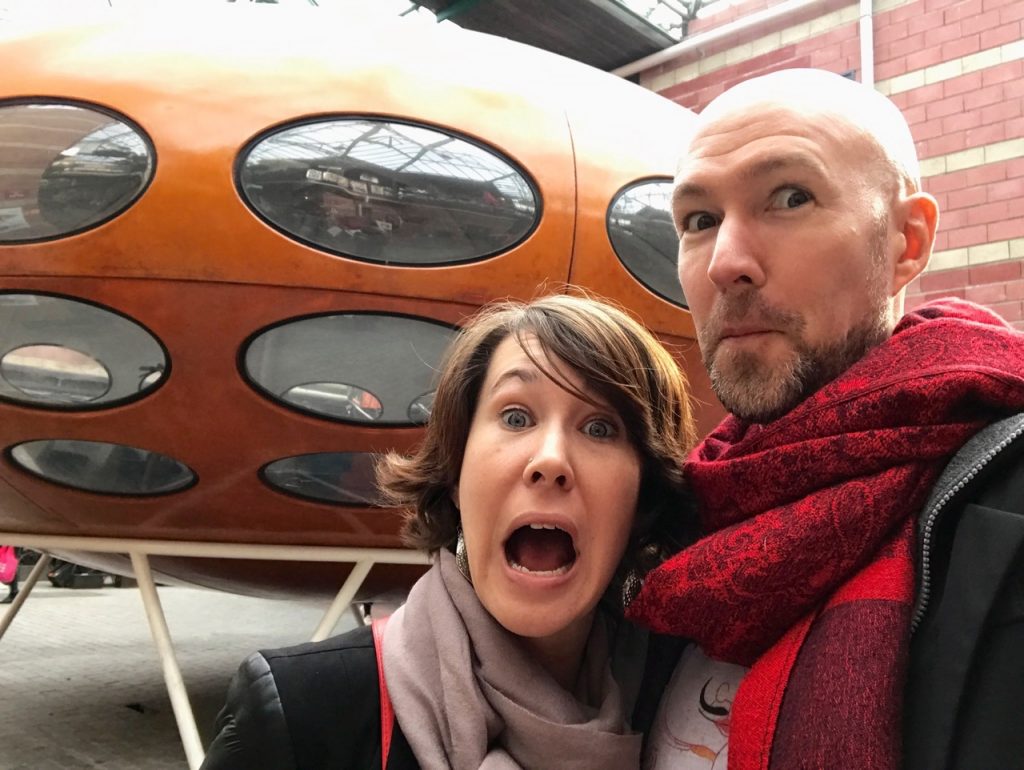 Once we were suitably caffeinated and brunched up, we took the train to Porte de Clignancourt flea market. I wanted to find some funky vintage clothes, and check out what a Paris flea market was like. It's part of a quintessential Paris Sunday, according to some.
First off: it's huge. We were there for a couple of hours, and only saw a small portion; by then we were tired and our feet hurt. Alas, we did not come home with anything — except a couple of blisters.
Paris showed us its funky side.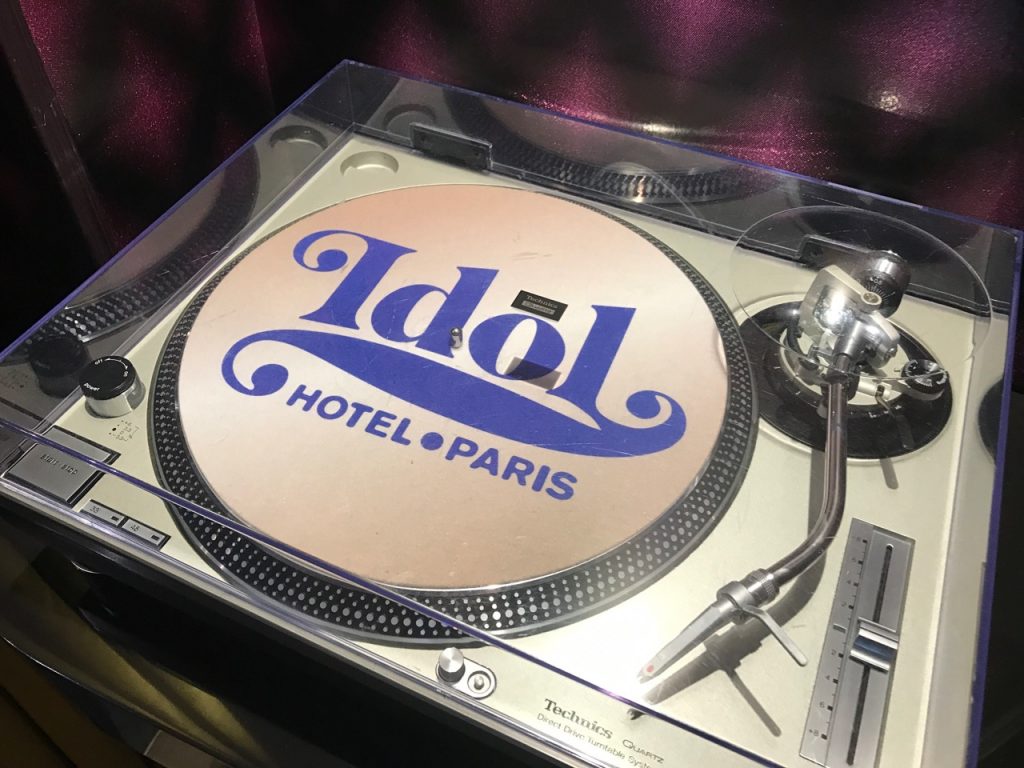 Idol Hotel is the funkiest hotel I've ever experienced! As soon as you enter the lobby, you're transported into a time where love was free, and groovy bell bottom pants were everywhere, baby. There's a fun music theme throughout the hotel, and that vibe extends into the rooms — there's a great Bluetooth sound system ready for your funky soundtrack.
When we found out we would be staying in the "Light My Fire" room, we were tickled and excited.
I'm afraid to say many of the music references went over my head, but I was beyond charmed by the gorgeous design… I mean, there was sparkle wallpaper. Hello: what's not to drool over?!?!
There's a fantastic restaurant just around the corner that serves incredible burgers, and fish and chips, and of course — beer. Obviously, it's not French-themed, but it is run by a (very charming) native Parisian, and the food at Publisher Pub is not to be missed!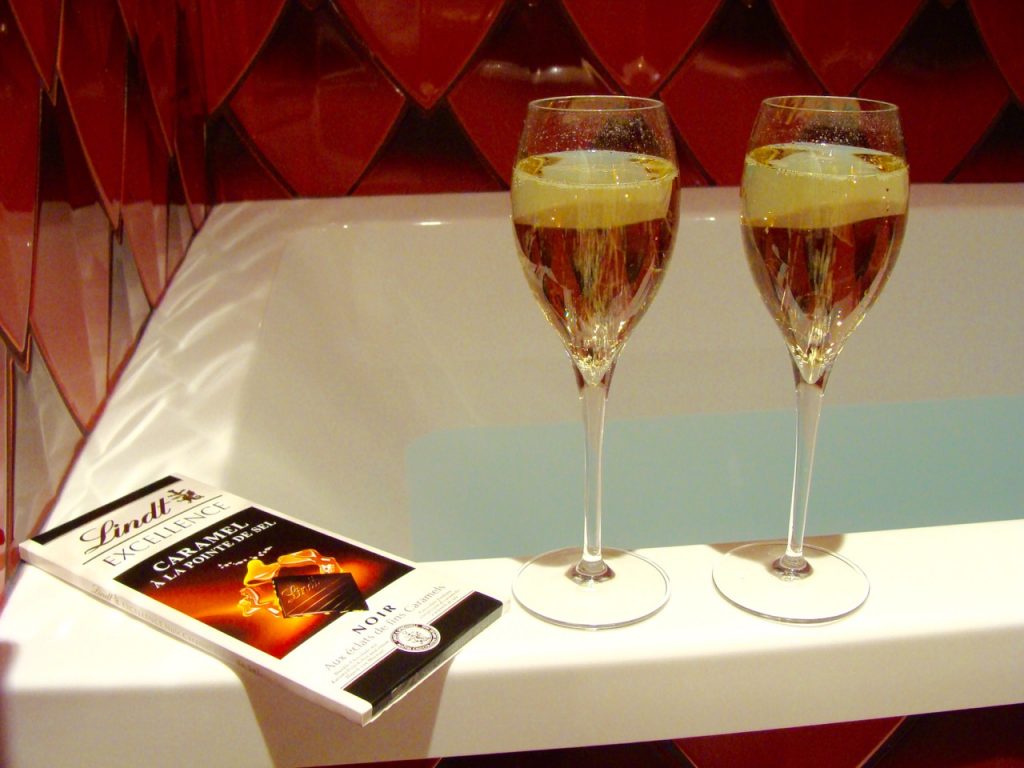 To celebrate our first night in Paris, we purchased a bottle of bubbly and chocolate and enjoyed both in the bathtub. We also streamed music to the fancy Bluetooth speakers found in each room.
Check out prices: Idol Hotel | TripAdvisor | Booking.com
Breakfast the next morning was absolutely wonderful, and shouldn't be missed!
Montmartre is known for its cabaret shows of high-kicking, beautiful ladies, wearing not much more than a thong and a smile. Our next hotel didn't boast scantily clad ladies (that we could see) although it did have a sexy theater theme. Rich red velvet curtains and folding theater seats adorned the lobby of Hotel Sacha.
Lights glittered and reflected off the gilt antique furniture, purchased locally. I also truly loved the huge clown posters in the stairwell and the playful — yet sophisticated — atmosphere of the hotel was absolutely delightful! 
Don't forget to enjoy happy hour every evening in the lounge, where you can enjoy a glass of champagne and tasty amuse-bouche. There's nothing like taking a moment to enjoy a cool glass of bubbly. This was the perfect opening act before we explored the Pigalle area a bit more.
Check out prices: Hotel Sacha  | TripAdvisor | Booking.com
Head over to Rue des Abbesses to enjoy a bottle of red wine, a planche (which is a platter of assorted cheese, meats, and olives) and enjoy some people-watching. It was still a little chilly in the city when we arrived, but the heat lamps and red wine quickly warmed us up! You'll find that cheese is so very different than what you find in the States (we learned so much about cheese on our Context food tour). Paired with some crusty French bread and salty olives, we were in our element!
There are so many incredible cafés and restaurants!
We generally like to ask what people's favorite local restaurant is, and it can sometimes be hit or miss. That being said, we suggest you explore a bit, because you have so many great spots to choose from. If something looks interesting, don't hesitate to check it out. Some of our best finds were found by following our noses.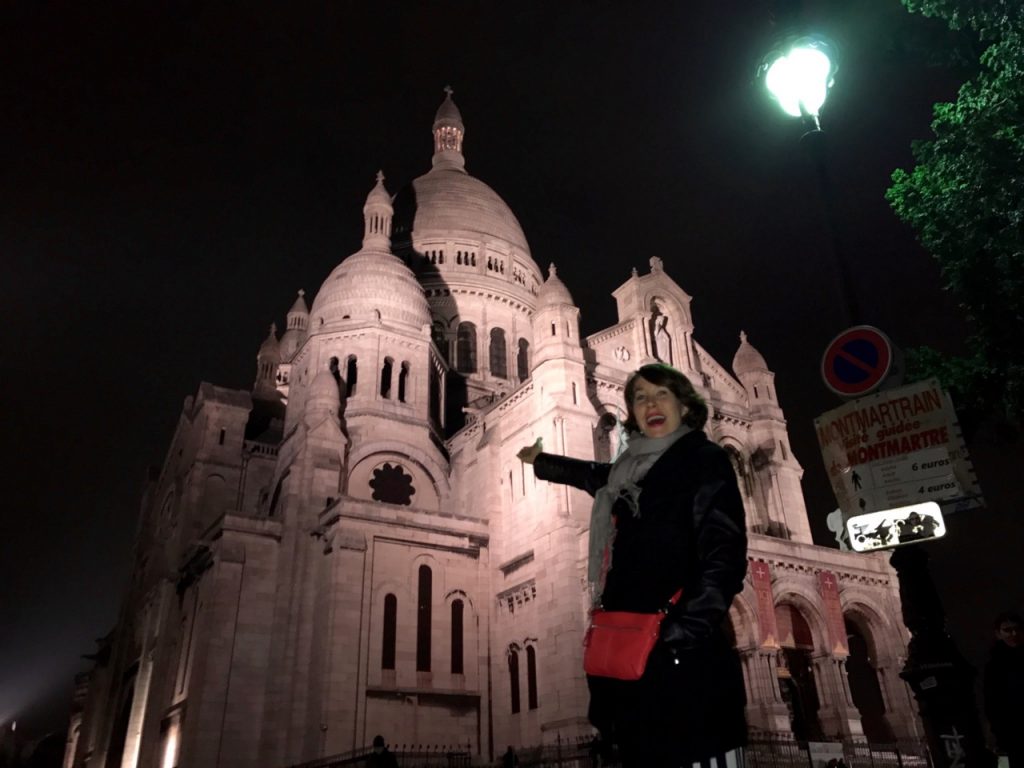 The crowning jewel of Montmartre is Sacré-Cœur and it's a fantastic place to see the sparkling lights of the city… and to steal a couple of kisses.
Also, be sure to catch a burlesque show!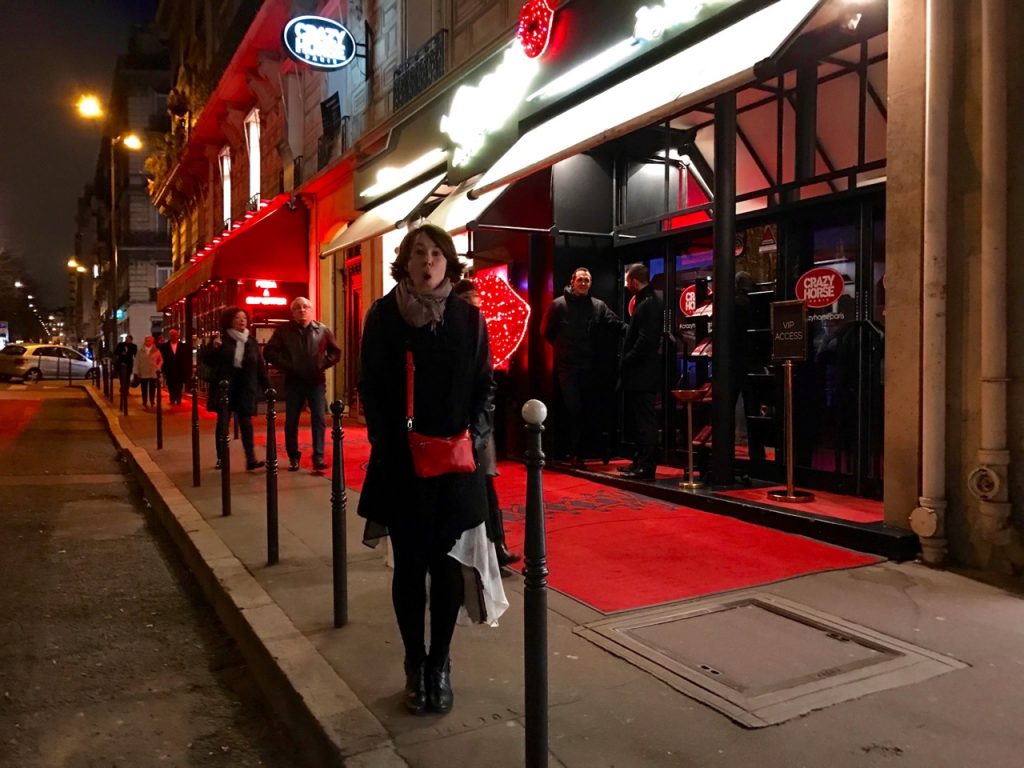 There are many venues to choose from, and I'm not sure you can go wrong with any. When I first visited Paris, I saw a show at the one and only Moulin Rouge. It was a huge and sparkling event. This time we were pleased to experience something very different. Crazy Horse is actually located near the Alma – Marceau metro stop — not in Pigalle. We were charmed by the smaller venue swathed in red velvet, and we were close to the stage, making the show more intimate. The beautiful costumes were designed by lingerie designer Chantal Thomass, and the sets were very creative and sexy.
Throughout the whole experience, there was a very festive buzzing. Champagne bottles were being expertly popped by the efficient waitstaff and guests were all abuzz! We were not sure what to expect and were absolutely delighted by the show!
Back in Pigalle — not far from Hotel Sacha — you may like to check out the sizzling Sexodrome. It's not one of the seven wonders of the world, but it may be something fun to explore. You don't need to buy anything to be entertained by the experience.
Shhhhhh, we won't tell if you don't.
We ended our time in the northern part of the city at Secret de Paris Hotel & Spa, which is themed around secrets. The lounge is a great place to relax and enjoy a coffee or glass of champagne. C and I were tickled by the side-by-side chairs… making it all the easier to share secrets!
The best-kept secret is in your room. ;-)
We enjoyed the sexy modern design all throughout secrets, and the biggest secret is that you can sleep in rooms themed after popular monuments and buildings of Paris. We stayed in the Trocadéro room, although you can choose from the Eiffel Tower and Moulin Rouge, to name a few. Nowhere else can you do that!!
Our room had a huge hot tub with fun mood lighting that we enjoyed soaking in, to let the heat soothe our sore muscles. Paris has a fantastic subway system with well-placed stations, and yet we still walked more than I have in a long while. The joys of city life! As you may know, we were coming from spending a couple of months in the country.
Breakfast the next morning was lovely — we enjoyed freshly scrambled eggs and hot coffee in the purple velvet lounge.
Check out prices: Secret de Paris Hotel & Spa | TripAdvisor | Booking.com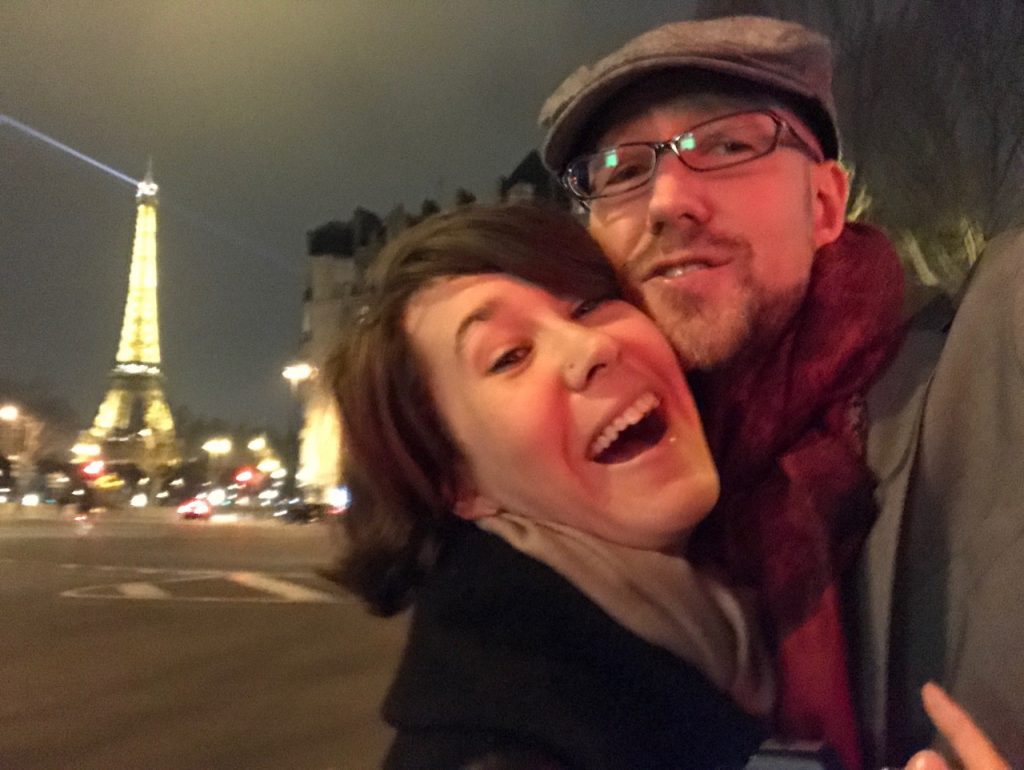 With sore legs (and perhaps a tighter butt), we headed towards the Seine, to experience a whole other part of the city. More on that soon!
Did you enjoy this post? Pin it for later!
Ashley is exuberant about location independence! She relishes new experiences and working with boutique hotels and resorts. She's always thinking about design and food… and where they'll travel next!