How To Eat Like A Bajan In Barbados
One of the best ways to get acquainted with any culture is through its cuisine.
There's just something about food that really gets to the heart of people and reflects who they are in fascinating ways. So what does Bajan food say about the culture of Barbados? Well, the first words that come to mind are "comfort food!"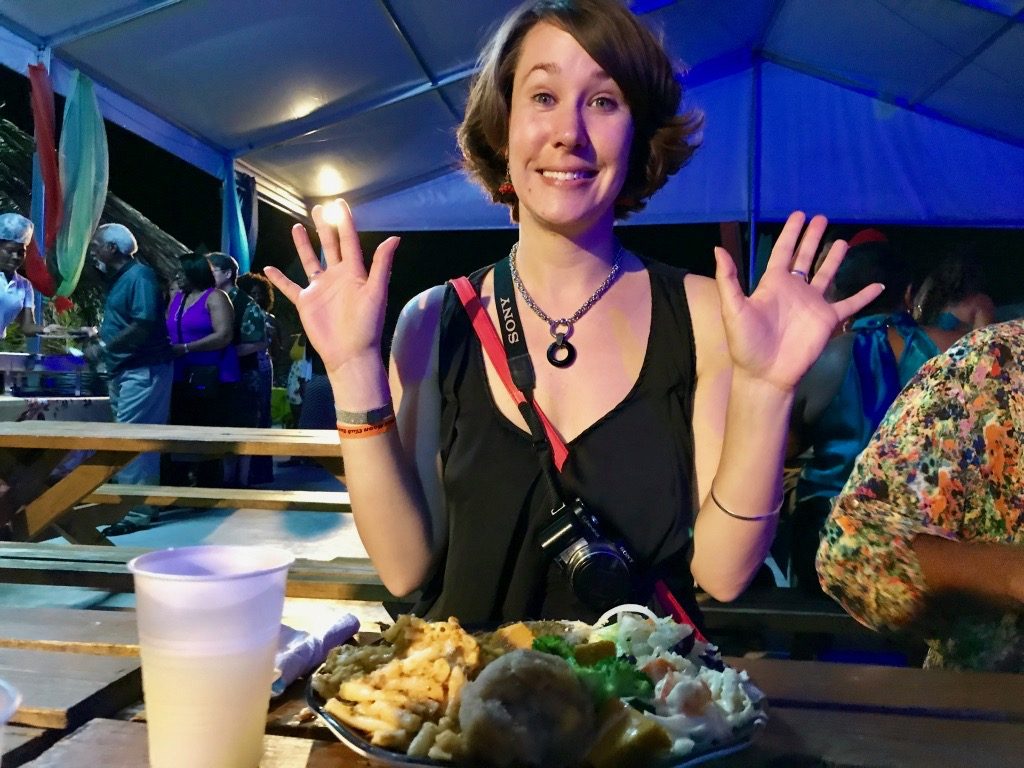 Bajan cuisine is made up of a mixture of African, Indian, Irish, Creole and British influences, which makes for a fabulously interesting flavor palate. There are so many delicious foods to try, but if you really want to eat like a Bajan, here are a few staples and helpful tips to make sure you add to your list!
If you try nothing else in Barbados, at least get yourself some flying fish!
The quintessential Bajan dish is Flying Fish and Cou-Cou, which is traditionally served on Fridays. In fact, Barbados is known as "the land of the flying fish"! This mild fish is especially plentiful in Barbados' waters, so it has become Barbados' national fish, immortalized on coins, artwork, and even the official logo of The Barbados Tourism Authority.
To make this meal, the fish is boned, rolled, and then stewed down in a spicy gravy made with tomatoes, herbs, garlic, onions, and butter. It's commonly paired with cou-cou, which is made with yellow cornmeal and cooked with finely chopped okra, butter, and spices. It's a bit like polenta, and it's super tasty!
Next on the list are some traditional comfort foods to really get you into the Bajan flow.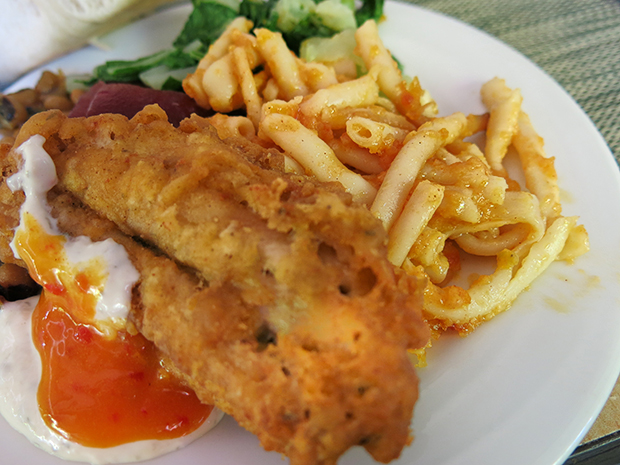 Photo credit to The Little French Bakery
If homemade mac and cheese hits the spot for you, then Bajan Macaroni Pie is a must! It's a baked macaroni dish made with evaporated milk, eggs, onions, sweet pepper, ketchup, seasonings and grated cheddar cheese. It's affectionately called simply "pie" by the Bajans, and is sometimes served with fried flying fish or chicken. The jury is still out on this, but some people have called it the best mac and cheese dish you'll ever have!
Photo credit to Angie Torres.
Pudding and Souse is another popular delicacy in Barbados traditionally served on Saturdays. The pudding is actually a black and white pudding made with sweet potato and herbs, and it's served with soused pork, picked in cucumber, onion, and lime juice. Pudding and souse is so popular in Barbados that there's actually a souse factory in Cliff Land! It's a great place to spend a leisurely Saturday and taste a variety of Bajan pork dishes — not to mention some of the best rum in the Caribbean. Bottoms up!
You can satisfy your sweet tooth with some delicious Nut Cake. The name is a bit misleading since it's not actually a cake in the traditional sense. Instead, a sugar mixture is boiled into a liquid consistency, and then spices and peanuts are added. It's kind of like peanut brittle formed into round, flat pieces.
Oh, and since we're talking about cakes, try some Fish Cakes too! They're doughy balls of goodness with herbs, onions, and bits of fish — usually salted cod. You can find them both in restaurants or sold by street vendors. Ideal condiments for fish cakes include hot sauce, ketchup, tamarind sauce, and mayonnaise. Yum.
Bajan cuisine is as rich and diverse as the island's people and history.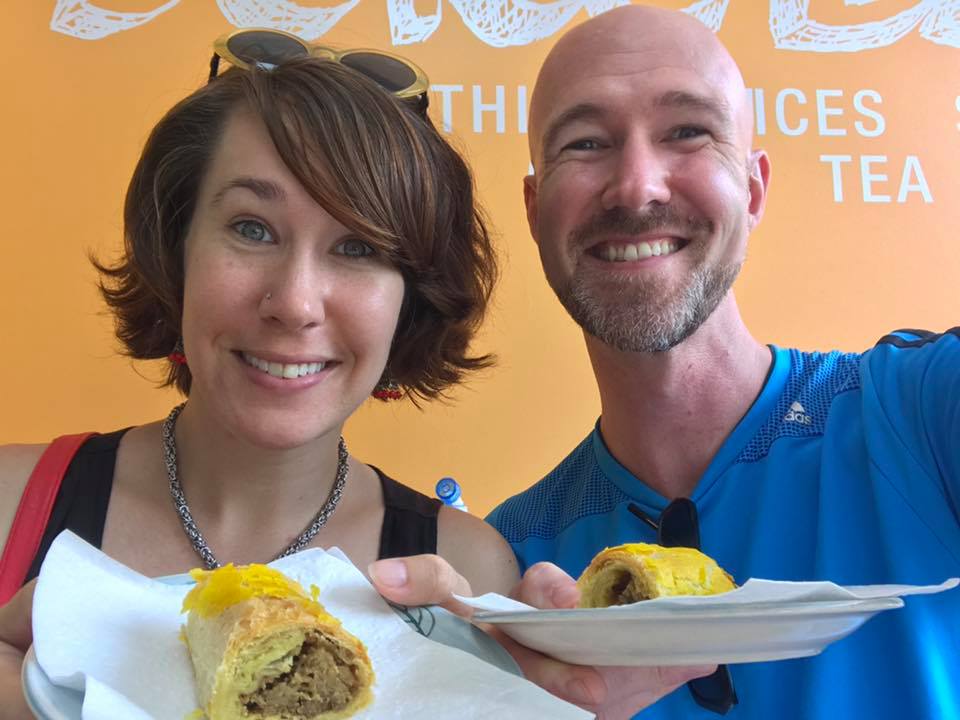 We learned this while on a Lickrish Food Tour! Our incredible tour guide brought us around to various spots throughout Bridgetown — all the while explaining about local sights, the history and the foods we were trying!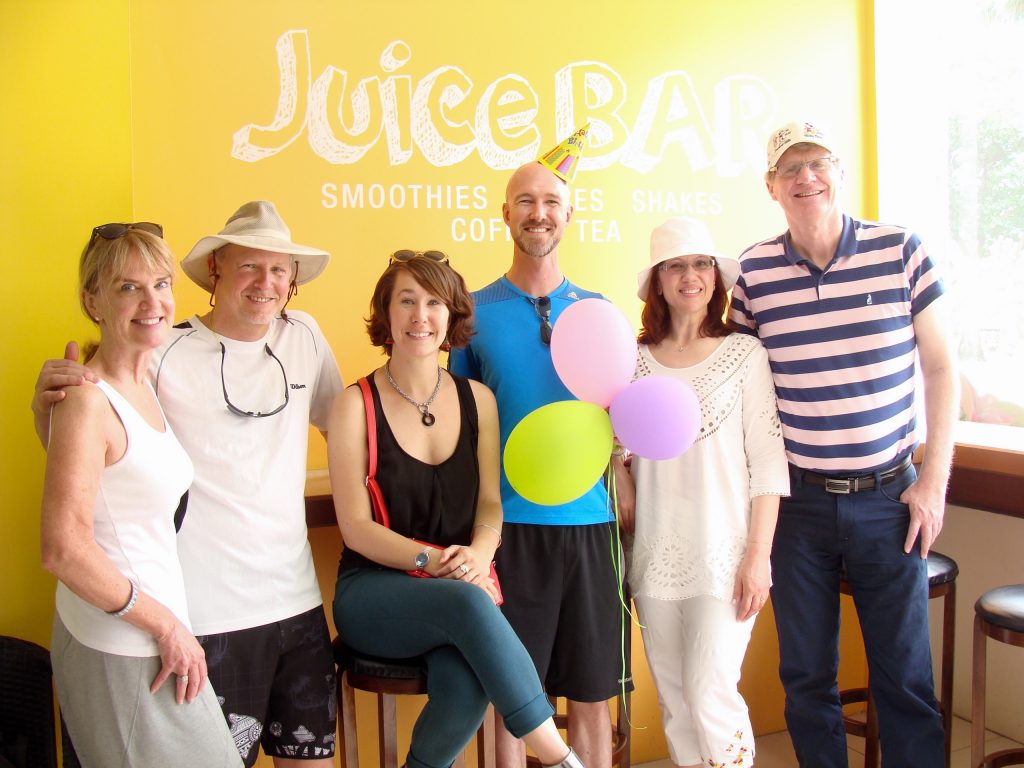 We highly suggest going on a food tour in any new location to better discover local hot spots that most tourists may not know about: this is where you'll find some of the most incredible local flavors. This is exactly what happened on the Lickrish tour! As an added bonus three people in our group had birthdays that week (including Curtiss!) so everyone was feeling extra festive!
Now that you know what to eat, you need to know where to get it!
Oistins is an active fishing town on the south coast and is a hub of activity on weekend nights. It's the place to be Friday nights especially for the fish fry at Oistins Bay Gardens. There's incredible grill food cooked right in front of you, cold drinks, music, and dancing! It's a super fun, casual setting for enjoying the local eats and limin' — which means hangin' out and relaxing. Make sure to leave your watch at home. You're on island time, now!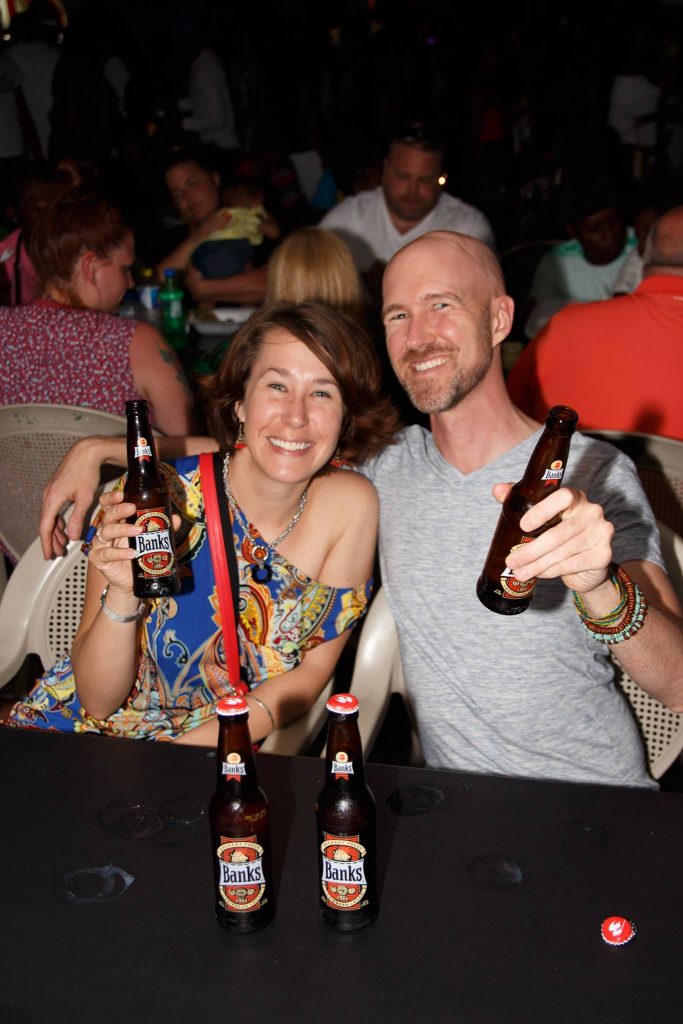 If you're in Barbados in April, you've gotta hit the Oistins Fish Festival, a deliciously exciting multi-day celebration! The festival is usually held on the weekend before Easter. Both locals and tourists attend the festival to cheer for competitions like greased-pole-climbing and fish-boning. There's also karaoke and lots of street vendors selling toys for the kids, souvenirs made by local craftsmen, and of course — all kinds of fish! This is an ideal place to try out those fish cakes we talked about.
The main focus of the festival, though, is to honor the hard-working Bajans who make up the fishing industry in Barbados. Aside from tourism, this is the life force of the island, and it's beautiful to see the community throwing this awesome party for the people who essentially feed everyone else!
Last but not least, a couple of Bajan cuisine disclaimers:
Bajan hot sauce is not for the faint of heart! Like many Caribbean cultures, Bajans looove their spicy foods. So make sure you test a small amount before dousing your food with it.
The dolphin isn't really dolphin. Don't worry; if you see dolphin on a restaurant menu, know that it's the word used for mahi mahi. No actual dolphins were harmed in the creation of that delicious dish you're checking out.
Grab a cold one. No matter what you're eating, make sure you've got a refreshing Banks beer close at hand — and take the brewery tour, if you get a chance!
Rum punch is a food group. You can't enjoy Barbados without a sweet and tangy rum punch! Do be careful though, because they go down very easily and pack quite the punch (pardon my pun.)
No matter what your tastes, you're bound to find something in Barbados that tickles your fancy — and your tastebuds! You can also check out some of our other experiences in Barbados from the luxurious to the… er… piratey. Bottom line: we love this gorgeous island destination and know you will too. Happy limin'!
Enjoy this post? Pin it for later!
Ashley is exuberant about location independence! She relishes new experiences and working with boutique hotels and resorts. She's always thinking about design and food… and where they'll travel next!