Old-World Italian Charm And Magic Await In Mercatello Sul Metauro

I was seriously psyched for my first real foray into the digital nomad world.
I so admire the location independent lifestyle that Curtiss and Ashley live, and I'm entering a phase of life and career now where I have the flexibility to experiment with it for myself. As of my writing of this post, my vision for my particular brand of digital nomadism won't necessarily involve full-time travel, but rather a home base in the U.S. (which can change as needed) and frequent short-term trips abroad. My opera career is numero uno in these considerations, and Blissy Life compliments beautifully while adding a bit of extra spice — it's seriously thrilling to have two careers simultaneously that can both take me all over the world!
This particular trip took me to the beautiful Marche region of Italy for a month to study Italian and sing in an opera production (the role of Flora in Verdi's La Traviata, for you opera buffs out there). I stayed in a small village called Mercatello sul Metauro, but I also got to take several day trips to the surrounding cities — more on that in another post!
I flew into Bologna from my current hometown of San Diego. I came to Italy knowing very little Italian (I'd only taken an Italian reading/translation class in grad school), so it was quite a relief to be able to meet up with some of the group I would be spending the month with there and travel to Mercatello together. The Bologna airport is pretty small and easy to navigate, and it wasn't too expensive to get a taxi to the train station, where the next leg of our journey would start.
And what a journey it was!
There was some kind of incident at the station which caused a chain reaction of track closures and delays. The police officers posted at our track entrance did not allow us to go up to our track, so it got pretty toasty as more and more people accumulated in the tunnel under the tracks. When we finally did get onto a train, it was an even toastier two-hour trip to Pesaro (the air conditioner wasn't working). Because of the delay in Bologna, we took a later bus to Urbino which had AC (yay!) but was totally packed (boo) so we had to stand in the aisle. It was actually kind of entertaining trying to keep our balance on the windy, bumpy ride! But I still might've been willing to trade a kidney for a seat at that point.
Unfortunately, we just missed our connecting bus in Urbino, so we had to wait once again for the later bus that would take us to our final destination in Mercatello. Needless to say, it felt amazing to finally arrive after a long, trying thirty-something hours of travel. If I were you and considering travel to the more out-of-the-way towns of the Marche region, I wouldn't let my experience deter you. It's a bit of a process getting there, but I'm told that the public transportation delays are not typical. I would still suggest being prepared for some heat in the summertime though, as air conditioning is not always guaranteed. If you're not worried about dropping a nice chunk of change, taking a taxi is also a quicker, more comfortable option.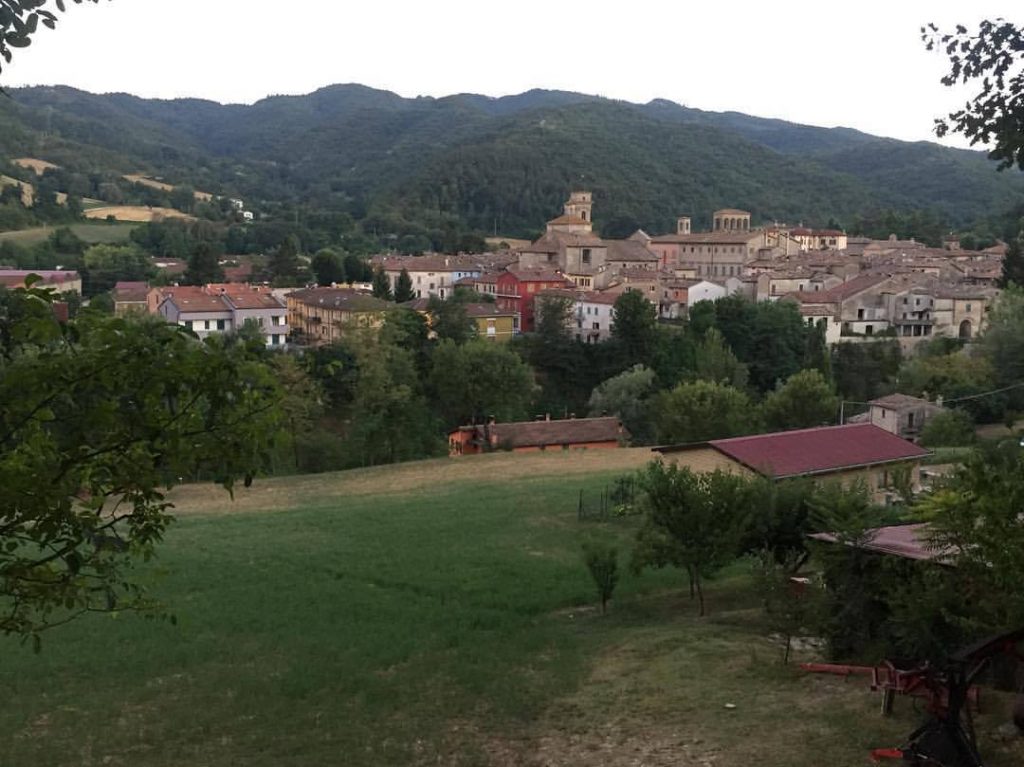 Mercatello is the epitome of old-world Italian charm!
It's quite small, so you can easily walk anywhere you need to go. The residents are so friendly and welcoming – you can expect to be greeted with a "ciao" or "buongiorno" by strangers you pass on the street. My one disclaimer: most of the residents do not speak any English, so it would behoove you to have at least some Italian under your belt to be able to communicate and ask for what you need. But they generally are more than happy to take the time to talk with beginners and help them learn!
As you would expect in Italy, the pace of life in Mercatello is pretty slow and laid back. You rarely see anyone rushing to get anywhere. All of the stores close from around 1 pm to 4:30 pm for the daily pausa. It's similar to the Spanish siesta, where everyone takes time to relax and enjoy lunch, Italy's most important meal of the day. The stores stay closed on Thursday afternoons and all day Sunday. Italians take their rest and leisure time seriously! And it's reflected in the peaceful and cheerful vibe of the residents.
The piazza in the center of town is where most of the activity happens.
The Chiesa di Santa Veronica is there, along with several shops, a cafe, and a gelateria. The first weekend of July, the town holds a special celebration of their patron saint, Santa Veronica. There's a mass in her honor on Sunday evening at the church, and anyone who doesn't attend the mass gathers outside in the piazza to wait. When the service is over, the clergy carry Santa Veronica's statue out of the church and lead a candle-lit procession all over town, stopping several times to pray and sing. It's really quite a beautiful expression of love and unity, and I'd recommend going for at least part of it, even if you aren't religious. It's perfectly acceptable to drop out of the procession at any time if you get tired.
Another unique feature of the town is the clock tower on top of the church that chimes the time every fifteen minutes. It can be heard just about everywhere in town if you're listening for it, but surprisingly, the tones tend to fade into the not-so-hustley bustle of life, so it doesn't feel like an intrusion — except maybe on early Sunday mornings!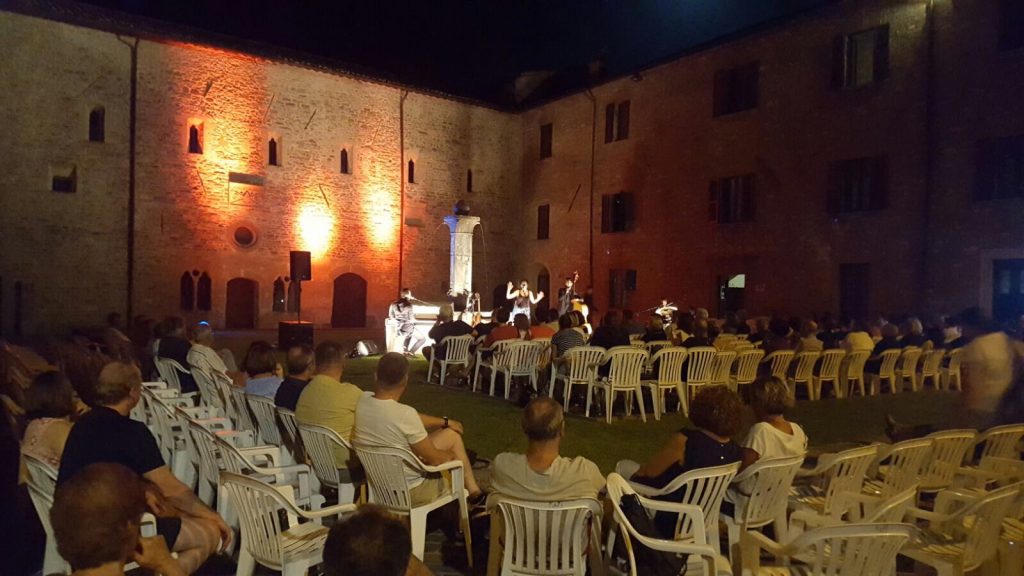 The town is also home to the smaller Chiesa di San Francesco, which is used for a variety of events from concerts to art galleries during the summer.
I participated in a concert of opera scenes in Chiesa di San Francesco, and not only was it a beautiful, resonant space to sing in, they left the doors open so that people in the street could enjoy the music as well. No one was left out, and anyone could stop by to listen and watch in the doorway for as long as they liked — just another example of the spirit of sharing and unity that I love so much about Mercatello.
Enjoy a bit of nature!
There are some beautiful walking trails on the outskirts of the town too. My favorite led to a little-secluded area along the Metauro river — a perfect place to wade into the cool water and relax in the shade on a hot afternoon. If you dip your feet into the water and wait patiently, lots of tiny fish will swim over and give you a natural fish spa pedicure! It tickles, but try to hold still!
I spent quite a bit of time at Caffe Rinaldi, a small coffee shop and bar right in the middle of town.
It's a popular hangout, so it gets busy sometimes, especially after the pausa and in the evenings. But there's a back room as well if you want a little more space and quiet. It's the only place in town with air conditioning and they have free wifi, so it was a pretty decent place to get work done. I made friends with Franco, the owner and was sure to order something whenever I worked there. My personal favorite was the delicious Cafe Ginseng, a sweet, flavorful coffee drink that reminded me a little bit of chai. It didn't take long at all for all of the baristas to learn that that was my drink, and eventually, I didn't even have to ask for it anymore. Franco did tend to tease me sometimes for working too much, though!
Check out Caffe Rinaldi on Facebook and TripAdvisor!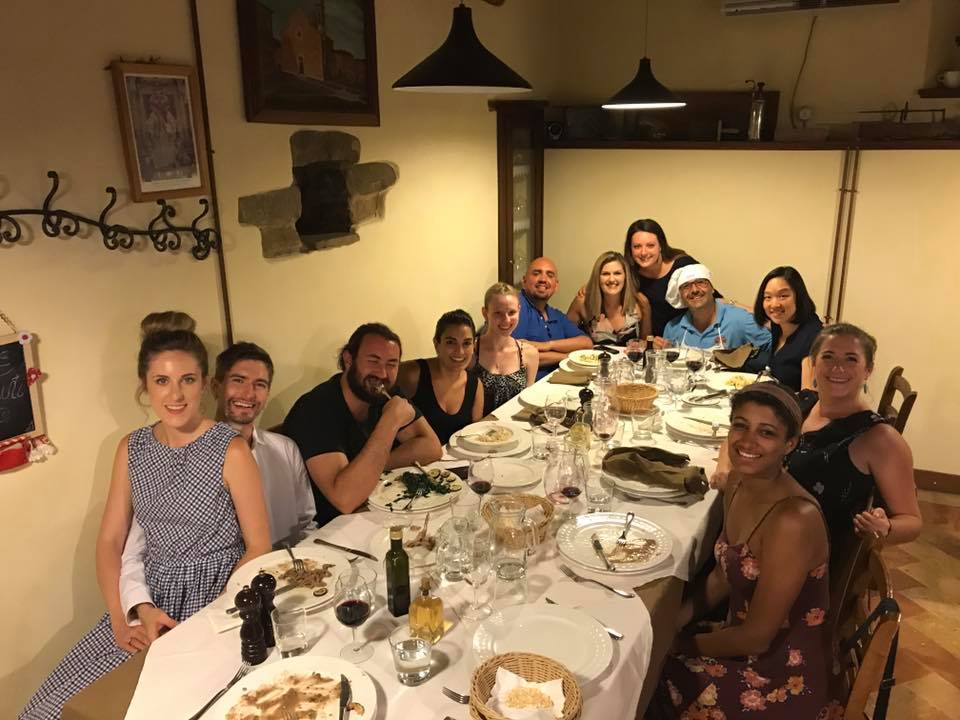 Another great spot is Ristorante da Uto, which is just a few steps from Rinaldi's.
The owner, Umberto (aka Uto), is so kind and attentive to his guests. He does all of the cooking himself, including homemade pasta. It takes some time, but the food is absolutely fantastic and so worth the wait! All of the shops and restaurants in Mercatello are family owned and run, and Uto's is no exception; his young daughter is an adorable and enthusiastic server!
Even though his specialties include bread and pasta, gluten-free travelers like myself can enjoy Uto's as well. Just mention to him that you are "senza glutine" and he will whip up something fabulous for you. One of my favorites was a mouth-watering veal and vegetable dish that wasn't even on the menu. Uto is seriously the best. On some weekend nights, he even sets up tables and small seating areas outside the restaurant for karaoke. So fun!
Check out Ristorante da Uto on their website and on TripAdvisor!
The restaurant is also attached to a small inn called Locanda dei Sacchi, which I imagine is just as warm and welcoming. I definitely suggest checking it out!
Book your stay one of the fabulous hotels in Mercatello sul Metauro! Or check out Airbnb.
I would be remiss if I wrote a post about Mercatello without talking about the cats…
They were the sweetest things! They would often come right up to you with curious little meows and the occasional kitty-kiss. My favorite was the one in the chair. Every afternoon he would sit outside his house on his little red cushion and watch the people pass by like a little prince. He was usually more cheerful than he looks in the photo!
I found that most of the cats didn't want to be pet by a stranger, but they generally weren't afraid — even the ones that live on the street. Believe it or not, I think the deep feeling of community in the town extends even to the animals! They feel safe and loved. So did I.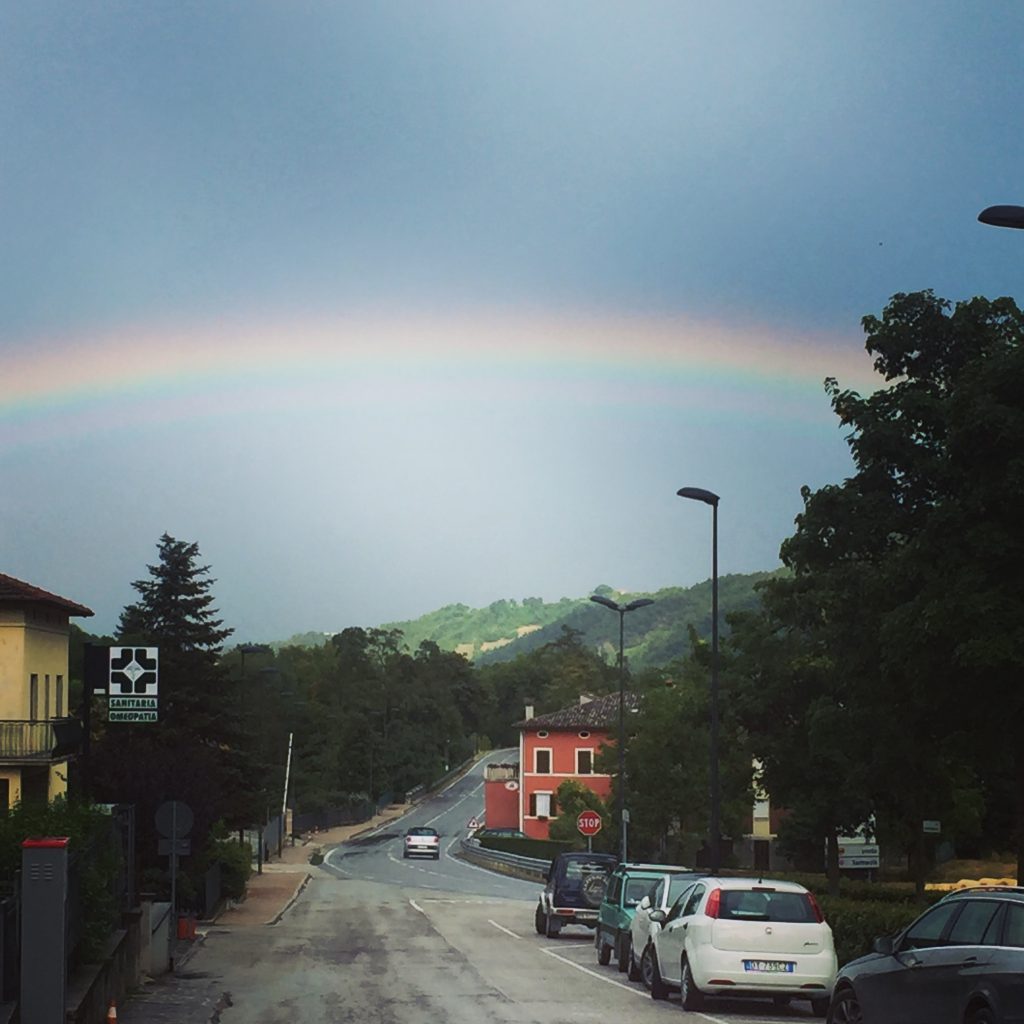 It was tough to leave Mercatello after such a magical month.
It's equally tough to say everything I want to about it here. I've got plenty more thoughts and feelings about my first international location. Maybe some of you will be able to relate. Oh, and I haven't even told you about the incredible Palio del Somaro festival yet! Lots of stories for another time, so stay tuned!
Enjoy this post? Pin it for later!
Danielle is a performing artist with big dreams and a serious case of wanderlust! She is a fan of singing, telling stories, eating good food, and cuddling with her kitty-baby, Myah.