Escape And Feel The Light And Love Of Summer
Prepare to escape in the lush woods of the Poconos.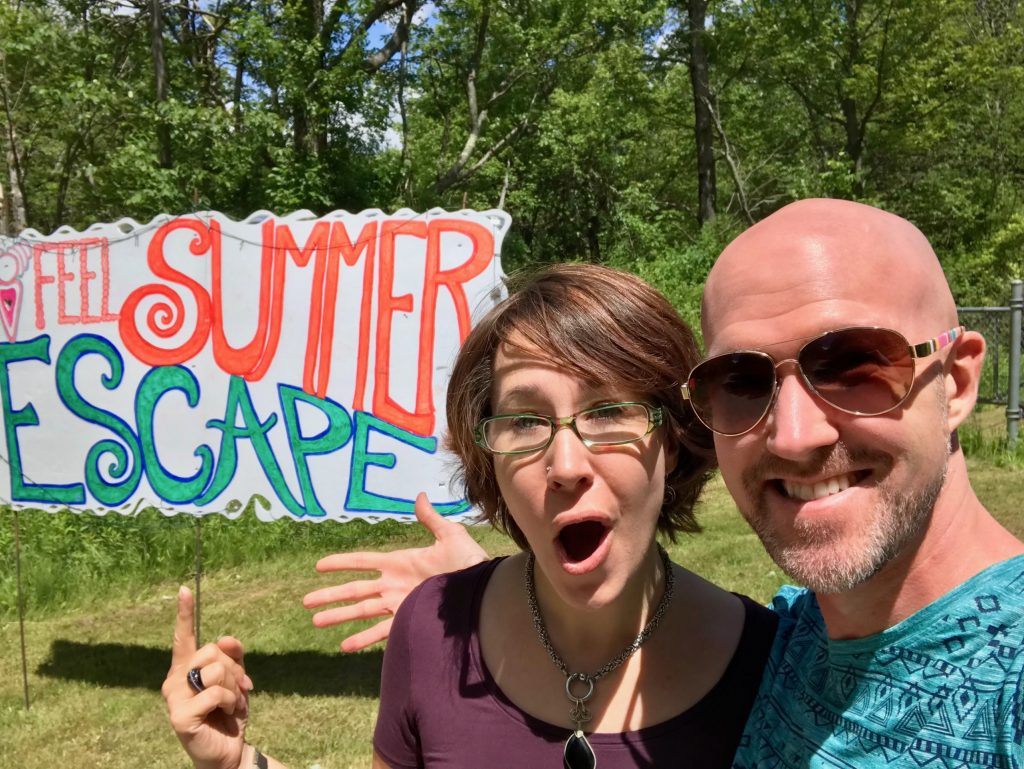 In the days leading up to I FEEL Summer Escape, you'll probably get pretty revved-up: packing all the camping necessities and fun costumes to help you really get into the burner vibe. Of course, don't forget to pack you huge blow-up floaty for the pool party! 
For us, we were excited to be with great friends, in a scrumptious environment of love, fun, and frolic. You'll probably feel a certain special magic, even before you arrive.
Luckily, the location is an easy shot up from NYC, and easy to get to from the Mass Pike as well. The Poconos are a truly beautiful part of Pennsylvania, and we enjoyed the landscape during our road trip!
By the time we were setting up camp, we were feeling a sense of relief washing over us: feeling at home, and thrilled to explore.
The FEELer family was convening!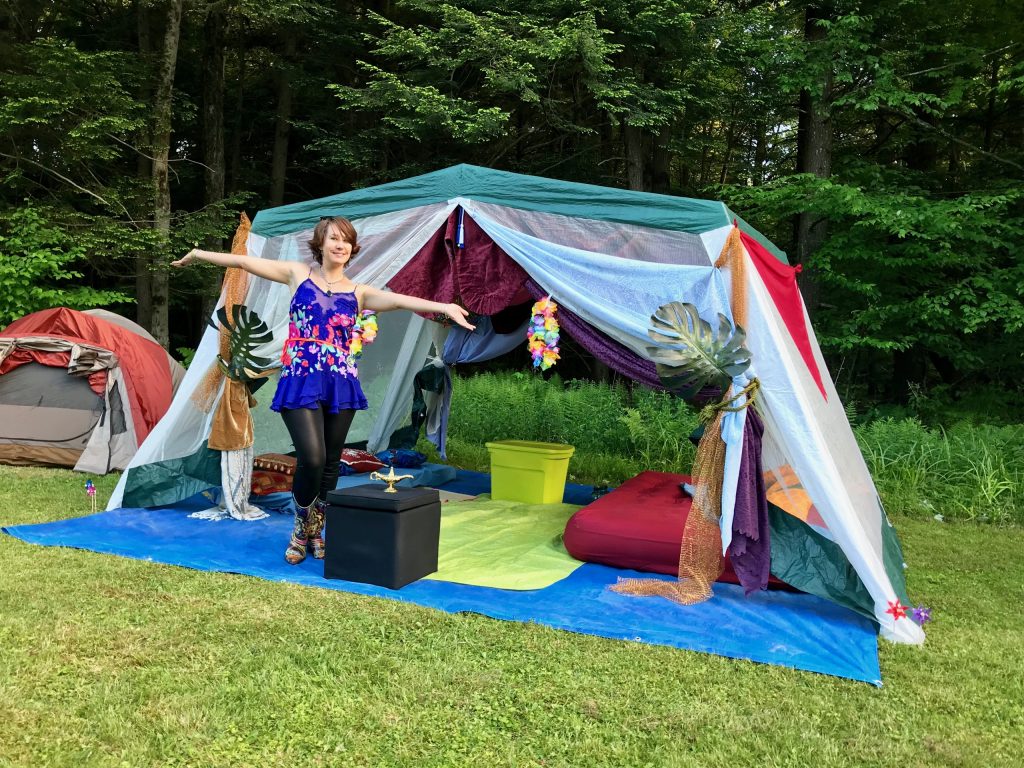 Ta da!
Welcome to the magical genie tent! Rub the lamp and make a wish, or just lounge amidst wonderful folks and good feels.
You have the option to stay in a cabin or camp. We choose to camp, because… well, just look at our genie tent!! Why wouldn't we?!?! Although if you arriving by bus or packing light, the cabins are a great option.
Now we were ready for pool parties, workshops, art, and yoga. And, of course, connecting with some amazing souls…
Connect and delight!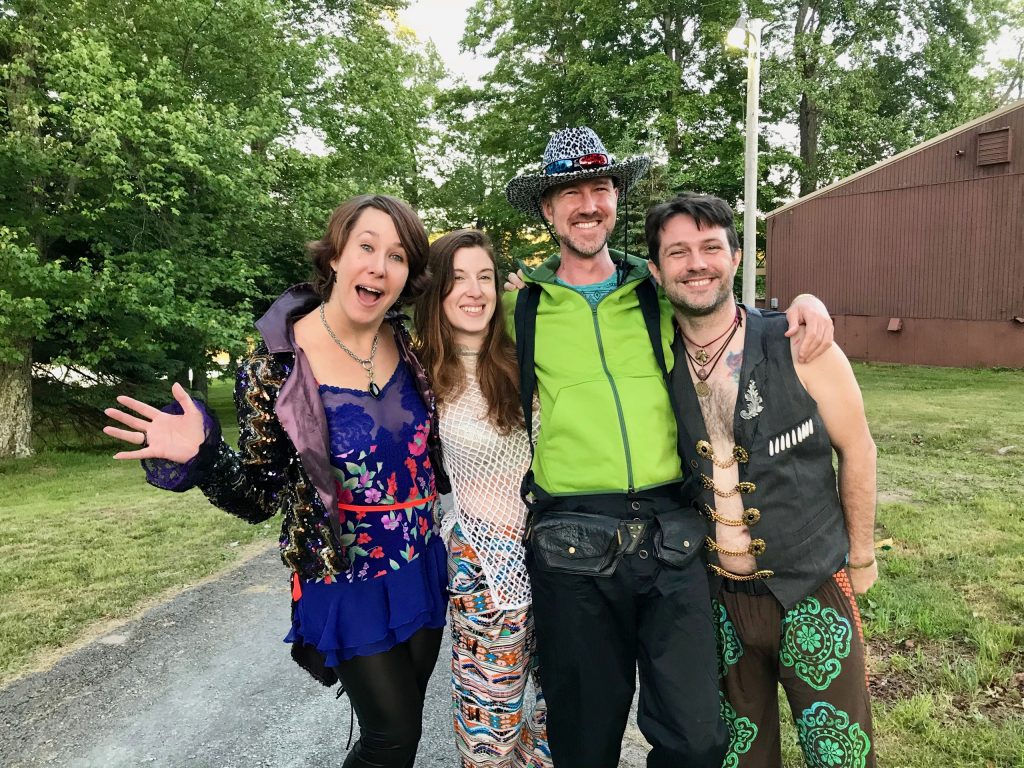 We were absolutely elated to connect with our fine friends. We had so much catching up to do!
In this vibrant environment of connection and excitement, you'll probably find that encounters are sizzling with a sense of import and magic.
This certainly made it all the more special to reconnect, for us!
We celebrated a (surprise!) birthday — and as we gathered together around candles, cake and fun times, we got ourselves geared up for an amazing time.
Chow down, your way.
Not only is it important to stay hydrated, but eating well is key! We were really impressed and delighted by the three square meals served daily. Thanks to the buffet layout, you're able to easily compose a meal that suits your diet and tastes.
The long tables in the dining hall lend themselves to nice hangouts and making new friends while you dine. There is also some nice seating on a deck outside, overlooking the lake. A couple times we took our food down to the patio closer to shore, and it was a delight to be surrounded by nature and fun while we replenished our nutrients.
Hit the pool.
The vibe around the pool is pretty frenetic and lively. The dance and banter bounces along well with the spirit of the beats.
The hot tub makes for a bit more of a subdued, bubbling circle of lively chat and laughter.
We made new friends, and relished every moment.
…and the lake.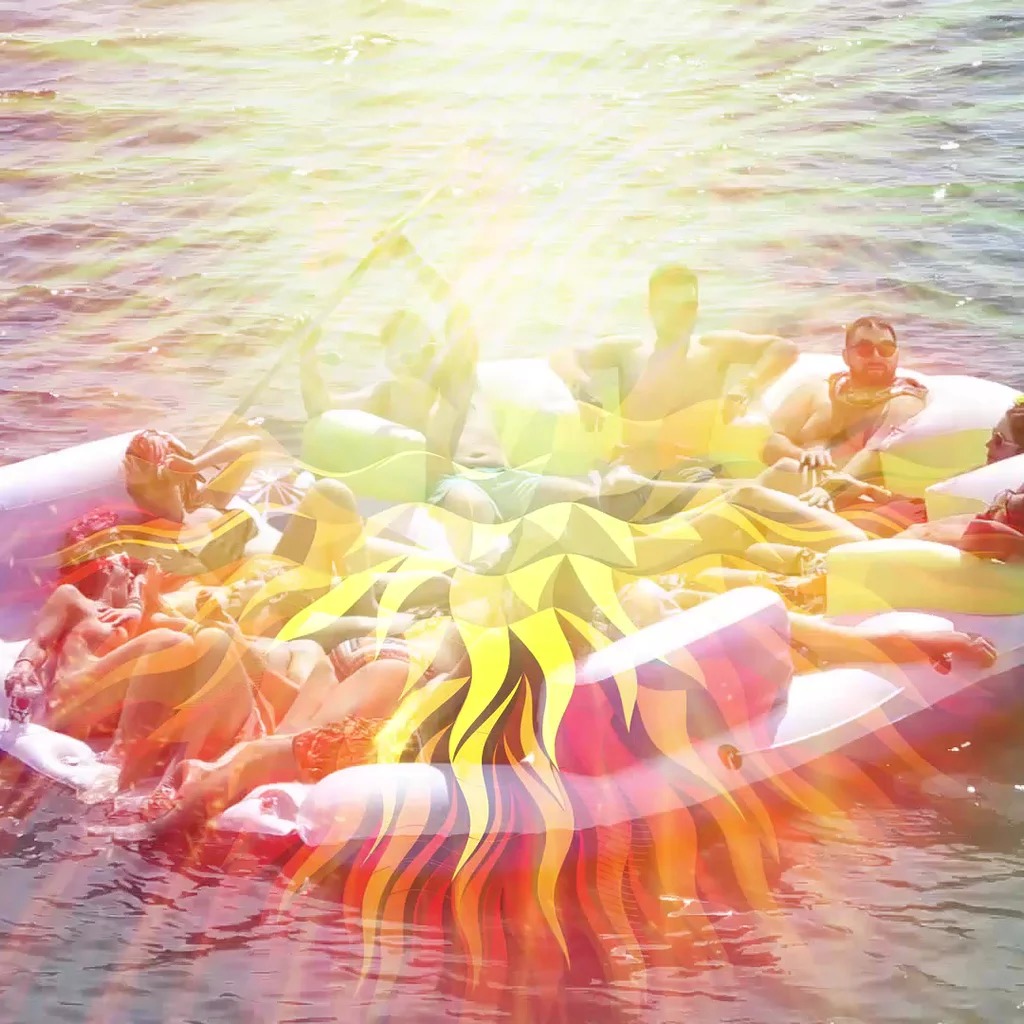 Photo credit: I FEEL Summer Escape site 
The lake makes for quite a sense of expansiveness. It stretches pretty far from the camp, without another building in view.
There is a great feeling of basking. Languid sun-worshippers, floating rafters, and even adventuresome swimmers evoke a sense of abandon and relaxation. It's an exquisite spot to chill.
We found ourselves easily gliding into conversation with a pair who opened our eyes to spiritual awakenings on the coasts of Mexico, bravery in toplessness, and the sensuous virtues of sex on the mossy floor of a verdant forest.
Co-create fun everywhere.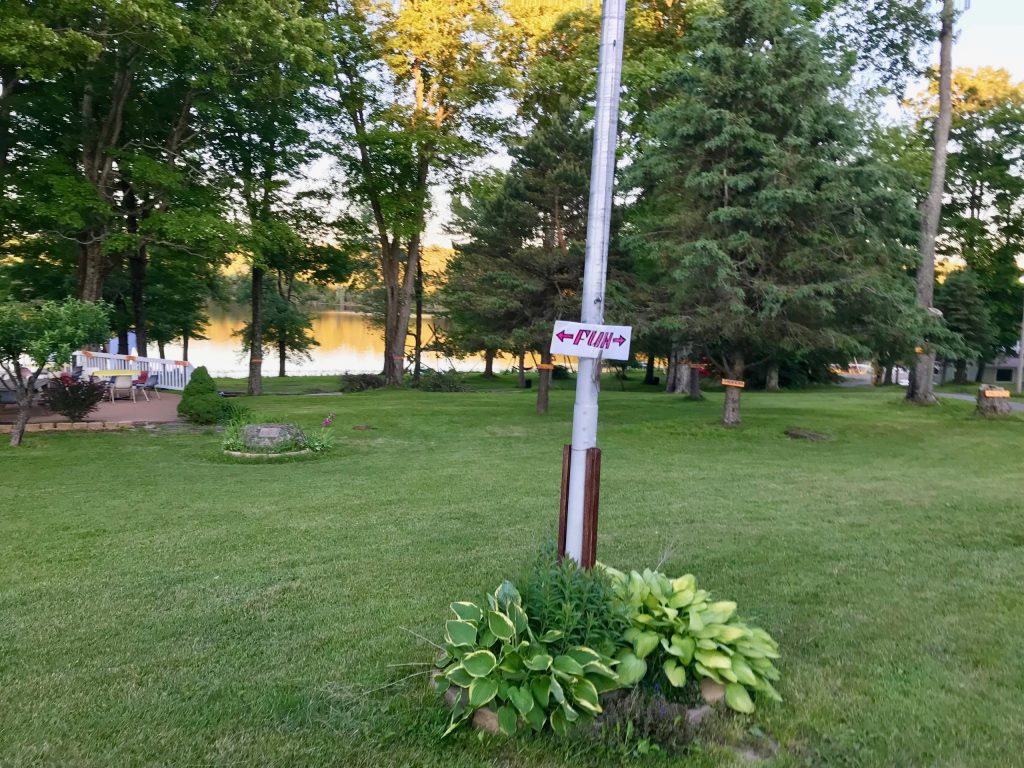 Naturally, once the festival is underway, the grounds are buzzing with art, adventure, and activity. There is a spirit of spontaneity as you stumble upon one serendipitous encounter after the next.
Along with the sense of abandon, there is also a feeling of intentionality. Contributing to the creative confluence is a delight, and brings about fun new surprises along the way.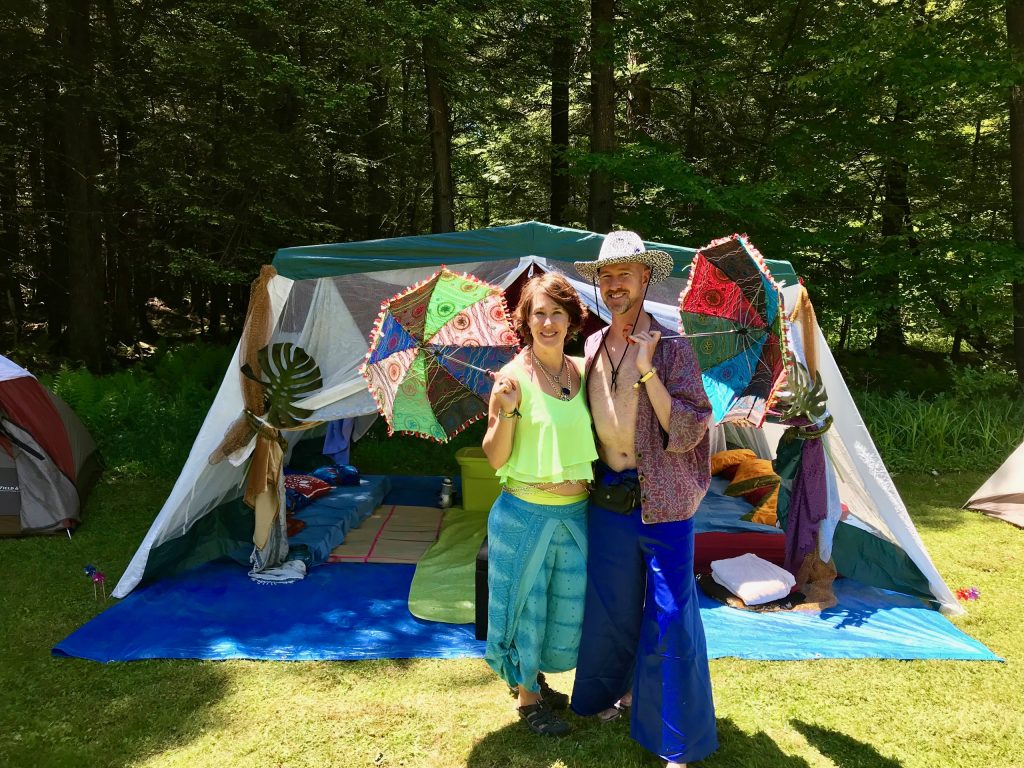 It can be quite a joy to set the stage for other FEELers to play and explore.
We were pretty tickled to make new acquaintances as people discovered the genie tent we set up. Rubbing the magic lamp for wishes certainly led to fun insights, and we really enjoyed the creative spirits intertwining.
Make an art of the night.
Thank the body painter?
Of course, the I FEEL evenings are aglow.
For one thing, Ashley was ravenous to be body-painted. Soon enough we found that her exposed flesh was adorned with a twirl of glowing paint strokes.
The luminous spirit goes far beyond the visual kaleidoscope of light and color, naturally. You can feel the excitement build as amazing souls convene in a swirl of dance, decor, and delight.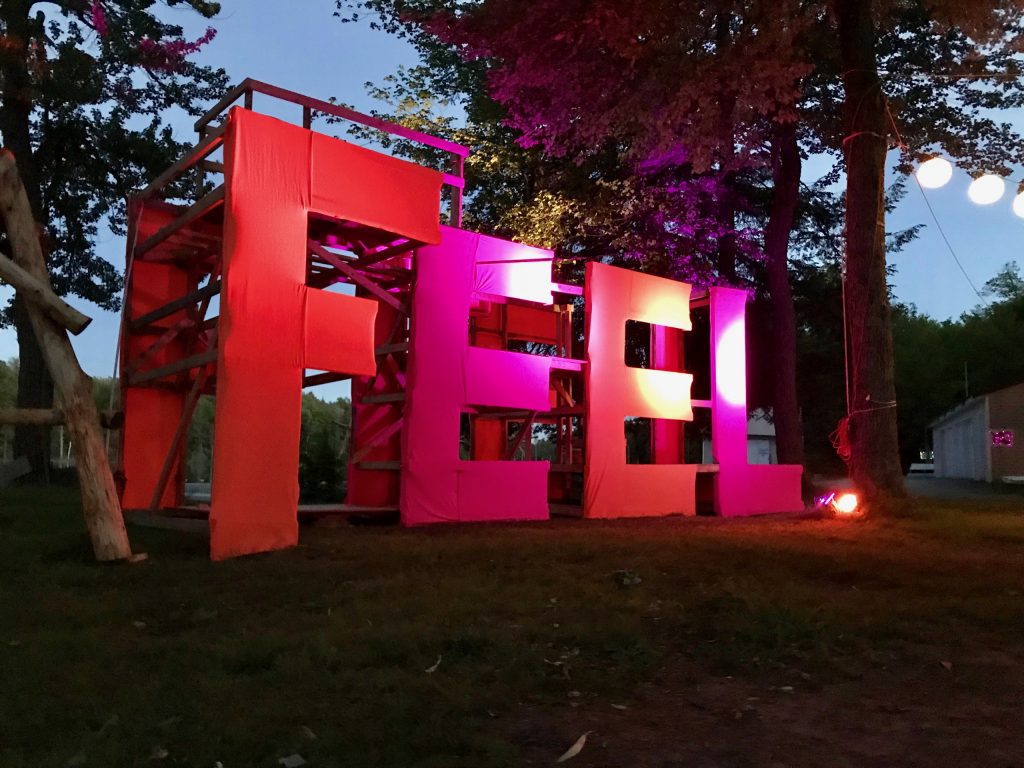 The evening energy of FEELers extends far beyond the dancefloor. Gathering around the fire sparks that tribal spirit, and warm circle of connectedness.
We also loved to glide along paths in the night. Basking in the neon radiance of the painting pavilion took on a meditative tone. Interacting with dangling creations in the forest felt like an unraveling of mystery and discovery.
Feel the love.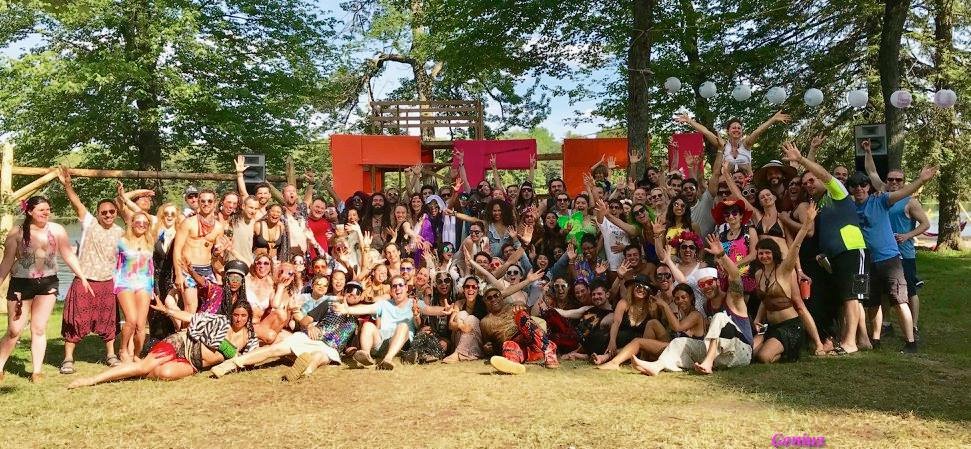 Photo credit: Closing party group photo by Geniuz Media, Chronicles of a Burner Life.
The spirit of I FEEL Summer Escape holds immense creative confluence, and it has a comforting tone of intimacy as well. You will notice it's significantly smaller than some other regional burns in the area, and we found the size rather refreshing. All the special moments of love and light really add up to an amazing few days.
It has quickly become a magical escape that we're eager to revisit soon.
We included some photos from the IFEEL site and Facebook page. For changes to credit or removal, just let us know. Thanks!
Enjoy this post? Pin it for later!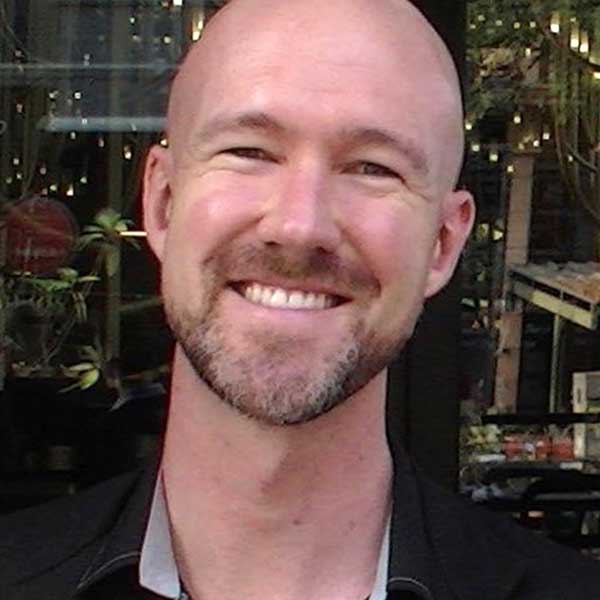 Curtiss is a lover of delicious atmosphere, experiments in location independence (and digital nomadism), and that magical place where wifi and paradise overlap.