Finding The Perfect Coworking Place: San Francisco
The life of a digital nomad can be as frustrating as it is exciting.
On the one hand, there's endless freedom and possibility! Where will you go next? What will you do tomorrow? It's all up to you! On the other hand, well, it's all up to you, and that includes figuring out every single detail. If you're always on the road, just finding reliable internet, a clean bathroom, and a comfortable place to sit for an afternoon can be a challenge. To keep your bank account full and those world travels well-funded, you'll need to find comfy, wi-fi-enabled places to get your remote work done.
San Francisco is one of the most beautiful cities in the United States, and it's also a remote worker's paradise!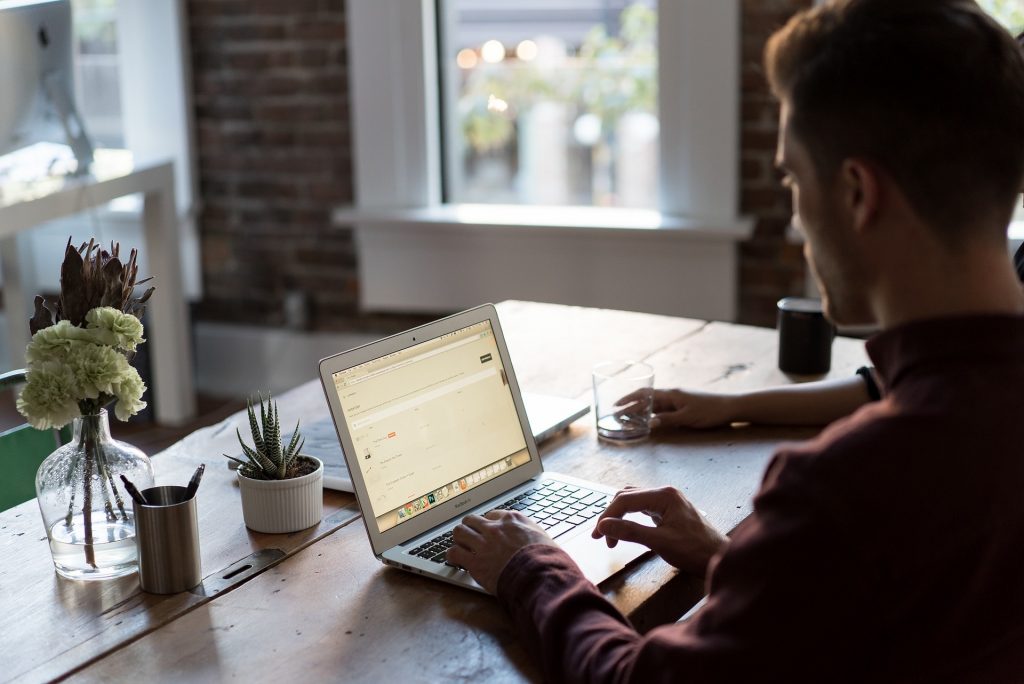 If you're here to both play and work, you have an incredible wealth of options. Not only are there tons of high-end amenity-rich coworking spaces all over the city, there are dozens of un-official workspaces and plentiful free wi-fi. The sheer number of options can be overwhelming, so I've narrowed it down for you with this in-depth guide to the best places to work in San Francisco.
 Coworking Spaces
Co-working spaces seem like a permanent fixture in the modern city today, but they've actually only been A Thing for a little over ten years. According to the Deskmag History of Coworking Spaces, the concept of "coworking spaces" as we know them first became official in 2005, when a programmer in San Francisco created one "as a reaction to "unsocial" business centers and the unproductive work life at a home office." Of course, the general idea of coworking, with its convenience and social benefits, has been around for much longer. In San Francisco, coworking space design has been elevated to an art.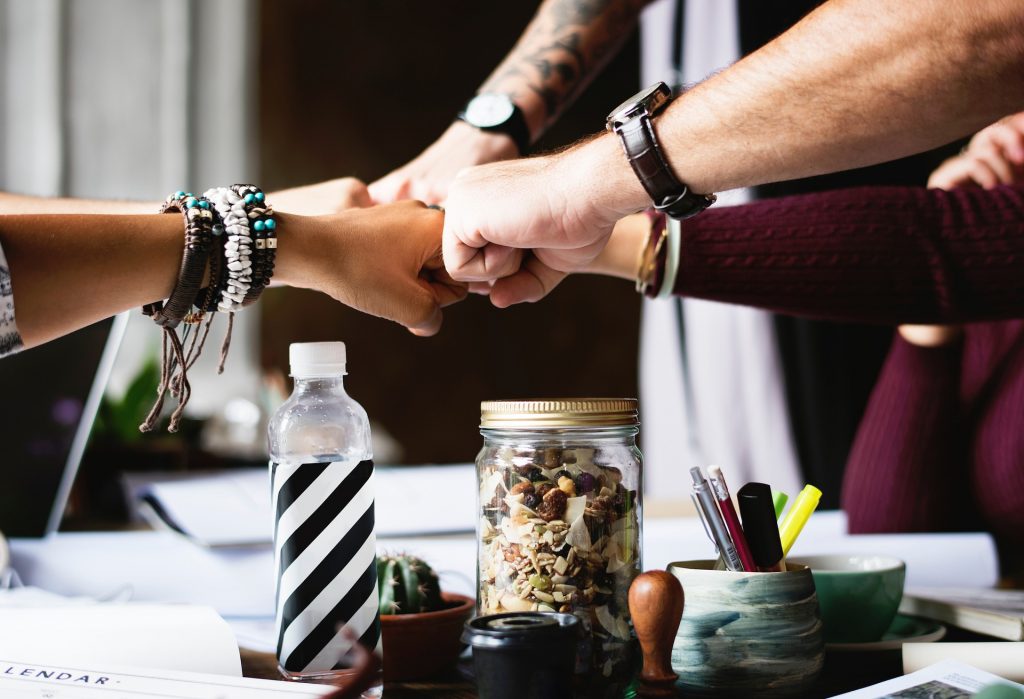 All spaces I'll mention in this section have what I consider to be the must-have basics: desks to work at, places to sit, clean bathroom and kitchen facilities, and good wi-fi connections.
BESPOKE
845 Market Street, Level 4, San Francisco, CA 94103 [map]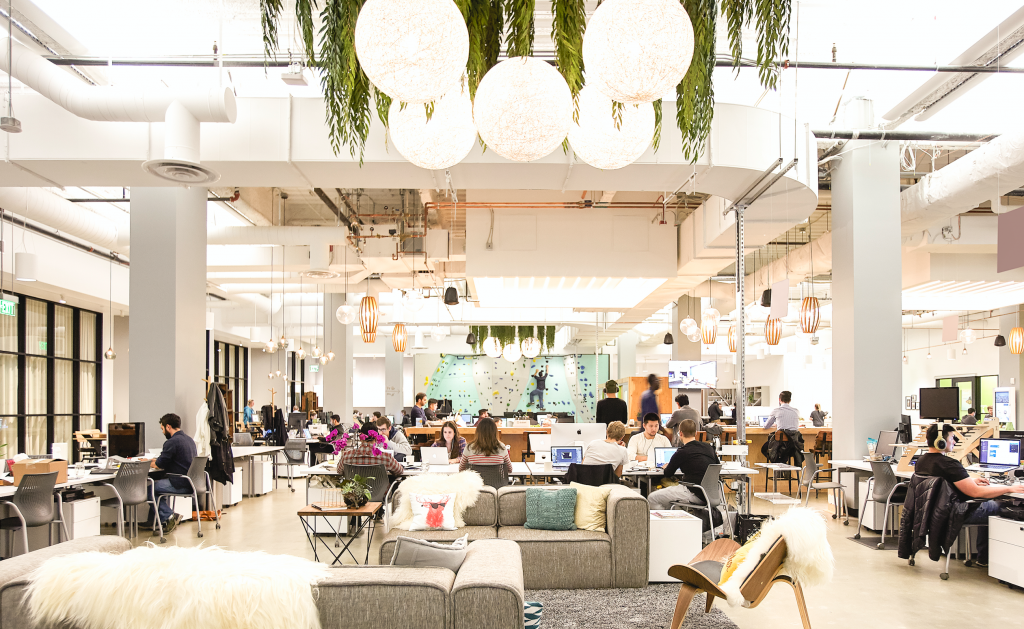 Bespoke is a comfortable, high-end option located under the dome inside the Westfield San Francisco mall. The location will probably a con for some and a pro for others, depending on how you feel about lunchtime and post-work shopping, and interacting with tourists. I like that Bespoke combines coworking desks with conference, meeting and event space, so if you need a place to demo or launch a product, or gather a large group, it's a good one to have on your radar.
As a solopreneur, digital nomad or team of one, it's also a fine choice. If you're just passing through San Francisco and looking for a tricked-out spot in the middle of everything, you'll love the convenience of having a workspace, rest areas, a solid kitchen, plus shopping, lots of food choices, and a BART transit hub all in one place.
Day passes are $35 for a single desk, but if you want more desks or more time, you may need to apply, so check the website for details to fit your trip.
CANOPY
2193 Fillmore Street San Francisco, CA 94115 [map]
To get a sense of Canopy right away, consider: Rumi quotes on the homepage, co-founded by world-famous designer Yves Behar. They take design seriously, and the space is beautiful. At Canopy, you'll find private offices, single desks, shared tables, conference rooms, quiet phone booths and communal workstations.
All that fancy design comes with a hefty price tag, with memberships starting at $650 and going up (way, way up) from there, depending on how much space you want. This could be a good choice for a team, but isn't so accessible to the solo digital nomad. They do have a "nomad" membership tier option, which grants the use of the SF space 60 days out of the year for a one-year commitment of $3,300. With one location in the Pacific Heights neighborhood in San Francisco and 2 more locations "coming soon," I might skip this one for now but keep an eye on it in the future.
COVO 
981 Mission Street, San Francisco, CA 94103 [map]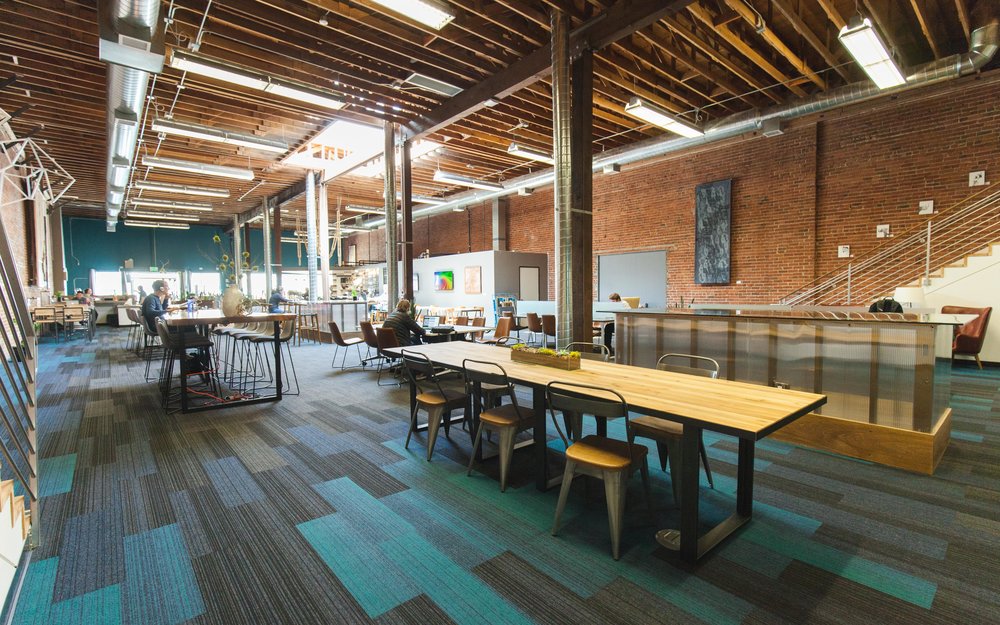 Covo is a friendly, amenity-packed space fun by a husband and wife team. The facility combines single desks, meeting space, a public cafe that is a coffee shop and lunch spot by day, and tap room by night. Options for work include a communal workspace, a dedicated desk, or a "semi-private" office. You can even book time on an hourly basis, making this a nice choice for those digital nomads who don't need a lot of time. Members get access to social, networking and educational events. It's not the fanciest space in town, but it's attractive, with comfortable, modern furnishings, reliable internet and plenty of places to work.
The location is…not the greatest. It's only a block and a half away from the Powell BART and MUNI station, so it's an easy commute, but out of towners should know: the Powell BART and MUNI station is pretty filthy, ugly and reeking of urine pretty much all the time. The short walk to Covo from public transit is NOT a nice walk, and the block is NOT a nice block. It's, to put it nicely, "gritty." If that doesn't bother you, great! But consider yourself warned, and I recommend you approach from 5th, not 6th Street.
GALVANIZE
44 Tehama St, San Francisco, CA 94105 [map]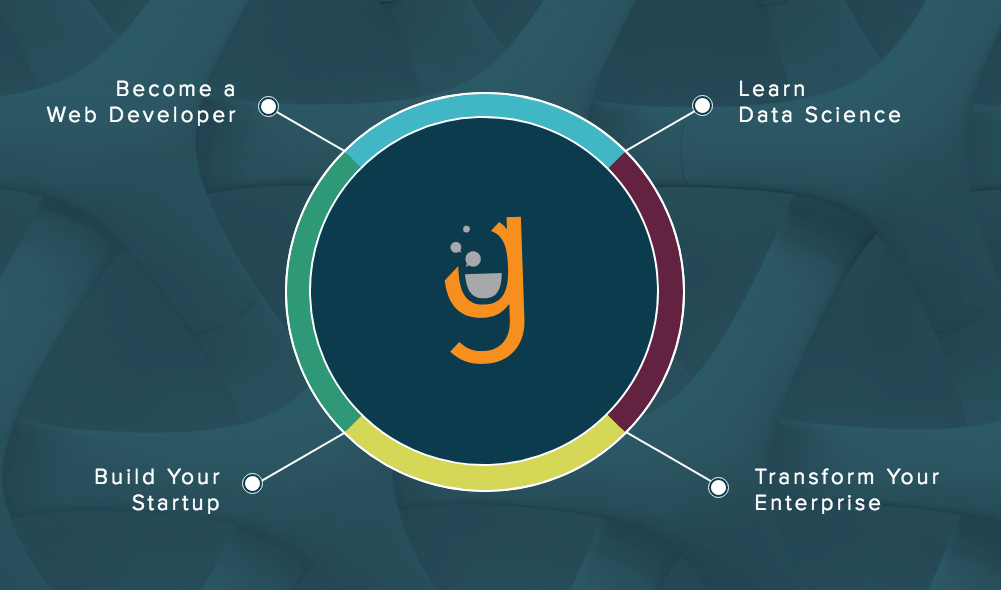 Galvanize bills itself as "the learning community for technology." Along with a sleek, attractive physical space to work, they feature regular educational workshops on topics related to tech and programming, so you can network with other tech workers, sharpen your existing skills, and pick up new ones. This space has a great reputation in San Francisco, so if continuing education and networking are goals for you while you're here, Galvanize should be on your list of places to visit.
As with most other coworking spaces, they've got different tiers of membership, from drop-in "hot desks" to dedicated desks to private offices for rent, spacious glass conference rooms decked out with great conference room tech, and an impressive rooftop patio for lounging and events.
HATCH
645 Harrison St, San Francisco, CA 94107 [map]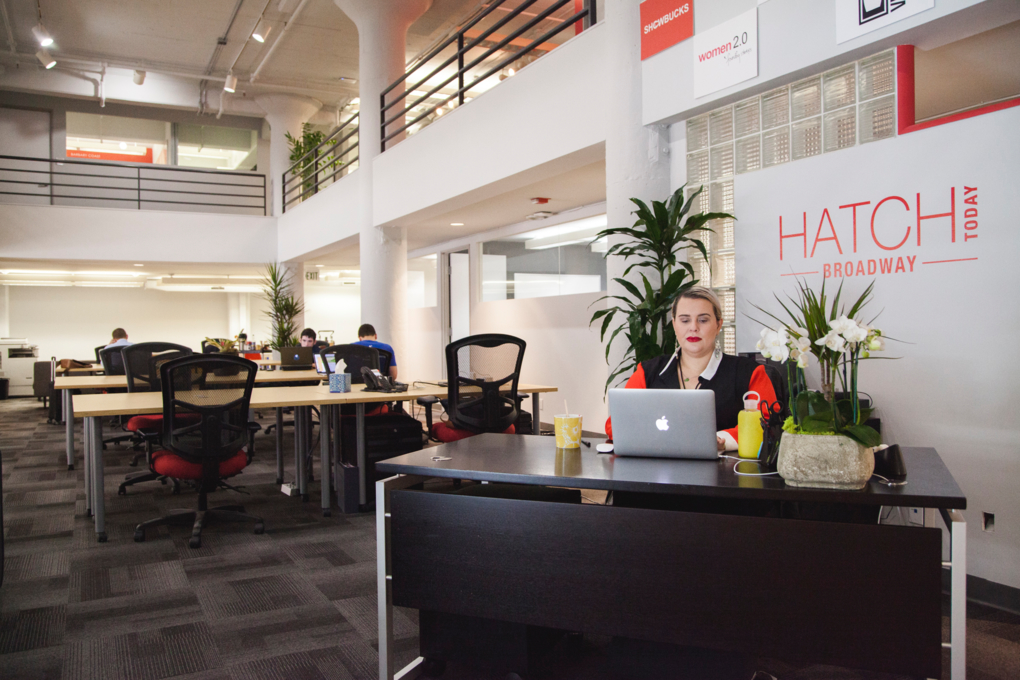 Hatch Today is a simple, spacious place for startups and individual entrepreneurs to call home, in the SOMA neighborhood. It's got all the goods: single "hot desks" for drop-ins, dedicated desks you can reserve, and blocks of desks for groups or small companies looking to claim their first space.
The original Hatch is one big open space, so it's not the quietest option in the city, but it also is above street level and not connected to any public coffee shops or other public spaces, so it's also not the noisiest. There are meeting rooms and phone booths, but in my experience, they were quite often full, making it tough sometimes to get a quiet corner to make a phone call. There's a kitchen, but it's pretty basic, and the coffee and snacks were on the low end of "just ok"…but they were free.
The main draw here would be the community. It's pretty normal for people to stop and chat with each other, and in the months that I worked at the original Hatch location, I made some real friends who I'm still in touch with years later. There are also social events and educational events, on an irregular ad hoc basis, which were always interesting and well-attended.
Note: There is no bike storage and this isn't an area where you want to leave your bike locked up on the street. (That goes for most of downtown San Francisco, to be honest. Unfortunately, it's a bike stealin' kind of town.) If you ride a bike to work here, just bring it inside with you and lean it against a wall – everyone else does.
RUNWAY
1355 Market Street, Suite 488, San Francisco, CA 94103 [map]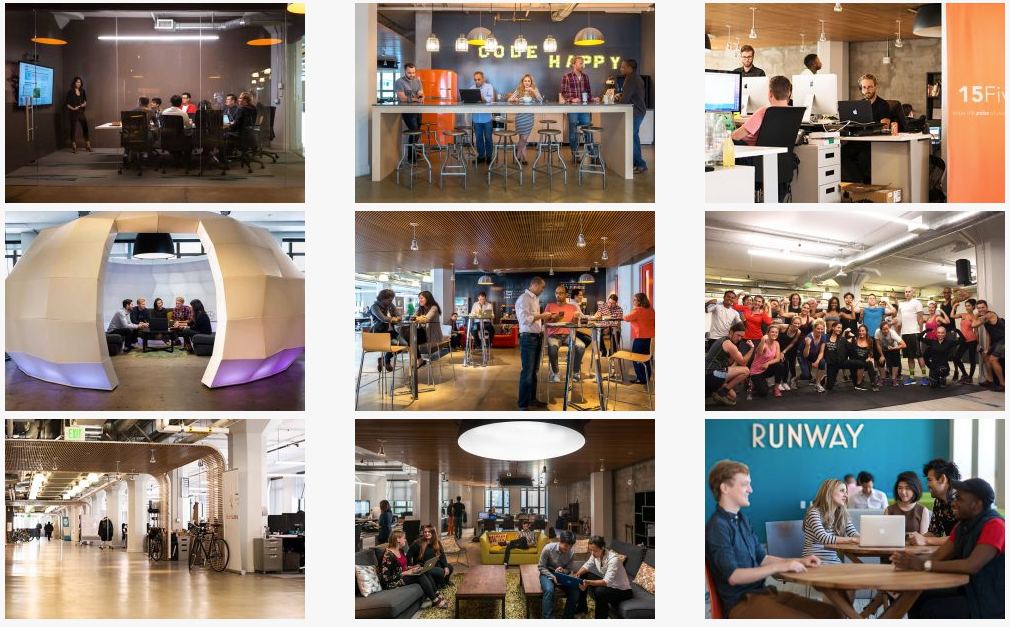 Runway is a tech incubator, coworking space, meeting and event space, and "innovation hub" for entrepreneurs, startups and venture capitalists working or passing through San Francisco. Runway "hosts accelerator programs for high-growth startups, provides corporate innovation services to global companies" and more.
Centrally located in the middle of the city, Runway is located on the fourth floor of the Twitter building, making it easy to get to and find for visitors and out of towners. The kitchens are sleek, the furnishings all very modern, with lots of metal, concrete and bright colors, and the large event area seats over 100 people.
Curious about Runway? You can apply for membership, check out upcoming events, and take a 360-degree virtual tour all on their website. A floating desk membership is $400 per month, and you can snag a free day to try it out first.
SHARED 
739 Bryant St, San Francisco, CA 94107 [map]
SHARED humbly calls themselves "a space for creative people to work and collaborate together." As you might expect from this tagline, it's a laid-back, welcoming place for all creatives and individuals of all sorts to come together and work on their projects.
The first thing you see upon entering SHARED is a colorful visual artist's workspace. Paper, canvas, paint, and brushes greet you and let you know right away that this is a little bit different from your typical SF coworking environment. Members are a cool community of people who design, create and build stuff…all kinds of stuff! The management here actively include the local arts community, and there are a lot of membership options to fit your needs and budget. If you need more convincing, reviews on Yelp are overwhelmingly positive, and many call out the awesome owner, Marilyn, and the super-friendly community!
You can get a weekday daytime access membership starting at $250 per month, getting you the use of wi-fi, communal workspaces, conference room, kitchen, lounge, and lockers. There are also some ways to score a discount by volunteering, which you can apply for here. If you're only looking for a day or two, a day-pass is $25 and an evening/weekend pass is $10.
WEWORK 
Various locations [map]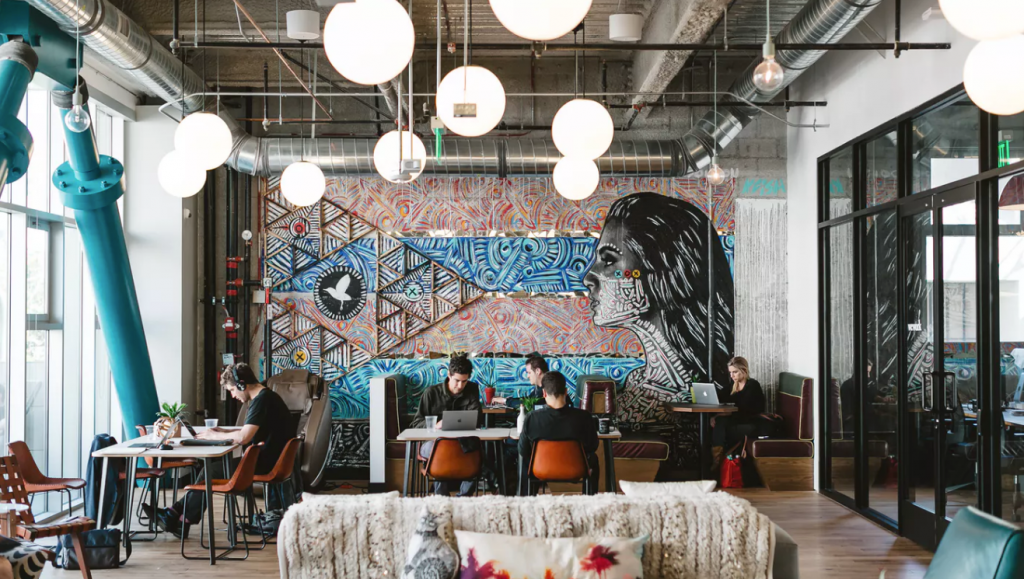 If you haven't heard of any others, you've almost definitely heard of WeWork, a giant in the coworking space market. Founded in 2010, WeWork comprises 10 million square feet of shared office space for over 100,000 members. With 230 locations in 53 cities around the world, it's a great choice for a frequently-traveling digital nomad! Your membership gets you into such a large network of spaces and a wonderful human network of other nomads and startup entrepreneurs. You also get access to social, networking and educational events in WeWork spaces around the globe.
The spaces themselves are well-maintained, the details have been carefully considered, and the fresh coffee is high quality. The furniture and decor are usually very stylish, bordering on a parody of "peak hipster" and featuring plenty of reclaimed wood, quirky colorful furnishings, and funky art. (Some people will like this more than others, but for many, it's a plus.) Most locations feature single workspaces, offices of various sizes, private phone booths for taking calls in peace and quiet, kitchens, and conference rooms, all available for rent.
One thing that might be a deal breaker: In my experience, you won't find nap areas, showers, or much in the way of quiet space at a WeWork. That's just not what they do. In my experience, there never seem to be enough phone booths for quiet phone calls, so keep that in mind if you'll need to spend much time on the phone with clients.
In the San Francisco area, you've got a whopping 14 WeWork locations from which to choose. I've been to a bunch, and can tell you a few things: WeWork SOMA (156 2nd Street, San Francisco) is a fantastic location in the heart of downtown, but it's a little bit small, with most space dedicated to monthly members and private offices. WeWork Transbay (535 Mission Street, 14th floor, San Francisco) is probably the most impressive location in the city, with lots of common space and tons of amenities. It books up fast, though, so definitely plan in advance.
WORKSHOP CAFE 
180 Montgomery St #100, San Francisco, CA 94104 [map]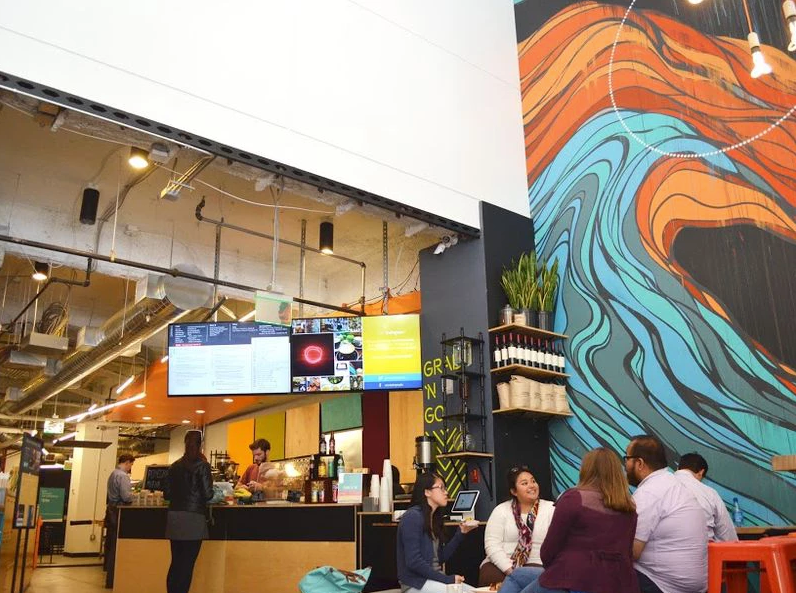 Workshop Cafe is sort of a combination between a coworking space and a regular coffee shop, in that it has both!
The coffee is legit – they serve Stumptown coffee and can make you any espresso drink you want. The food is of the high-end fast casual Californian variety, with offerings like coconut chia parfaits, bagels topped with arugula and watermelon, and fancy avocado toasts. The coworking space itself has the features and amenities you'd expect from all the rest of the spaces we've discussed: fast wifi, a community of other entrepreneurs and freelancers to connect with, regular events, the ability to become a member, book a regular desk or just work for a few hours, printing services, phone call booths, meeting rooms, whiteboards, and so on.
There's a lot going on, so I recommend checking it out online first – you can see tons of photos on their website. What makes Workshop so appealing is the convenience of having so much under one roof, the great location in the Financial District, near the Montgomery Street BART station, and the low prices. Individuals can pay by the hour, starting at just $2.
COFFEE SHOPS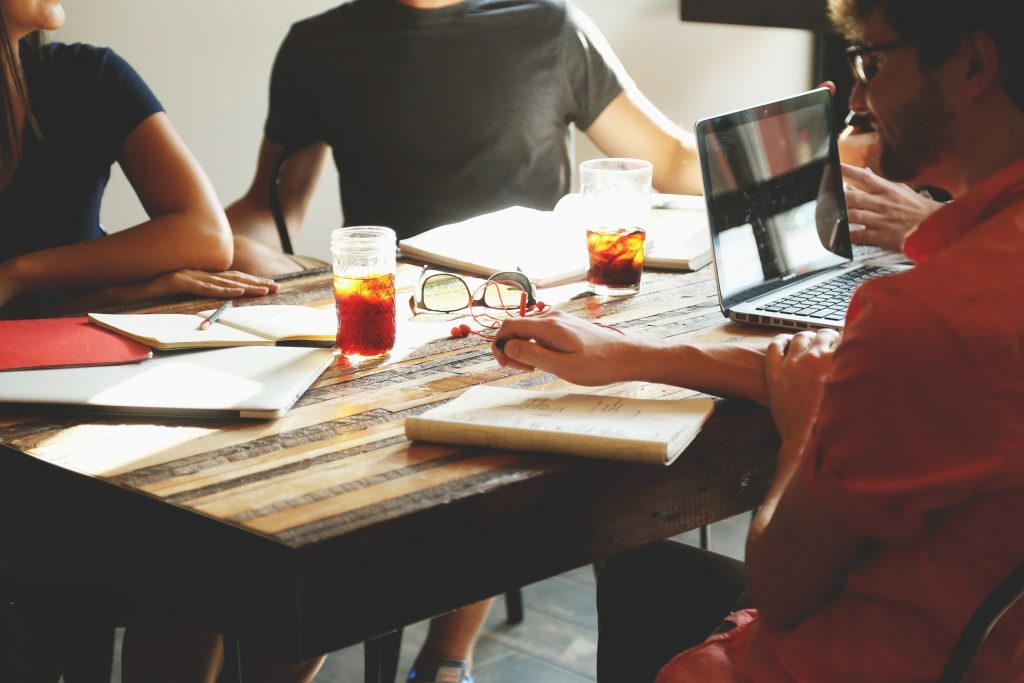 Before official "coworking spaces" were wildly popular, we nomads and freelancers created them in our local coffee shop! Sometimes, there's nowhere I'd rather sit and write (or draw or edit photos for a few hours or whatever) than a cool coffee or tea spot full of delicious smells and similarly studious locals. Best of all, if you find a good place to park yourself, it's free, no day pass required (beyond the coffee and snacks you were going to buy anyway). Here are some of my favorites in San Francisco.
BORDERLANDS CAFE 
866 Valencia Street, San Francisco, CA 94110 [map]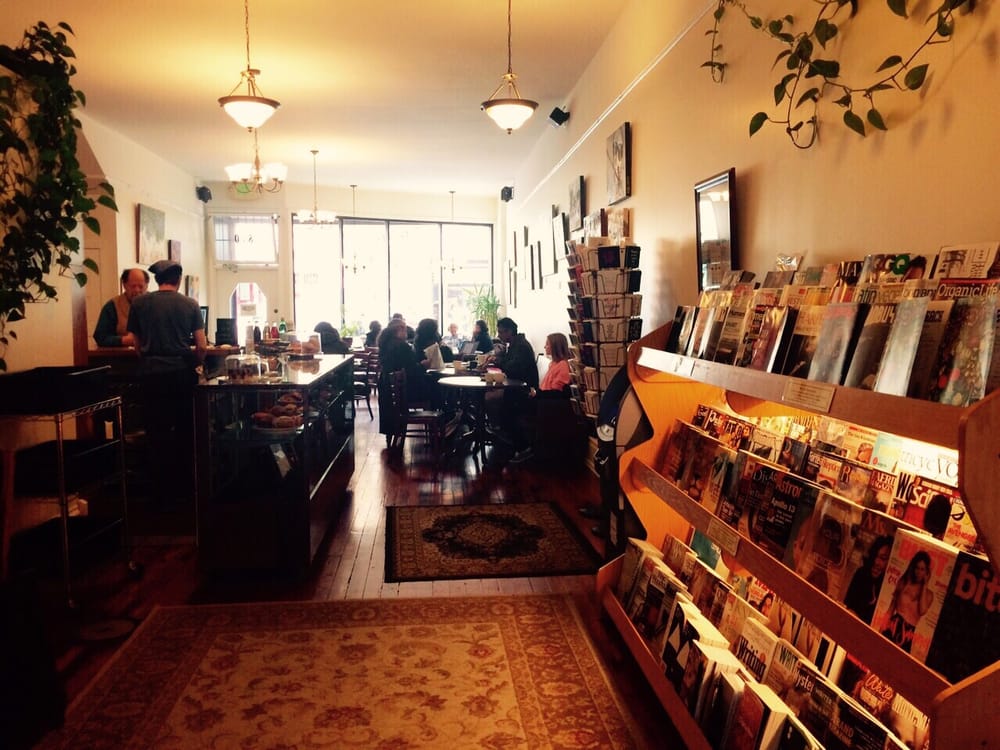 Open from 8 am until 8 pm, Borderlands Cafe is one of the best places to hang out and work. Compared to some of those coworking spaces above, it's totally stripped down, but sometimes, that's not what's important.
There's basic coffee, yummy spicy Mexican hot chocolate, simple yet tasty snacks (croissant, muffin, pizza bagels), small tables, large communal tables in the back, and a clean bathroom. The staff is no-nonsense but nice and helpful. There's free wi-fi and there are lots of outlets for plugging in your laptop. It's quiet, and the regulars know to take any loud conversations or phone calls outside. No one will hassle you and everyone is welcome. Best of all, it's got a fantastic magazine rack and is connected to Borderlands Books, a destination shop for new and used sci-fi, fantasy, horror and mystery books. Basically, it's a nerd mecca in the Mission. I hope it stays open forever!
COFFEE MISSION
3325 24th St, San Francisco, CA 94110 [map]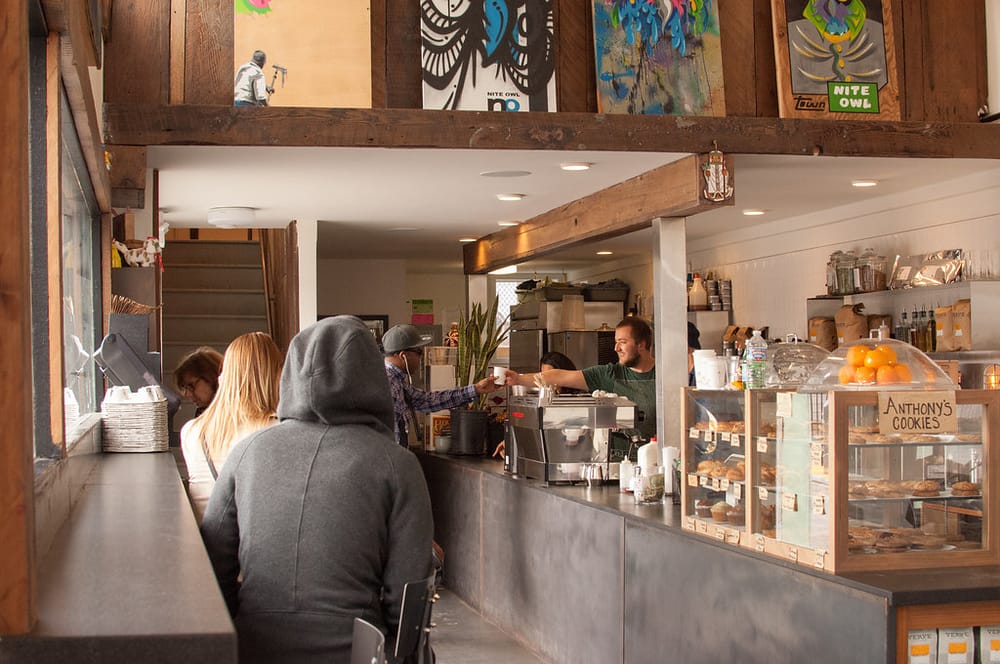 Located right next to the 24th Street BART station in the Mission Cafe, this place is awesome for a digital nomad to pull up a seat and get an afternoon's work done, along with some colorful people watching. Lots of seating, lots of outlets, free wi-fi and that aforementioned awesome location make this one of my top picks. To check it out in advance, visit their Yelp page for heaps of photos.
RED DOOR COFFEE / 111 MINNA GALLERY 
111 Minna Street, San Francisco, CA 94105 [map]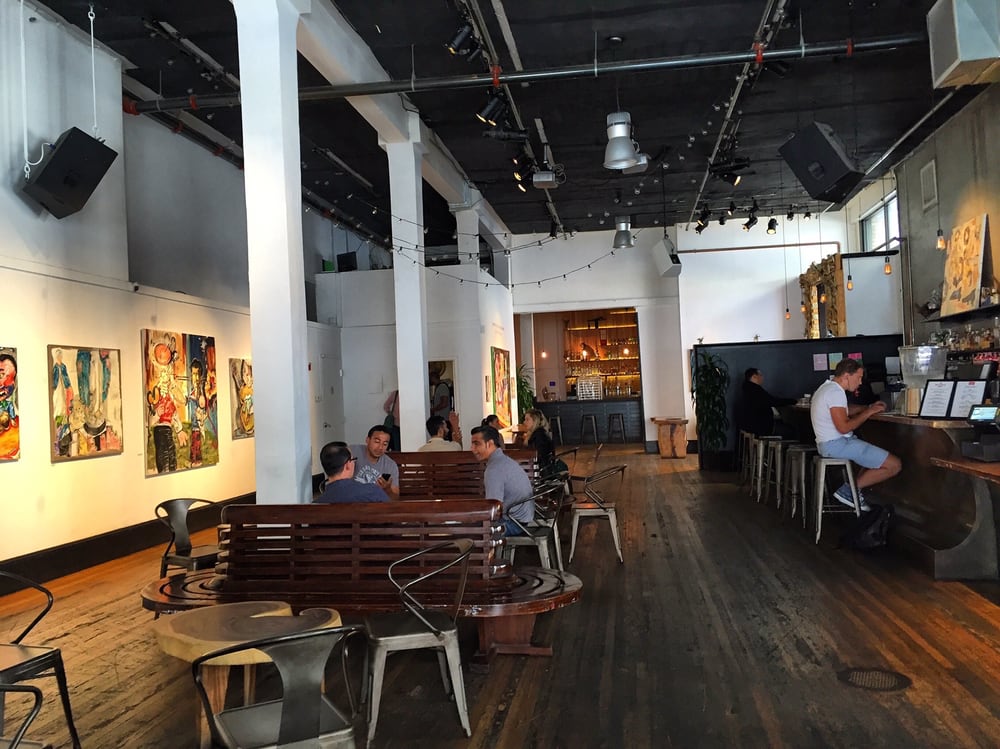 This spot is not the most comfortable, but it's aesthetically pleasing and unique. Red Door Coffee and 111 Minna Gallery occupy a large, airy shared space that is a combination cafe, art gallery, and event space. During the day, it's packed with downtown professionals getting their coffee, people conversing and interviewing, and some laptop warriors doing their thing with headphones on. It's not a calm, quiet oasis – more like a social watering hole in the middle of the SOMA jungle. The coffee is tasty, the baked goods fresh, the wi-fi is reliable, and the art is always changing.
RITUAL ROASTERS 
Various locations. [map]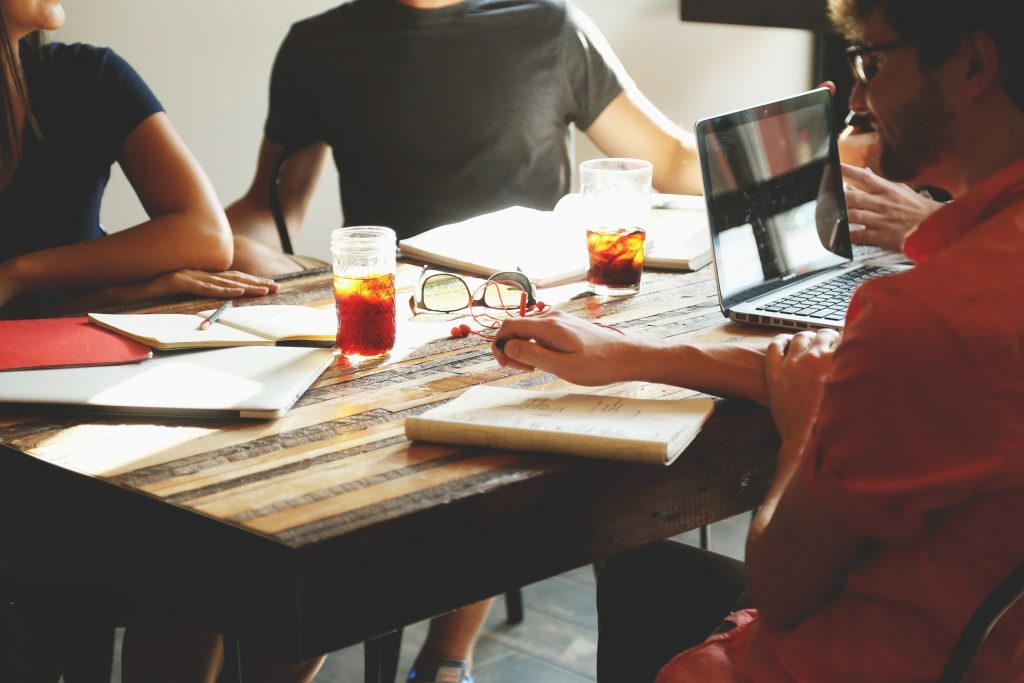 Ritual Cafe is one of the coffee companies you simply must know and sample when visiting San Francisco. A local institution since 2005, Ritual boasts truly special cups of coffee, whether you go for a single origin espresso, a unique coffee-based cocktail, a decadent and complex cold-brew…if you love and appreciate the art of coffee, you really can't go wrong here. Many locals would tell you it's not only the best coffee in San Francisco, but also the best coffee literally anywhere in the world. I'm not going to weigh in on that particular claim, but it's damn fine coffee.
Oh yeah, and as a workspace, Ritual is a good bet, too – but caution, there may NOT be wi-fi, so be prepared to tether to your phone or other hotspot device, or just bring some offline work to do. There are locations all over the city, in neighborhoods that you want to visit and walk around in anyway: Mission, Haight, Hayes Valley, Castro and more. Most days, it's open 6 am until 8 pm.
SOCIAL STUDY – www.thesocialstudysf.com
1795 Geary Blvd, San Francisco, CA 94115 [map]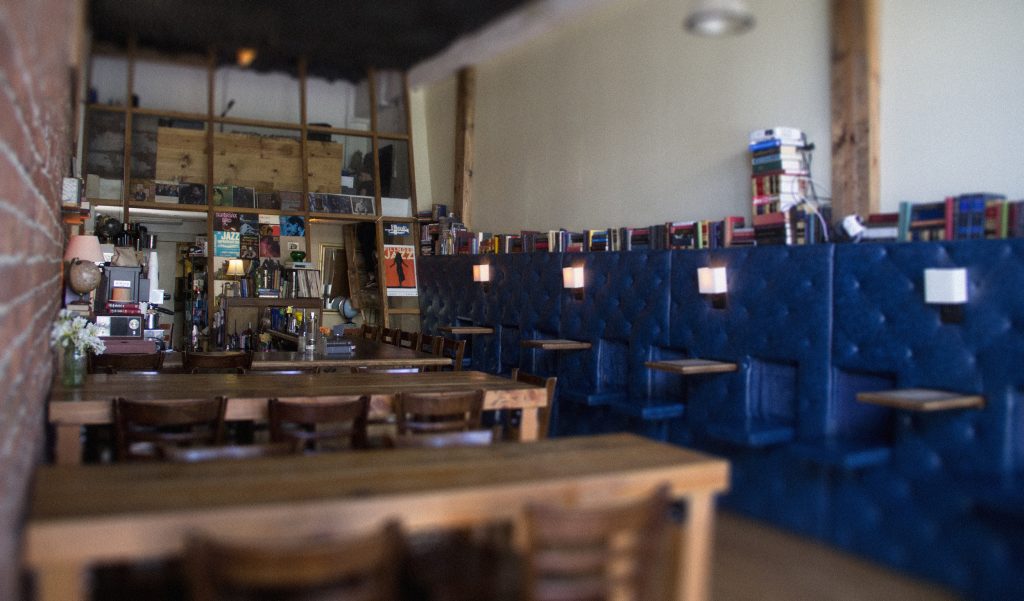 This petite oasis in the Fillmore neighborhood, on the edge of Japantown, Social Study has both tiny single tables and big communal ones, and is a nice place to work if you value coziness and a retro aesthetic. They serve Four Barrel Coffee, have a tasty vegetarian-friendly menu, have a great stock of games and books to look at, and are a frequent site for local events after dark. They've also got great sound and DJ nights. All in all, this is not just a good place to work, it's also worth bringing a date here later! Check their Facebook page for upcoming happenings.
CLARE COFFEE
3325 24th Street, San Francisco, CA 94110 [map]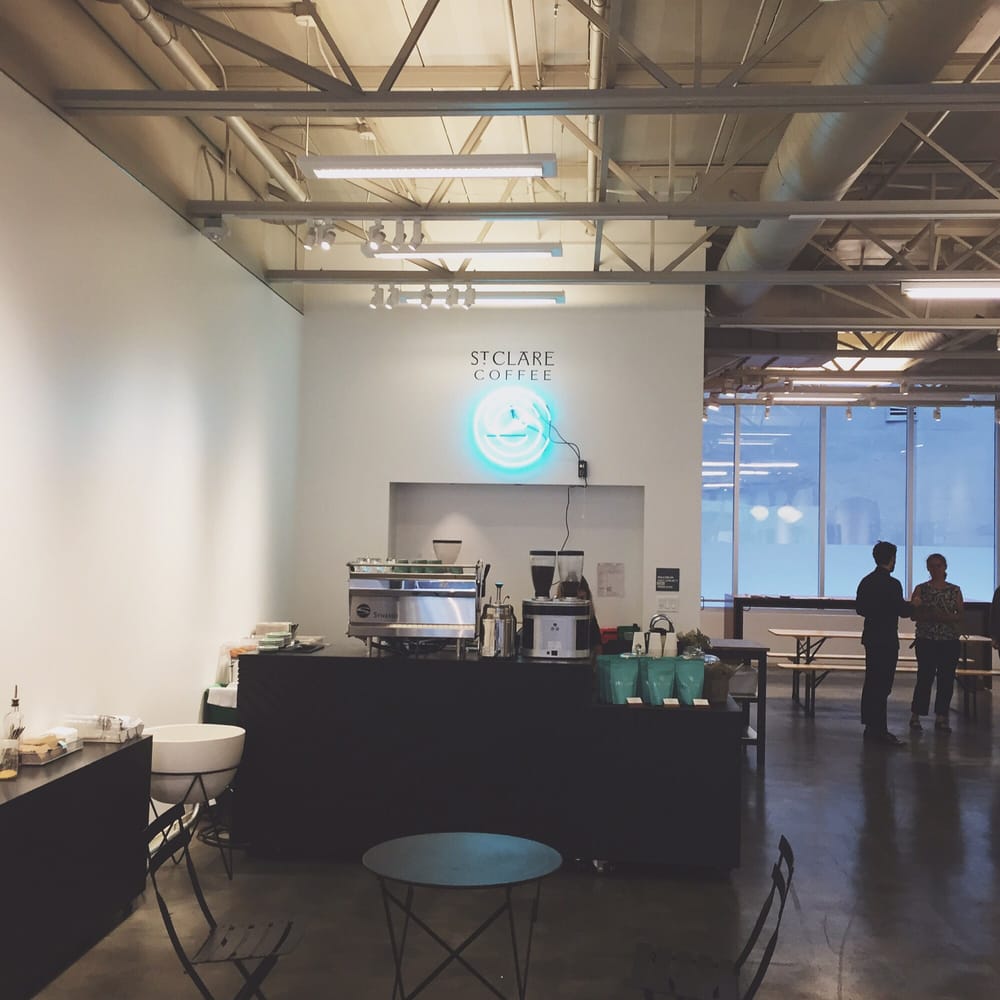 This isn't one of the more famous coffee shops in the city, but it's every bit as good. The coffee at Clare Coffee is naturally and sustainably sourced and processed, and it's delicious. St. Clare also contributes to the job training and opportunity efforts of Not for Sale in the Bay Area, so you can feel good about supporting this independent business. As an option for remote work, it's comfortable, conveniently close to the Montgomery BART station, and located in a vibrant, walkable area.
As for what it's like to work here, don't expect many amenities, but the basics are covered: There's plenty of seating, outlets, free wi-fi and clean restrooms. Oh, and genuinely friendly people, which always makes the workday happier.
Good Luck!

San Francisco may be small in terms of square footage, but it's packed with amazing spots to hang out, people-watch, and crank out some work! While you're here, take full advantage of this digital nomad's dream come true. Even if you live here full time, it would take you years to sample every spot. I hope this collection of some of the city's places to work will help you find the temporary office you've been looking for.
Good luck staying productive out there!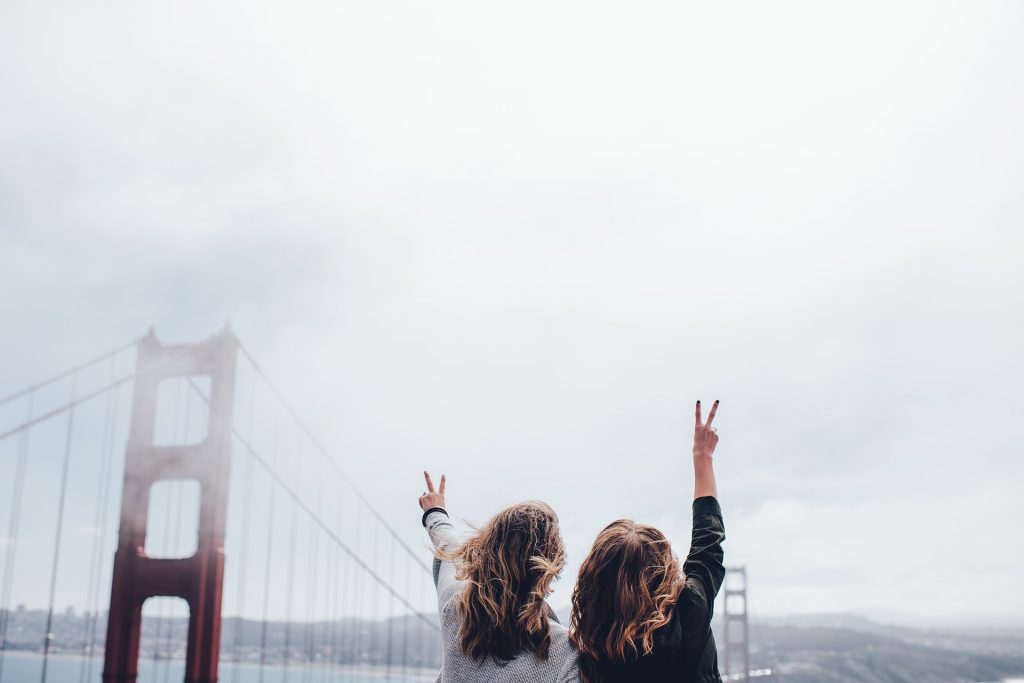 Got a favorite spot to work in the city that we missed? Let us know in the comments!
Enjoy this post? Pin it for later!
Irene Malatesta is a marketing strategist, writer, designer and avid traveler. Her goal? To build authentic connections through shared creativity and storytelling. You can find her on Twitter and Instagram @irenekaoru.