Get Inspired & Luxuriate From The Side Of A Mountain
So we found an absolute gem, high atop a cliffside.
The views of the ocean and sprawling town below this resort are absolutely breathtaking.
Aonang Cliff Beach Resort is located smack in the center of the busy main street, but once you leave the lobby and head up to your room, you'll start to feel worlds away! The various buildings are going up and hugging one of the mountains that Krabi is so well-known for. And it's in a place near and dear to our hearts, of course: Ao Nang, Krabi.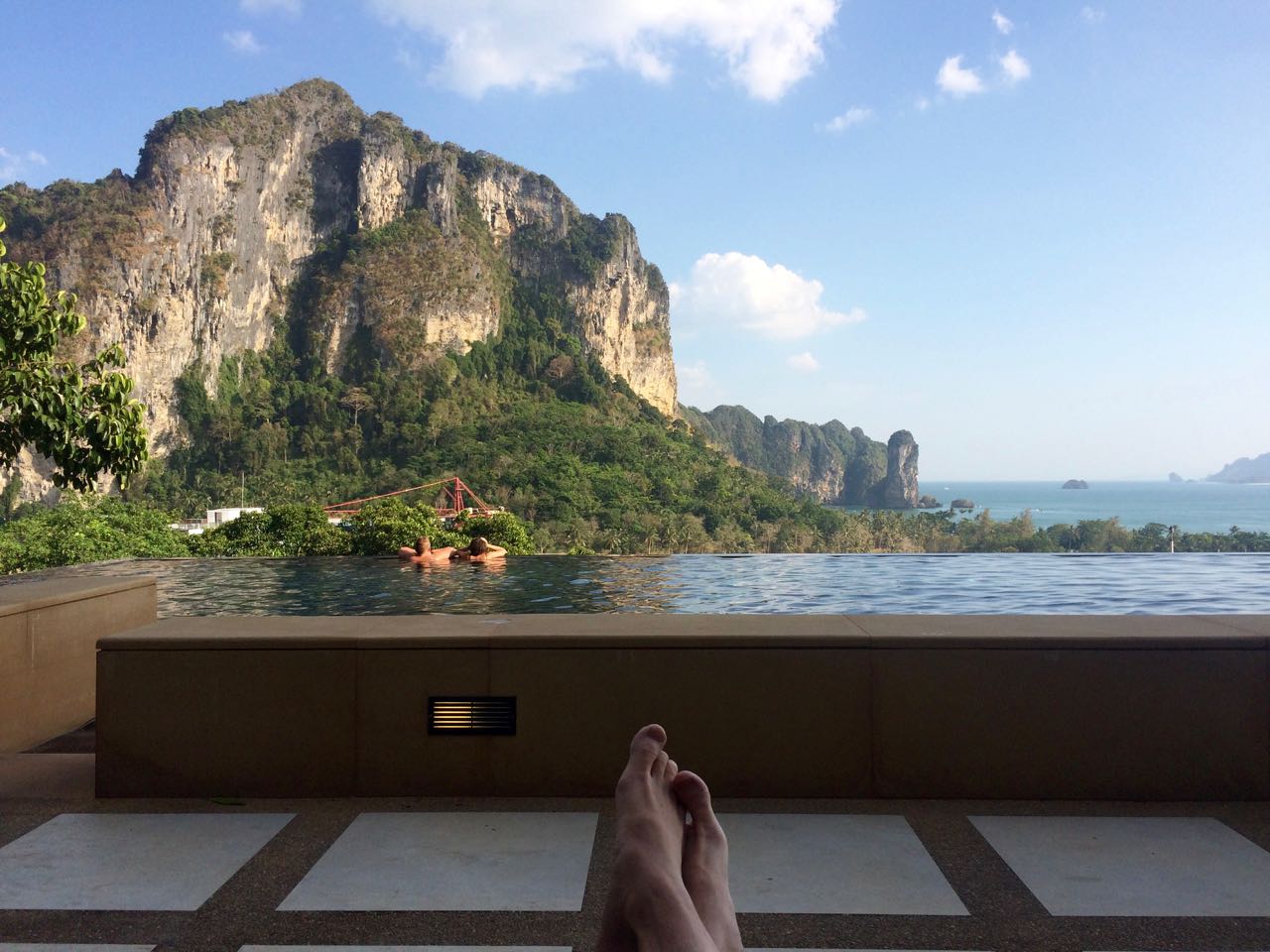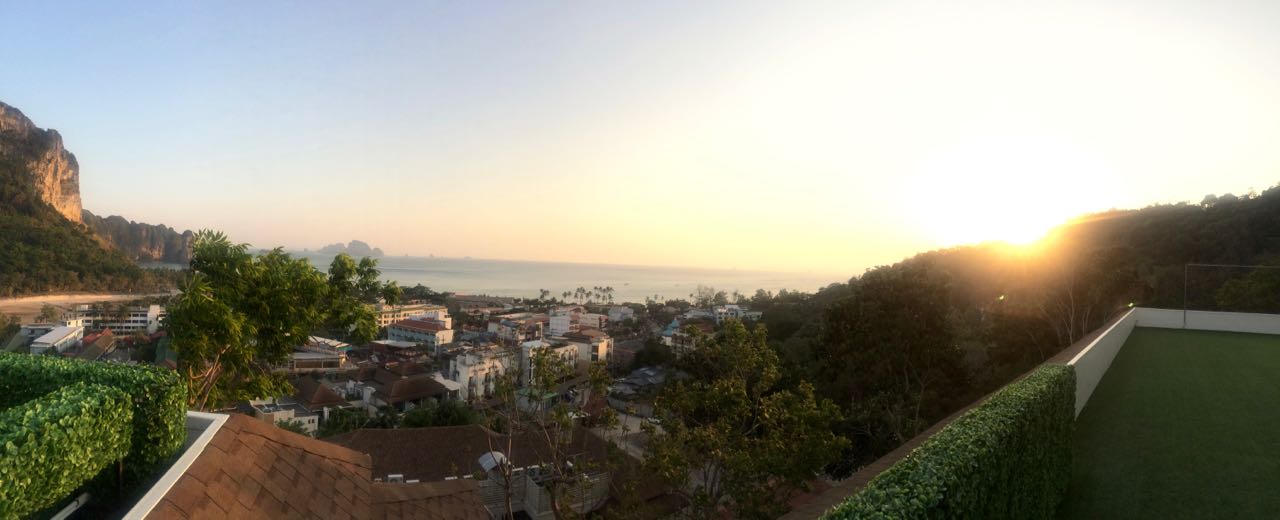 Perched high above the town and beautiful cliff beaches…
Our room was located in the new Panorama Wing, which are the resort's highest-up rooms and have spectacular views. They will be available to the general public soon. We were lucky enough to enjoy the exclusive experience of staying in one of these panorama suites! You're going to love them for all kinds of reasons…
We immediately fell in love with the room
…because the good-sized balcony doesn't just have one of the best ocean views I've seen, but also… a bathtub! It's honestly one of our weaknesses: we love tubby time!
This relaxing experience is unlike any other you'll have!  Trust us.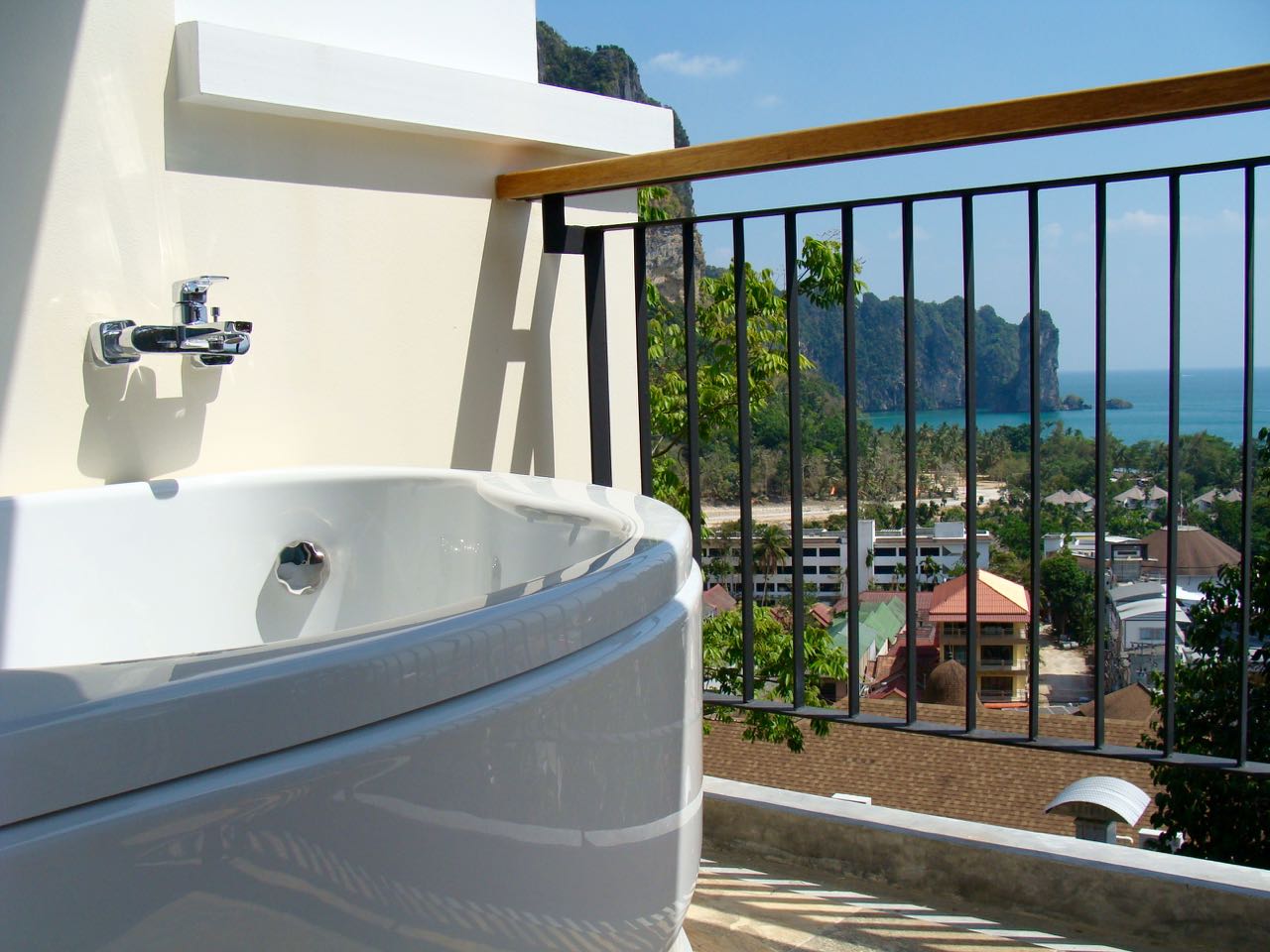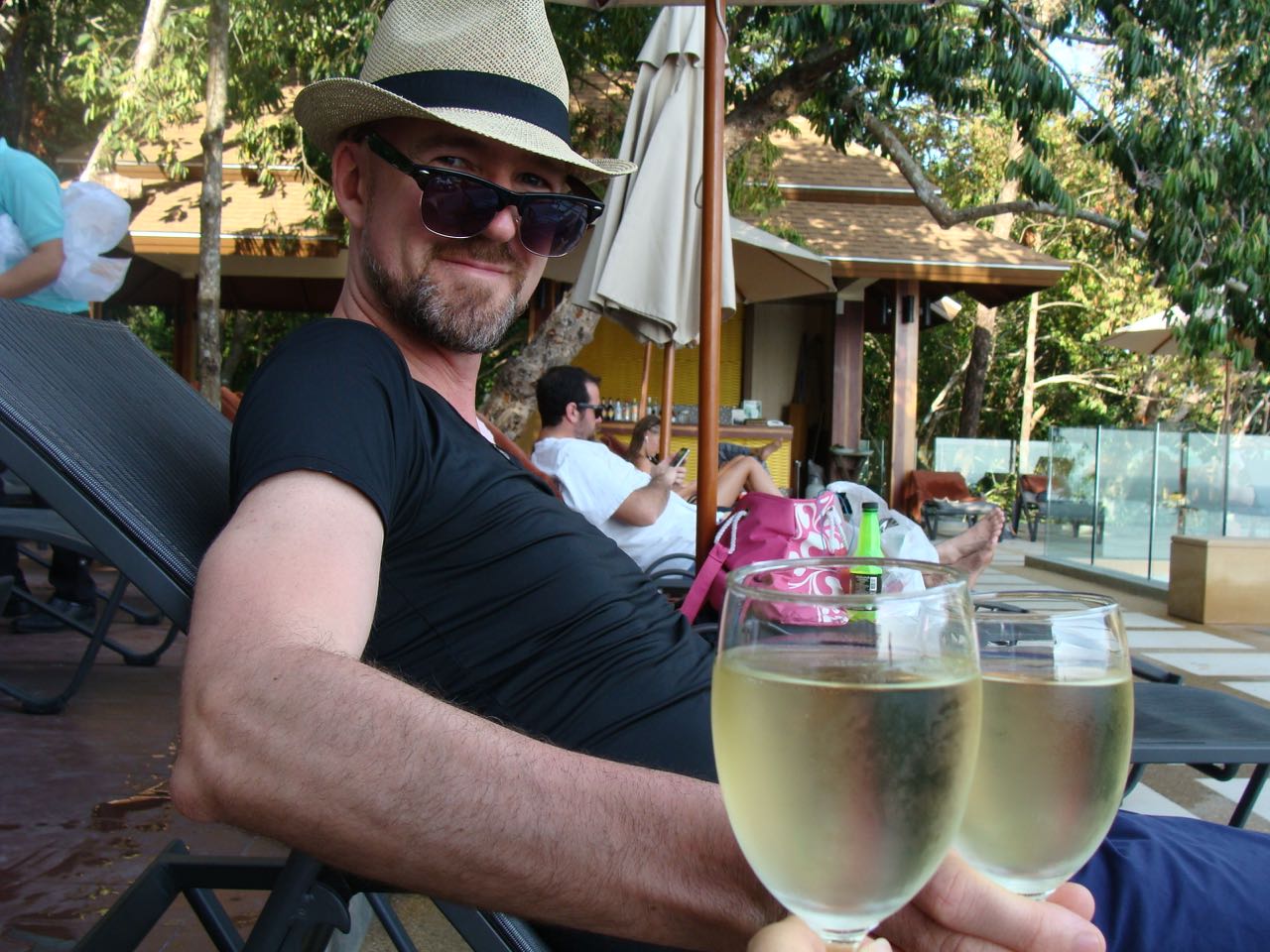 When it's time to relax poolside…
The resort has two pools, and  for us their newest — the infinity pool by the Panorama Wing — is the place to be.  The pool overlooks the town, mountains and ocean.  It's a very beautiful and special place (with great wifi)!

Great care is taken to make the grounds feel very green and natural.
Every morning we saw staff watering the plants. Also you'll notice that the resort was actually built around trees! It's very cool! You'll see live trees coming up through the floor and continuing up through the roof!
I absolutely love paying homage to something we can't live without… it's almost like we're living in better balance with nature by building around it.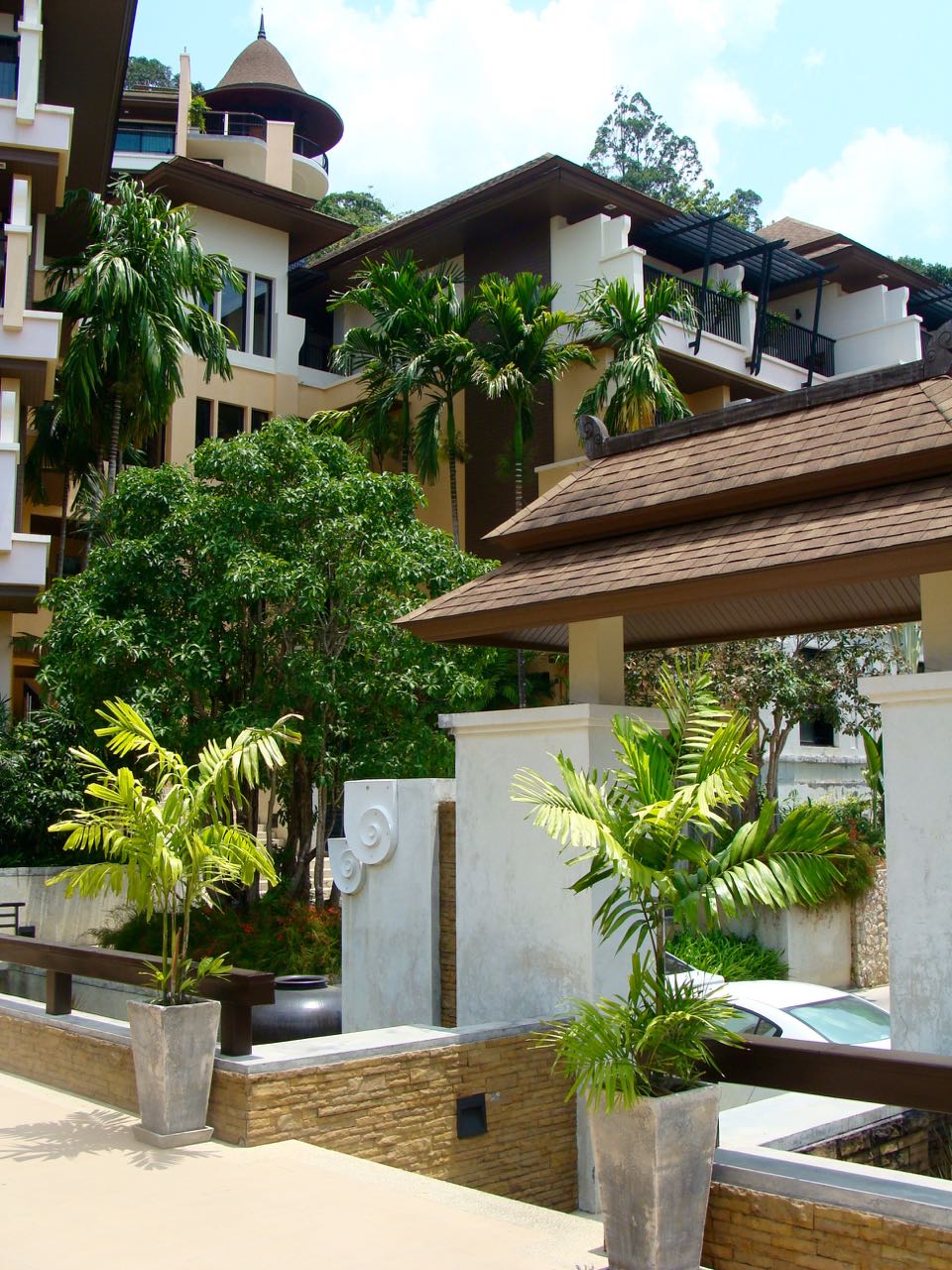 Also I highly suggest you pay attention to how you're brought to your room. There are various buildings and levels that all connect, it can be a little confusing at first.
I won't lie, I got lost — although I certainly don't have the best sense of direction.
I thought of it as a castle with hidden passageways and multiple ways to get to the same destinations.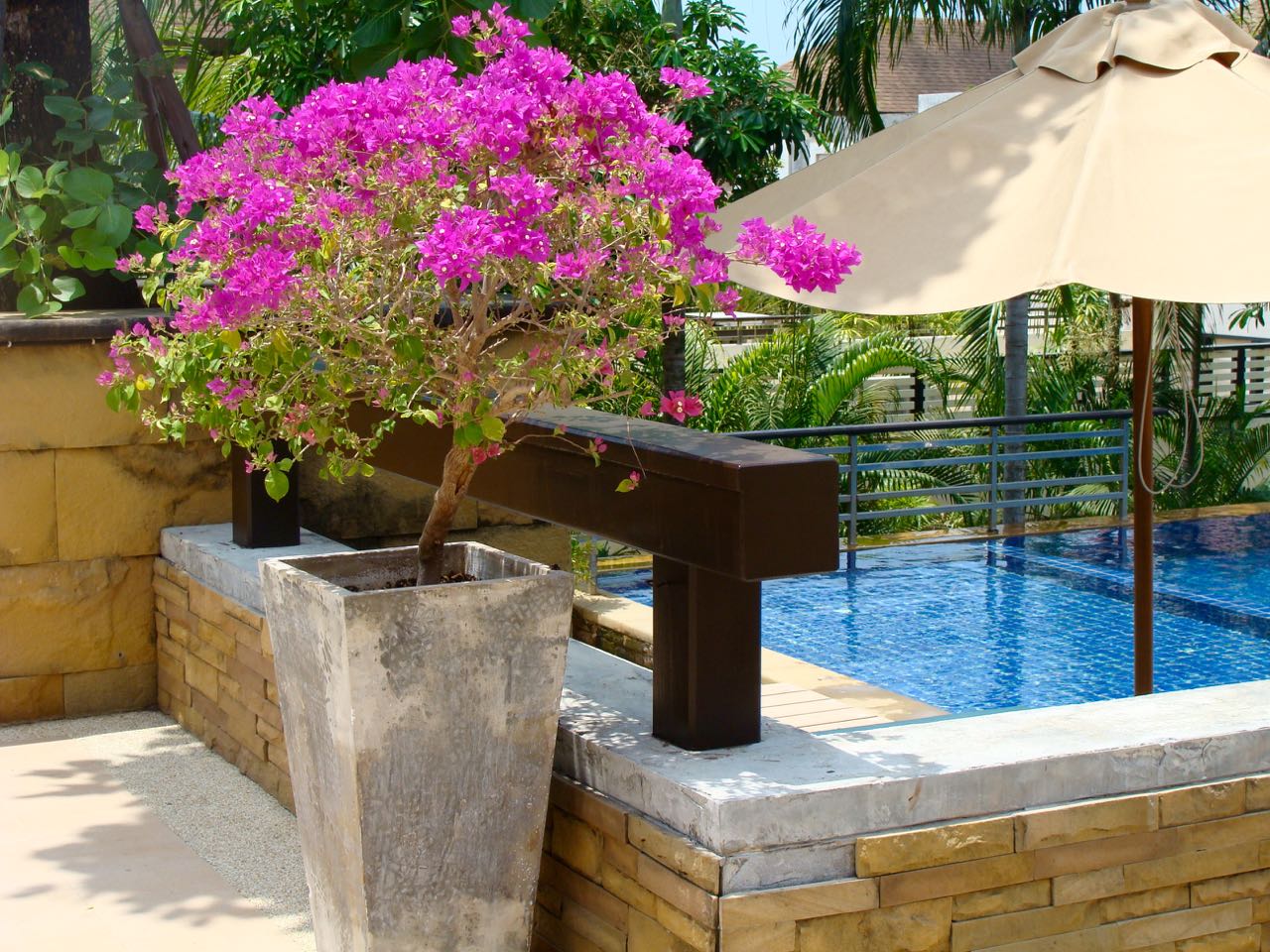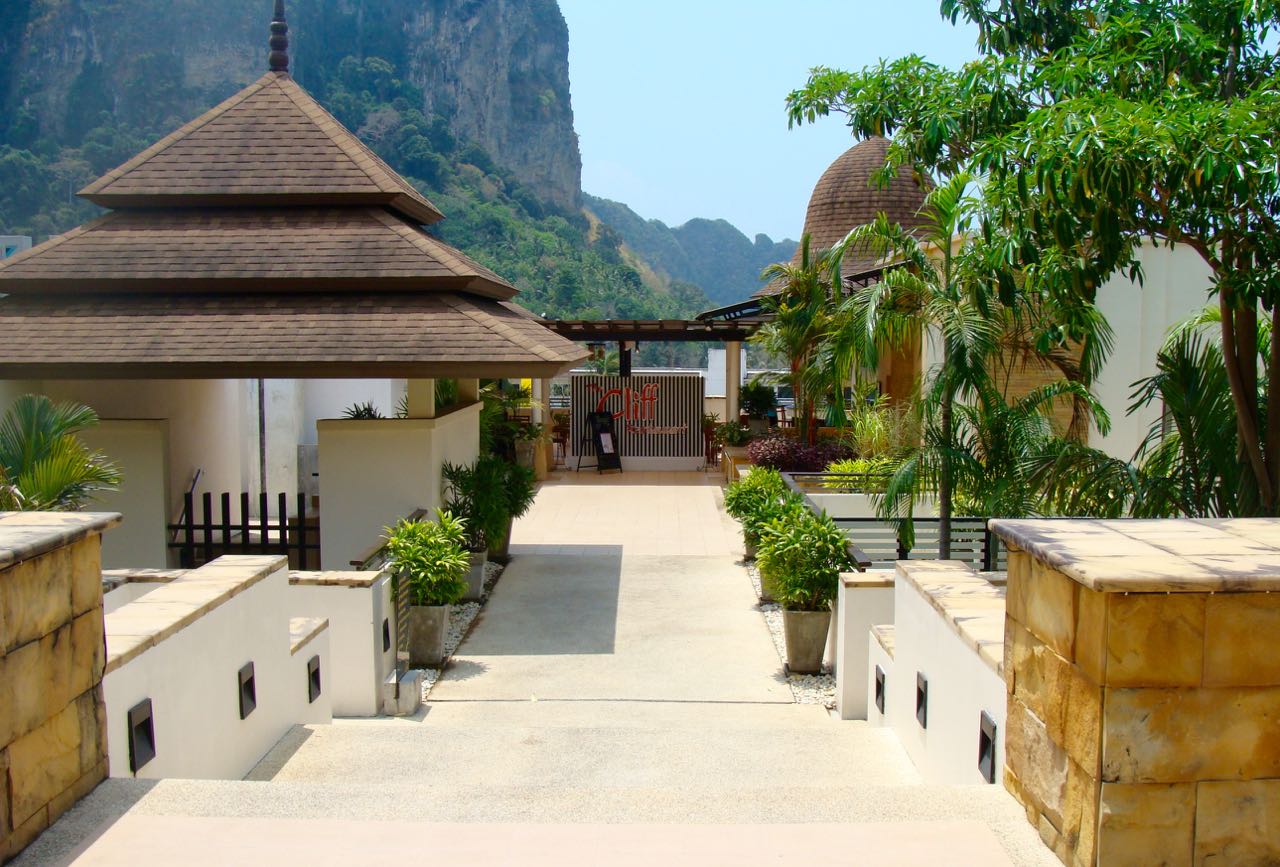 The breakfast buffet was exceptional.
We loved the fresh fruits and veggies, eggs cooked to order and strong coffee.  Every morning we zoomed in just in the nick of time to eating a healthy breakfast in the open air.
Don't miss the private beach.
During the day you can take a shuttle to the resort's private beach and enjoy the Andamana Beach Club.  It's actually so much more than a beach, the club is a beautifully simple oasis that makes for a relaxing day outing.
It's only an 8-minute drive from the busy public beaches of Ao Nang Beach and Nopparat Thara Beach, to a place few tourists know about. The Beach Club has a beautiful pavilion for relaxing and having lunch, there's also surprisingly great wifi to work with… or for posting images of the gorgeous beach! :-)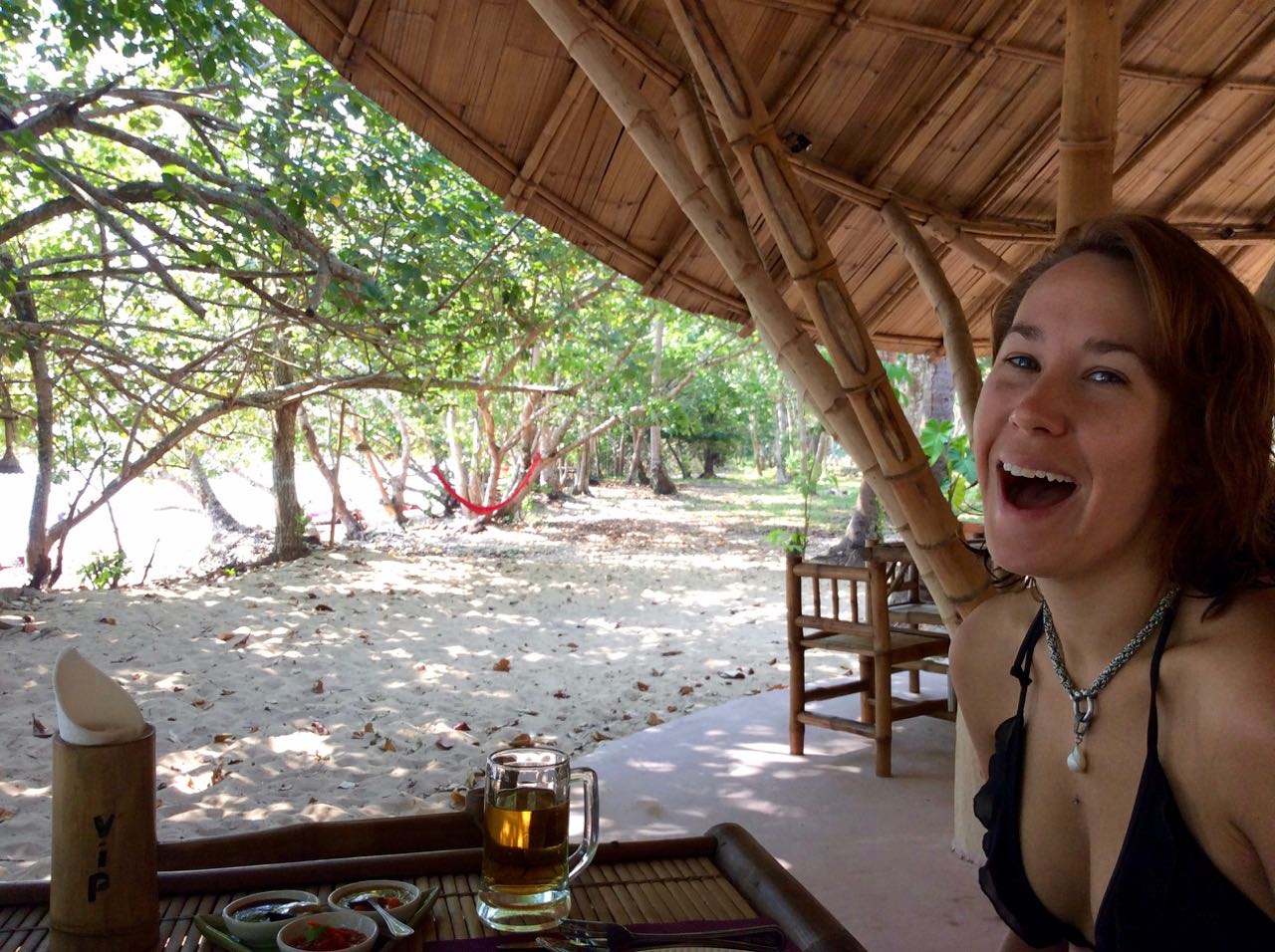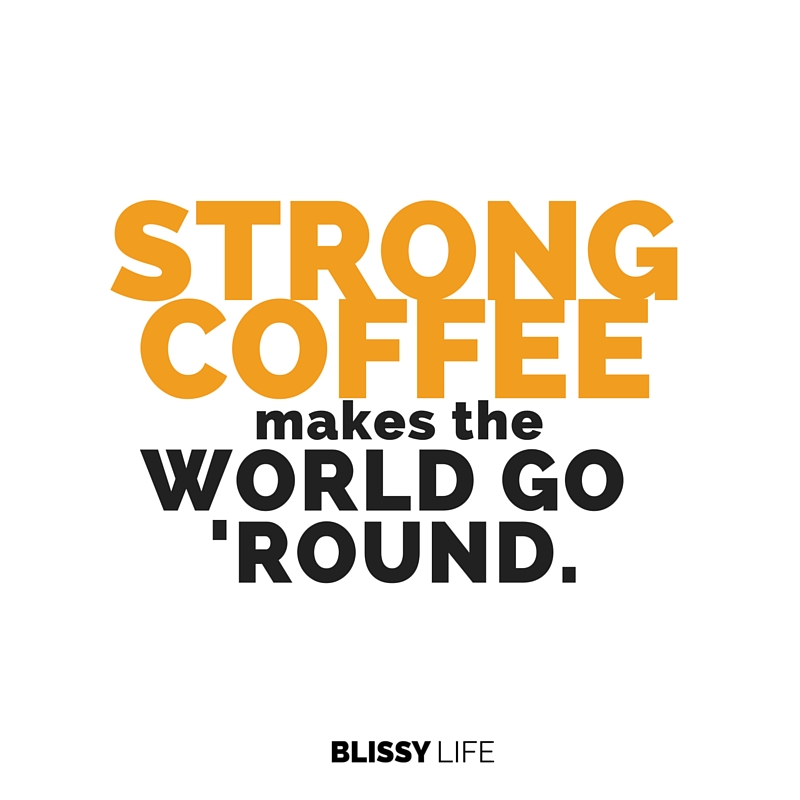 Want a cool café nearby?
If you're looking to head into town to find a cafe to hang out, focus, and drink a lot of coffee (we totally feel ya), head to Cafe 8.98.
We absolutely love their strong coffee and salads. We may have quickly become regulars there. (Though do take note that the resort has really great coffee, too.)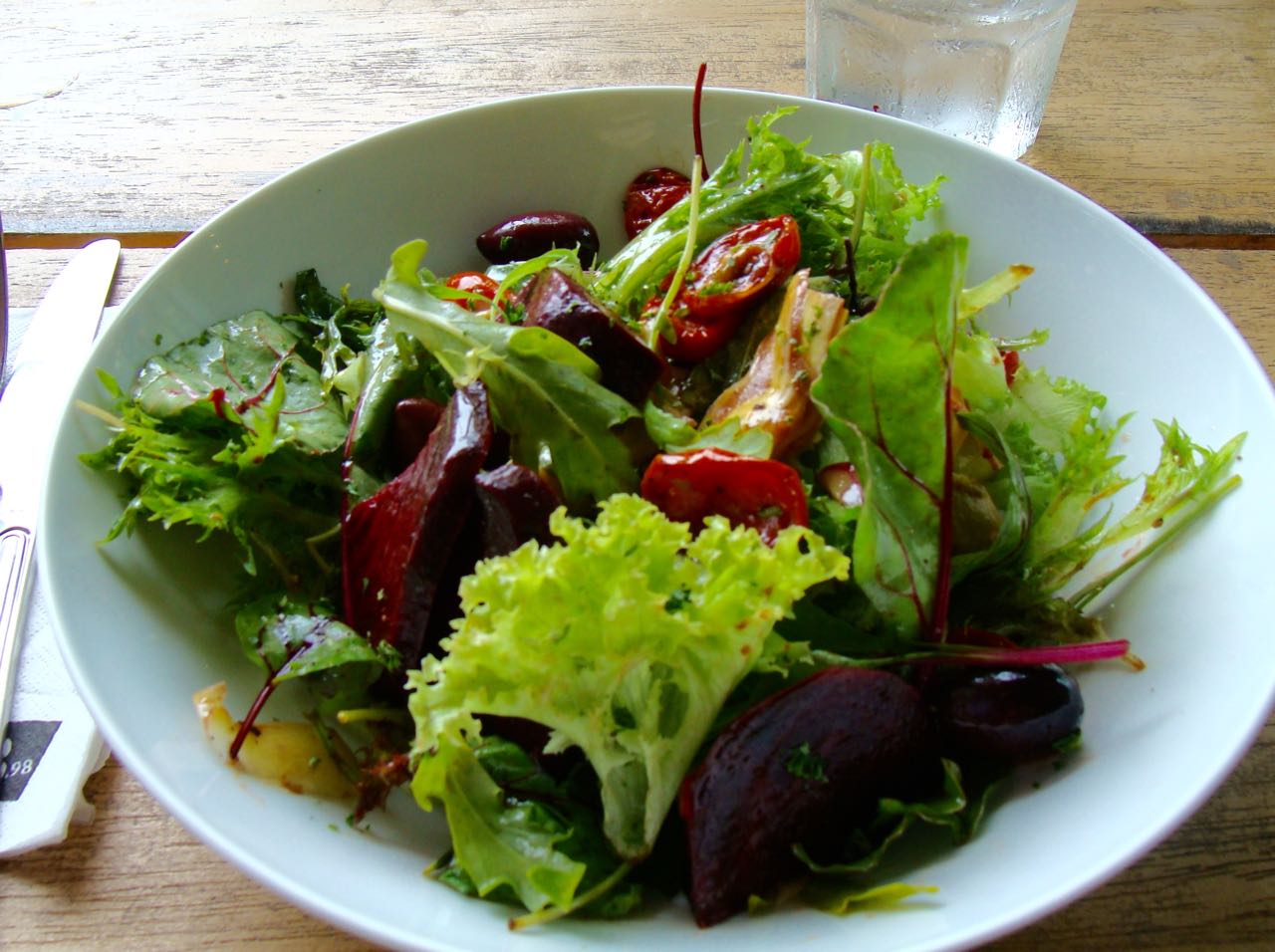 Dinner is quite the experience!
For dinner, make sure to come back to Aonang Cliff Beach for their Seafood Buffet Dinner.  It's held in the hotel foyer and spills out onto the sidewalk.  There was wonderful Thai dancing throughout the meal, as well as fantastic people-watching, "sidewalk café" style!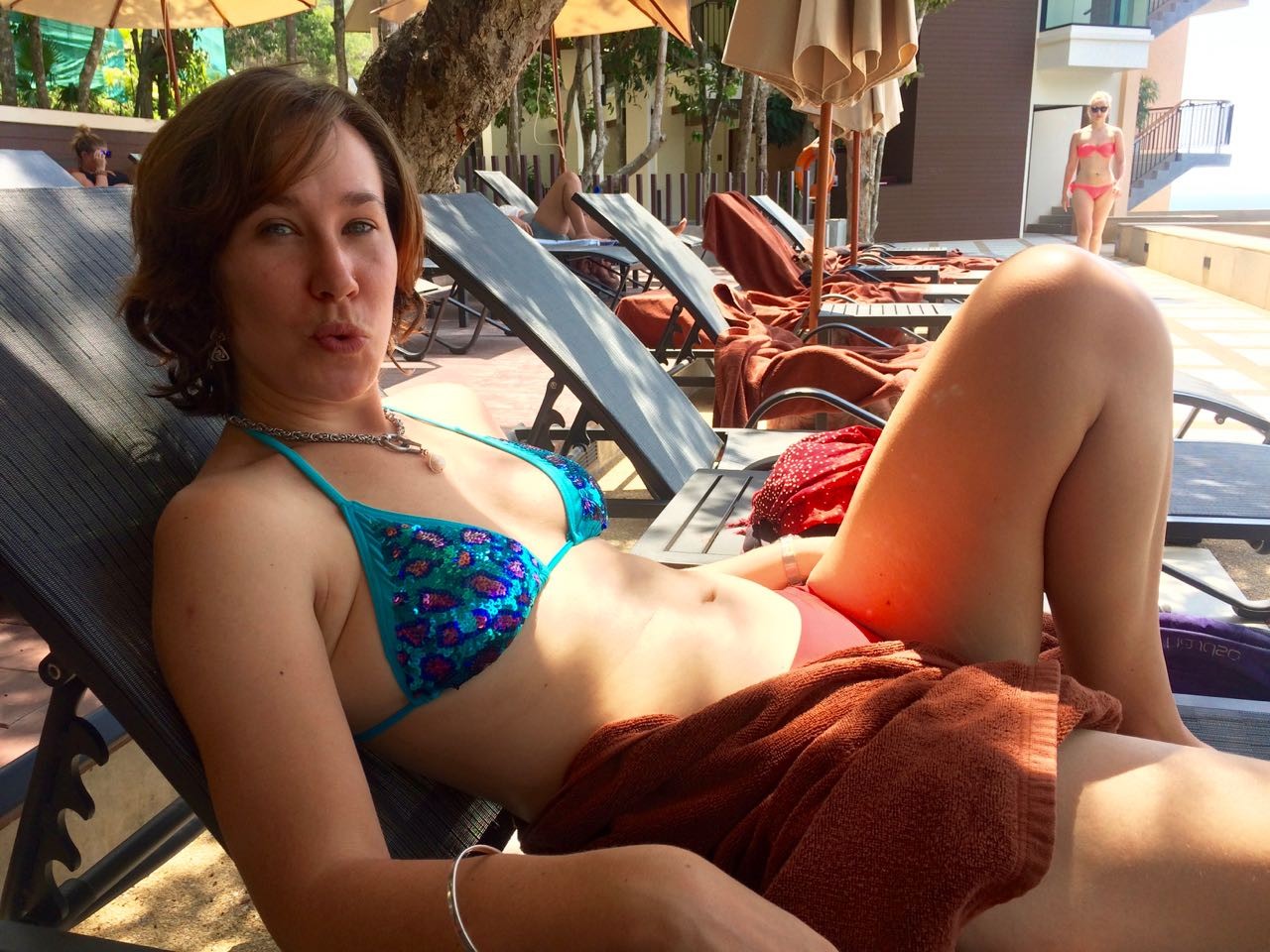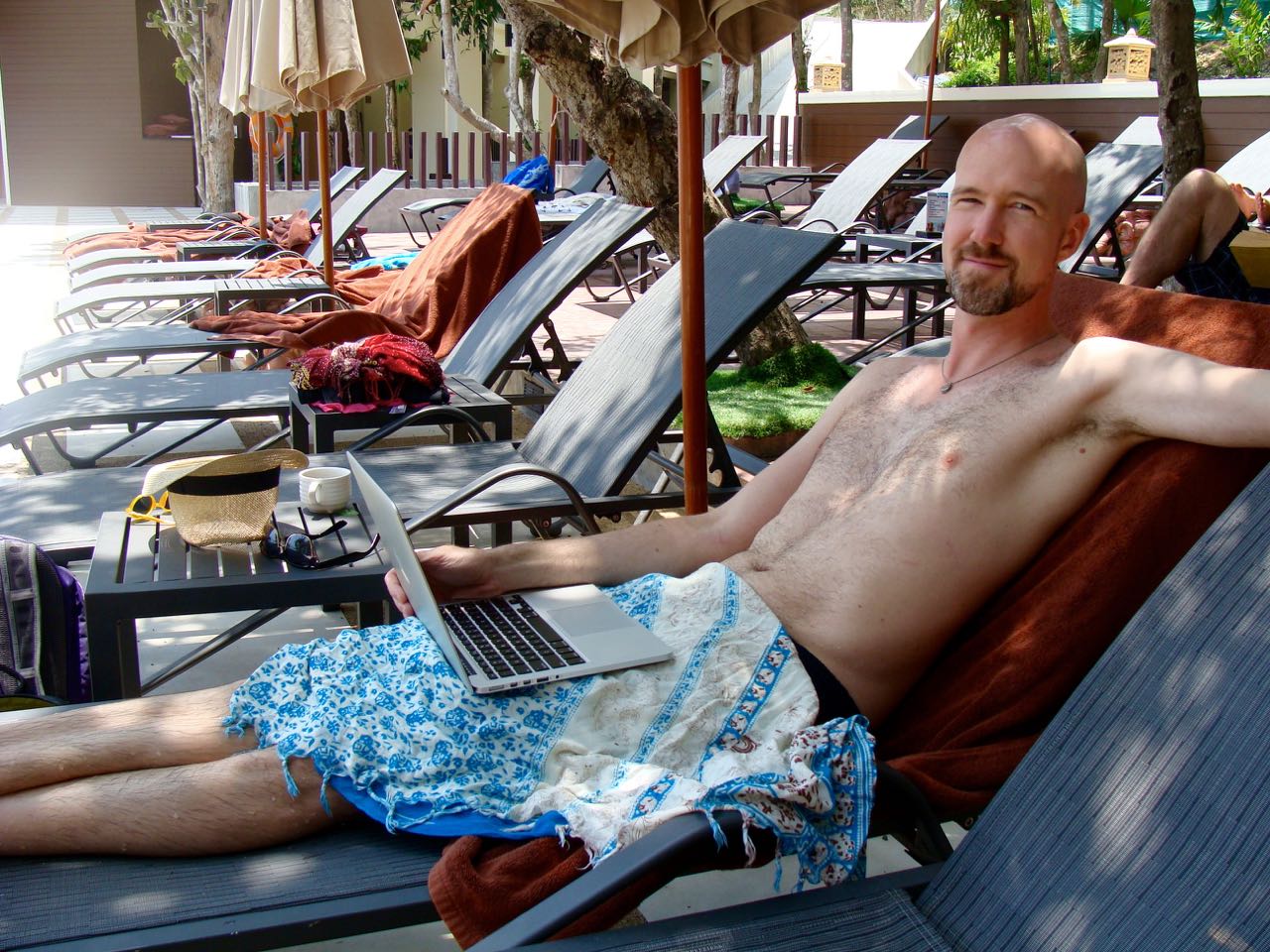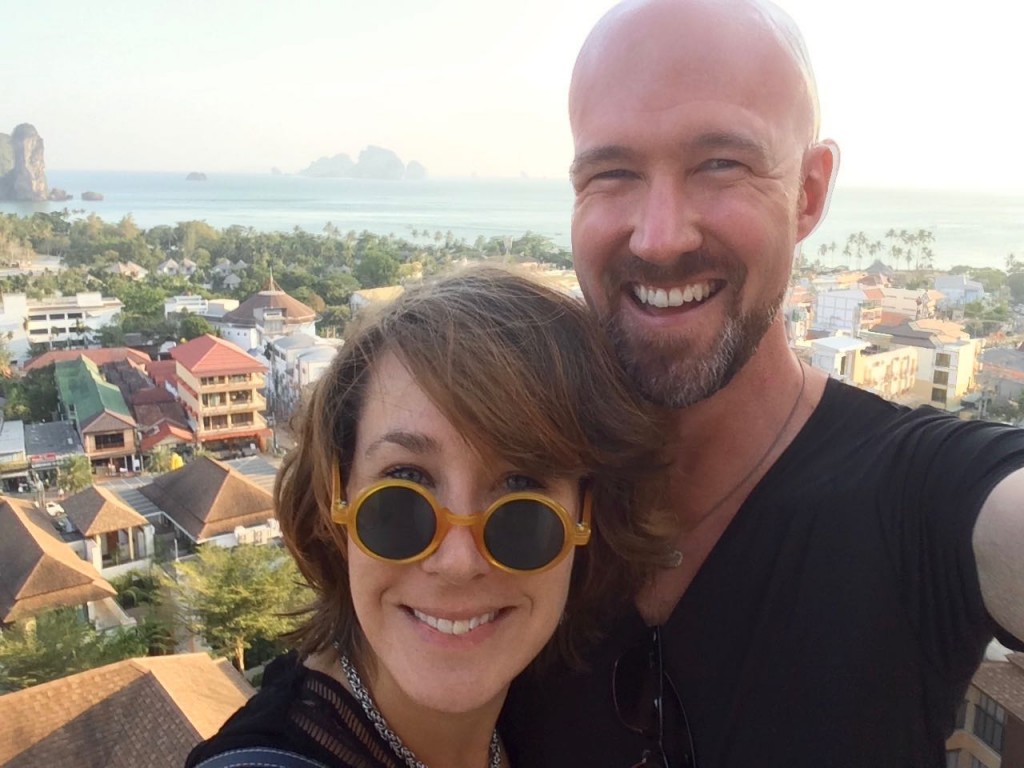 A big thanks to the resort for hosting us, and sharing this great experience! We lived in Ao Nang for months (last year), and we wish we appreciated this fine place sooner. :-)
Pin this post to save it for later!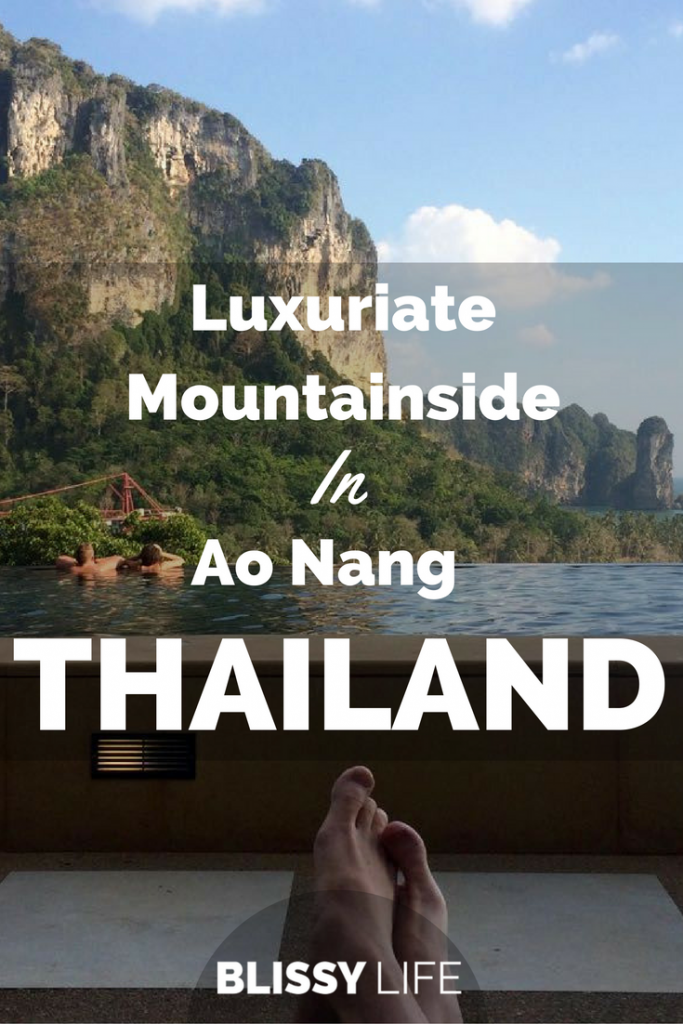 Ashley is exuberant about location independence! She relishes new experiences and working with boutique hotels and resorts. She's always thinking about design and food… and where they'll travel next!