Get Weird At The Dalí Theatre-Museum In Spain
Get inside the head of Salvador Dali!
A must-see when you visit Spain is to explore the Dalí Theatre-Museum in Figueres. It's an easy train ride from Barcelona or Girona, and would make a great day trip for any art lover. 
While staying in Girona, we were delighted to visit and learn a little more about Dalí!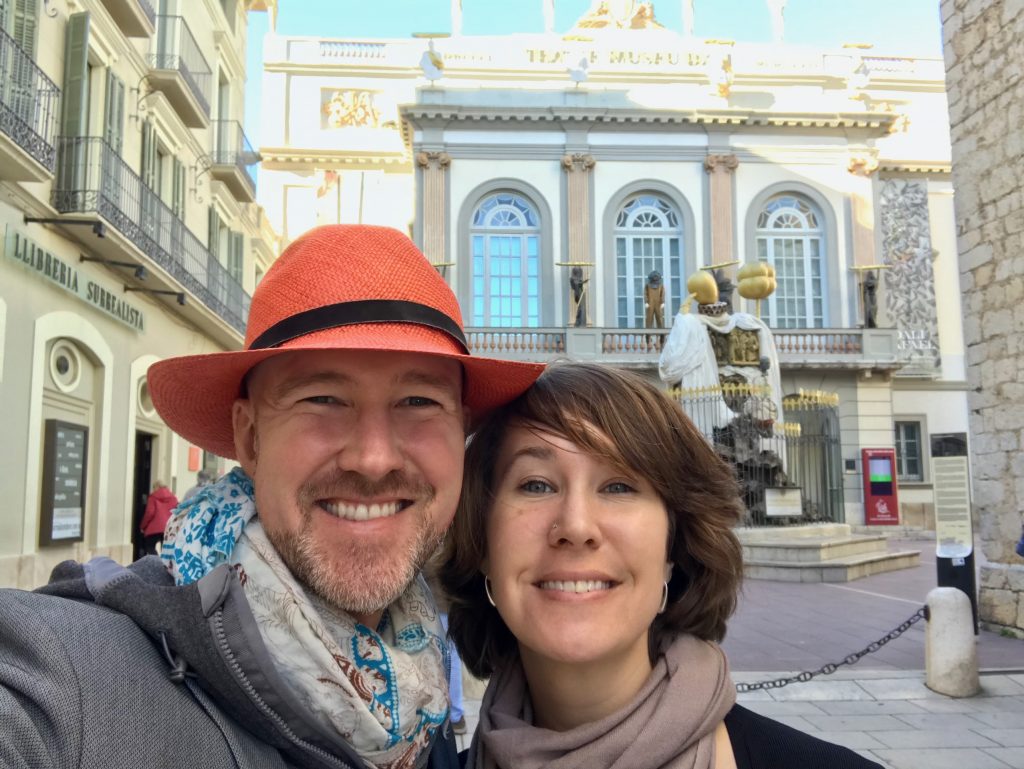 Things get weird as soon as you get close to the theatre-museum that Dalí designed, in Figueres.
A tour guide will help explain some of Dali's creations!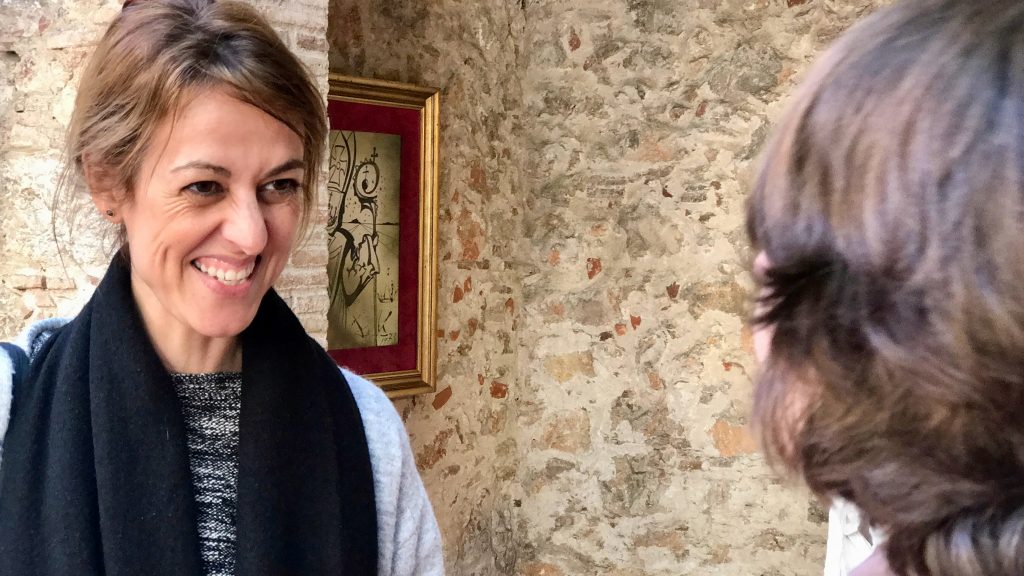 Our tour guide, Ana, really made our experience at the Dalí Theatre-Museum so much more!
Our wonderful tour guide, Ana, met us at the entrance of the museum. We don't always opt for a tour guide when visiting museums or cultural sites, but we found Ana's insight so incredibly interesting and she added so much to the experience. Much of Dalí's work is confusing — it's interesting that he leaves the work open to interpretation, so you can make of it what you will. We found it fabulous to have someone knowledgeable about the work, to point things out to us that were otherwise hidden.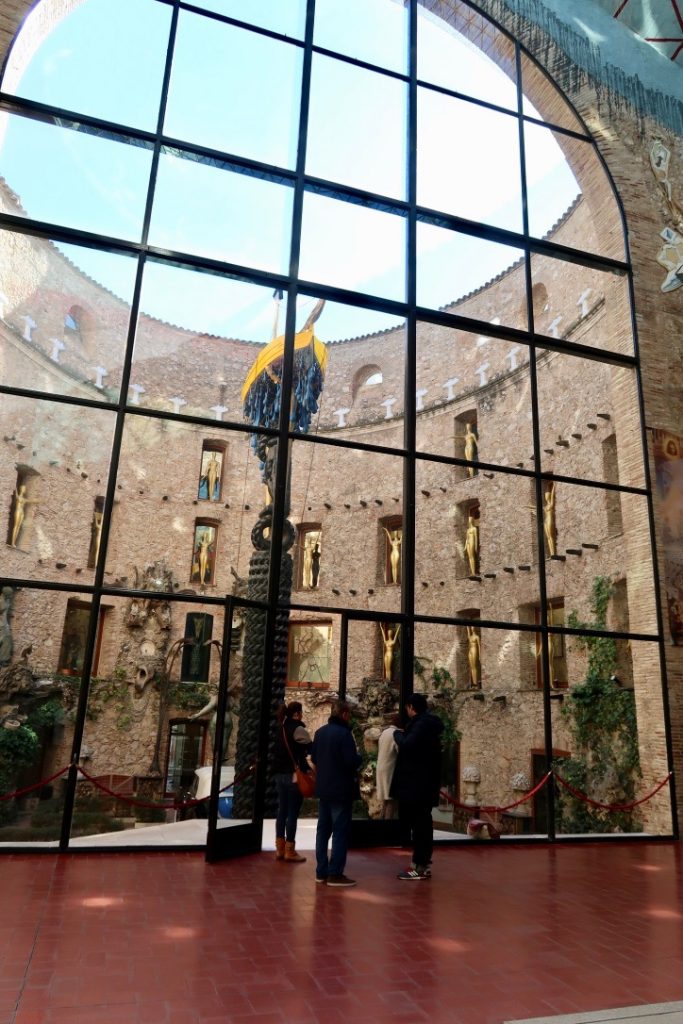 The Dalí Theatre-Museum has a really interesting story — one unlike most museums.
First of all, Dalí had purchased an abandoned and run-down theater in Figueres, and slowly turned it into his largest piece of work! The museum is a sort of homage to Dalí's own life, and it contains many of his most treasured works and memories — all composed by him. 
I think it's easy to say that he was rather self-centered, and that he greatly enjoyed fame and money. Although: he was unapologetic about it, and embraced the limelight.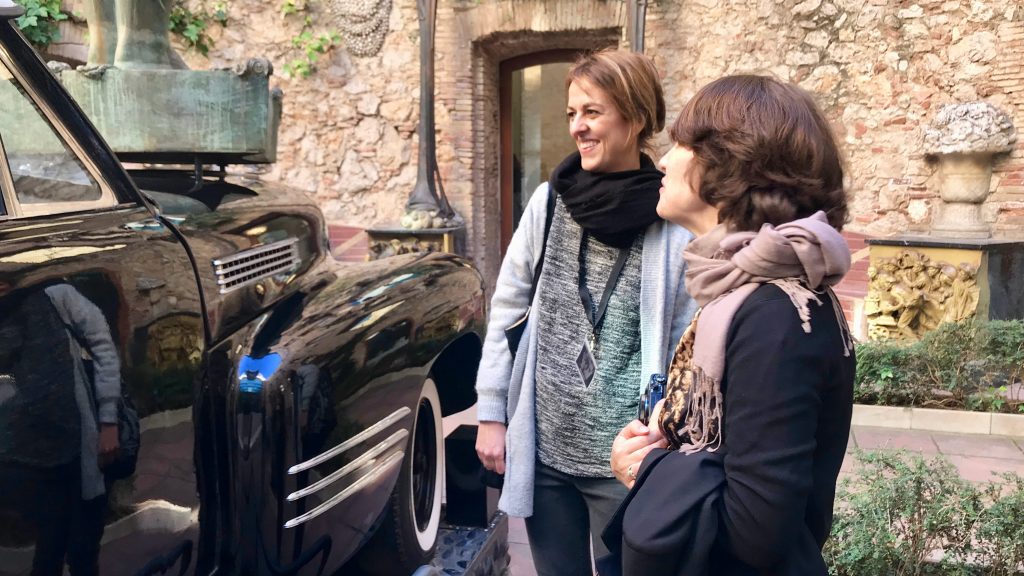 Be sure to check out the interactive art installations at the Dalí Theatre-Museum!
Dalí transformed a car into a piece of interactive art. You kinda have to see it to believe it. We were amazed when Ana inserted a euro into the meter and the car came to life! Due to the amazing Ana, we learned about the story behind the car and why it now rains inside the car. Seriously!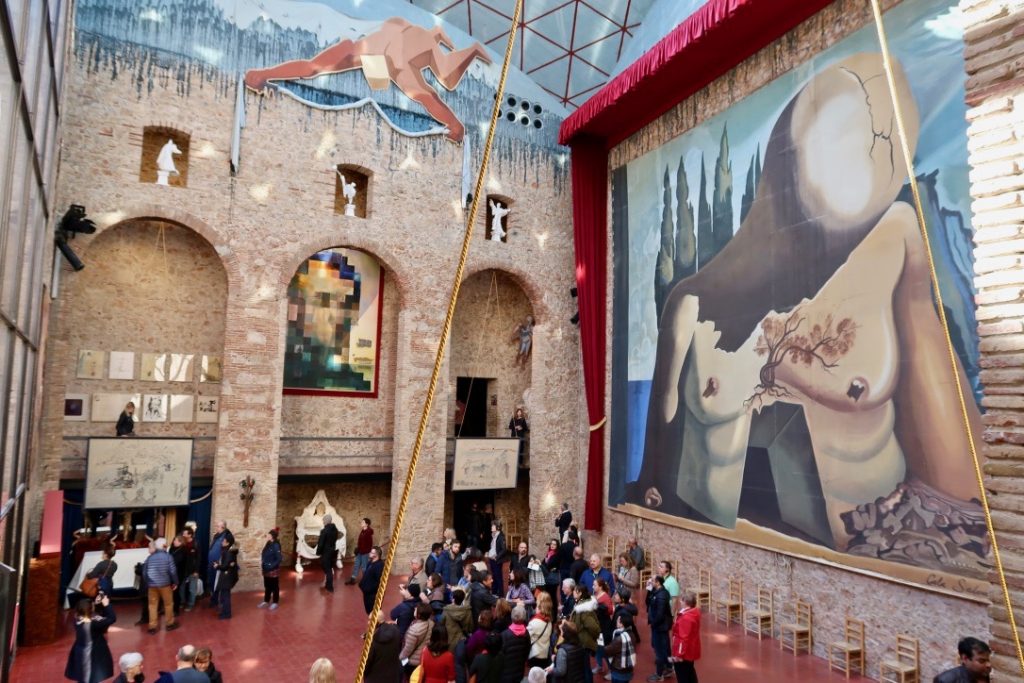 There's no way to fully capture all the incredible art in the Dalí Theatre-Museum atrium! 
Dalí did live in the museum at the end of his life. He is even buried in the middle of the atrium — there is an unmarked slab of stone marking the location, although if you don't know what it is… you may not notice it! 
Dalí's greatest inspiration and love was his wife!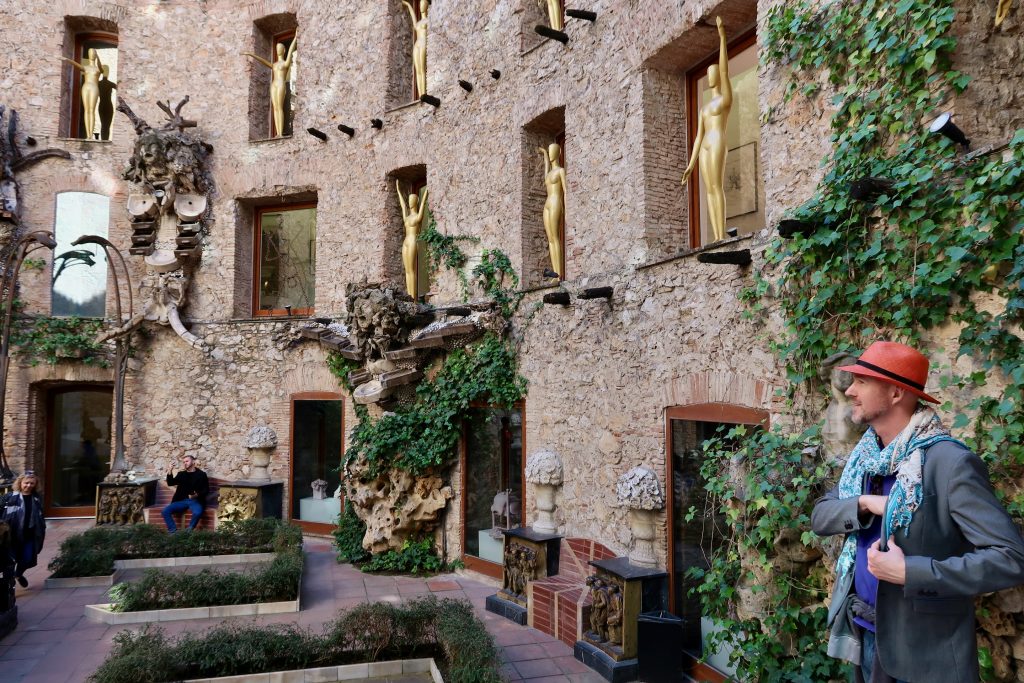 We truly gushed learning about Dalí and Gala's romance! 
Throughout the museum and his artwork, Dalí pays homage to his wife and muse, Gala. In the courtyard of the museum, there are gardens shaped like the letter 'G'. Ana described the unique relationship Dalí had with Gala, and we could really see that reflected in much of his later work.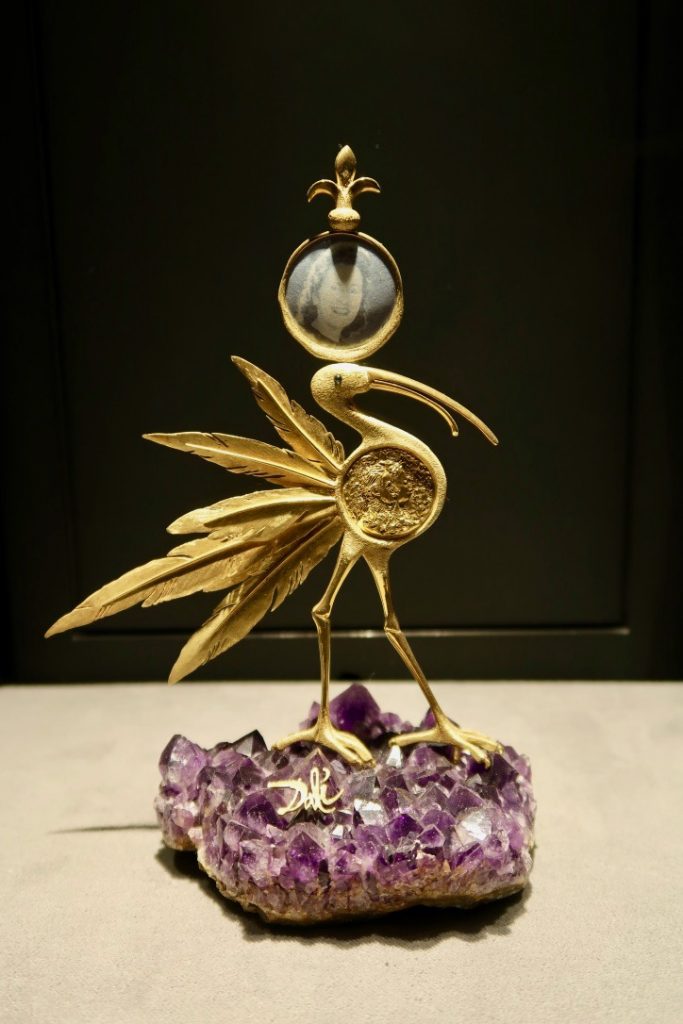 We were captivated by this piece because it was the only image we found showing Gala smiling at the Dalí Theatre-Museum.
Dalí made incredible jewelry — but more on that later. This piece caught our eye because it's showcasing a smiling portrait of Gala. I do believe this was the only time we saw her represented with a smile throughout the whole museum. 
Some of Dalí's work was inspired by science! 
In another revealing moment, our tour guide Ana pointed out the painting below. What do you see?
Dalí played with optics in some of his paintings, what do you see?
The first photo here is a close-up of the painting, and looks like a cubist abstract with a central nude. Cool. But when you step back and look at the same painting from a distance, you see something else entirely: the portrait of Abraham Lincoln… how crazy cool is that?!?!? 
Dalí was inspired to create this painting after reading about optics in a science publication. We just love the overlap of disciplines!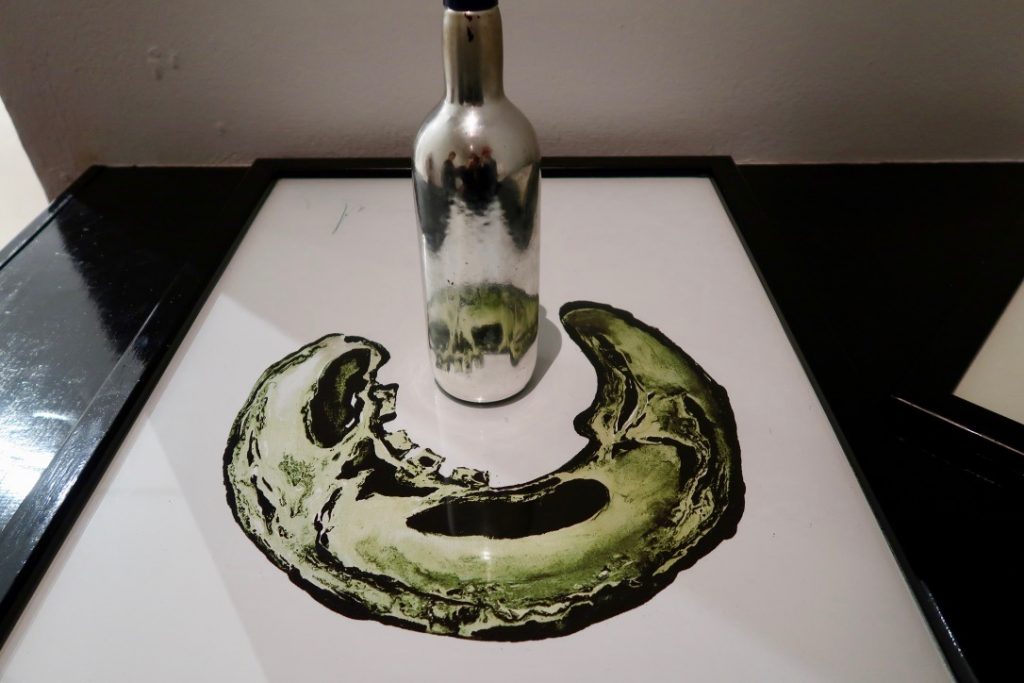 Some of Salvador Dalí's work is mind-boggling, especially when you take into consideration he wasn't able to use a computer. 
He also used mirrors to play with optics. Just imagine: he did all this without a computer!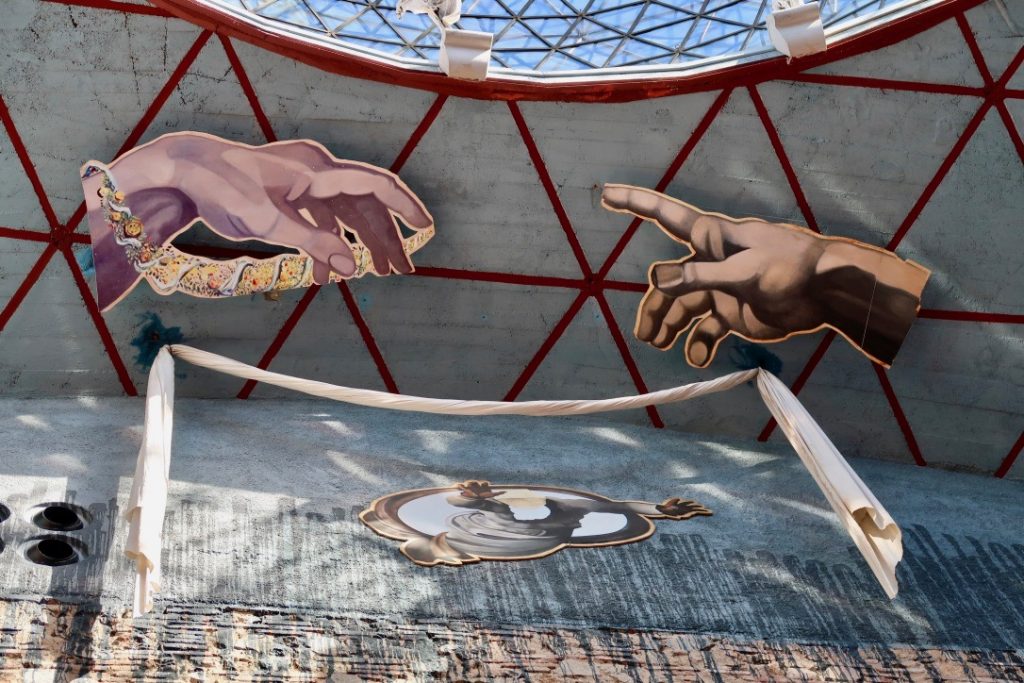 It would have been so much fun to be on a fly on the wall while Dalií designed Dalí Theatre-Museum!
Some of the work you see was created specifically for the museum, while other pieces were from his childhood, university days and adulthood.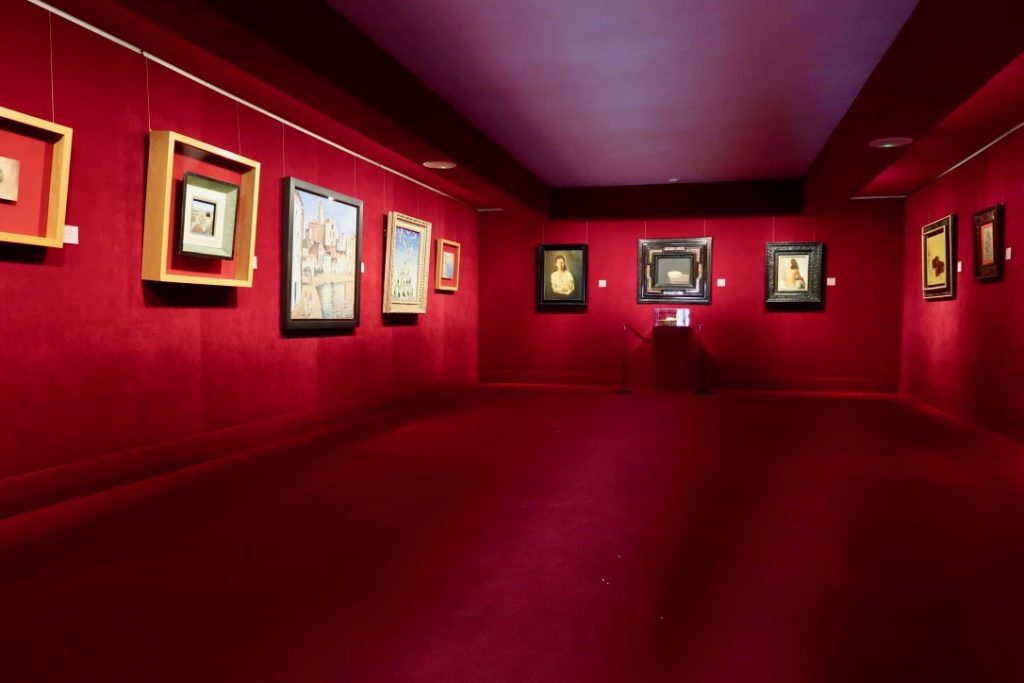 The red room houses some of Dalií most precious work and memories at the Dalí Theatre-Museum.
This glaringly red room was created to look like the inside of a jewelry box and houses some of Dalí's most precious works. As you walk around the room, you'll notice that they were created at different times, have different frames and are even painted in different styles.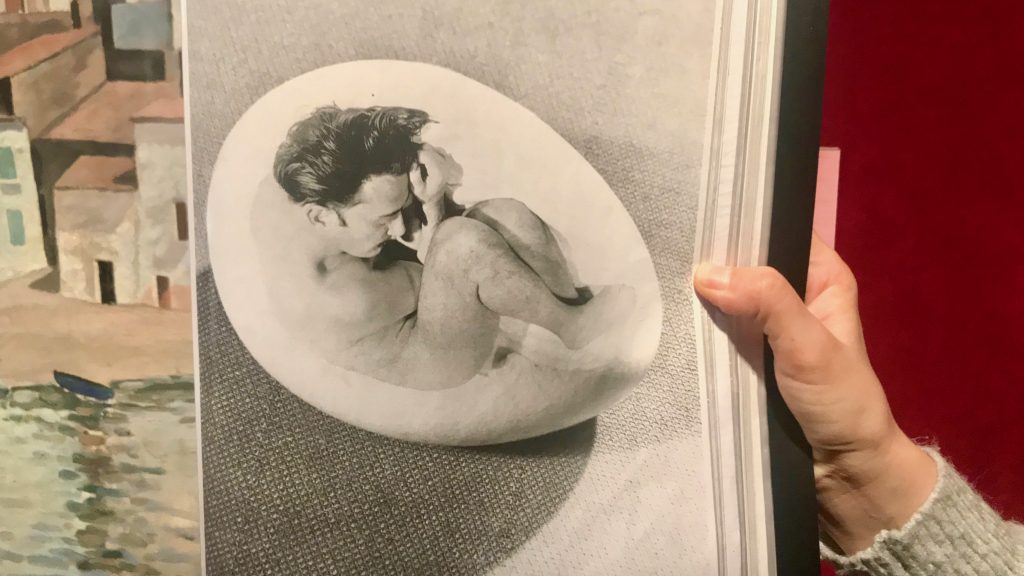 Salvador Dalí compared himself to an egg. 
Dalí often represented himself in an egg or with a hard shell and soft drippy inside. We're used to seeing this in his more well-known paintings; the meaning behind this may be that he felt like he had a very sensitive and soft inside, and thus he needed to protect himself with an outer shell… very much like an egg. 
You can't miss this iconic room!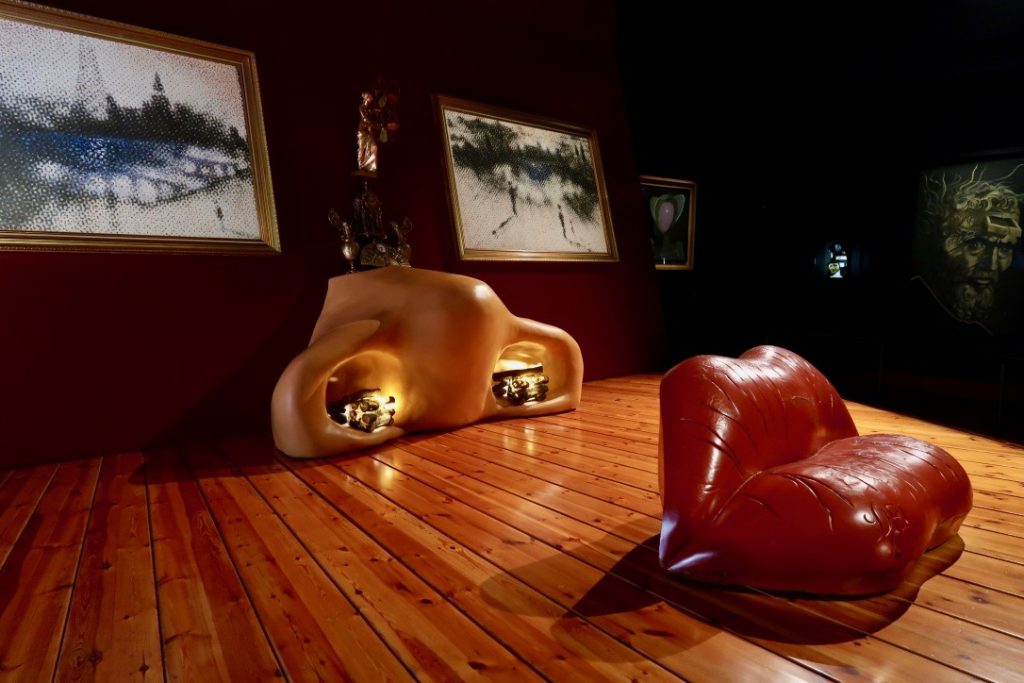 Don't miss this iconic room at Dalí Theatre-Museum!
We were so excited to see this iconic room! I remember learning about this in a college art history class, to see the actual furniture, really drove home the whole experience.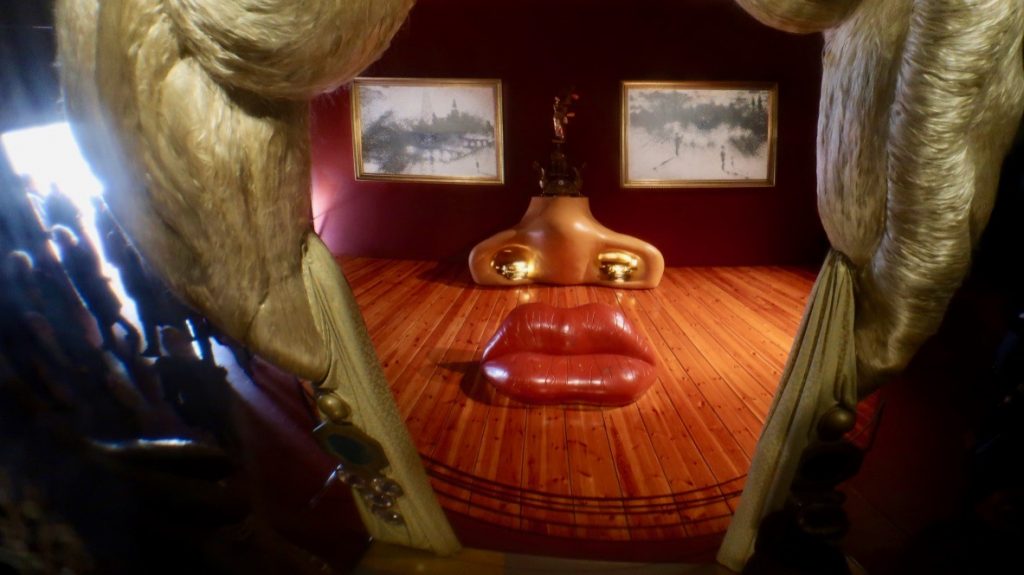 It's incredible to see how the room comes together through a special lens at Dalí Theatre-Museum. 
When you view the living room through a special lens, it recreates a surreal portrait that he had created years ago from a photo of Mae West. 
The Dalí Jewels are to die for!
We were thrilled to find Dalí's jewelry collection just next door of the main museum.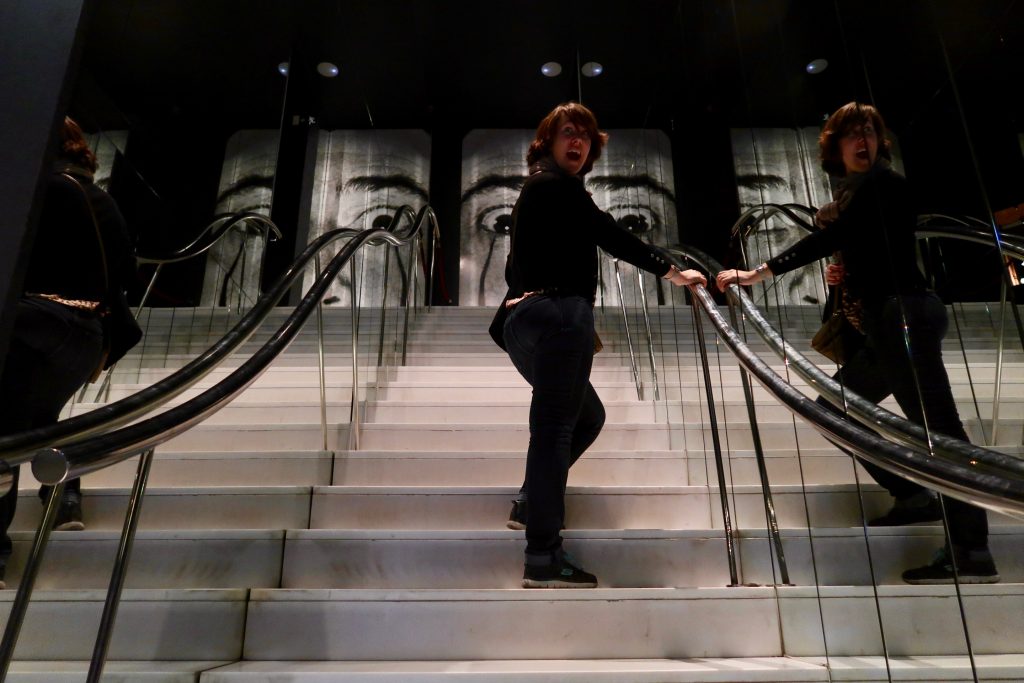 Don't forget to have fun while you explore the Dalí Theatre-Museum!
After walking up this crazy staircase — which we have a lot of fun with — you enter a dark labyrinth, with Dalí's jewels in the spotlight. I remember being quite taken with the Hope Diamond at the Nation Museum of History in Washington DC, but I gotta say: the Hope Diamond has nothing on Dalí's jewels! Seriously!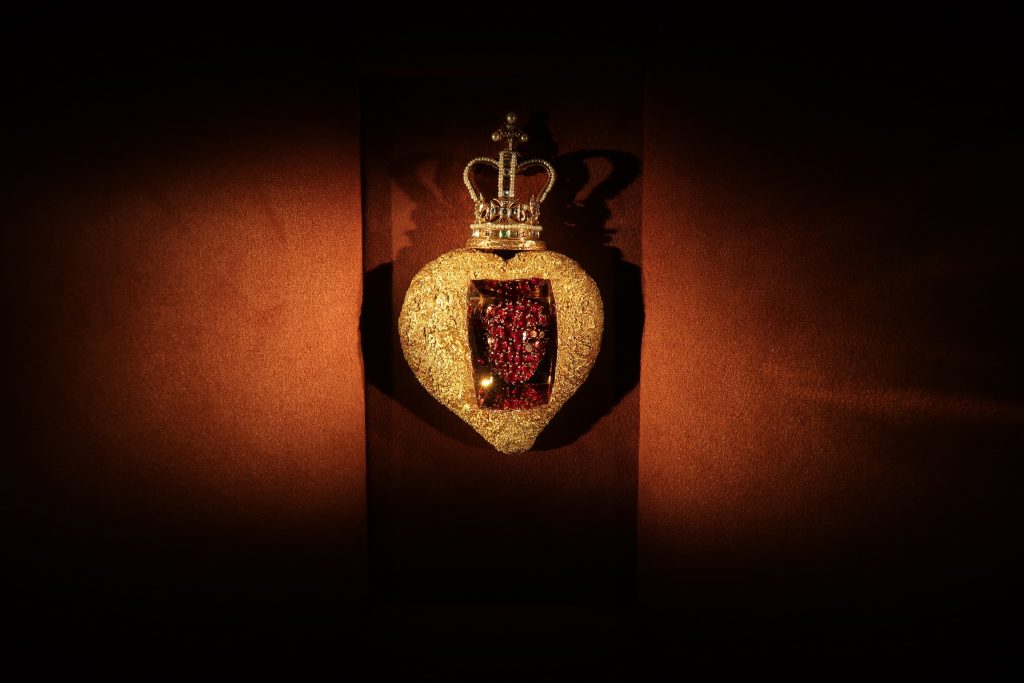 The Dalí jewels can't be missed — I know what I want for Christmas this year! 
Some of the jeweled creations even moved! The intricacy and craft that went into each piece was breathtaking, and it's something that should not be missed.
The exterior of the museum is a sight to behold.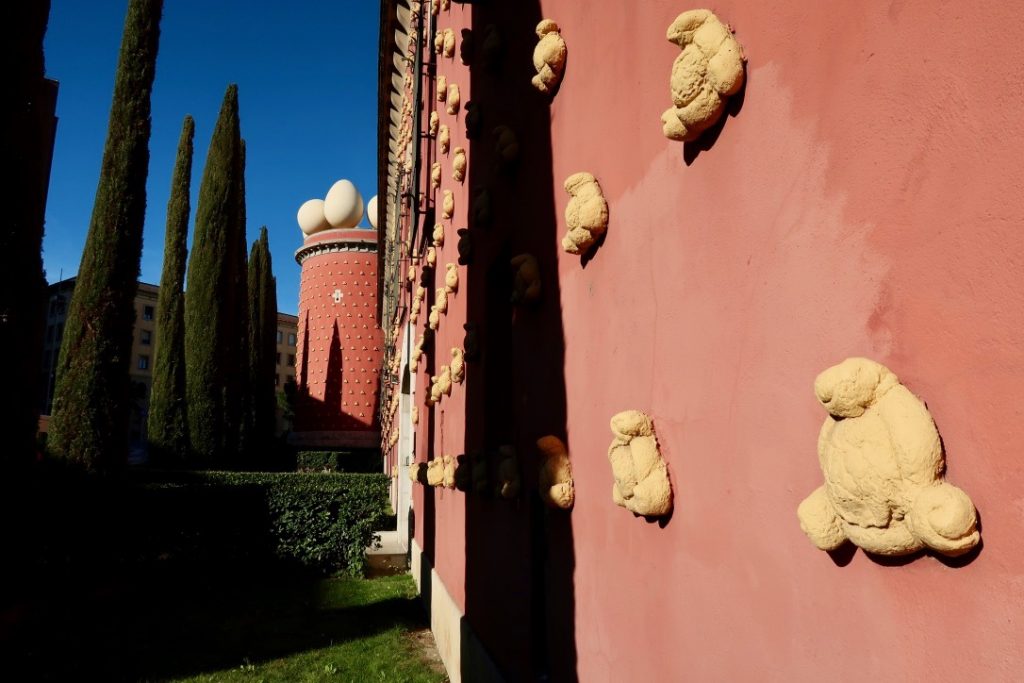 Even the exterior of the Dalí Theatre-Museum is fun to check out!
The bright red painted exterior is not to be missed… honestly, it's a little hard to! You'll notice the walls are adorned by these unique shaped sculptures, which are actually a bread shape that Dalí designed. Lastly, the tower is topped with bulbous white eggs… and we know a bit about their meaning thanks to the great museum tour with Ana!
Much appreciation!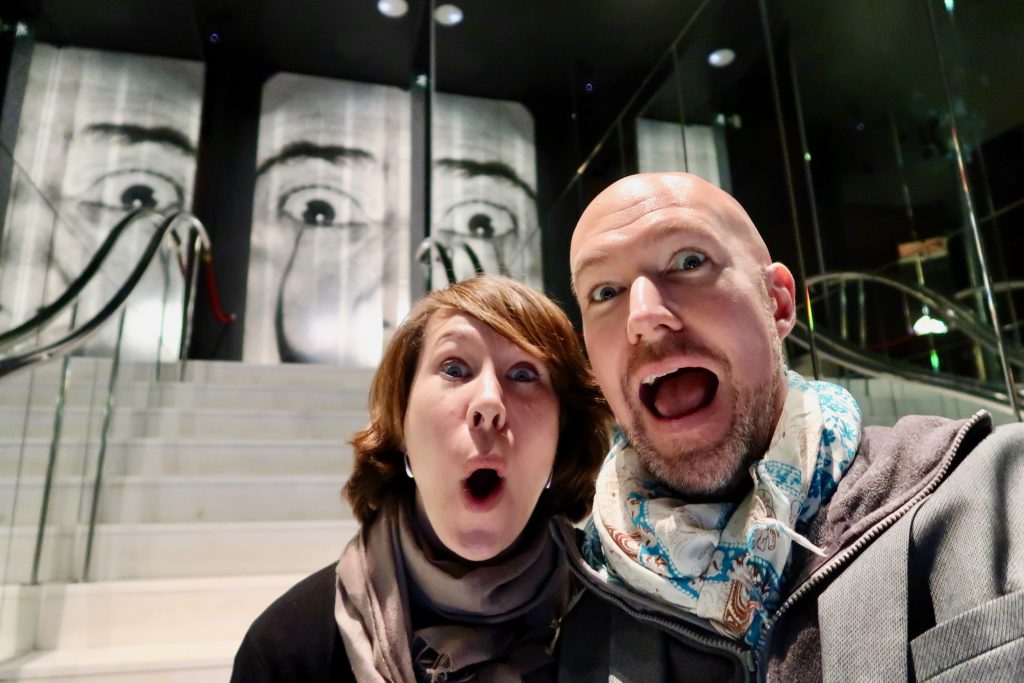 Thank you Dalí Theatre-Museum for an incredible experience! 
Thank you to the folks at the Dalí Theatre-Museum and Ana for an incredible afternoon of art and wonder! We know we only scratched the surface of Dalí's egg, but we learned so much and we can't wait to return, someday! 
Enjoy this post? Pin it for later!
Ashley is exuberant about location independence! She relishes new experiences and working with boutique hotels and resorts. She's always thinking about design and food… and where they'll travel next!