What A Home-Away-From-Home… With Luxury TLC!
The Chiang Mai Riverside is kicking the traditional expectations of a boutique hotel out the door, and reinventing service and design with their own unique flair. This lovable hotel residence has been open for only a couple of months, but we were really blown away by how comfortable and relaxed we felt while staying there. They are not just a hotel, but also your home-away-from-home.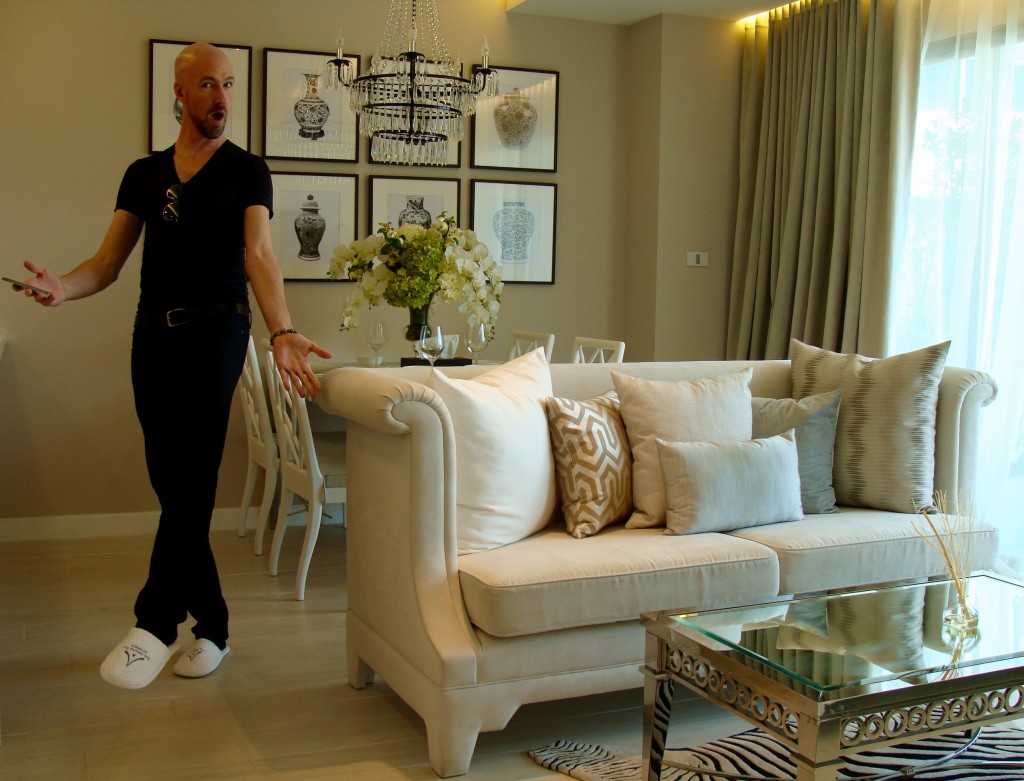 I got the chance to speak to the owners, Mr. Top and his partner, and they were kind enough to answer my questions (and also kind enough to ignore that I was a bit sweaty from sitting by the pool). They described the three key points The Chiang Mai Riverside embodies.
They really focus on the in-room comforts. When we walked into our room, it felt homey. This is why they are calling it a "hotel residence." Each room has a full kitchen, dining room, and Apple TV in the living room. The owners had the mindset to anticipate what guests would want and need in the rooms to feel wonderfully relaxed, and not wait for the guest to request it.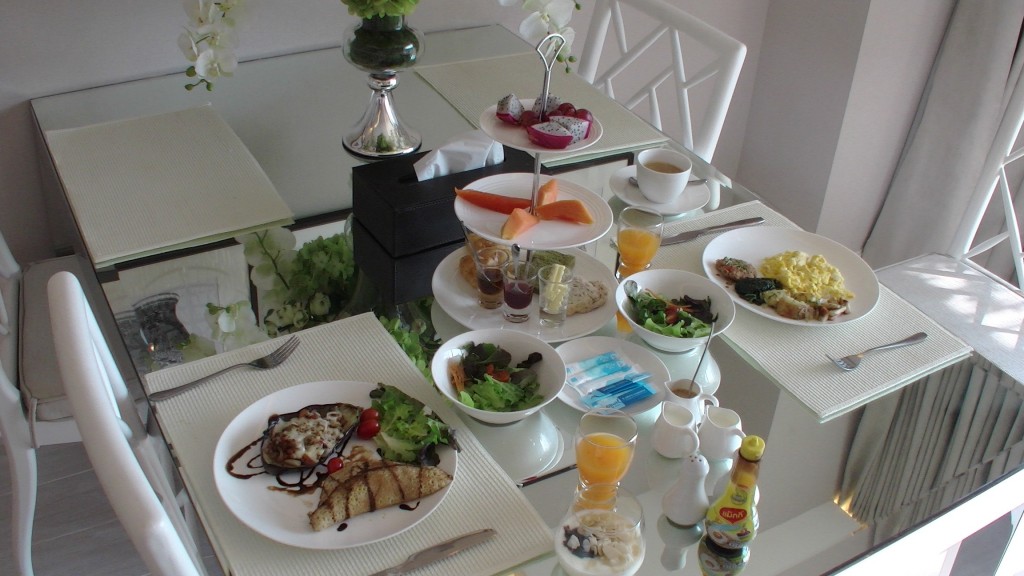 They also take great pride in creating an exceptional breakfast experience. This just so happens to be one of our passions! You have four breakfast options to choose from that are then delivered to your room at the time of your choosing. We were tickled pink that they serve breakfast until 2pm; we have a tendency to miss out on breakfasts because they end too early.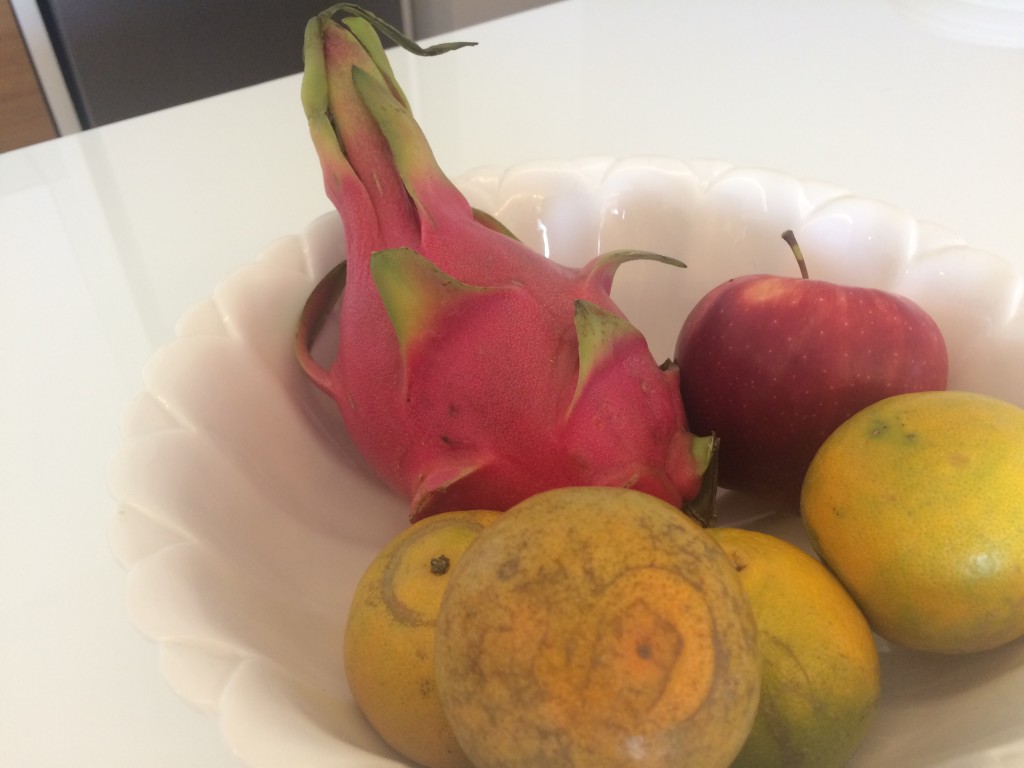 They have great appreciation for locals, and share great local insights. True, the staff put attention into learning about surrounding places so they can advise guests on the best restaurants, sites and spas… many which can't be found in a travel book. We were especially impressed with the local farmer's market that they host on their grounds. Local cooks gather in the evening on certain Sundays and you can enjoy an interesting local meal — whether a guest or just dropping by for the (exceptional) ambiance.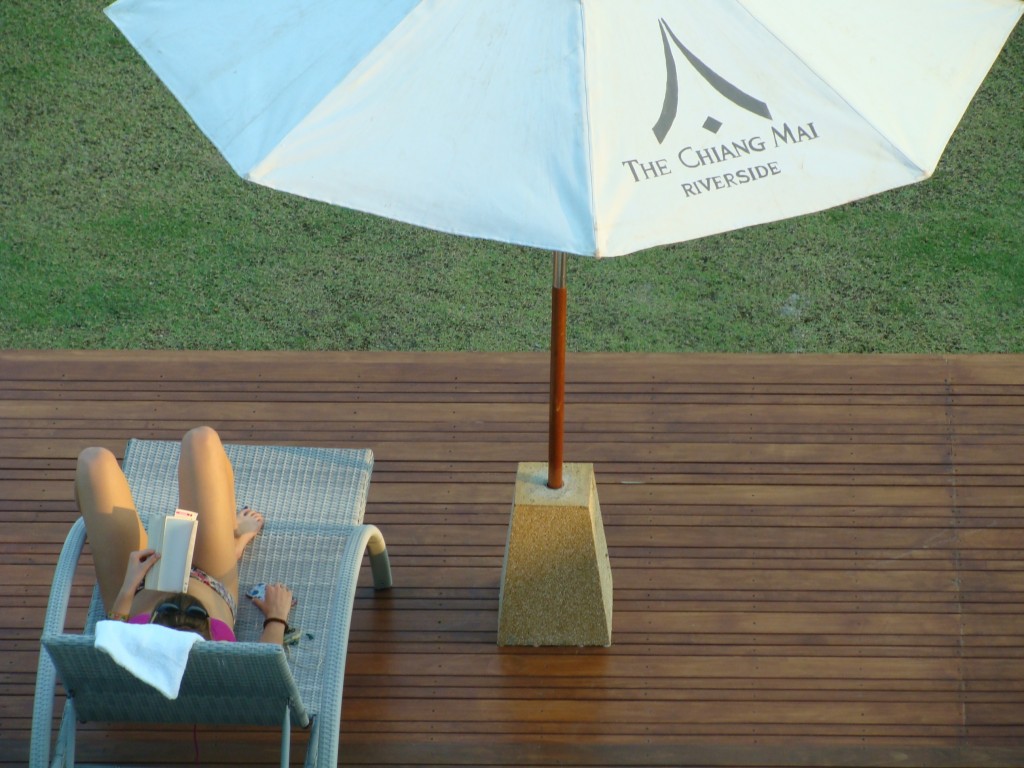 Anyway, our stay was refreshment for the soul. So much hit the spot.
The food was as good as it looks! They work hard to use only organic products and organic produce from The Royal Project. We've been in Chiang Mai for a bit now, and this was the first we've heard of The Royal Project. We learned that it's a program that the king started for the hill tribes, to introduce new crops to replace some dubious ones, which we thought was very cool! And it was fresh and delicious. Even the coffee was organic (and really good).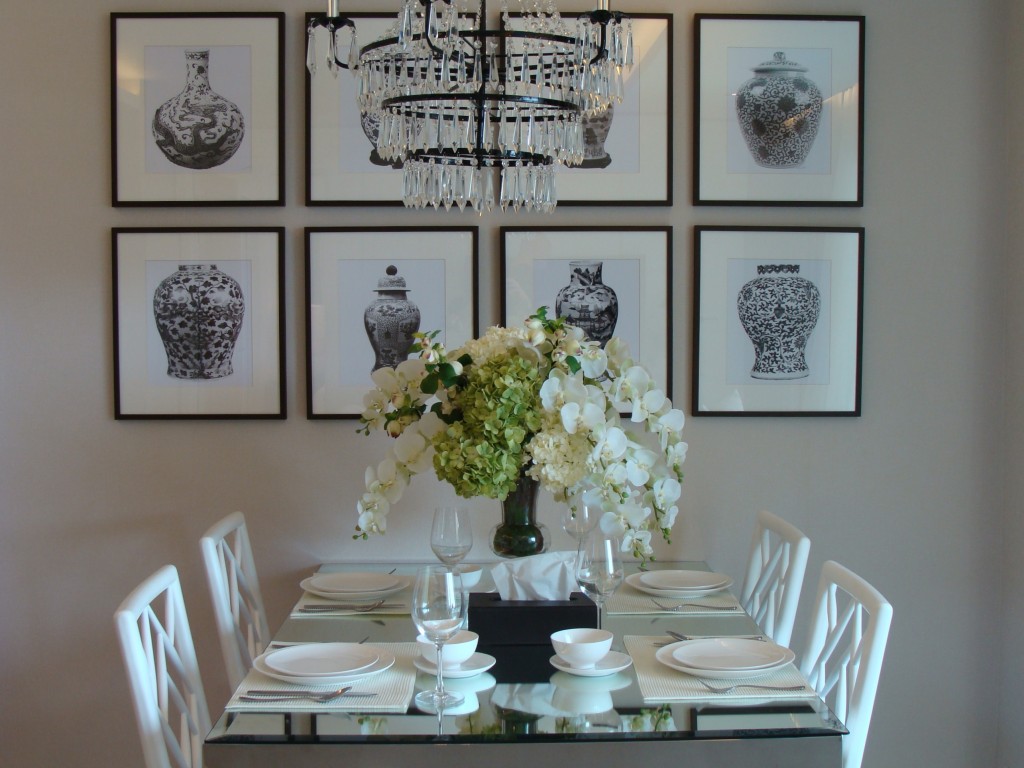 We felt wonderfully pampered to have someone come into our room to set the table and beautifully lay out our meal. This is part of their unique butler service.
We felt this place can be outstanding for a creative sabbatical, writers retreat, or digital nomad startup incubation. During your stay, you'll feel at home… as a parade of outstanding dishes appears on the table, one after the next. Meanwhile you can spend your time being productive and highly focused… until it's cocktail time and you can Netflix and chill, or whatever you like to do to unwind.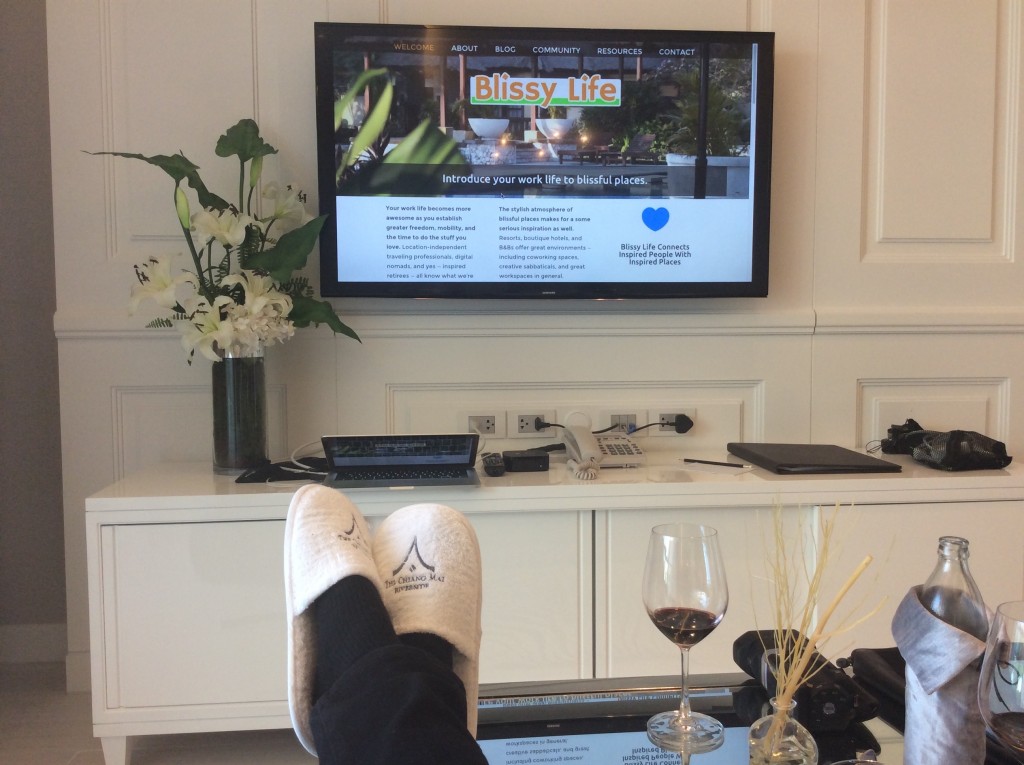 It would also be fantastic for a family. We stayed in a one-bedroom, but there are two-bedrooms with ensuite bathrooms. Also, the common space of the dining room and living room are perfect to connect and hang out. We are a family of two, so we quickly turned the living room into an office. It was wonderful! Curtiss was a big fan of mirroring to the Apple TV so his laptop displayed on the huge TV screen.
We also took some time to enjoy the pool. There are comfy lounge chairs and umbrellas to relax under. The pool looks out to the Ping River. There's a wicked cute outside bar and event area. Curtiss and I were daydreaming about how the outdoor space would be great for a digital nomad summit or entrepreneur conference, or something like that. It could host an event for up to 100 people, as manager Pammie ballparked it.
The design is really inspired! The Chiang Mai Riverside is trying something fresh. There are 4 room types to choose from, numbering 14 rooms total. The rooms are named after the owner, his wife, older sister and mother, and each evokes the style of that person. Because of the size, we felt more at home and well attended-to. There's a small gym, pool… and a restaurant is on the way soon!
Also if you're like me, you may fall in love with some of the furniture. I was drooling over our mirrored coffee table. Turns out: all the furniture is for sale. It came as no surprise that the owners have a background in furniture and interior design. Unfortunately — or fortunately — we don't have a house to fill with furniture. Yet. Although I have tucked away some ideas and inspirations for when the time is right.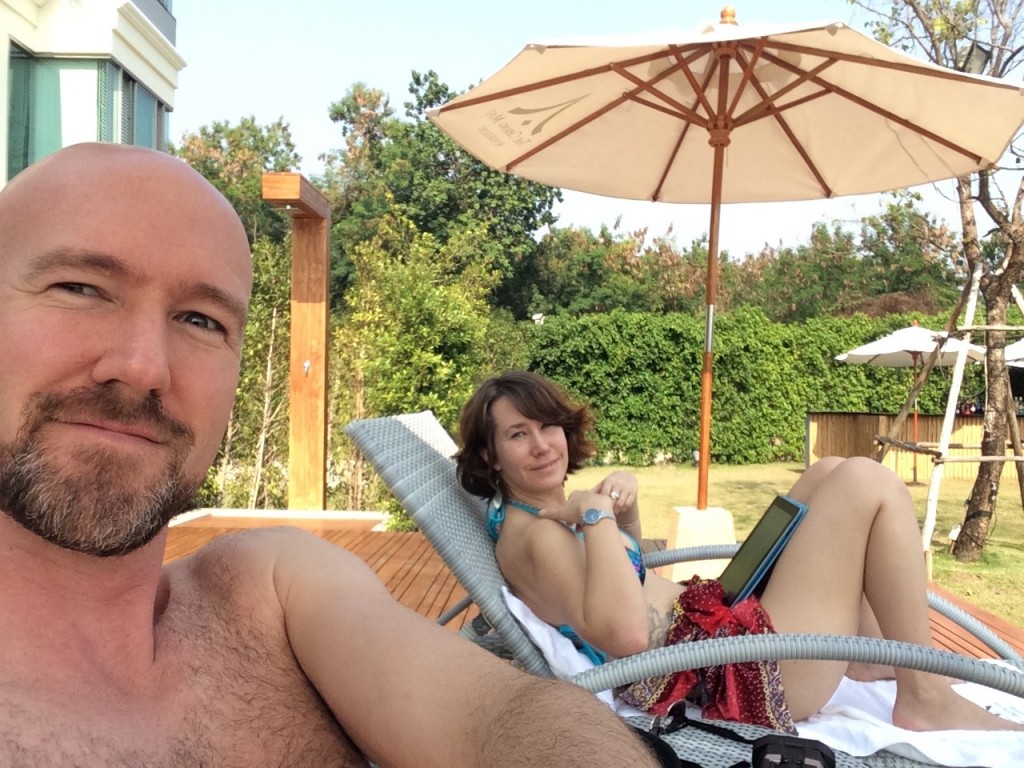 We were sad to leave The Chiang Mai Riverside and continue our journey, because we felt so comfortable and taken care of. We also enjoyed being away from the hustle and bustle. We are eager to return soon — perhaps for the Farmers Market.
Save this post for later!
Ashley is exuberant about location independence! She relishes new experiences and working with boutique hotels and resorts. She's always thinking about design and food… and where they'll travel next!