Incredible Riad In The Heart Of The Fez Medina
Fez is a truly magical city — there is so much history and culture, that you will need more than a few days to take it all in. Also, it's an easy one-hour flight from Barcelona. At first, navigating the crazy maze of the medina may feel a bit overwhelming, and it most certainly is, at first. You will get lost, but you will always find where you need to go. I'll share more about navigating the medina later.
As you plan your trip to Fez, it's important to consider where you want to stay, as this will hugely influence your experience! To help you out, we have a few suggestions from our trip — in this post, we will discuss staying in a traditional riad, located in the heart of medina.
Staying in the heart of the medina
We were delighted to start our trip to Fez in the middle of all of the excitement! We stayed at Dar 7 Louyat Riad and immediately felt like family! While finalizing the details of our stay, we had decided to book a few conveniences through the riad: transport from the airport, and dinner, since we were arriving later in the evening. As adventurous as we may sound, sometimes it's really nice to take the more convenient route.
The driver picked us up at the airport and dropped us off at one of the entrances of the medina. From that point onward, no cars are allowed and you go on foot or pay for the help of a man with a pushcart to help with your luggage. The medina of Fez is one of the largest car-free urban areas in the world! Fortunately, the man helping us knew where to go because we took one quiet and enchanting alley after another and Curtiss and I were completely lost. We later found out that Dar 7 Louyat Riad, means "riad of seven turns," and we later used this tidbit of info to help us find our way back after a day exploring the medina.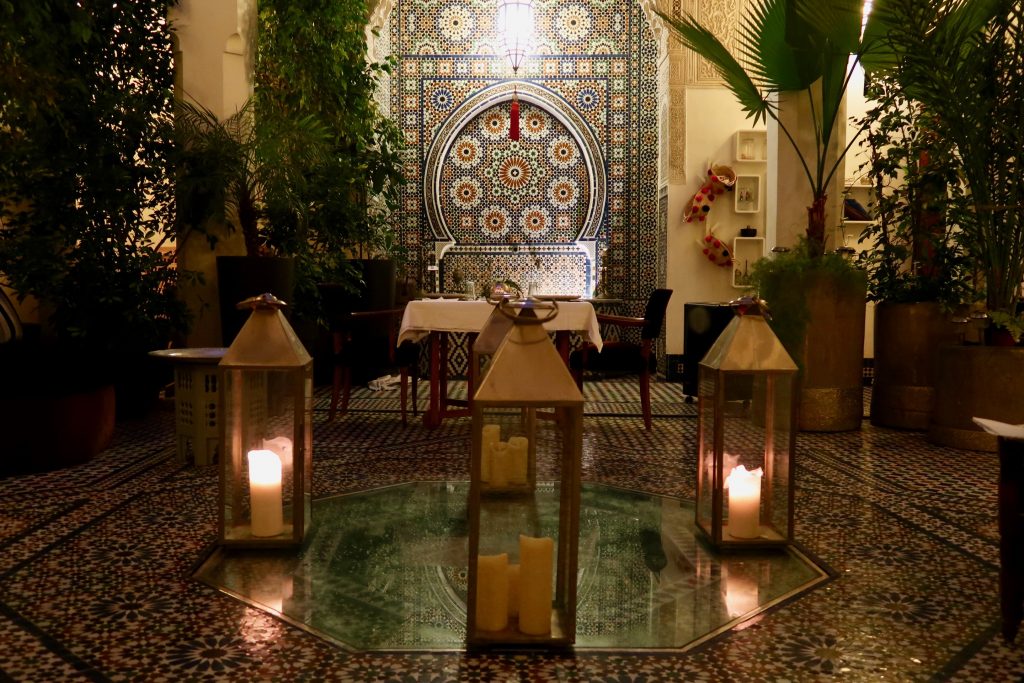 The atmosphere at the riad is amazing, and such a nice welcome as you enter from the medina.
Refreshing in our room
Our room was located just off the courtyard. It was beautifully and comfortably decorated with Morroccan rugs and art.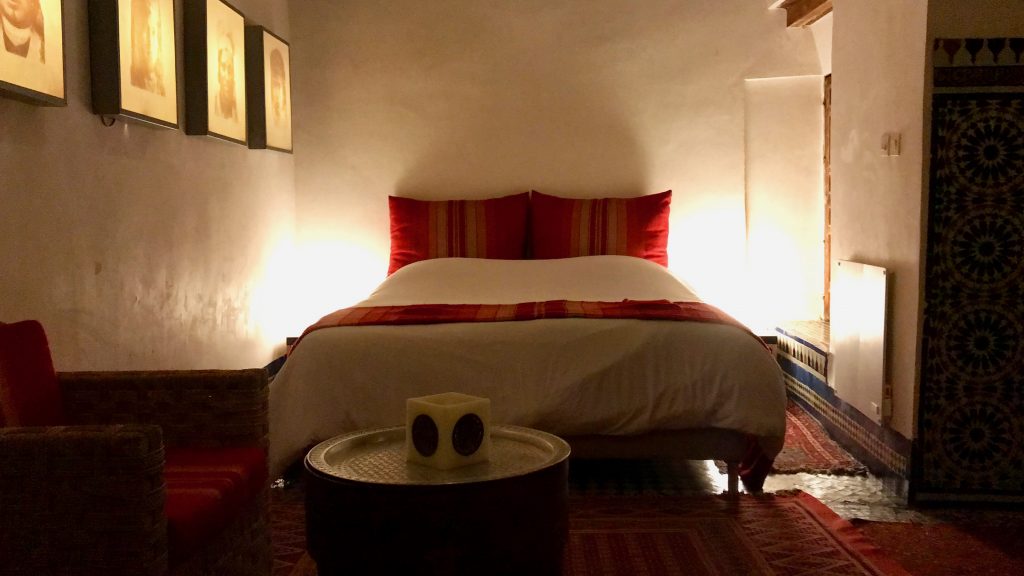 We were treated to a warm welcome as we arrived at the "7 Twists" riad, named after the winding route you take through the medina market in order to arrive there.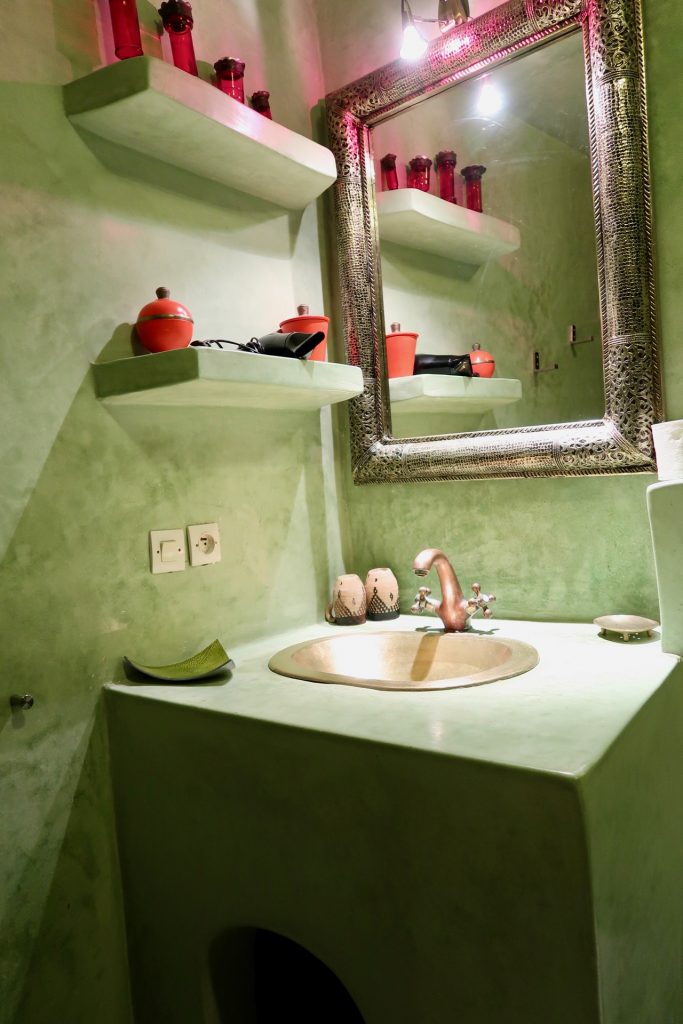 The space has a traditional feel to it, and it is so cool to get a feel for life in the area.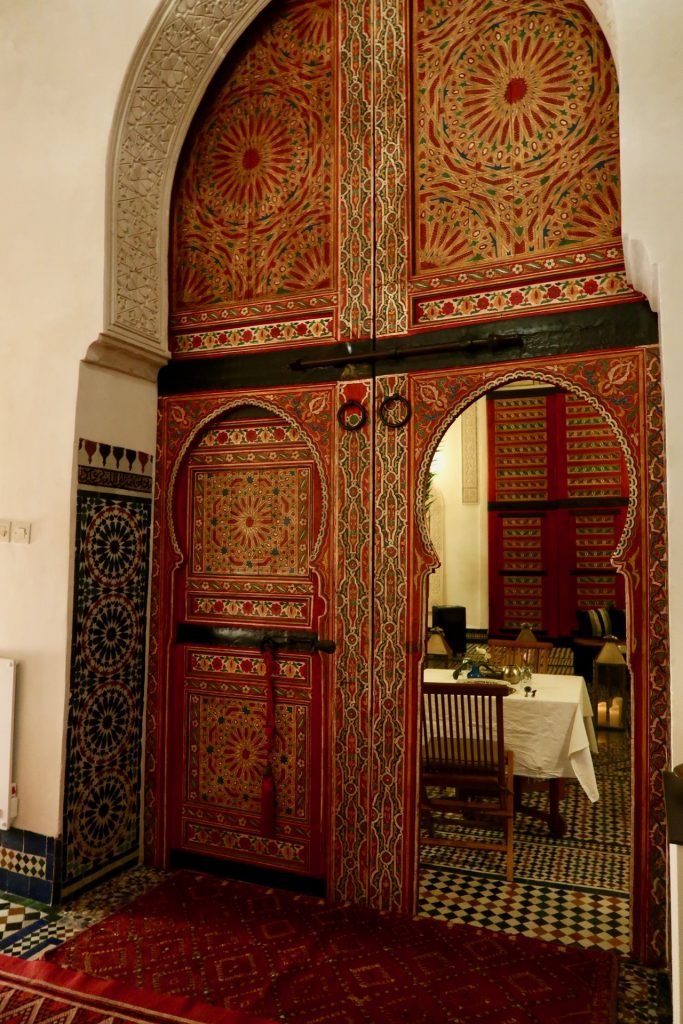 The space has a traditional feel to it, and it is so cool to get a feel for life in the area.
The wooden doors to the courtyard were beautifully painted with traditional designs. Every corner of the riad has its own special style!
A home-cooked meal in the courtyard
We were so excited to dine in Dar 7 Louyat Riad's beautiful courtyard! We quickly discovered that Moroccan food is one of our favorites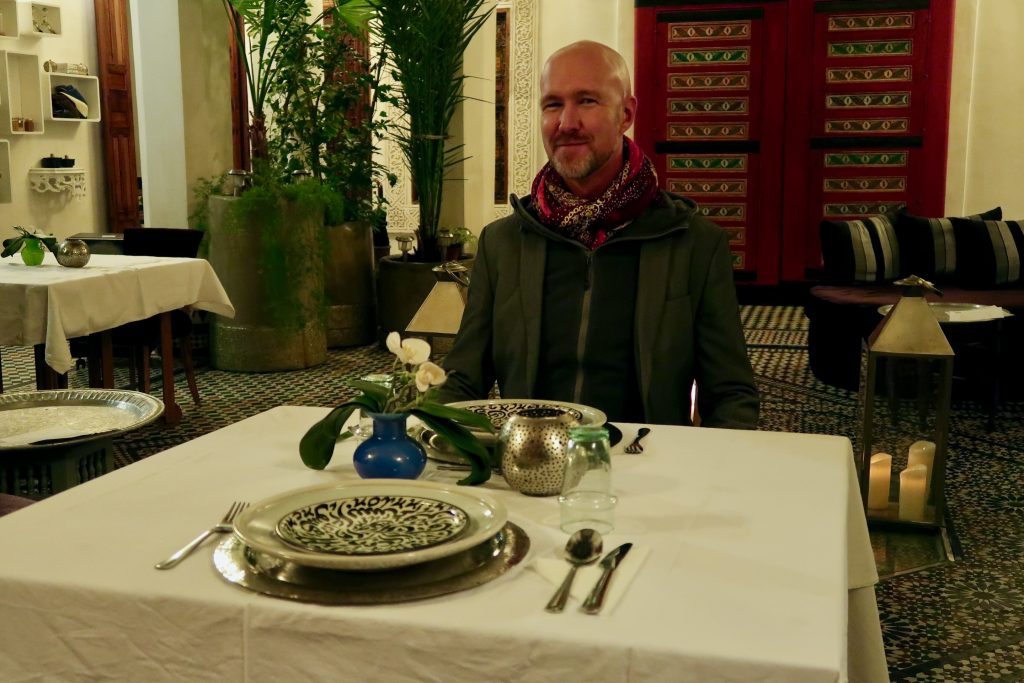 The dining area is gorgeous… and we were in for a treat!
It was incredibly romantic to be surrounded such beautiful architecture, lit with candlelight.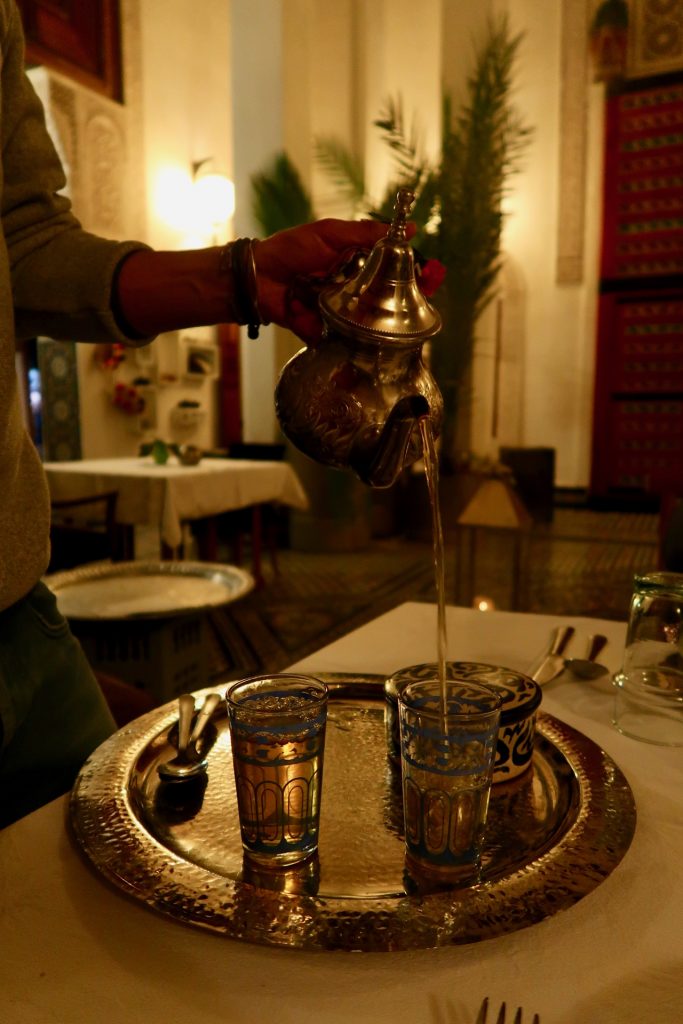 Hot mint tea is something that we have enjoyed, and we are totally making it a tradition of our own.
But first — mint tea! This is when I fell in love with fresh mint tea! You can enjoy it sweetened or plain, and I found it incredibly relaxing and refreshing after a day traveling or adventuring.
Dinner at Dar 7 Louyat Riad was spectacular!
For dinner, we started with hot carrot soup, which was a wonderful way to kick off our warm, welcome meal. We then enjoyed tagine with lamb, dried fruits, and nuts. This is a classic Moroccan dish, with many variations. The tender stewed meat, plum, and apricot came together beautifully, and it was such comfort food. Eating at this riad was most definitely a highlight of the trip!
The restored riad is incredible!
The next day we were able to see the incredibly restored riad a bit better by the light of the sun. The beautifully painted doors and tiled floors and walls really transported us into another beautiful world.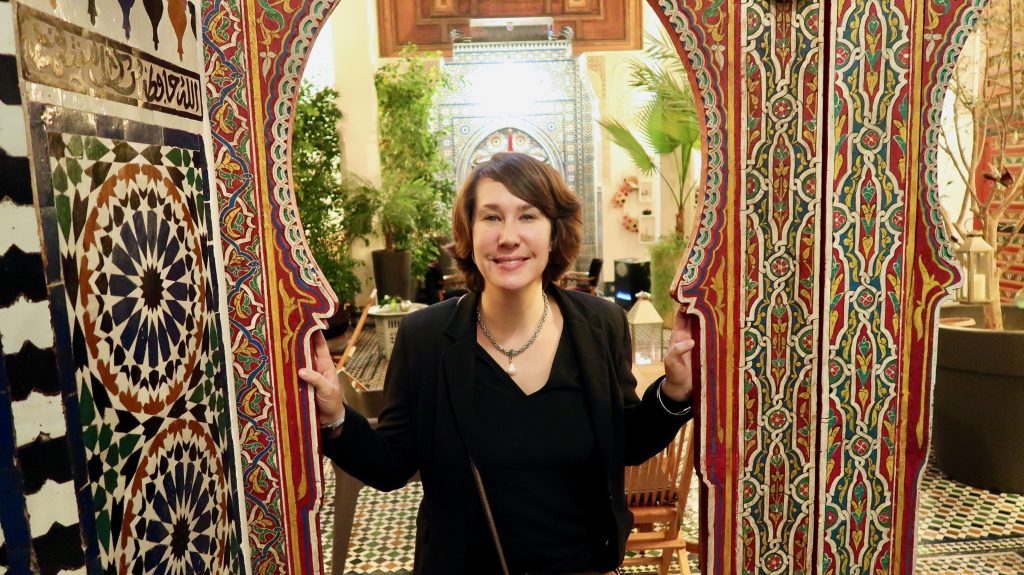 Ashley was enthralled with the traditional design at Dar 7 Louyat Riad.
When looking for accommodation in Fez, you will find innumerable riads to choose from — but what in the world are they? We found them to be very similar to a bed and breakfast. Some are large, with many bedrooms, while others are more intimate, with only a few. Also, these buildings used to be large houses for wealthy families and were often rather self-contained.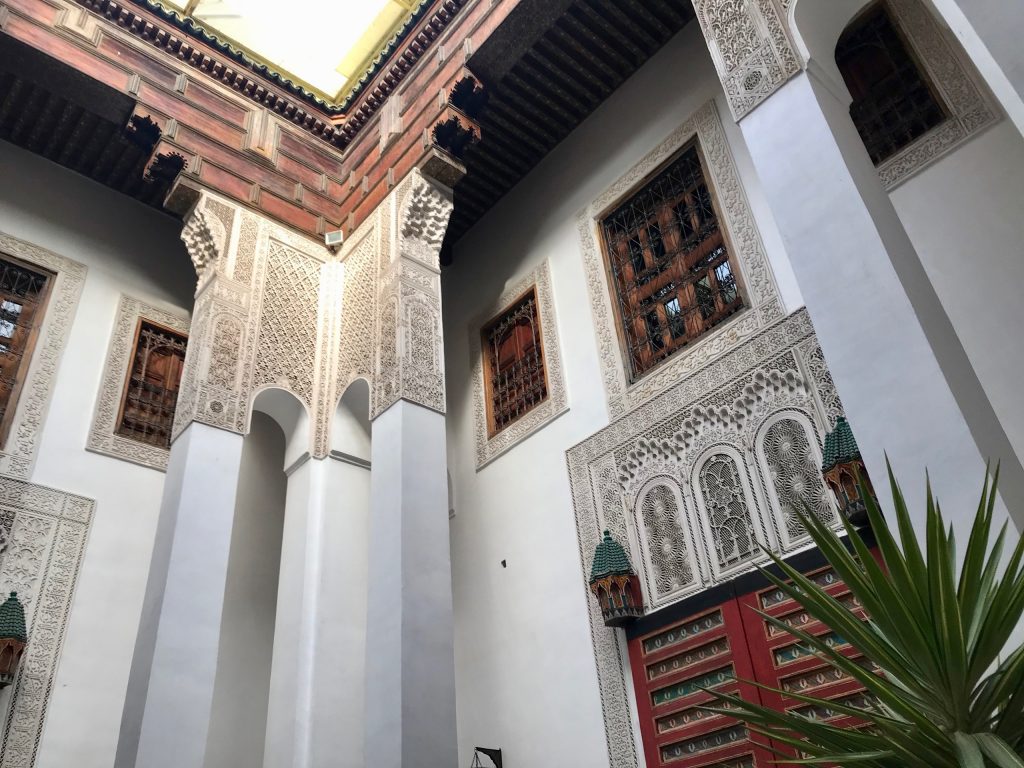 In the morning, the warm, cozy light is replaced with a bright, refreshing glow. The central courtyard is so big, and bright!
Enjoy breakfast in the courtyard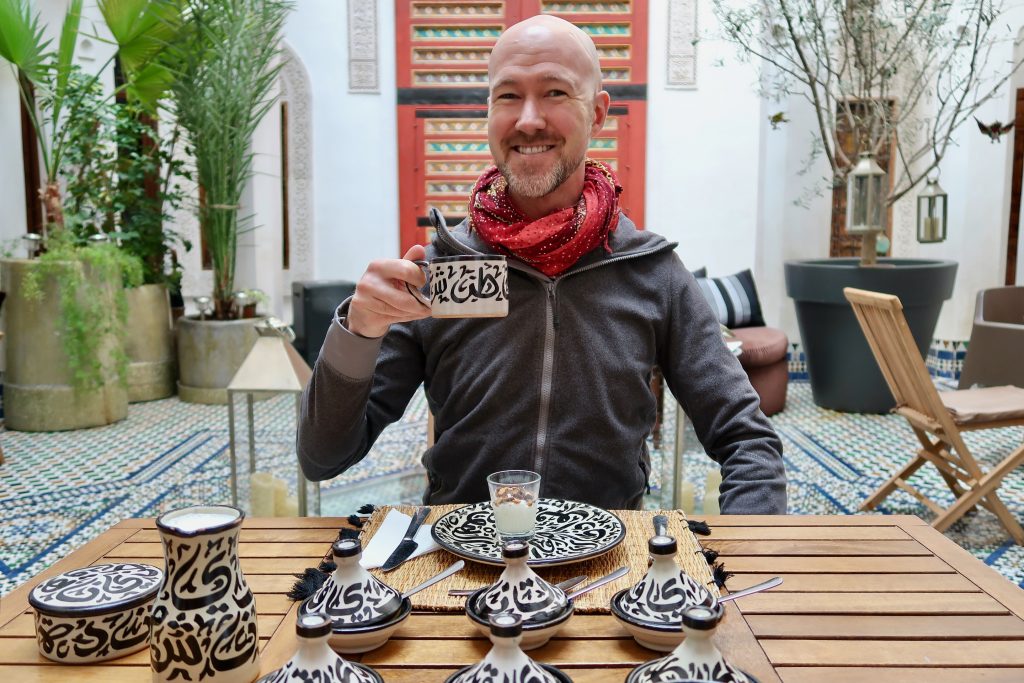 We're ready to start the day!
Oh my! Breakfast was served in the sunny courtyard and was different every morning of our stay!
Just a few photos of the delightful breakfast we enjoyed at Dar 7 Louyat Riad.
Breakfast was very fresh and tasty! We started the meal with a cool yogurt with granola, and continued with pancakes and grilled bread drizzled with honey and homemade jams. There was also tangy fresh cheese and black olives to balance the sweetness of the bread. Yummy!
The riad is a wonderful atmosphere to dine in.
Learn how to navigate the medina.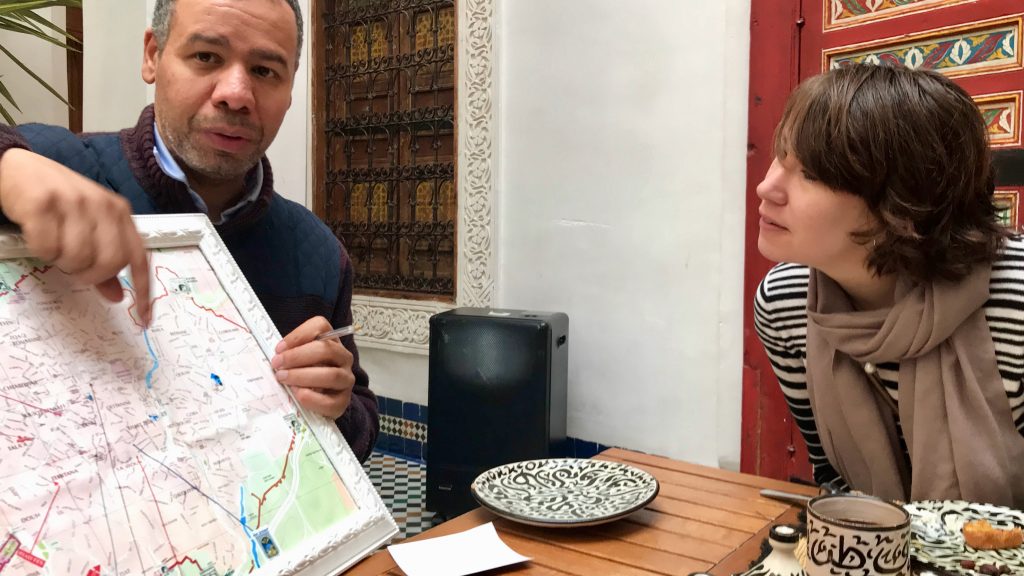 We were given a great introduction by Rachid as he revealed the secrets of the medina, and how to navigate it.
Before heading out to explore, Rachid pointed out some can't-miss sights and excellent restaurants that we should check out. By this point I was starting to feel a little overwhelmed by the craziness of medina. just to give you an idea: the Fez medina is the largest in the world, with 9,000 streets and 40,000 dead ends. Hello, giant maze!
But don't worry: if we can navigate it, so can you! You just have to decide on a direction, and go for it! We found that getting lost and exploring random alleys was half the fun, and we always got to where we wanted to go, eventually.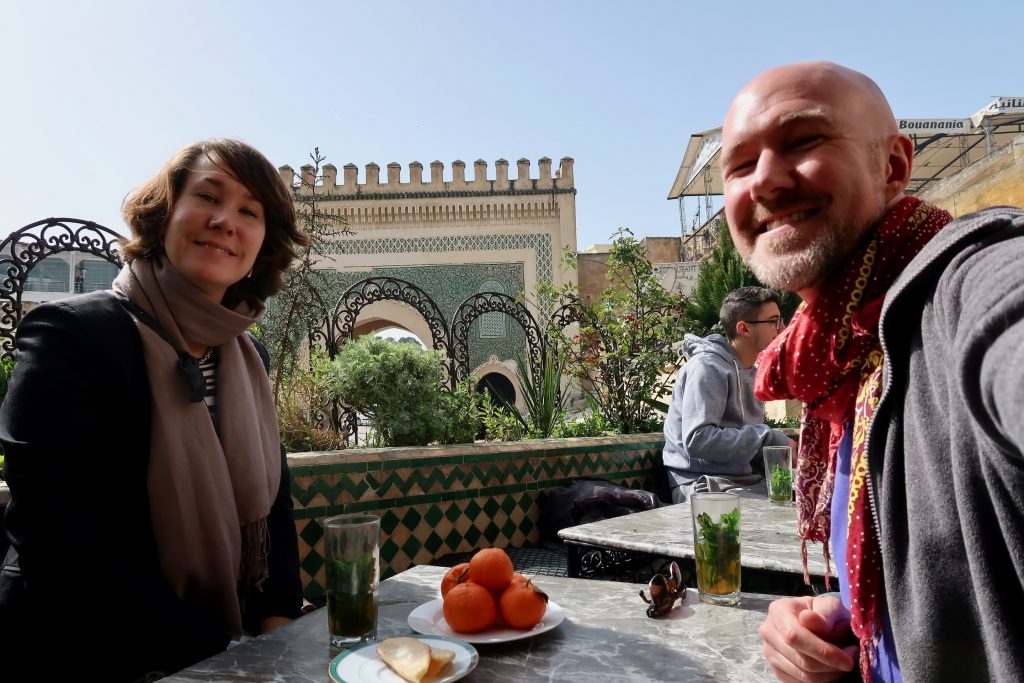 The medina has interesting new experiences around every corner.
Also, don't be afraid to ask for directions. We found folks to be really helpful, although we did find that a few some were especially helpful about trying to herd us into their shop. Also, children are sometimes excited to lead you someplace for a bit of change. You should expect to experience all of this, and feel comfortable to say "no thank you" if you're not interested. That being said, we suggest having a handful of small change in your pocket to tip.
People were pretty chill, and genuinely nice. We were on guard about harassment, but it was quite minimal. The whole experience was amazing, and one that we would gladly revisit and relish.
The riad felt like a sanctuary
When we returned to the riad in the evening, we were floored by how removed from the hustle and bustle of the streets we felt. While staying at Dar 7 Louyat Riad, we liked being right in the middle of everything and finding a bit of peace when we return to our room. If you're in Fez for only a few days and are excited to explore the sights, this a great way to do it!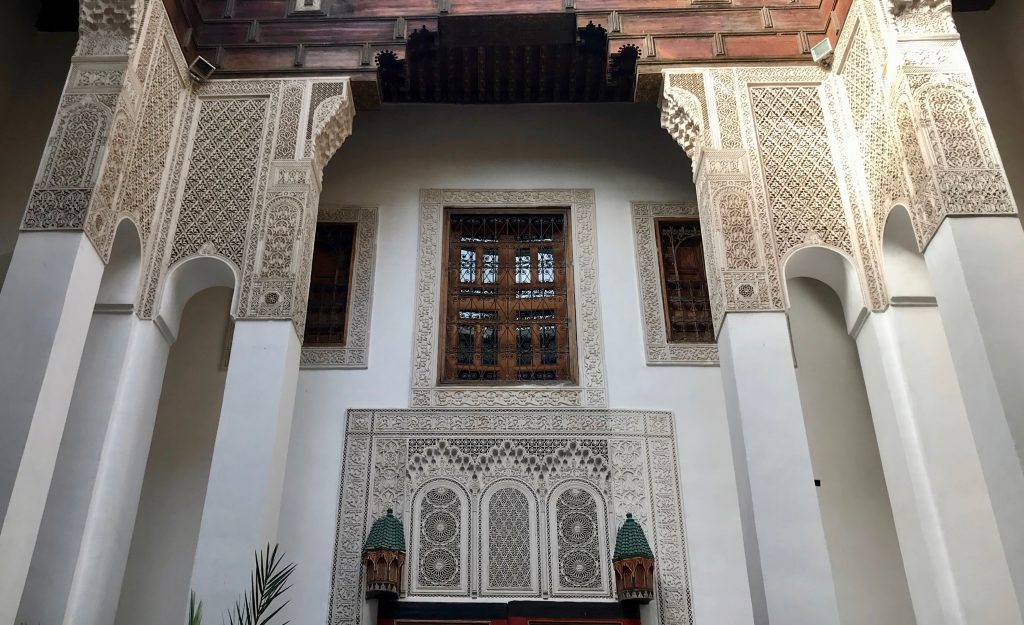 It's really spacious inside the riad, and tranquil.
Our last meal was special
The last dinner we enjoyed at Dar 7 Louyat Riad was a rather special one. In addition to being a little bittersweet, due to us leaving, a rather special dish was prepared for us.
We enjoyed a special dinner with chicken pastilla and strawberry sorbet on our last night at Dar 7 Louyat Riad.
It was our first time trying chicken pastilla, which is seasoned shredded chicken, wrapped in crispy phylo pastry. A light dusting of powdered sugar and cinnamon gave a uniquely subtle twist to the flavor. This dish is usually only made for holidays and special events, as it's a rather time-consuming process. We ended the meal with a fresh strawberry sorbet, and a smile.
Thank you Dar 7 Louyat Riad family for an incredible experience! We felt warmly welcomed by everyone, and can't wait to visit again!
Enjoy this post? Pin it for later!
Ashley is exuberant about location independence! She relishes new experiences and working with boutique hotels and resorts. She's always thinking about design and food… and where they'll travel next!