Mexico City Has Something For Everyone
It's Mexico City time!
We have spent quite a bit of time in Mexico over the past few years, although somehow we had not yet explored Mexico City. Many of our travel blogger buddies have raved about the wonderful museums, restaurants, and sights that the city has to offer… so it was finally time we did a little exploring of our own!
Mexico City has lots of verdant parks, tree-lined boulevards, and relaxed neighborhood charm around Roma and La Condesa, which we explored a whole bunch.
Shopping at local markets
There are oodles of pop-up markets where you can find everything from beautiful handmade art, funky fashions, electronics, and yummy snacks.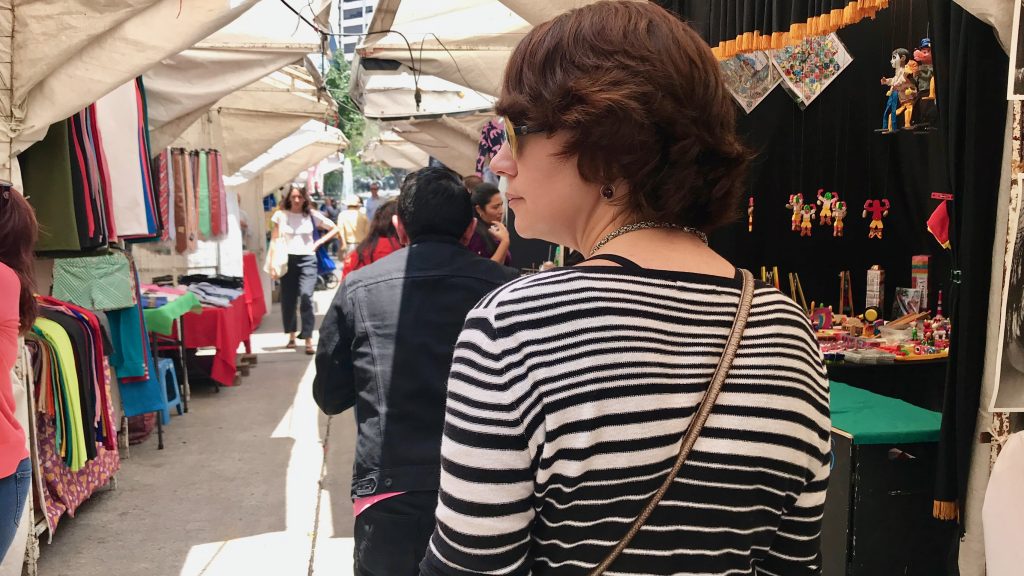 We found a few open-air markets and had a great time strolling through them.
If you have room in your suitcase, the markets are are great place to shop for gifts! Go for it!
Awesome Architecture!
While walking around town we were delighted by the incredibly beautiful buildings. Especially, while strolling the streets of La Condesa, we would get quick glimpses of ornate courtyards with beautiful flowers. 
There are so many lovely glimpses around Mexico City.
Relax in the park!
We found that Chapultepec park is huge! We honestly did not realize how sprawling the 1,700-acre park was until we arrived and started to explore. There are museums, zoos, monuments, and more to enjoy in this green oasis set in the middle of Mexico City.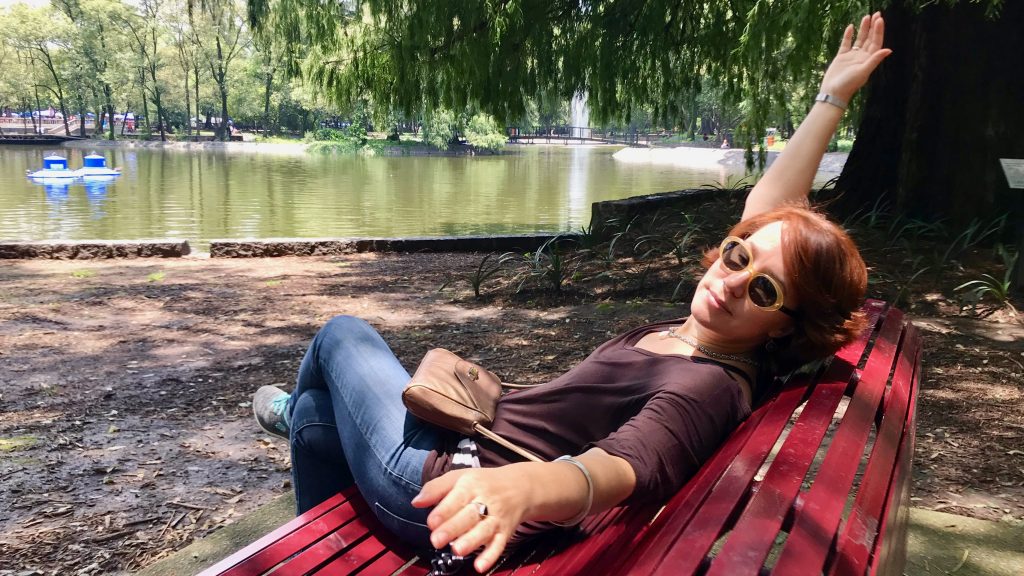 We explored the wooded park called Bosque de Chapultepec and found it to be incredibly chill.
We were delighted to find an empty bench overlooking the smaller lake and its ducky inhabitants. The park is speckled with families enjoying a relaxing picnic, kiddos playing their favorite ball games, joggers, and cute couples being all romantic. At this point, I'm not quite sure how cute Curtiss and I were feeling — as it was a tremendously sunny day — but our little bench was the perfect place for a midday siesta. 
Explore incredible museums!
We decided to delve into the National Museum of Anthropology. It's located right next to the Chapultepec park, which just so happens to be the perfect spot to relax before or after enjoying the incredible museum.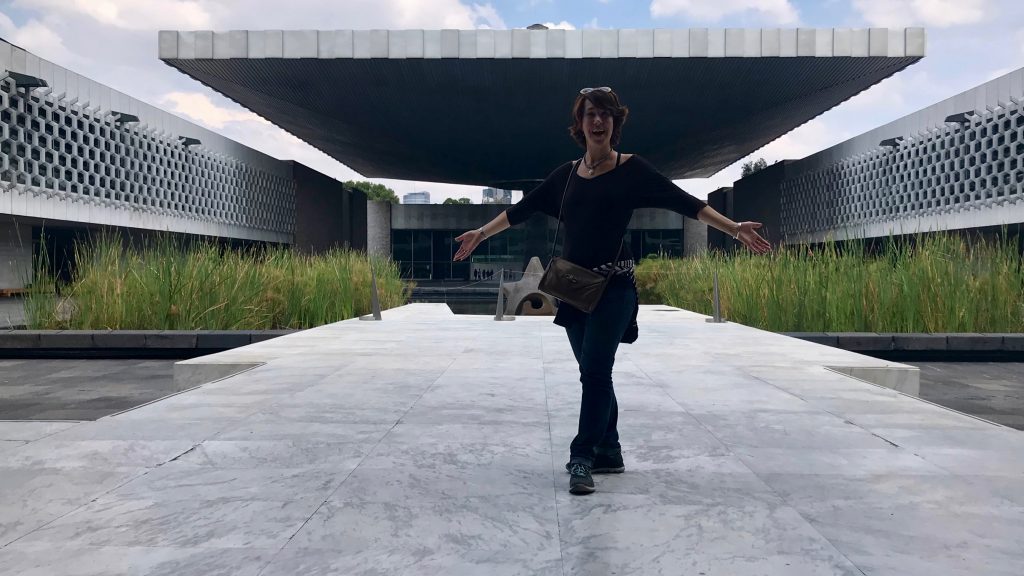 The anthropology museum of Mexico City is amazing!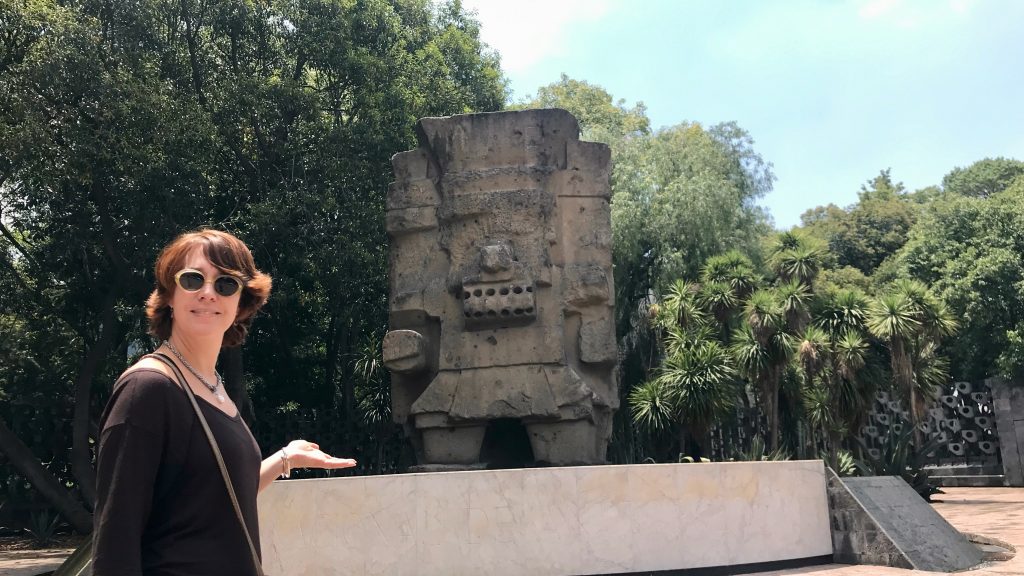 We found our way to the legendary anthropology museum — Museo Nacional de Antropología — and we began to explore it.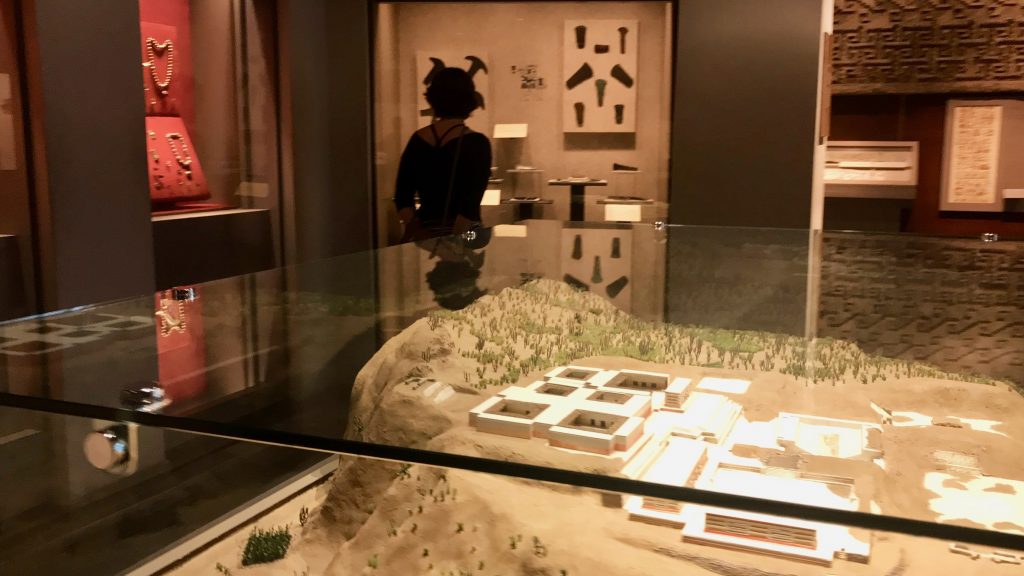 It was absolutely awesome to see the the models of ancient cities, and the relics found amidst them.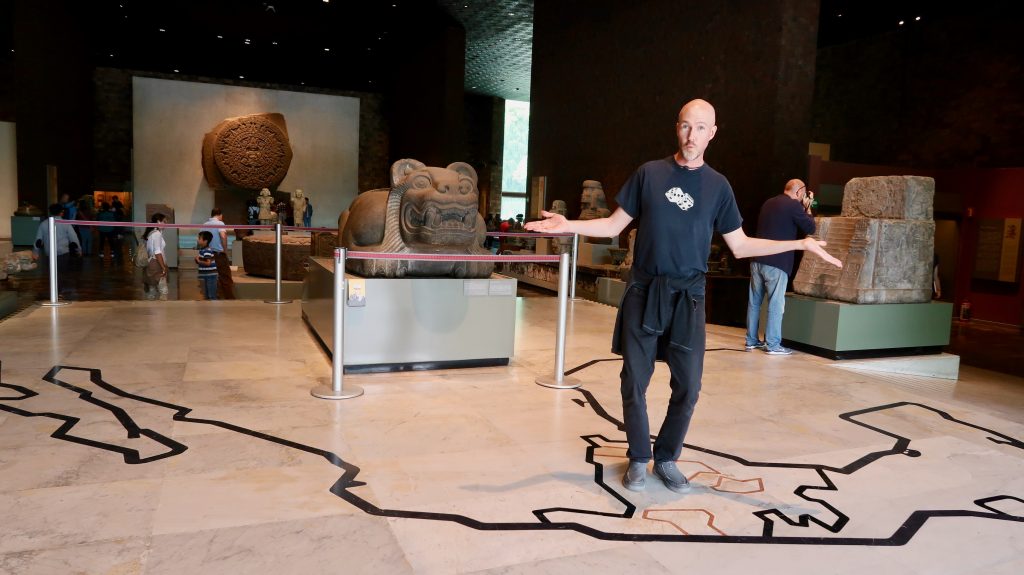 We're in Mexico! And it's so cool to learn about its origins.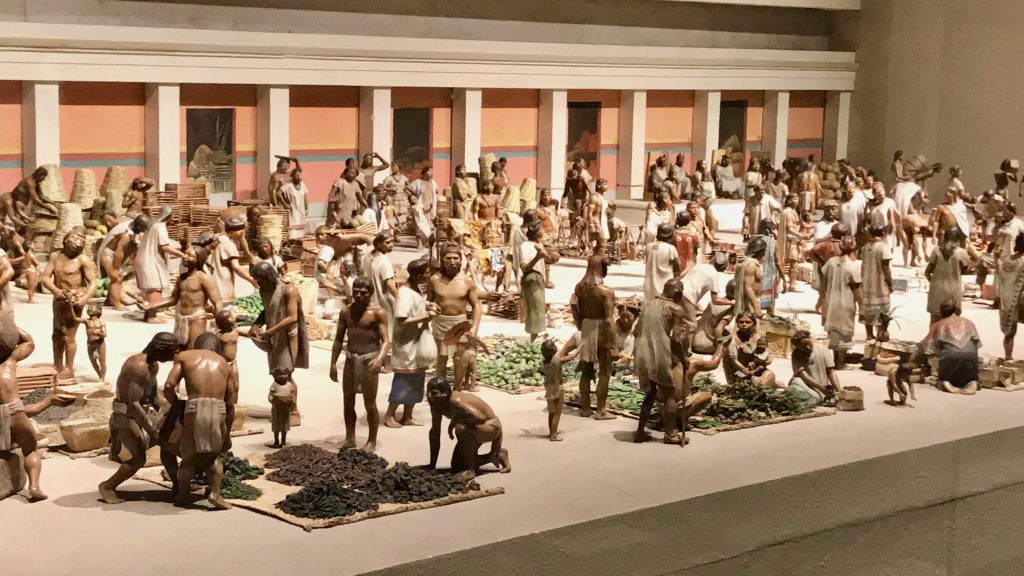 One of my favorite parts of the museum was this huge diorama of people bustling about an old open-air market. It seemed to capture a lot of the spirit of the times.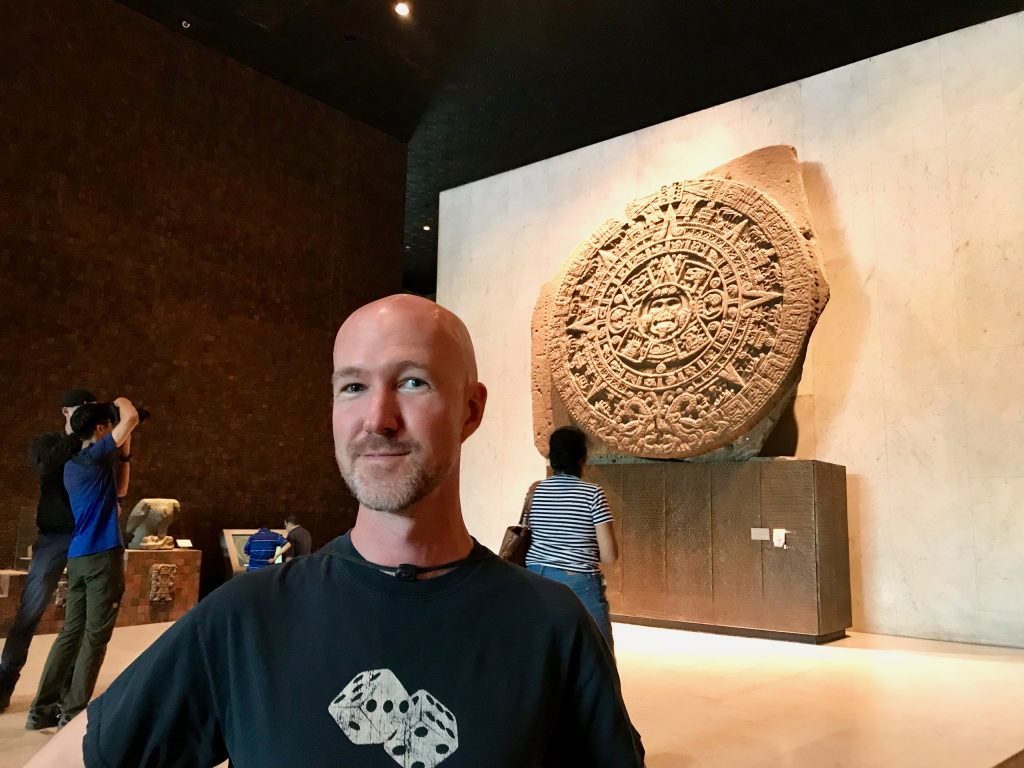 We learned that this iconic creation is not calendar-related. It is actually a bit more battle-related.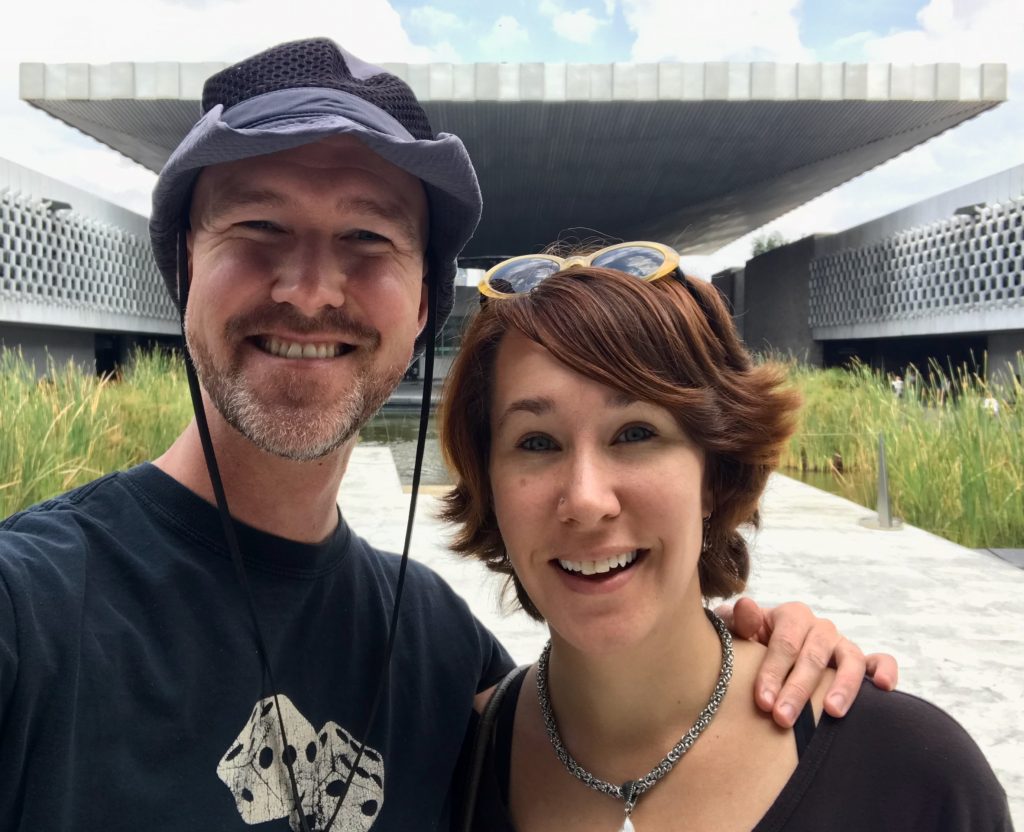 We were really astounded by the wonders at the Museo Nacional de Antropología.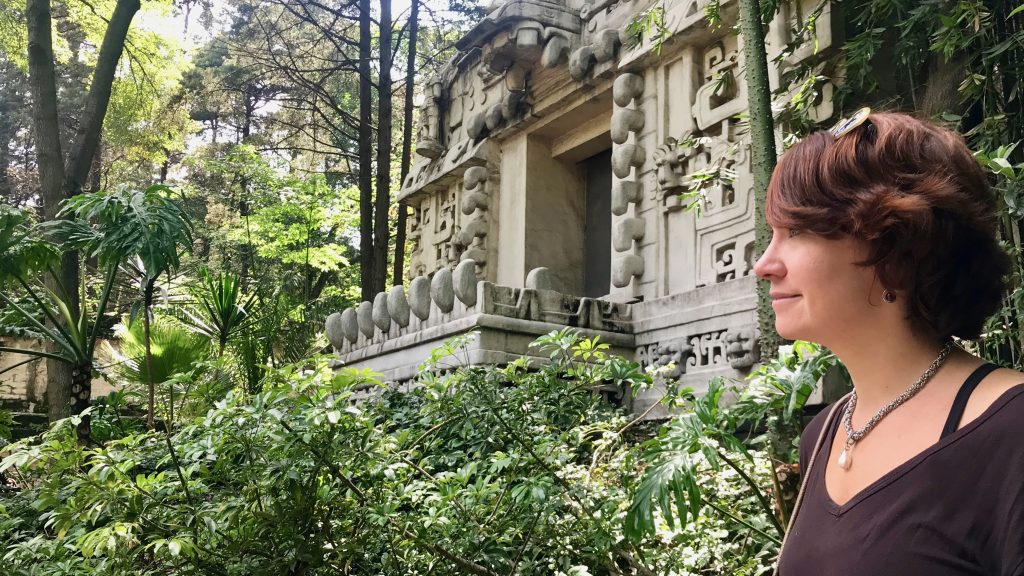 The structures of Mexico's origins are enchanting.
Our stay at Four Points Marriott was pretty great. It was in the Roma district, right next to La Condesa. It was bespangled with artwork recreations from all over, making for an awesome style throughout the hotel.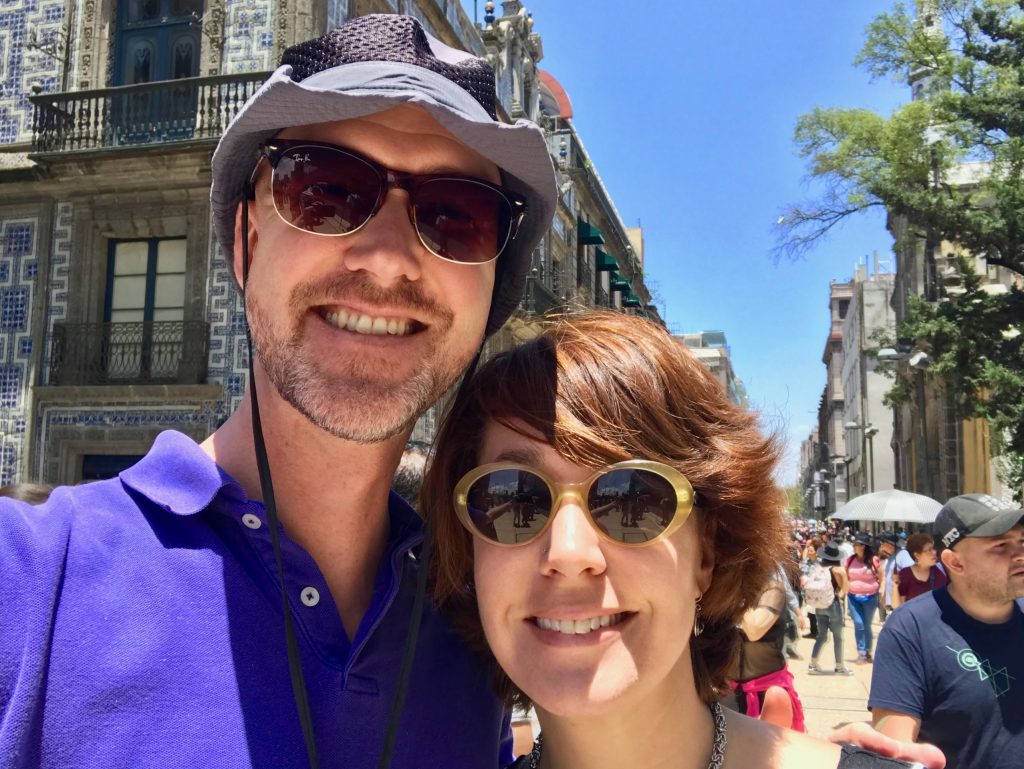 We were excited to meet up with near Palacio de Bellas Artes with Mexico A Pie for a very interesting tour.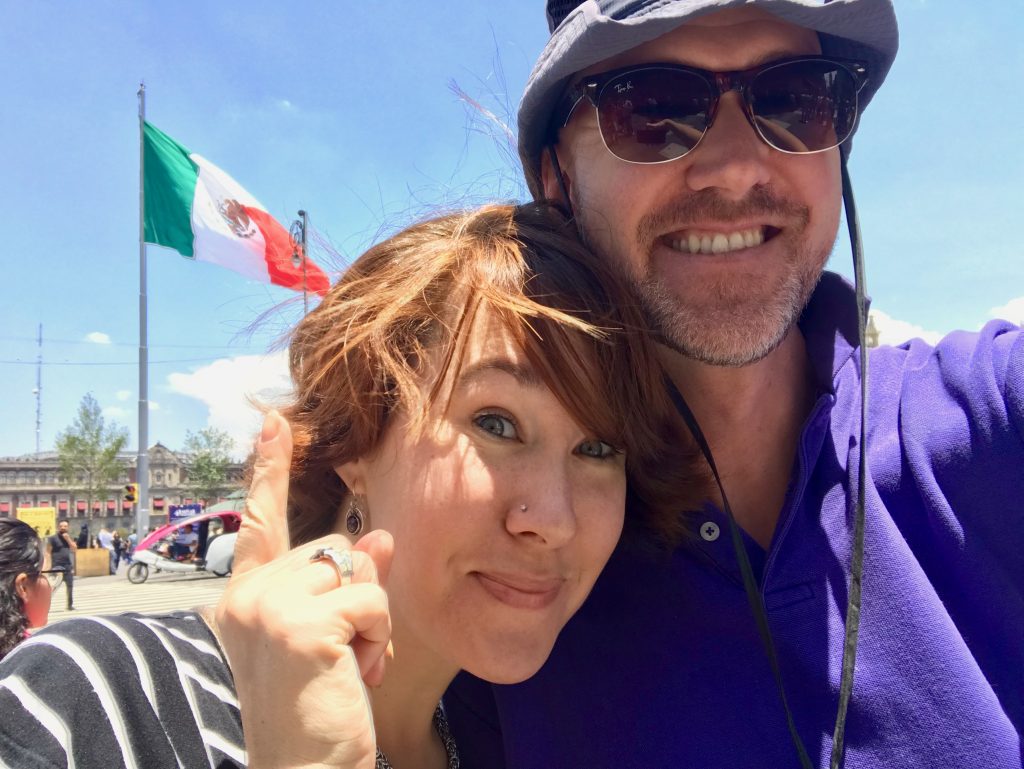 ¡Viva México!
Check out a show at Palacio de Bellas Artes
Unfortunately due to our schedule, we were not able see a show at Palacio de Bellas Artes, although people have raved about the traditional dance performances they have seen there. And just look at that facade… with all that decoration, you just know you're in for a good time! Instead we met in front of Bellas Artes to join the Lucha Libre Experience + Mezcal Tasting tour through Mexico a Pie.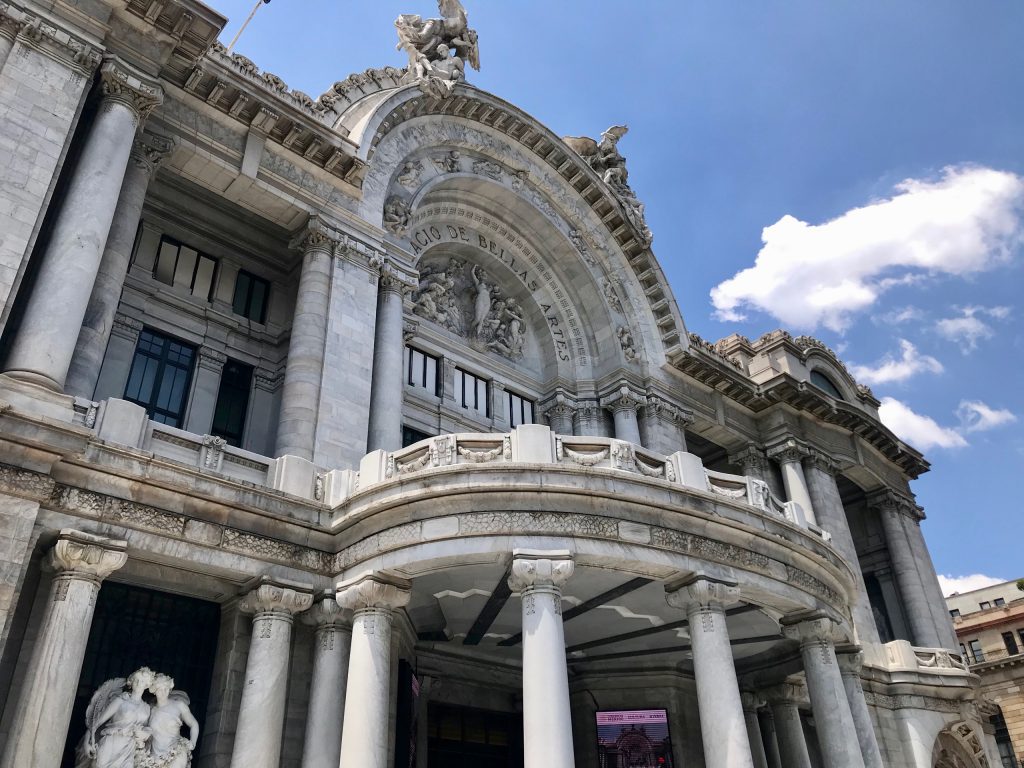 The Bellas Artes building is amazing!
Salud indeed
We started the tour at a mezcaleria and sampled five different mezcals, starting with the lowest alcohol content and going up. We really enjoy the smoky flavor of mezcal, admittedly we're more familiar with tequila. It was awesome to learn more about this tasty drink and try a few varieties.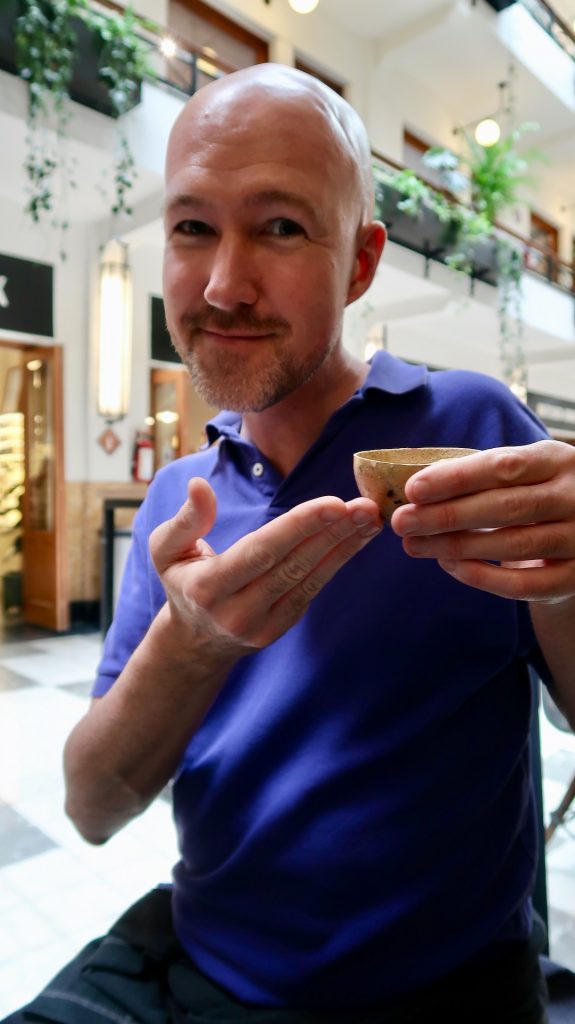 For our first stop with Mexico A Pie, we did some mezcal tasting. We drank from glasses, and we drank from dried pumpkin. It was fun, educational, and very fun!
Onward to Lucha Libre!
After the mezcal tasting, we strolled to the stadium to enjoy our first Lucha Libre match! We were excited!
Time to get ready for the main event: Mexican wrestling! The art of Lucha Libre is amazing. Time to don the mask and see what's up.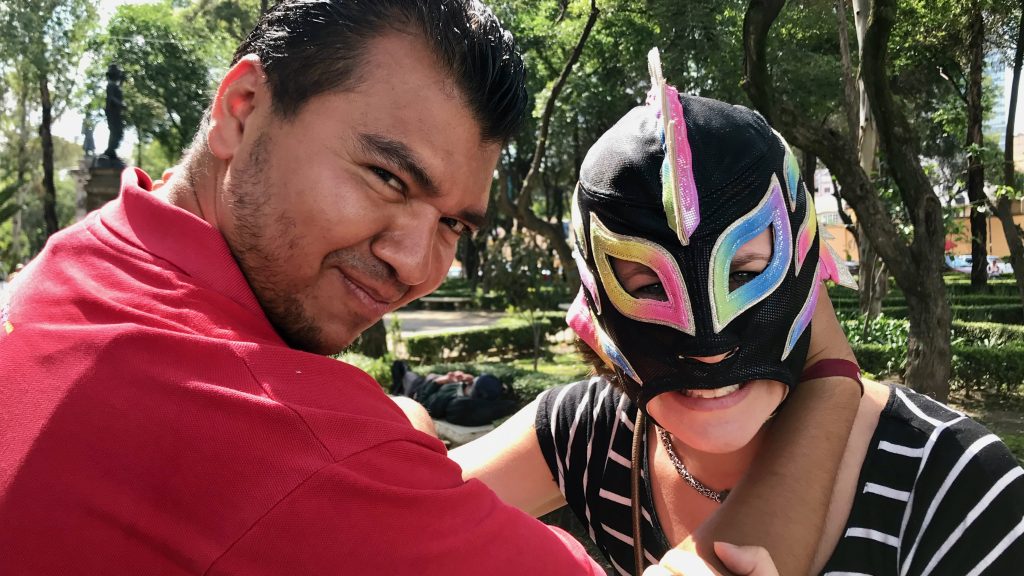 Our guide has real luchador experience, so he's qualified to show us some moves.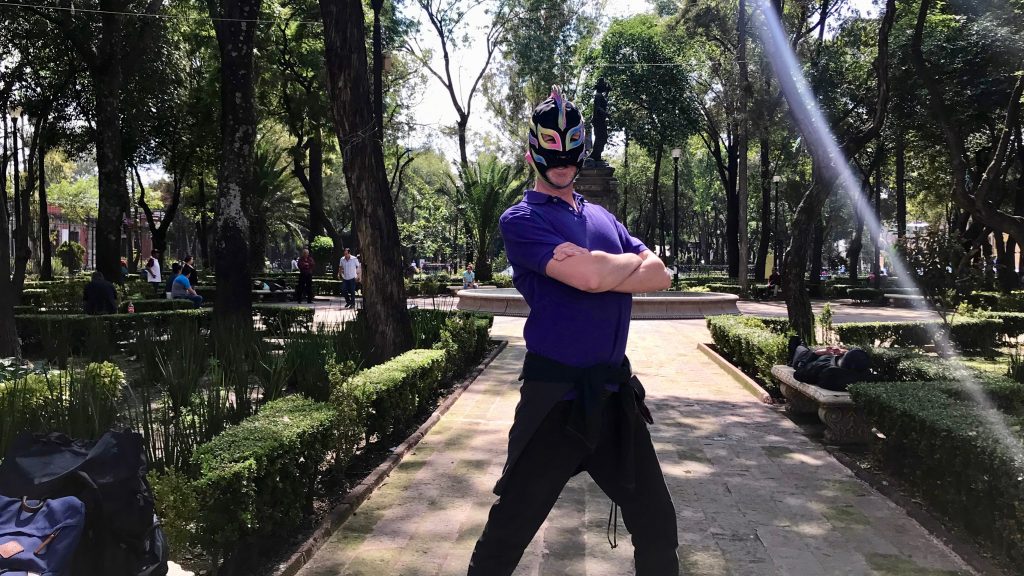 We were advised in our poses, and our fledgling luchador style.
On the way, our awesome tour guide, shared with us a bit about the history of Lucha Libre, the importance it currently holds in Mexican culture, and a bit about his own professional Lucha wrestling experience. That's right! 
Ahh! Arriving at the lucha libre arena was an adrenaline rush!!
On the way in, our camera was checked and held for us until after the show — fortunately, we were warned about this by Mexico a Pie, so we were prepared. If you're able, do leave your camera in your hotel and use the camera on your phone.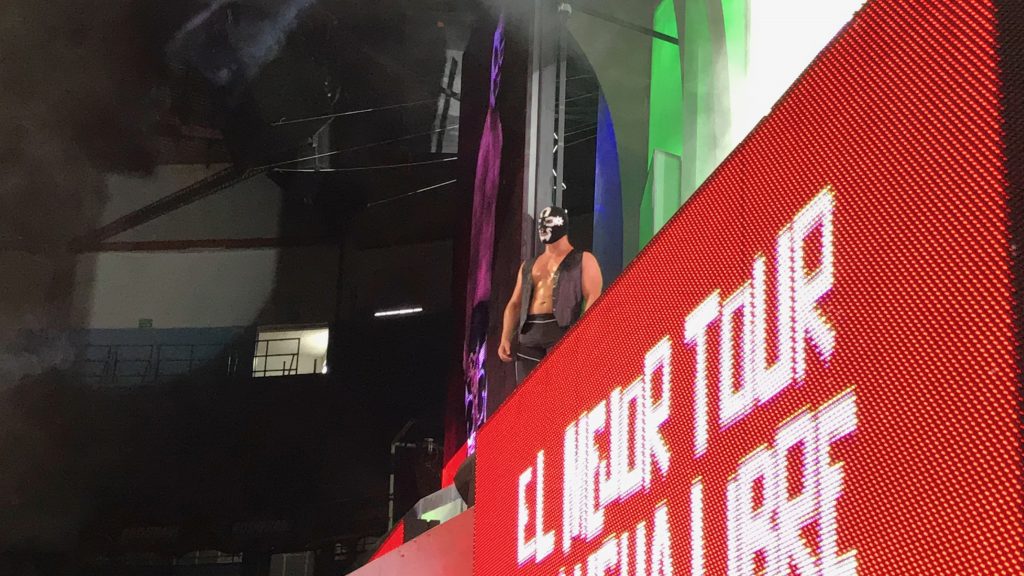 A new challenger approaches!
Our seats were right next to where the wrestlers entered and left the main arena… oh my! We ordered a couple of michealadas and enjoyed an incredible show!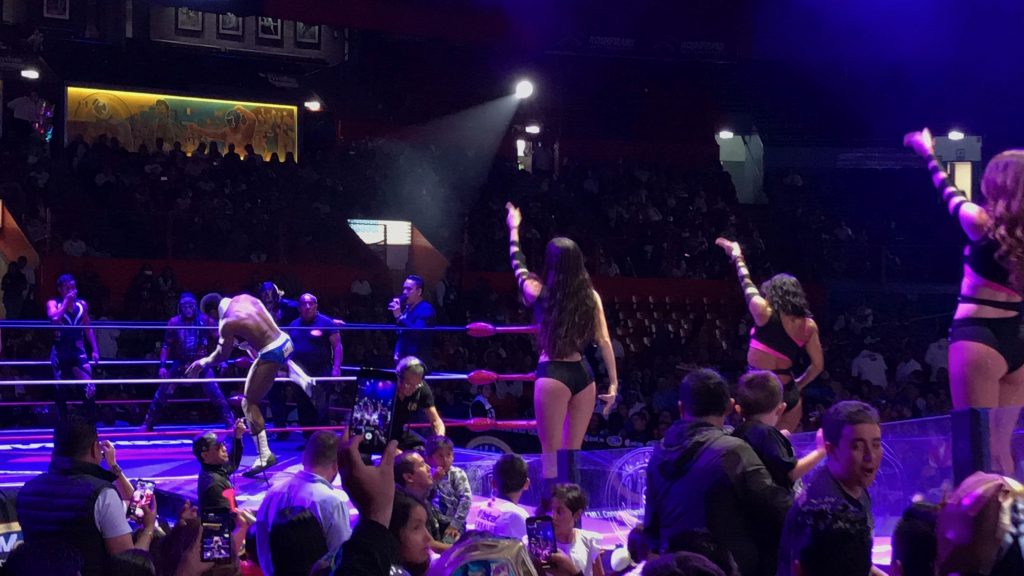 With his entrance paved by the "Goddesses of the Ring", a luchador makes an entrance with the USA flag on his butt. Hey! Every wrestler has their theme.
The "Goddesses of the Ring," — the dancing ladies who introduced each wrestler and match — were quite the crowd-pleaser. :-) The crowd went wild every time they reappeared.
We were surprised to see a luchador wearing a USA-themed outfit. Pretty fun!
With incredible costumes, staggering swagger, and ongoing chains of elaborate moves… lucha libre is quite the awesome spectacle.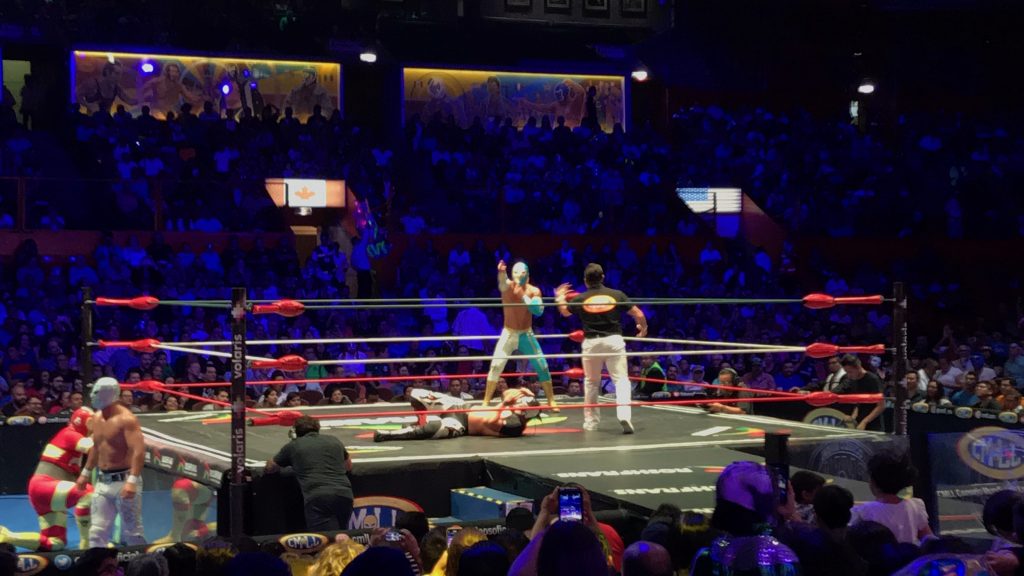 The showmanship of luchadors is incredible.
We had so much fun cheering for the wrestlers! The energy in the arena was certainly palpable and added to the experience! Also, it was beyond fun to go with such a great group.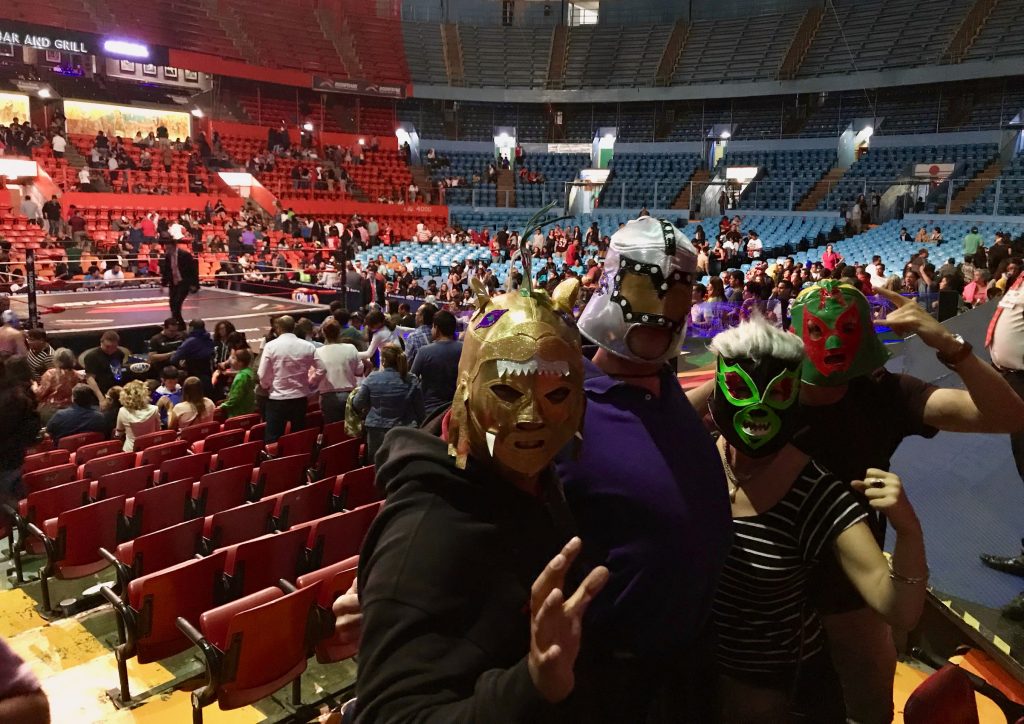 Thank you, Mexico A Pie! Your lucha libre tour is incredible! And lucha specialist Arturo is amazing!
Time for temples!
We decided to check out some of the stunning attractions outside the main city. Just a short bus ride, and we were there.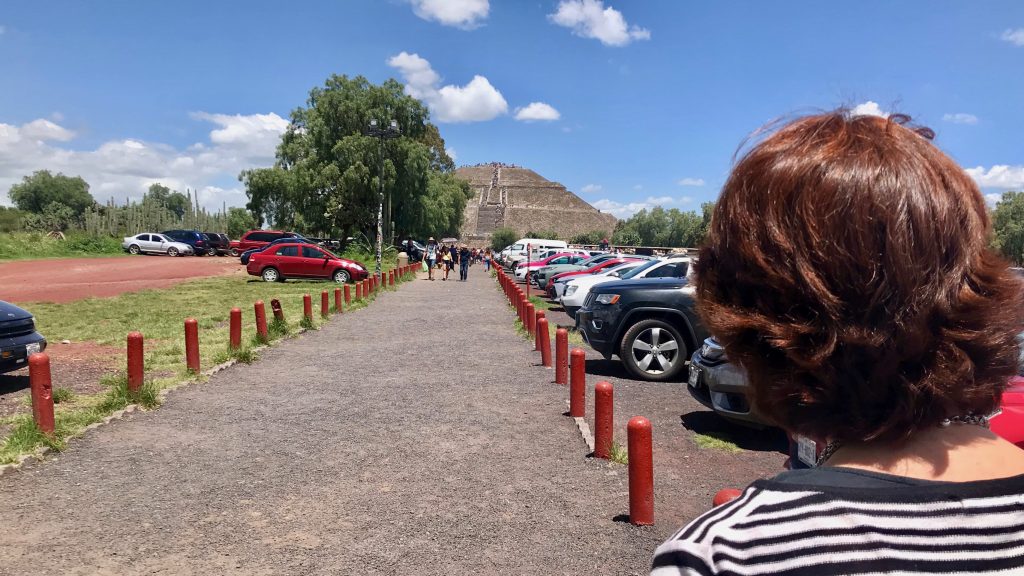 We made a point to check out the incredible pyramids outside Mexico City.
Our first stop was the pyramid of the sun!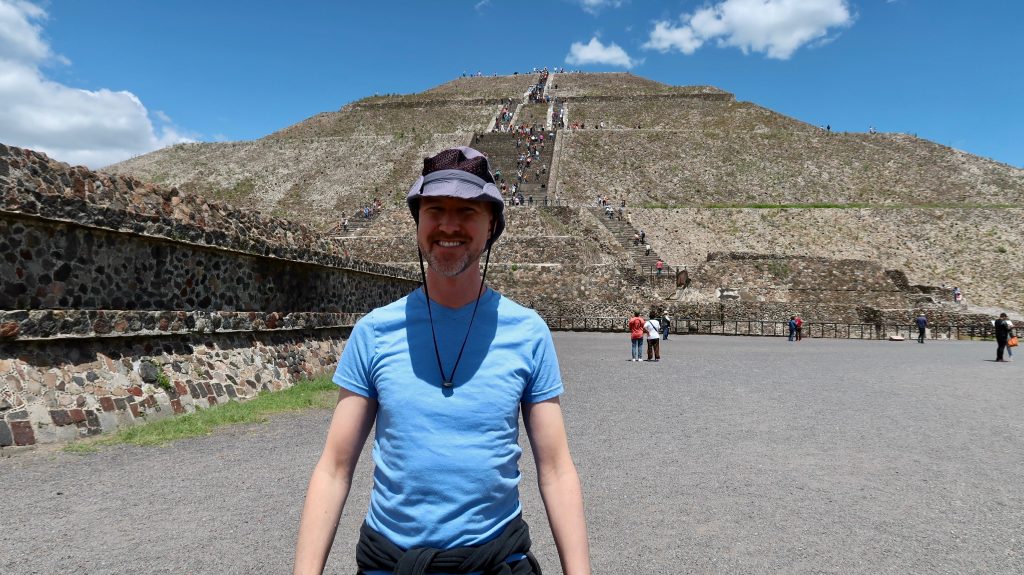 The impending hike was pretty steep!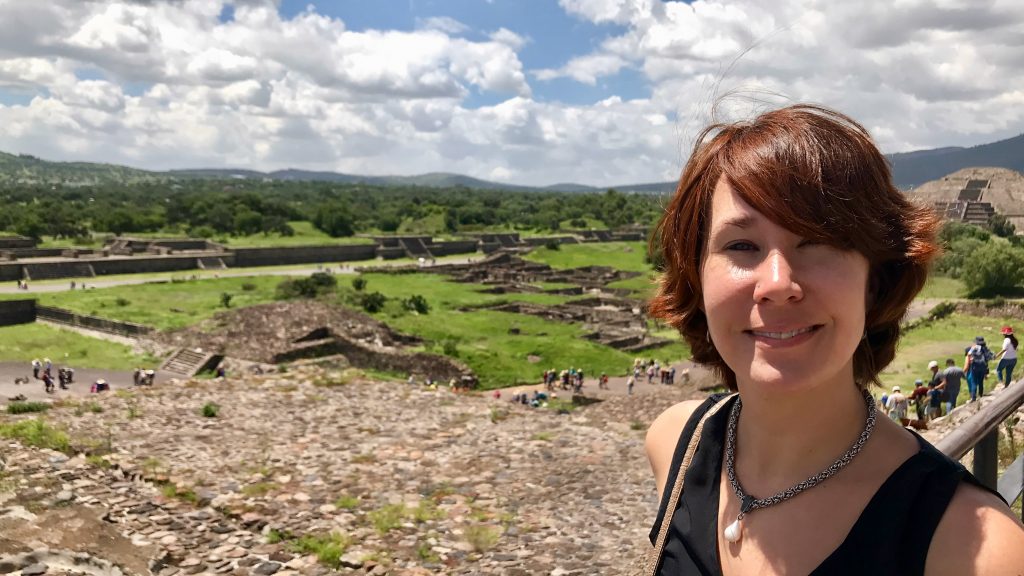 The vista from the pyramid of the sun was incredible, looking out over the pyramid of the moon and all the ancient ruins of the region.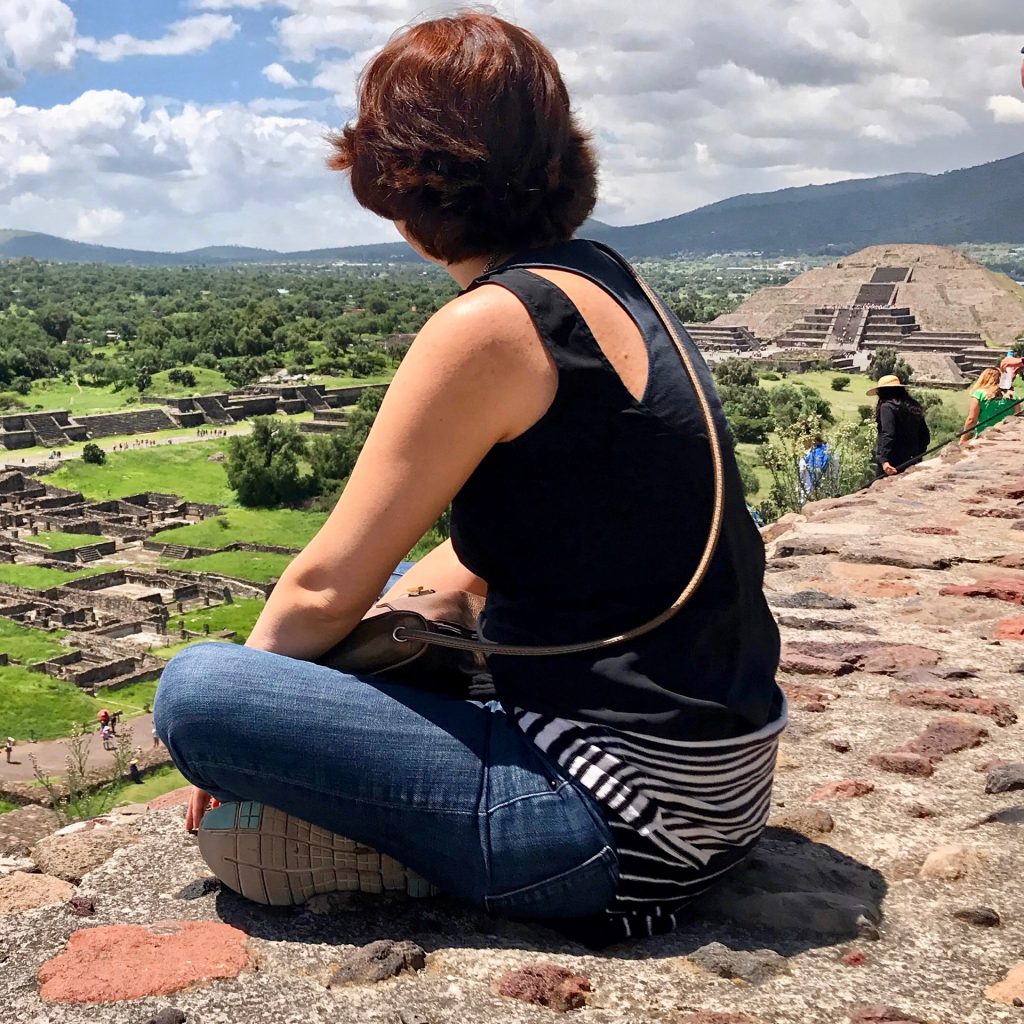 We took the time to check out the huge pyramids of Teotihuacán, and we are so glad we did! These immense creations fascinate the senses and tickle the imagination.
What a vision.
Mexico City wowed us!
Wow! We are so glad that our friends tipped us off to how amazing and interesting things are in this incredible city. Not only did we enjoy ourselves immensely… we can't wait to go back!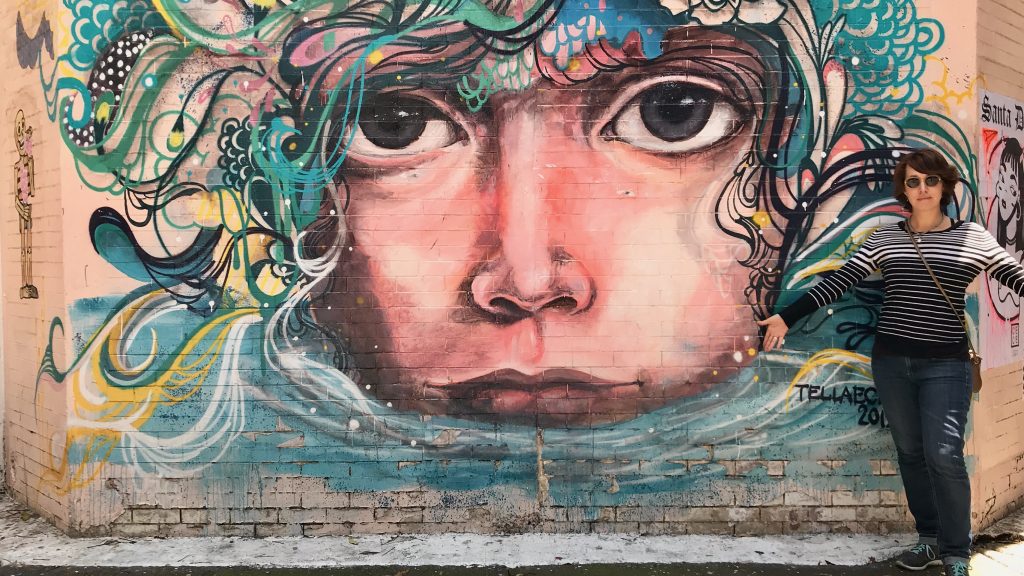 Mexico City! It has so many attractive aspects — and there are many great attractions all around it, as well.
Seriously: we could spend a few months living in this wonderful town. We might do that someday soon!
Enjoy this post? Pin it for later!
Ashley is exuberant about location independence! She relishes new experiences and working with boutique hotels and resorts. She's always thinking about design and food… and where they'll travel next!