Relax In Greece At MarBella Corfu
The Mediterranean holds a very special place in our hearts — from the clear teal waters, the smooth pace of life, and incredibly tasty food! We were delighted to spend a couple of nights exploring the island of Corfu, Greece. 
A wonderful place to stay
We were delighted to stay at MarBella Corfu, which is about 30 minutes South of the Curfu airport. Also, there's a bus stop right in front resort entrance, making it easy to explore the island and head into Corfu Town. This is an ideal place for families and vacationers — you will never run out of fun things to do, or you can do absolutely nothing at all… it's up to you!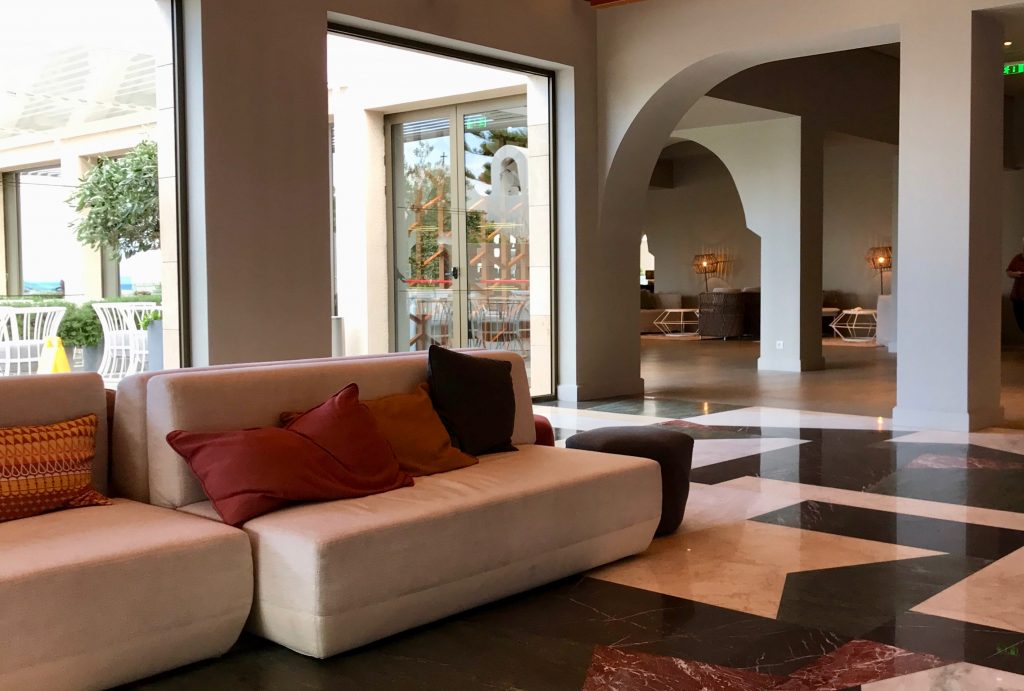 As we arrived at MarBella Corfu, we were immediately impressed with the cool design there, as well as the super-friendly team that welcomed us.
There was a warm welcome waiting in our room
Our incredible suite was very comfortable and spacious. We were greeted in the lounge with a bottle of wine, fruit plate, sweets, and a welcome letter. 
It's always a bit nicer to check into your suite and find some treats waiting to greet you.
After a day of travel, a comfortable bed is priceless! Also, I have come to really love the feel of those crisp sheets found only in nice hotels.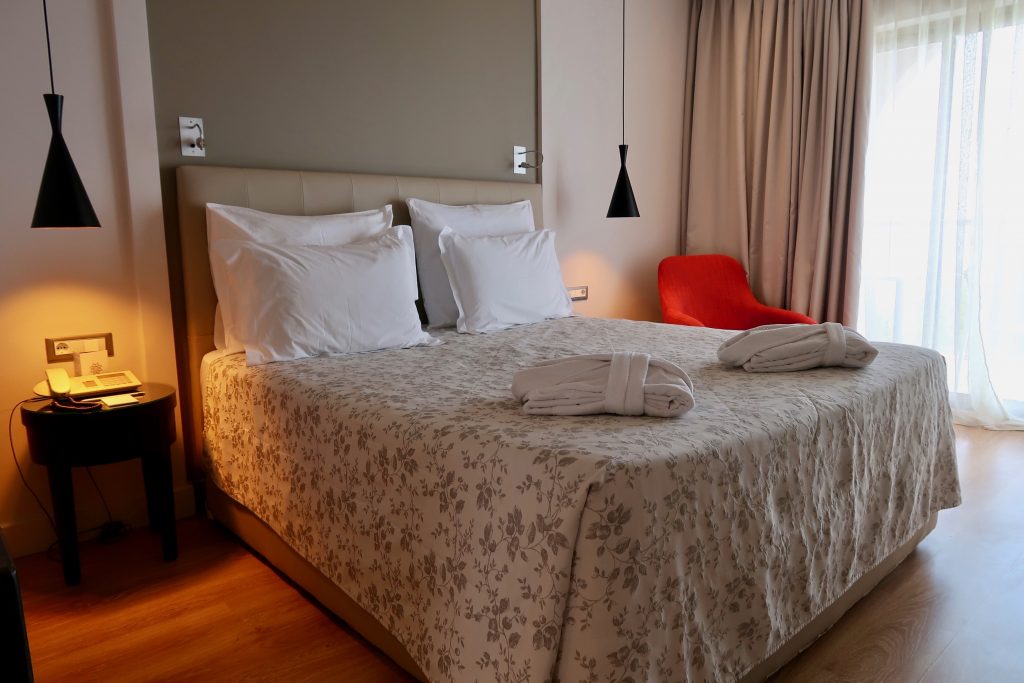 The suite was quite comfy, with a huge couch, a nice tub, two different balconies, a bed with a wonderful view… really amazing.
Just look at the view from our suite!!
Our suite had not one, but two balconies overlooking the turquoise ocean and beautifully manicured grounds. Did anyone ask for a snack with a view?
Down below, people enjoyed the beach while lounging under umbrellas, appreciating the gorgeous day.
Enjoy the resort grounds
The resort grounds are gorgeous, and are perfect for a morning or evening walk. Spend some time by the pool, or head to the beach, maybe spend some time reading in one of the four lounges… the options are endless!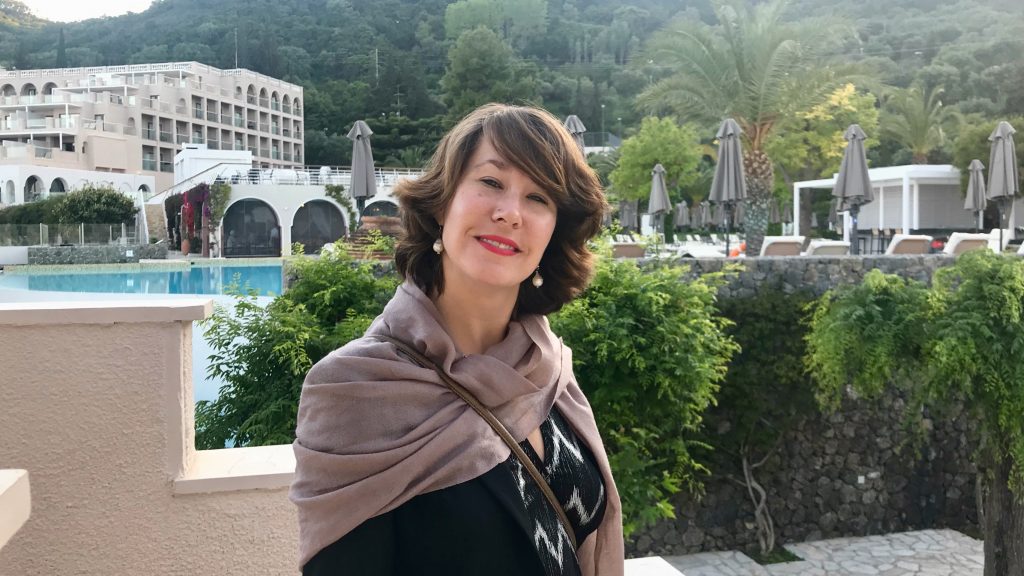 Ashley's artistic eye took quite a liking to the way the architecture complemented the hillside vista.
We really enjoyed the upscale design of the resort
It was colorful and fun, while still being very inviting. Also as we explored, we were delighted to find so many cute nooks and seating areas, that would be perfect for reading, playing a card game or even, getting a little work done.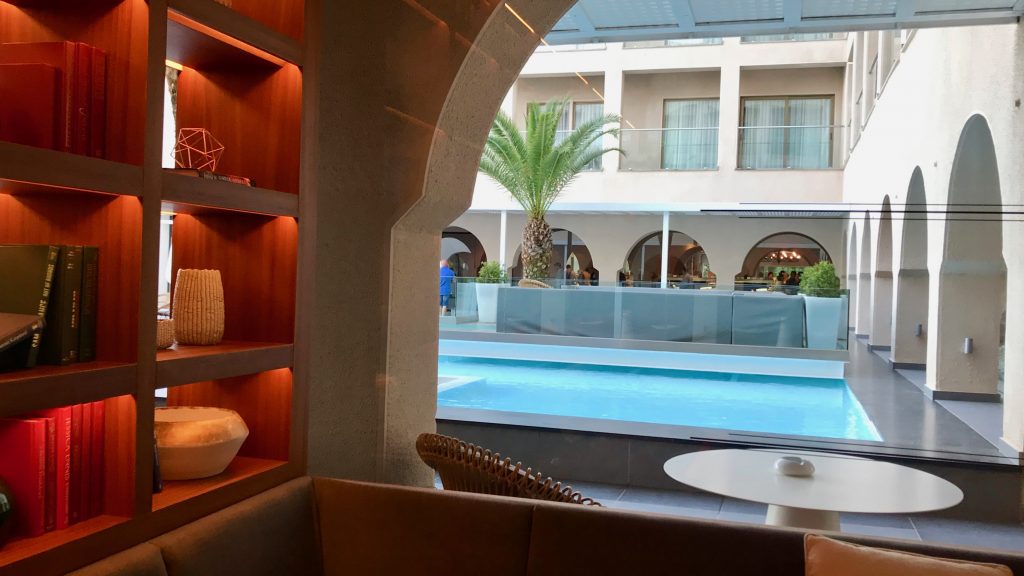 I am a big fan of the warm, cozy bookshelves that contrasted with the cool blue waters of the pools outside.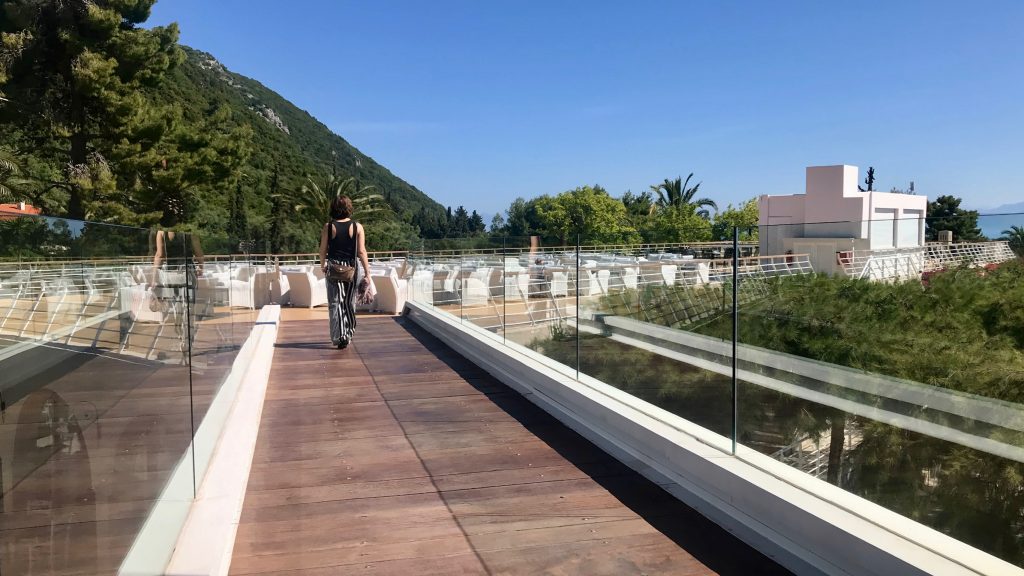 It was truly a nice experience simply to stroll around the grounds.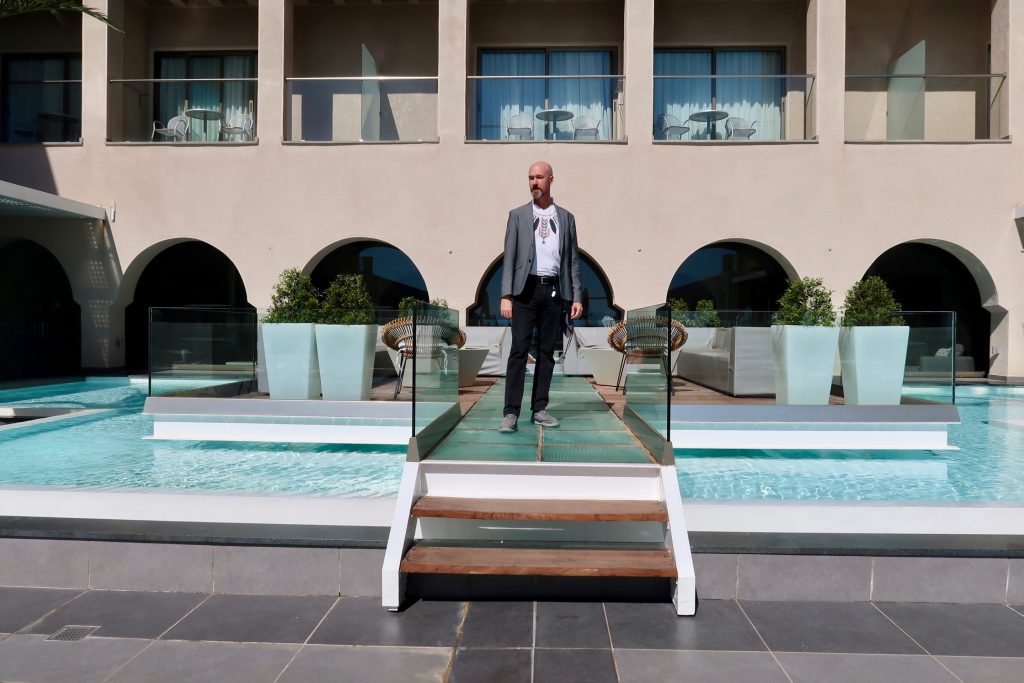 It's interesting to appreciate how all the different terraces, lounges, and bridges connect around MarBella Corfu.
I just fell in love with the chapel on the resort grounds!
Imagine getting married or renewing your vows here, in this beautiful and intimate setting. 
The hotel chapel had a really cute style. We bet weddings here are just awesome.
Enjoy the Greek sun by the pool!
I kept my eyes peeled in hopes of spotting some Greek gods enjoying the incredible pool… alas, no luck this time.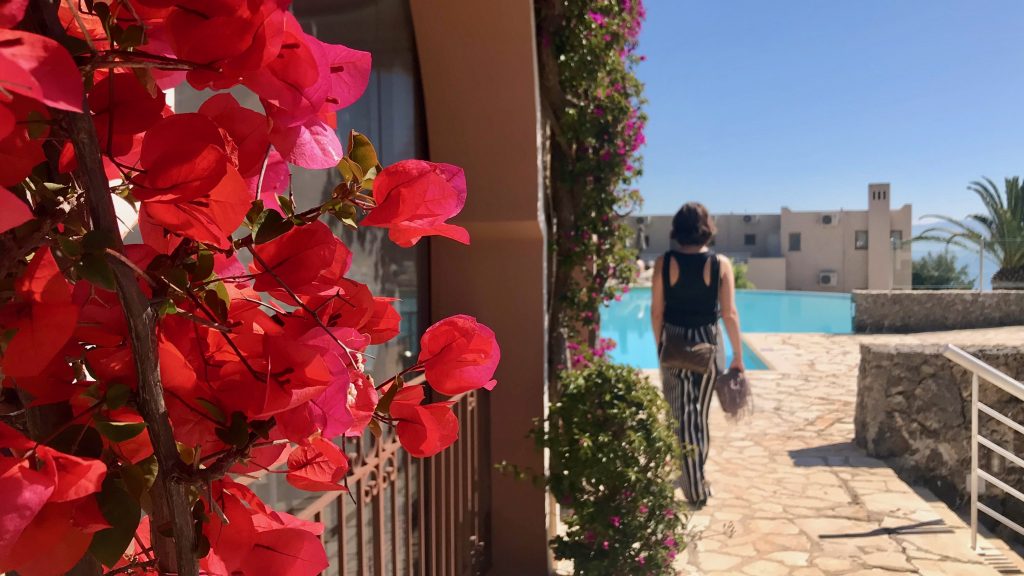 Beneath the bright Greek sun, beautiful flowers and vegetation framed the architecture in splashes of color.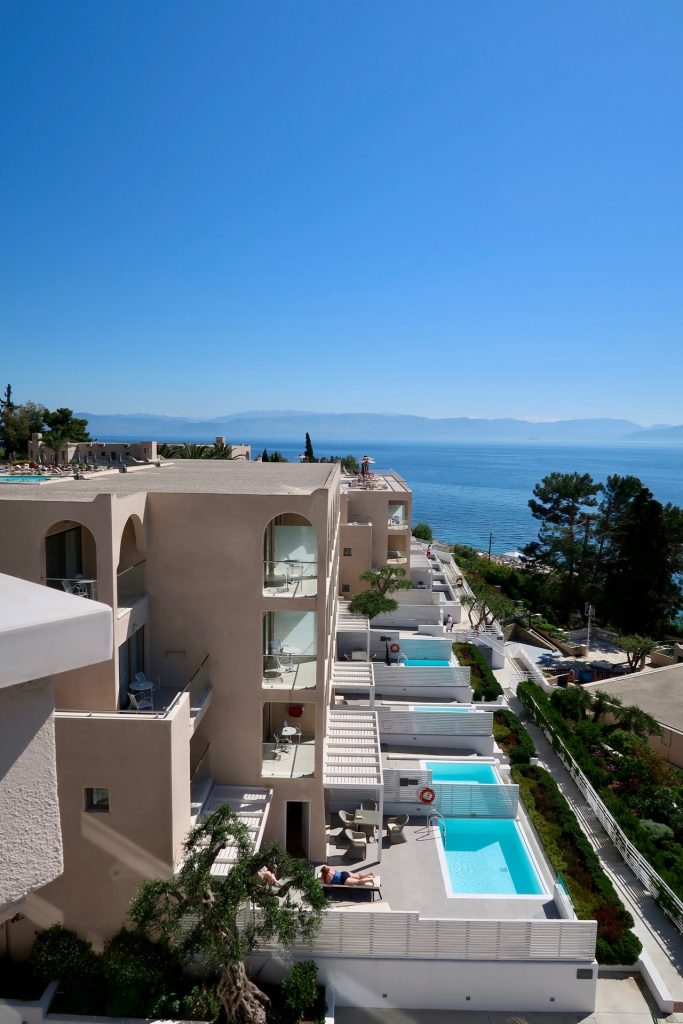 Some suites have their very own plunge pool!
Watch the sunset over the Mediterranean
After lounging by the pool and enjoying the beautiful resort grounds, it was pure magic to watch the sunset over the water. We were looking mighty fine for dinner and really feeling the romance… this is what a getaway is all about!
Just look at that view: the colors were magical!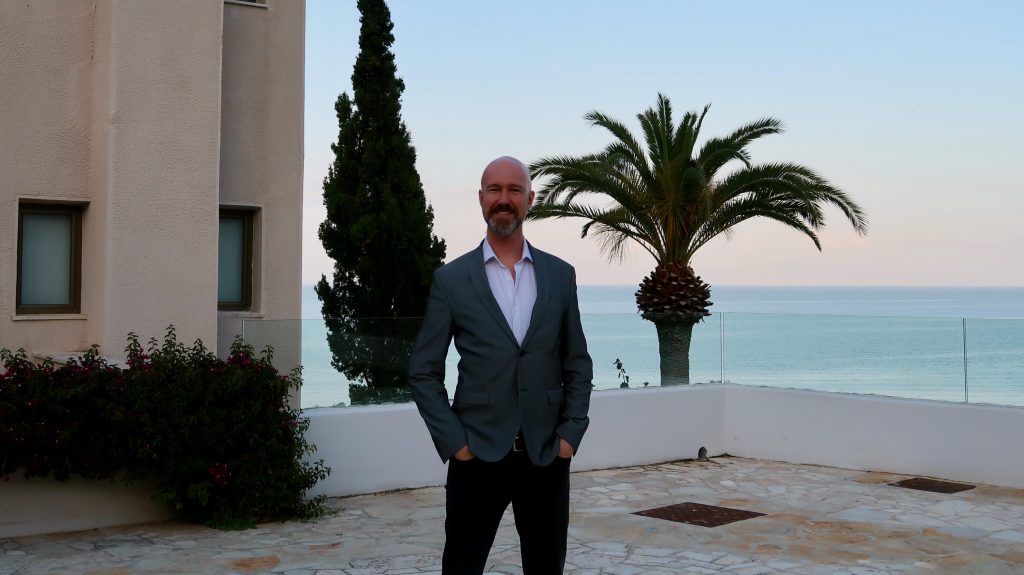 We were agog, gazing out across the horizon.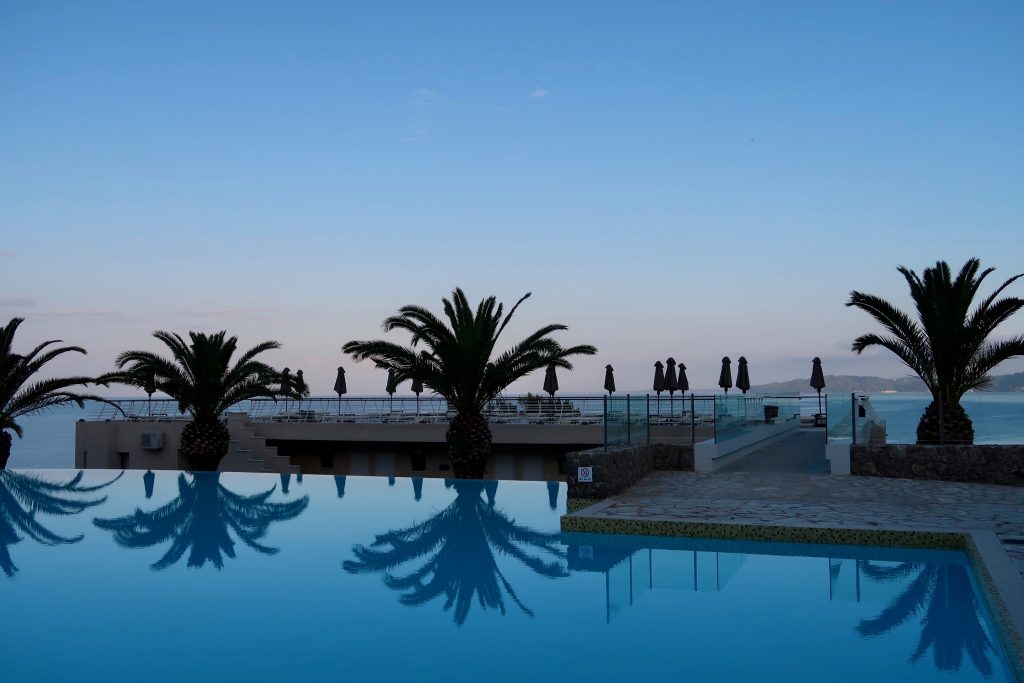 Infinity pools reflected the palm trees, with the vast Mediterranean behind. The design of this hotel really wowed us.
Enjoy an incredible dinner
There are six restaurants to enjoy at the resort, so you could eat at a different place every night! We were excited to enjoy the main dining room, which is included with the half-board package. The main dining room was all hustle and bustle when we arrived, and we were quickly seated near a window overlooking the ocean. Our drink orders were taken, and then we were free to help ourselves to a quite extensive buffet.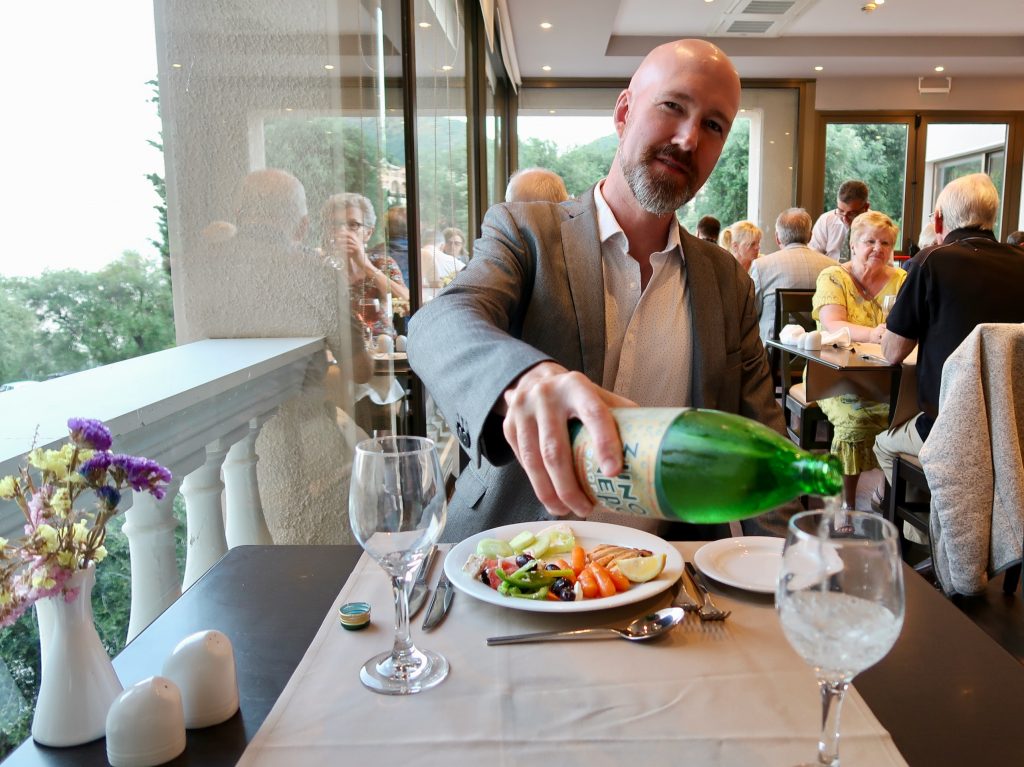 It was nice, sitting right next to a window with that astounding view outside.
What dining variety!
The buffet that evening was sporting some fun Asian-inspired dishes, a fresh salad bar, traditional Greek dishes, and a huge dessert table. :-)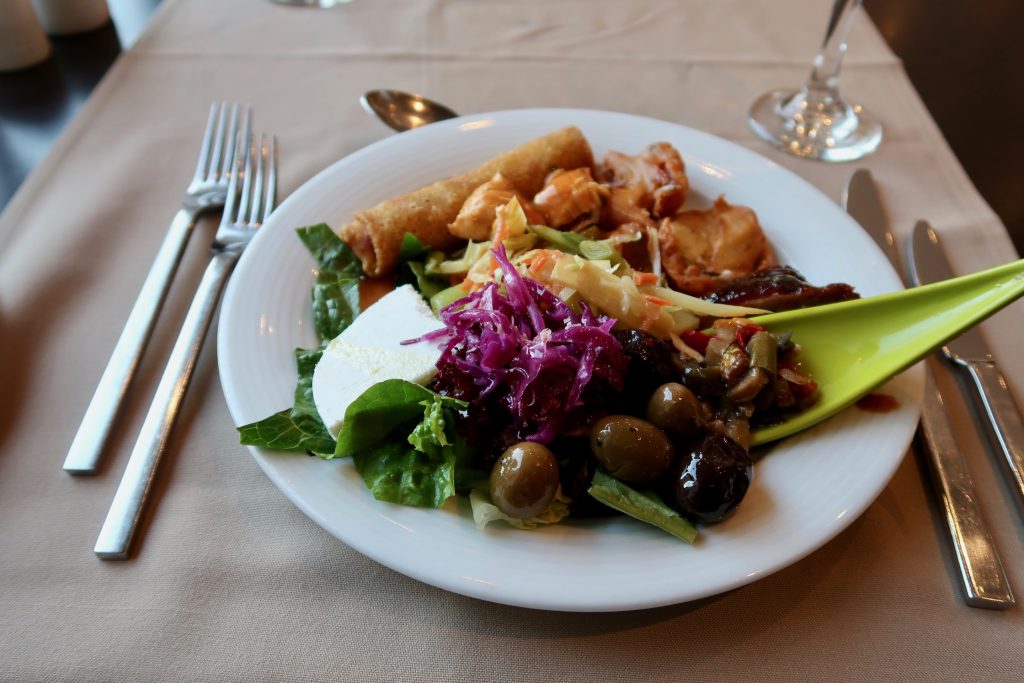 We enjoyed dishes of all kinds at the hotel — oh my!
At night, the various pools start to glow, all around the hotel.
Such lovely lounging in the main building
After dinner, the main building is the place to be! There are so many fun areas to lounge and read a book, or play a game, all accompanied with a tasty cocktail. Or if you're like me, you might people-watch while enjoying a glass of local wine. :-)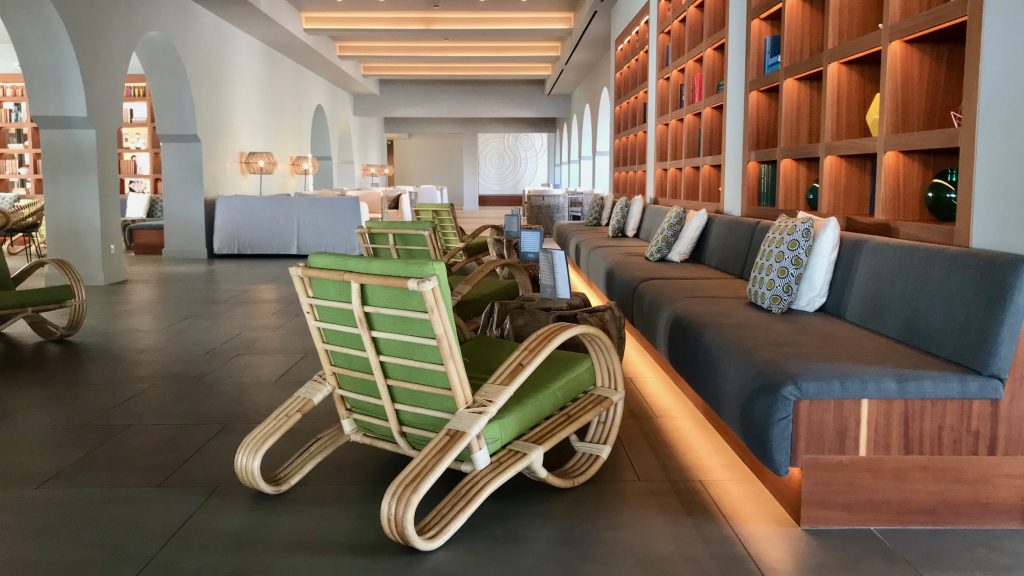 Cool glimpses caught our eye, here and there. What fun design!
Don't skip breakfast!
Oh man, you know how much we love a good breakfast! And we were delighted with the breakfast buffet served in the main dining room. After enjoying fresh fruit, fluffy eggs, and hot coffee, we were ready to explore Corfu, and relax in the sun!
Good morning! We love breakfast… what does Corfu have in store?
Enjoy the local cuisine
Greek food is one of our favorites and Greece is known for cute tavernas, offering local flavors and charm. This taverna had an incredible view of the ocean and is conveniently located just steps from the Marbella bus stop, and the Marbella Corfu entrance. We were delighted to try their local wine!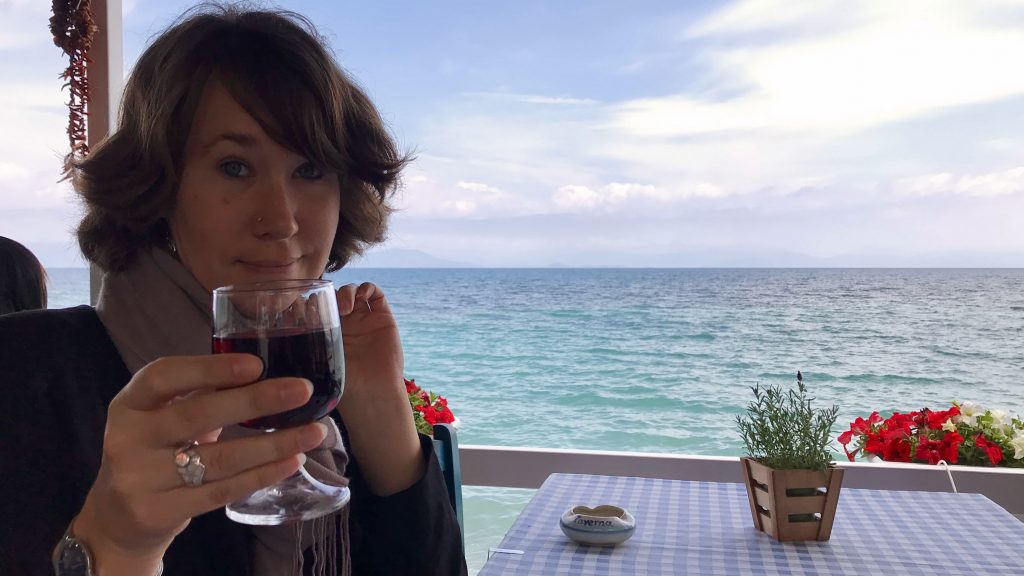 Freshly arrived in Corfu, we were tickled to find a taverna poised right on the Mediterranean. We were especially tickled to find that the taverna served local homemade wine!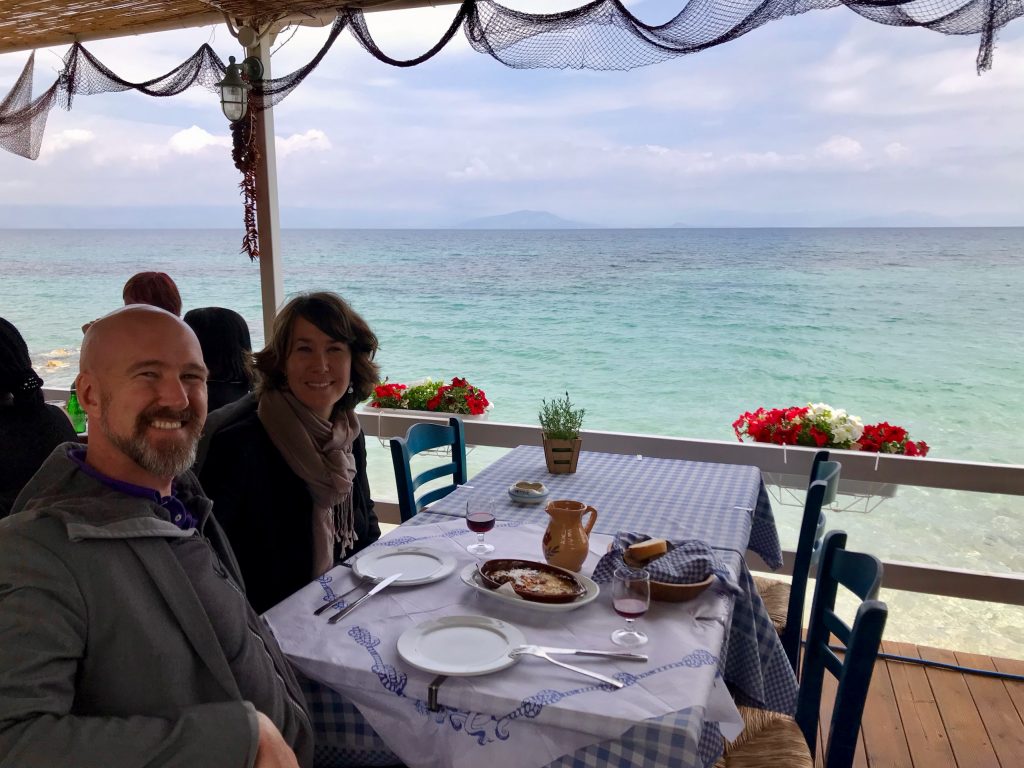 We ordered dishes that are traditional on Corfu, and drank in the view.
Thank you!
Thank you Marbella Corfu for a lovely stay! Everyone at the resort was so warm and welcoming, we can see why people return year after year. We hope for a future visit, someday! 
Enjoy this post? Pin it for later!
Ashley is exuberant about location independence! She relishes new experiences and working with boutique hotels and resorts. She's always thinking about design and food… and where they'll travel next!