Relish Relaxing Waterfalls & Country Charm In The Poconos
Welcome to the Poconos!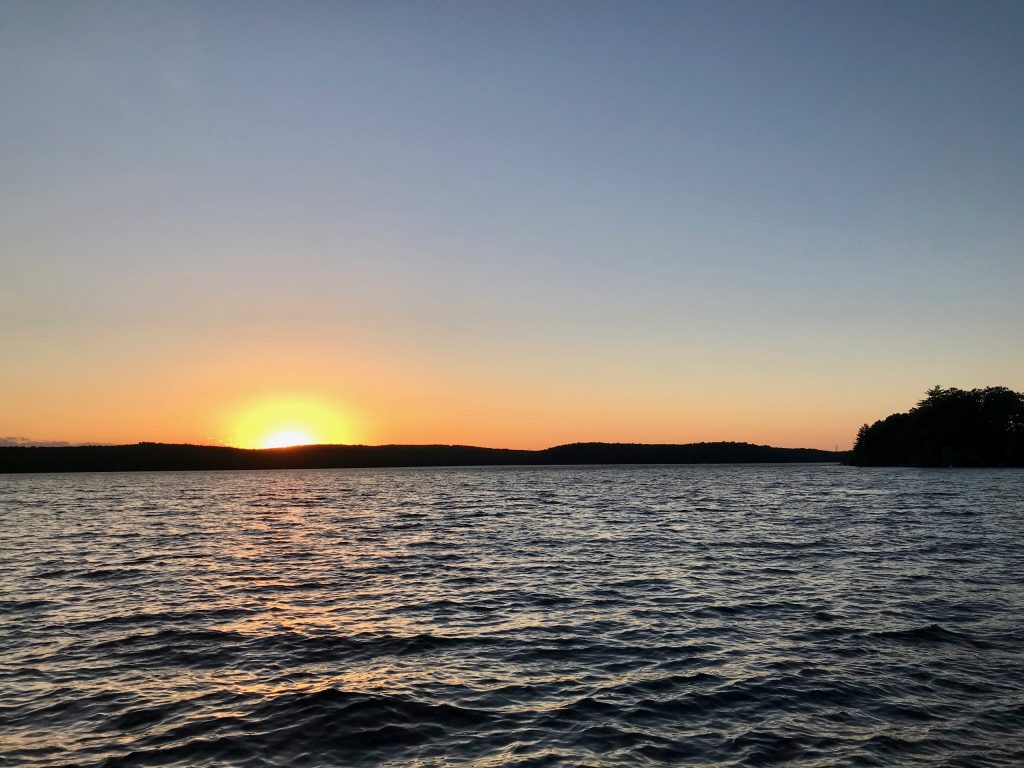 Ledges Hotel was an invigorating sanctuary that helped us enjoy the splendor around the Lake Wallenpaupack area in the Poconos. We can't wait to tell you about it!
First of all… do you know about the Poconos?
The Pocono Mountains are a beautiful place for a getaway in Pennsylvania, and Lake Wallenpaupack is a really special region there. It's a massive lake, with a whole lot to explore along its shores: restaurants, scenic hiking trails, and all kinds of fun outdoorsy stuff.
We were lucky enough to discover an especially gorgeous and serene getaway, there. Take a deep breath and imagine the sounds of a gentle river in a lush forest…
Somewhere special, there are some lovely waterfalls…
We were elated to find ourselves admiring these cascading waterfalls in the town of Hawley, in Pennsylvania. They are beautiful, and they brought a sense of calm and rejuvenation to our spirits.
But that's not all. Guess what else is found there!
Just wait until you discover Ledges Hotel!

These waterfalls aren't out in the middle of nowhere. Actually, they are a spectacular accent to a remarkable hotel. Ledges Hotel is amazing!
Imagine how it feels to stroll out onto this wide-open deck and to bask in the sunlight alongside this grand natural view. It feels really, really nice.
Book a stay!  Ledges Hotel | TripAdvisor 
Enjoy relaxing peace of mind in a refreshing environment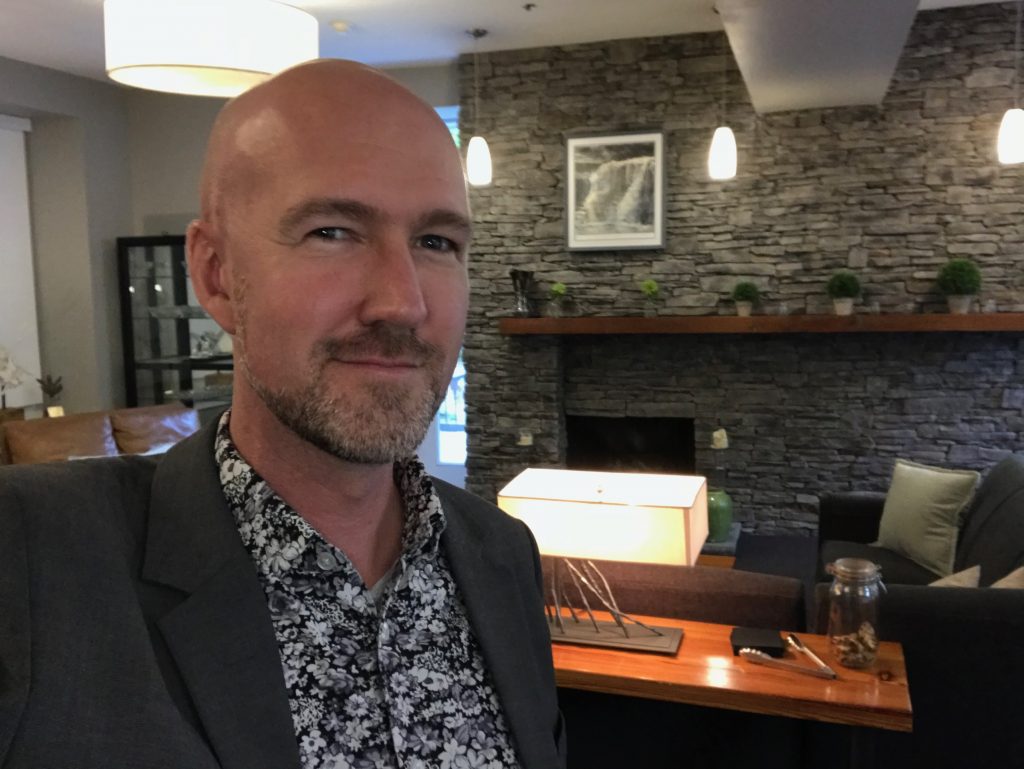 Driving into the area is a delight. The region is resplendent with natural beauty, with lush fields and forest around every turn. It feels a bit like an intrepid discovery to work your way along the winding roads to get to the hotel. I loved the drive.
The design of Ledges Hotel is country-chic. As soon as you enter, you are welcomed by a variety of sunny reading nooks, tables to play games, and pleasant places to socialize in front of the fire. Oh! And we should mention, there's always a cookie jar full homemade biscotti!
The honeymoon suite is a sexy two-floor sanctuary.
Our jaws dropped when we discovered the honeymoon suite!
The first floor offers a wide-open living area, with comfy couches and chairs. A downstairs restroom makes things convenient. An ample closet makes life easier as well.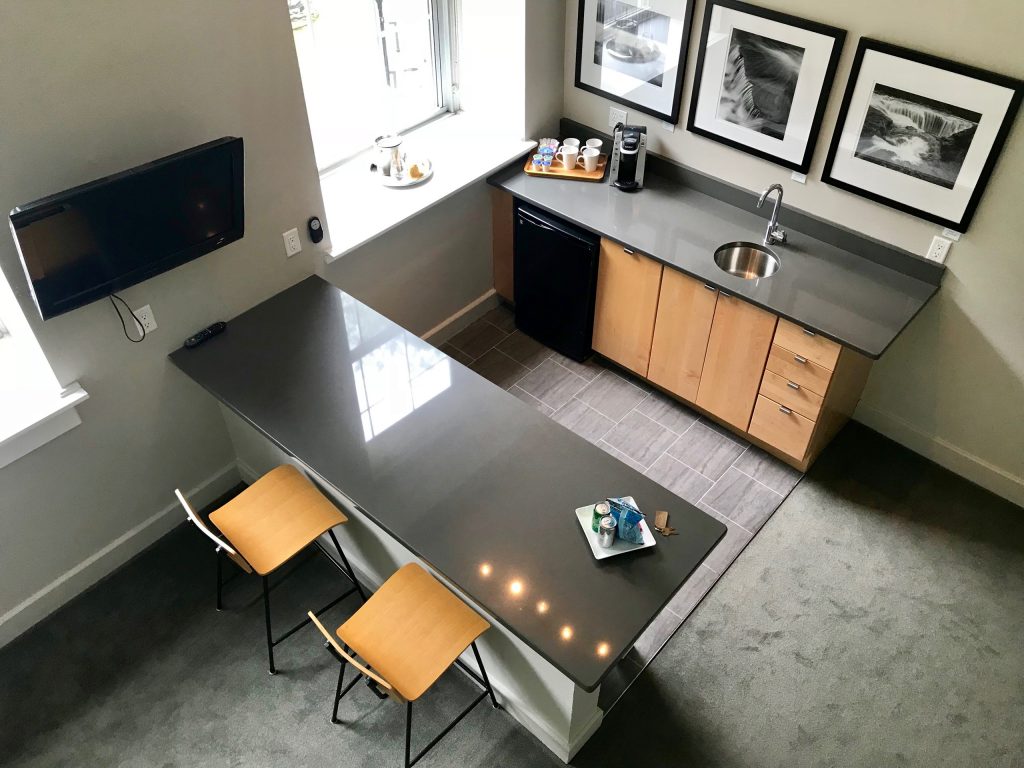 The kitchenette provided all kinds of things to sustain us, which was especially when we felt like acting as though we were — you know — actual honeymooners.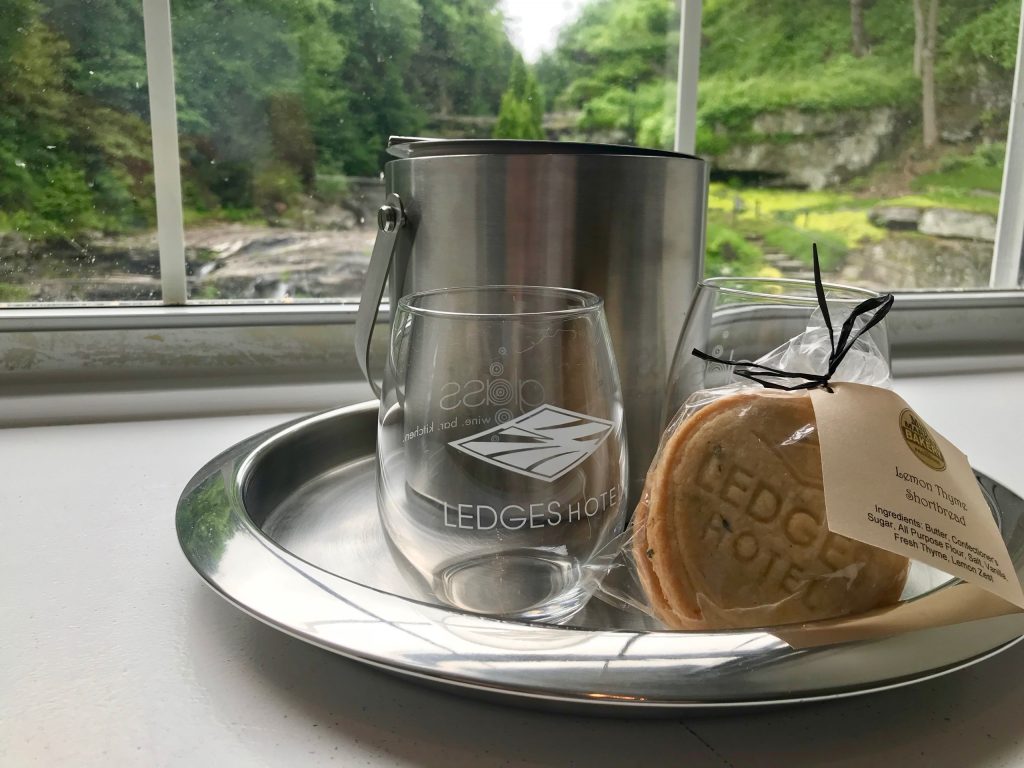 Various niceties welcomed us, ensuring that our stay would be more enjoyable. We were especially fond of the cookies. (More about those soon, haha.)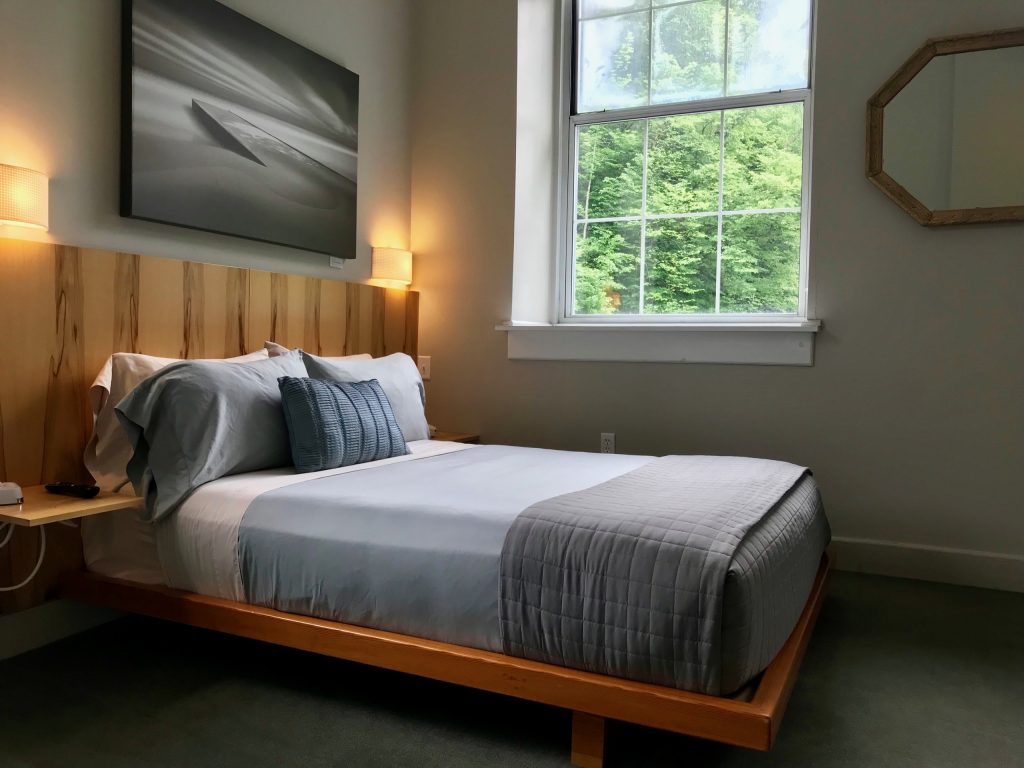 Up a twisty spiral staircase, the second floor of the suite made us smile even wider.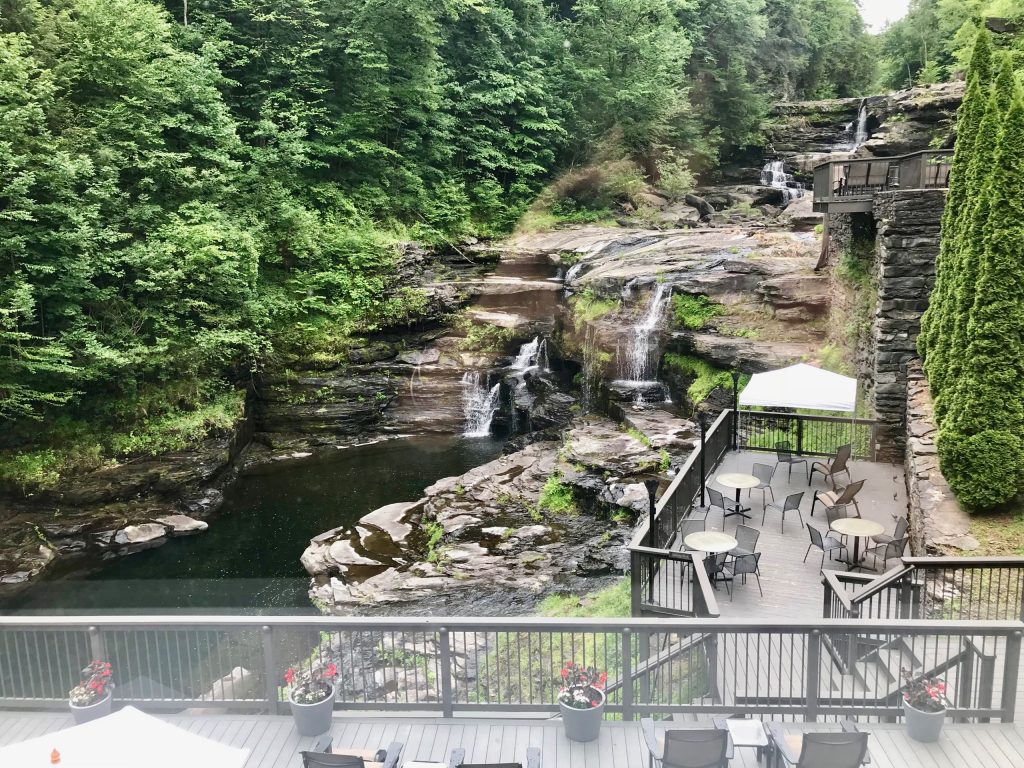 Our bedroom was positioned right on the corner of the building, so it has a wide view around the prime natural vista or the falls — not to make you jealous, but the photo above was from our bedroom. We stepped back to say "wow" a whole lot. It is a wonderful place to relax for reasons beyond the view. The gentle sound of water gliding by outside was incredibly soothing. We got some good nights of sleep (when we weren't busy acting as though we were honeymooners).
Book a stay!  Ledges Hotel | TripAdvisor 
The bath is almost like your own private spa.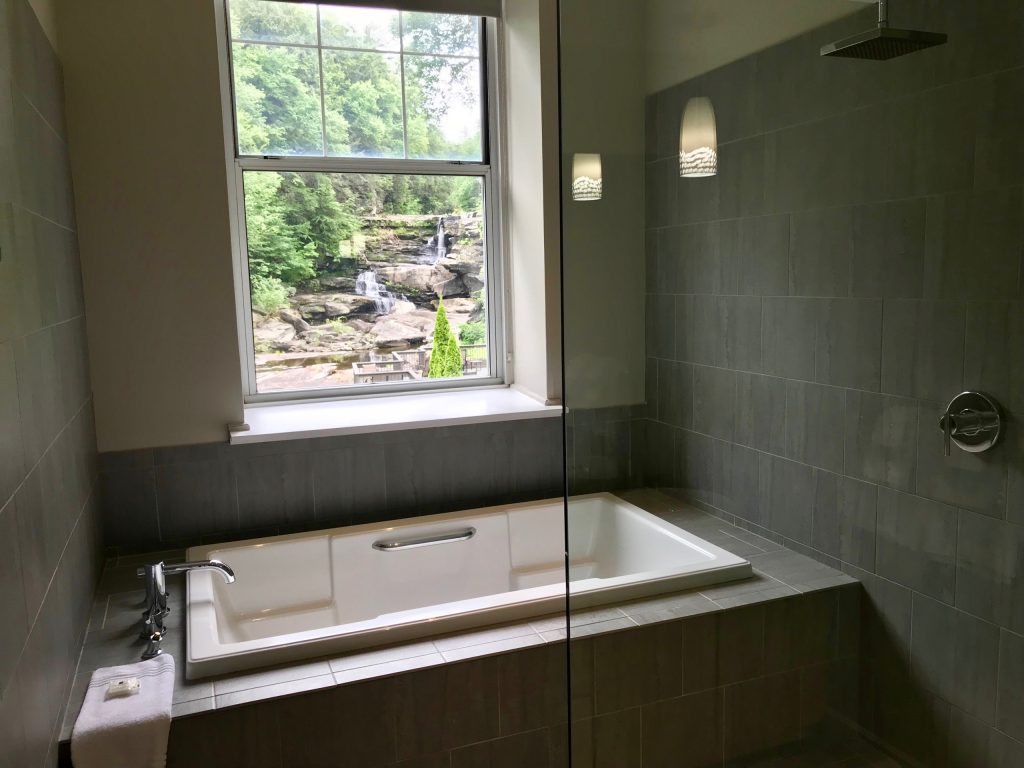 Imagine enjoying a bath in this tranquil, meditative space! We were really pleased with the huge bathtub and used it often. Surrounded by the forest with the waterfalls nearby, it seemed to tap into a primal comfort — and romance.
It's nice to support local talent as well.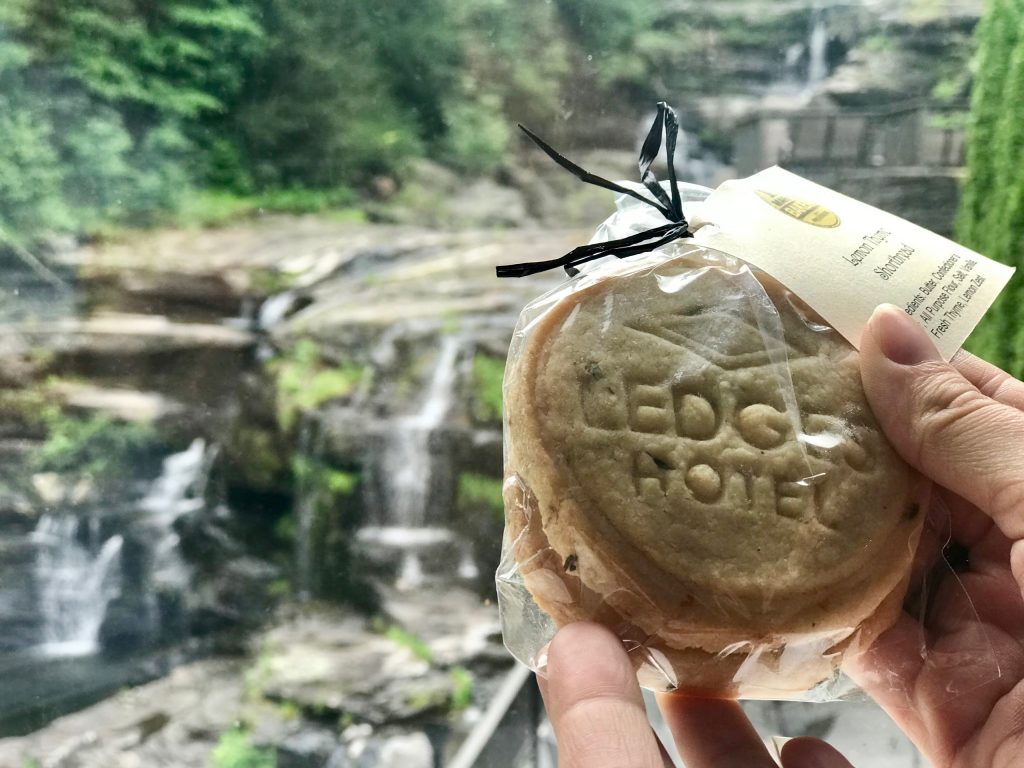 In the room, we were especially fond of the cookies that I mentioned earlier. It was a delightful treat to enjoy Lemon Thyme shortbread cookies from a local spot, Mill Market Bakery, located just a short way up the hill.
The hotel seems to connect with a lot of local shops and attractions, offering lots of great recommendations and interesting opportunities of the region. It feels really welcoming, and it's nice to be a part of things.
Also, the cookies were delish!
Enjoy breakfast with a view!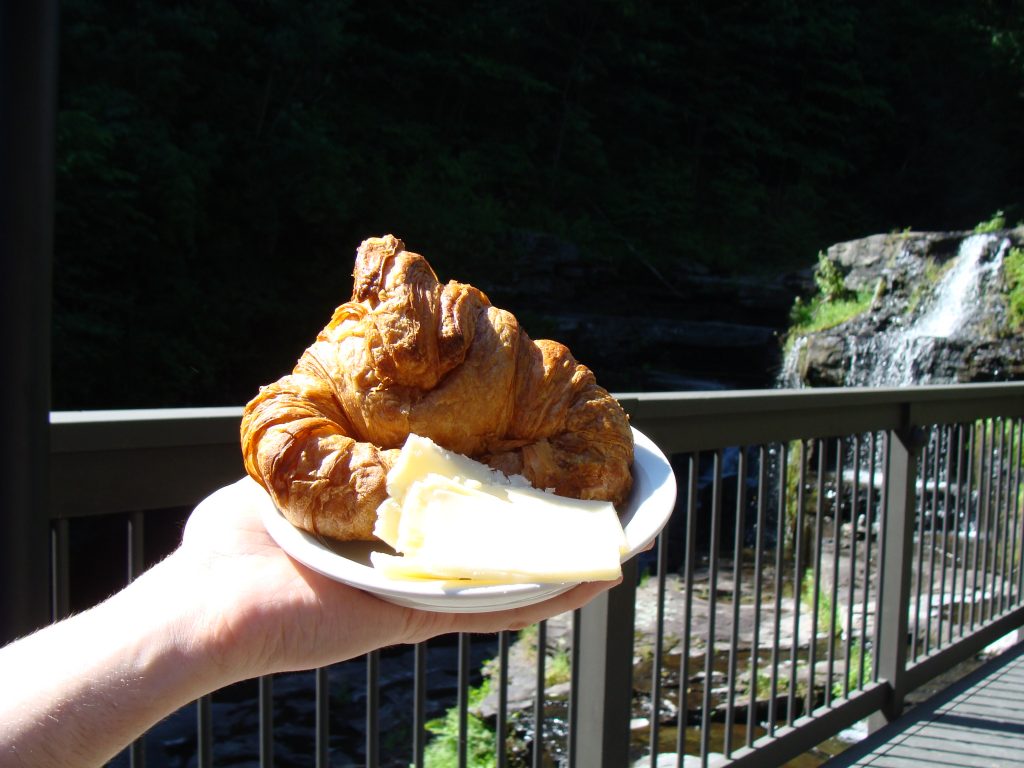 In the morning, head down to the cozy lobby to enjoy a continental breakfast, packed with local charm! For breakfast, we enjoyed a huge crusty croissant, sharp cheddar cheese, fruit and coffee on the deck, overlooking the majestic falls. If only every morning started this restful… 
Cafés and shops await, just up the hill.
When you're feeling ready to explore, there's a really cool collection of shops and cafés, just a short walk away. The Hawley Silk Mill offers a nice and easy experience of browsing, lounging, and (perhaps) caffeinating.
The region has lots of great restaurants and attractions.
It's quite a joy to explore around the shores of the vast, sparkling lake. We discovered all kinds of gems, and enjoyable meals.
One such meal was this bacon-and-pulled-pork burger from The Dock on Wallenpaupack. Ashley's reaction to the burger was: "Oh my god." Haha! Quite a belt-bursting experience!
We also went to The Boat House Restaurant, which is a bit closer. It had a warm, casual vibe and we embraced that feeling that we could kick back, and relax.
We also went for a joyride around the lake, with no particular destination in mind. It's a gorgeous area to just get lost in, if you like to take some time to unwind. There's a lovely walk around the lake if you find yourself needing to walk off some bacon-and-pulled-pork burger, as we did!
It's nice to explore the lovely grounds of the hotel!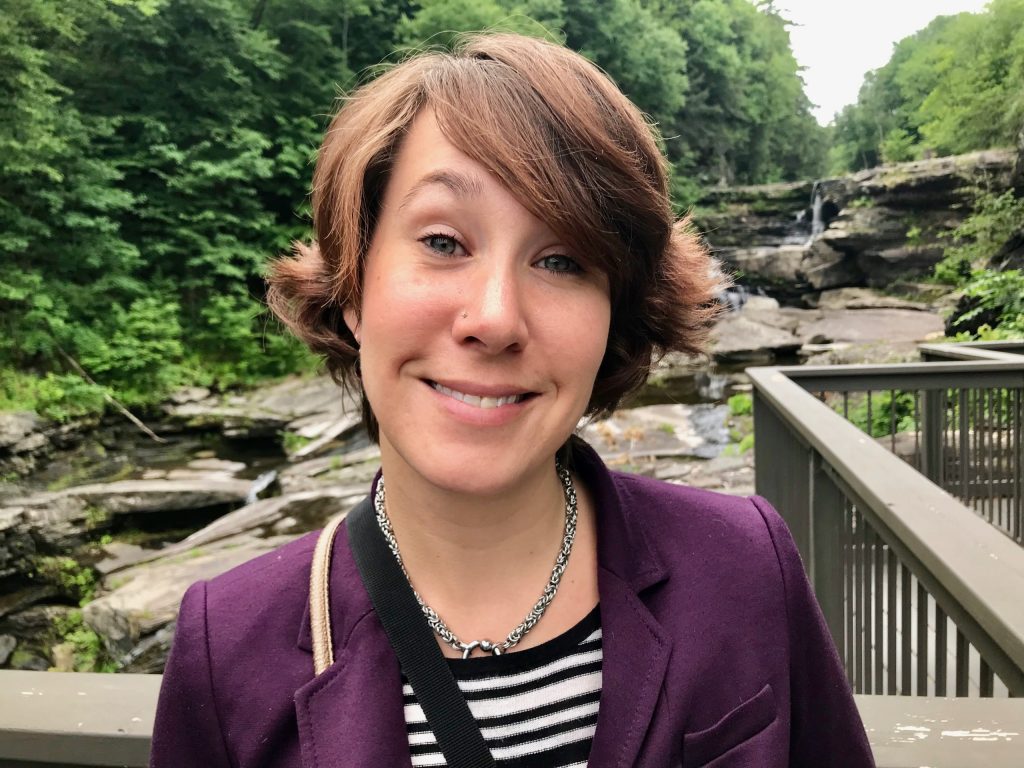 The area around the hotel is quite pleasant to wander around in.
There are winding paths along terraced sitting areas, and eye-pleasing landscaping all around.
At one point, we felt drawn to spend some time chatting in the warmth of the fire pit.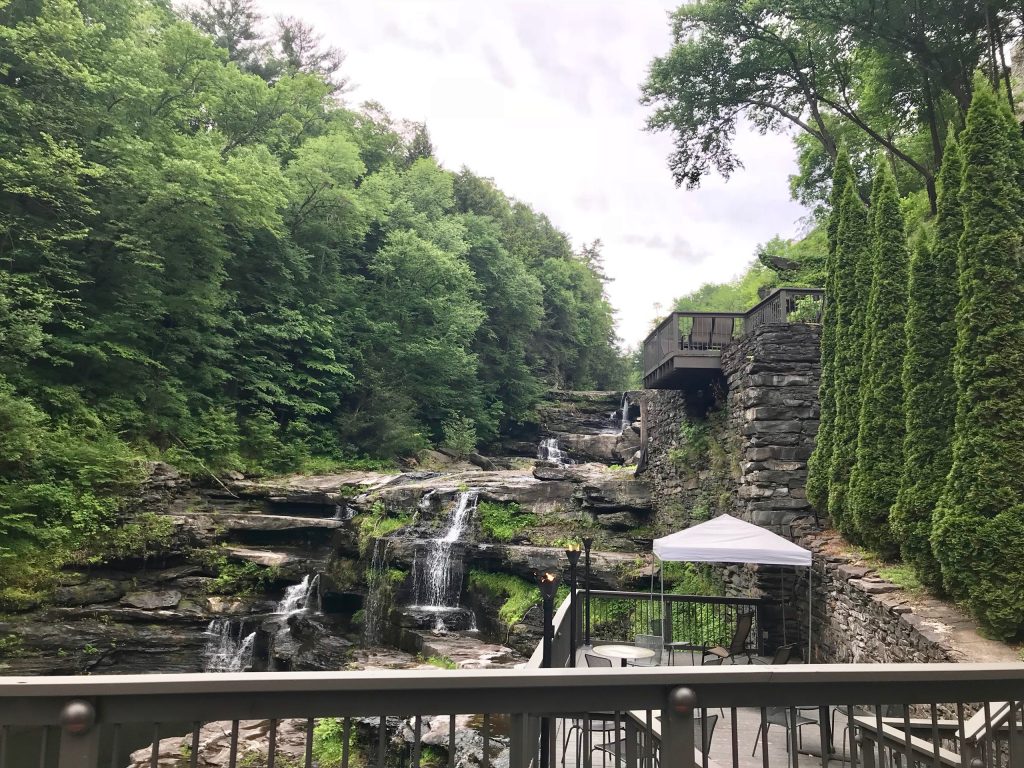 At other times, we were drawn to drink in the atmosphere on the "serenity terrace", alongside the glow of fire torches and a cup of tea in hand. It was easy to get lost in the meditative aesthetic.
Speaking of serenity — don't forget to relax!

Obviously, this is such a relaxing environment. Prepare to "recharge your batteries"! We certainly felt refreshed by this lovely place.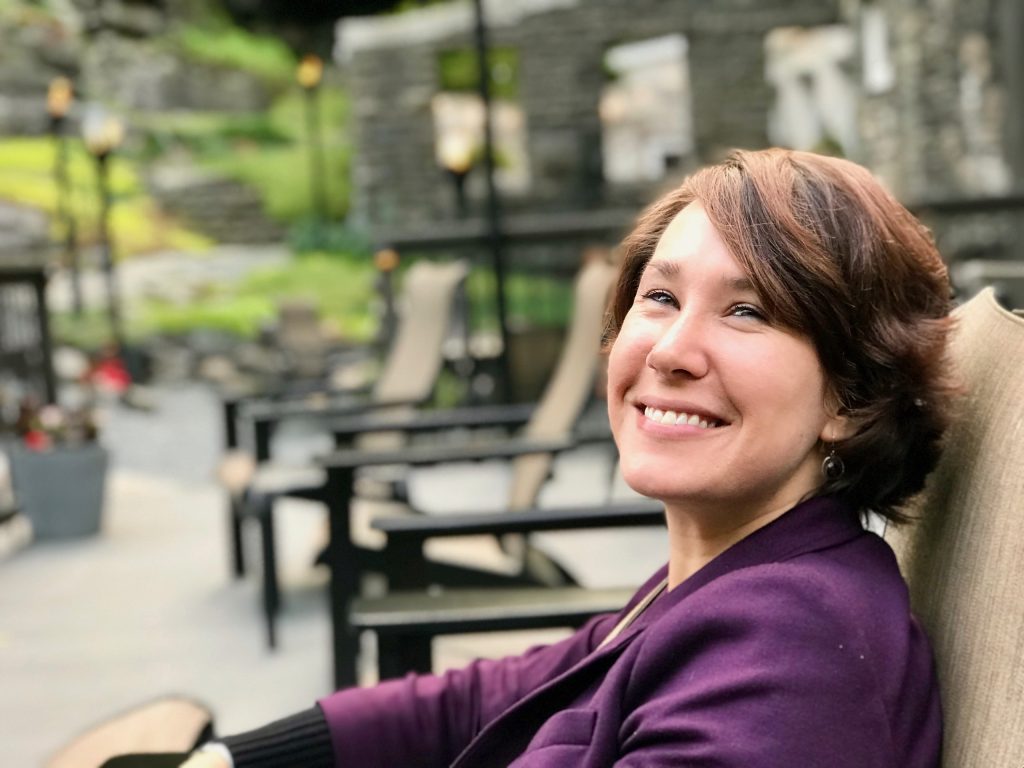 Ledges Hotel seems especially great for a sabbatical, like a writing retreat or a yoga/meditation getaway.
As you can imagine, they also host a lot of weddings! It's a tremendously romantic environment.
Enjoy great food and music, while drinking in the view!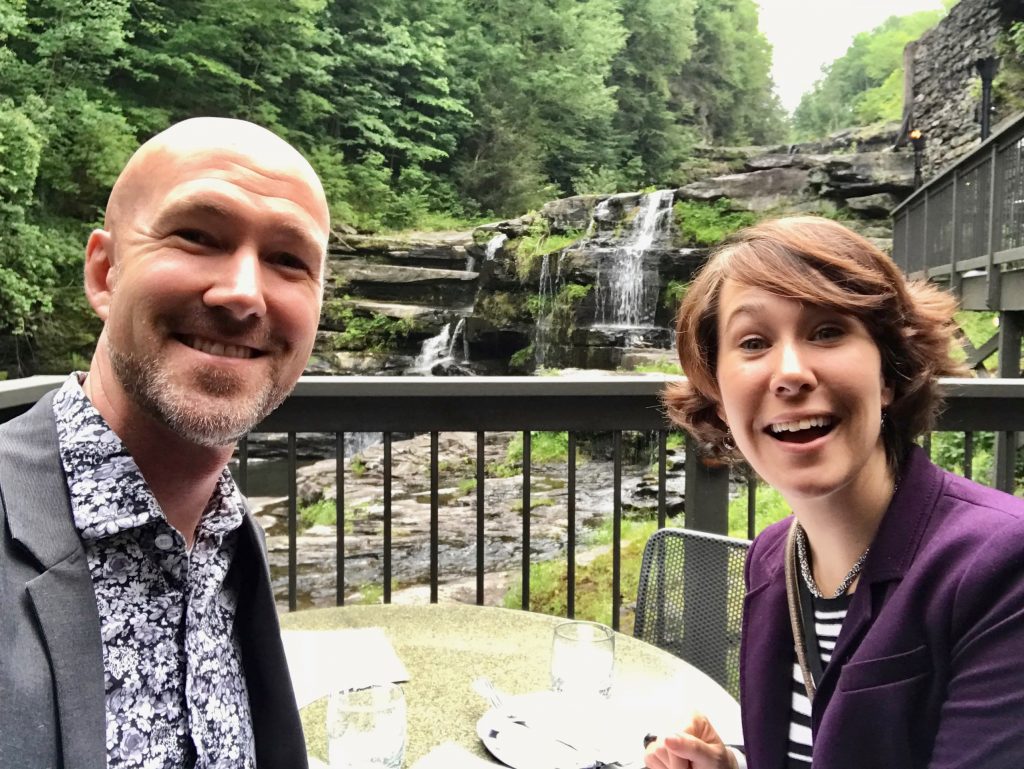 As evening falls, it's great to wind down with some awesome live music, drinks and dining back at the restaurant in the hotel, named Glass. The restaurant offers the concise description, "wine. bar. kitchen." Quite so!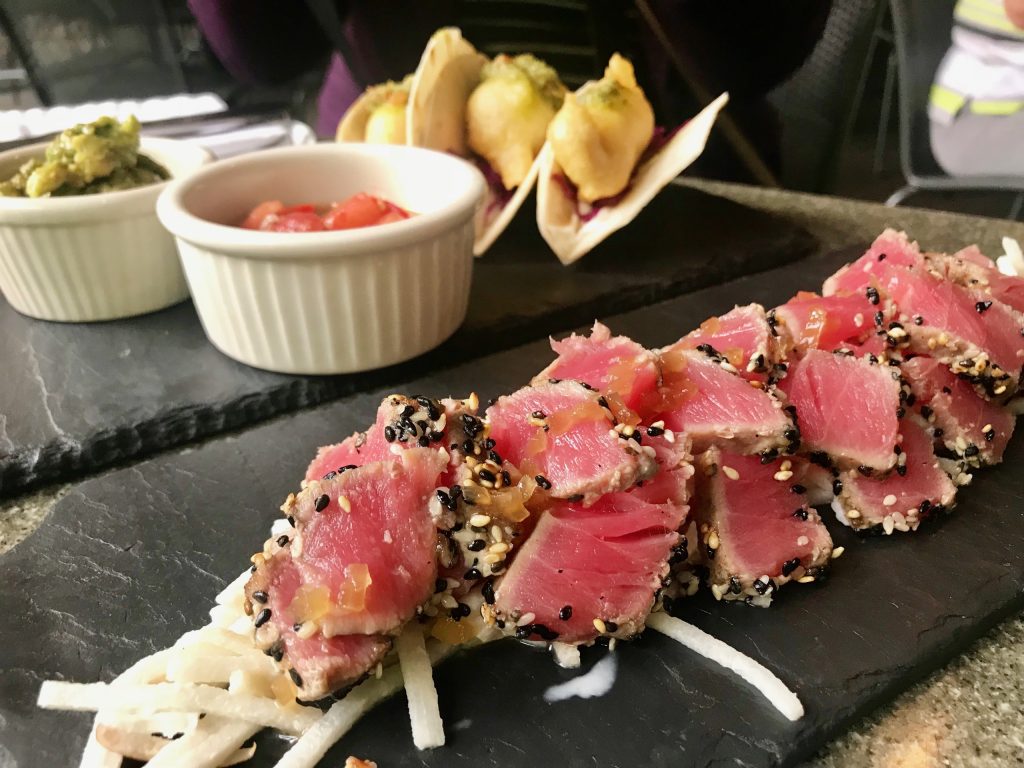 We really enjoyed the Ahi tuna. It was encrusted with sesame seeds and prepared as a unique fusion treat. We also liked the tempura fish tacos — they had a fresh twist on familiar dishes, so they piqued our interest as they delighted our taste buds. The tapas-style dishes there are fun, as well as tasty.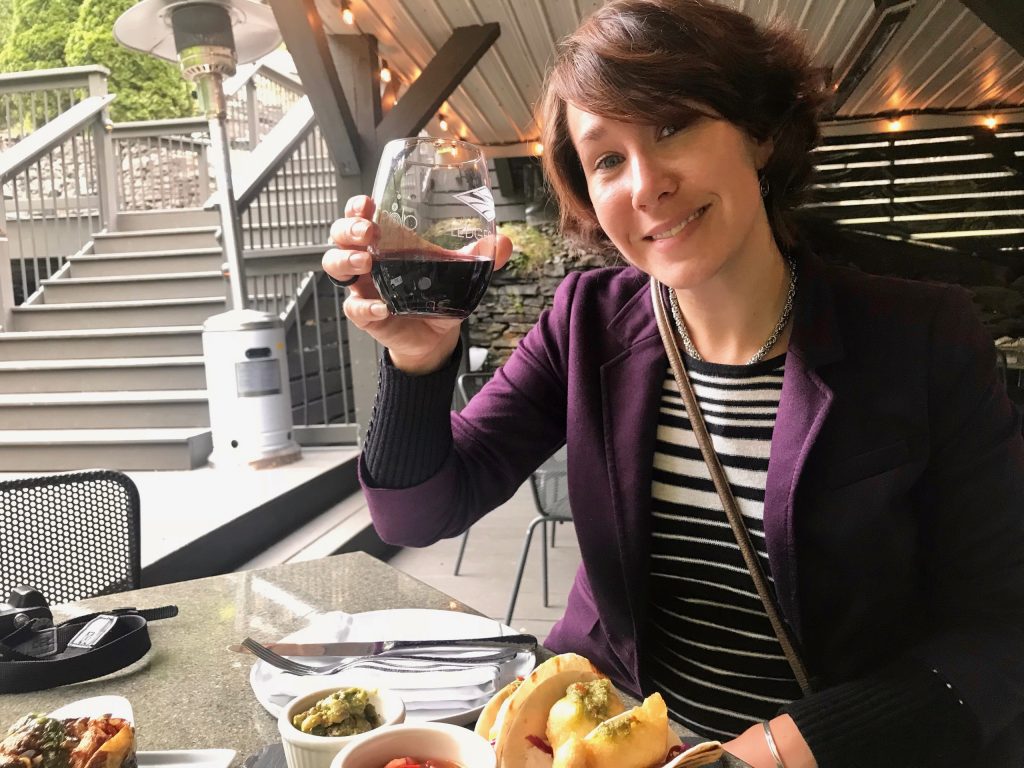 And, of course: wine. You know us: we love wine!
Glass is a great place for drinks and tasty small plates to share with loved ones and friends, and the live music makes that cool place feel even cooler.
Book a stay!  Ledges Hotel | TripAdvisor 
Cheers!
Ledges Hotel is amazing, and the environment all around it feels good for the soul. Hope you enjoy your adventures in the Poconos — we wouldn't be surprised if you never came home!!
Enjoy this post? Pin it for later!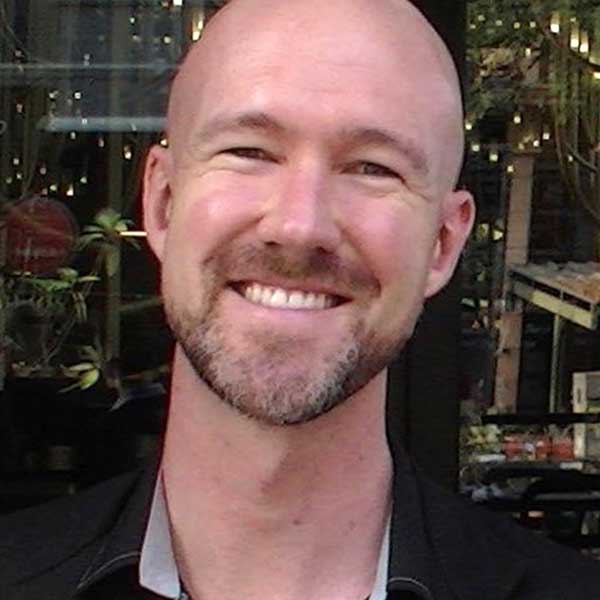 Curtiss is a lover of delicious atmosphere, experiments in location independence (and digital nomadism), and that magical place where wifi and paradise overlap.