The Blue City Of Chefchaouen Is A Unique Curiosity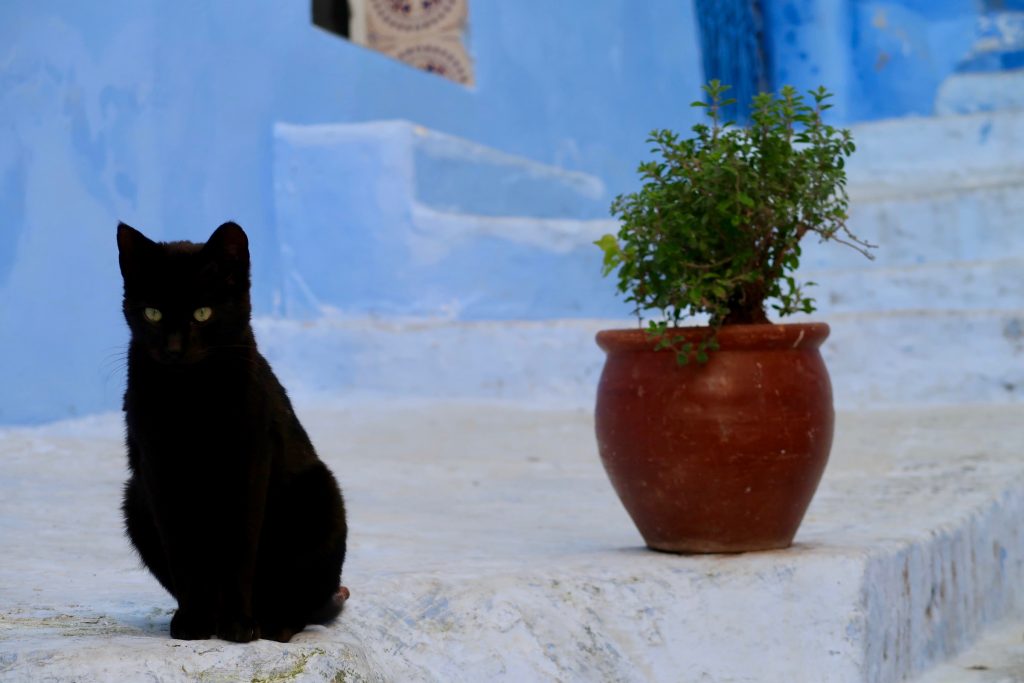 Welcome to the City of Cats! Better known as the Blue City. Better-better known as Chefchaouen.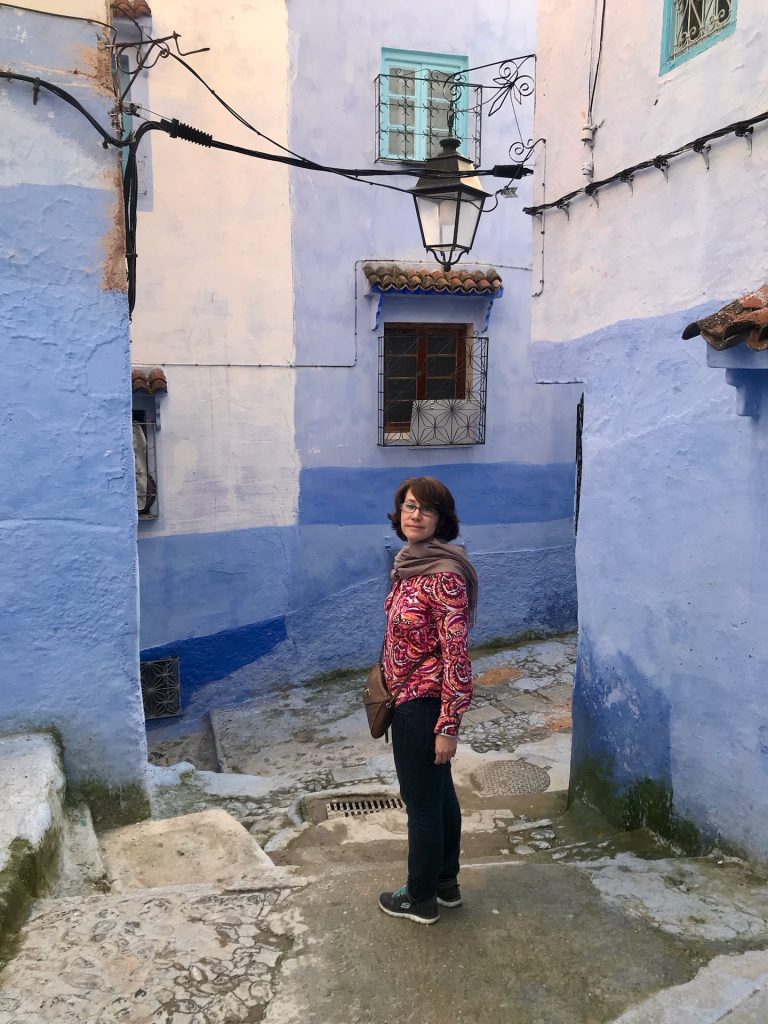 Twisting, winding passages are part of the charm.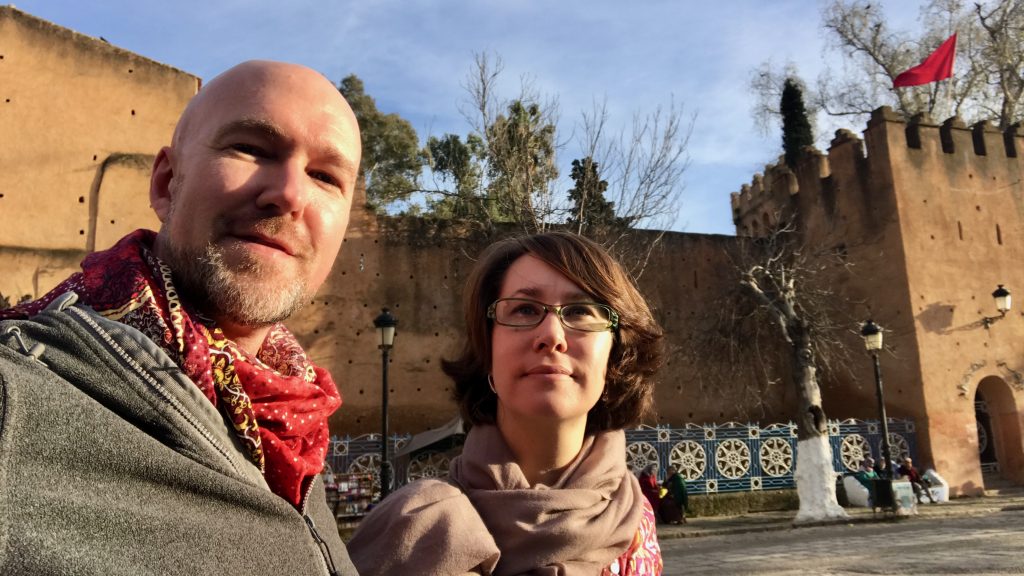 As started to explore, we enjoyed open plazas and interesting battlements topped with Moroccan flags.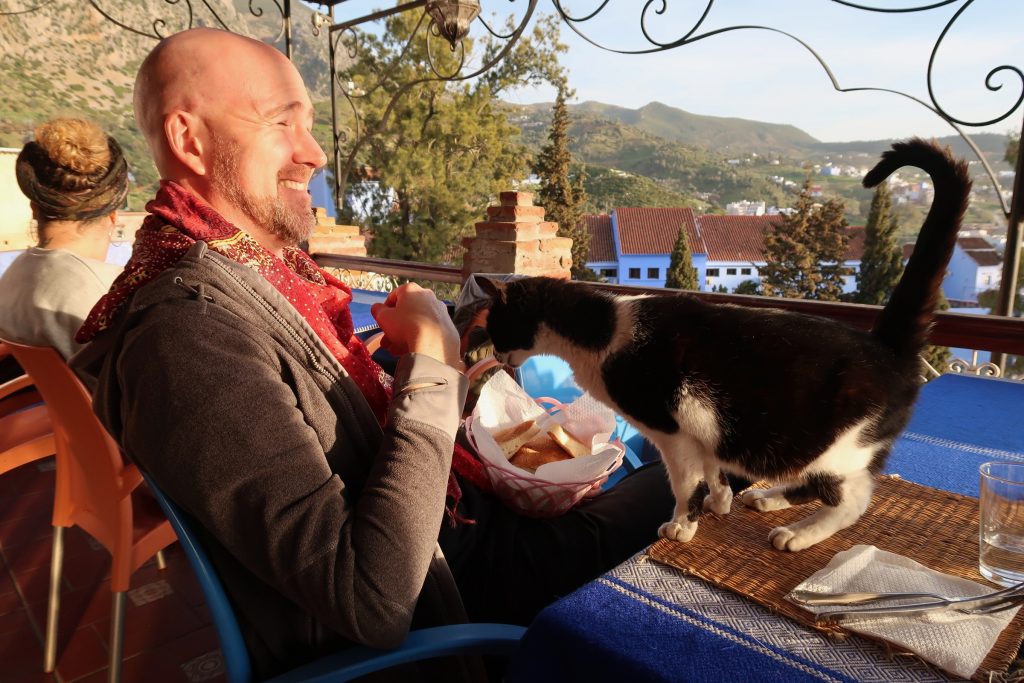 A new friend seemed quite interested in my lunch. I cracked up.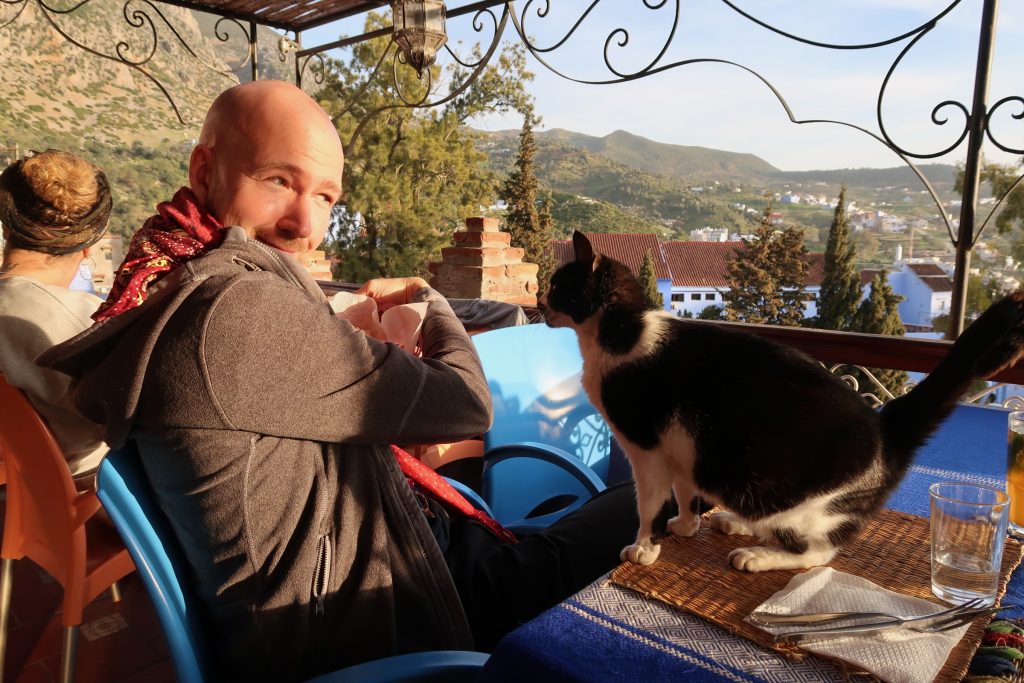 Nope! He was a good sport about it.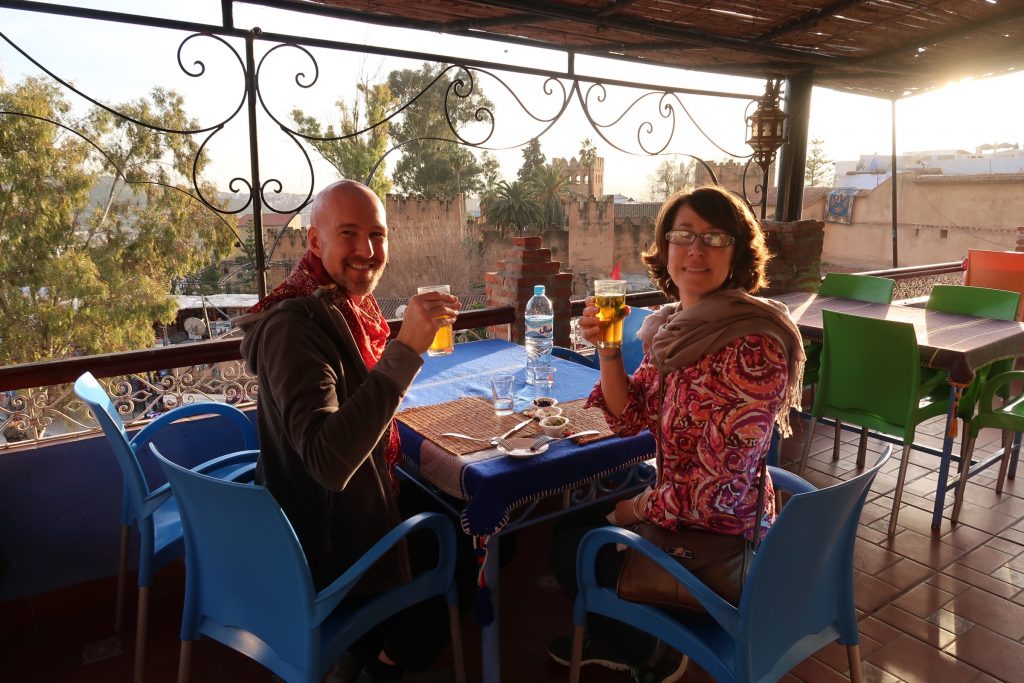 Mint tea is delightful, and quite a traditional drink.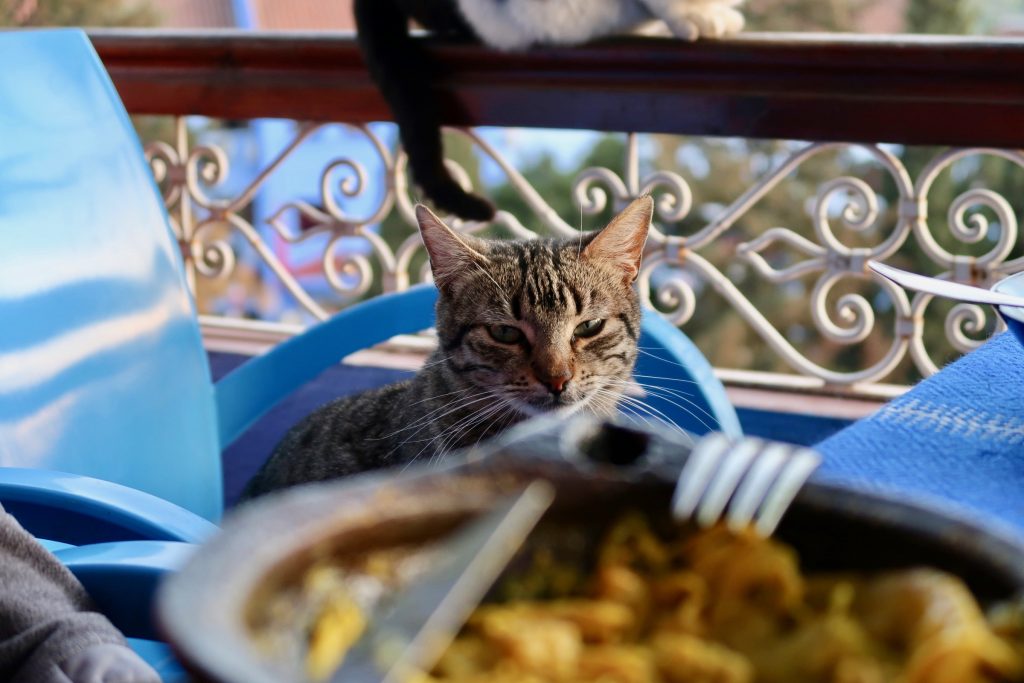 Ah, that wistful longing!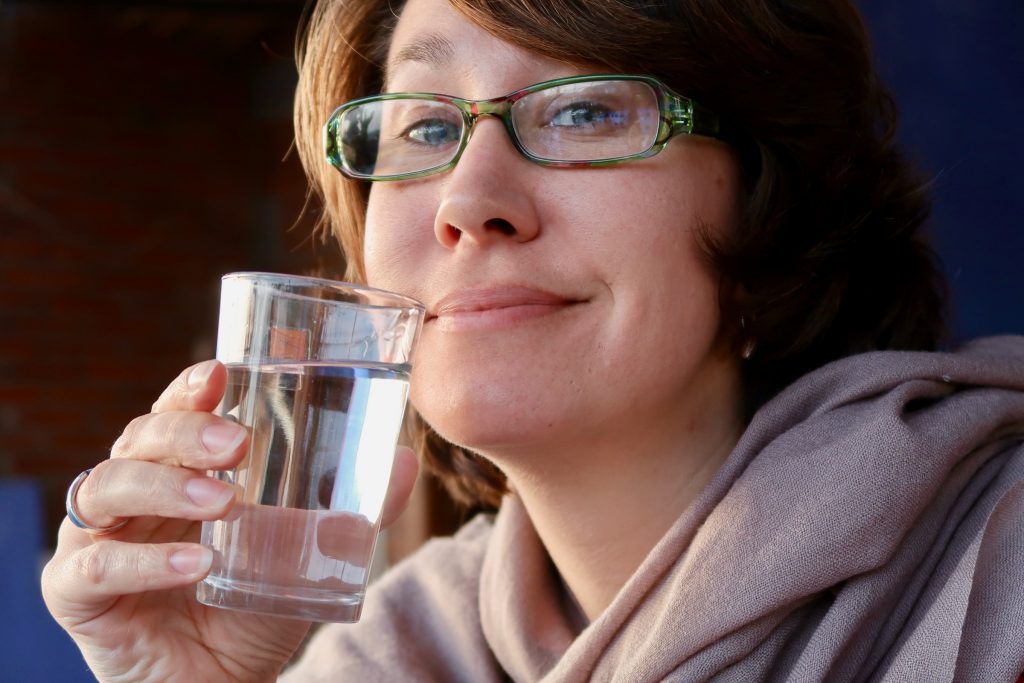 Ashley is refreshing, isn't she??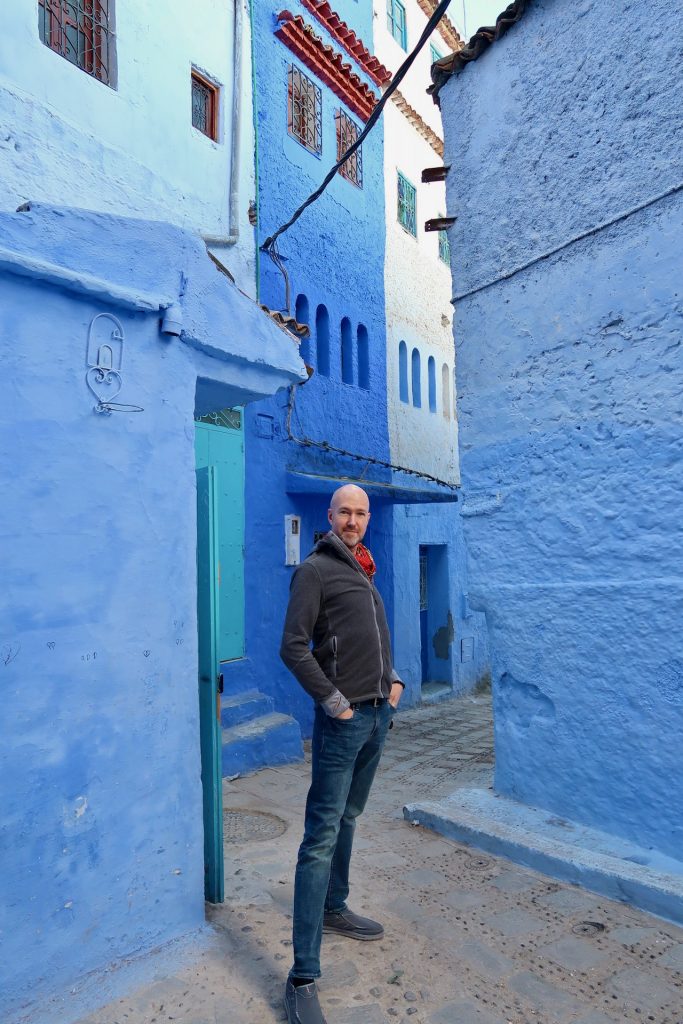 Time to get intrepid! Hope you like stairs. The Blue City has quite the verticality.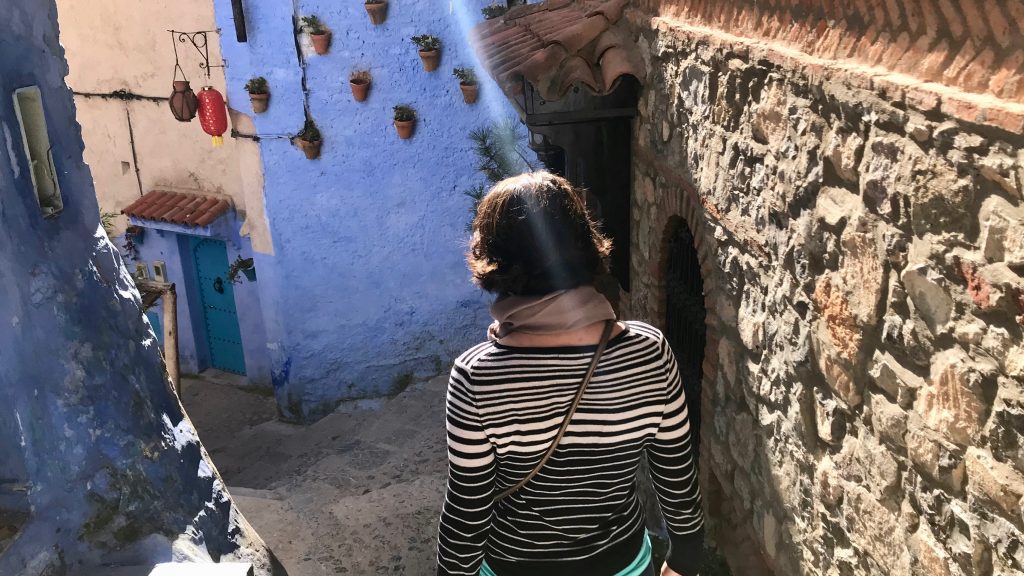 The art of getting lost: it's something we relish. Sometimes on purpose, and sometimes we surprise ourselves.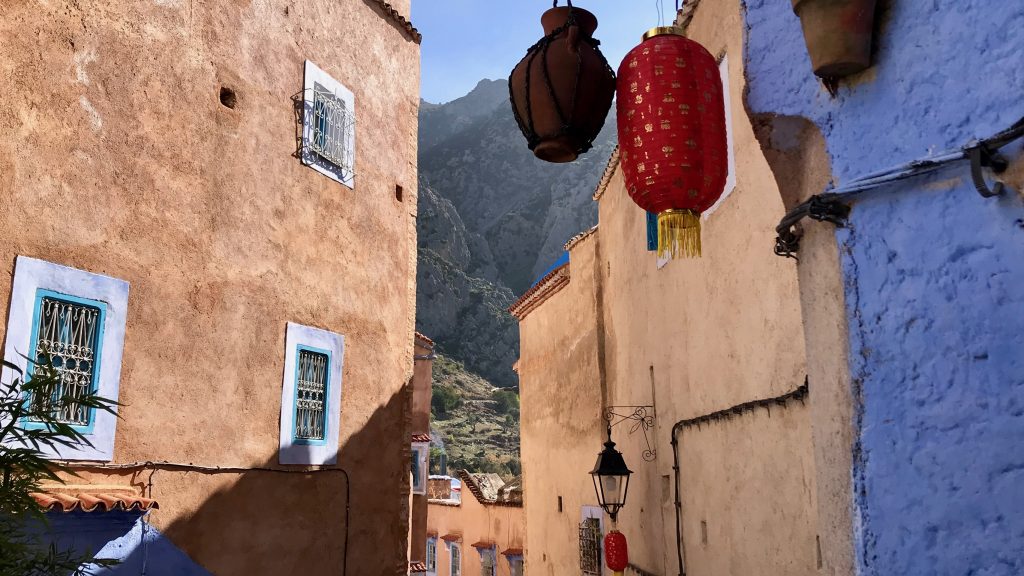 The far-off hillsides add to the charm.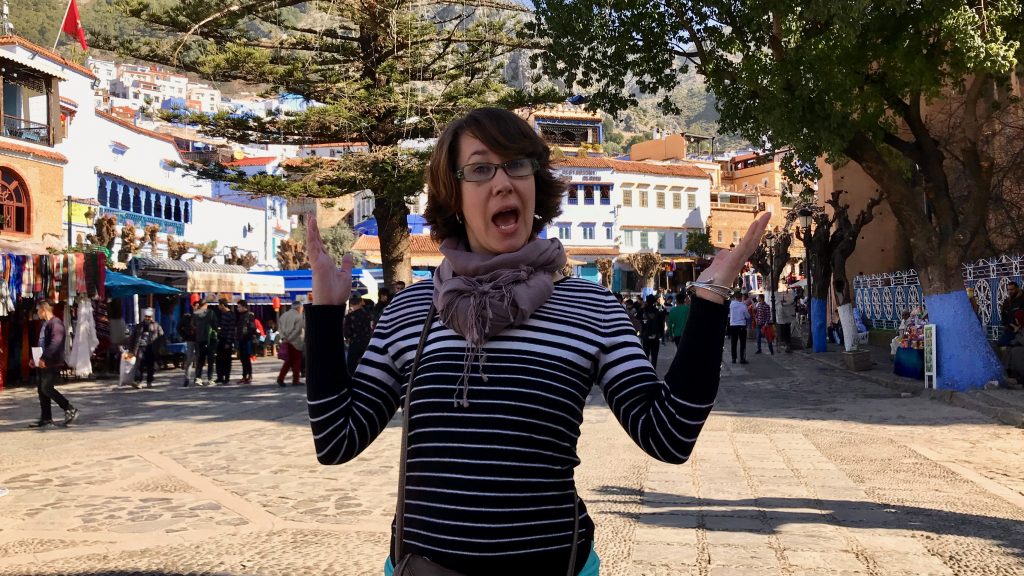 Ah! Can you tell that we're excited?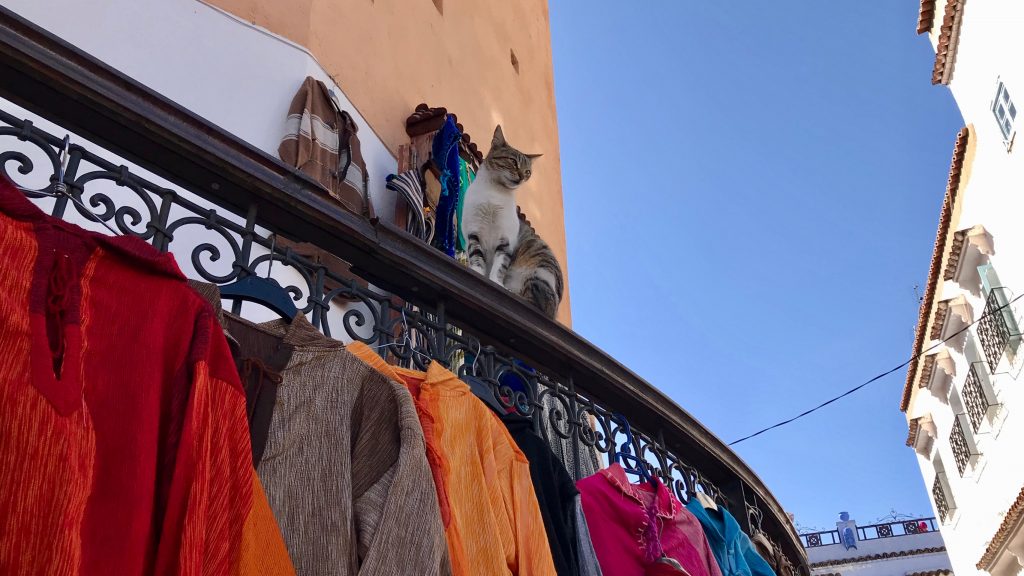 Why hello up there.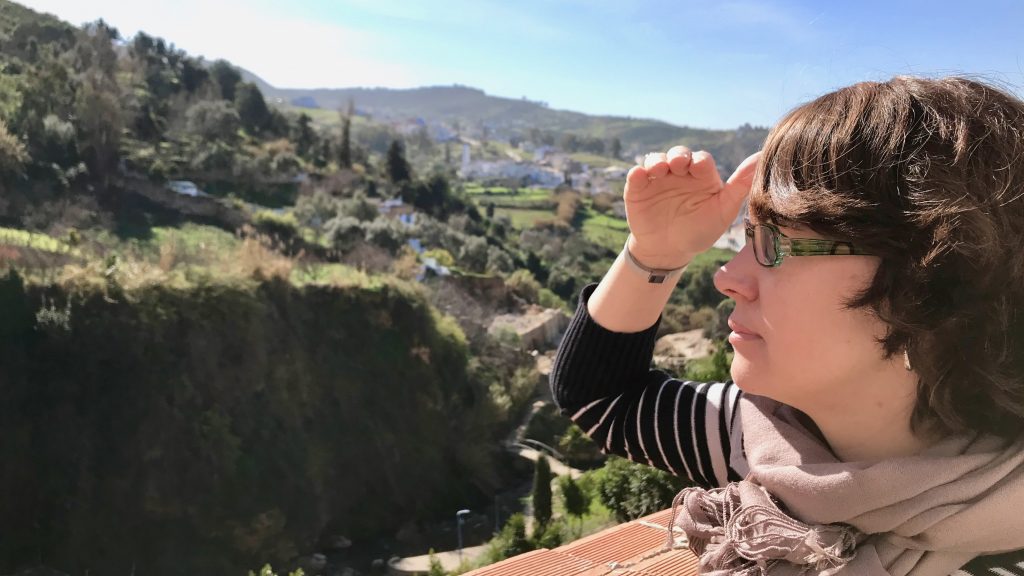 The distant structures enticed us to explore just a bit more, again and again.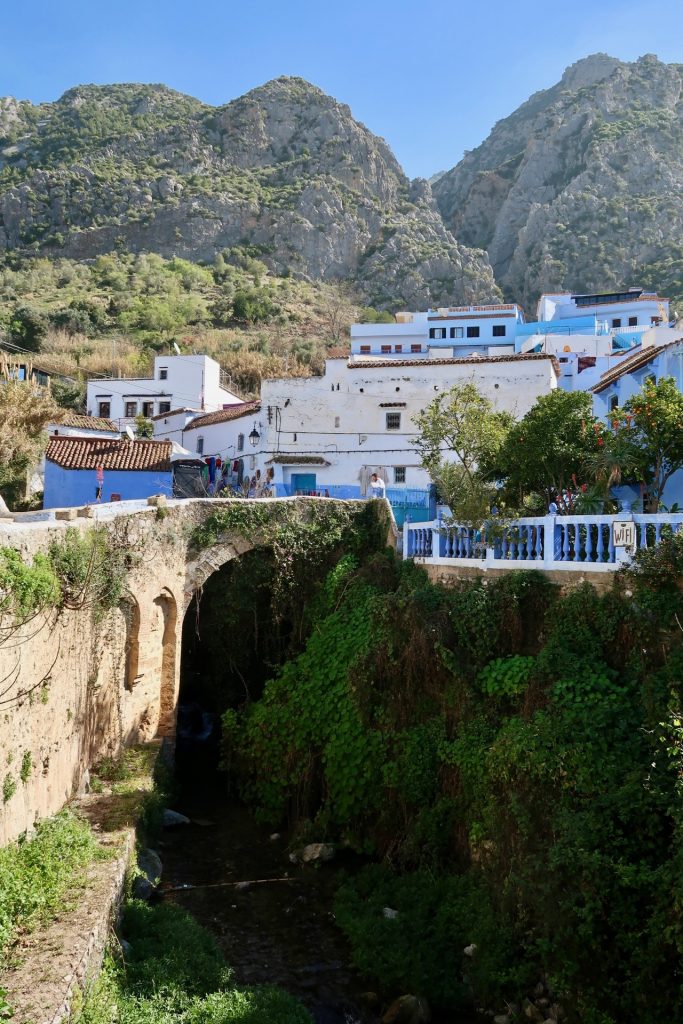 A hand-painted "WiFi" sign awaited us on the other side of this old stone bridge.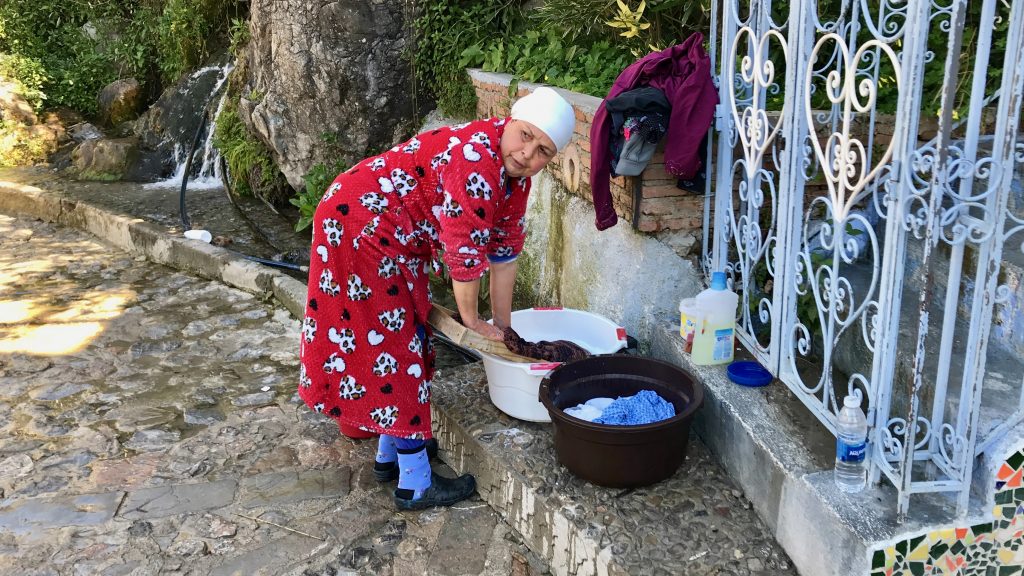 Washing in a basin, this woman continues a tradition that goes back generations in this part of town.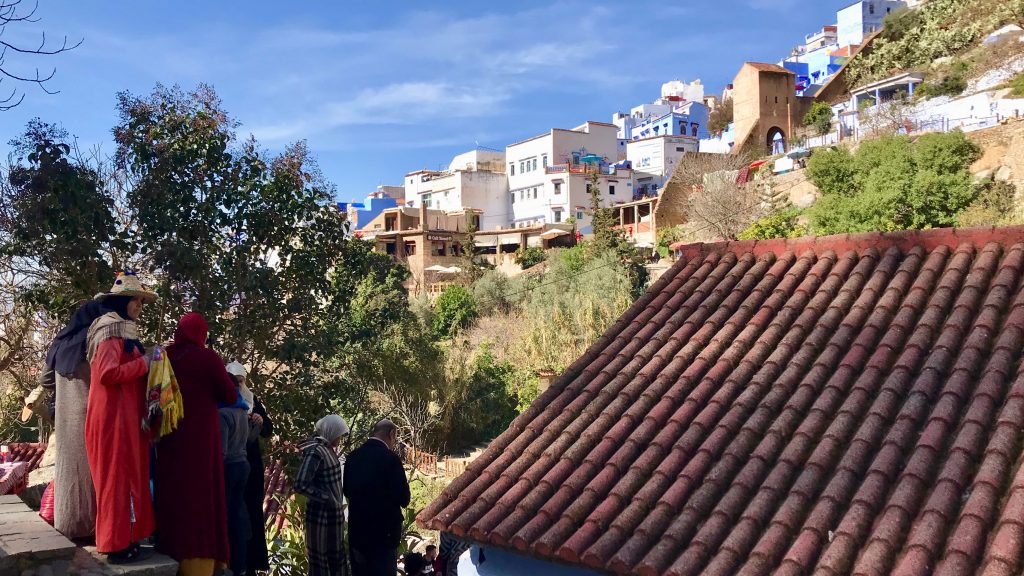 Traditional attire fit in well with the old style of this town.
Ashley ponders the washboards alongside the canal.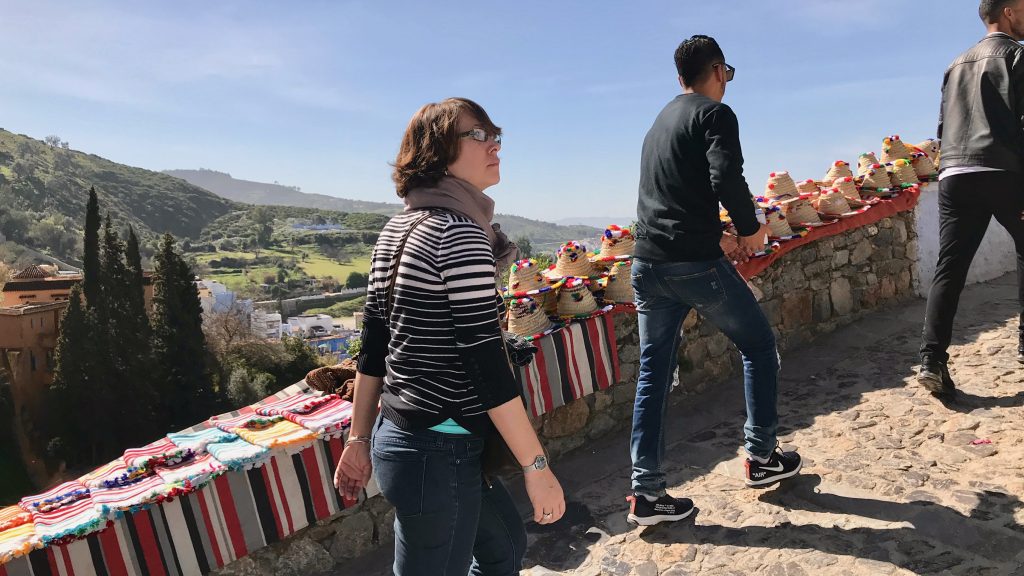 In the foreground is a landscape of hats. In the background are rolling hills.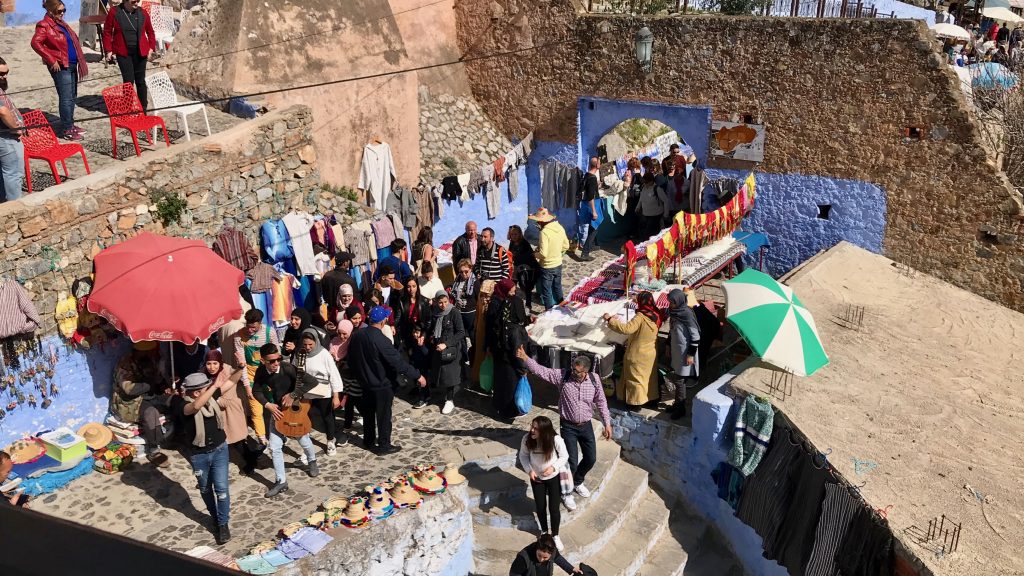 This crowd played music and cheered, and folks passing by were waving and celebrating them.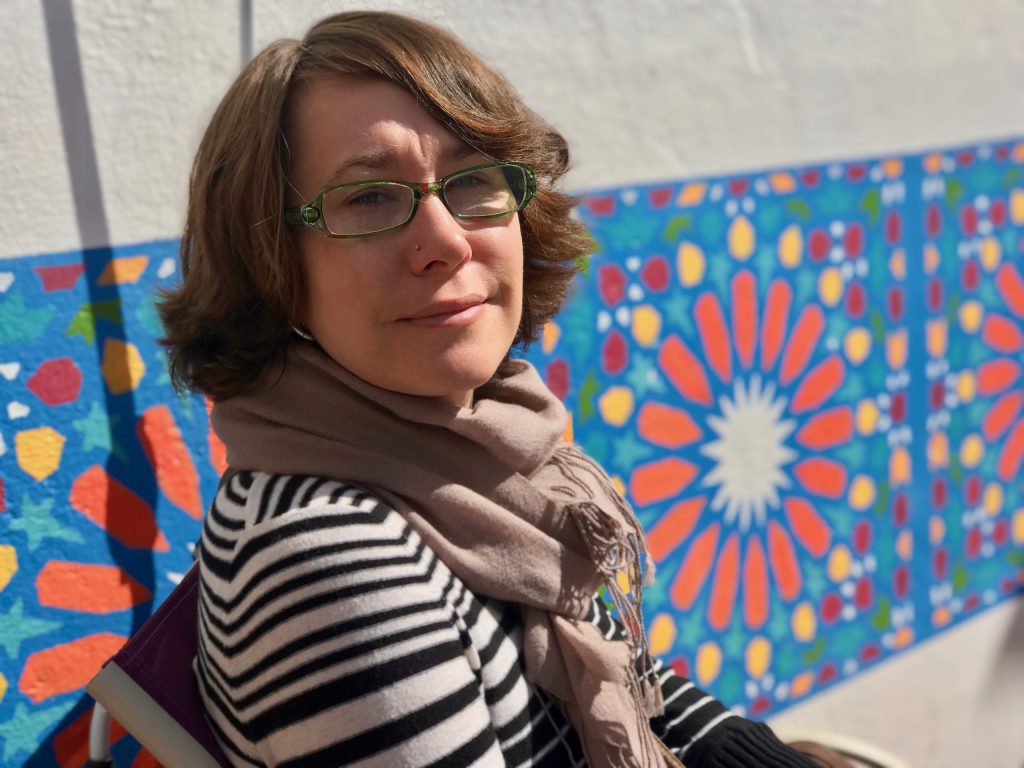 What a work of art.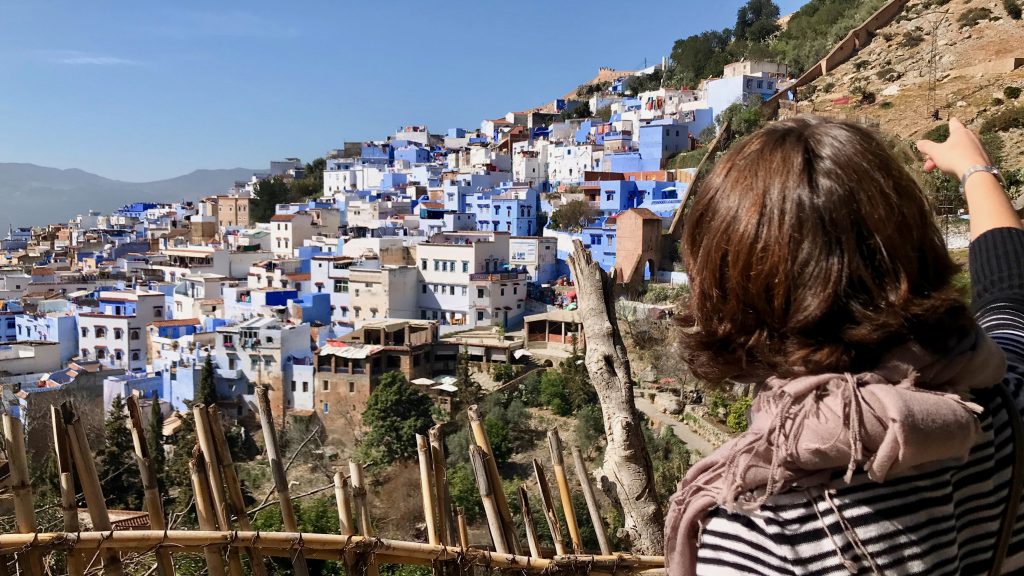 Check out that blue building. No, the other blue building!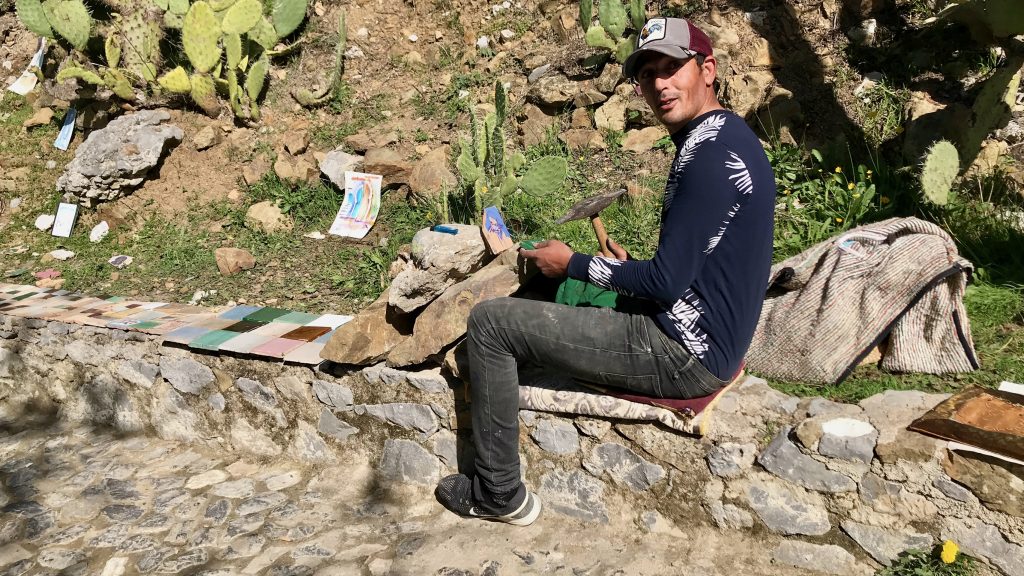 This guy was carefully chipping away at a piece of tile. It looked painstaking, it looked easy to crack the tile if you weren't careful. His hat said "cock".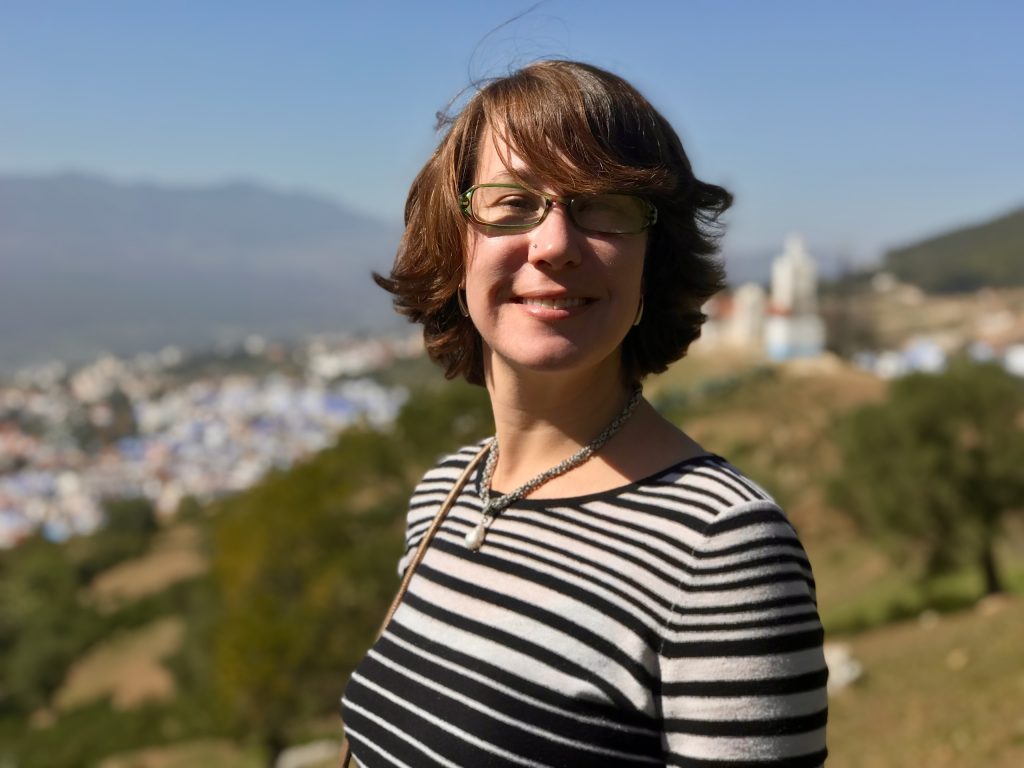 Attire in Morocco is modest.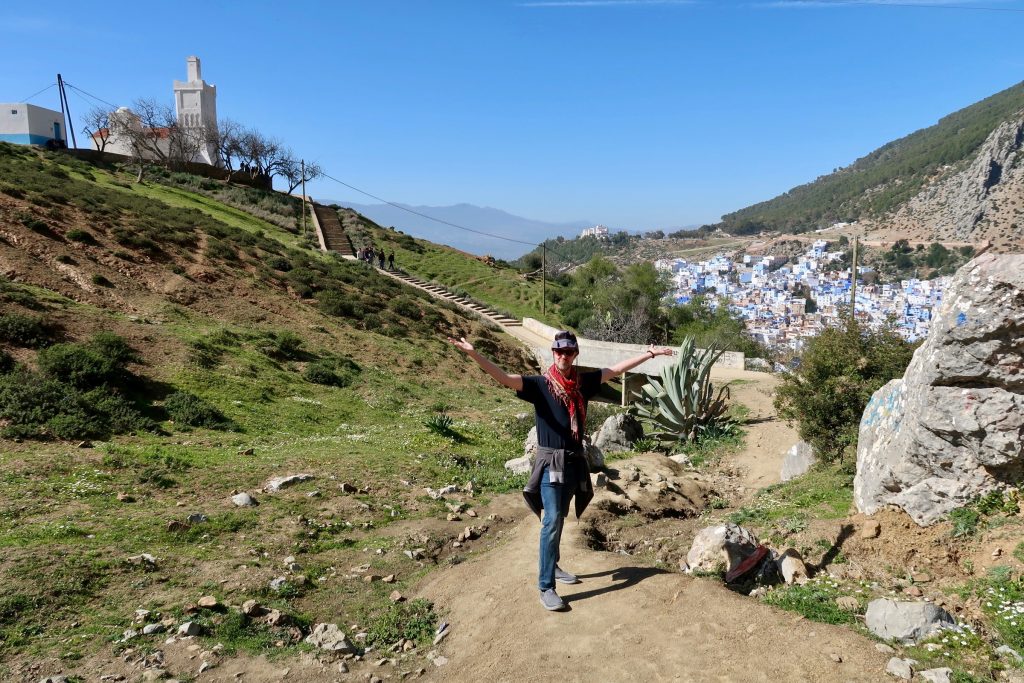 We hiked outside the city, up to this old Spanish church.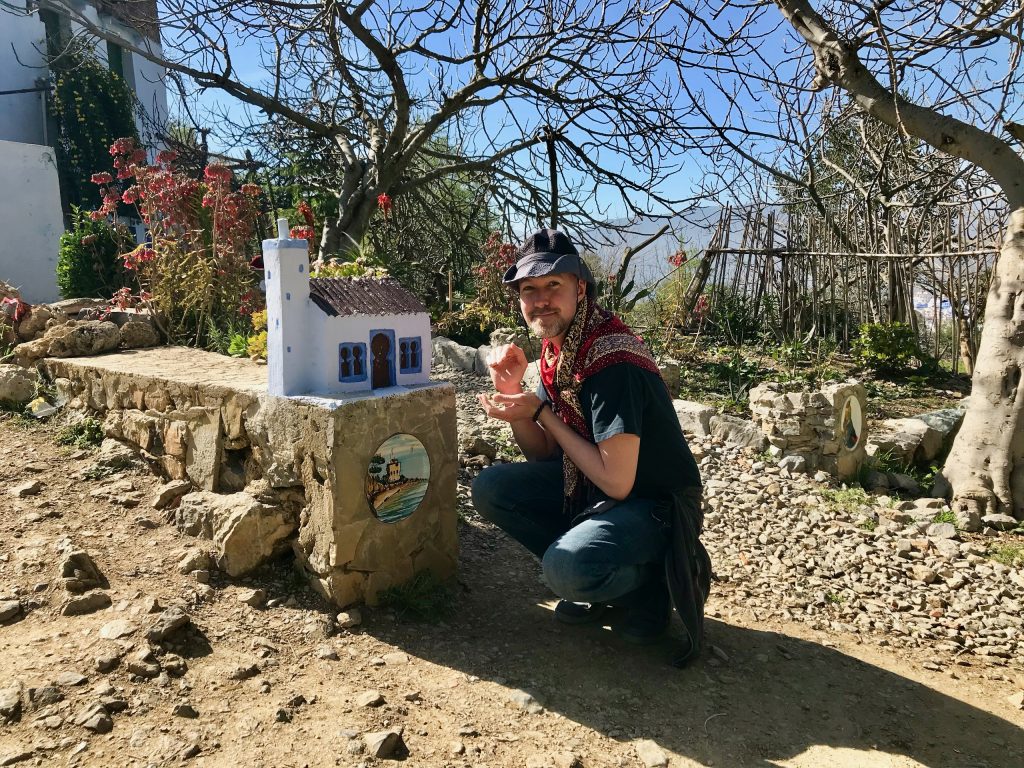 It was adorable to find a tiny church on our path, too.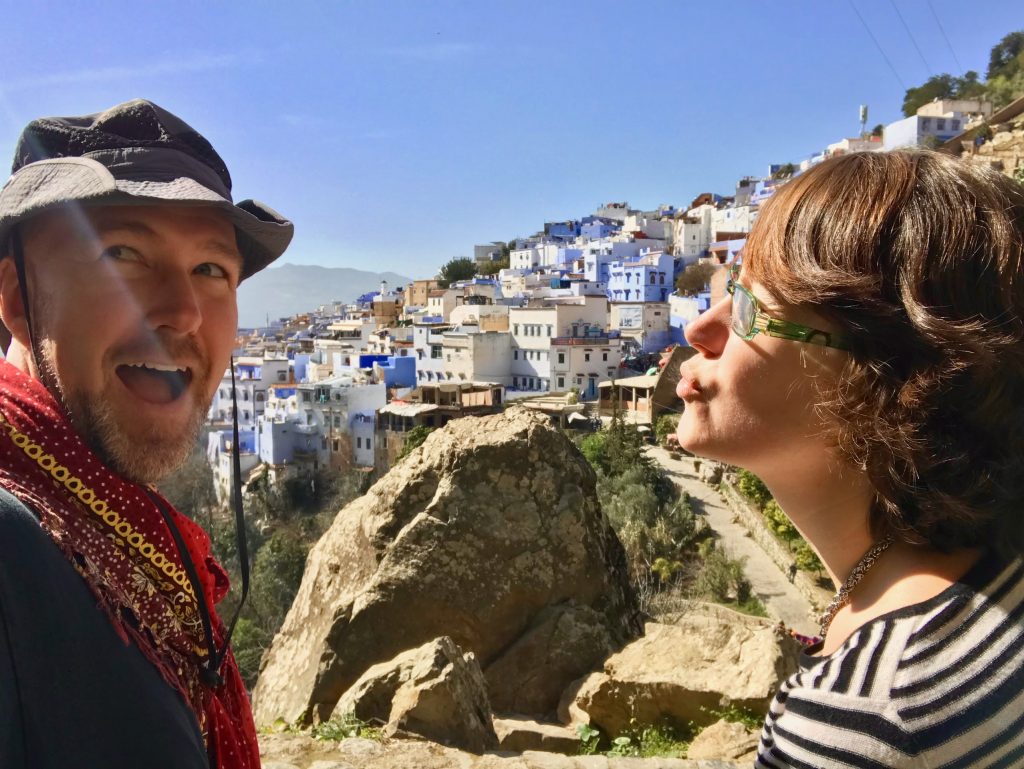 Aw, the romance was pretty rampant.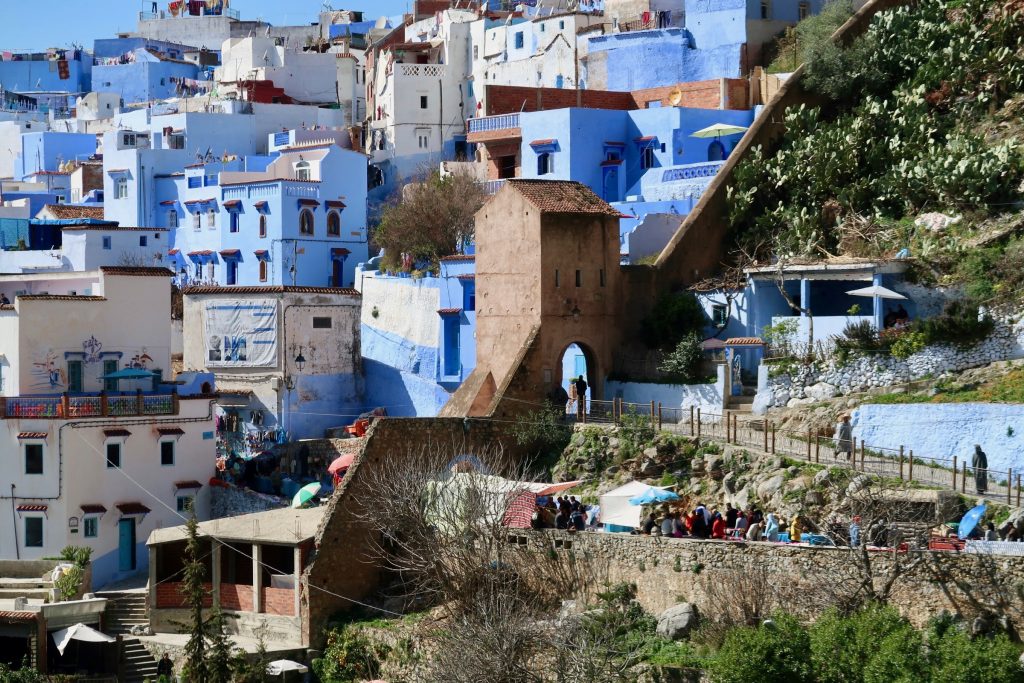 There were so many moments that felt cinematic.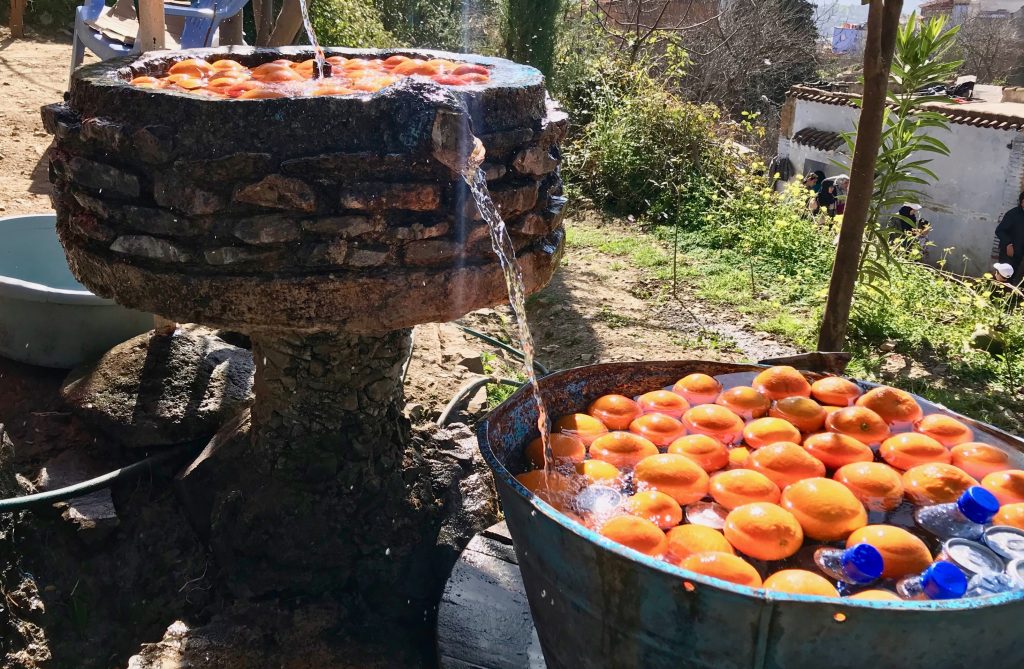 Old traditions take new forms as the tourists flow along the walkways.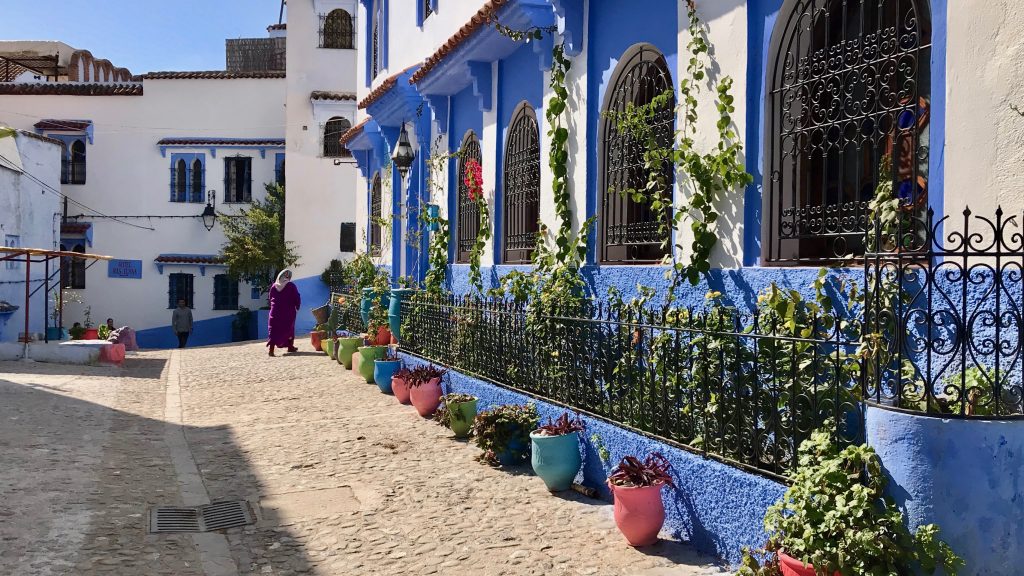 Certain moments felt just perfect.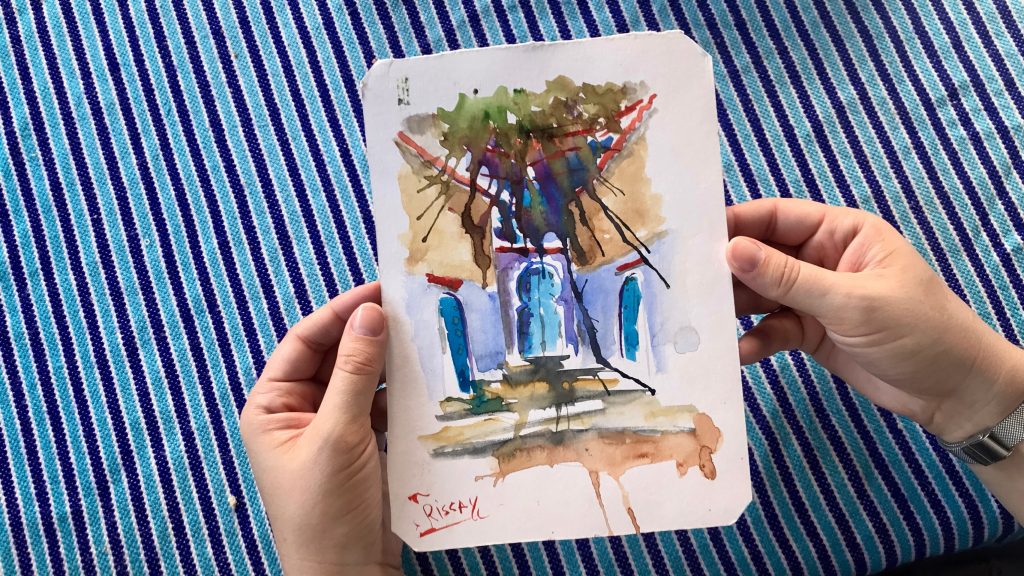 Ashley got a wonderful watercolor from one of the local artisans. Arts and crafts are all over the town. There is a lot of talent!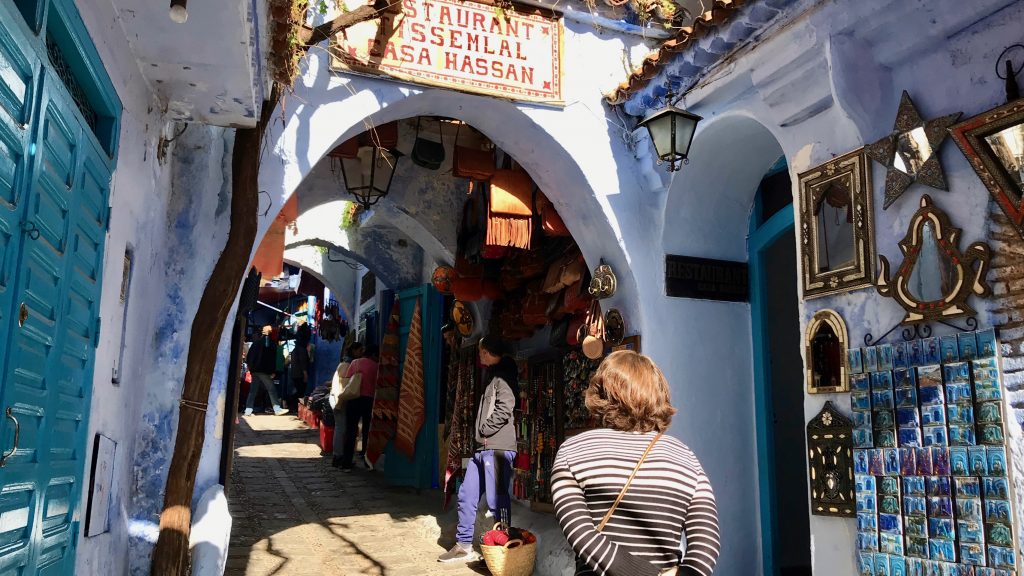 It's fascinating to stroll along and check out the shops. Be prepared to stand your ground with pushy shopkeepers.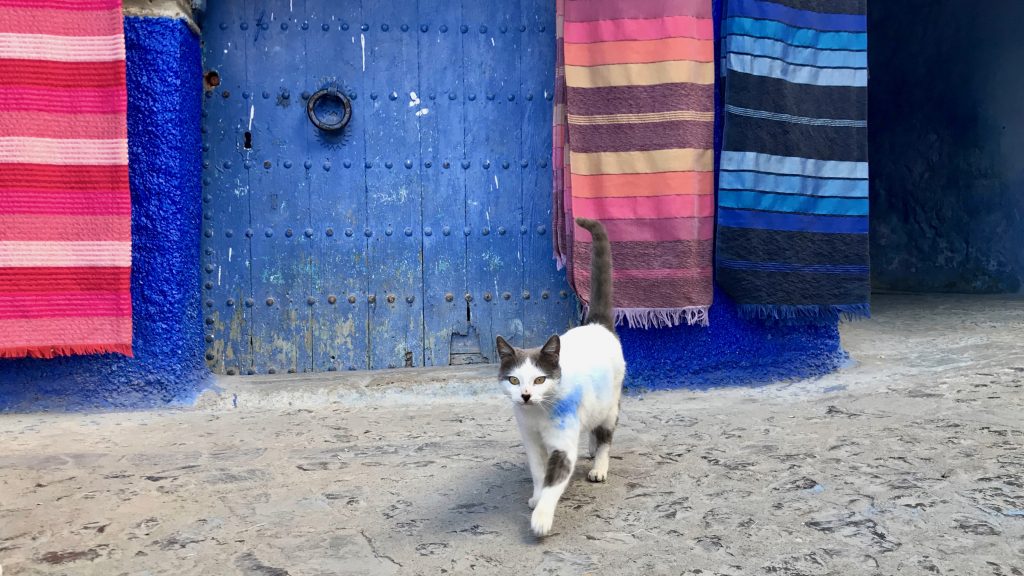 I found this blue cat to be enthralling.
The pleasures of a savory tagine are mouth-watering.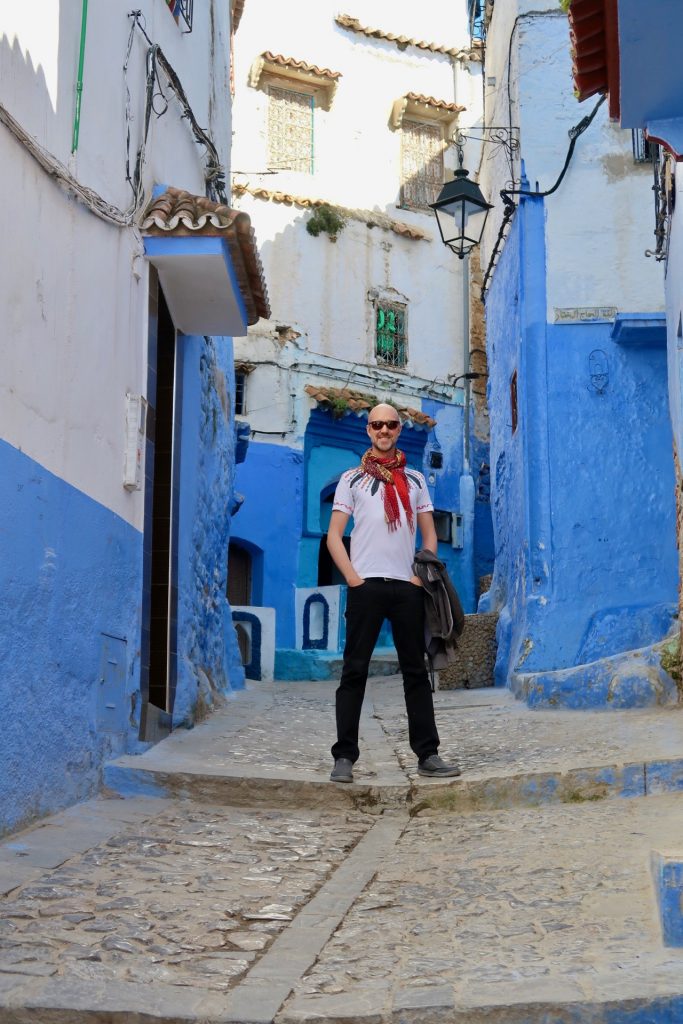 I was really intrigued to wander and marvel, all over town.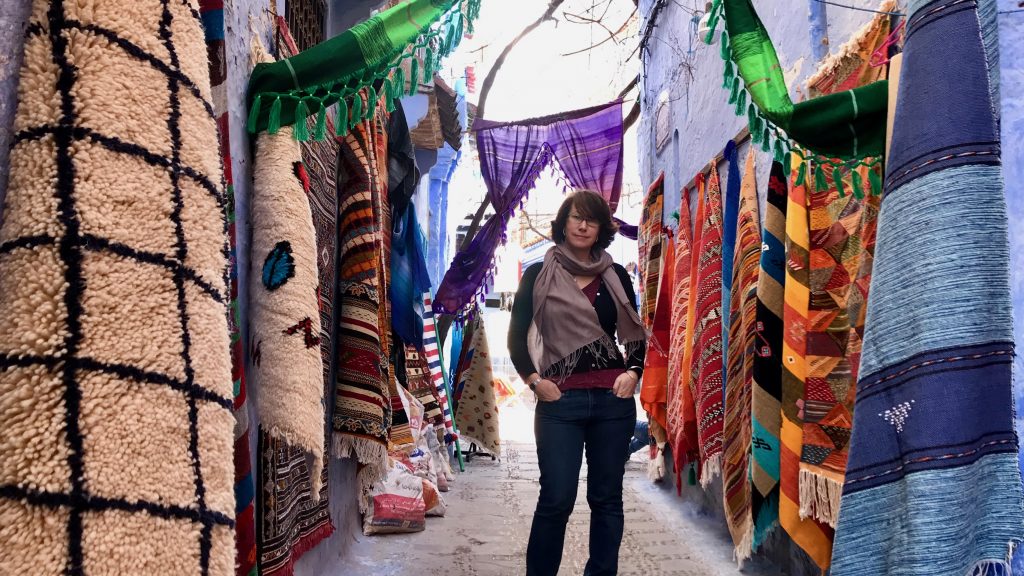 Ashley was really in her element amidst all the creative crafts.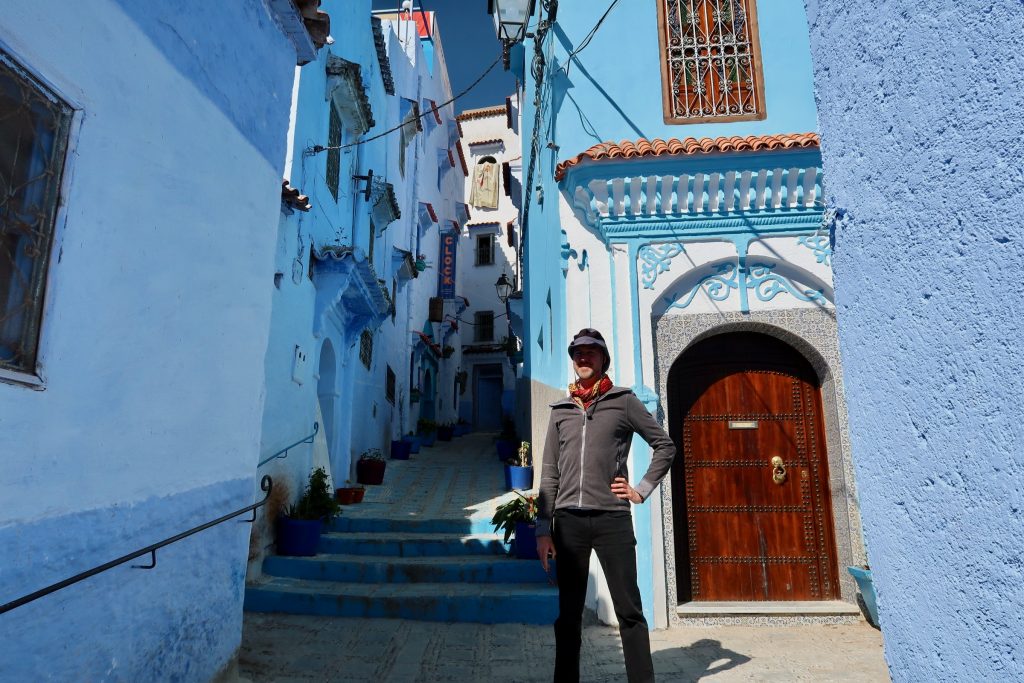 We found our way to a cool café bistro called Clock.
It's nice to refresh after a long walk.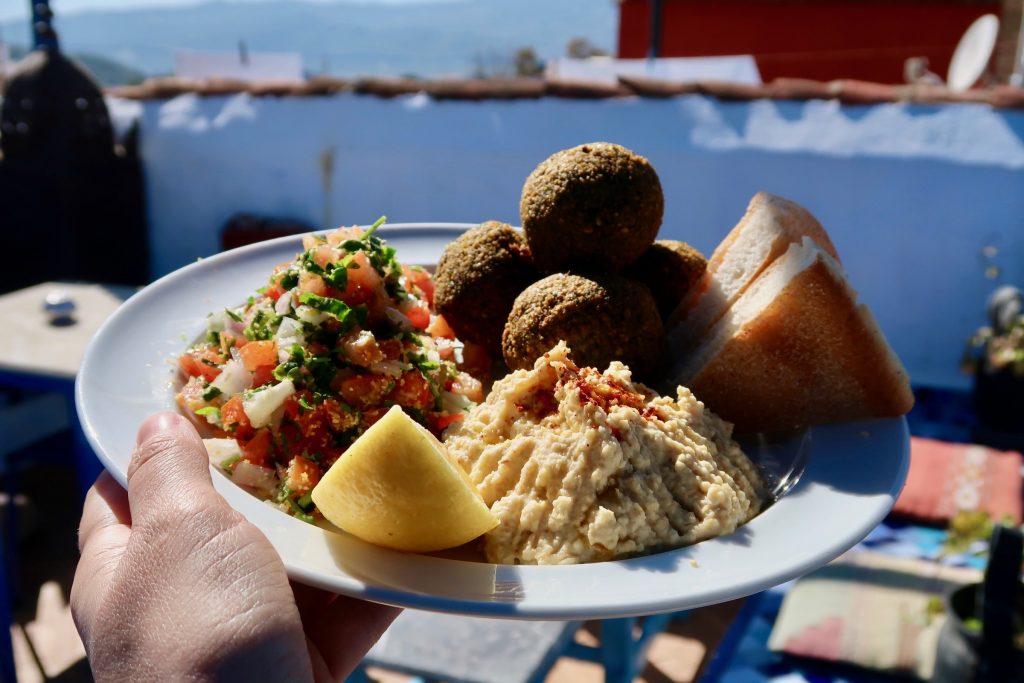 The combination of crispy hot Falafel, gooey hummus, and fresh pita… there's nothing like it.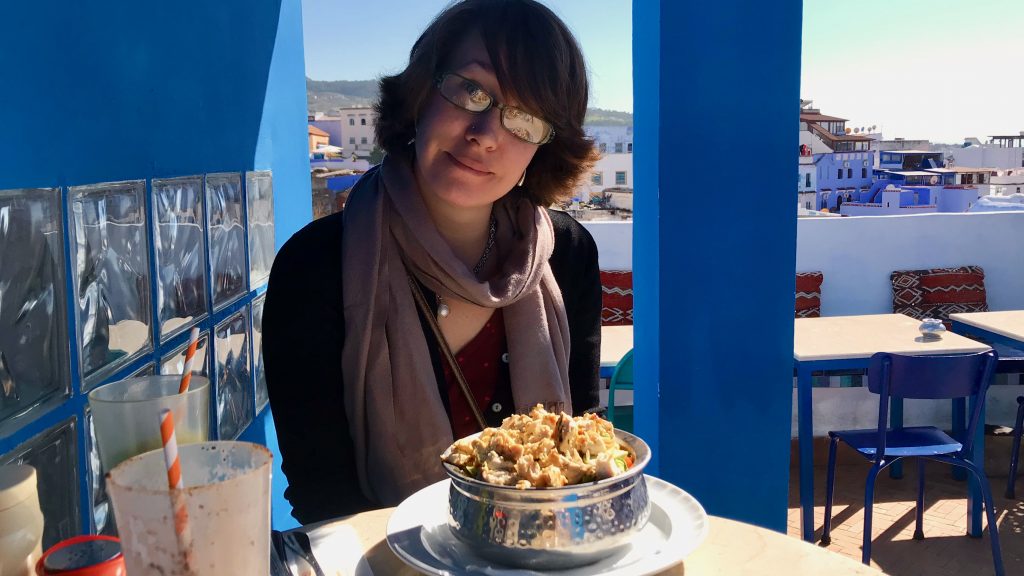 In addition to these dishes, we also tried something totally new to us: a camel burger.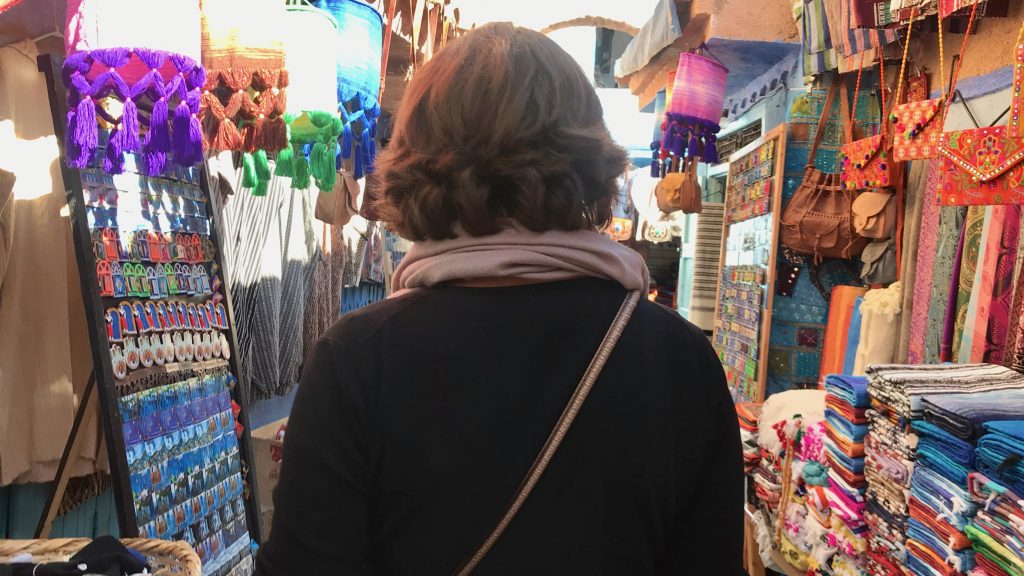 Exploring the bazaar is a special pleasure in life that is totally unrivaled.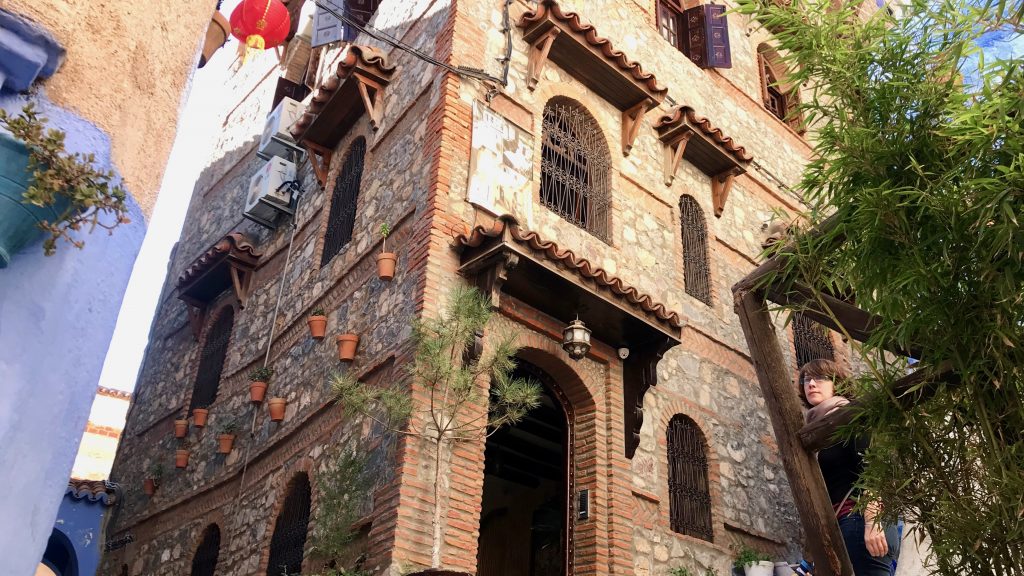 This architecture captures so much attention that you hardly notice when you're being peeped at by a creeper in the bushes.
Wanna see more?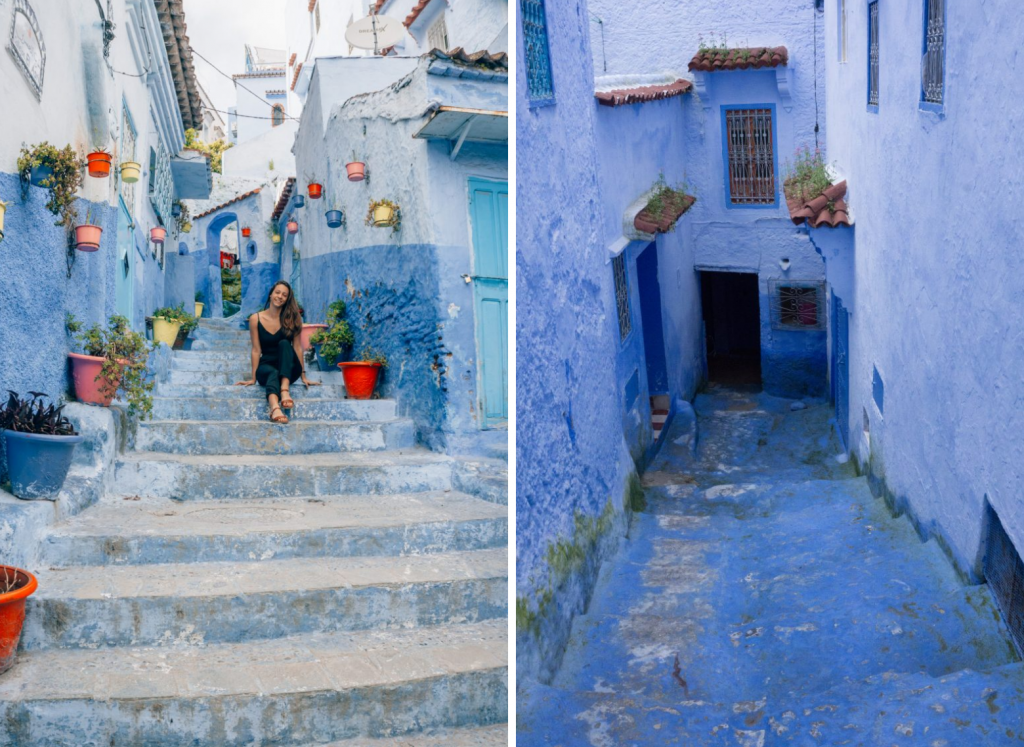 Photo by taverna travels.
Check out this great Chefchaouen post by taverna travels: Why You Need to Visit Chefchaouen, Morocco.
Enjoy this post? Pin it for later!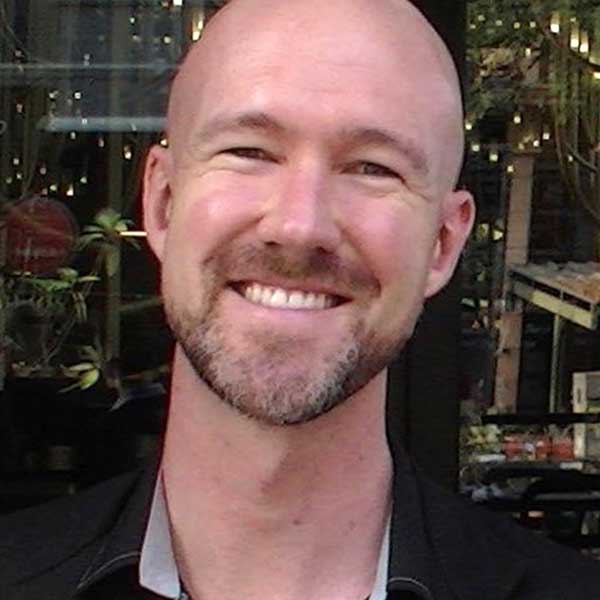 Curtiss is a lover of delicious atmosphere, experiments in location independence (and digital nomadism), and that magical place where wifi and paradise overlap.