This Quick Guide To Berlin Will Help You Find Delicious Food And Awesome Culture
One place that we have been enthralled with is Berlin, Germany.
As part of our fascination with this alluring city, we had the great fortune to receive a guide of the place, from a local.
Here, we have organized the juicy info that we received from a Berlin resident, Jill. It should come in handy for an upcoming visit to this great city. Hope it's soon!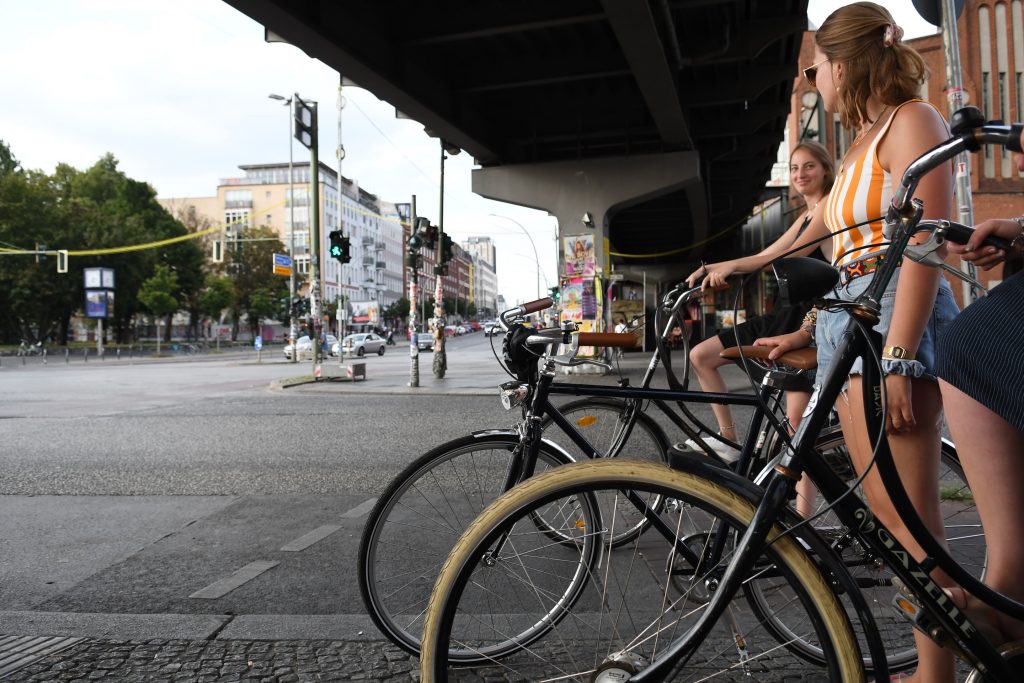 Whatever your means of transportation, it's easy to get around Berlin — just ask these folks from this photo by Michał Parzuchowski on Unsplash.
First, grab some useful apps for getting around town.
BVG app
This is an app for the city transport system (bus, tram, UBahn and Sbahn). You sign up and input your credit card details, then just buy a ticket on your phone when you need it.
A one-way pass for zones A and B,costs €2.80 and gets you everywhere in the center of the city. You can also take a cheaper "Kurzstrecke" short-distance ticket if you're going just three or four stops on the bus or train.
DriveNow and Car2go
These are great car-sharing apps. Just sign up to the app with your credit card and a scan of your drivers license, then it shows you where the nearest cars are. You just reserve the car, and walk to it. Then you unlock the car, type in your code, and off you go. No need to put gas in and you can park everywhere for free.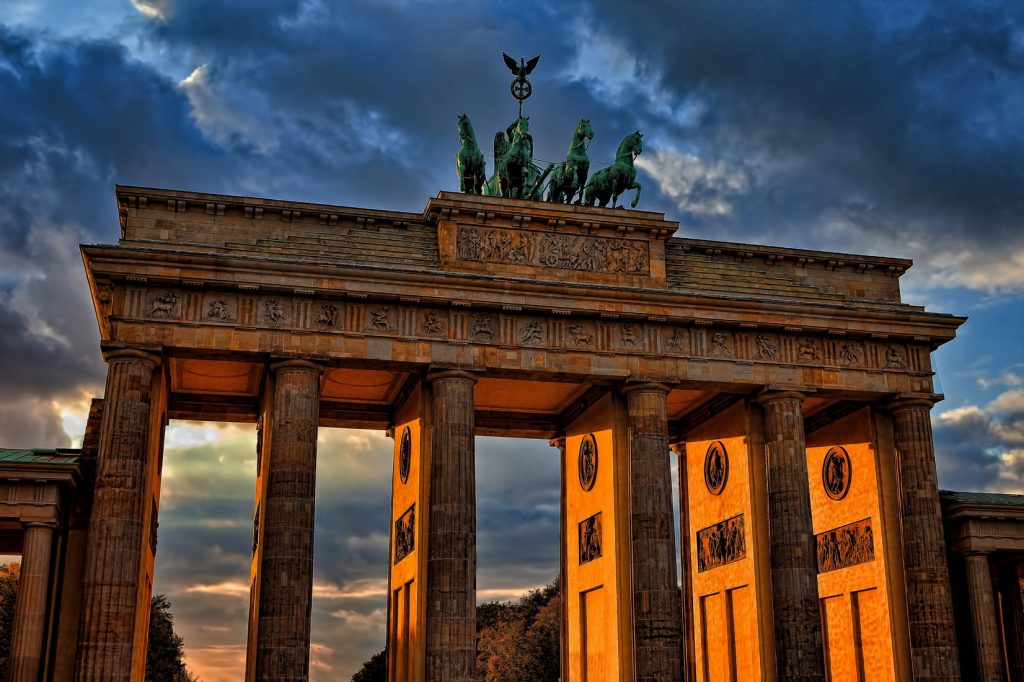 The sun casts a radiant glow on Brandenburg Gate in this photo from Ricardo Gomez Angel on Unsplash.
Enjoy food? Check out these Berlin restaurants!
A bunch of chefs are doing some exciting things with very local ingredients in Berlin these days. Jill says: these are good!
Lode & Stijn
We opened Lode & Stijn in April 2016, creating a restaurant that celebrates high-quality regional and seasonal products. The restaurant is casual yet refined, and our menu draws on our experience, skills and creativity to prepare our ingredients in the best possible way. While our food changes over the course of the year, we keep fragments of other seasons as preserves and ferments, all of which we make in-house.
Nobelhard & Schmutzig
Because we cook exclusively seasonally, our menu is clearly shaped by the time of year. We Nobelharts also put a special emphasis on our relationship to the producers.
Check out Nobelhard & Schmutzig.
Ernst
Jill says: "We almost never eat chicken in restaurants, since most of them are cage-farmed, but these guys do an amazing roast chicken from well-cared for birds — and they will give you the carcass home with you to make soup."
This is totally the kind of thing that Ashley loves to hear!
Tisk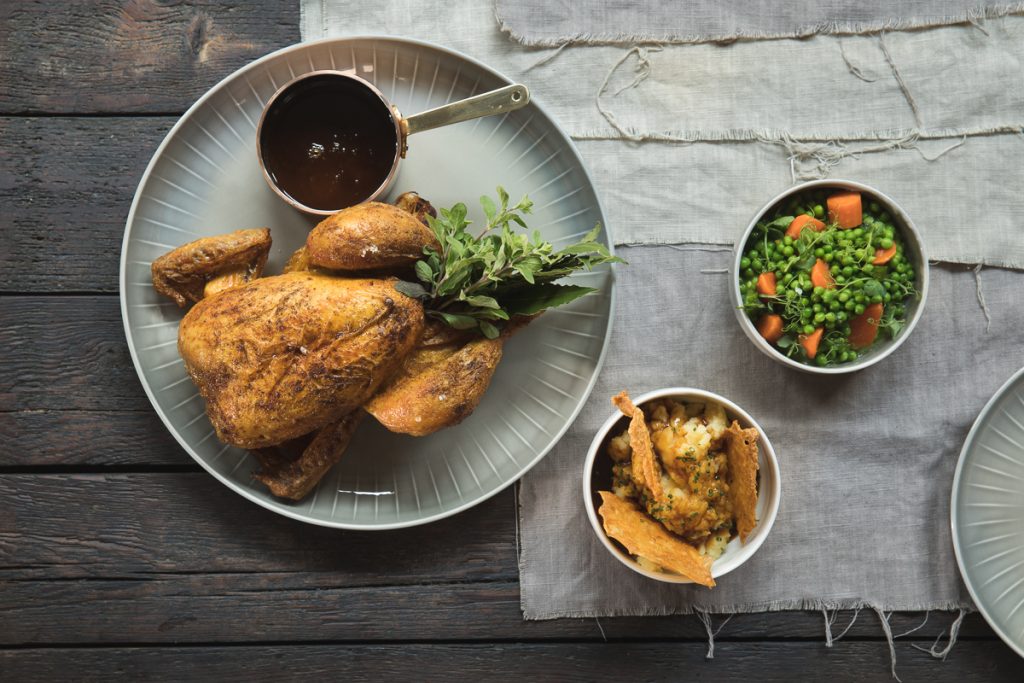 You may find yourself drooling over some of the images being delivered by Tisk.
The photos of this food are amazing.
Bojnita
In the show Chef's Table, this shows up in the Dario Cecchini episode. This is the only restaurant in Berlin that serves his steaks. It's time to ask yourself…
Don't be shy about these other food spots!
In Kreuzberg
Markthalle Neun in Kreuzberg is a covered streetfood market. Streetfood Thursday is the only night when it's open late.
Armenius Markthalle in Moabit is less hipster, and one of the few covered markets left in the city too. Open till about 8pm most nights. The Flammkuchen stand is really good. Enjoy a covered market!
La Lucha, Jill's favorite Mexican place, makes really good tacos, and proper Micheladas. ¡Yum!
Taqueria Ta Cabron on Skalitzer Strasse is a close second, for Mexican food.

Prepare yourself for a heck of a pizza in Berlin, at Zola.
Zola is great, for excellent Neapolitan pizza. Grab a pie.
Cocolo Ramen in Mitte and Kreuzberg is "definitely the best ramen in town", according to Jill.
Mitte district
Alpenstueck is special. Jill says, "It's where I take guests who want to eat German, so I feed them Austrian food, which is even better, and don't tell them." Haha! What do you think of this Austrian food?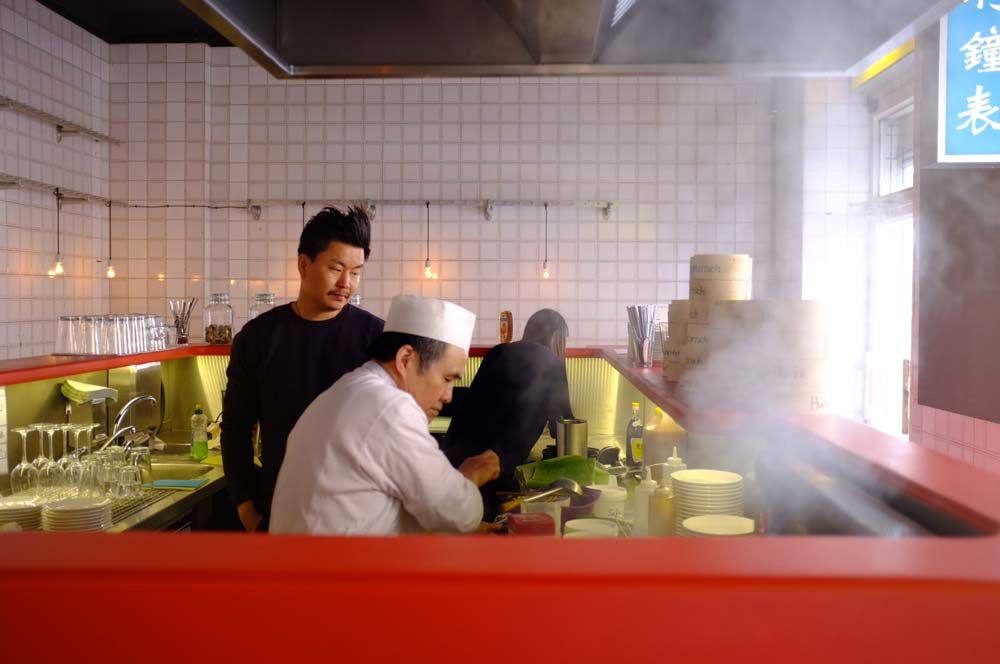 Like dumplings? Time to head to Berlin and try out Yumcha Heroes.
Yumcha Heroes is for great dumplings. Enjoy!
Pastel Galao, just next door, is a Portuguese café that does amazing pastels de nata. Are you sweet enough?
Clarchens Ballhaus, fun for a night out and has like hearty German food — it's a mix of young and old people, all dancing. Dine and dance!
District Mot is great — check it out if you're hankering for really good Vietnamese.
Standard Pizza is "the best pizza" in Mitte/Prenzlauerberg, though "they tend to mansplain pizza dough", so come prepared.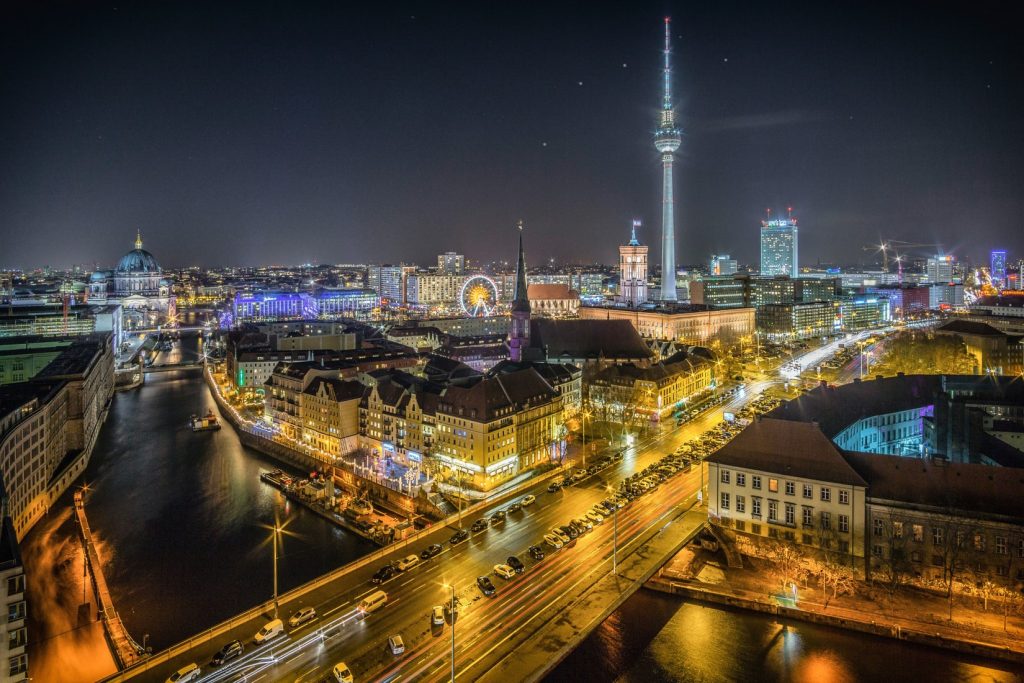 The nightlife of Berlin seems to twinkle and sizzle in this photo by Stefan Widua on Unsplash.
There are loads of bars along Torstrasse.
Check out the bars along Torstrasse, the big main street in Mitte.
The Tor Bar makes a decent cocktail, so grab a cocktail there.
Altes Europa is a lovely old Berlin bar/cafe, a favorite of Jill's. Try it to see if it will be a favorite of yours, too.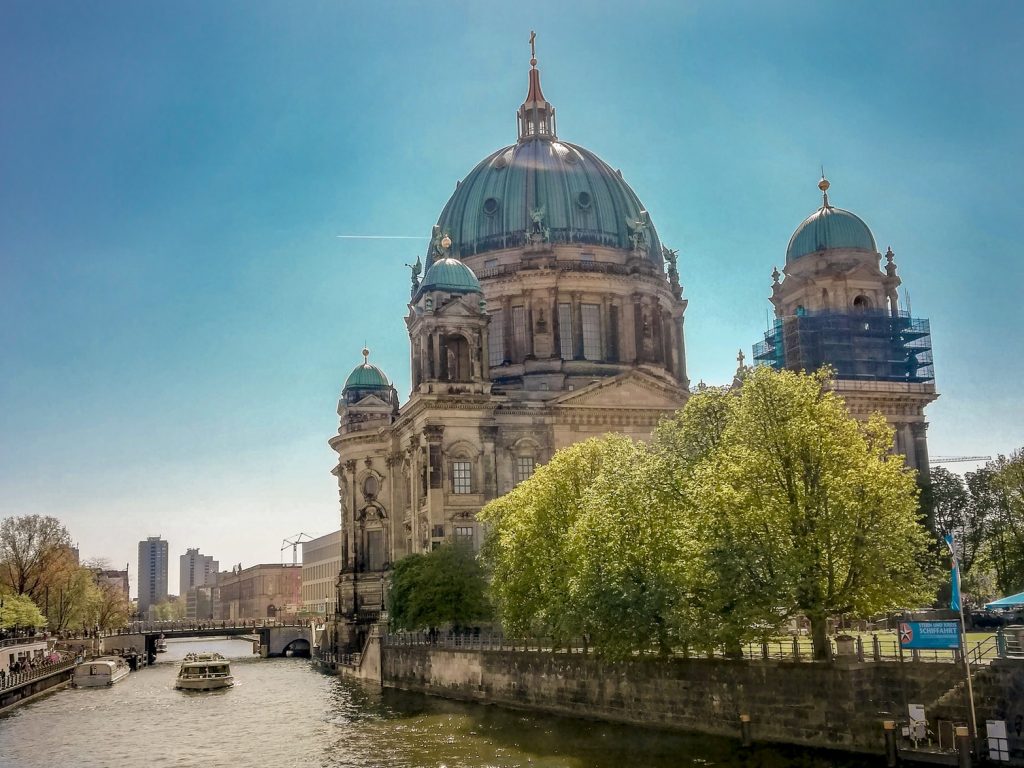 Catch a glimpse of beautiful buildings like the Berlin Cathedral, as in this photo from Anna Louisa Karsch on Unsplash.
Art
ExBerliner will help you to find out what's going on around Berlin in English.
Boros Sammlung bunker is definitely worth going to in Mitte, but reserve in advance. Even if the collection is not up your alley, the bunker is awesome — it's been everything from an actual bunker, to a DDR banana storage warehouse, to a fetish club.
Bauhaus is an incredible movement. It's the 100 yr anniversary of Bauhaus movement, so check out what's on here.
Hamburger Bahnhof is a cool gallery, so check that out.
The Jewish Museum is interesting, so check that out too.
Museums are amazing, all over Berlin. Check out some of the main museums — they're mostly on Museum Insel on Unter den Linden, even thought it's not an island. Jill thinks the bust of Nefertiti is still on display in the Neues Museum, despite Egypt demanding her back once a year to no avail.
Get out of town, and go jump in a lake.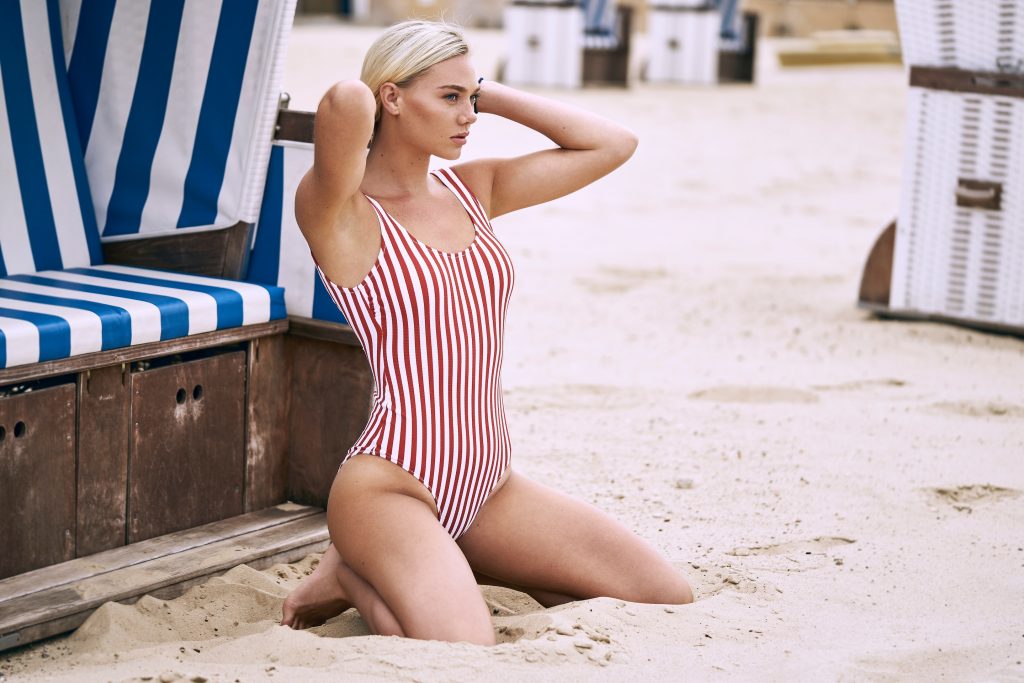 Kick back and relax at Wannsee, or strike a pose and do some modeling, as in this photo by MAX LIBERTINE on Unsplash.
For swimming, Wannsee and Schlachtensee are easily accessible by bike or by Sbahn. No real changing facilities or anything, just wade into the lake and start swimming.
Enjoy Berlin!
A huge thanks to Jill for her awesome overview of Berlin and its fascinating attractions.
Let us know any favorites of your own!
Enjoy this post? Pin it for later!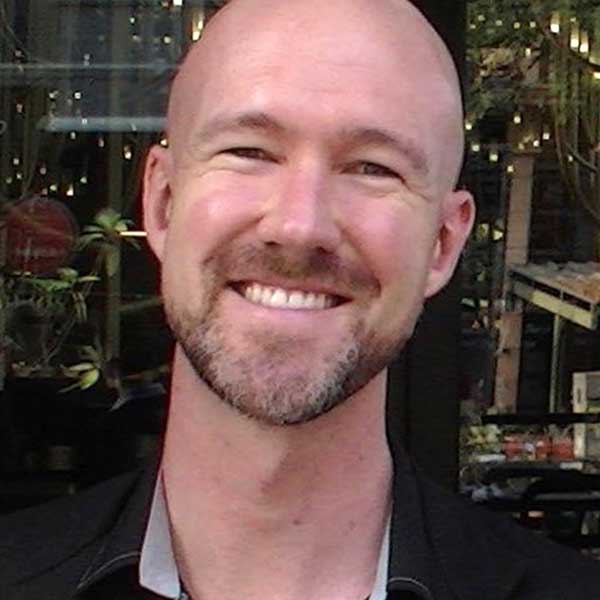 Curtiss is a lover of delicious atmosphere, experiments in location independence (and digital nomadism), and that magical place where wifi and paradise overlap.