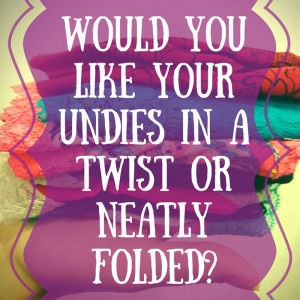 This may be verging on a rather personal story– but it's one that's true, it's funny and it's part of everyday life when you're location independent.  I regularly pay a very small fee to have my laundry washed and dried by someone else.  To be honest, the regular rotation of clothes is much shorter than I am used to, as I am currently living out of a carry-on sized suitcase.
I drop off a bag of travel-worn clothes and pick up a neatly folded bag that evening or the next day (depending on the establishment). I pay per the kilo, and the total comes out lower than when I used quarter after quarter in the local laundromat in Western Massachusetts. I also don't need to babysit the machines. This in itself is a wonder– all I do is drop it off and pick up, and hand over a few bills with a smile.
Many hotels, guesthouses, and hostels offer a laundry service.  Most are well priced and invaluable because they take care of your dirty clothes while you explore a new and exciting city. In many cities you can see signs on the sidewalk announcing the price charged per kilo of laundry, so it can be hard to choose which establishment is the best option.  In most cases, places send their laundry orders to a larger facility.  Therefore I choose one that is conveniently located.  Hotels usually charge a higher fee for laundry and are not my first choice, but if you leave the hotel and look down the street you may find better priced options for the same quality service.
I had a great laundry lady in Thailand who was located right next to our villa.  Over time she became rather familiar with our laundry rotation: we could drop it off while she was closed, and she would know it was ours.  In fact, I had a cute interaction: I had added a pair of jeans in our load which I hadn't ever dropped off with her before.  She didn't recognize the jeans as ours, and made a point to ask if they in fact belonged to us before handing over our wonderfully folded bag of clothes.  She was worried a mistake was made, but everything was right as rain and smelled of soap.
Some may ask if I feel squeamish about a stranger handling my "unmentionables" or worry about losing clothing over time.  Honestly I have never lost an item.  Actually, I've gained items (that were promptly returned).  As to the more personal items– it's a part of life.  I feel fortunate to not need to spend the time to wash them myself.  Clothing that requires special care or a little extra love may need to go to a different establishment.  Although most of my clothing is travel friendly and can be washed normally.
As to folding, there was sometimes a bit of creative freedom taken: one location chose to tie each panty in a tidy bow– I could not believe someone took the time to do that.  I've also had my lacy items neatly folded and stacked.  These two examples make me smile and shrug because it's certainly more care and attention then I give when folding.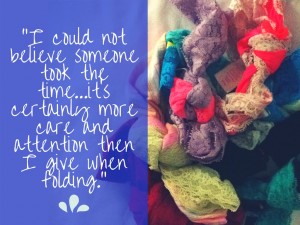 I greatly appreciate this service while traveling, it's honestly invaluable and certainly something I could not afford as readily back in the United States.  It's really amazing how much I can achieve when I am not stuck watching the washing machine on laundry day– from hiking Machu Picchu to sipping a fresh coconut on a beach in Thailand: my time is better spent enjoying life when there are affordable services to assist.
[st_icon_box background='#eeeeee' opacity='0.1′ border_color='#eeeeee' icon='lightbulb-o' icon_color='#ffffff' icon_bg='#43b5f7′ icon_position='icon-left' icon_spin='no']Experience: What services do you use currently to assist with productivity or to promote living well? Reflect on the areas in your life you could use outside help.[/st_icon_box]
Ashley is exuberant about location independence! She relishes new experiences and working with boutique hotels and resorts. She's always thinking about design and food… and where they'll travel next!