A Magical Chiang Mai Hotel Perfect For Romance
We love getting romantic any chance we get, and Valentine's Day was the perfect opportunity to dress up, have an incredible dinner and stay in a luxuriously sexy hotel.
Italics, an innovative Italian restaurant in Chiang Mai was having a special set menu with four courses to celebrate the holiday and we jumped on it early (and good thing we did — the dinner was sold out when people inquired on the day of).  If the mouth-watering four-course dinner wasn't exciting enough, we also had plans to stay the night in the hotel.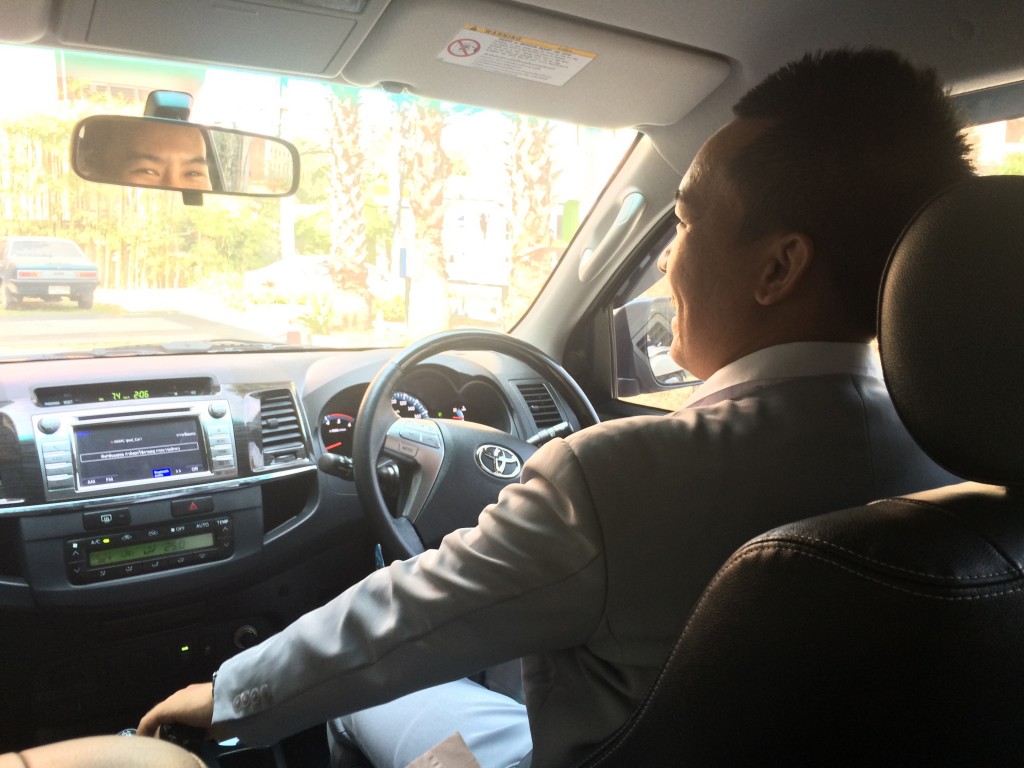 We were picked up by Nut in a black SUV, he greeted us warmly and asked how our day was going.  He most definitely put a smile on my face.  It was a short ride to the hotel, but at midday with luggage, it's bugger hot.  We were offered a cool towel and water for the ride.
As we entered the Akyra Manor lobby we were awed by the ambiance!  The décor is a work of art.  Throughout the lobby and restaurant are golden tree seats, in which the tree limbs are tipped with lights.  The lights reflected beautifully off the black tiled ceiling during the day… and at night they were breathtaking!
We felt like we had entered a sexy and stylish storybook.
After checking in we went up to the rooftop pool and Rise Bar.  The view of the mountains and city was spectacular from the roof.
We were excited to eat lunch beneath the golden trees!
We each had a salad and enjoyed the large shreds of parmesan cheese that came with the salad.  Good cheese is hard to find in Thailand (or it's rather expensive).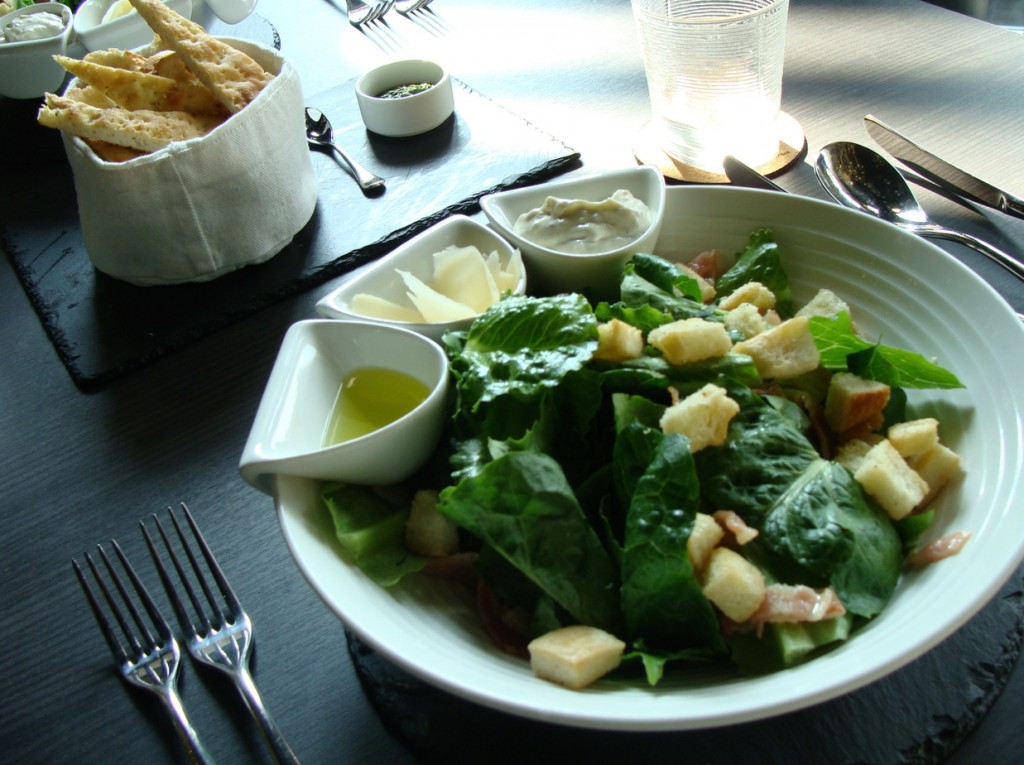 We met the manager of Italics and Rise Bar.  Cyrielle was obviously very busy preparing the restaurant for the dinner later that night, but she took the time to speak to us about the food that would be served, and what we could expect for the evening.

The suite we stayed in was on the top floor and was absolutely incredible!  As you walk in the suite, you are greeted by a large round bathtub open to the elements (there are of course shades that quickly roll down with a push of a button for the more bashful folks).
Por gave us a wonderful tour around the room.  She showed us how to turn on the room's iPod to access the day and evening playlists prepared by the hotel.  They were really great tunes!  She showed us the various cubbies for the champagne flutes and wine glasses, as well as the "his" and "hers" complimentary toiletry drawers.
In the left wing was the bedroom and vanity.  There was plenty of closet space and room to get ready.
To the right was the living room, mini bar and desk.  We took a moment to lounge and check out the wifi speed (which was wonderful) and the lounging was mighty comfy.
I find a cocktail often helps me work. ;-)
A signature cocktail is arranged in your room everyday.  The hotel staff set out the ingredients and tools you'll need, and you are able to follow a very simple recipe and be your own bartender!  The non-alcoholic ingredients are complimentary, while the potent stuff is taken from your minibar and charged to your room if used.
We had a bit of time before we needed to have clothes on, so we tried out the incredible tub.  It filled up quicker than I expected, and we added some wonderfully smelling bath salts that were supplied by the hotel. We are huge fans of tubby-time and this one is high on my list of best tubby-time experiences!  We also brought our rubber duckies to keep us company.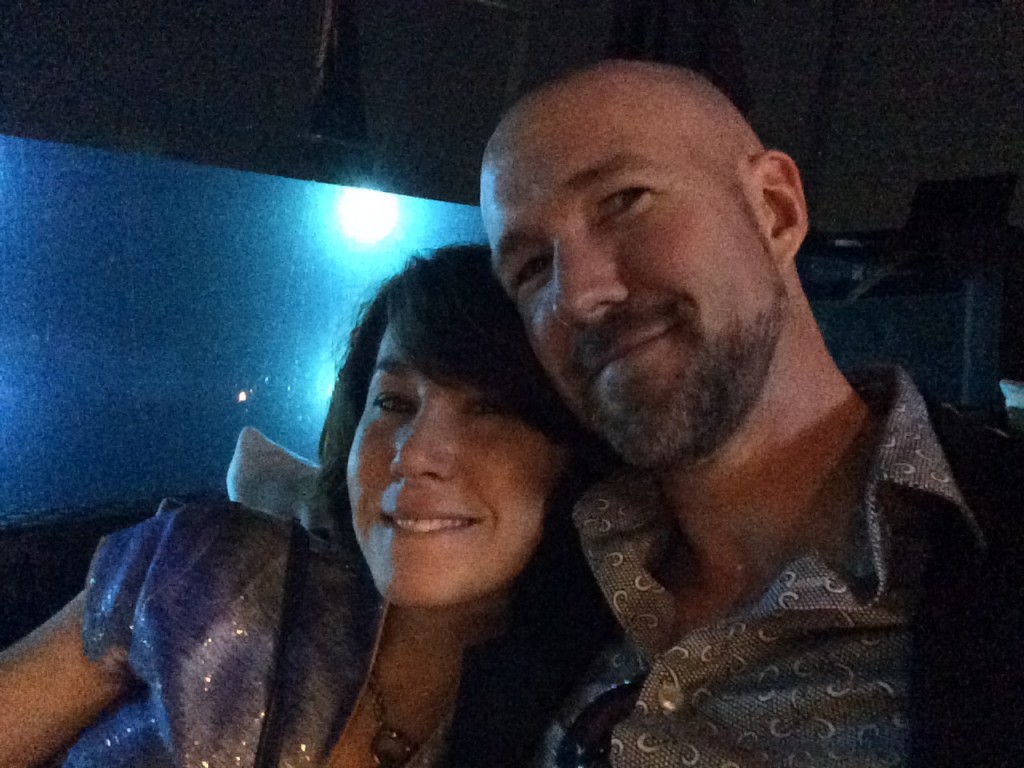 Every evening has two-for-one Happy Hour from 5:30pm to 6:30pm at Rise Bar on the roof top.  You're able to watch the sunset as you sip on a wonderful cocktail next to the pool.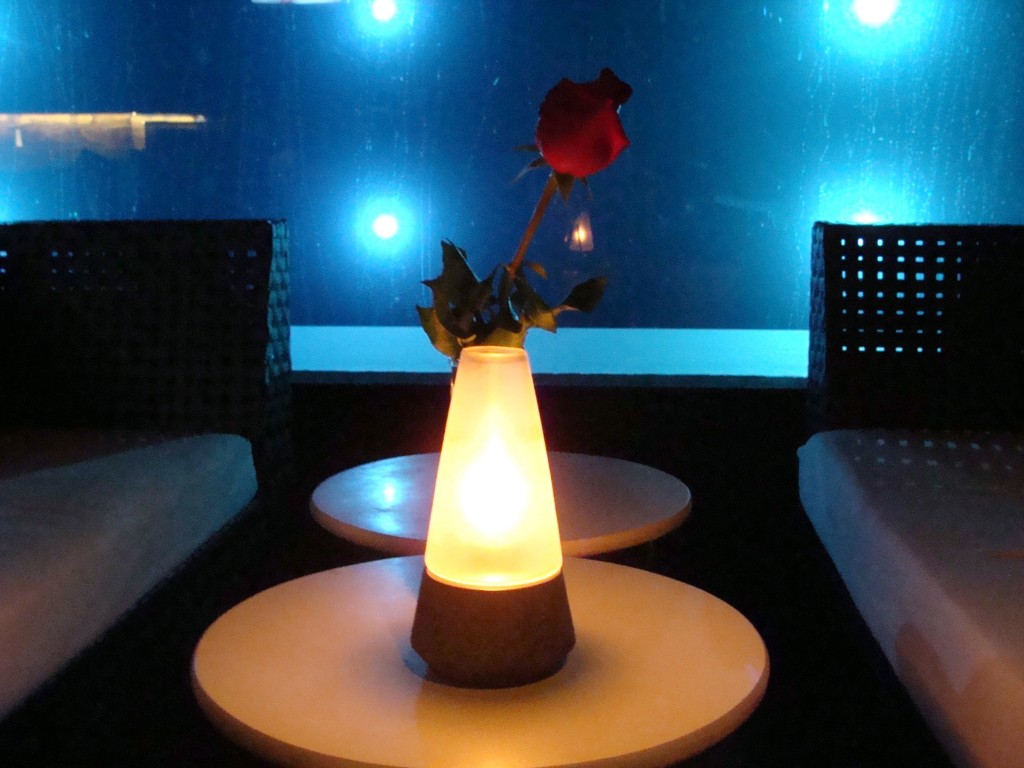 Every Friday, the Rise Bar has a live jazz band to delight the senses.  We absolutely love jazz, and are looking forward to sending a little time on the rooftop enjoying it.
We had dinner reservations for 7pm, and by that time the Italics dining room was already very busy. We sat outside and enjoyed the light breeze from the evening.  After choosing between steak and fish for the main course, we were served a fresh rocket salad with figs, goat cheese and pan-seared foie gras and a glass of sparkling wine.
What a wonderful way to celebrate Valentine's Day!
The soup course was a subtle and velvety pumpkin soup with croutons and a seared scallop.
For the main course we ordered one of each dish.  Both were very tasty, although the sea bass was the winner for the evening. The fish was light and flaky, and served over roasted veggies and rice. The steak was seasoned well.  I felt like the dishes were created to let the ingredients to speak for themselves, and they did so wonderfully.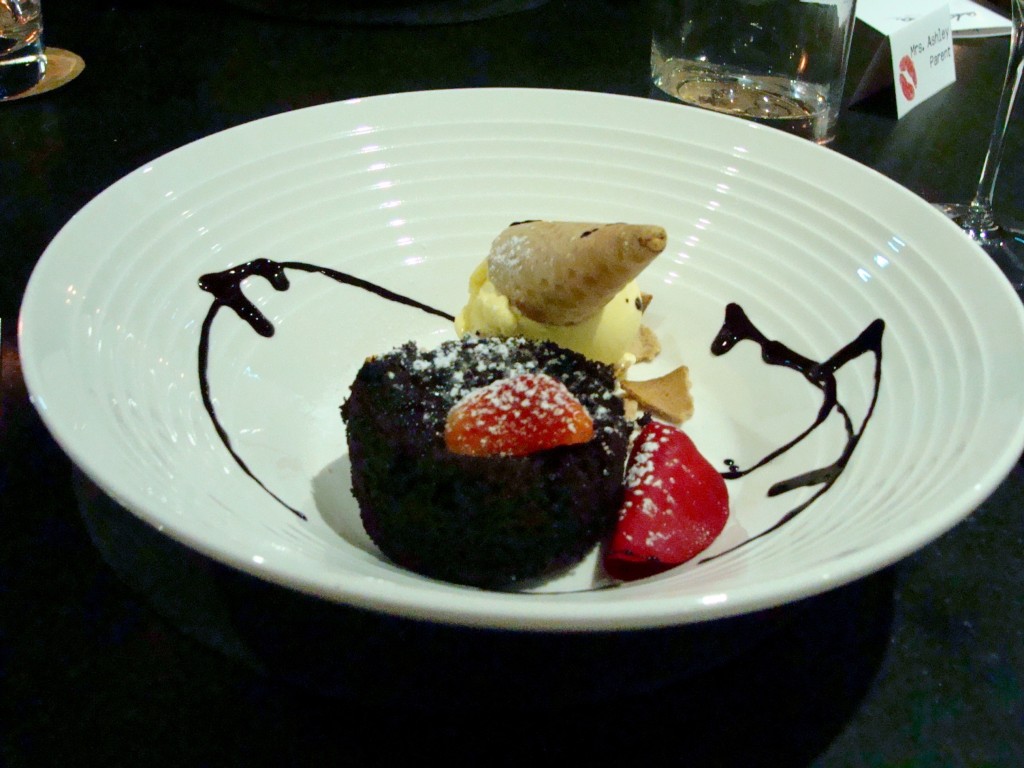 Dessert was of course my favorite.  It was a chocolate fondant, with Thai strawberry and homemade vanilla ice cream.  The fondant reminded me of a lava cake, with its perfectly chocolate gooeyness that melts the ice cream and your heart. Mmmmmm….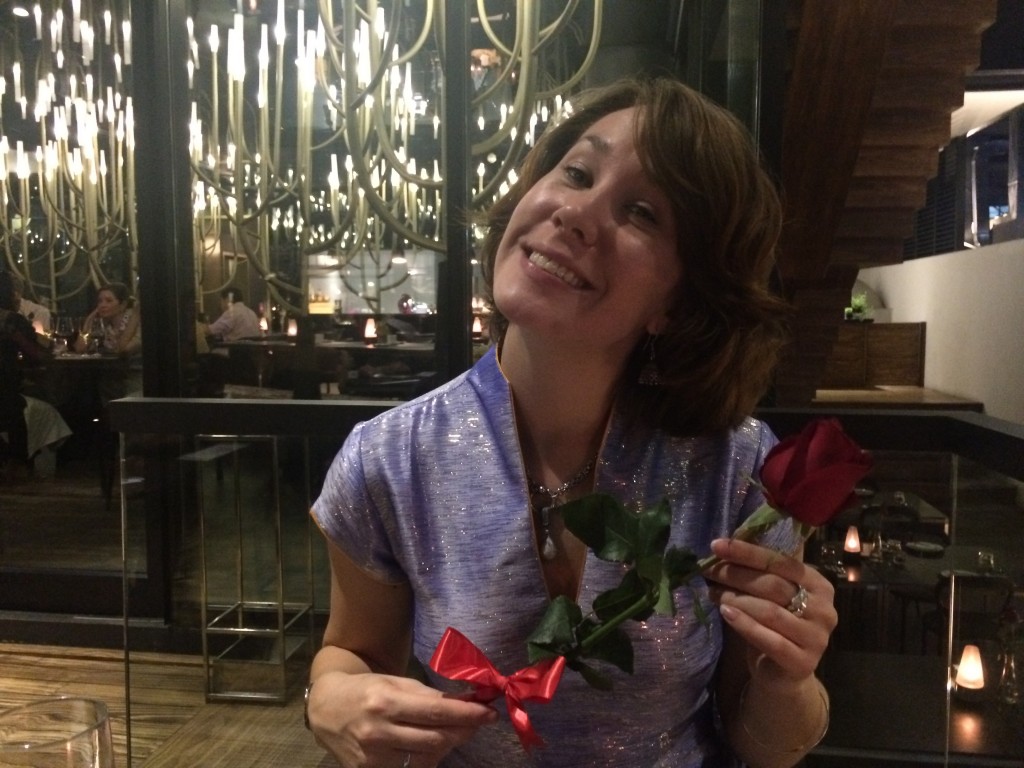 Once the dishes were cleared, I was handed a beautiful red rose as a gift from Italics and the hotel.  It made me feel rather special to leave dinner with a rose in hand.  I loved the extra touch in giving every lady a rose before they left the restaurant.  I shared the flower with Curtiss because he's also very special.
When we returned to the room, our bed had been turned down, our slippers were placed next to the bed, and the shades were drawn.  There was also a little bottle on each side of the bed, each with a tag that said it was a Thai herbal drink to help you sleep, and to have good dreams. It reminded me of the "drink me" potions in Alice in Wonderland. I was prepared to drink a whole liter of the herbal drink if it would help me sleep and dream well!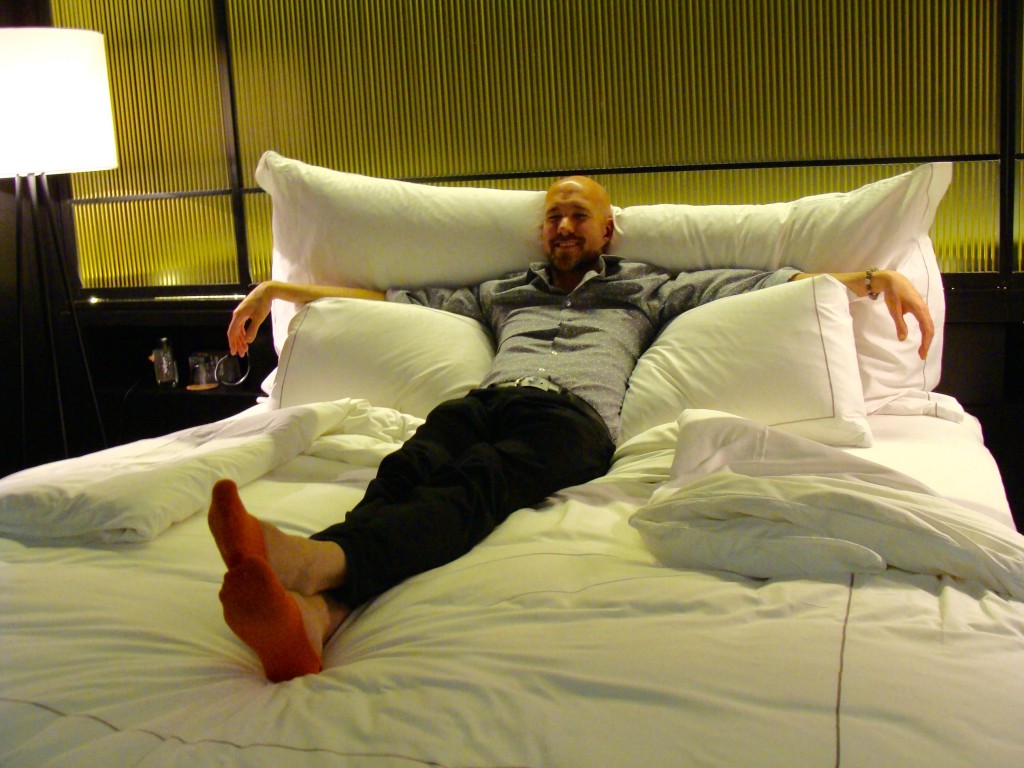 The bed was a dream; I mean just look at those pillows!  They felt as good as they look. If you have specific pillow needs (harder, softer, etc), you are able to choose from a pillow menu.  There are also pillow mist scents that you can choose to help lull you to sleep.
We awoke bright and early to meet Chris the General Manager for breakfast downstairs in Italics.  We each ordered eggs Benedict, and enjoyed them outside as we chitchatted with Chris.  We also met with June, the Front Office Manager and she made sure we had an enjoyable stay.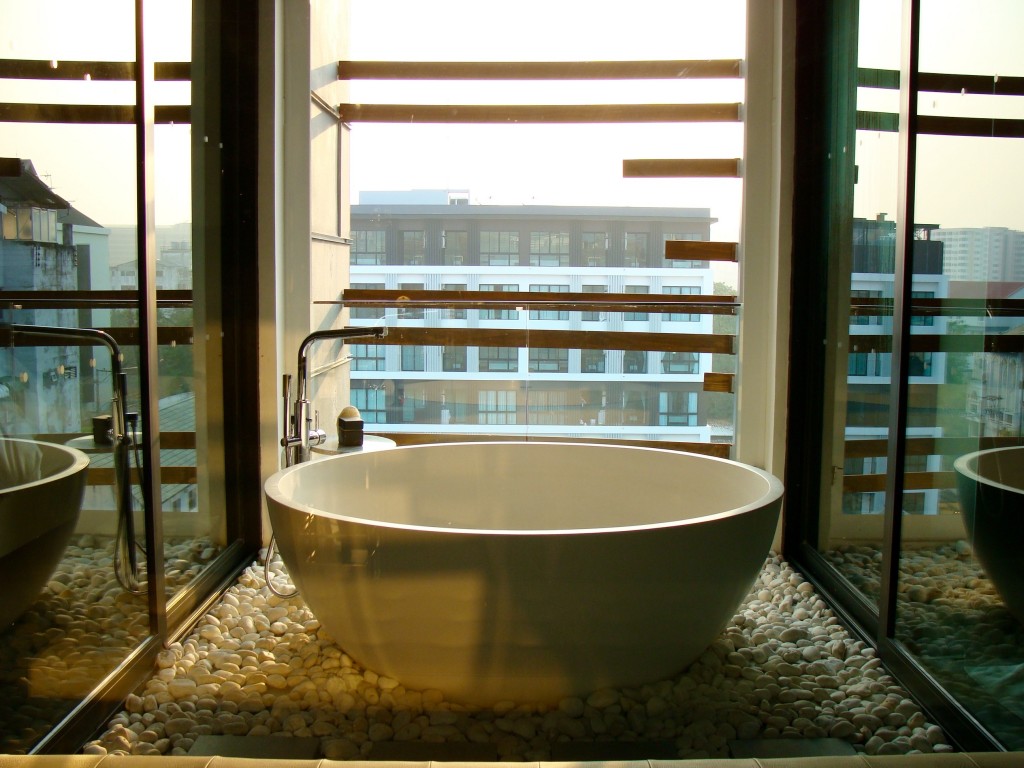 We had an extremely wonderful and romantic experience at Akyra Manor Chiang Mai.  It was the perfect setting to celebrate Valentine's Day in Chiang Mai!  We look forward to Jazz Fridays at Rise Bar… and maybe another romantic stay!
Enjoy this post? Pin it for later!
Ashley is exuberant about location independence! She relishes new experiences and working with boutique hotels and resorts. She's always thinking about design and food… and where they'll travel next!