Brunch At Four Seasons Resort Chiang Mai
By now you must know how we feel about Sunday brunch (we are enamored and obsessed… but not in a weird way). This adventure was a little pre-birthday adventure to a new bunch location. C did not tell me where we were going, he only said to dress smartly and that we were going to "celebrate Sunday" — pair that with not eating breakfast before leaving our Nimman condo, I knew we were going to be brunchin' it up!
We took a songthaew 35-40 minutes from Nimman to Mae Rim, which is a rather lovely drive once you're out of the city. We were dropped off in front of the Four Seasons Resort Chiang Mai lobby and C had a whispered exchange with a woman who came to greet us, and we were quickly shown to the Terraces.
We arrived a bit early for brunch, but enjoyed lounging by the pool with a glass of sparkling wine, and taking in the beautiful views that surrounded us. There was a lovely breeze, and it felt wonderfully peaceful.
Another couple soon joined us, and we sat down to enjoy an incredible buffet and free-flowing sparkling wine. It was an amazingly luxurious experience. The lunch buffet was absolutely decadent, and my champagne flute was never less than half full.
Also, I have something to confess: I was so excited about the food and resort that I completely forgot to take photos of the glorious spread! I wish I could share with you how many little desserts I tried. It's a travesty, I know… but speaks well of the experience!
Lunch is served from 12 noon to 3pm and I'm pleased to say our party was the last to meander to the pool area. Don't forget to bring your swimwear, because after such a meal you'll float even better. Unfortunately, we did not swim since the weather was starting to turn gray. From our lounging couch, we enjoyed a pitcher of sangria and watched intermittent sprinkles fall into the infinity pool amidst a cheerful wedding ceremony.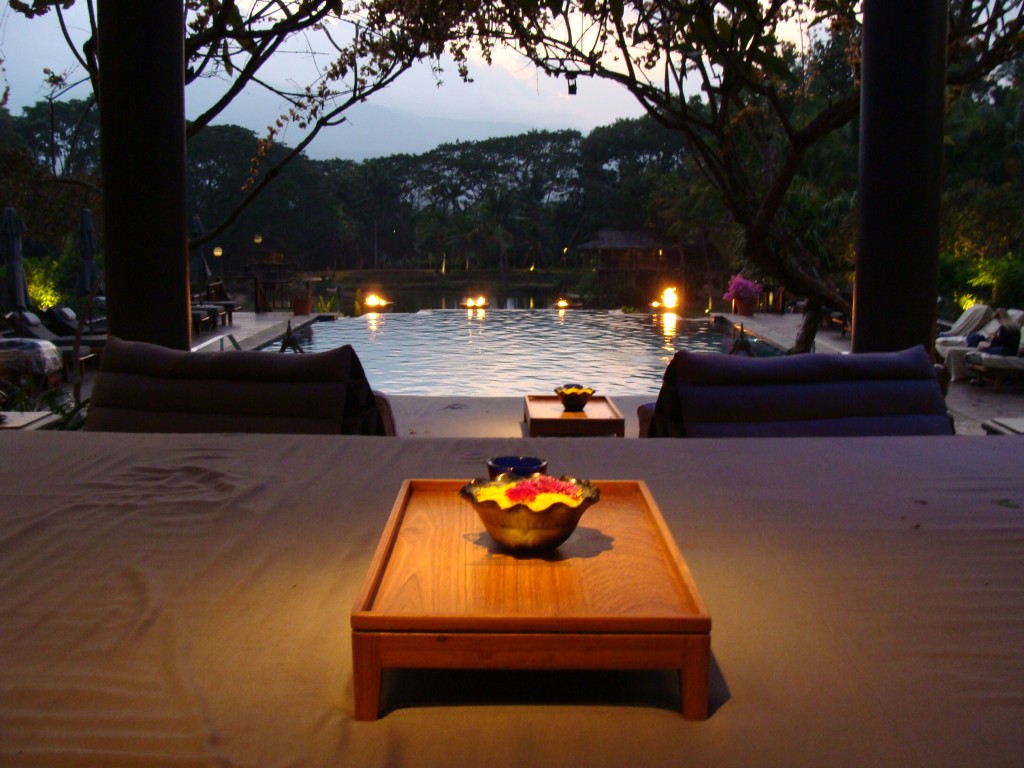 It was a full day trip for us, arriving back at our condo in Nimman after dark. It was definitely a blissfully languid day, full of incredible food, great people, bubbly, and a relaxing setting.
Compare prices! Four Seasons Resort Chiang Mai | TripAdvisor | Booking.com
Check out our list of fantastic brunch spots in Nimman, and let us know which is your favorite!
Enjoy this post? Pin it for later!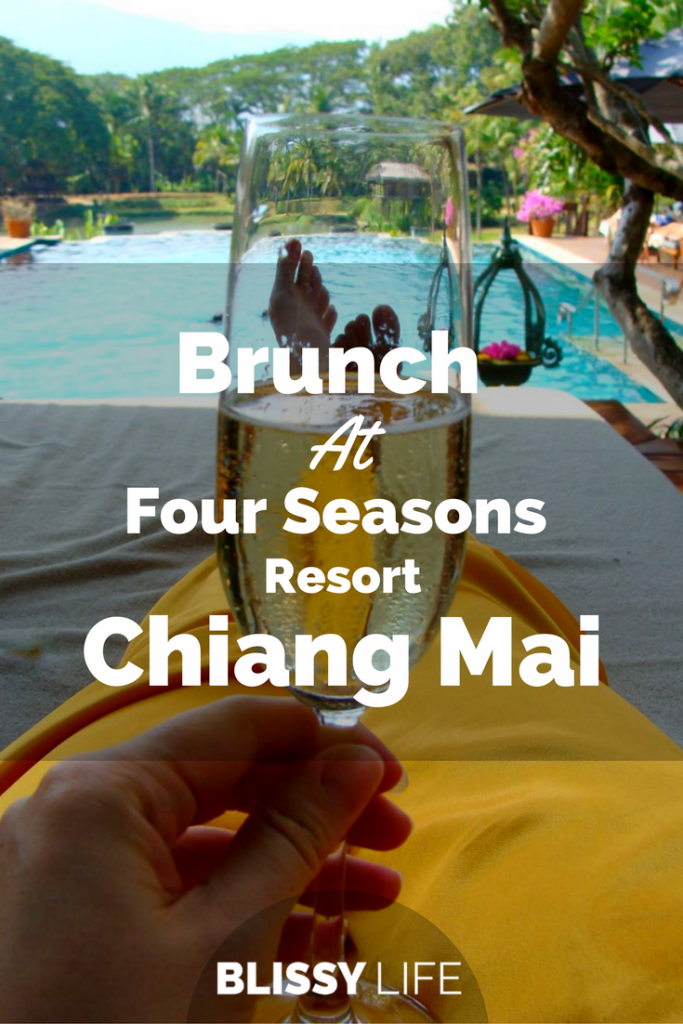 Ashley is exuberant about location independence! She relishes new experiences and working with boutique hotels and resorts. She's always thinking about design and food… and where they'll travel next!