Christmas By Candlelight Awaits In Historical New England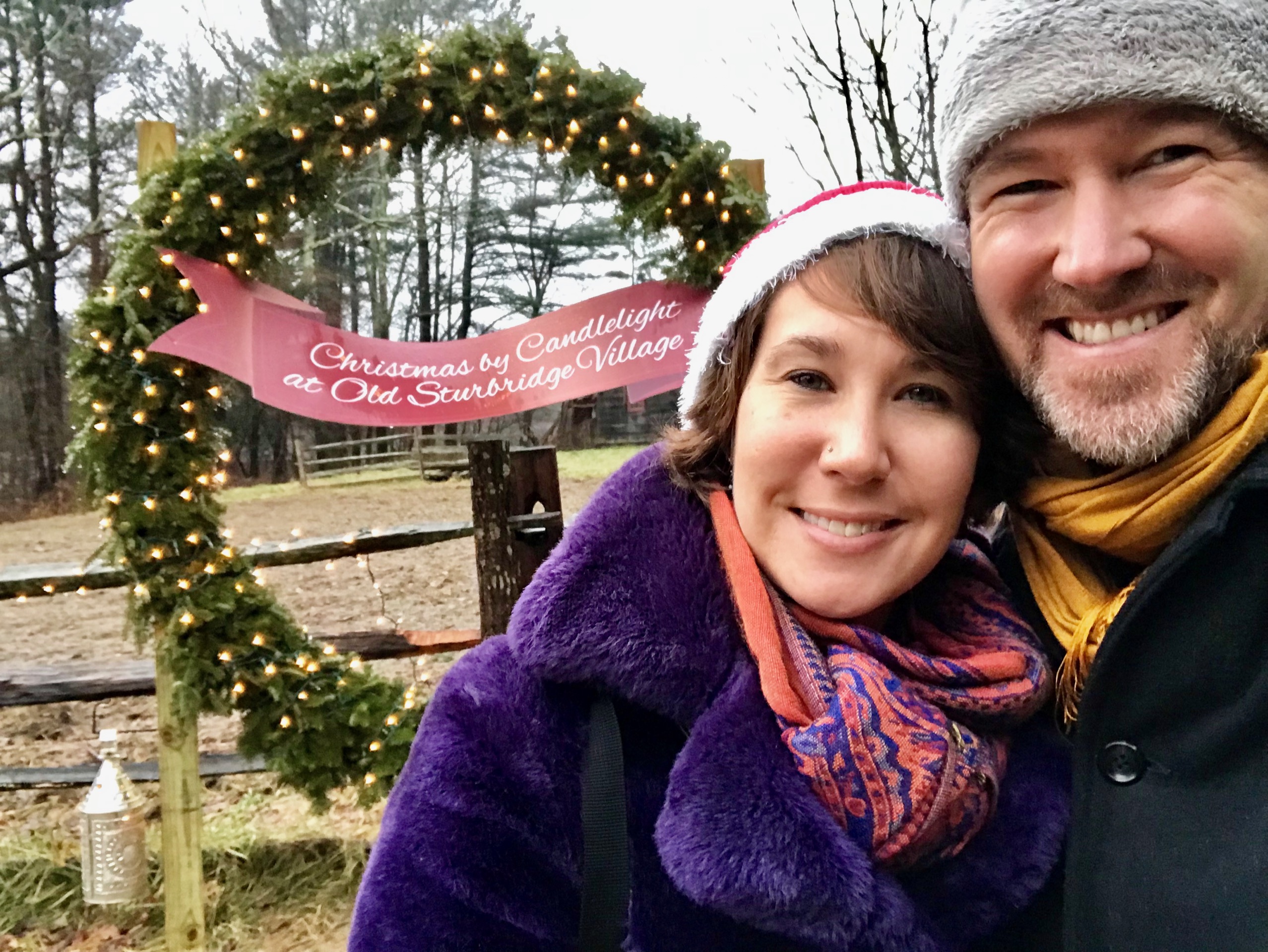 Old Sturbridge Village holds a special place in our hearts.
When we were kids, we went to Old Sturbridge Village for school trips, and visits to the living historical site seem to be a nearly universal memory for our fellow New England folks.
Since it is just a short distance west of Boston, and right off the Mass Pike, it's really easy to find yourself there in a jiff. We bravely drove over from Northampton smoothly and without a hitch, undaunted by a light drizzle of rain.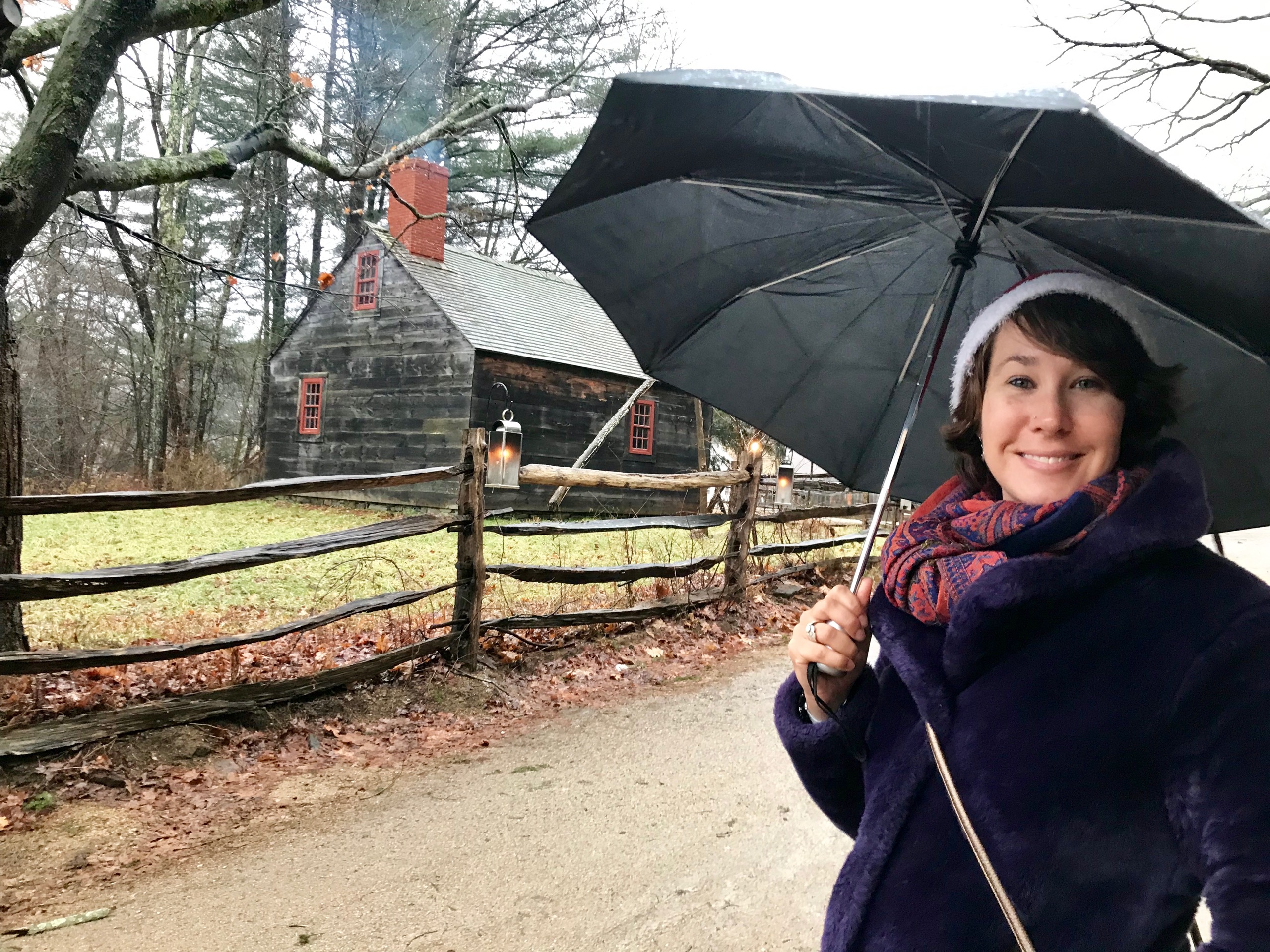 Warm fireplaces and warm smiles abound.
Something special awaits you during the holidays!
We learned that Old Sturbridge is transformed into a bright and beautiful tableau for their event called Christmas by Candlelight — and so we were feeling confident that we would be welcomed by warm, cozy fireside magic… as well as warm, festive spirits.
We were not only pleased to find that warm welcome in our arrival, but we were entirely astonished and delighted do discover what was in store for us.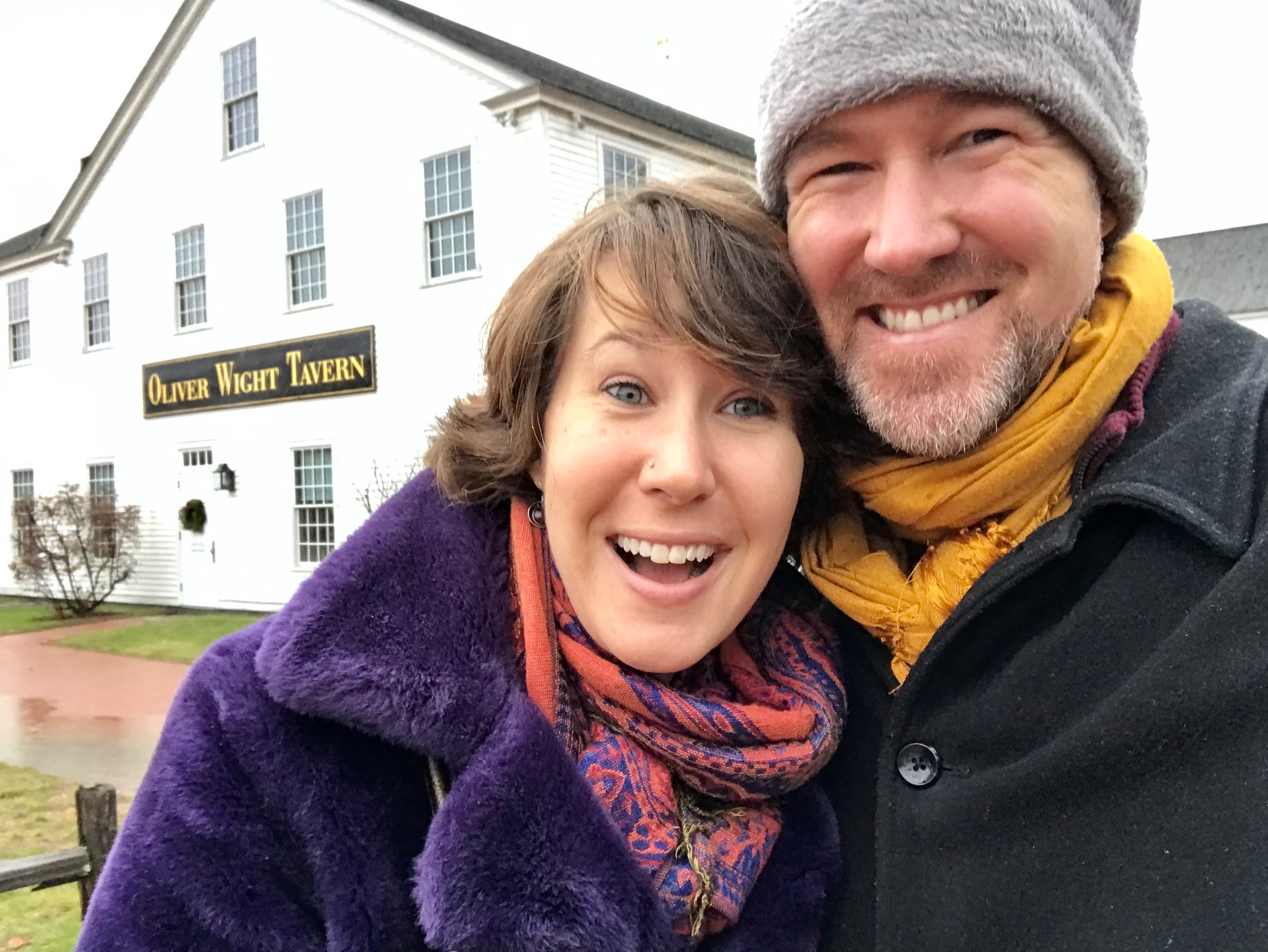 We were excited to learn that we could enjoy a great dinner in old tavern after our adventures.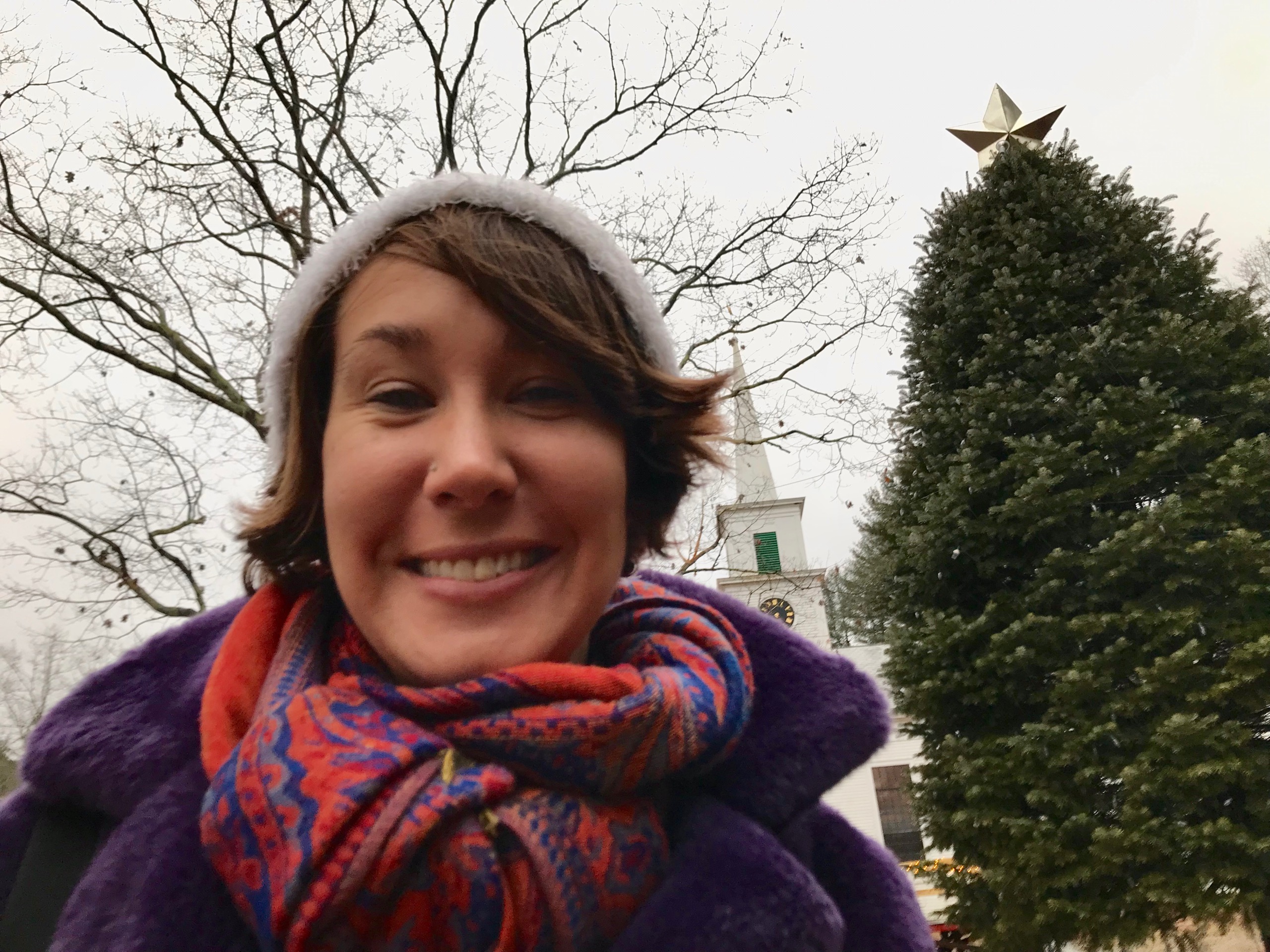 A huge Xmas tree awaited the lighting ceremony.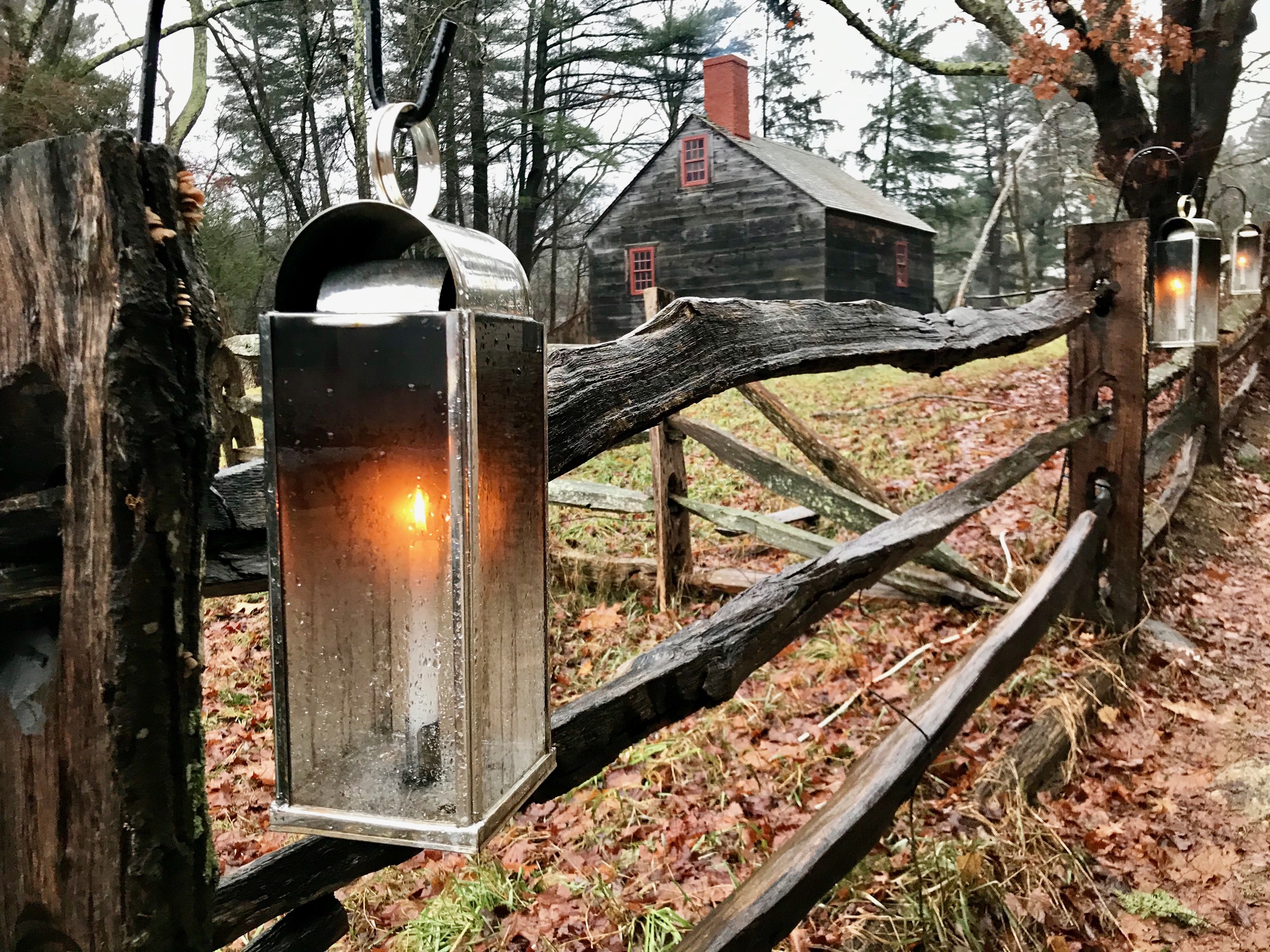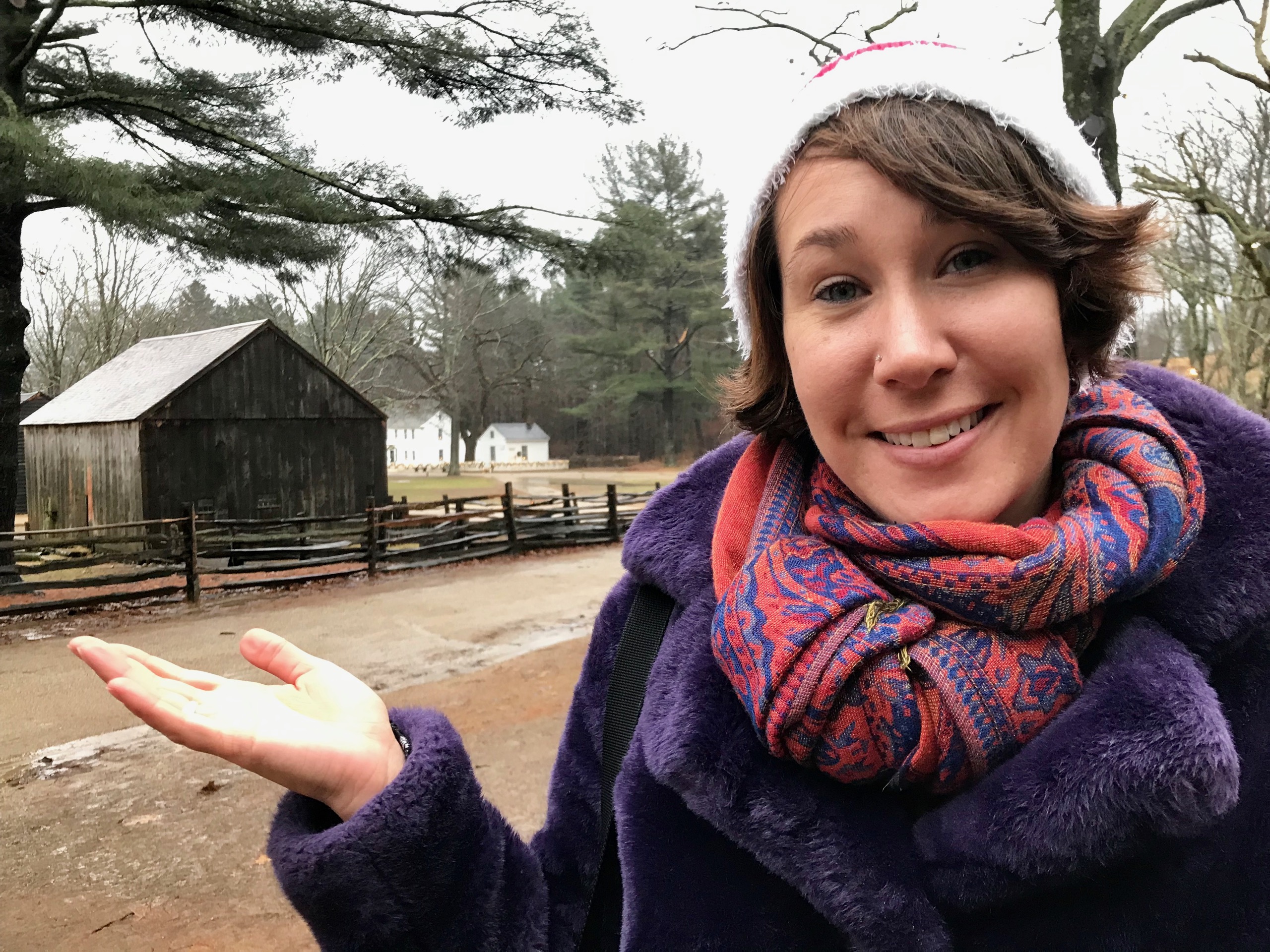 The authenticity is staggering!
We learned that the 20+ buildings around the village were genuine structures, transported from various New England locations nearby. The (one?) exception is a smaller house that was built onsite using traditional means, which is a whole other kind of coolness of its own!
Chickens, cows, and various animals milled about, adding extra charm.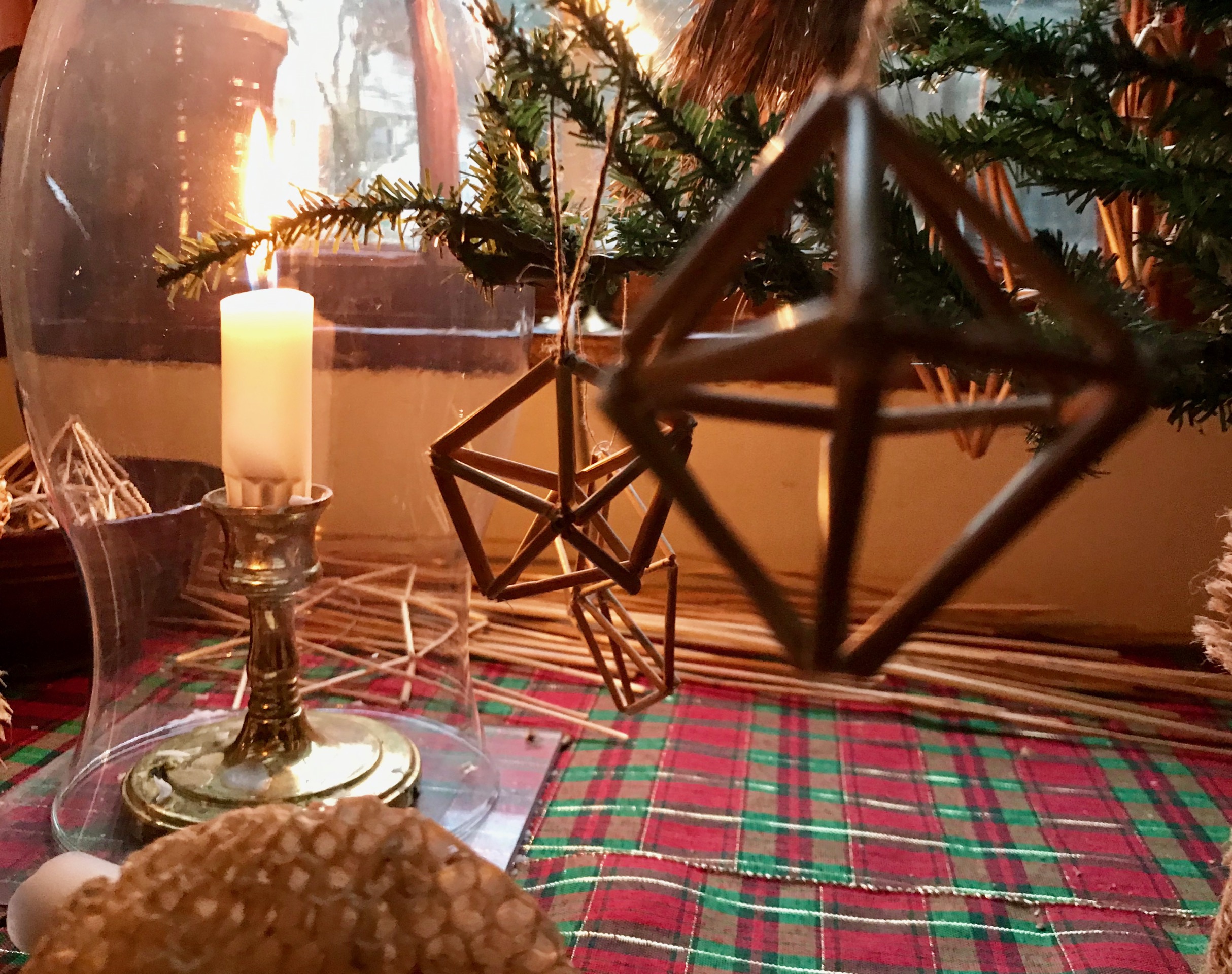 Ornaments made from straw were sewn together using beeswax-reinforced thread.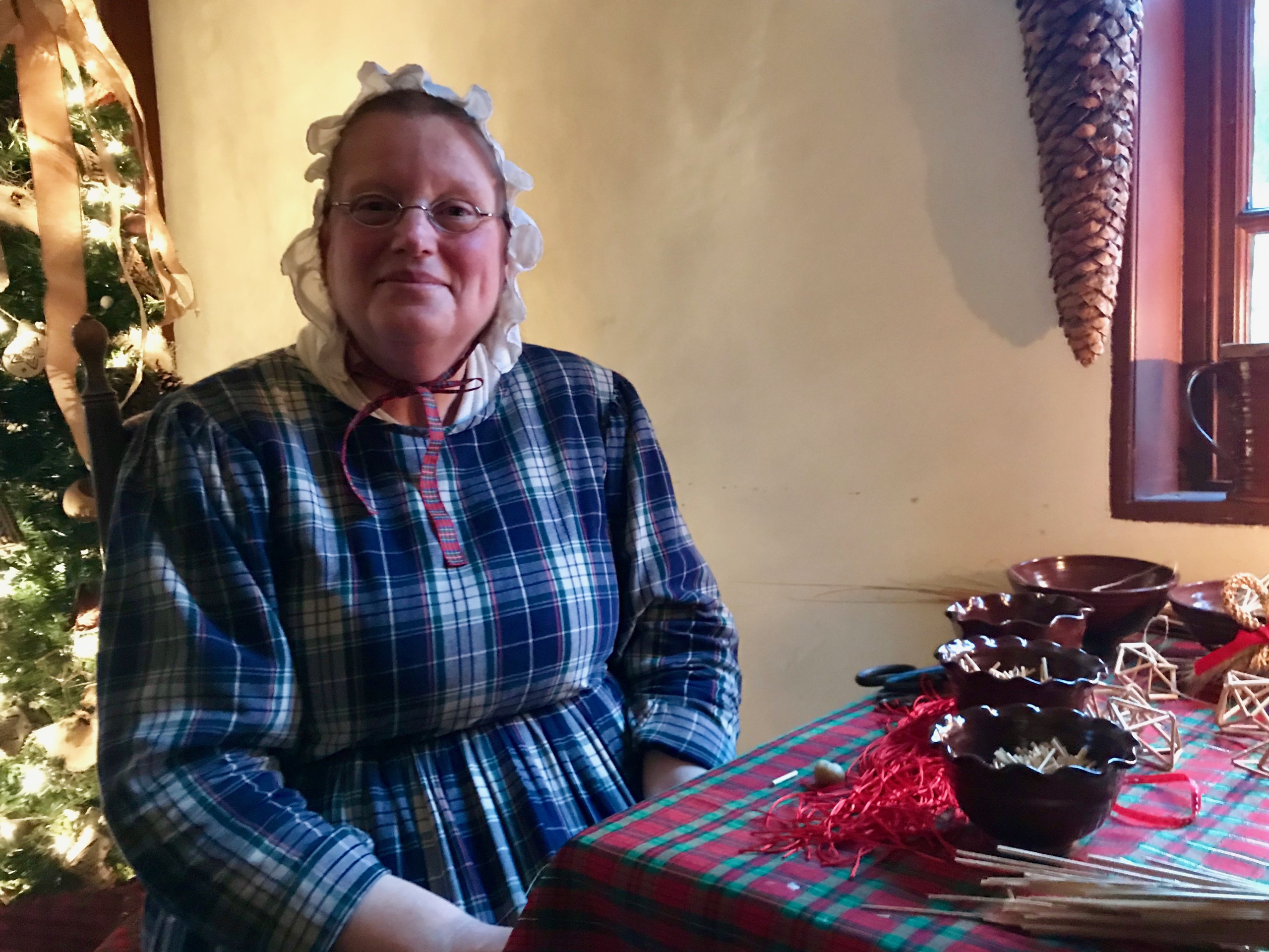 This wonderful lady explained the traditions involved in her meticulous work.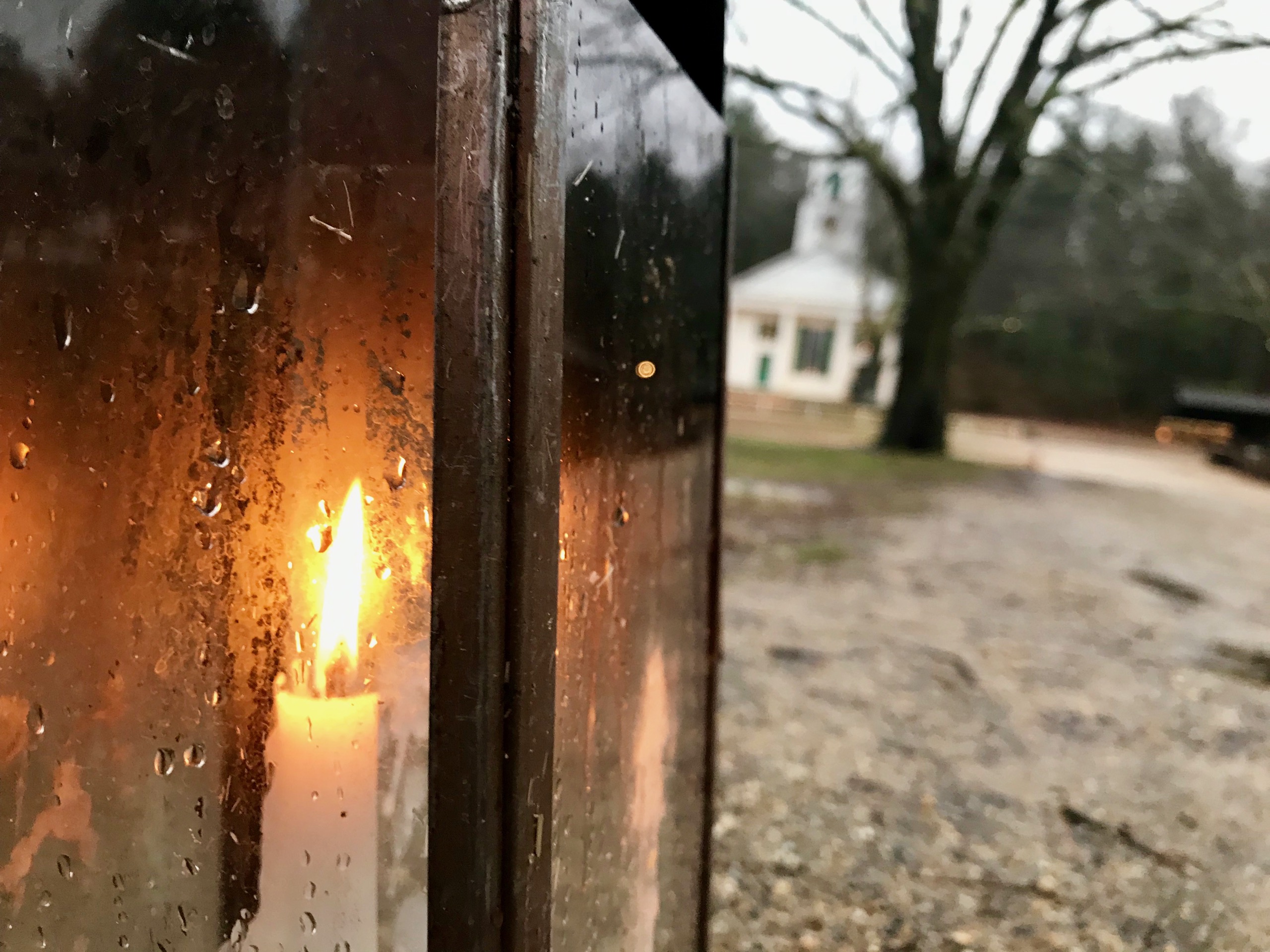 The charm of candlelight everywhere gets yet more phenomenal as the evening progresses.
The village has more Christmas cheer than we could wrap our heads around!
With more than 20 buildings winding around the village, it dawned on us that the size and scope of this living historical reenactment is substantial!
Each building had some special theme going on throughout the evening: some were focused on holiday practices of yore, some hearkened to literature like A Christmas Carol by Dickens, and some even drew upon the joyful mystique of Saint Nick.
We were also really tickled to learn that there were little events and activities happening every half-hour in various spots around the village: carols, readings, dances, and surprises.
We quickly found ourselves making a mental list of things we were excited to see next time!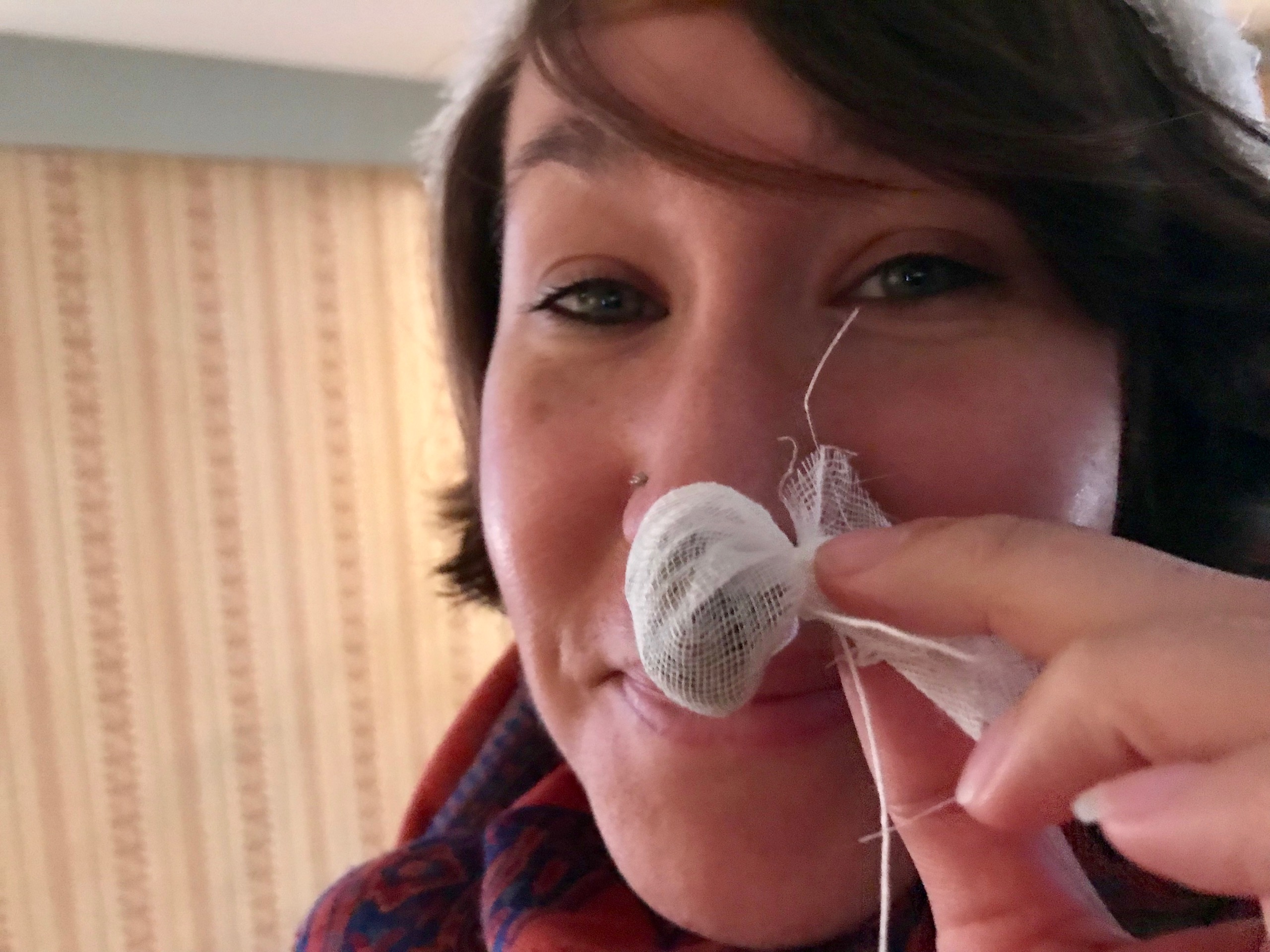 A scented pack of spices helps to celebrate the Yuletide.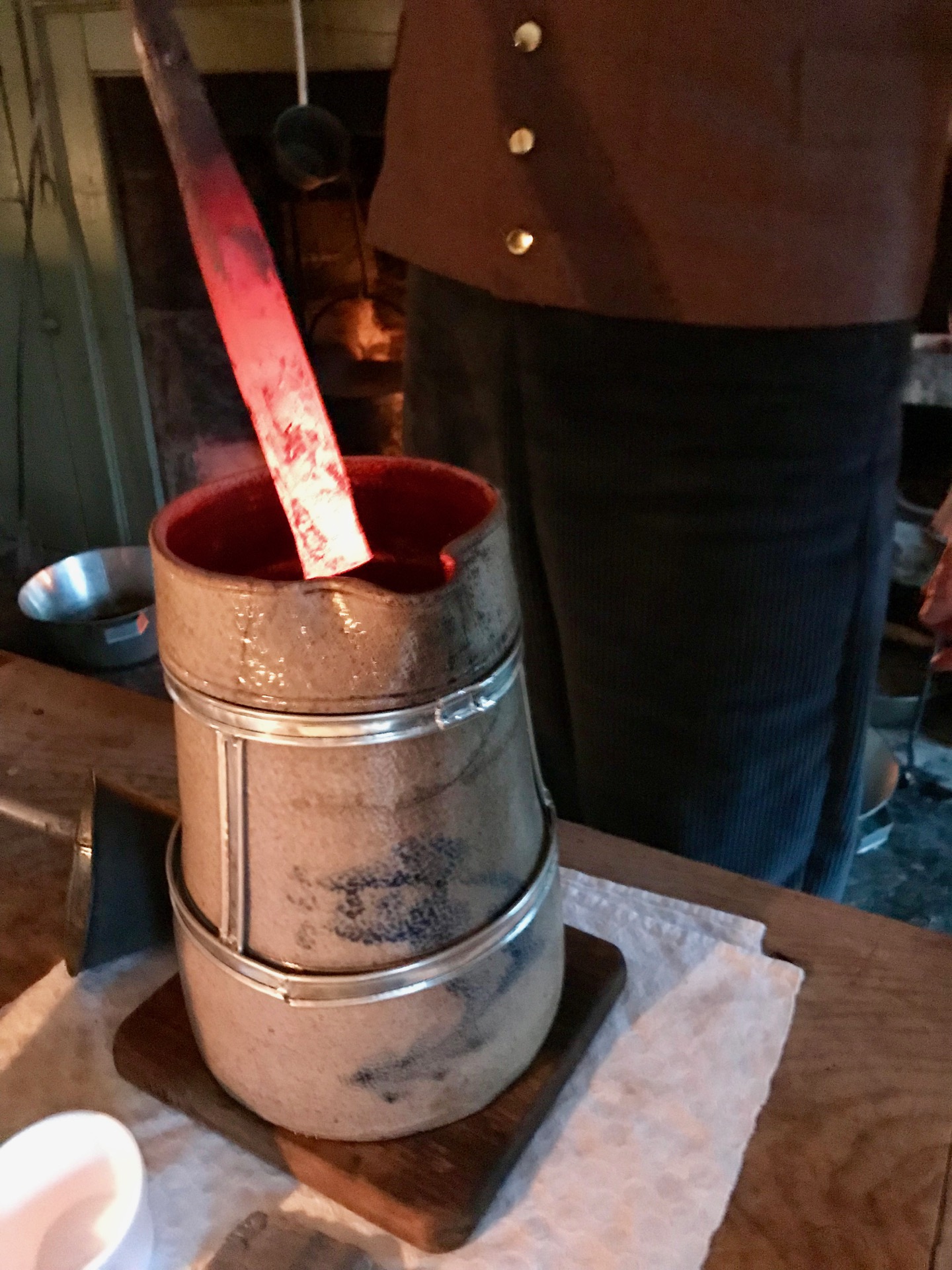 This mulled cider is heated using hot iron from the fireplace. The cider is delicious!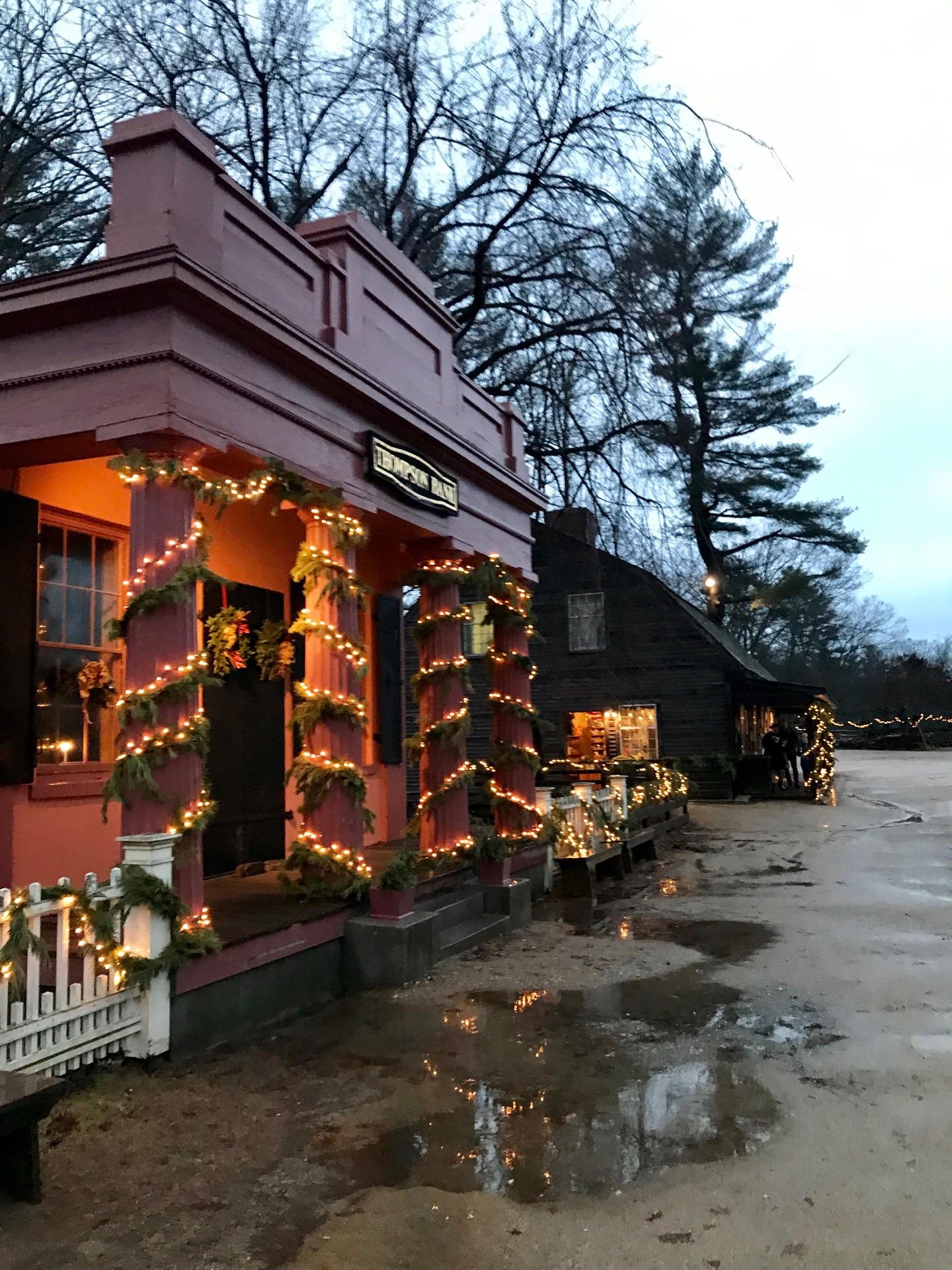 We enjoyed browsing the old general store — and found an ideal gift for an old-time cook!
This is a great experience for a wide range of ages and origins.
We realized that this event catered to many ages. There was plenty of stuff to appeal to kids, and we were certainly feeling that it was a great fit for adults as well. The event starts a bit later in the day and goes into the evening, with candlelight and rather cultured ambiance. Christmas by Candlelight truly works really well for all ages.
We overheard a some unfamiliar languages here and there, and we also realized that this event is a wonderful place to bring folks who are unfamiliar with New England — whether they are hailing from another state, or another country entirely. Since the holidays bring together families from all corners of the globe, this is a special experience to bear in mind. The experience itself is a delight, and the cultural discovery is a beautiful facet for folks from all over.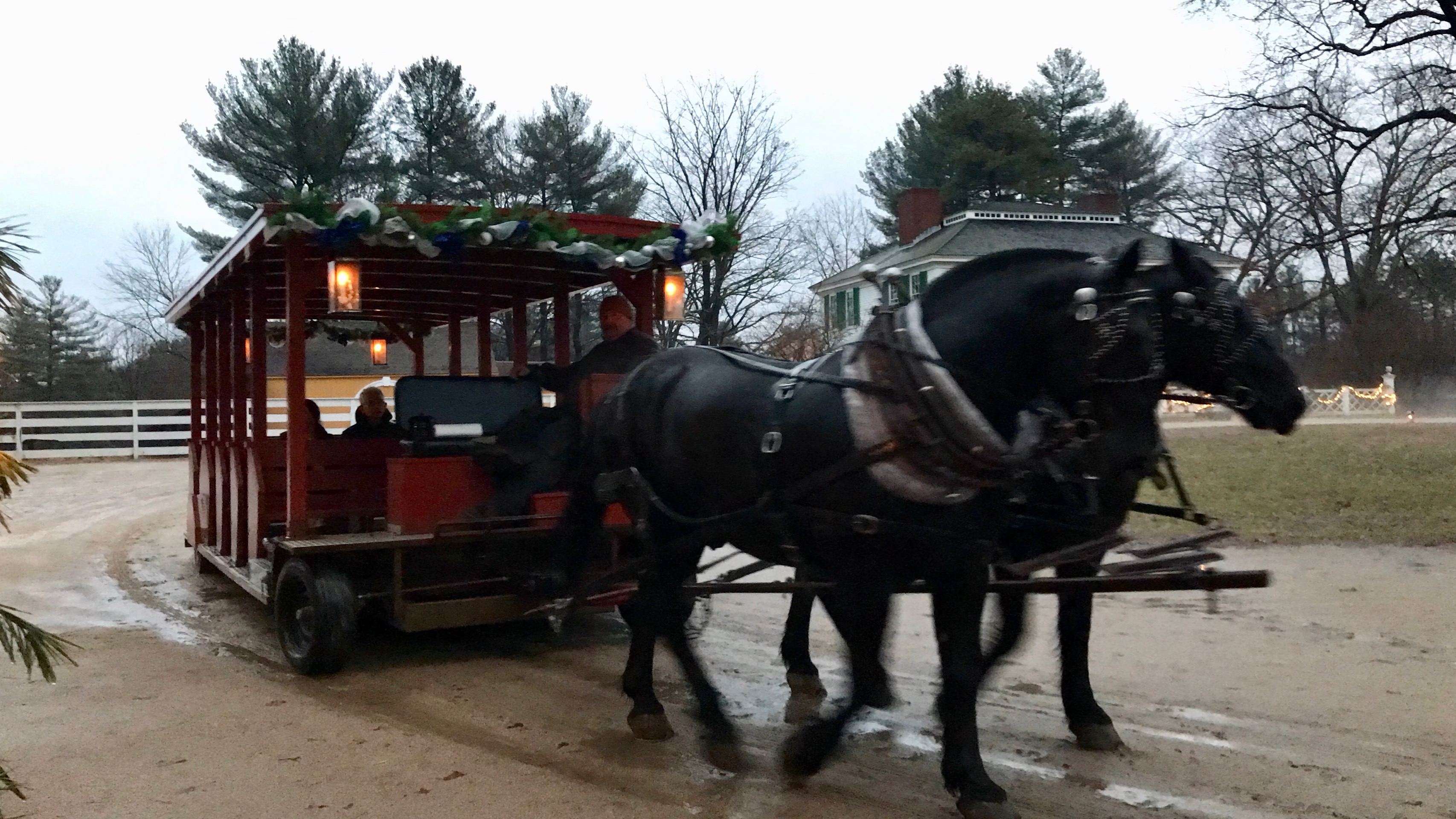 Horses clomp around the town, with jingle bells to go with it.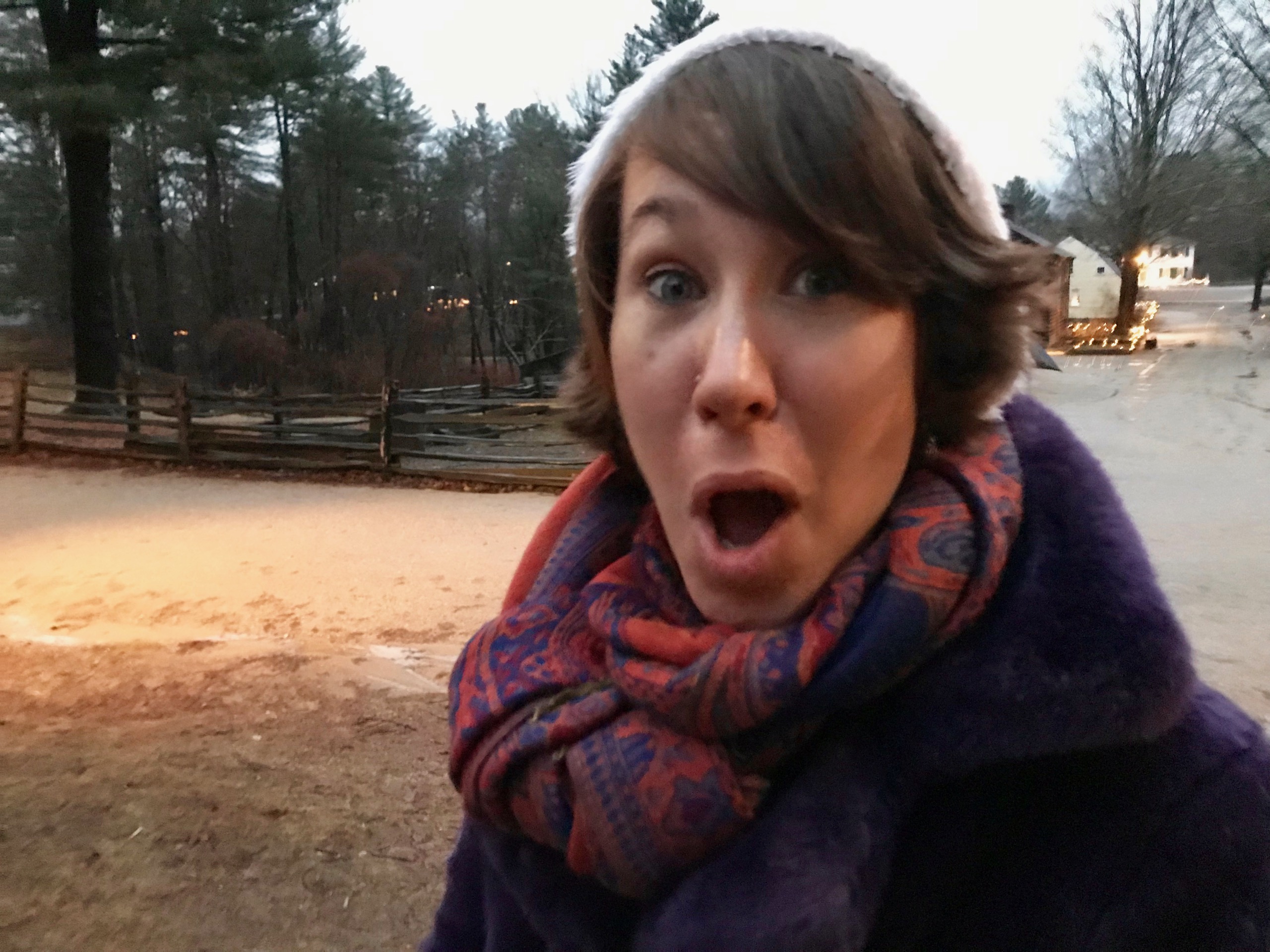 The tree-lighting ceremony is about to begin!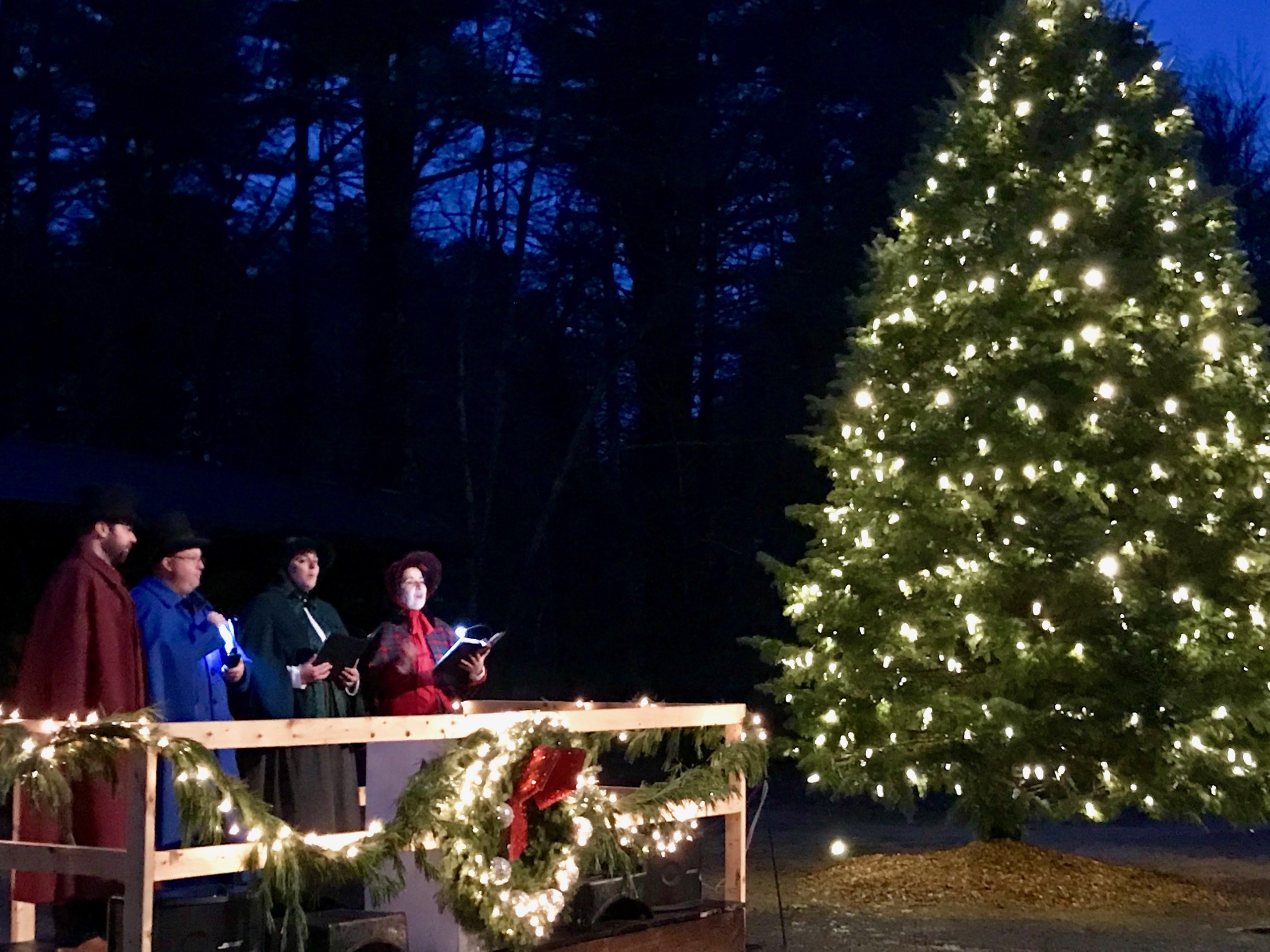 The director warmly welcomed all and explained the timeline of Xmas magic — and then carolers sang to celebrate the lighting.
Christmas magic works wonders on the timeline.
The director explained some interesting points about the role of history in this experience, kicking things off with a shocker…
In the year that OSV normally portrays, locals didn't really celebrate Christmas!

Christmas wasn't really much of a thing, in the usual time frame of OSV (1790s through 1830). Thanks to a bit of holiday magic, time and space bend in a wibbly-wobbly fashion in order to show us a fascinating development. In the Towne House, Christmas's growth of popularity is depicted marvelously since you see the style changing through the decades as you move from one room to the next.
More on that growth of Christmas in a bit!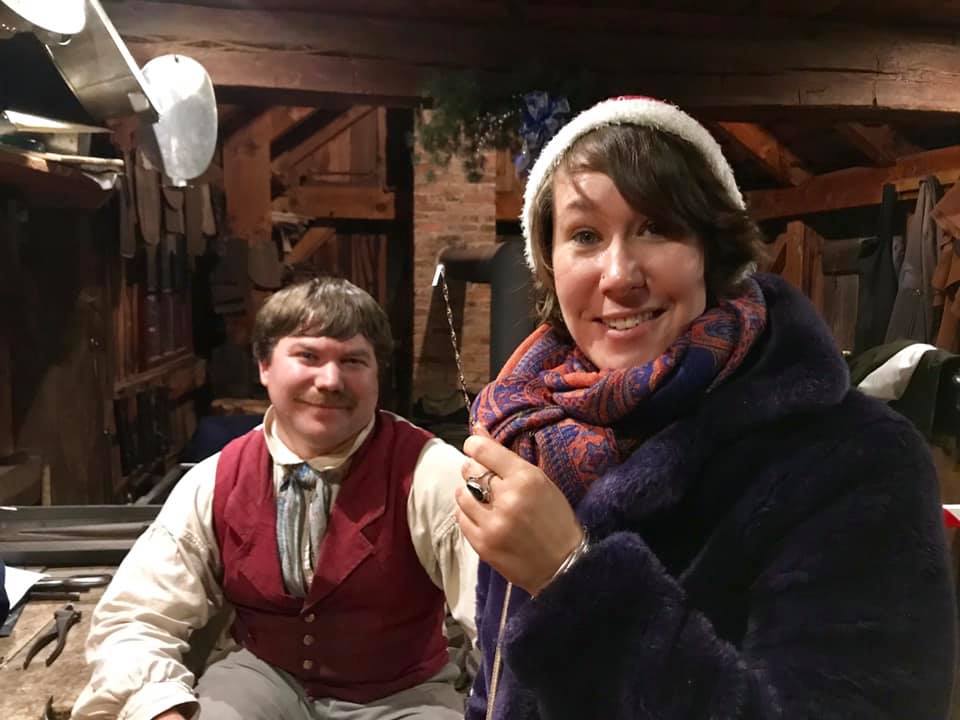 The tin shop introduced us to ornament-making!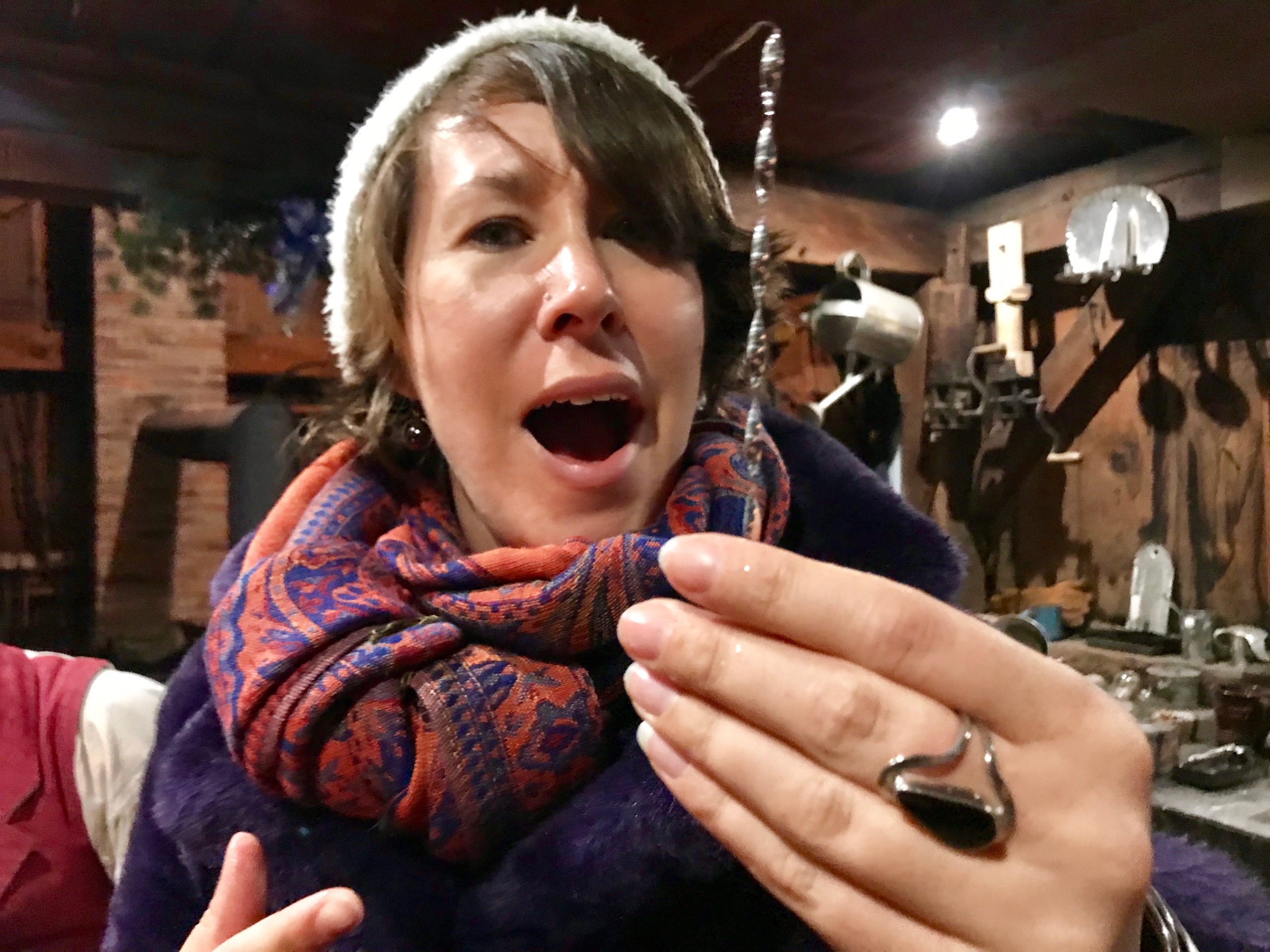 The process of making "icicles" is so cool!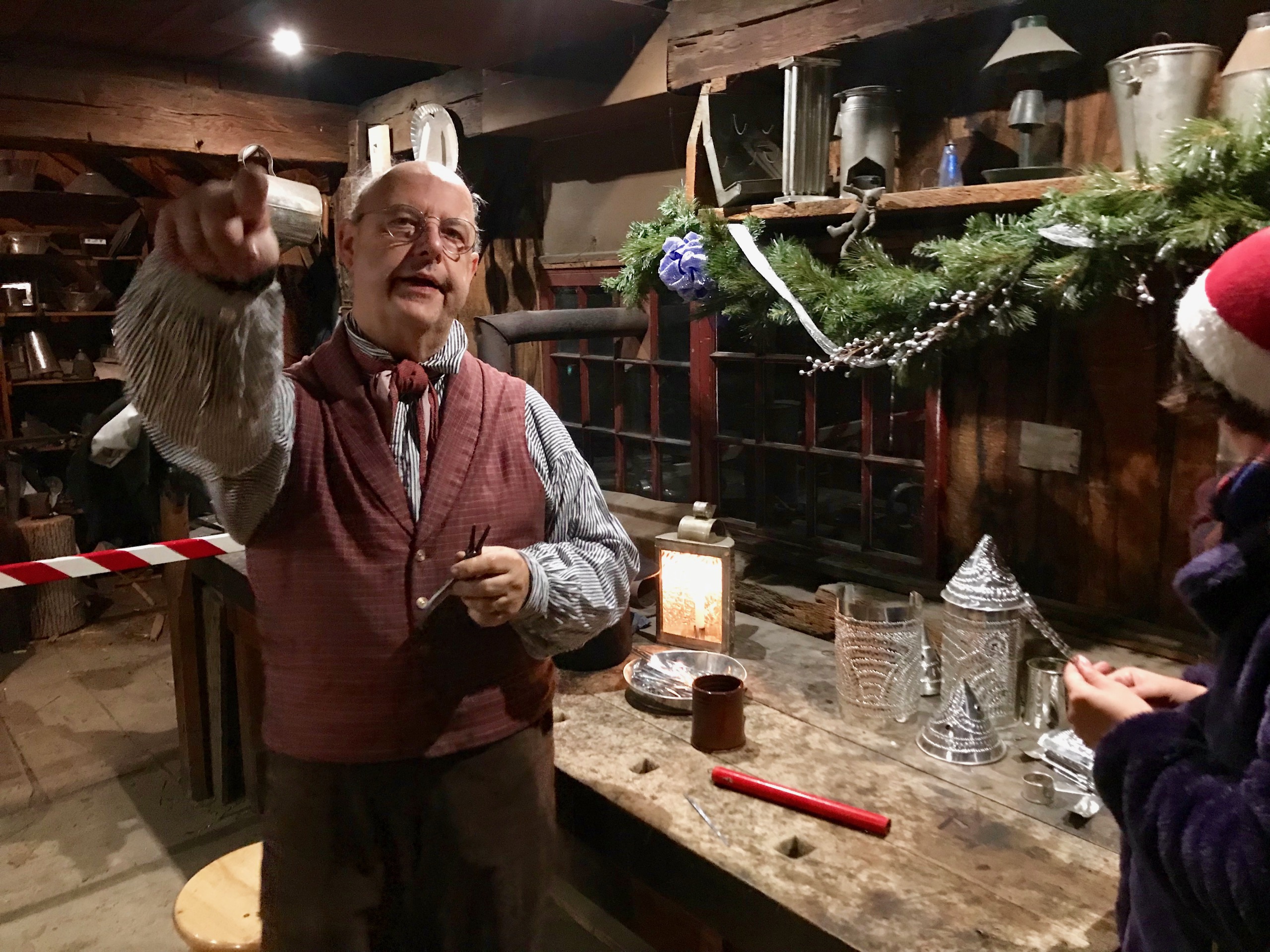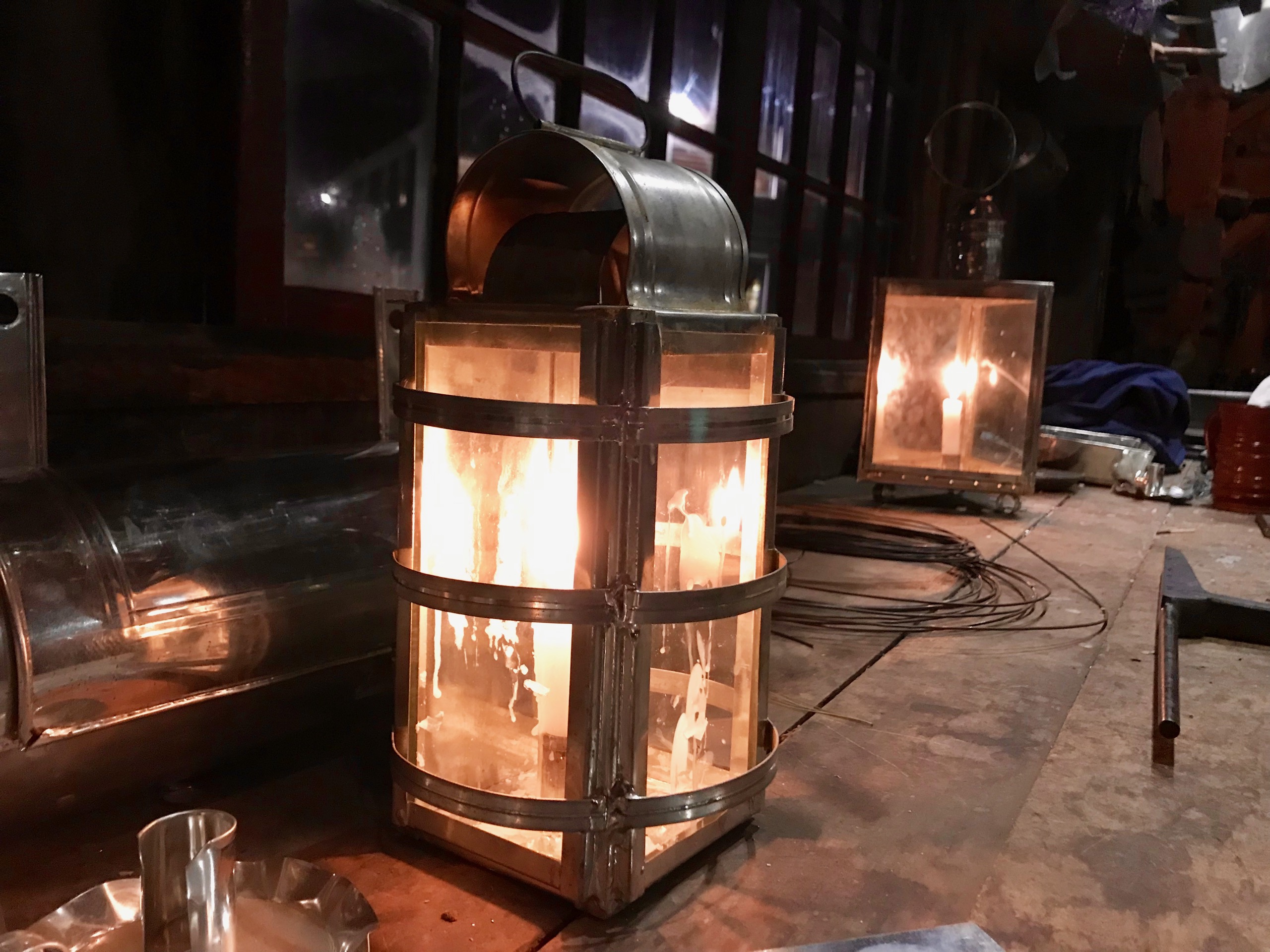 The tin shop is awesome.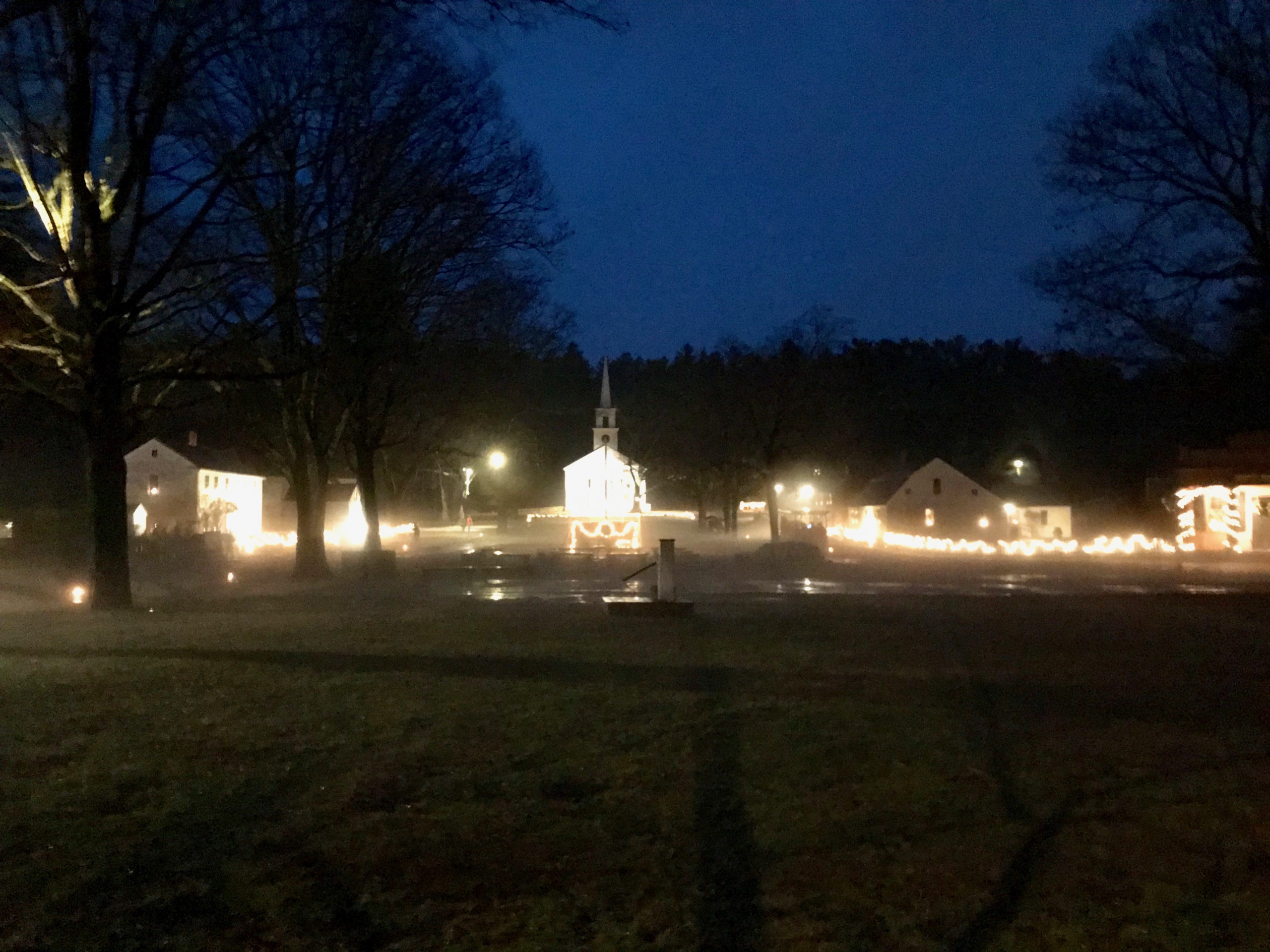 Strolling around the town in the evening is just magical.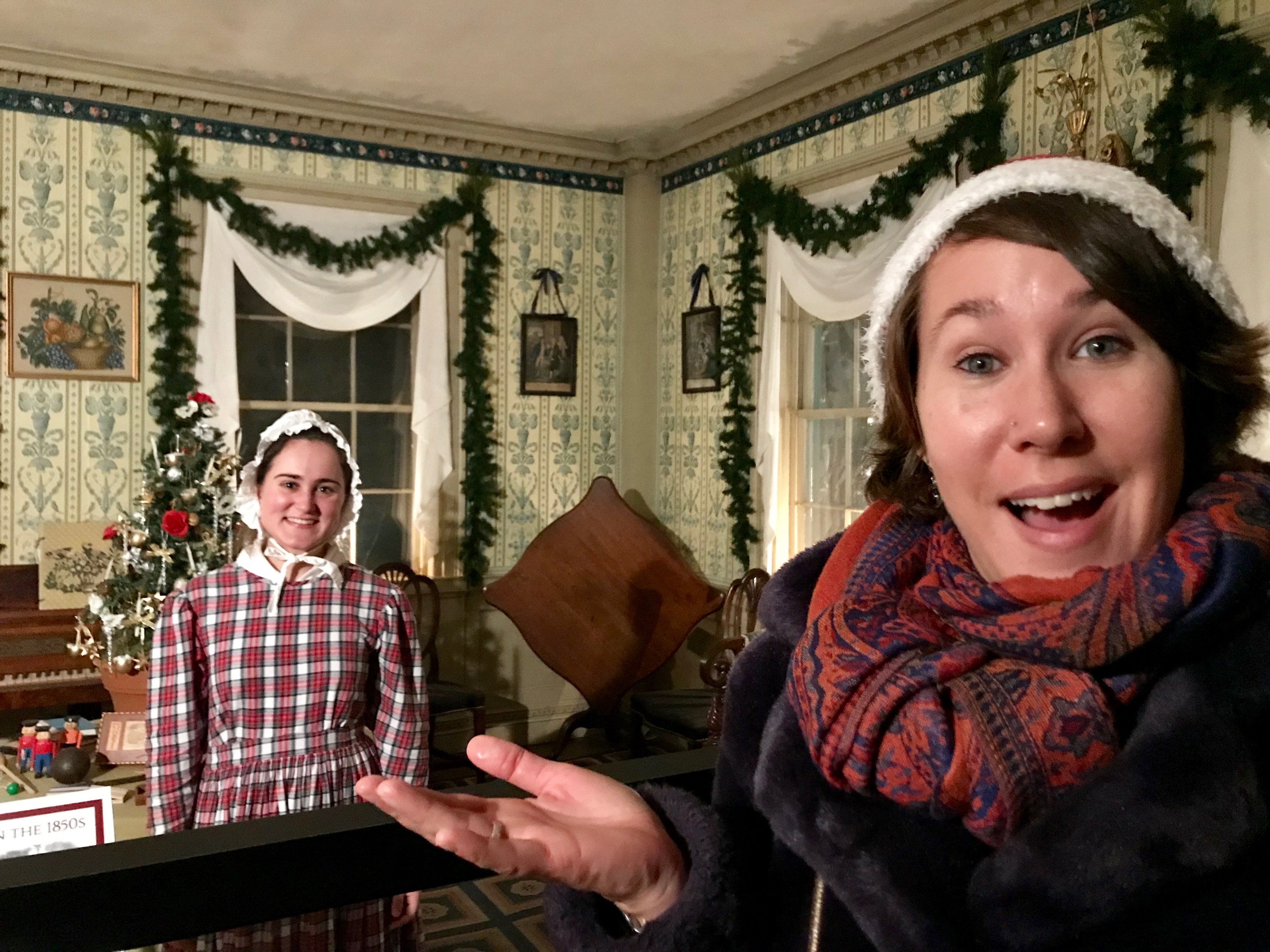 It's so cool to learn of the progression of Xmas through the years.
Christmas is gaining steam!
Back in the 1820s, Christmas was quite modest — and that was shown in the sparse decorations of the room before this one.
Once we arrived in this room, our capable historian explained the trappings and traditions of the time depicted in her room — the 1850s. Decorations became more festive, traditions became more celebratory, and Christmas became more of a big deal.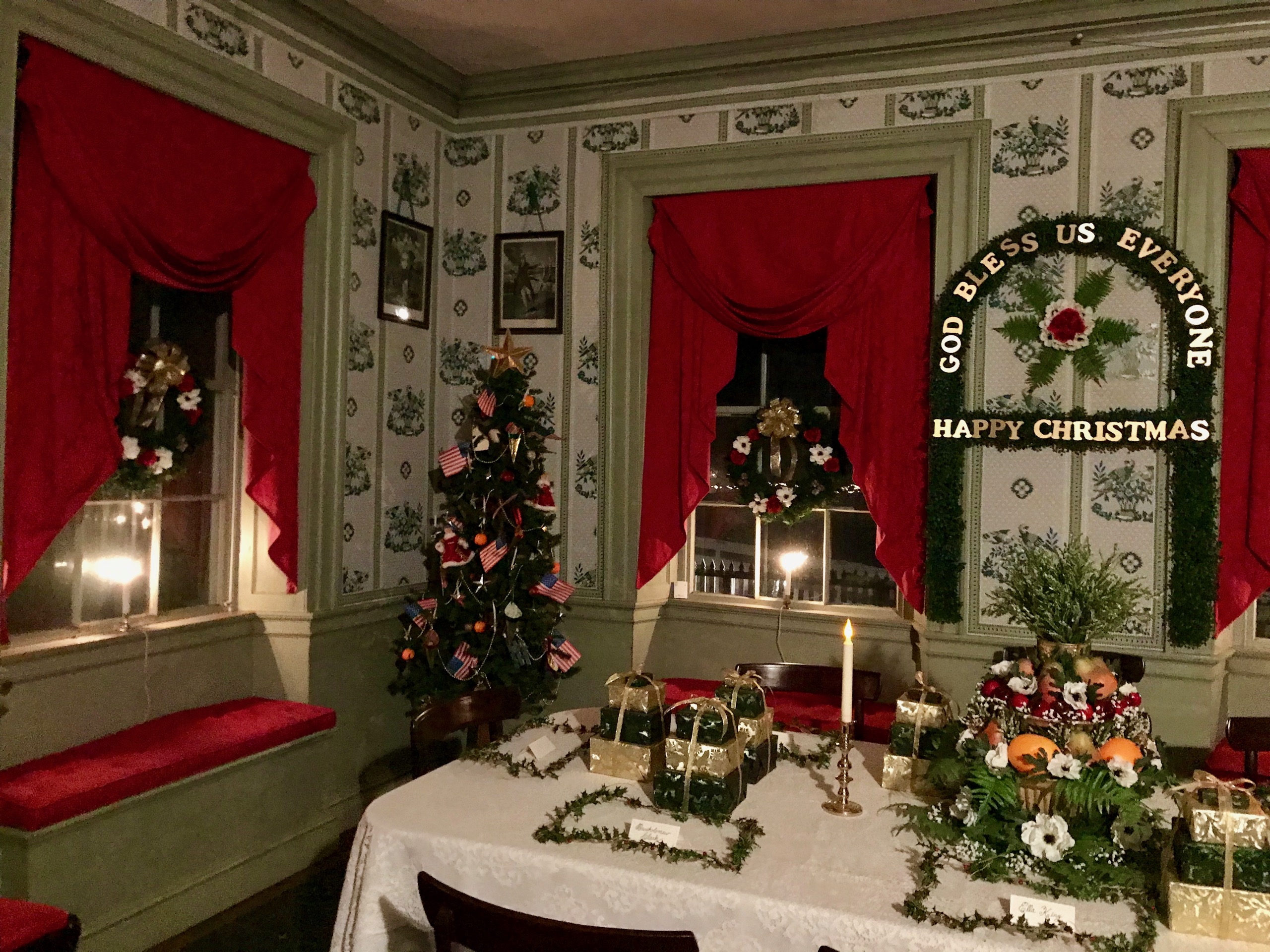 Saying "Happy Christmas" instead of "merry" held some Temperance connotations! "Happy" sounded a bit more sober, haha.
A few decades later, Christmas was pretty elaborate!
With growing popularity and some Victorian influences, Christmas was getting more wild! Decorations grew more involved, and traditions became more complex.
We discovered a fact that made us giggle. There was a rising popularity of the "Happy Christmas" greeting in association with Temperance, urging celebrants to drink less and to tone down the merriment.
It seems that "Merry Christmas" spirits have won out though, haha. Celebrate responsibly!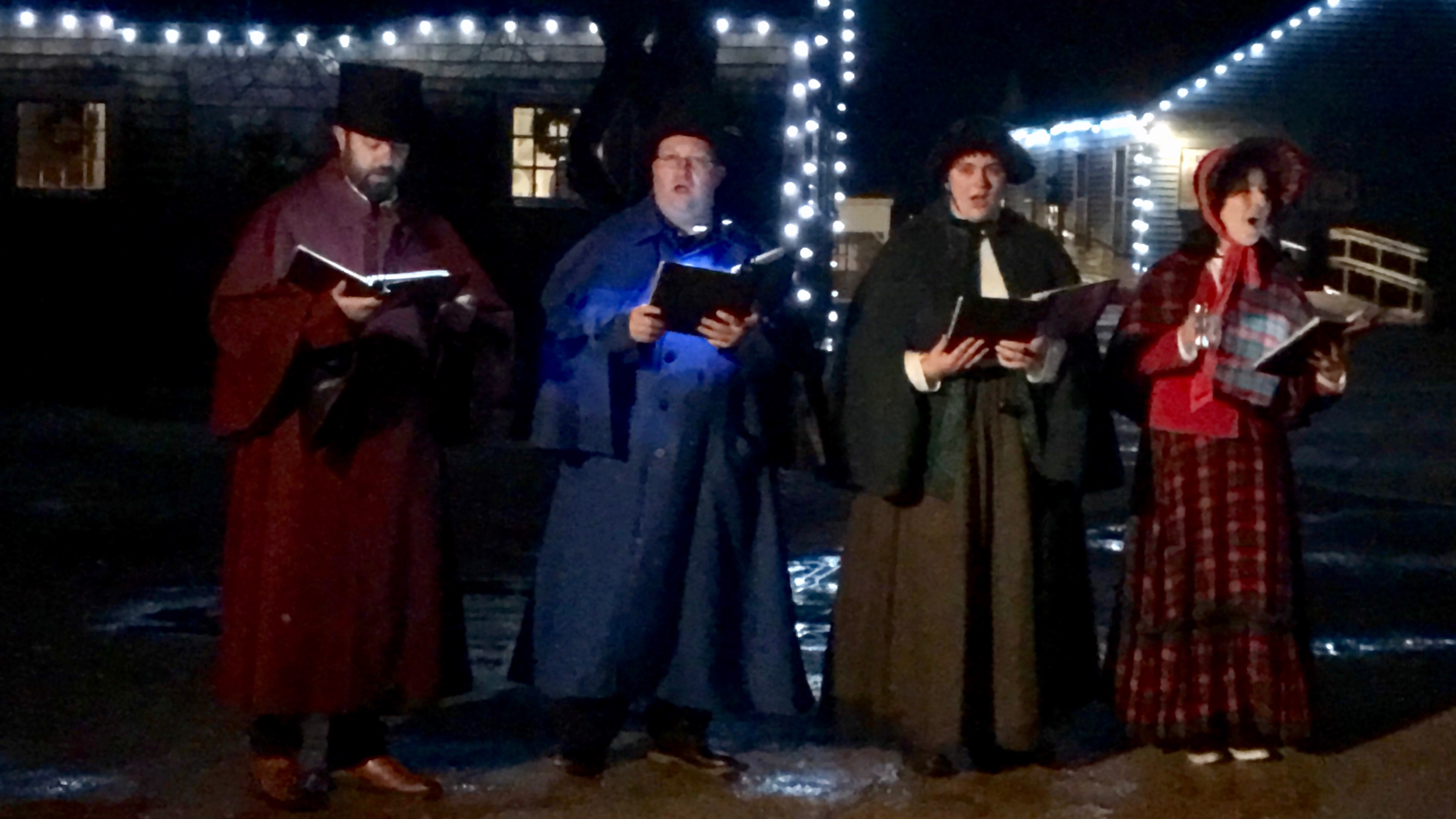 Carolers strolled here and there, bringing lots of cheer along with them.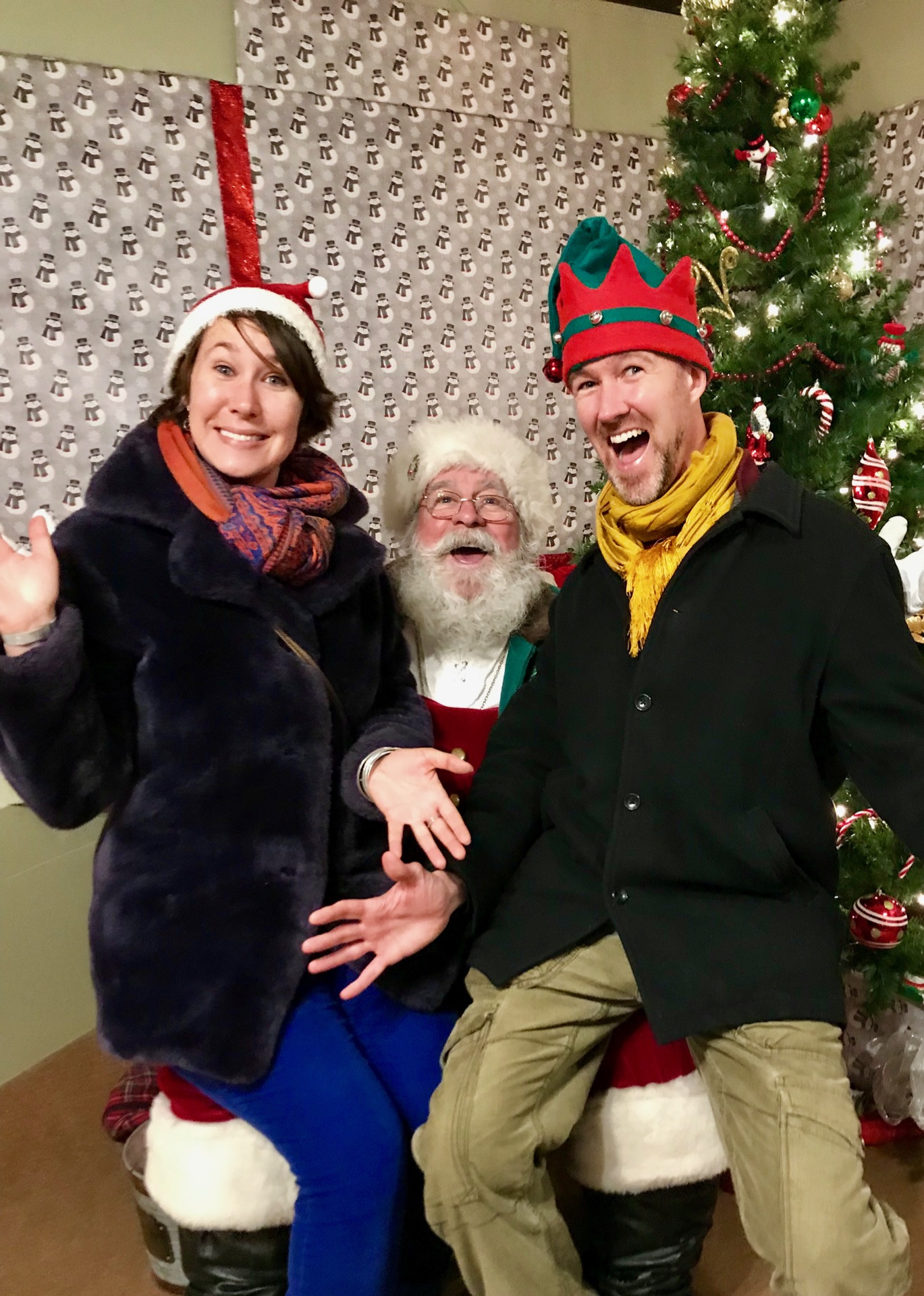 We met the big guy!!!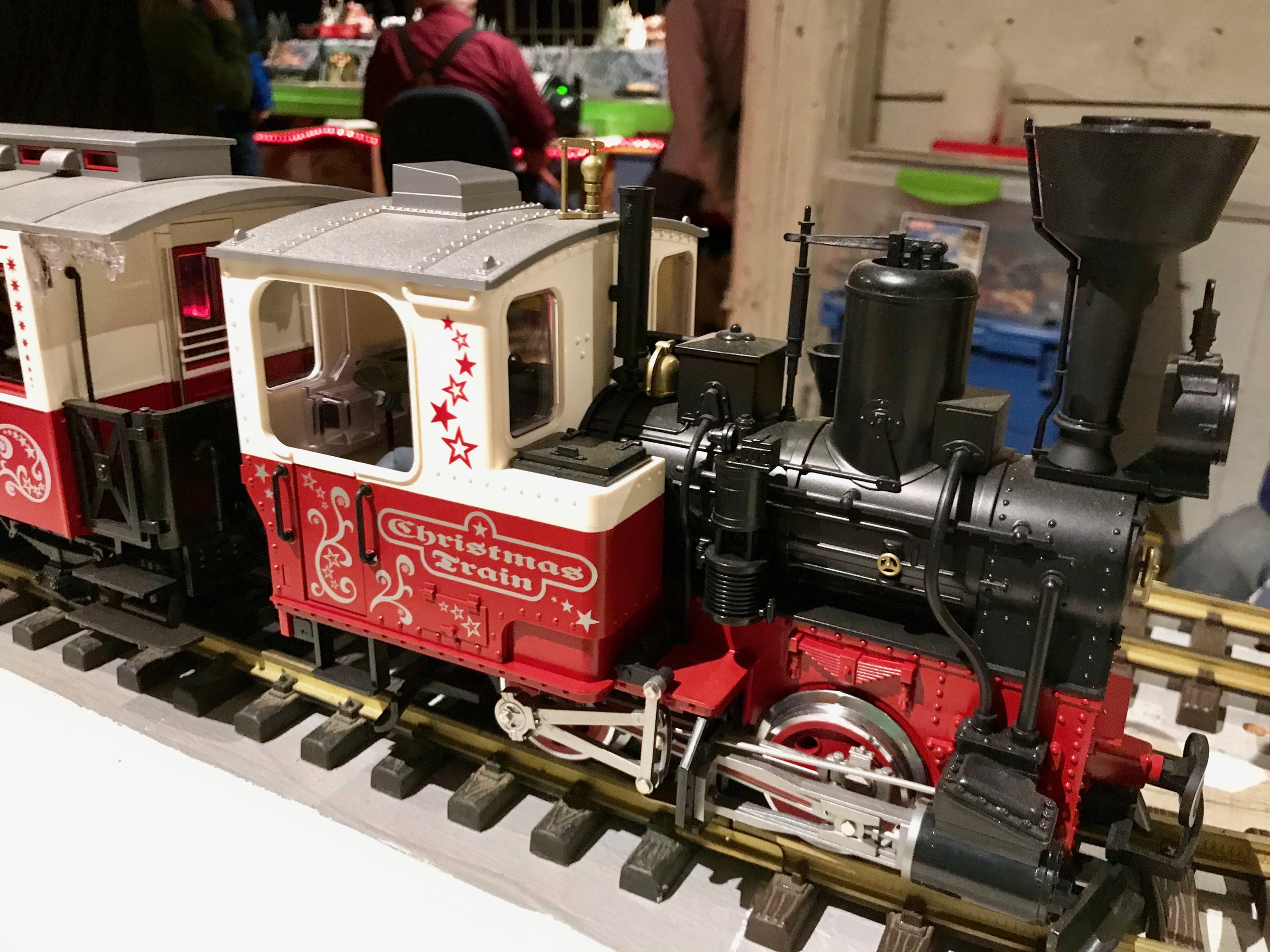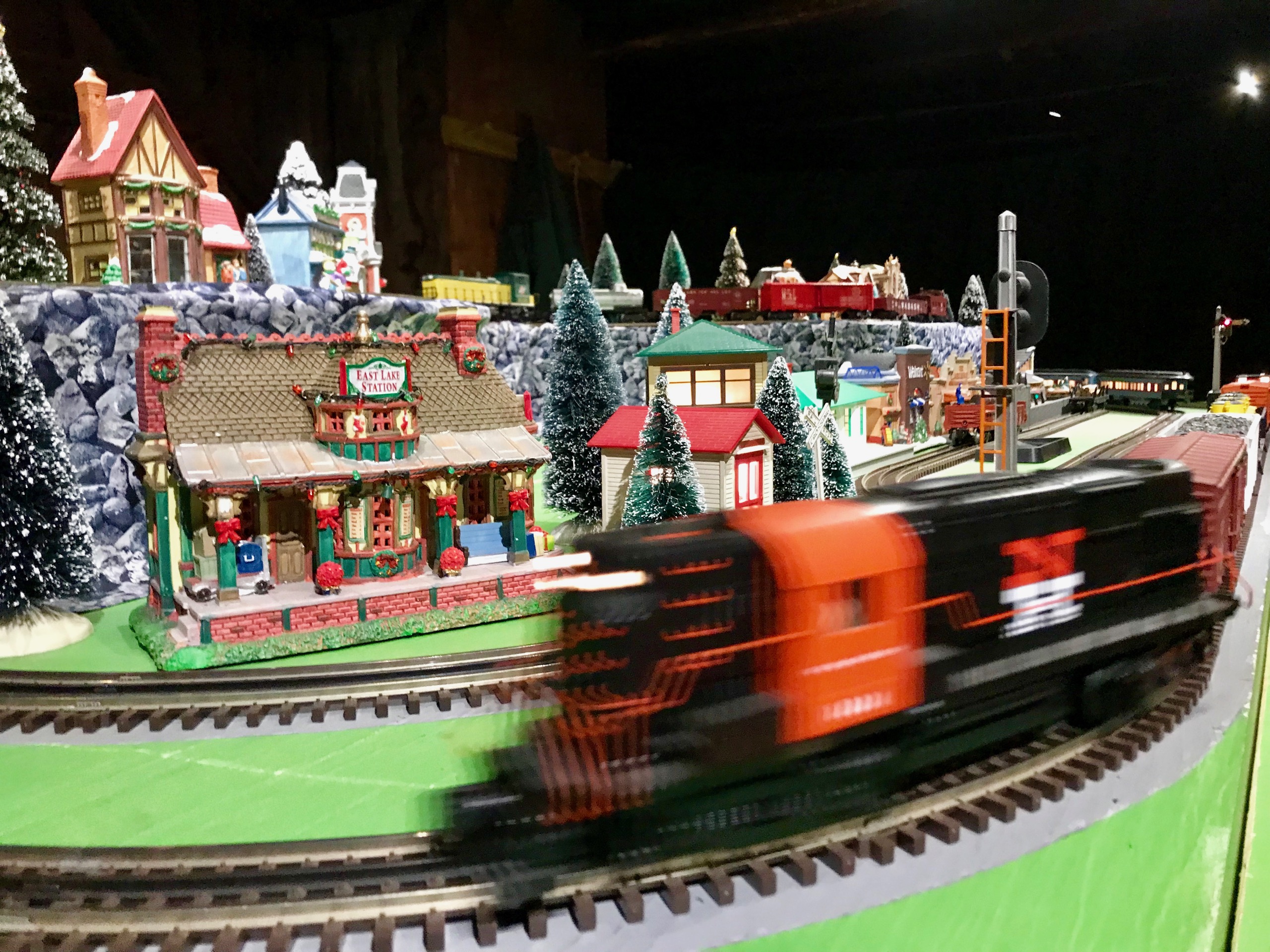 Elaborate holiday train sets buzzed about.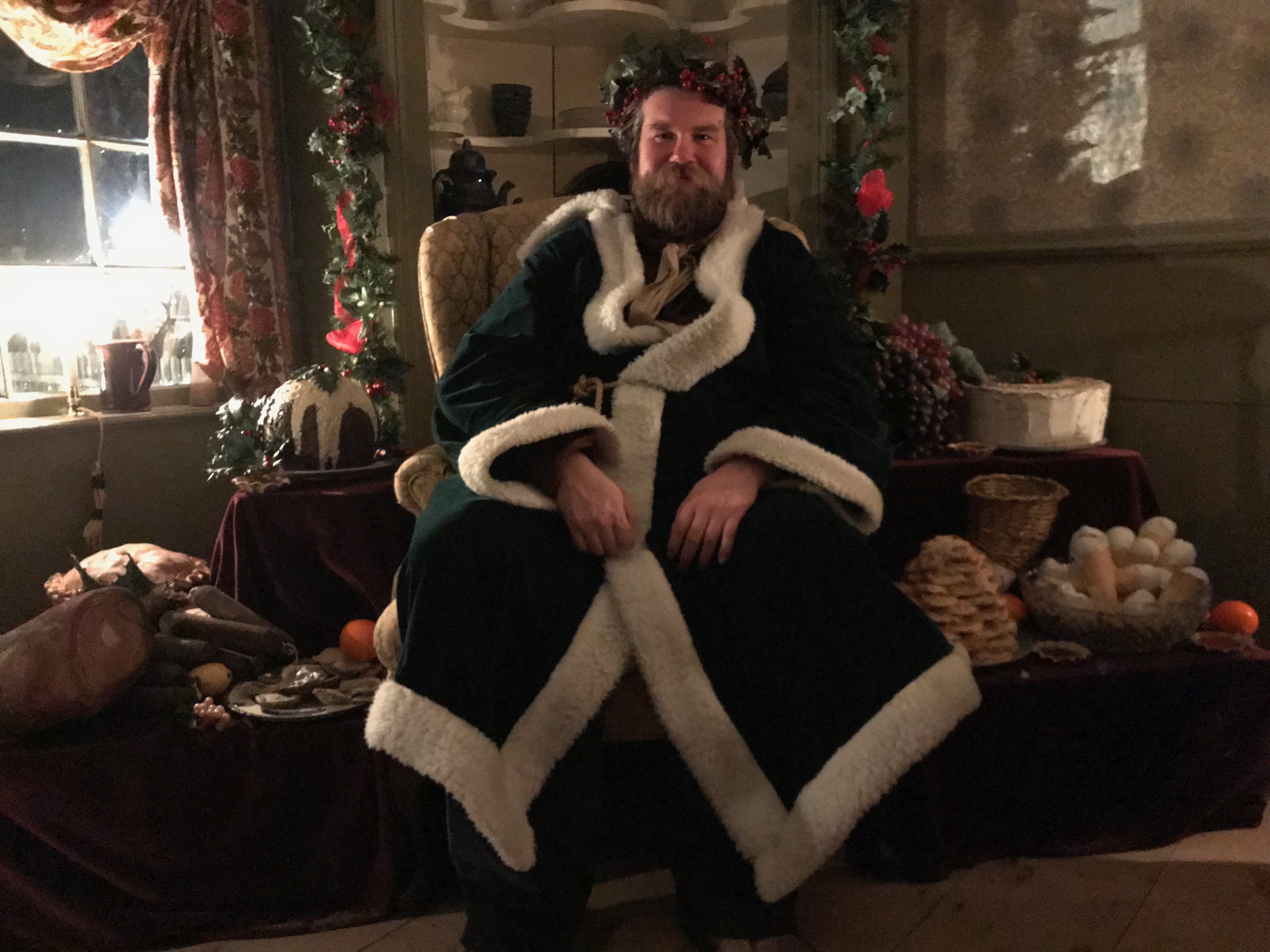 The Spirit of Christmas Present explained his origins — and the secrets of figgy pudding.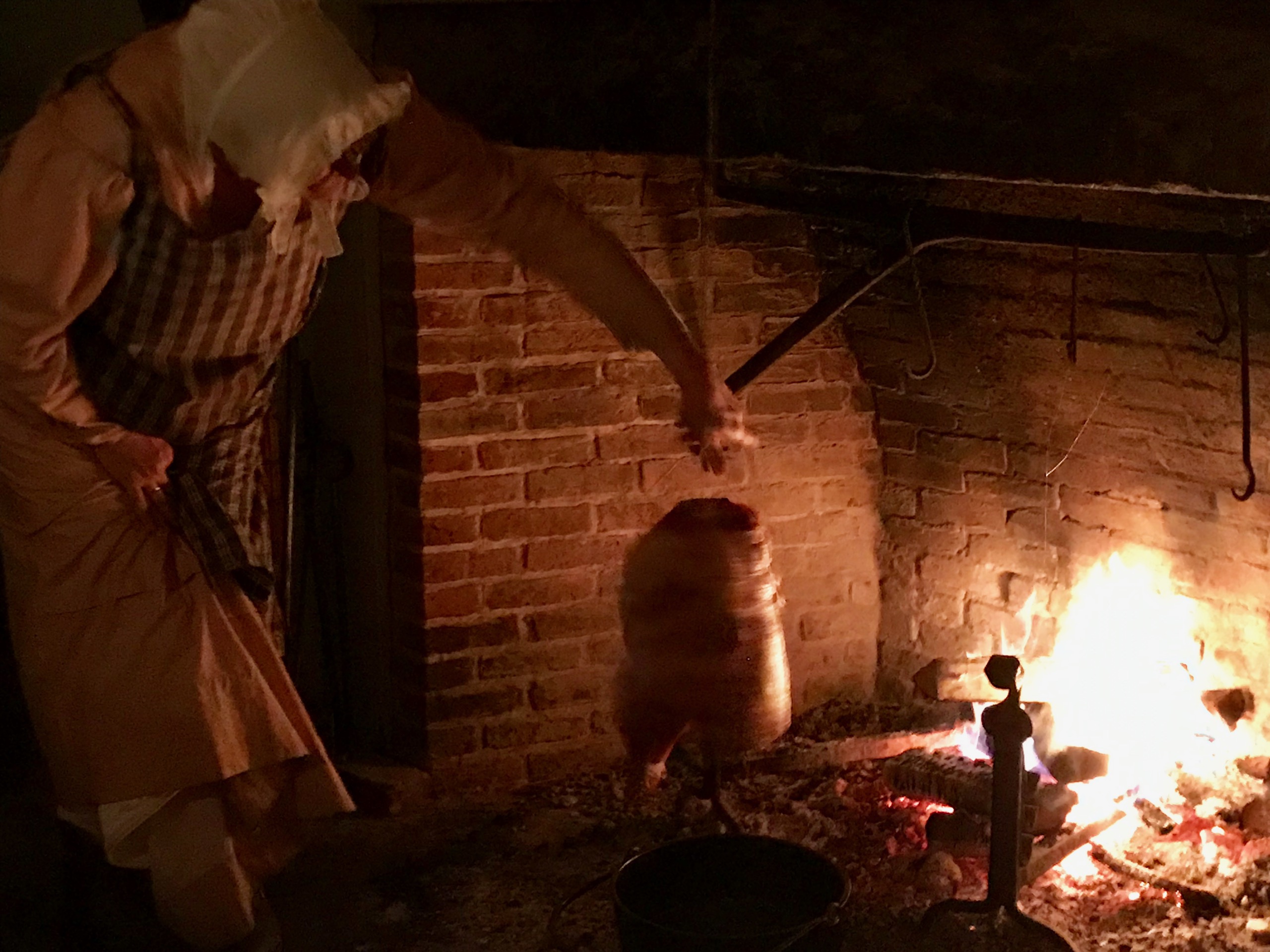 Twirling the turkey made for an effective even roasting.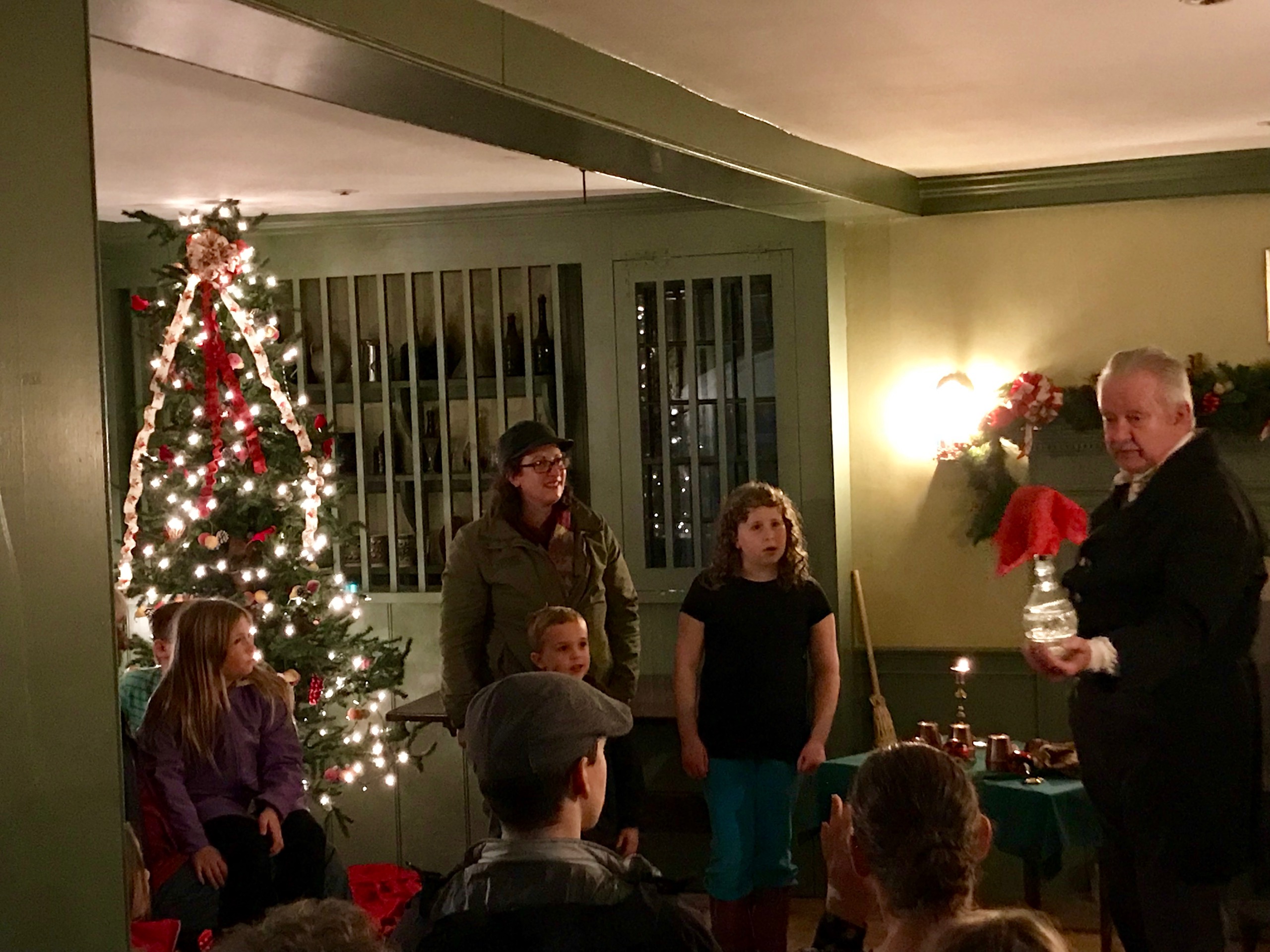 A charming magician worked his magic as we made our way to the tavern for dinner.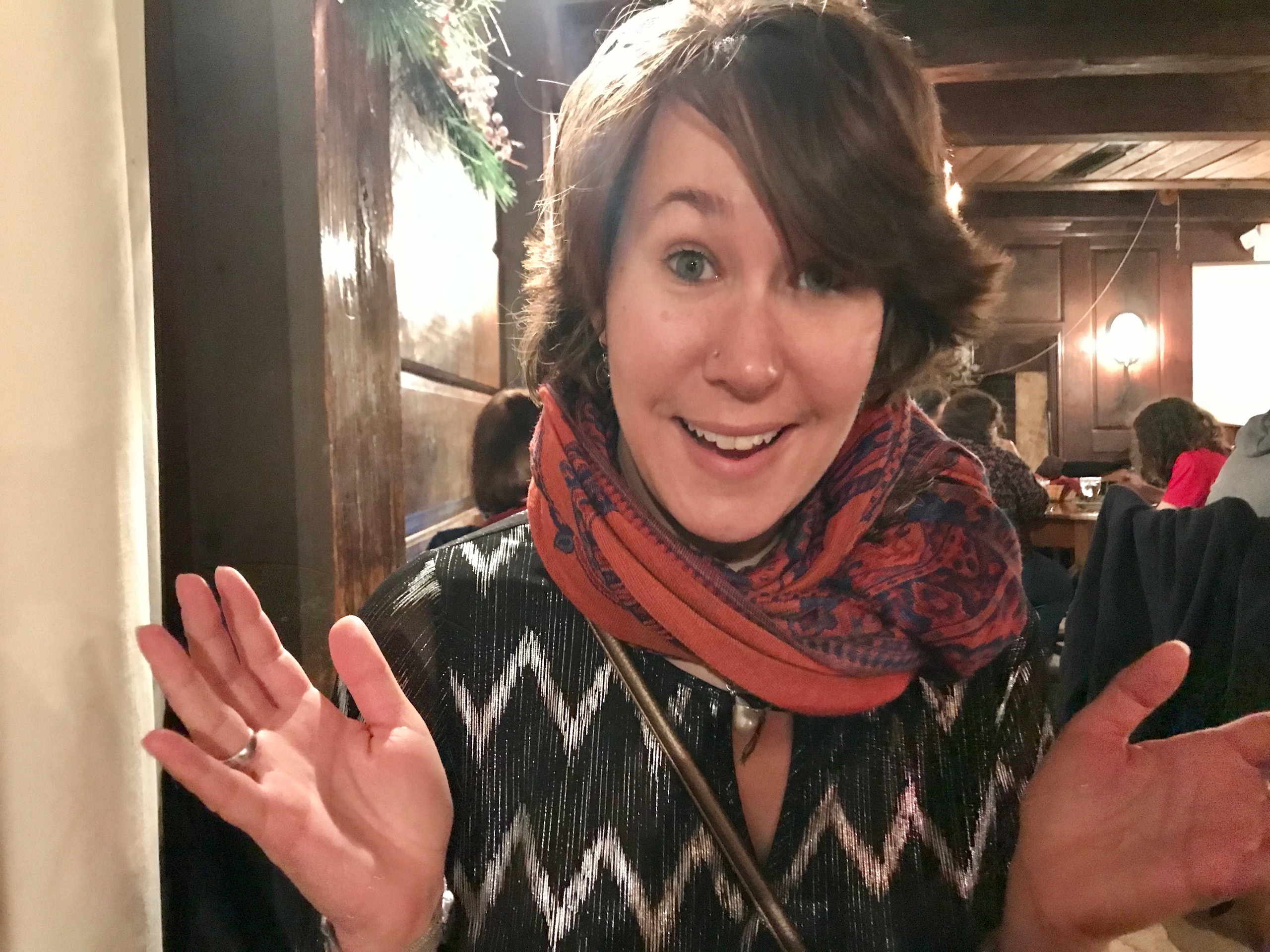 The cozy charm at the tavern is a joy.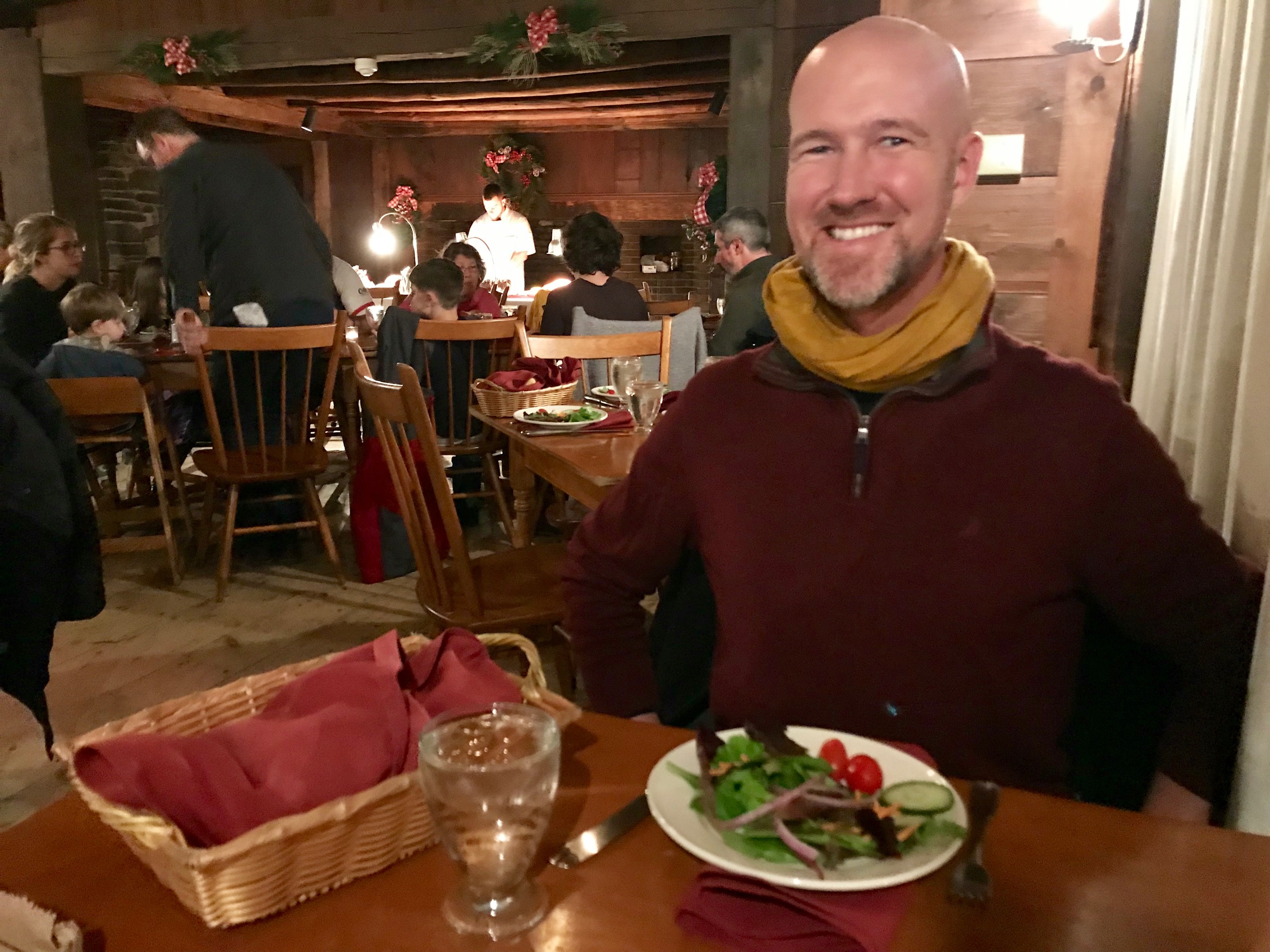 We couldn't help but muse about all the things to see next year!
Our spirits were abuzz with holiday cheer, and we marveled at all the stuff we didn't catch this time, hoping to see them next time. We want to join in on the dance from A Christmas Carol. We hope to meet more literary figures like Mrs. Cratchit as she prepared Christmas dinner. We want to make our own candles. We long to gather around the fire to hear traditional Christmas stories. All kinds of things.
It's easy to see how Christmas by Candlelight makes a great yearly tradition. We know you'll see why!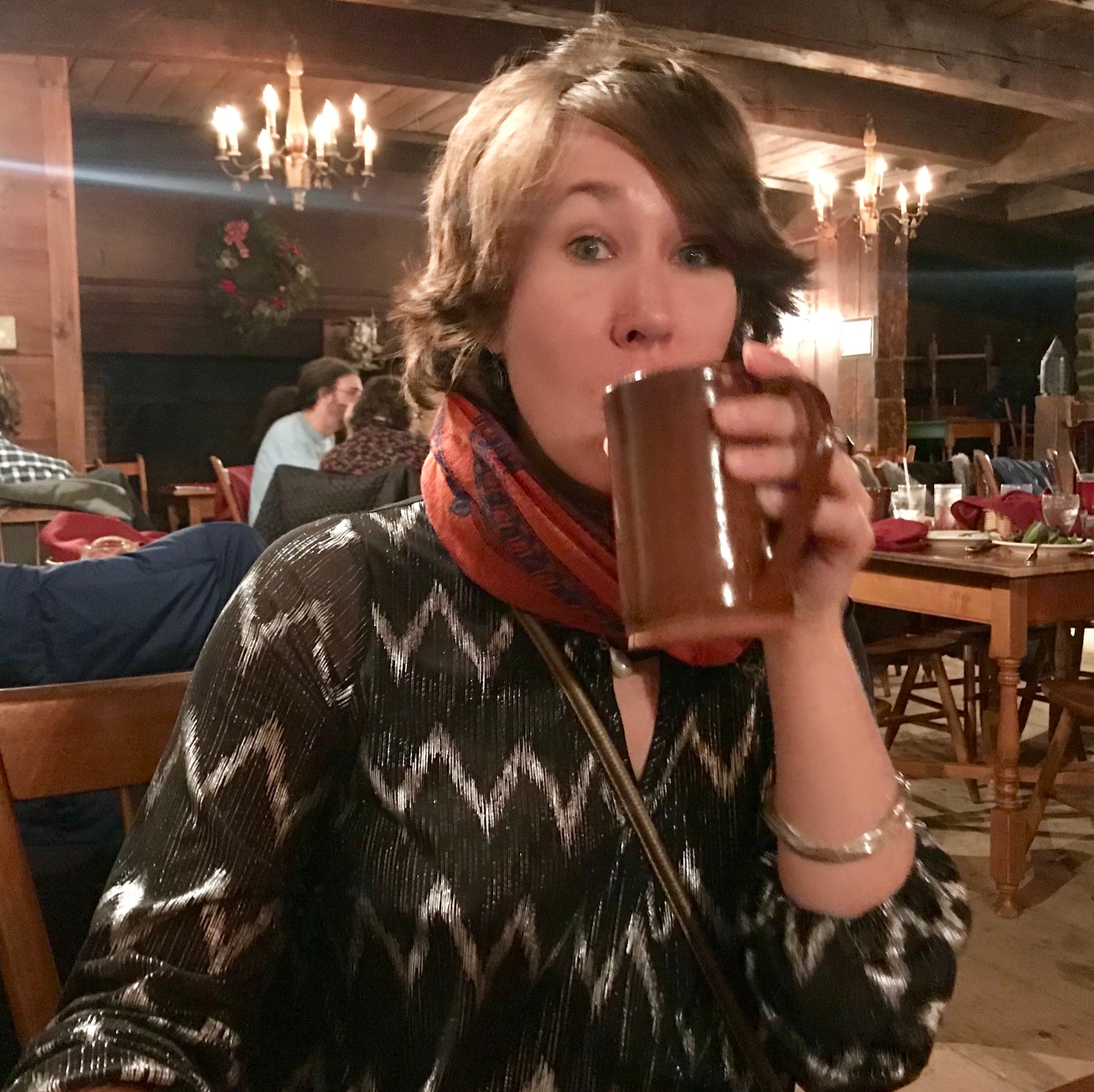 Enjoying some hot mulled cider with rum in it is a great delight.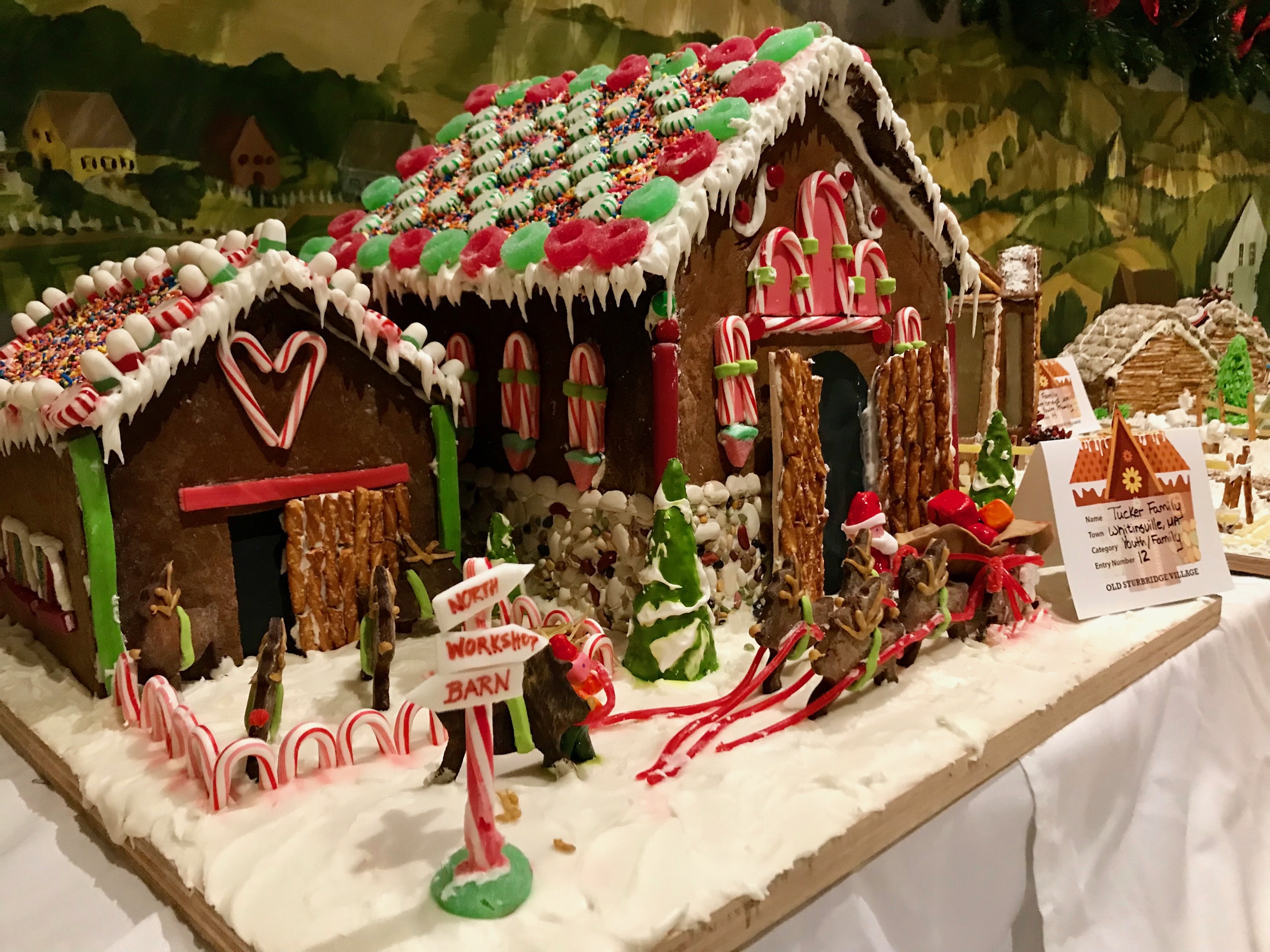 Gingerbread houses are on display, made by people of all ages.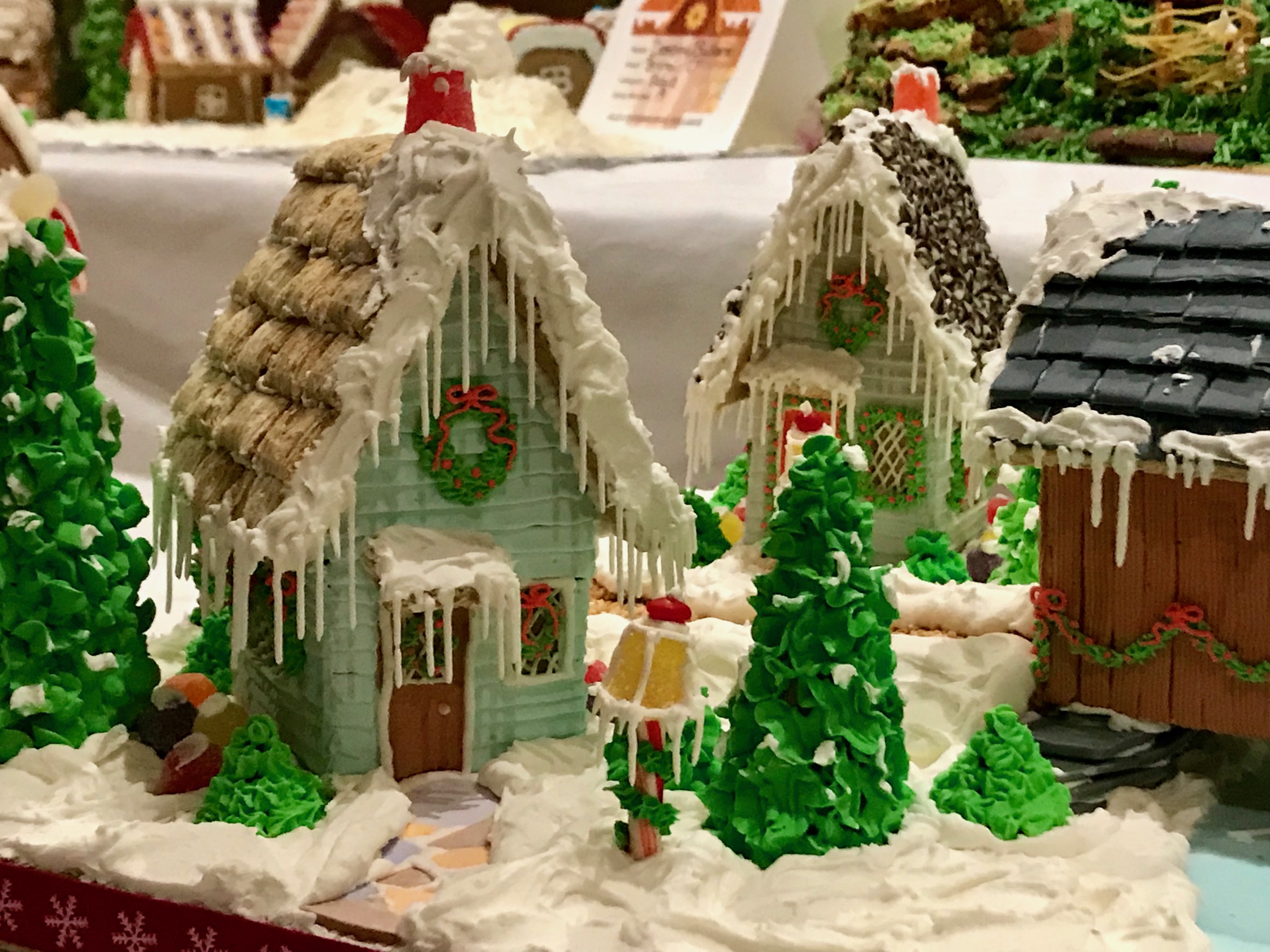 This gingerbread village was Ashley's fave.
Exploring an entire village full of old-time Christmas charm is a joy!
It may have to become a yearly tradition. It's fascinating — and ever so heartwarming.
Enjoy this post? Pin it for later!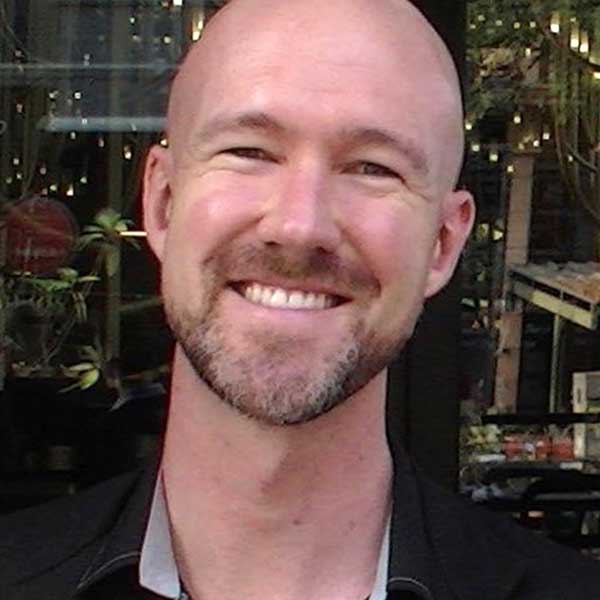 Curtiss is a lover of delicious atmosphere, experiments in location independence (and digital nomadism), and that magical place where wifi and paradise overlap.