An Enormously Inspiring Cause Meets Massive Playfulness!
We first heard about elephant polo a couple years ago, before we first came to Thailand.
(Geez, I can't believe we've been traveling that long…) As often happens when you're living a location-independent life, that year the dates didn't match up with our travels. So we missed the event.
This year was different! We planned to be out of Chiang Mai for a few weeks during the smokey season, to attend DNX and… to attend elephant polo in Bangkok. Events were lining up beautifully.
This year, the event was held at Anantara Riverside Bangkok Resort grounds. The Anantara grounds were a beautiful setting for the festivities! The river and bridge were the backdrop of such a spectacular event: the 14th Annual King's Cup Elephant Polo Tournament.
While being in Thailand, we've become more aware of the ethical treatment of elephants.
This mighty animal is the national symbol of Thailand, and there is a lot of interest in building up awareness, interest, and support for them. When you look into the betterment of elephant welfare, it becomes clear that it's important to put the health, safety, and well-being of elephants first — and this event seems to have its priorities clearly geared towards helping.
Though elephant-riding it is a long-standing tradition of Thailand, we know that there are reservations in some contexts. The organizers make a point of emphasizing the elephants' playful spirit and eagerness to be involved. They do seem to be enjoying themselves, though we're no elephant experts. What does seem clear is that the event generates substantial awareness and support for the overall betterment of elephant welfare.
Bettering elephants' lives with a fun event sounded nice. With open minds and open hearts, we had to attend and just see what it's all about.
The tournament is one of the largest fundraisers in Southeast Asia.
The elephant polo tournament has raised over $1 million USD to better the lives of domesticated and wild elephants. Over the years the money has gone to a range of projects: donations to elephant clinics and hospitals, funding education programs to teach mahouts and trainers better methods, donating an ambulance made for elephants and more.
We didn't realize Anantara has their own foundation to help Thai elephants: The Golden Triangle Asian Elephant Foundation has rescued 40 unemployed elephants in Thailand and preserves large sections of land for a safe habitat.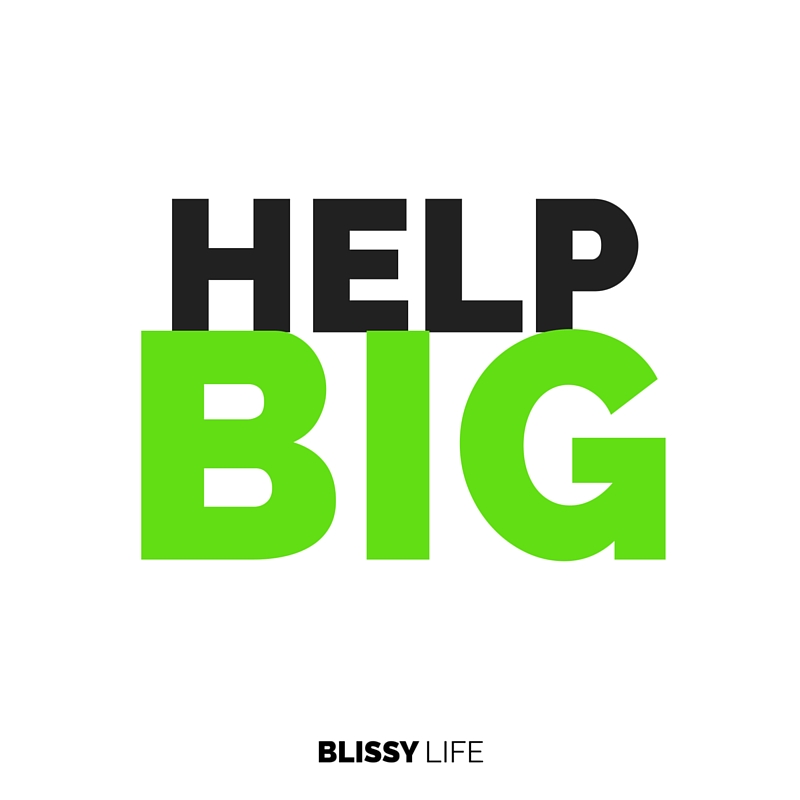 The animals were checked by veterinarians to make sure they were healthy; we're told only animals that seemed to enjoy romping around would participate in the games. Also all elephants used were born in captivity.
The elephants and players played in short intervals and took many breaks, which I was glad to see. The elephants were regularly hosed down during breaks and seemed to enjoy playing with the water hose.
The tournament spanned four days and felt quite festive!
There were food and souvenir booths around the common area. There were games for the kiddos. There was a water pit for lovely ladies to box each other — more so to appeal to the adult-kids… though we saw quite a few brave kids get up on the wooden beam.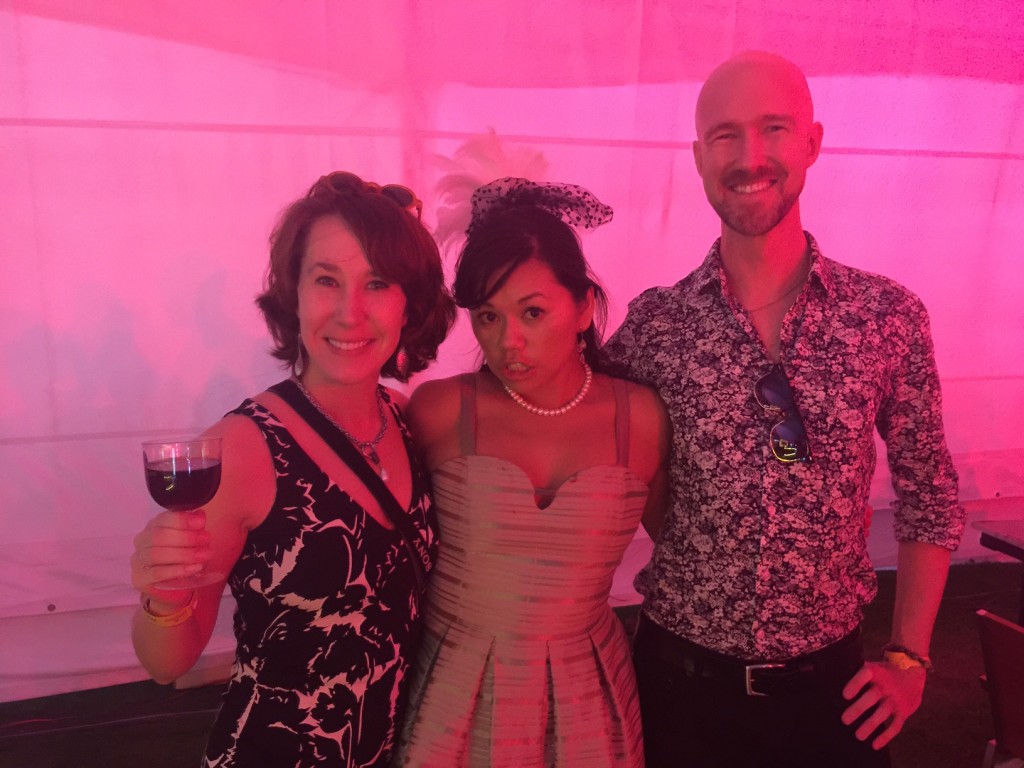 We really enjoyed the Ladies Fashion Day celebration.
In the evening, there was a fashion show of all the fabulous ladies that were picked from the crowd earlier in the day. There were some really wonderful hats and outfits showcased! I loved to see some ladies being rather creative with feathers and flowers on their head! All of which I would have loved to get more into, as we both love wearing costumes and looking fabulous! But when you're traveling, you only have so much room and I'm not so sure that a delicate fascinator would travel well…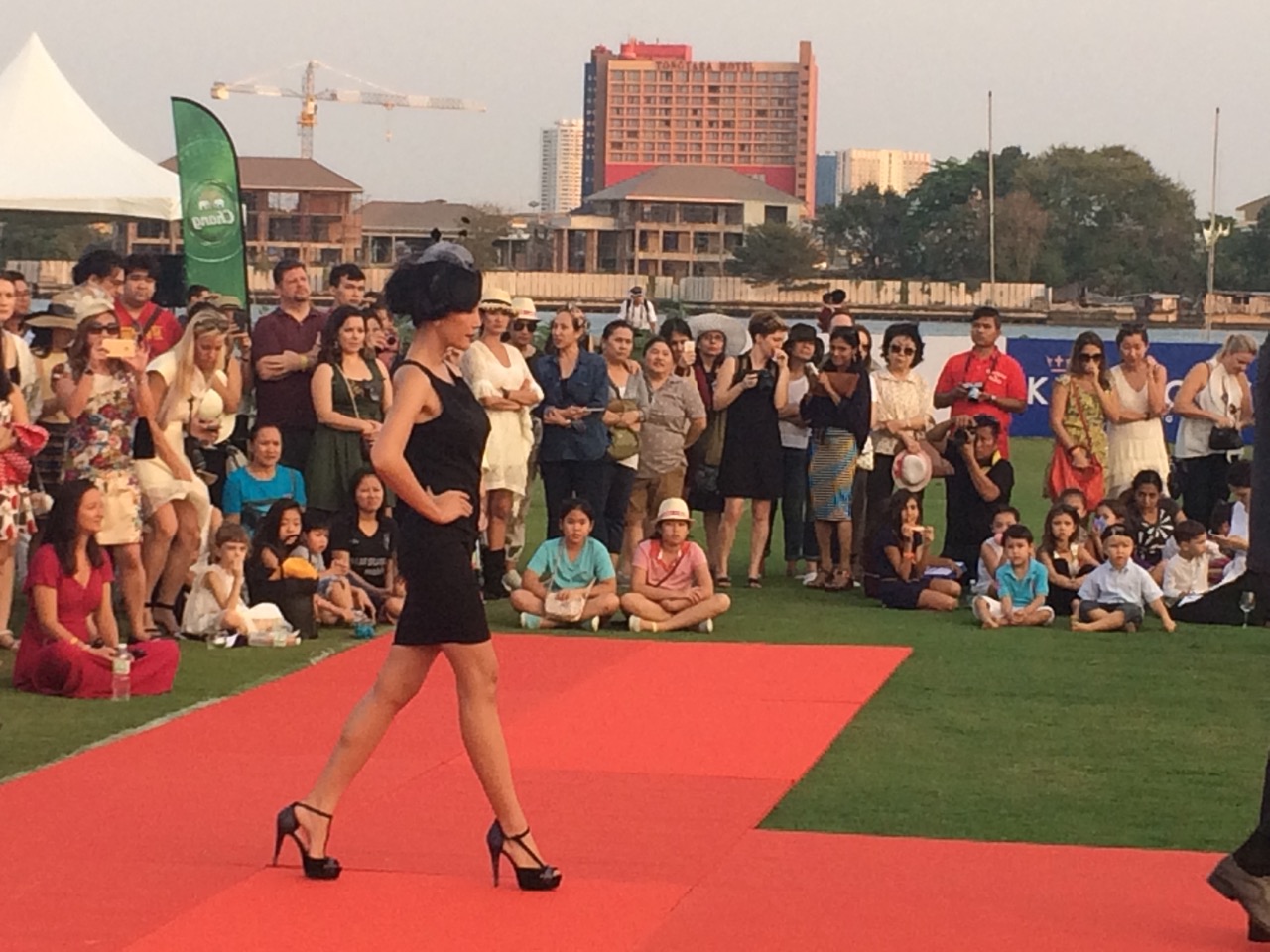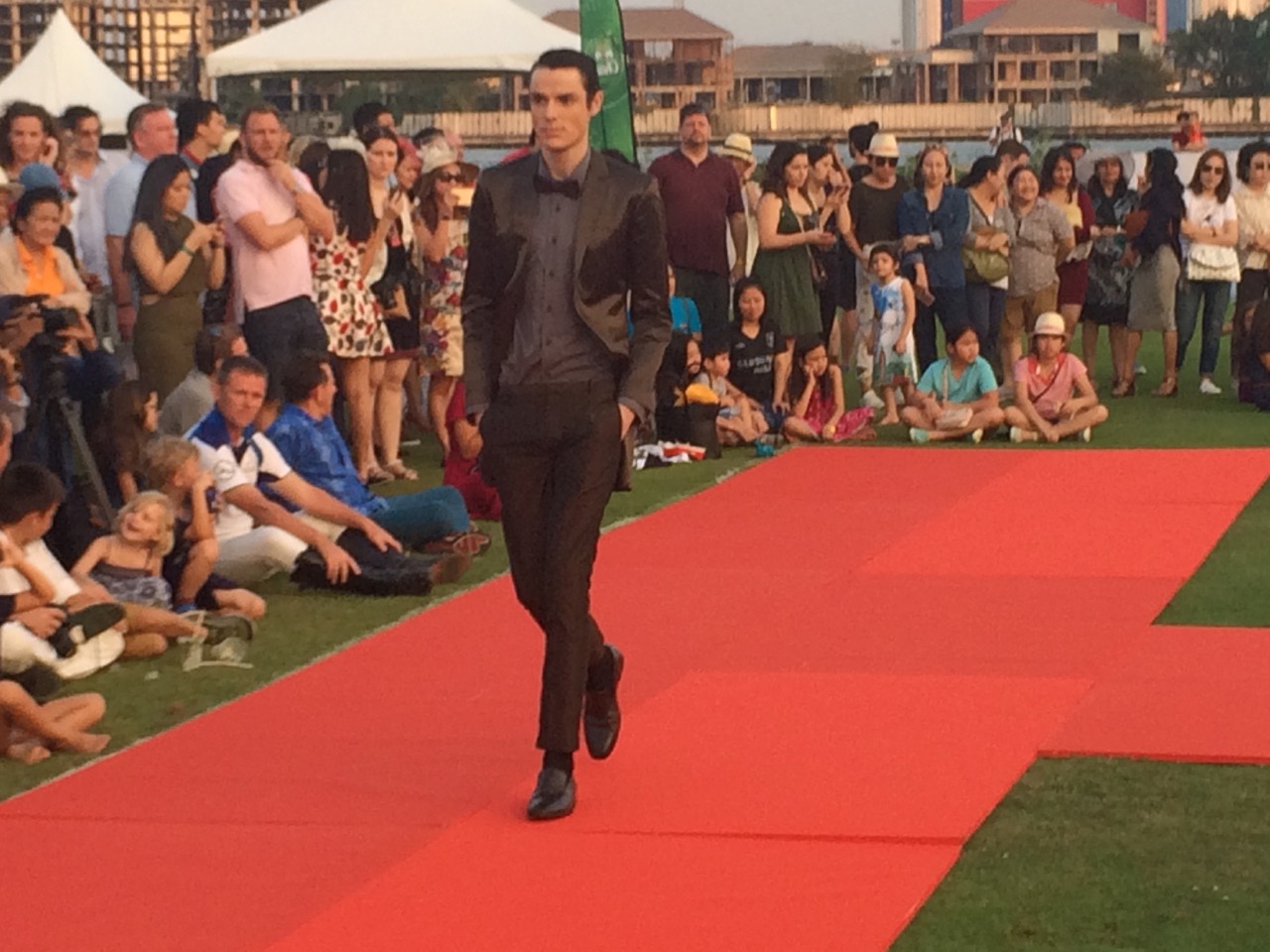 Large colorfully painted elephant statues were donated by local and international celebrities.
They were auctioned off during the gala dinner. They were all very different and creative!
The gala dinner evening felt rather magical!
The dinner took place on the field where the elephants had played earlier. The incredible food and drinks were being appreciated by everyone, as the festive atmosphere continued late into the night.
We enjoyed great food, with great people, for a fantastic foundation!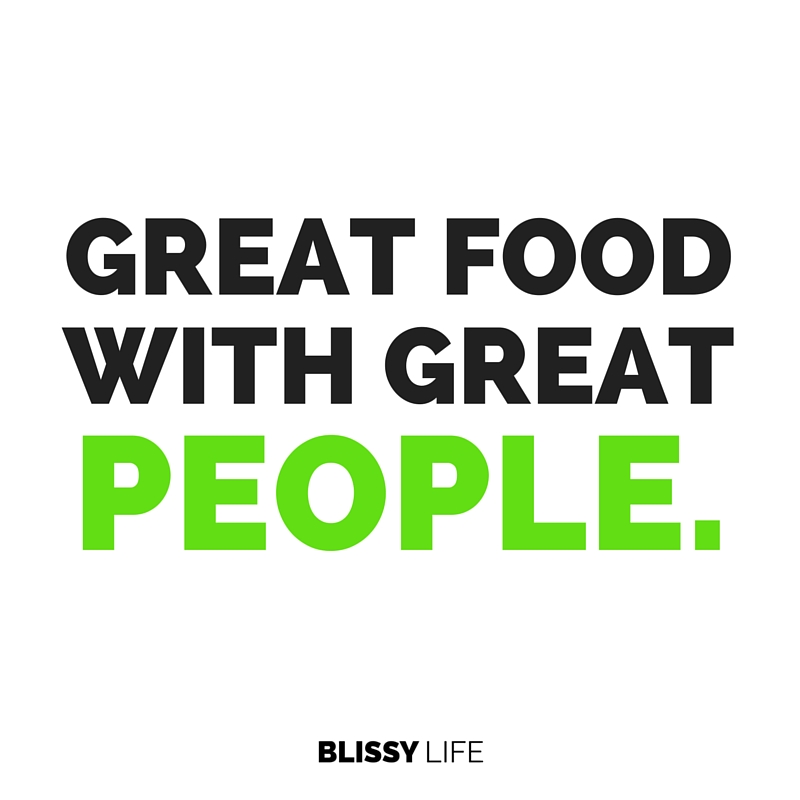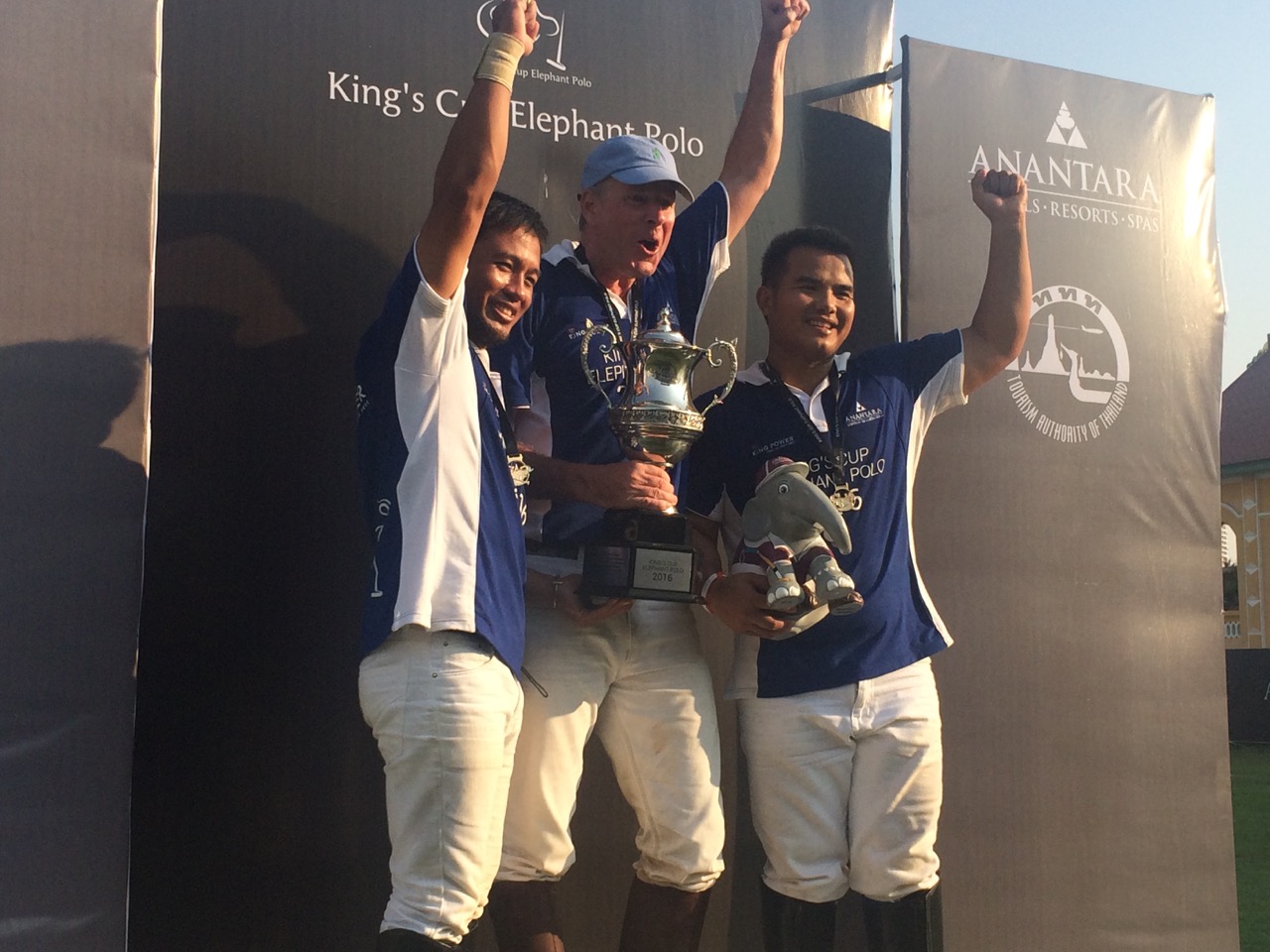 The last day of the event was bright, sunny, and fun-filled.
We arrived earlier in the day, because it was grand finale and the winning team would receive their trophy.
I can't say we were rooting for one specific team, but it was fun to cheer everyone on! The score was neck-and-neck until the last seconds when a goal was scored, so it was rather exciting when one team scored the winning point!
Banquet celebration!
The elephants then lined up to feast on raw veggies and fruits. I realize this was for the sake of spectators, but it was still really cool to hand an elephant a banana. It was interesting to see an elephant take a large gourd or papaya in its trunk, place it on the ground, and then step on it. By squashing the fruit, it was easier for them to eat.
From what we saw, all the animals were taken care of and well fed. I don't think this event will solve all elephant problems in Thailand, but it does seem that they are bringing awareness and helping some elephants every year to live a better life.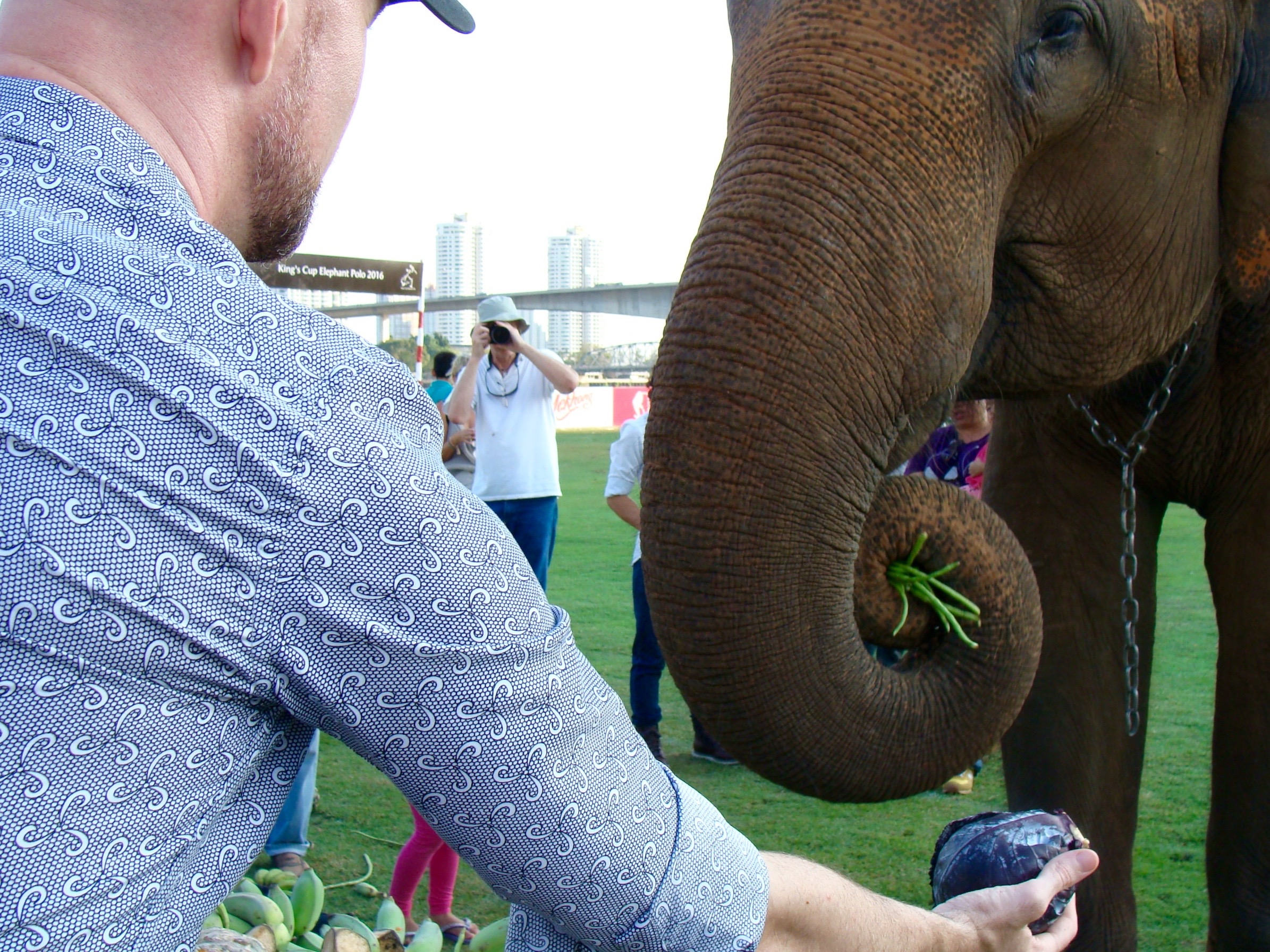 Pin this post to save it for later!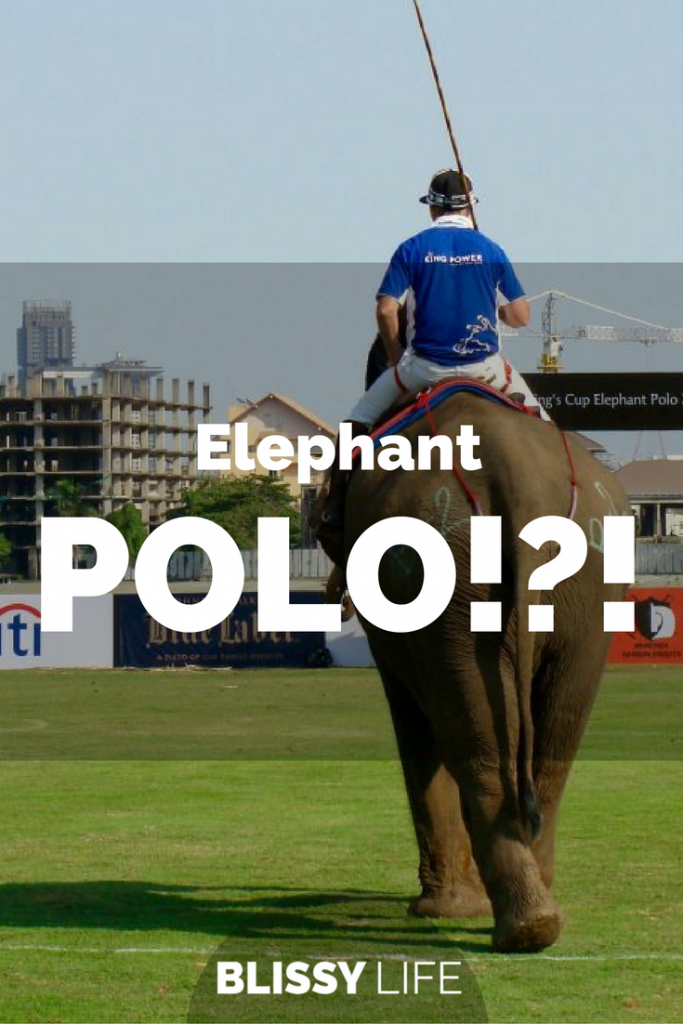 Ashley is exuberant about location independence! She relishes new experiences and working with boutique hotels and resorts. She's always thinking about design and food… and where they'll travel next!