What Happens When A Boutique Hotel Connects With Local History & Style
From the moment your taxi enters the driveway, you are surrounded by uniquely spellbinding art. Only later did we realize how much thought and creativity went into the design — all of it evocative of local history and culture… in a funky, modern way.
"Wireless Road"?!?
We know, we know. What kind of name is "Wireless Road"?
Just a short history lesson before I continue: the hotel was built on the location of the first radio station in Bangkok, hence why it's called Wireless Road! There was not a word in Thai at the time for "radio," so the king adopted the term in British English and made up a word in Thai. How cool is that?!?! And you can see this spirit infused into the look, feel, and ideals of the hotel!
The design isn't just an embellishment at Indigo; it's a reflection of the neighborhood and the hotel's underlying philosophies. But more on that soon.
The lobby was like a showroom of yesteryear's funkier tech artifacts.
There's a whole wall of music makers across from the elevators… and you can touch and play with all of them!
By the street there is a sound wave shaped metal barrier.
But most incredible homage to old tech (we think) is right on the side of the building. If you follow the pattern of balconies down the front of the building, a Morse code message spells out "Hotel Indigo Bangkok Wireless Road". The actual architecture of the beautiful building hides a hidden message! We are still impressed.
Another element of the neighborhood is nature.
It's hard to miss the fact that you're surrounded by trees. With a giant park across the street, this just so happens to be the greenest part of Bangkok! They like to call it "their personal garden", hehe.
The hotel designers brought the trees right into the hotel, with open gardens on some of the floors. Lots of them reach up multiple floors.  The hotel is only a year old, so some of the trees are still small, but they already look fabulous!
Everything feels really open, spacious, and inspired.
Check-in was a hoot.
Mable and Som checked us in and made us feel incredibly welcome!
Also (for all you travel hackers out there), the hotel is part of the IHG Rewards Club.  We're members and got to win a prize from an antique gumball machine… and won some reward points!  It's always fun to win stuff!
Everyone was so warm and happy that we were smiling all the way to our room.
Every Hotel Indigo is unique, and this one truly delivers on the boutique experience!
The three hallmarks of the brand are: service culture, the neighborhood story, and design.  The hotel is not particularly small, but still feels intimate, comfortable and beautiful!
Everyone that works in the lobby is a "neighborhood host". They take great pride in knowing what's going on locally, and they can make suggestions to guests about what to do and see.
We were also incredibly impressed that the man who greeted us at the door remembered and reminded us about our dinner reservation later that evening.  It always feels very special when someone takes note and remembers you.
We actually had some rather exciting plans for our stay in Bangkok: we were excited to connect with like minded entrepreneurs at DNX — the Digital Nomad Conference and later to go to our first elephant polo tournament.  So I'm sorry to say we didn't get to pick our hosts' brains too extensively to find the insider scoop.
The room was gorgeous, with floor-to-ceiling windows, and custom furniture.
The effect is stunning. Walls of glass are open to the busy streets and skyline of Bangkok, with automatic screens and blinds that you can switch to cover or uncover the view…depending on how saucy you're feeling.
The bed is heavenly! We absolutely did the"flop test," since it's the official-unofficial way to check the amazingness of a bed.
We had a balcony overlooking the US Consular's house.  Whoever he is… he has beautiful  gardens! Hotel Indigo can be pretty darn sure that a hotel will not be built in that lot anytime soon, leaving their fantastic view unobscured.
The buffet breakfast was fabulous, and it felt like we were enjoying some good ol' home cooking.
Eggs are cooked to order, while you get the cold goodies from the buffet and "pantry."
The chef made us a special plate of pancakes and waffles with baked banana.  It was so tasty and pretty!  I think it was because I kept smiling at him… I can't help it if good coffee puts me in a great mood!
The room had many surprisingly great places to work.
There was a lounge in front of a huge window (with another fantastic view), a purple velvet couch and a large desk.  It's wonderful to have so many options!
For a nice break during the day…
there's a rooftop pool and gym with an incredible view of the Bangkok skyline.  That seems to be a theme with this hotel!  Lounge by the pool for a bit and wait until happy hour rolls around
When I first saw the bar, I absolutely fell in love.
22 Steps is the breathtakingly beautiful bar in the mezzanine. As you may have guessed from its name: it's 22 steps from the entrance! The atmosphere is incredibly sexy and will make you feel just that way.
22 Steps reminded me of an old speakeasy, with velvet chairs, old books, and antiques. The space has a lot of character.  Then you get to the cigar room tucked in the back… inside it smells wonderful!
Dinner was deliciously romantic.
The lights were nicely dimmed, and the service at Metro was great. There's also a large deck to eat on that's surrounded by green leafy trees.  We chose to eat inside and enjoy the cool air conditioned room, because we had spent all day outside watching elephants play. :-)
We ended the night in our room's bathtub!
Not only was it a very sexy bathroom; we also had incredible views of the city from the tub.  We drank cold Singha beers from the custom minibar, while luxuriating in the deep tub and the lights of Bangkok sparkled below us. It was rather romantic.
We full-heartedly enjoyed our stay at the Hotel Indigo Bangkok Wireless Road and were sad to leave!
We felt well-rested, well-fed, and deeply inspired!  The incredible views spoke to our souls, and the funky art installations were so fun to play with.  We can't wait to check out other Hotel Indigos during our travels throughout the world. Each has its unique personality — just as unique as the neighborhood it's in.
This wonderful place would speak to anyone interested in great design, tech stuff, or feeling at home in a fresh new place. It's feast for your eyes, while still feeling homey and comfortable.
Thank you Hotel Indigo Bangkok Wireless Road for hosting us in such a pleasantly a memorable experience!
Want to keep this post for later? We've got you covered!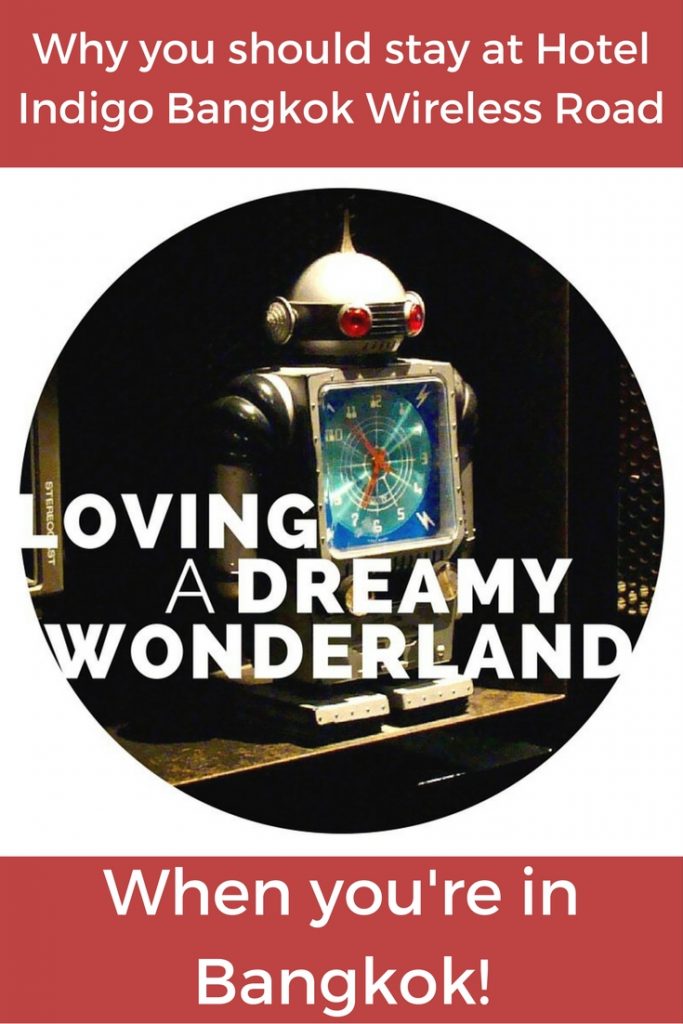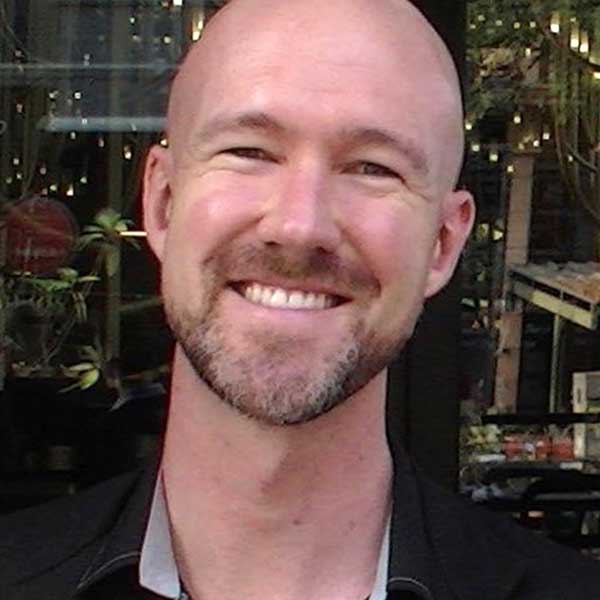 Curtiss is a lover of delicious atmosphere, experiments in location independence (and digital nomadism), and that magical place where wifi and paradise overlap.