Experience Prehispanic Culture In The Mayan Riviera
While exploring the Playa del Carmen, we were delighted to delve into the Prehispanic culture in the Mayan Riviera!
A little something for everyone in the family and a can't-miss show!
Xcaret is unlike any amusement park you've previously visited! You will not find any cartoon characters, water slides or roller coasters in this park. Instead, you will be delighted by beautiful beaches, underground rivers, cultural shows, and animals galore!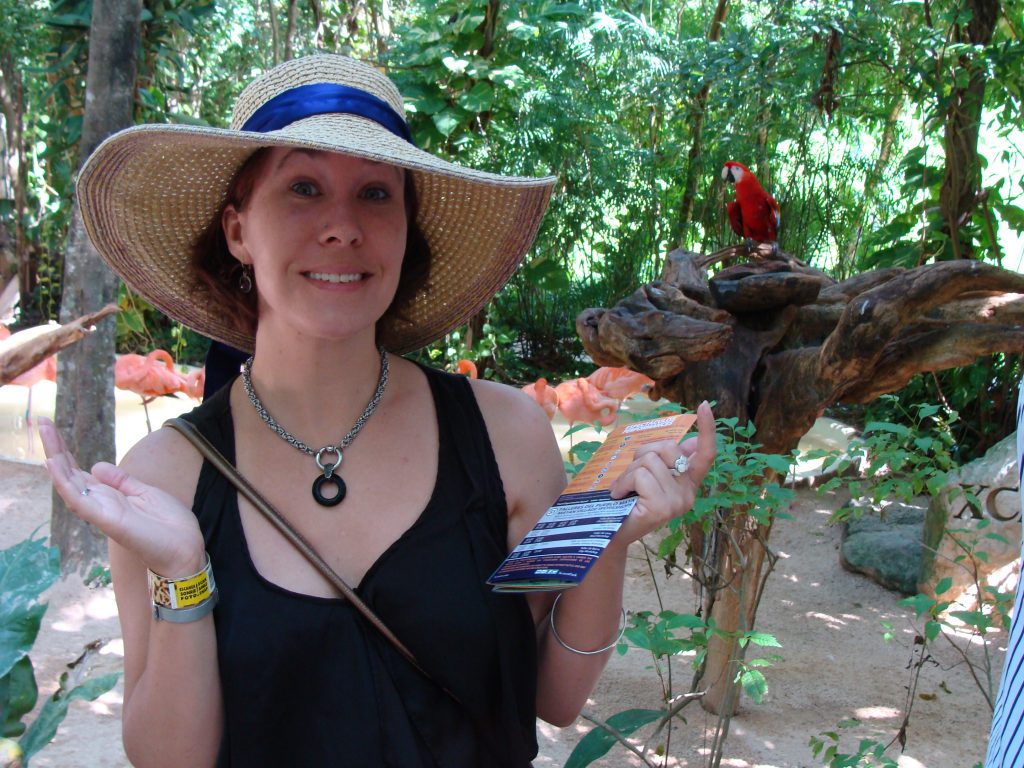 We suggest arriving in the morning, because it can take a while to get your tickets and to figure out what shows you want to see throughout the day. The three things that we really wanted to see were: the underground river, the aviary, and the horse show.
The first thing we did was hit the underground river. It's completely man-made, so you will not see the same natural stone structures you would in other underwater cave tours. We each had a life vest, so we floated through the tunnels and caves easily. You do need to swim a bit and there are plenty of spots to rest along the way — although the 45-minute adventure seemed to go by quickly and pleasantly, with great scenery throughout.
After being in the water for nearly an hour, we were delighted to enjoy some time by the beach.
We found a few unoccupied hammocks and enjoyed a lovely siesta in the sun-dappled shade.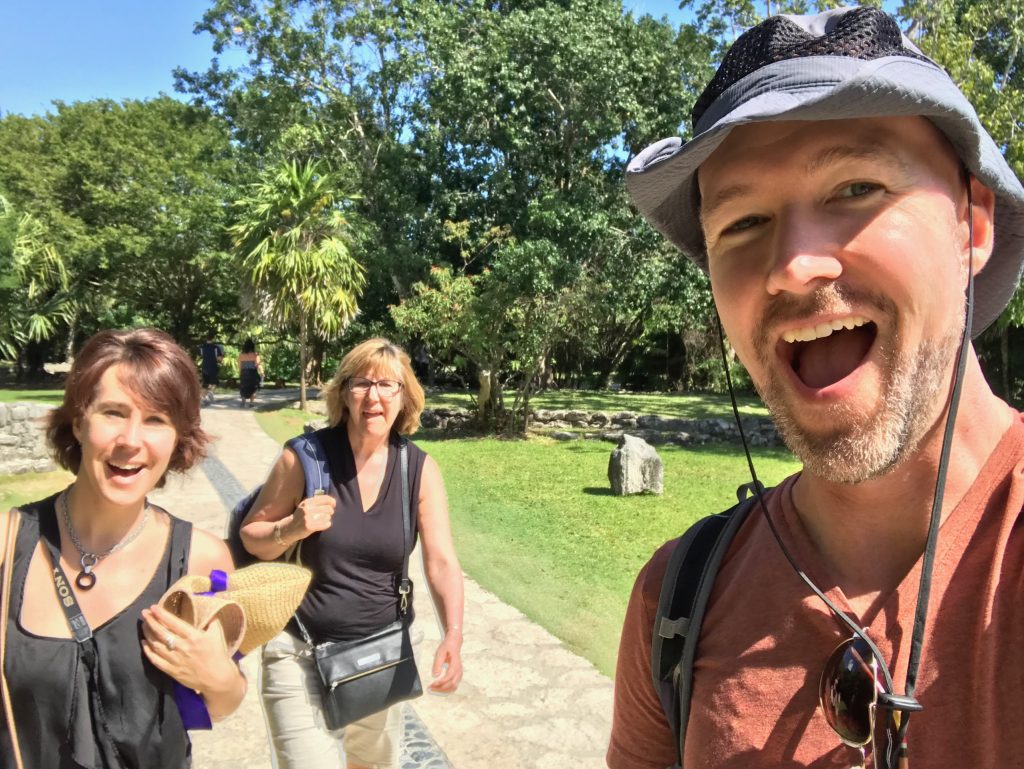 The park has color-coded paths to help you find the various attractions throughout the park. We jumped between them, as we wandered through the day.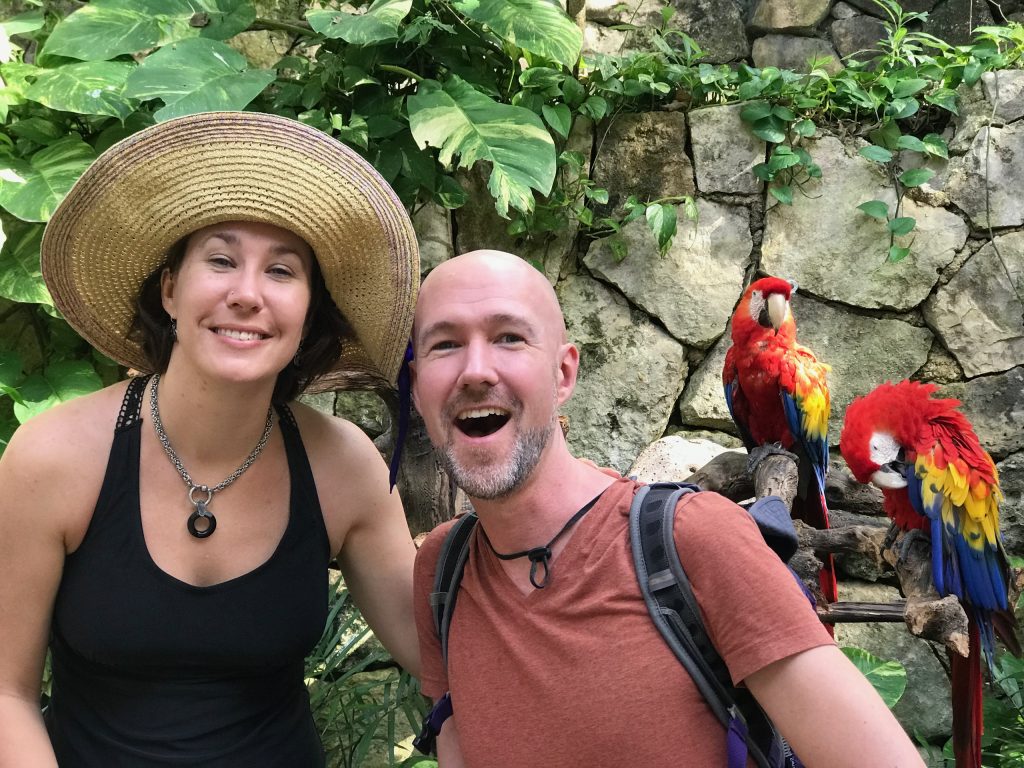 The aviary was truly incredible!
You may not know this about me, but I looove birds! I love them in all shapes and colors, and birds are exactly what we found!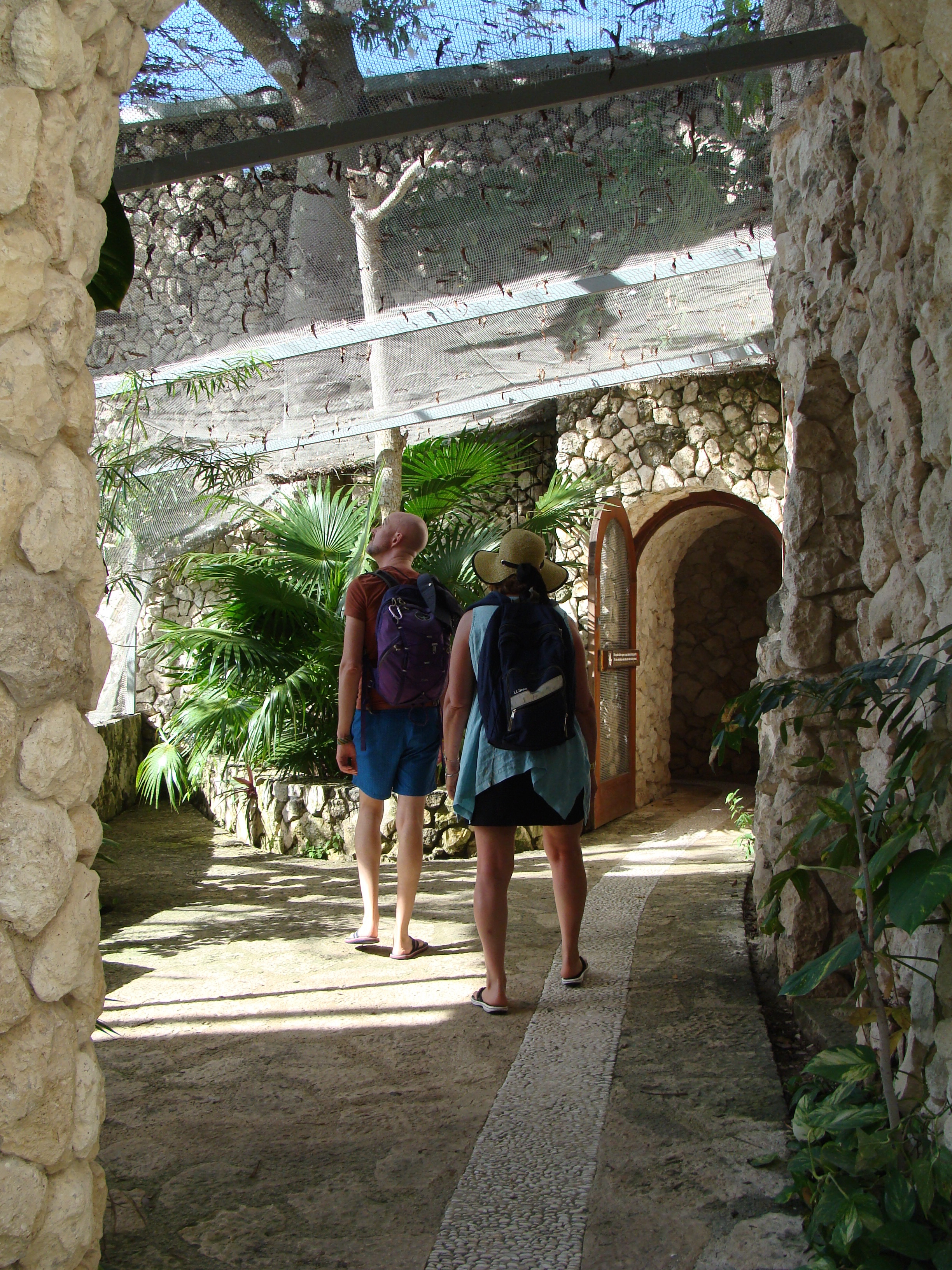 I really appreciated the layout because the path brought you through every part of the aviary — so we didn't miss a thing… or any beautiful birds!
Don't forget to enjoy some tasty Mexican food! You have many dining options throughout the park, from quick snack shacks and à la carte dining, to extensive buffets. We chose to enjoy the à la carte restaurant near the entrance of the park, near the horse ring. We enjoyed some of the best fish ceviche that we've had while in Mexico, and some rich chicken mole. Paired with a couple margaritas, we were geared up to enjoy the horse show and Xcaret Mexico Espectacular show!
The horses and costumes were magnificent! We recommend getting to the horse show early because there is limited seating.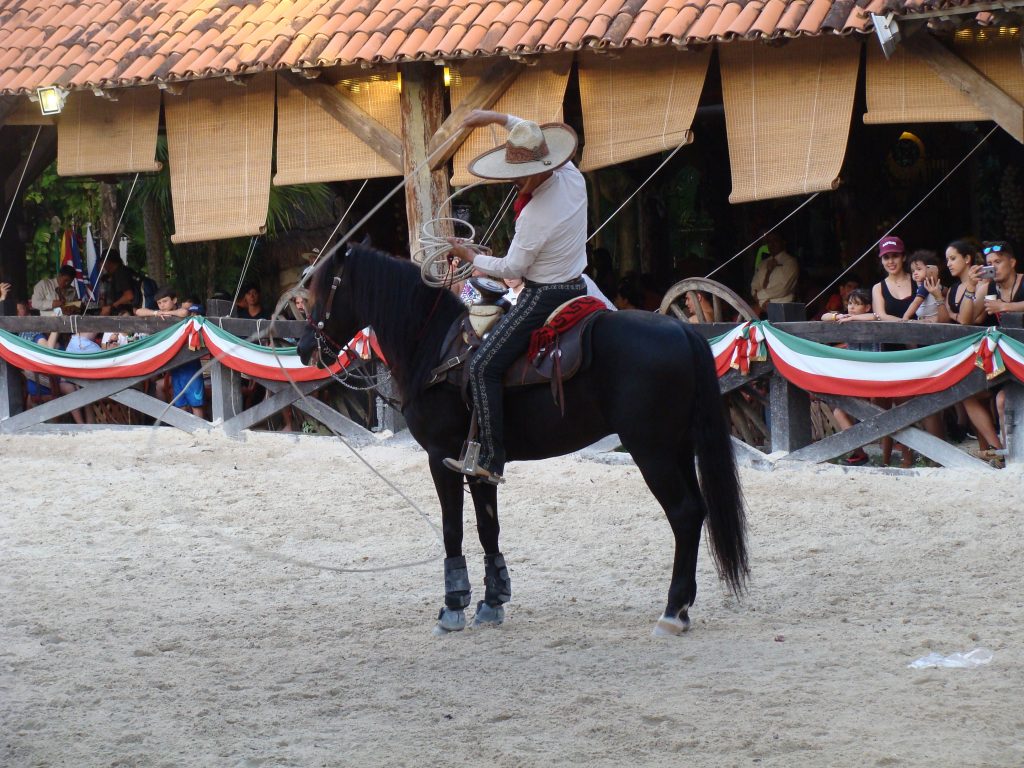 I was mesmerized by the man twirling a lasso while riding. He made it look so easy! While the horse was not fazed by the rope swinging all around it. Very cool!
You may notice people leaving this show early because they're heading towards the main event! The Xcaret Mexico Espectacular show is a can't-miss! Even if you're not able to enjoy a full day at the park, you have the option to attend the show in the evening and it's truly spectacular!
As the sun starts to set, you walk along a path leading to the event space. We were delighted to find it lined with performers in exotic Mayan costumes and body paint.
We entered the show space by going under an arch protected by fierce Mayan warriors. The vibe was a surprising mix of festive and somber. Which is rather understandable when you're surrounded by fierce warriors and their weapons.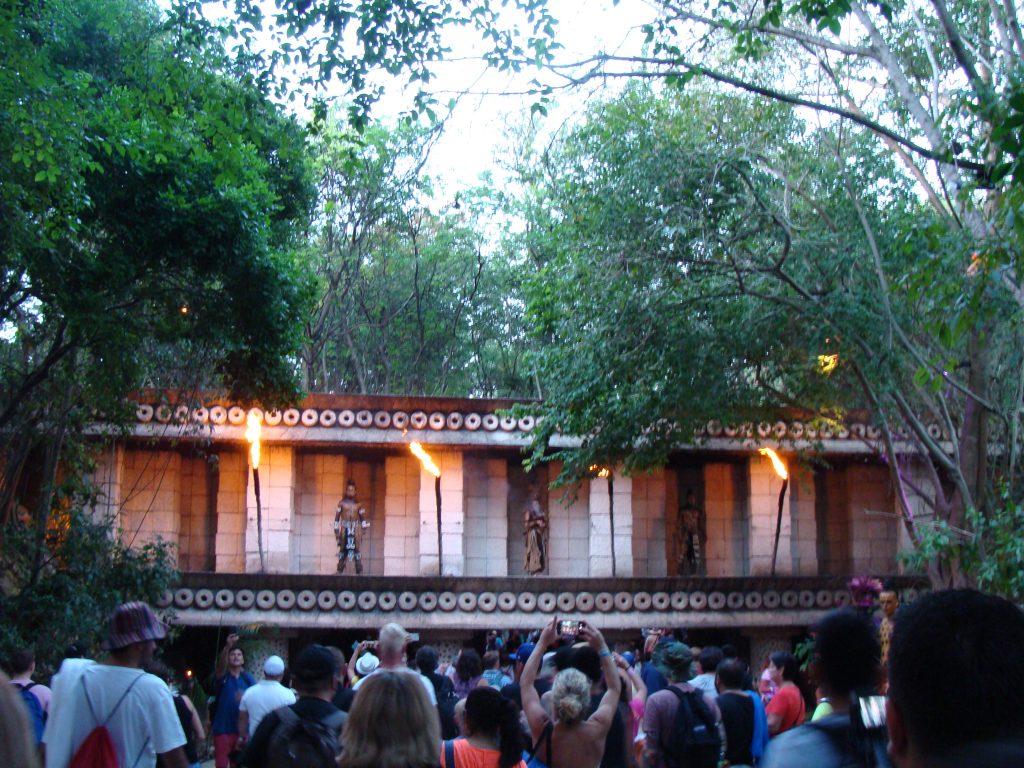 The show that follows celebrates Mexican culture and her people.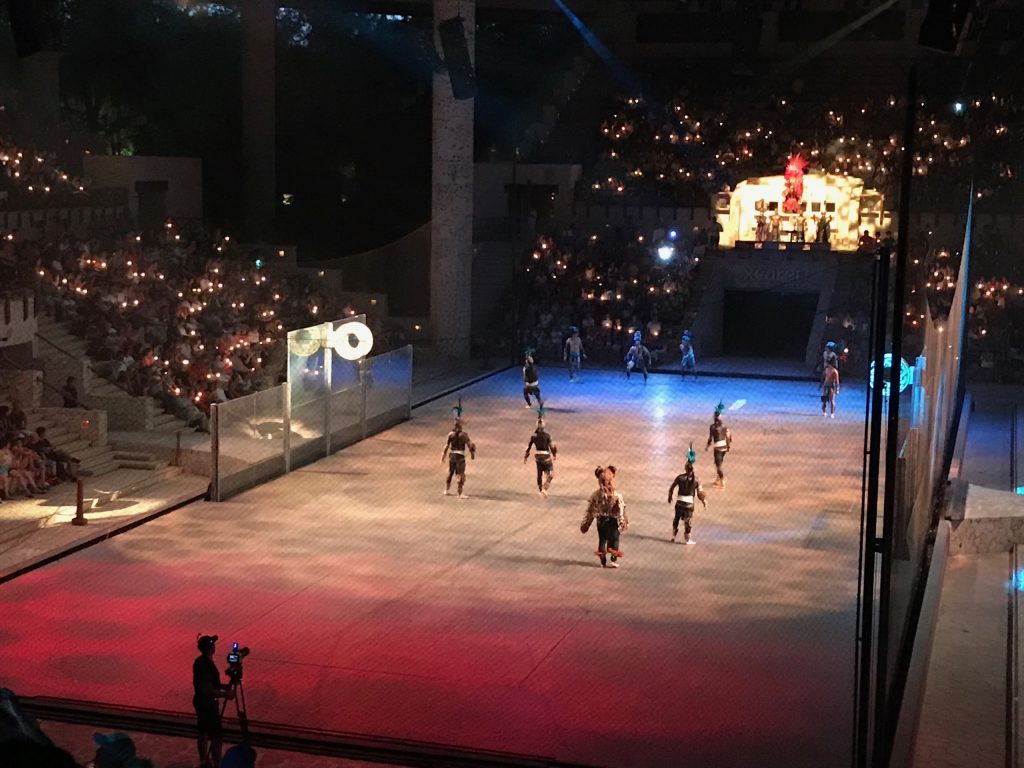 The performers start by acting out the ancient Mayan history of the country and played a game of Pok-A-Tok, which we had previously learned about at Ek Balam.
The show seamlessly transitioned through the invasion of the Spaniards and spread of Christianity and onwards.
The second half of the show was dedicated to honoring the various states in Mexico with a local dance or song from that region. It was wonderful to see how widely the traditional costumes and music ranged.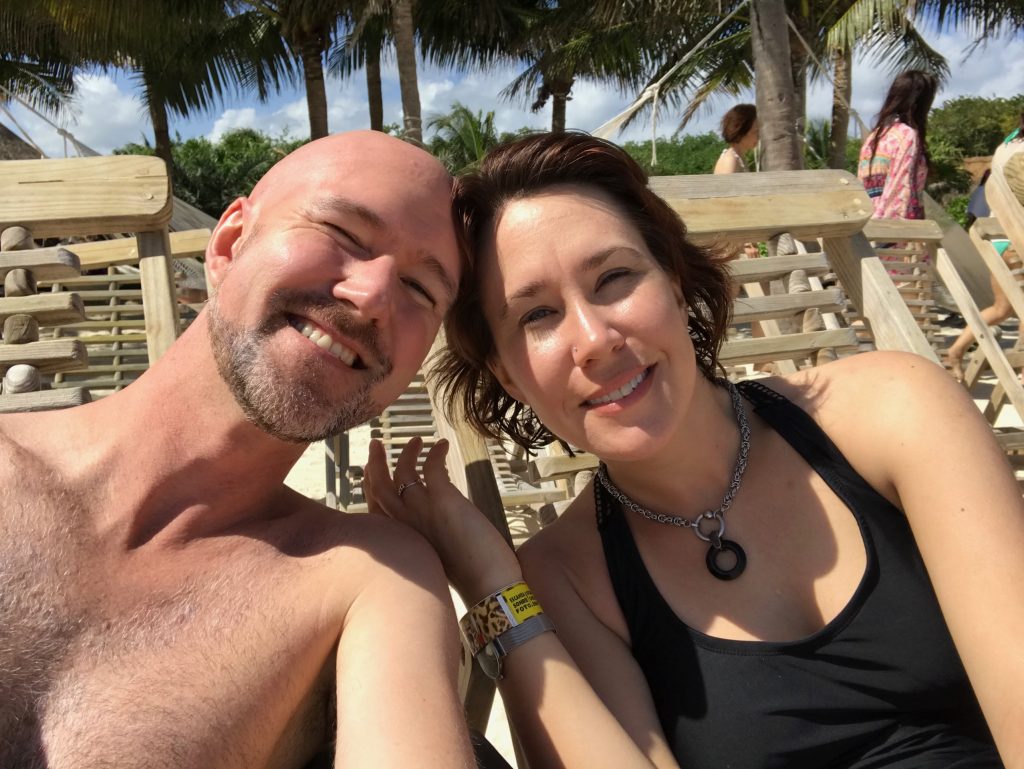 Prepare for a late night and wear comfortable walking shoes and lots of sunscreen — and you'll have a truly memorable cultural experience.
Check out Xcaret park and tours!
Experience the food of prehispanic Mayan Riviera
A huge part of any culture is the food! Continuing with the prehispanic theme, we wouldn't want you to go back home without a truly unique dining experience, and one you'll only find in Tulum.
An easy bus ride away is Tulum, there you will find the Tulum Dining Experience — it's described as a professional dinner party for adults, highlighting prehispanic flavors and the superfoods of Mexico.
This experience was held at Manglex Hotel. When you first arrive you're greeted by the fabulous staff with a cool welcome drink and a pin. After a couple of sips of the tangy cocktail, your geography knowledge is tested and you're meant to pin your hometown on a large map on the wall. It's such a cool thing to see where everyone comes from!
We waited for everyone to arrive at the hotel's… private cenote. Can you believe it?!? As you may know, a cenote is a huge naturally occurring fresh-water cavern. Once we meandered along a dimly lit boardwalk, nestled between bungalows and mangrove roots, we arrived at a lovely patio overlooking the water of a cenote… right on the property.
As soon as everyone arrived, we were seated at a long table. We started by tasting three cocktails and then mixing one for our neighbor. Let me tell you, this takes some serious trust!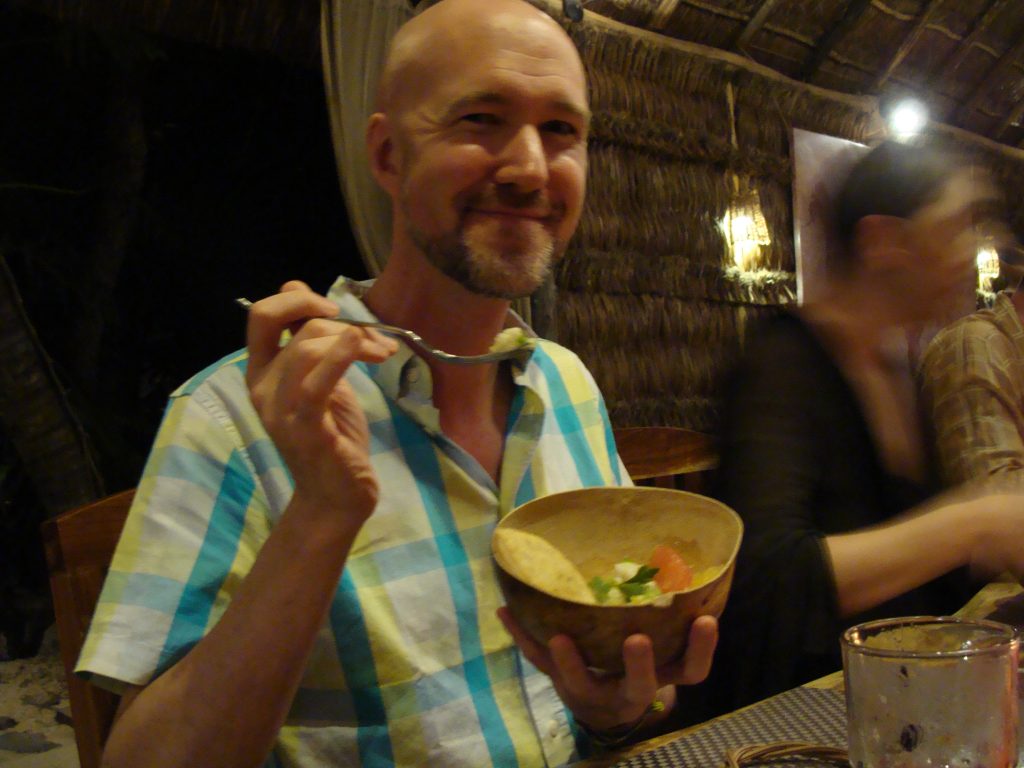 We enjoyed seven courses throughout the night. Before each was served, our incredible hostess, Janae, described the dish and the significance of the ingredients used. I enjoyed learning a little tidbit about the dish we were about to enjoy — it made us think a little more about what we were putting in our mouths.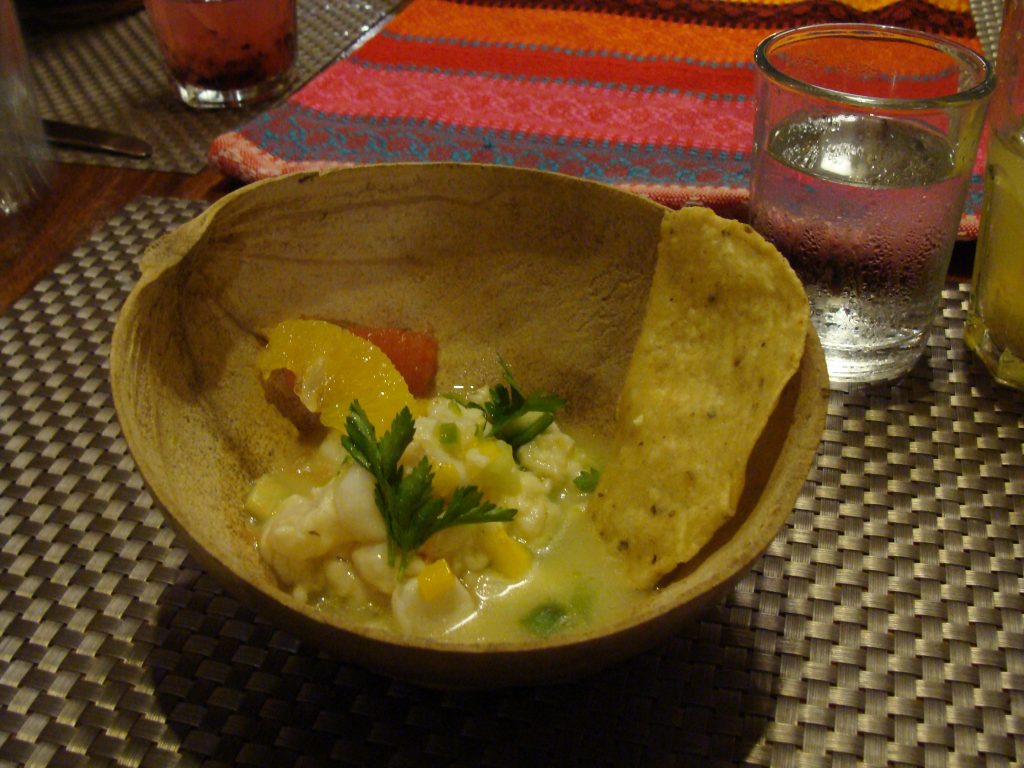 The ceviche dish was lionfish. It was interesting to learn that this fish has become an incredibly invasive species in the Caribbean coastal waters and reproduces at an incredibly high rate, making it a highly sustainable fish. Guilt-free fish tacos anyone?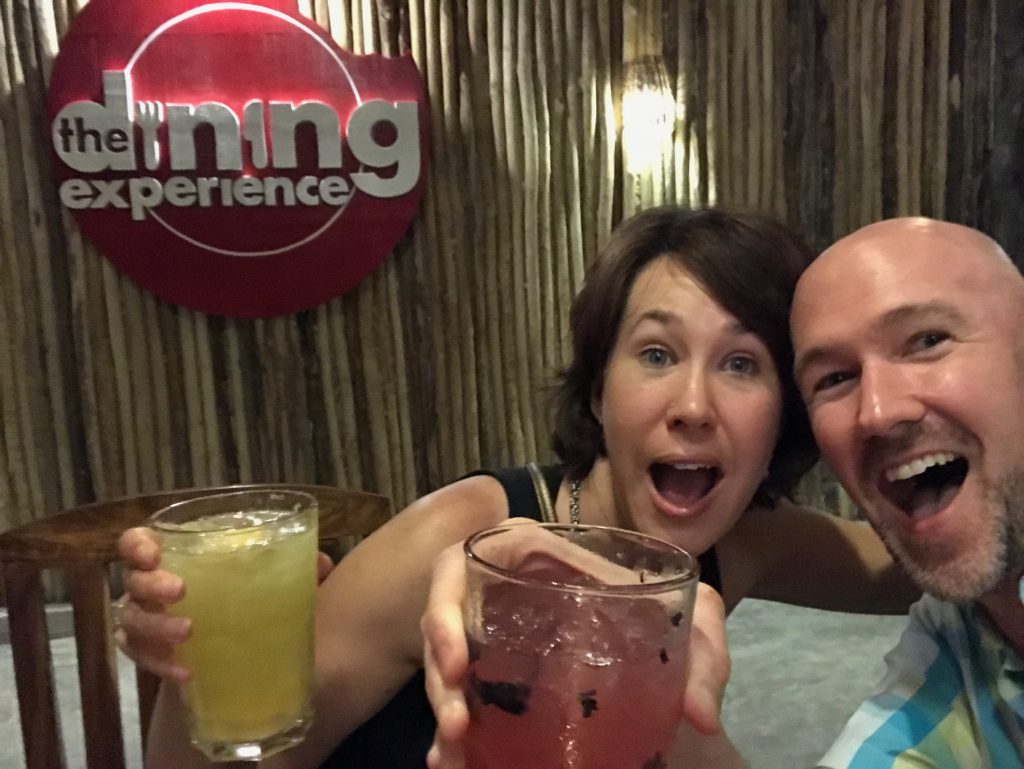 The cocktails were free-flowing throughout the dinner, so don't plan to drive yourself home! We had so much fun talking to the folks sitting near us, and of course, as the dinner (and drinks) progressed we all became the best of friends.
Check out what the Tulum Dining Experience is serving up!
Thank you, Xcaret and Tulum Dining Experience for these wonderful memories!
Enjoy this post? Pin it for later!
Ashley is exuberant about location independence! She relishes new experiences and working with boutique hotels and resorts. She's always thinking about design and food… and where they'll travel next!