Exquisite Farm Dinner With Rustic & Blue
Our favorite brunch restaurant in Chiang Mai, Rustic & Blue, has been holding regular dinners on their farm.  We went to one a couple months ago, so we knew to expect a magical evening and incredibly crafted food.  Once again, we were blown away!
We met at the restaurant to take a songthaew to the farm, where the dinner was held.  We arrived at the farm just as the sun was setting.
After grabbing a drink of red wine and a couple local brews, we kicked off our shoes and checked out the animals.  The last time we attended, I completely missed the farm animals; I didn't want that to happen again.
As it started to get darker, the twinkling lights and hanging chandelier created incredible atmosphere. Lilting acoustic music was the soundtrack for the night.
As we sat at long tables — complete with name place cards and the menu for the evening — we got to know the people sitting around us.  The five courses came out one after the next, beautifully timed.  It was a meal that was meant to be savored, and we took our time relishing it.
I was so incredibly impressed with each course! Rustic & Blue has a new chef from Québec, and we got the chance to speak to chef Julian about his creations.  Honestly I could listen to him talk food all night in his sexy French-Canadian accent.  But we also look forward to seeing how he will change the daily menu in the restaurant.
We learned that Rustic & Blue will have a new dinner menu that is separate from their breakfast and lunch menu, and we can't wait to check it out!
We closed down the dinner and took the last songthaew back to the restaurant.  We tasted incredible food, met new friends, and made wonderful memories.
---
To capture the incredible spirit of the evening, we made a little movie for you. Your mouth will water as our friends Tommo and Megsy describe the meal as we enjoy it, and you may wanna share a glass with Nathan and Johnny FD as they share their admiration for the local brews of the evening. It was amazing to speak with Chef Julien and learn more about his creative vision for the meals… and he tipped us off on a way that he "cheated" to make his favorite course especially sumptuous.
Save this post for later! Pin it!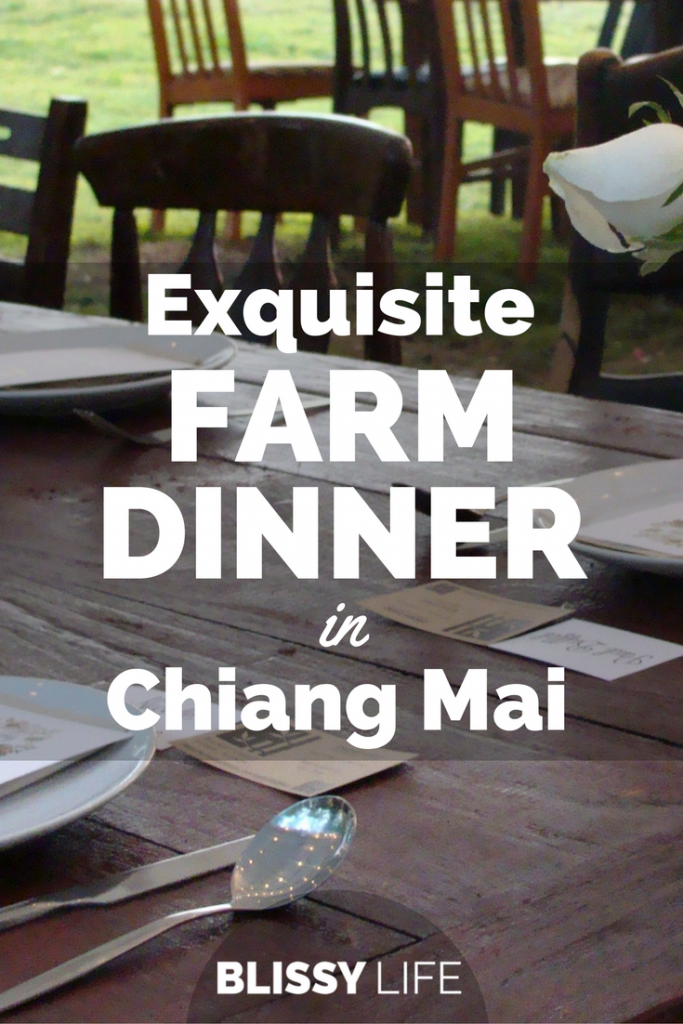 Ashley is exuberant about location independence! She relishes new experiences and working with boutique hotels and resorts. She's always thinking about design and food… and where they'll travel next!