Sometimes life can feel extreeeeeeeemly lame– when errands, laundry, work– a little of this and that start to pile up. These things will not really ever go away– unless you join a nudist colony (if you do please let me know!) Truth is, you still need to participate in these mundane day-to-day activities; although it's important not to let these experiences wash over the beautifully simple moments that make life worth while.
You may scratch your head and mumble to yourself that nothing extraordinary happens to you; you are so wrong my dear friend! Extraordinary moments will not always be flashy and they usually do not have the neon sign loudly announcing "extraordinary moment up ahead!" So, I guess it's understandable when most pass by unacknowledged.
[st_icon_box background='#eeeeee' opacity='0.1′ border_color='#eeeeee' icon='lightbulb-o' icon_color='#ffffff' icon_bg='#43b5f7′ icon_position='icon-left' icon_spin='no']I want to challenge you to not let this happen! Slow down and take a moment to enjoy something simple.[/st_icon_box]
Recently, we posted about a wonderful brunch experience— it could have been so easy to make it just another breakfast. But we made the experience so much more! We gave ourselves time to enjoy the wonderful food and the atmosphere. We were surrounded by people in their "Sunday best," there was a clown making fun balloon creatures and sparkling wine was freely flowing. It all felt quite festive!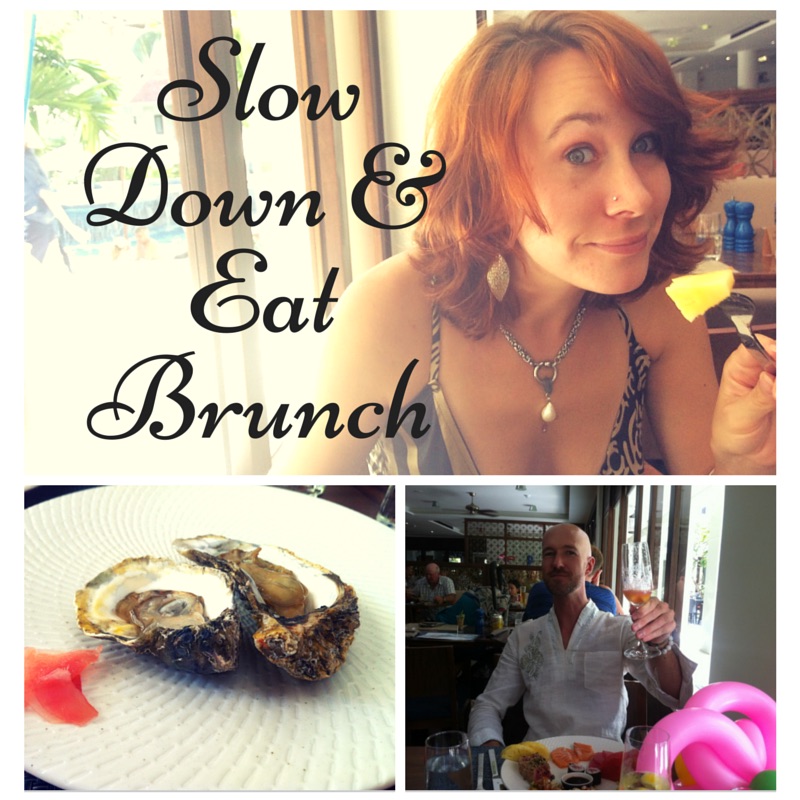 We made it special. We tasted and enjoyed the glorious food we put into our mouths. We sipped on bubbly and giggled as the clown twisted long balloons into a flower for us. We experienced bliss.  Afterwards we returned to the world of laundry and traffic, but for a few hours we simply enjoyed our surroundings and each other.
I feel it's so easy to be looking ahead and planning for the next step, that we forget about right now. Often we are tumbling over our feet, rushing ahead. It's really a unique feeling to put on the brakes and live in the moment… then continue forward feeling refreshed and maybe well fed.
What moments make you pause and bliss on life?
Ashley is exuberant about location independence! She relishes new experiences and working with boutique hotels and resorts. She's always thinking about design and food… and where they'll travel next!