Get To Know San Miguel de Allende With A Food Tour!
Food tells a story about a city and its culture.
It brings people together, day by day: through Sunday family dinner, and through a romantic Friday date night.
It's also a huge factor that we take into consideration when planning our travel as digital nomads. Often when we arrive in a new town we rely heavily on the suggestions of TripAdvisor reviews. Although sometimes it's hard to find the hidden gems that the locals know about.
After spending a couple of weeks in San Miguel de Allende, we were delighted with what we found, and we knew we had only scratched the surface. That's when I found the Taste of San Miguel food tour!
We met our wonderful guide outside of Hotel Boutique Dos Casas, which was our first tasty stop — and we were not disappointed! While enjoying the beautiful courtyard of Áperi, we enjoyed a smoked beet salad.
The dish was served under a bell, and when lifted the most incredible smoky smell was released. This was not only a delight for our taste buds, but for our eyes as well!
As the sun started to set, we headed up to the roof of La Azotea.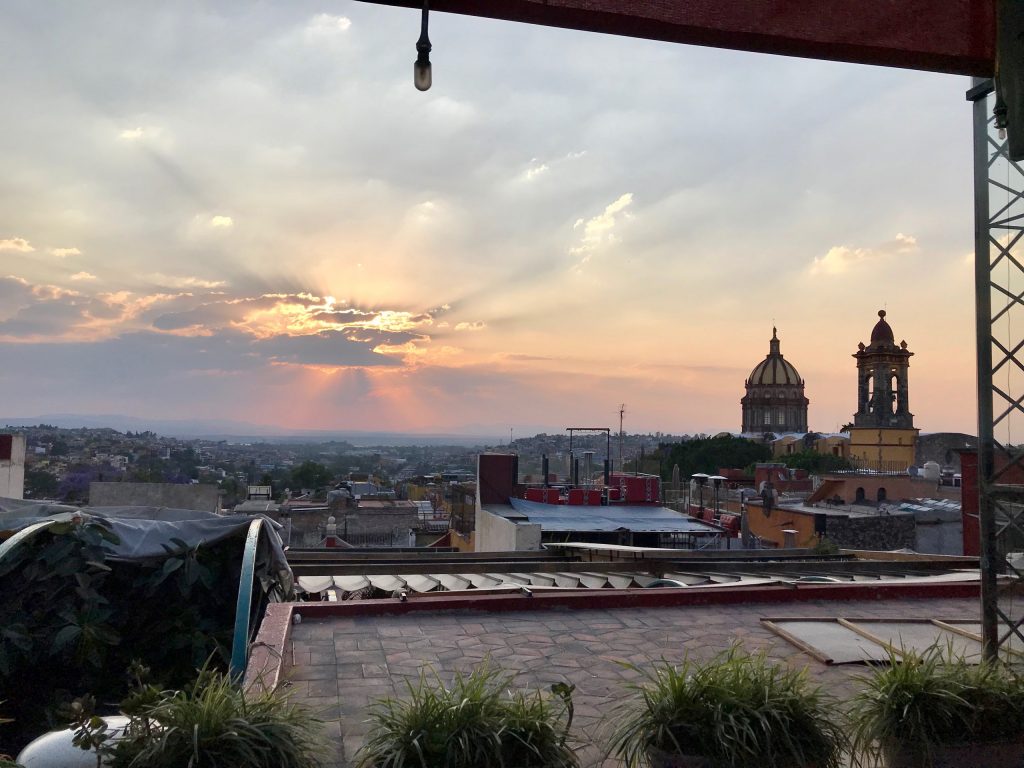 Up on the rooftop terrace, we had an incredible view of the church tops and sunset. There, we enjoyed a shrimp jicama taco. This bad boy blew our minds! The shrimps were nicely fried, with crispy fried leeks and a tangy chipotle sauce, all nestled on a thin slice of raw jicama.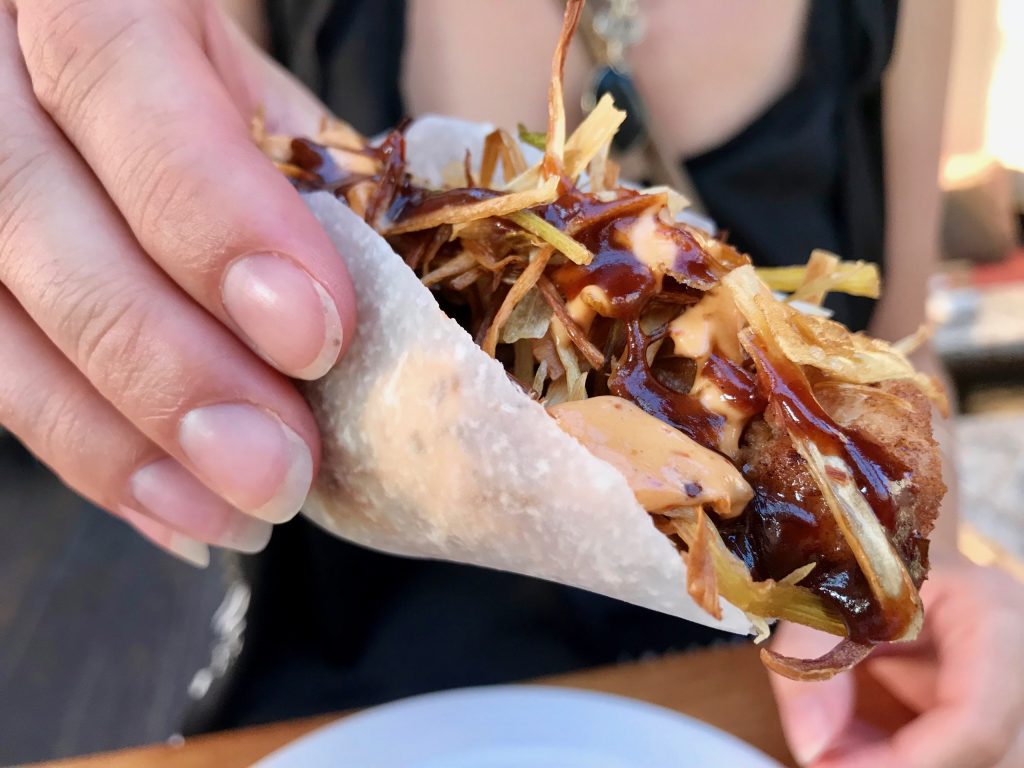 This magical combination is tasty and light. We have since gone back a few times to enjoy these tacos — and the view!
Our first entrée was enjoyed at The Restaurant.
This place is a must, and you'll see why once you taste the food! We enjoyed the braised short ribs. The tender meat and roasted veggies simply melted in our mouths. The rich and tangy sauce was perfectly balanced. This is an ideal date night place, and one I can't wait to go back to!
We then headed El Pegaso for our second entrée stop.
This laid-back spot is a family-run establishment that started out as a tack shop selling baked goods, and now they've transitioned to a restaurant with a unique menu, and incredible desserts. Here we enjoyed chile en Nogada which is considered a national dish, due to sporting the flags colors of red, white, and green.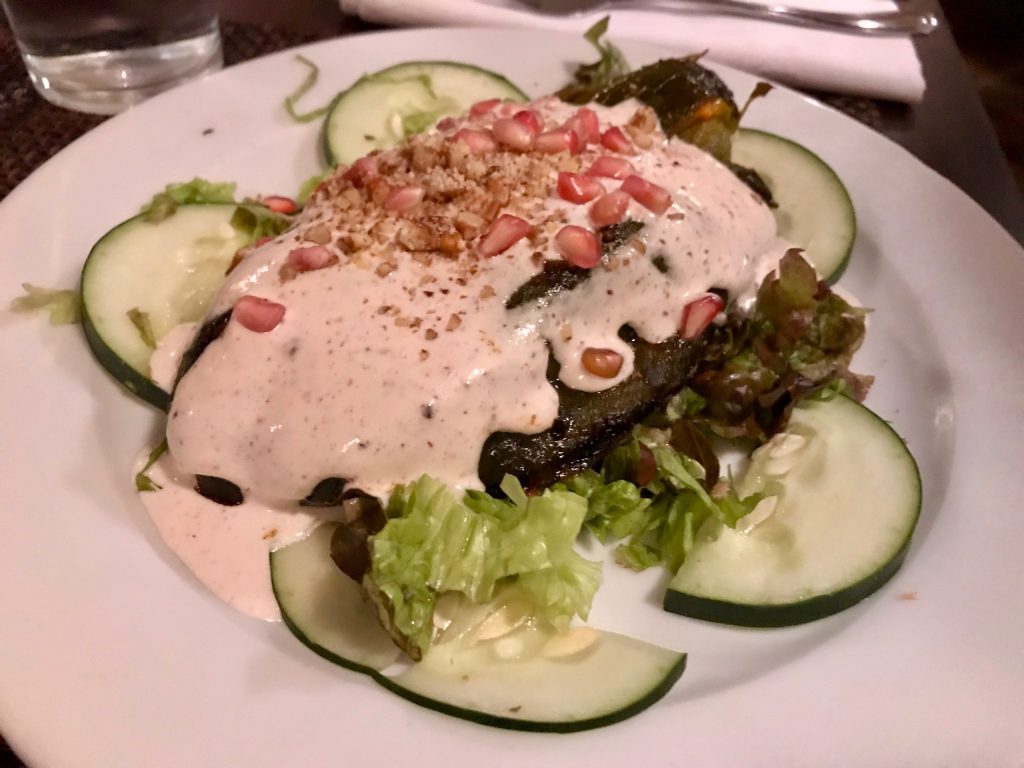 The pepper is stuffed with seasoned ground beef and fruits, covered in cream sauce, and sprinkled with pomegranate seeds. This is a very special comfort food! The pepper offers a nice heat, while the meat is tender and sweet, all covered with a rich creamy sauce. Heaven! We later went back to order this dish again and shared it because it can be a tad on the rich side of one person.
Don't forget dessert!
We then ended the tour at 13 Cielos, where we enjoyed a dolce medley of homemade ice cream, mousse, and crispy powdered sugar cookie, called Tumbagones. Peanut butter was the flavor of the day, and each aspect of the desert incorporated the flavor. It was a delightfully light and not-overly-sweet way to end the evening.
A dash of history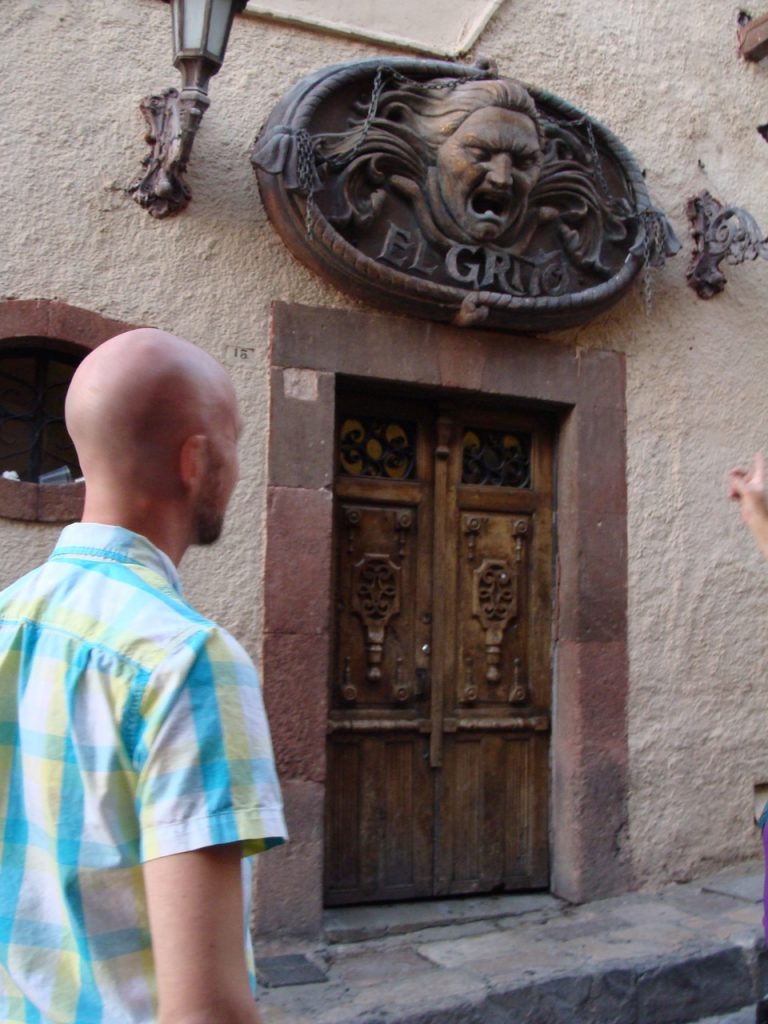 As we walked from restaurant to restaurant, our wonderful guide would point out buildings of note, and share certain points of SMA history. We ended the tour feeling like we had a better understanding of what makes San Miguel the magical city it is.
One taste was not enough for us!
Since learning about these hidden gems on the tour, we have revisited nearly all of them! It's incredible how we probably would have missed out on jicama tacos at La Azotea because… what in the world are jicama tacos?!?! It turns out that the crispy and fresh jicama slice wrapped around crunchy shrimp, tangy chipotle sauce, and thinly fried leeks… are perfection! We're honestly better people for having eaten many jicama tacos. ;-)
Thank you for Taste of San Miguel for this incredible experience! You certainly opened our eyes — and taste buds — to new flavors!
Enjoy this post? Pin it for later!
Ashley is exuberant about location independence! She relishes new experiences and working with boutique hotels and resorts. She's always thinking about design and food… and where they'll travel next!