Have A Luxurious Corfu Getaway At An Adults-Only Resort
Recently, we were delighted to stay at an adults-only resort in Corfu, Greece.
MarBella Nido is a luxurious boutique hotel, with all the perks of a larger resort. It's located right next to its family-friendly sister resort, MarBella Corfu — but it feels worlds away! If you're looking for an especially romantic and luxurious getaway, MarBella Nido is ideal for you!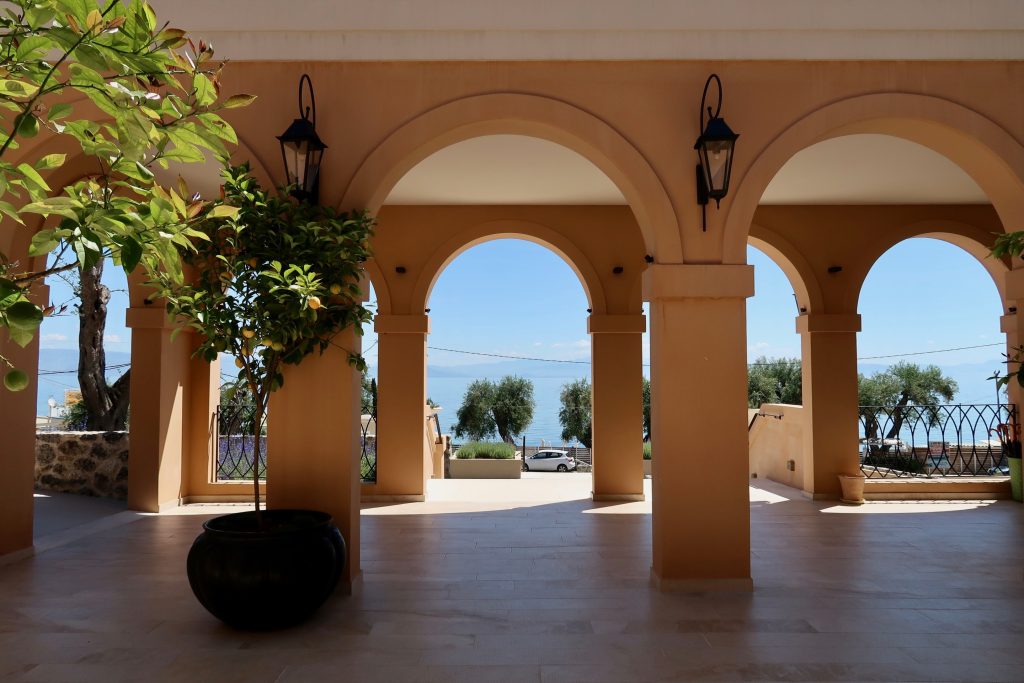 The views at Nido feel like they are out of a dream.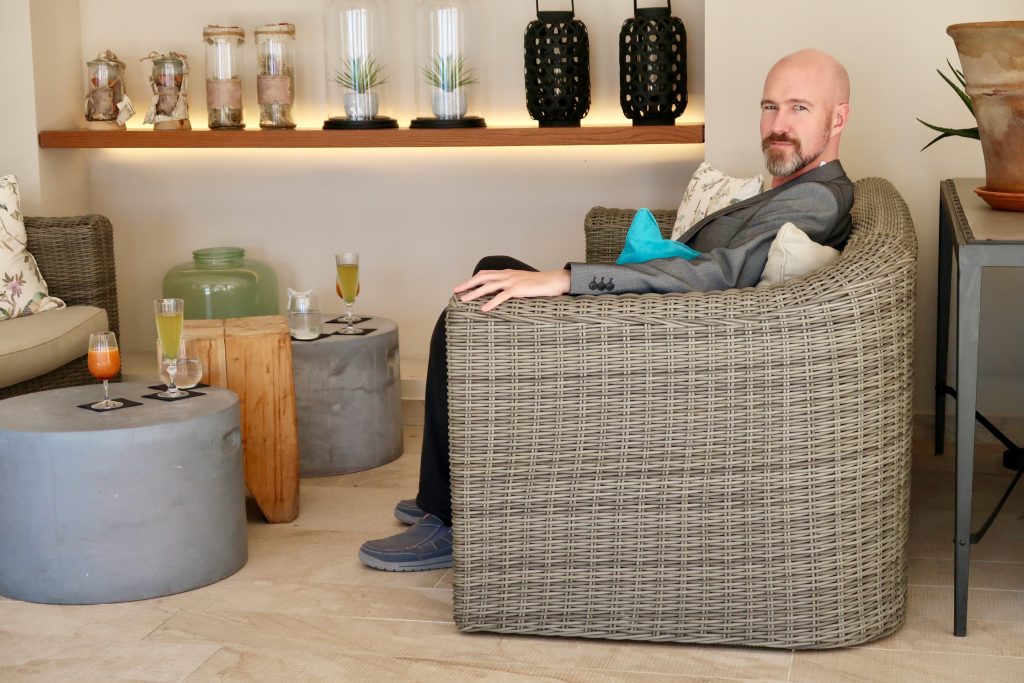 We made it to MarBella Nido! Immediately we felt that the place was so cool, and so relaxing.
While checking in, we lounged outside the lobby and enjoyed a fresh cocktail.
The turquoise ocean was right across the patio, twinkling at us through the archways. Time seemed to slow. Refreshment and relaxation began to sink in. We had the distinct feeling that we were really going to like it here.
Cheers! What a nice welcome drink: white wine with a hint of pressed apple.
The lobby is pretty chic — it's nice to take a breath and just kick back for a bit.
The lobby of MarBella Nido is elegantly comfortable, and significantly more relaxing than its sister resort. With 69 suites, there are considerably fewer people, and of course: no children. 
Enjoy the gorgeous resort grounds.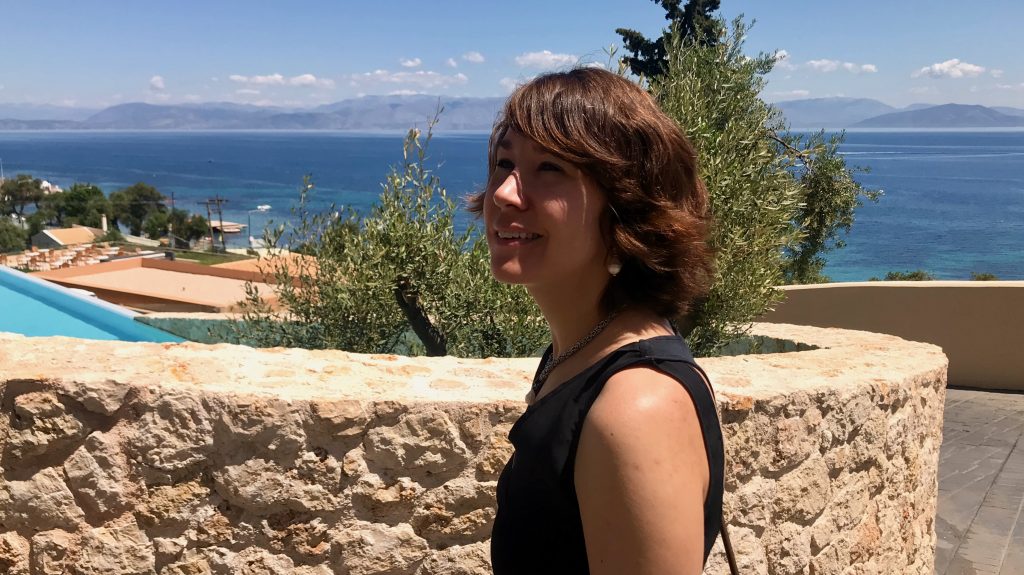 Villas and infinity pools, dappling the Corfu hillside.
The resort grounds are beautiful!
As you leave the lobby, the main road zigzags up the hill between the villas. Somewhat in the middle is the shared infinity pool, restaurant, and the gym and hammam facilities.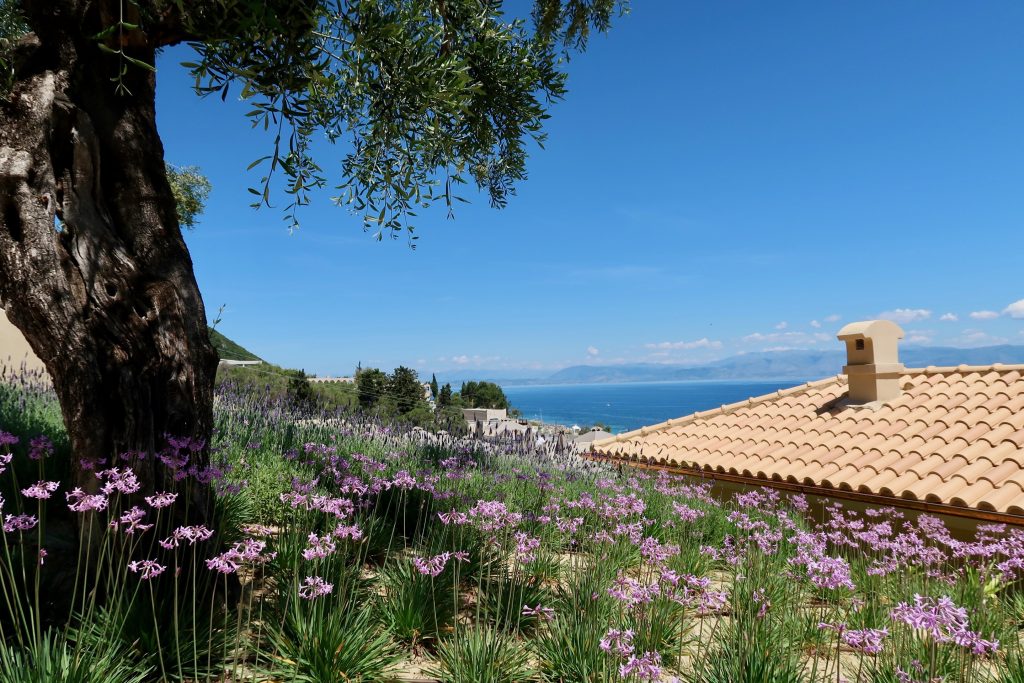 Since Nido is adults only, it feels incredibly relaxing, and good for the soul.
There are beautiful lavender plants and gnarly olive trees throughout the property. Oh, and did we mention the views? The turquoise ocean behind the terracotta rooflines was breathtaking! 
Sparkling wine and snacks waiting in our room!
So I think by now you know we're huge suckers for enjoying wine and good food, with a view… and the wonderful welcome of wine and snacks was a great surprise. We were blown away!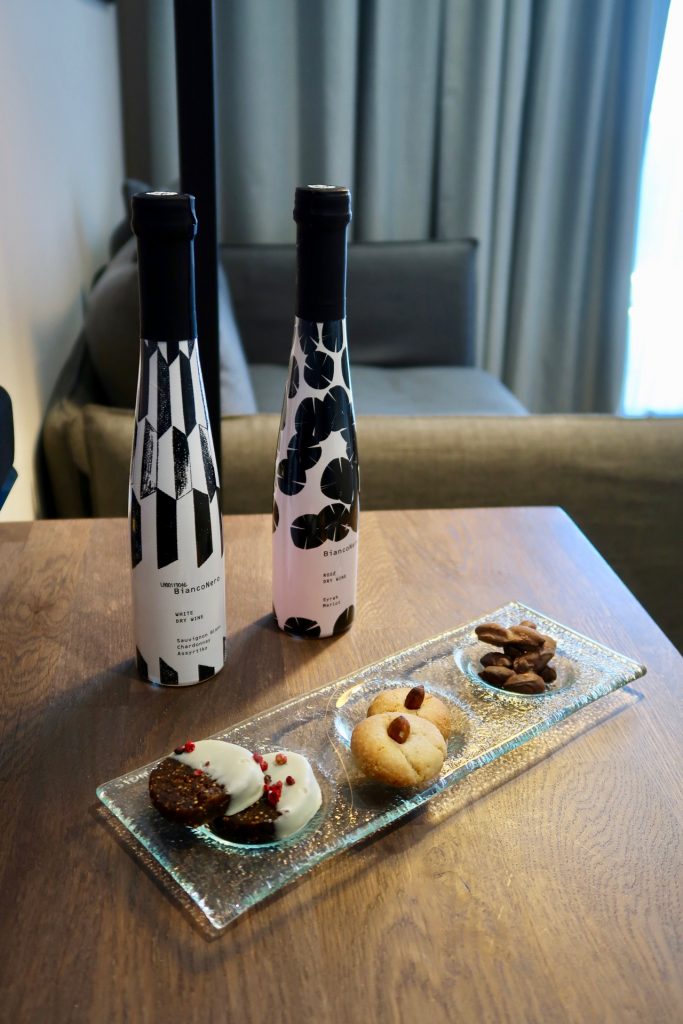 Our room had stylish wine and tasty treats! It's like they know how to put us in a romantic mood, haha.
Our room layout was awesome.
Our room was extremely comfortable, with a separate area to lounge. Also, the bedroom had quite the large window looking into the shower… oh la la!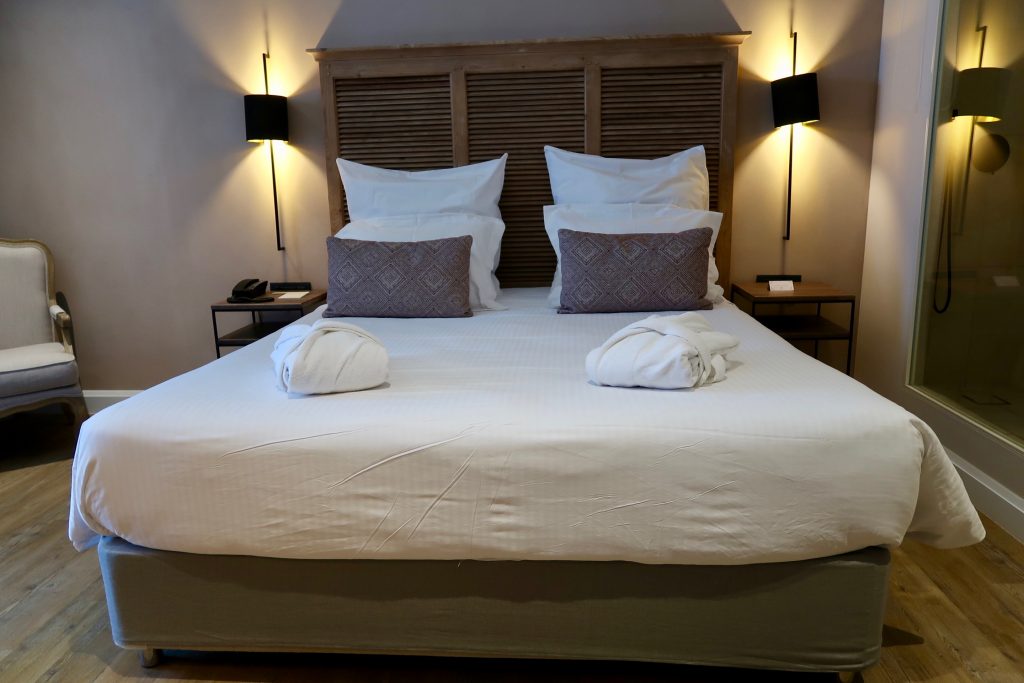 Lounging in white bathrobes is one of life's simple pleasures.
The magical view from our room! 
Just look at that view. This is one reason — of many — why we absolutely adore Corfu. Our room had a private terrace with infinity plunge pool… and just look at those incredible colors!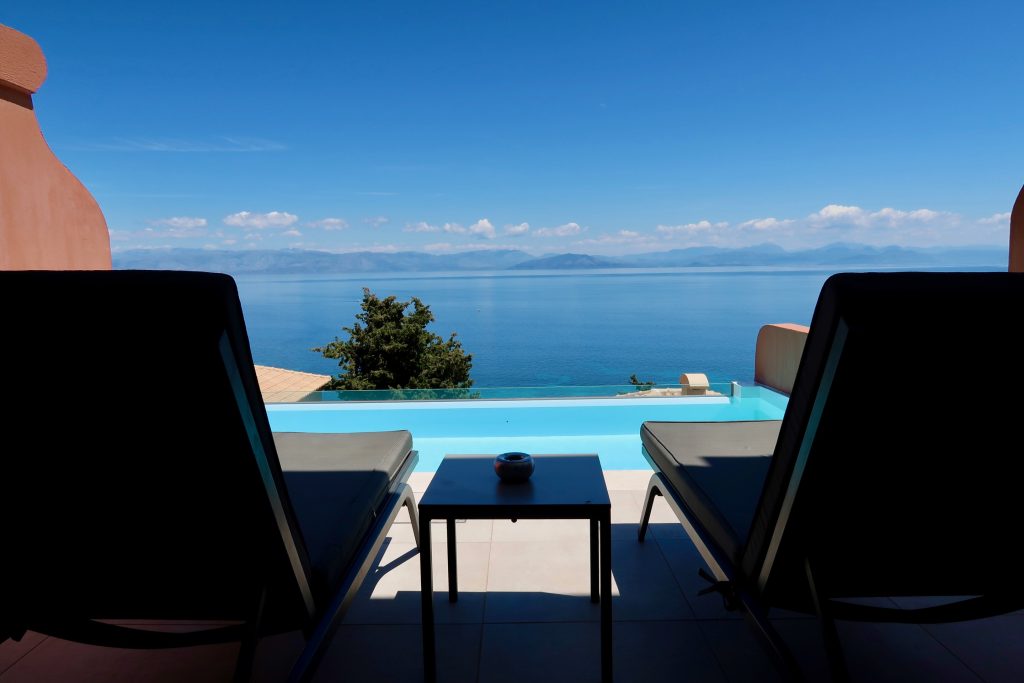 Ta da! Our plunge pool looked out over this gorgeous Mediterranean panorama. What a sight!
Once you reach your room and start to enjoy a cool glass of sparkling wine next to your private pool, you may feel hard-pressed to leave it. We completely understand.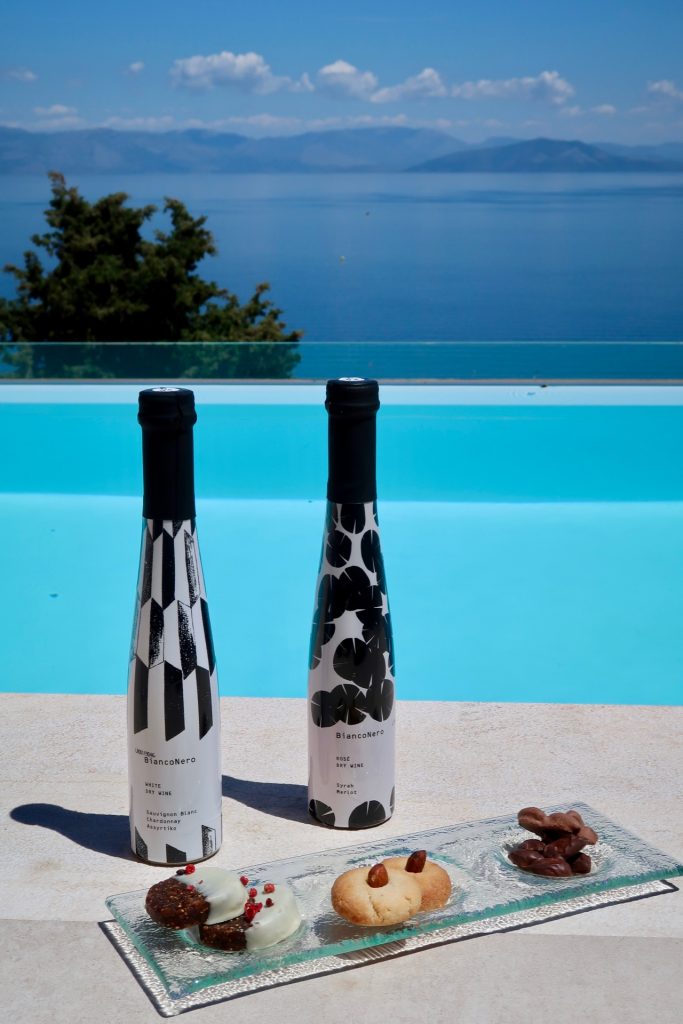 Here, time seems to slow down and life becomes more beautiful!
I may have been a bit obsessed with the fig cookie, dipped in white chocolate and peppercorns. Yum. It paired beautifully with crisp sparkling wine, and the view. Oh my!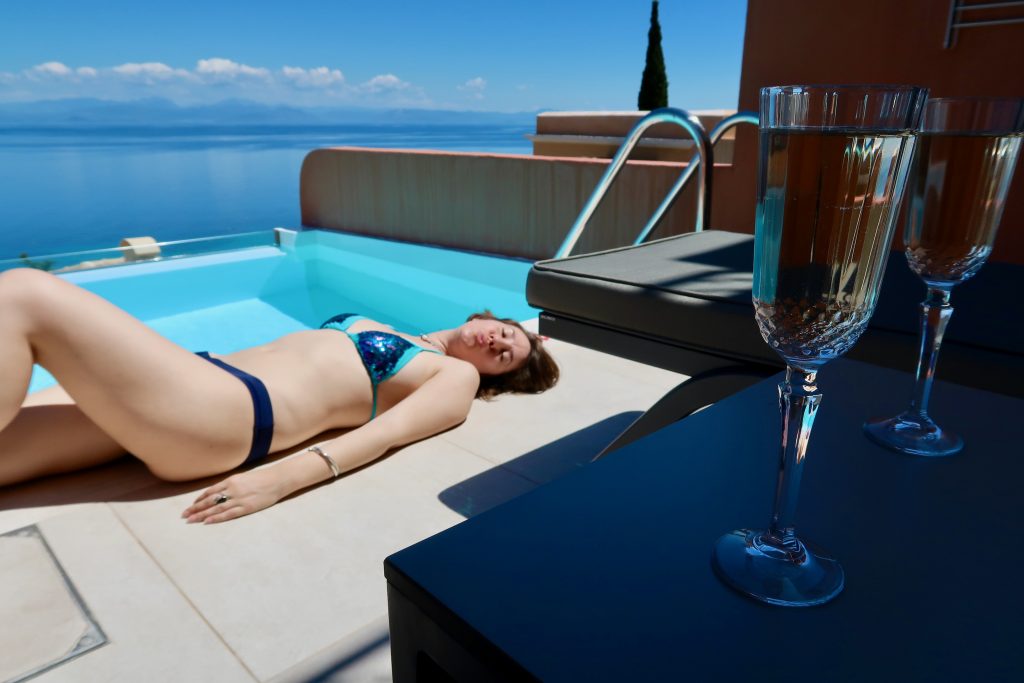 Oh, yes! Let's kick it off with some white wine and sparkly bikini lounging.
Waiting for the bus!
This is no ordinary bus stop — we were waiting for the resort shuttle to pick us up. The walk was not overwhelming, although these waiting areas make the perfect place to get out of the intense Greek sun.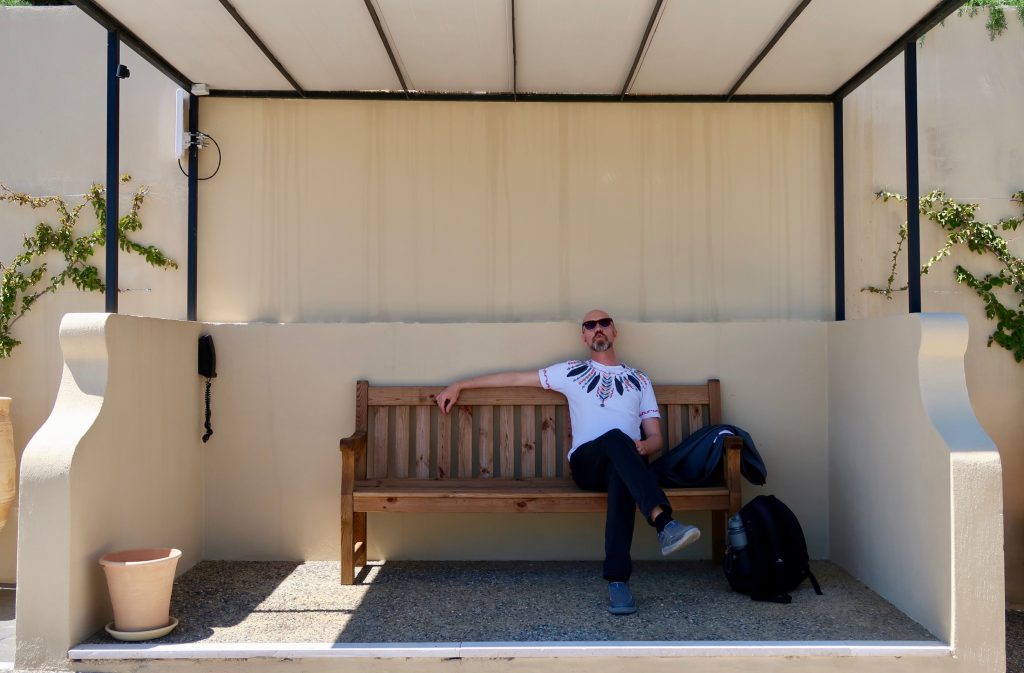 There are little stations here and there, where you can wait for a shuttle to zip you up and down the hillside.
The beach is right across the street!
If you are looking to get a little sand between your toes and enjoy the salty water, the ocean is right across the road. There you will find lounges and chairs for you to enjoy.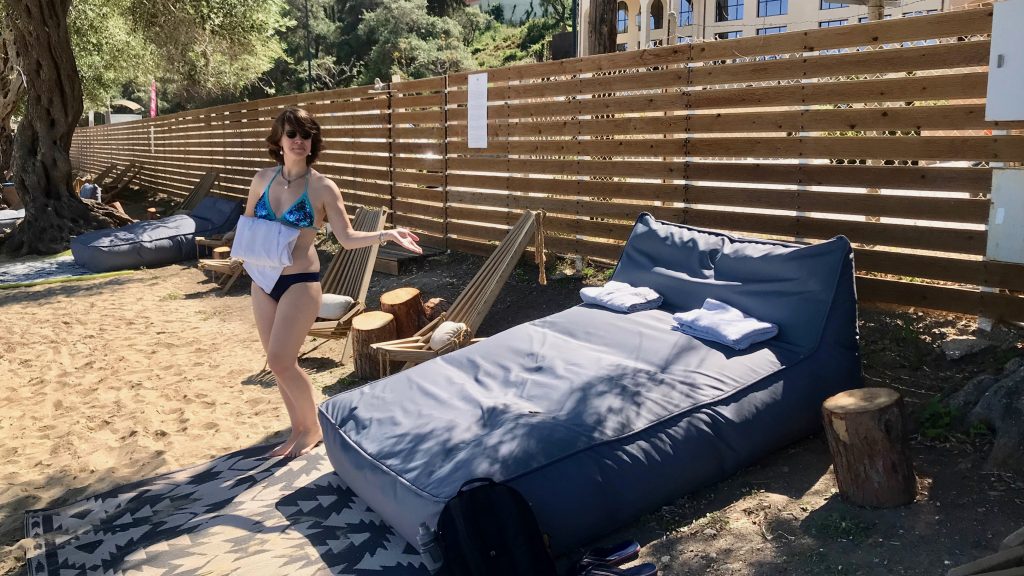 Down on the beach, we found a big cushioned lounge bed. It was so, so comfortable.
Enjoy a local beer or shot of Ozuo while on the beach!
On the beach, you'll find a lovely family-run taverna that serves ice-cold local beer, ouzo, and other traditional Greek dishes. We opted for a beer, some ouzo, and a tzatziki dish, served with a hunk of fresh crusty bread. I think this was the best tzatziki I have ever had, and the ouzo was ouzo… either you love it or you hate it. If you're not sure, you should definitely give it a try!
Prepare for a culinary experience!
As the day starts to wind down, whether you spent the day wandering around the island, or exploring Corfu Town, or you never left the privacy of your private plunge pool — you are in for a real culinary treat for dinner at MarBella Nido!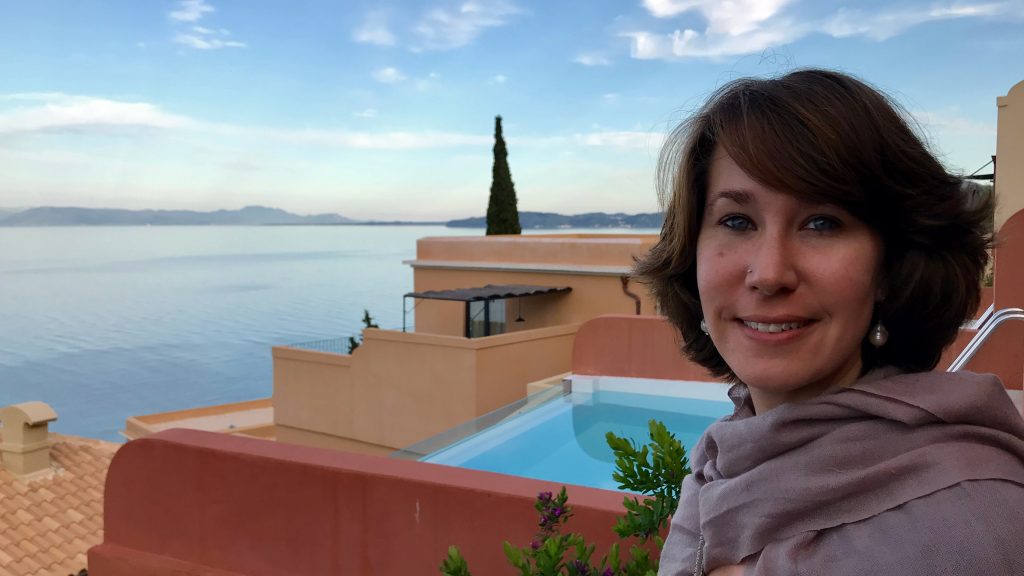 As the sun sets, we enjoy how the sky changes from our private terrace at MarBella Nido. 
But wait! A little goodie was delivery to our door while we were getting ready for dinner! What could it be?!?!
A goodie bag was delivered to our door, full of more tasty treats!
We were given a bag of tasty treats!
Special goodies were delivered to us: some delights from Lazaris Distillery & Artisan Sweets! Oh my! They are famous for their Kumquat liqueur and candies which are traditional to Corfu. We weren't quite sure what to expect from the liqueur, and we were pleasantly surprised. I was expecting something that was syrupy-sweet; the Kumquat liqueur was actually, light, pleasantly sweet, and just the right kind of tangy. It would be perfect to sip on chilled.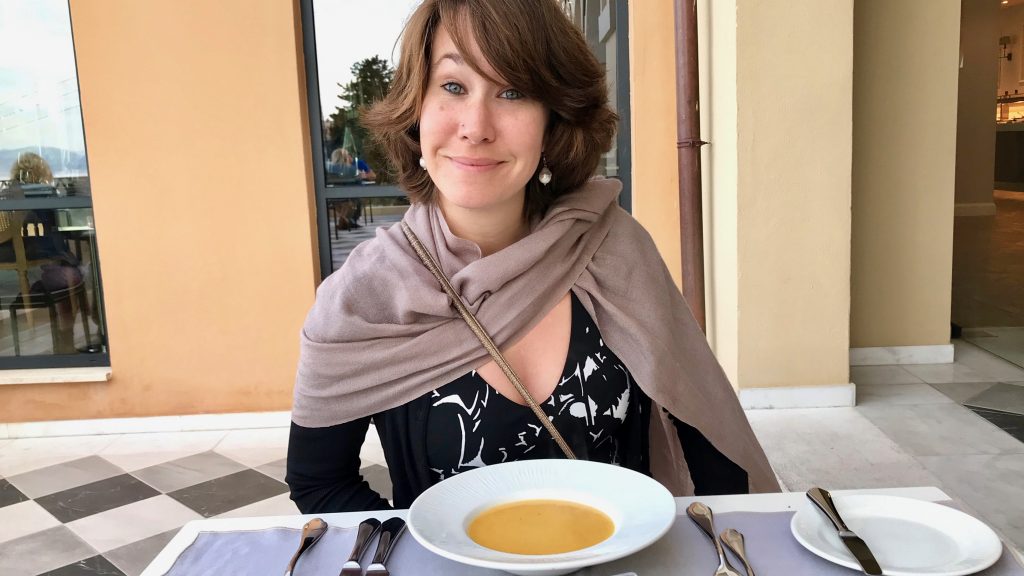 Enjoying our first meal at MarBella Nido… I "patiently" wait for Curtiss to take my photo before I dive right in!
The food at San Giovanni, MarBella Nido's main restaurant, is spectacular.
San Giovanni may quickly become one of your favorite restaurants in Corfu! There are options for indoor or outdoor seating, and if the weather is behaving you should absolutely sit outside on the terrace to watch the sunset over the Mediterranean Ocean. The list of wines and local beers is extensive and our server was very helpful in suggesting a local beer he enjoys. Dining is buffet style, with a soup dish for the first course. Yum!
Dining at San Giovanni main restaurant at MarBella Nido will be one of the highlights of your Corfu getaway!
I'm a huge fan of buffets! I say that because I love being able to try a little of everything… which includes the dessert bar, of course! We enjoyed many delicious Mediterranean and Greek dishes, that were artistically prepared and so very tasty!
Thank you!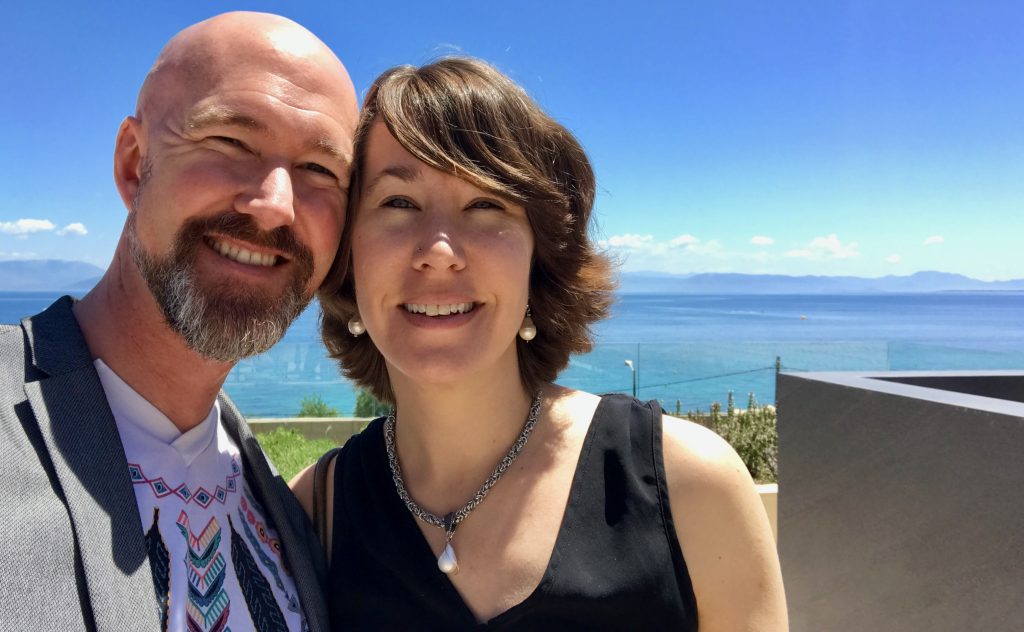 What an incredible stay at MarBella Nido! The colors of Corfu bedazzled us.
MarBella Nido is truly a romantic getaway in Corfu! Thank you to the wonderful resort team for making our stay incredibly relaxing and magical. We eagerly look forward to our next visit!
Enjoy this post? Pin it for later!
Ashley is exuberant about location independence! She relishes new experiences and working with boutique hotels and resorts. She's always thinking about design and food… and where they'll travel next!