We have been on a food adventure! It was unexpected and glorious! We've been in central Vietnam for a couple of weeks and have lost count the number of meals that we have been– simply put– blown away with.  
To give you some context, we are not hunting for the fanciest of fancy-pant restaurants. We are going to local establishments that seem to draw a crowd. We enjoy checking out what TripAdvisor suggests. But honestly sometimes we are simply hungry, and eat at the closet place that will serve us.
We are continuously amazed with the freshness. Hands down. We chose which swimming fish would be taken from the bucket and made into our dinner. We perused plastic containers lined up on the restaurant floor full of oysters, snails and various other wiggling sea creatures I don't have a name for.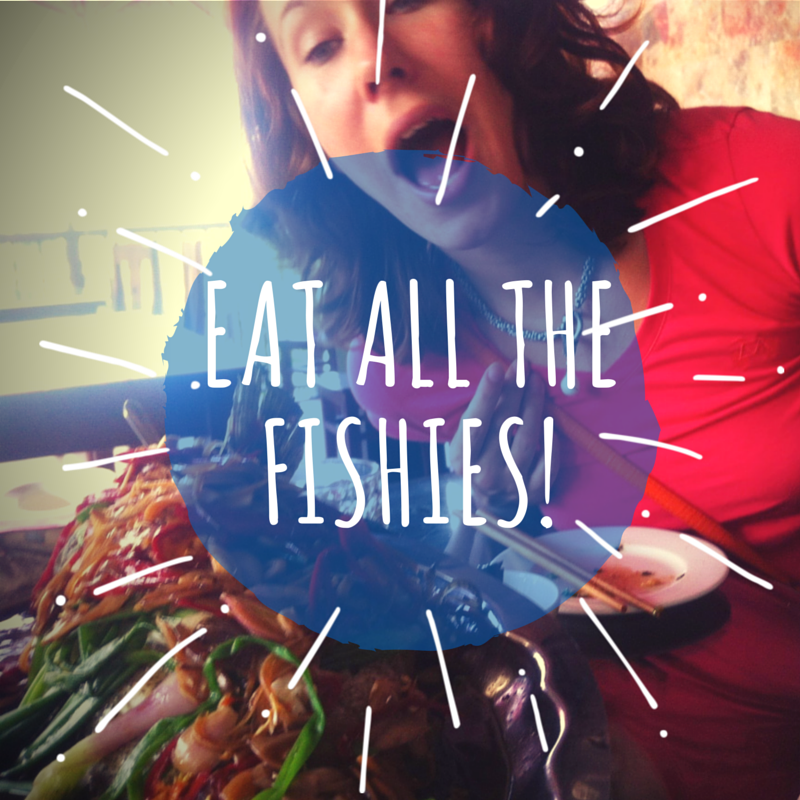 Also I have been sating my joy of raw salads– basking in green papaya, carrot, onion and a light dressing. These are things my body has been whimpering for.  Sometimes it feels like an extra challenge to eat healthy while traveling.
Food prices are incredible. It's very nearly cheaper to eat out, than it is to cook at home. Combined with the sweltering heat (I'm sweating my butt off while writing this ;-)) there is no way I could be convinced standing over a hot stove is a good idea.
I feel so fortunate to be able to enjoy what this area has to feed me. When we arrived it was completely unexpected and now we relish it! We have started to ponder where we should take cooking lessons so we can make similar goodies for ourselves, but maybe in a cooler climate.
[st_icon_box background='#eeeeee' opacity='0.1′ border_color='#eeeeee' icon='lightbulb-o' icon_color='#ffffff' icon_bg='#43b5f7′ icon_position='icon-left' icon_spin='no']What dishes have you fallen in love with that sparked a flame of inspiration? Did you learn to make them?[/st_icon_box]
Ashley is exuberant about location independence! She relishes new experiences and working with boutique hotels and resorts. She's always thinking about design and food… and where they'll travel next!