Hands down it's hard to eat right while traveling. You are forced to eat what the plane offers and quickly gobble something down before the bus leaves– it's not always fun and mostly about convenience. You may be on time, but your body starts to hate your choices.
I think that's the important point here: make healthy goodies and meals more convenient. This fun article gives some great pointers on how to treat your belly right while traveling near and far.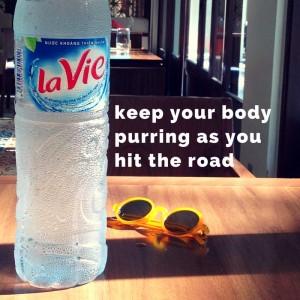 This came to light for me while in Central Vietnam. The food here is gloriously fresh, local and light. Maybe because of the profound heat or the kitchen staff could hear my body screaming for healthy sustenance. I have been greatly enjoying the raw salads with tender squid and shrimp, tossed in a tangy dressing.
We had previously been traveling in Thailand, where it's highly advisable to eat only cooked veggies. The region we stayed had a great offering of meats and veggies cooked in a tasty sauce. We passed on the steamed white rice that is a staple to every meal and ordered another dish of cooked greens. But honestly after six months there, I was feeling a little too saucy. (I never thought I'd say that… but there it is.)
While traveling internationally to locations where the water is not the safest, I normally avoid raw veggies and fruits like the plague, in the fear of catching the plague (or something near it). Fortunately so far so good in Vietnam! It was a risk to break away from this rule, but I can hear my body thanking me.
[st_icon_box background='#eeeeee' opacity='0.1′ border_color='#eeeeee' icon='lightbulb-o' icon_color='#ffffff' icon_bg='#43b5f7′ icon_position='icon-left' icon_spin='no']What are your favorite travel goodies? How do you keep your body purring while on the road?[/st_icon_box]
Ashley is exuberant about location independence! She relishes new experiences and working with boutique hotels and resorts. She's always thinking about design and food… and where they'll travel next!