Barbados Will Bring Out The Pirate Inside You!
When you head to Barbados, it's only natural to let the pirate inside you breathe a little salty air! You don't need to wait until National Pirates Day (September 19) to strip to your skivvies, don your eye patch and gulp some rum!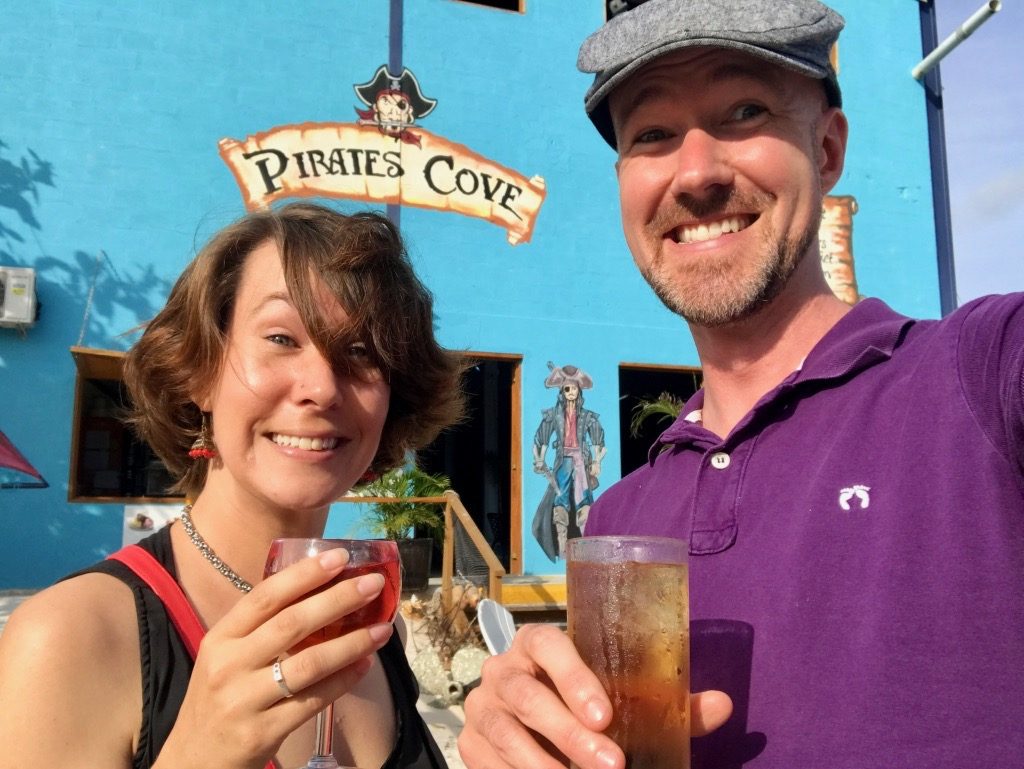 At Pirate's Cove in Bridgetown, Barbados you're transported to a friendlier version of Black Sails (we've been watching the show to get us in the mood!) There's a wonderful beach bar and food stalls where you can pick up some local goodies like fish cakes and cutters to keep your tummy happy.
We arrived a little before sunset.
There were fewer people because the folks that camped out for the day were starting to dwindle. I could see how this would be an ideal place for a beach day!
Cold drinks under a palm tree.
We ordered a couple of rum drinks and enjoyed the sea breeze in a hammock. It was so wonderful to enjoy a cold drink under a palm tree.
The real excitement starts after sundown!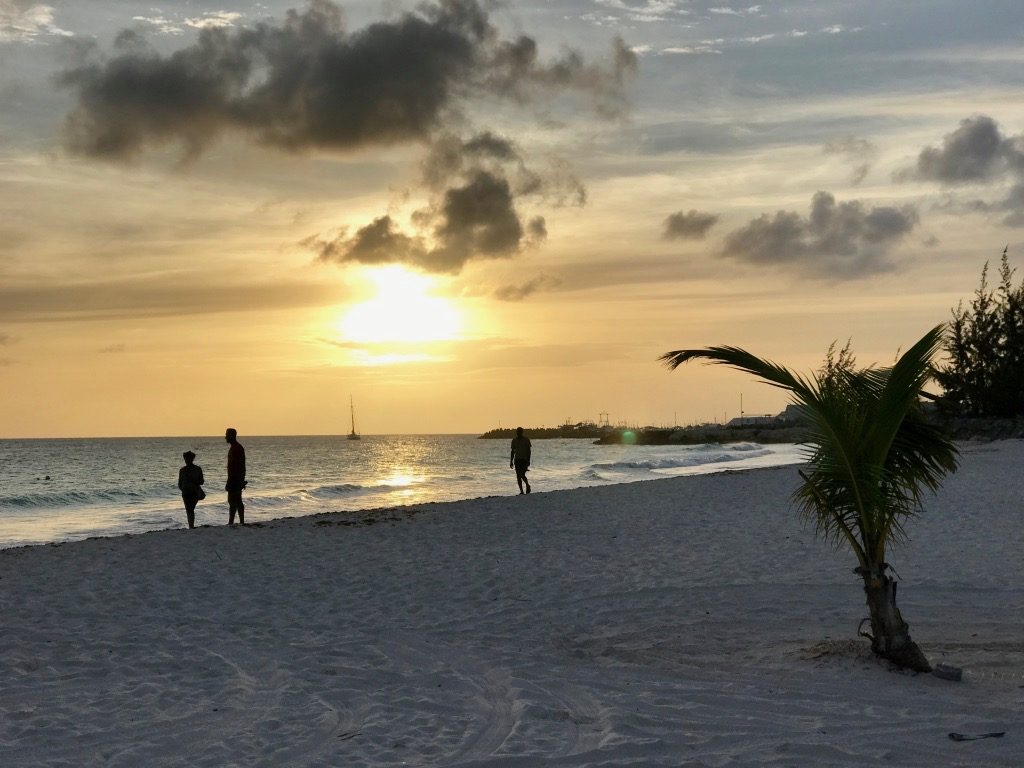 Every Friday night, there's a truly extraordinary event that happens at Pirate's Cove — it's a fun mixture of good food, lots of rum, dancing, costumes, music and Bajan history.
Check it ou! Pirate's Cove | TripAdvisor 
Celebrations of Rythm is a can't-miss show about Barbados!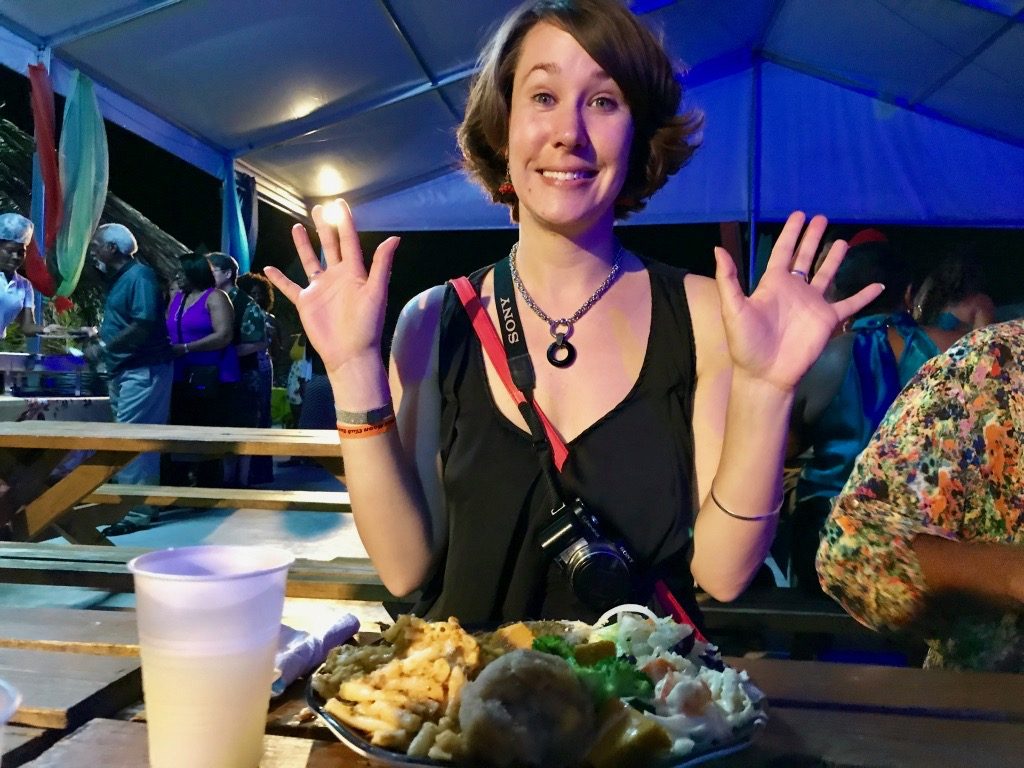 Just before the show starts, you help yourself to a buffet dinner and rum concoction of your choice. I fell in love with the coconut rum and pineapple juice… it was very smooth and went down dangerously easy. The food was fabulous and somehow I ended up with a heaping plate that could have fed an army. It was all so good that none of it went to waste.
The MC and DJ of the night was a hoot!
As dinner ended he started to ask if it was anyone's birthday. There were three lucky folks, but he was looking for more volunteers for a mixology competition. Being the loving partner I am, I volunteered Curtiss because his birthday was only a few days away… and I knew he would have fun with it. And boy did he ever!!
The contestants were shown the various goodies they could use to mix a winning drink (there was of course rum) and were then wildly cheered on as they raced against an imaginary clock to mix something incredible!
Curtiss, being the goof he is, danced and played around onstage. I was worried we would never get him off the stage after the competition, but he finished pouring his mixture just in time.
Judges tried each drink and deliberated.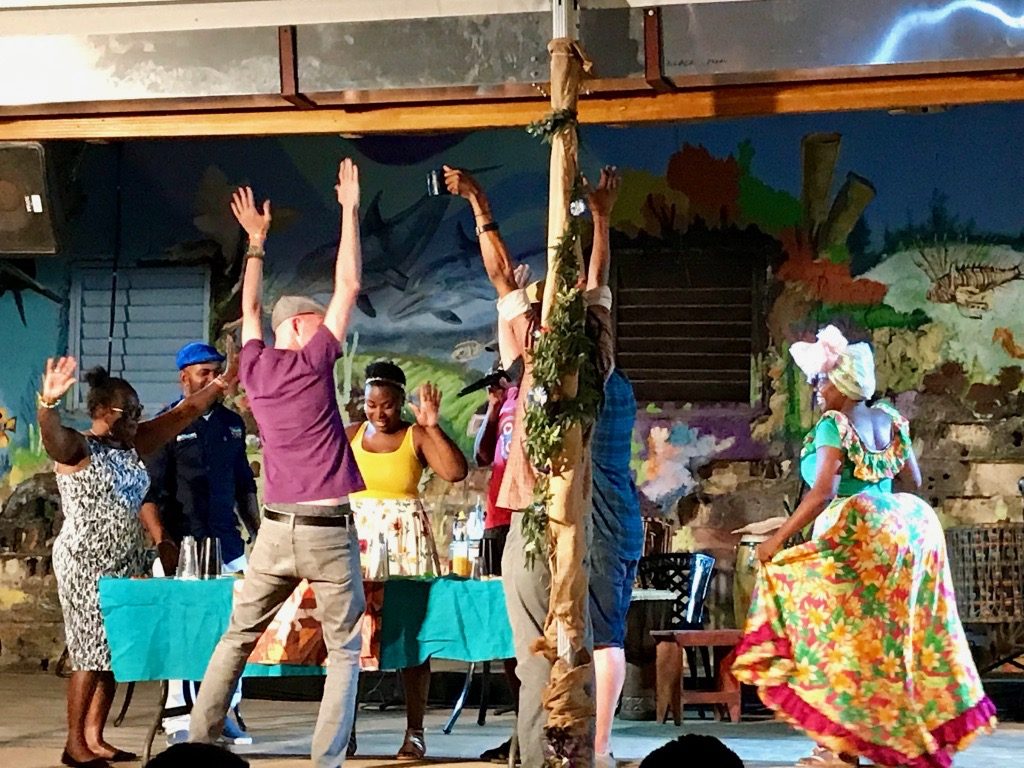 The judges announced it was a close match, but Curtiss was the winner! You can imagine how proud of him I was. Also I would like to think that he got a few tips from our recent Calabaza Cruise, in which we learned from the captain how to mix a kick-ass run punch.
The show that followed was spectacular!
There were incredible singing and dancing that depicted the history of Barbados through the years. You could really feel the pride the performers have for their country… and there's so much for them to be proud of!
The music is infectious!
Your toes will be tapping and your shoulders will be swaying. This is a show that all ages can enjoy, although the bottomless run punch will be appreciated by the adults in the crowd.
The show is a fantastic introduction to the rich history and culture of Barbados — we highly suggest you check out Pirates Cove and Celebration of Rhythm show! We're so excited by how much fun you'll have!
Book a show! Celebration of Rhythm | TripAdvisor 
Another fantastic way to get your pirate on is to walk the plank on The Jolly Roger I.
You don't actually have to walk the plank… you can also swing from a rope, or relax on one of the various decks. If you're looking for crazy fun time, you will find it on The Jolly Roger I!
This was totally a surprise for Curtiss's birthday this year!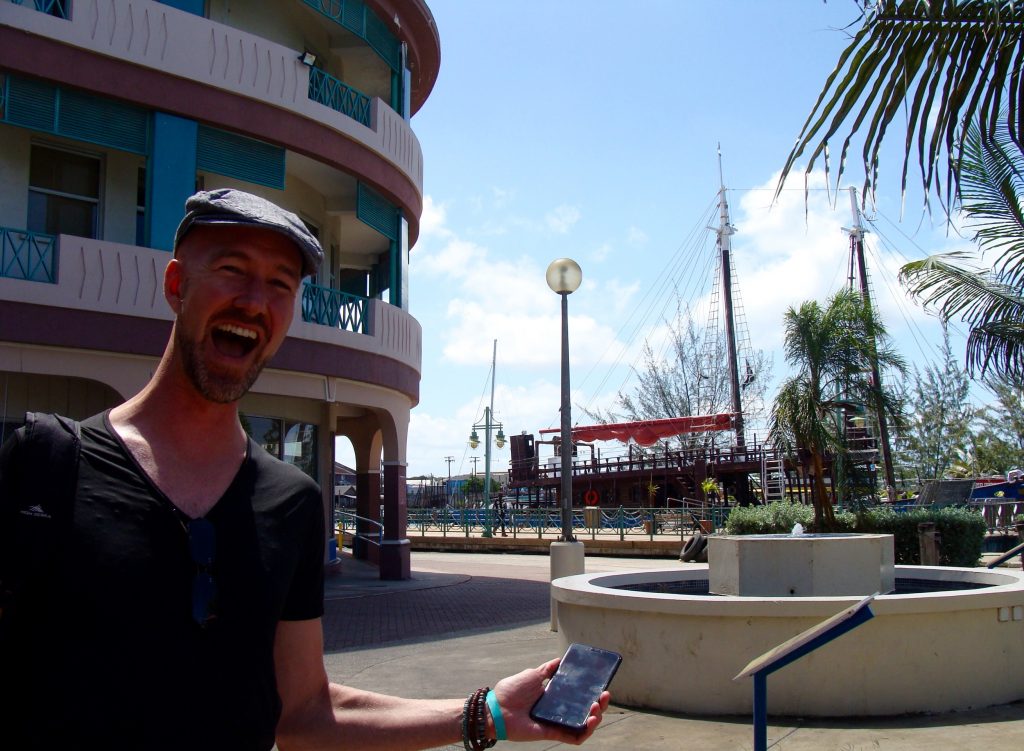 As we were picked up, I whispered to our fabulous driver not to say where we were going, that it was a surprise. And he did a truly incredible job — he even told the other guests we picked up on the way about the surprise. Everyone played along so well, that he had no idea where we were going!!
When we arrived the multi-storied pirate ship is hard to miss!
We were both so excited to go onboard and go on an adventure. We had our first rum punch as we checked in met a few of the other guests. We soon boarded and left the harbor.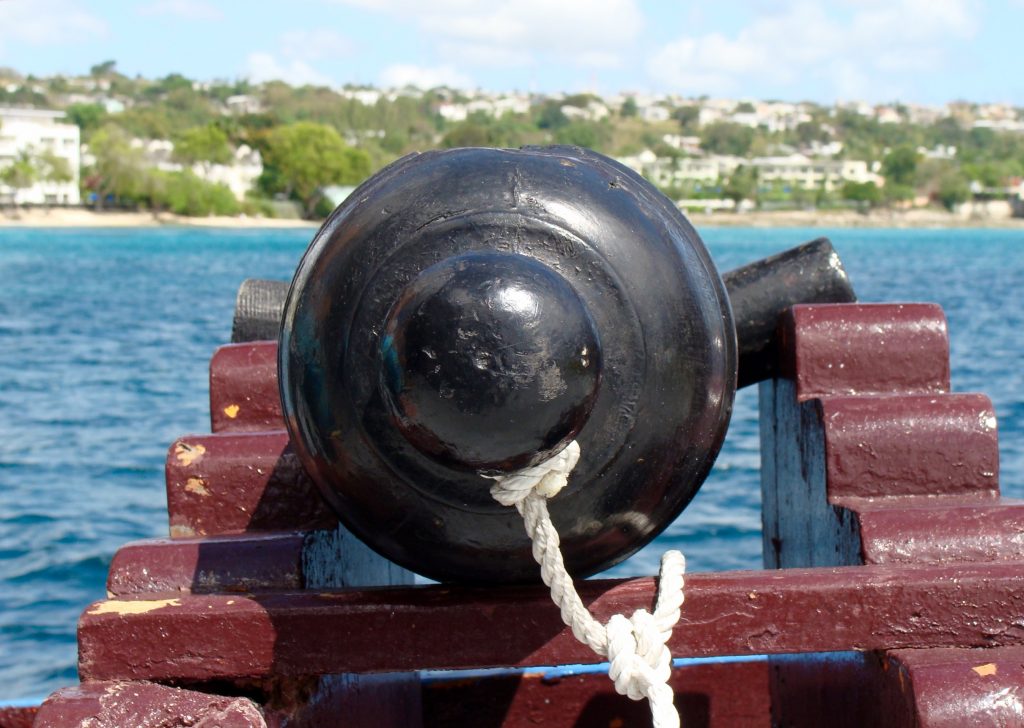 The Jolly Roger I was much bigger than I expected! Everything we could see was wood and really felt like a "pirate" ship.
We first stopped to swim with turtles.
This was the second time we had the pleasure to swim with turtles in Barbados, and it was still a spectacular experience. We also snorkeled over two shipwrecks. It was magical to see the school of fish swim in and out or the open windows of the wreck.
Back on board, we enjoyed a fabulous lunch.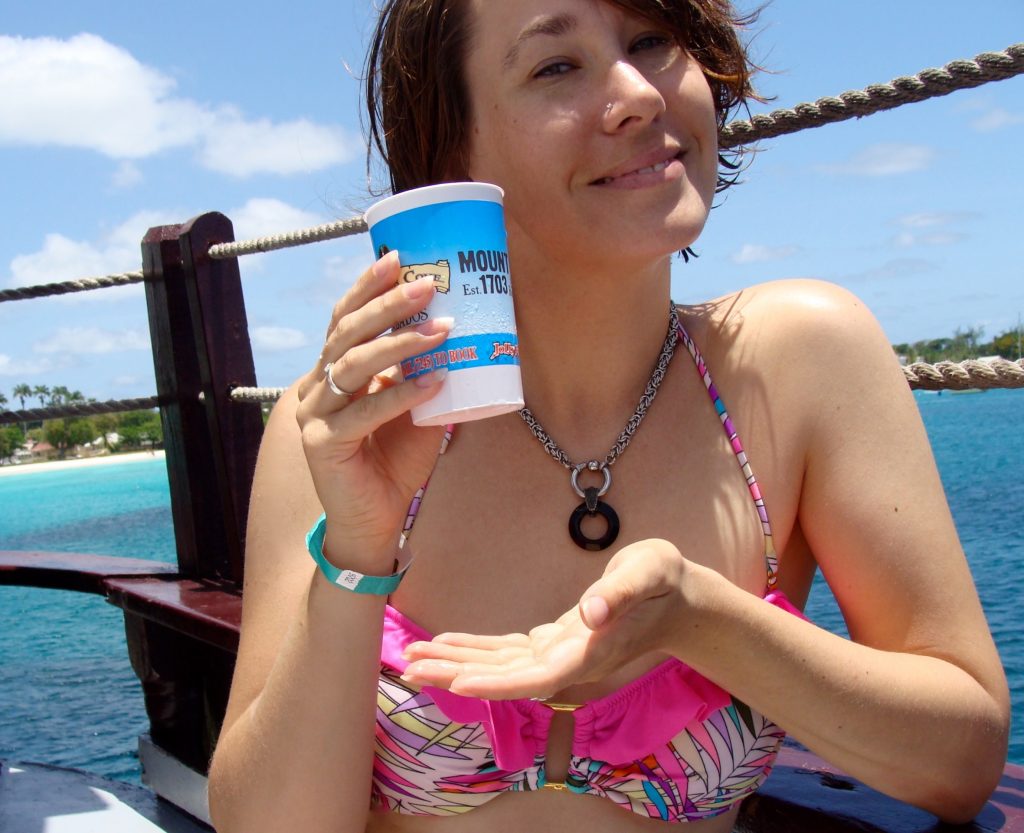 There was of course with rum punch to wash everything down.
We then had some time swim and to jump off the plank or swing on the rope. We tried both, because how often are you on the pirate ship in the middle of the Caribbean… it was definitely a first for us! There was great music playing over the speakers and everyone was having fun!
Although I think things really hit full swing on the way back!
The mast — complete with skull and bones — was hoisted by a bunch of strapping young men and the music was turned dancy. The boat was rocking and people were having a dance party!
It was so much fun to dance while the boat was rocking away to its own rhythm.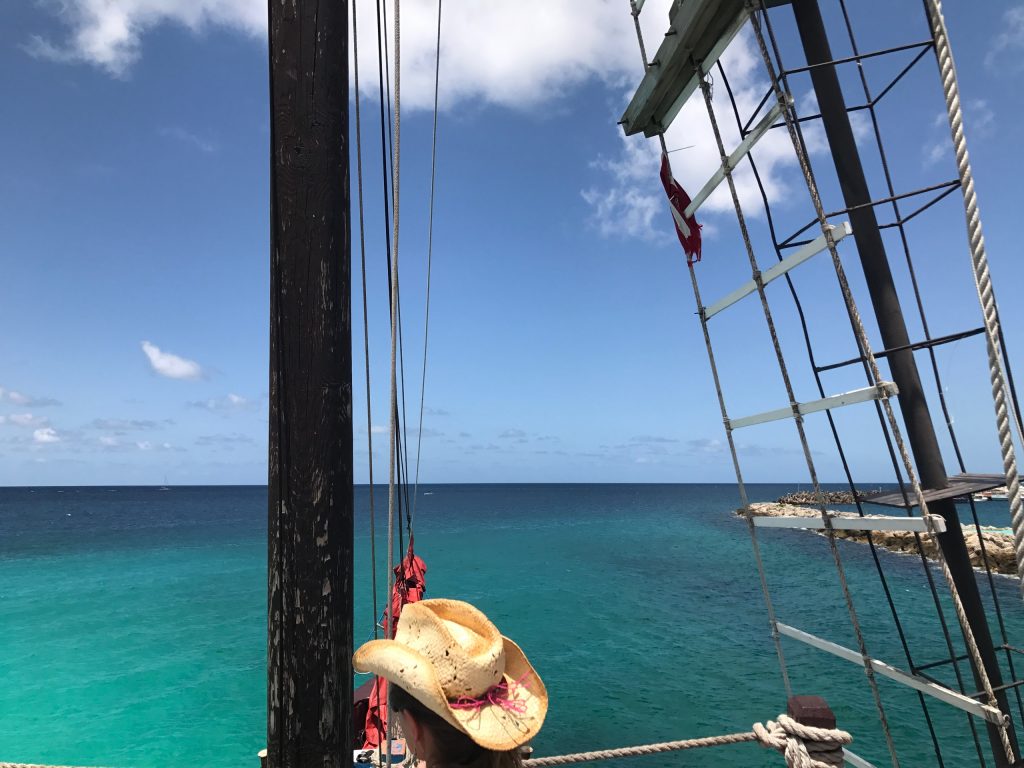 The weather was absolutely perfect for our pirate adventure on the beautiful turquoise water in Barbados.
We arrived back in port and we were ready to head back to our Airbnb and take a nap. We had a truly fantastic time celebrating Curtiss's birthday and embracing our inner pirate.
Book a cruise! Black Pearl Party Cruises | TripAdvisor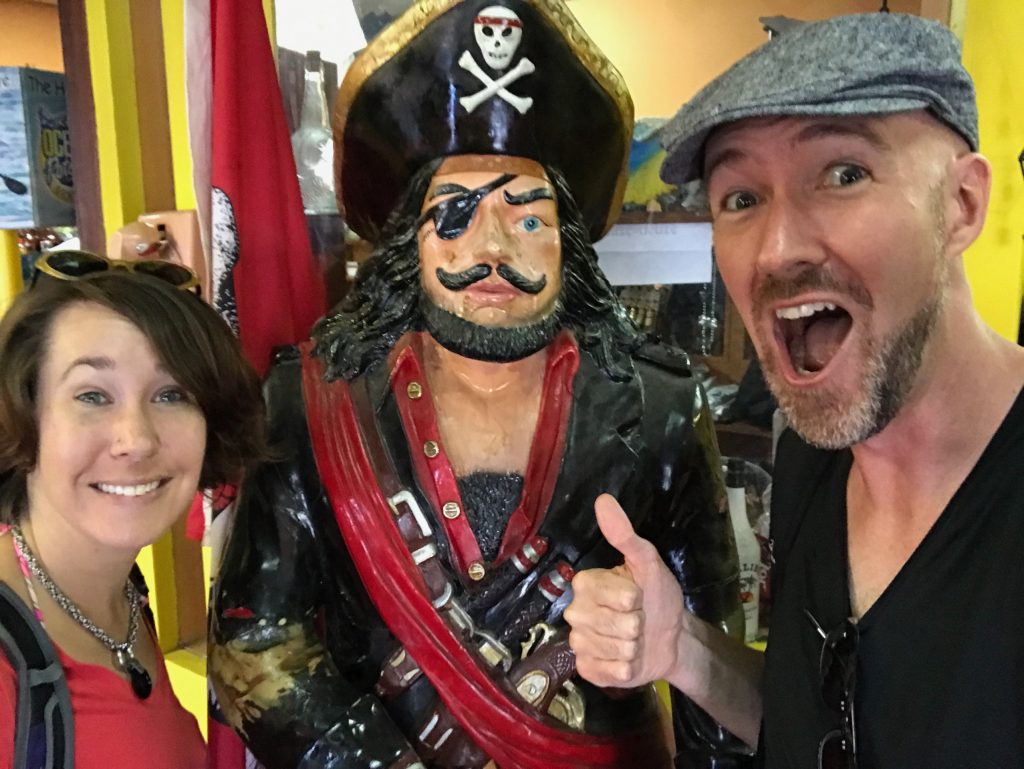 Thank you, Pirate's Cove and Celebration of Rhythm for an incredible evening and the folks at The Jolly Roger I for a truly memorable lunch cruise!
Enjoy this post? Pin it for later!
Ashley is exuberant about location independence! She relishes new experiences and working with boutique hotels and resorts. She's always thinking about design and food… and where they'll travel next!