Have An Amazing Christmas Celebration In Ireland
The holidays are filled with so much magic — glittering lights, peppy songs, yummy treats, and good company. This year just before Christmas, we spent some time in Ireland. It was the perfect little holiday before we headed to our house-sit in England, for a little focus time.
We were absolutely dazzled by the Christmas cheer we found in Ireland!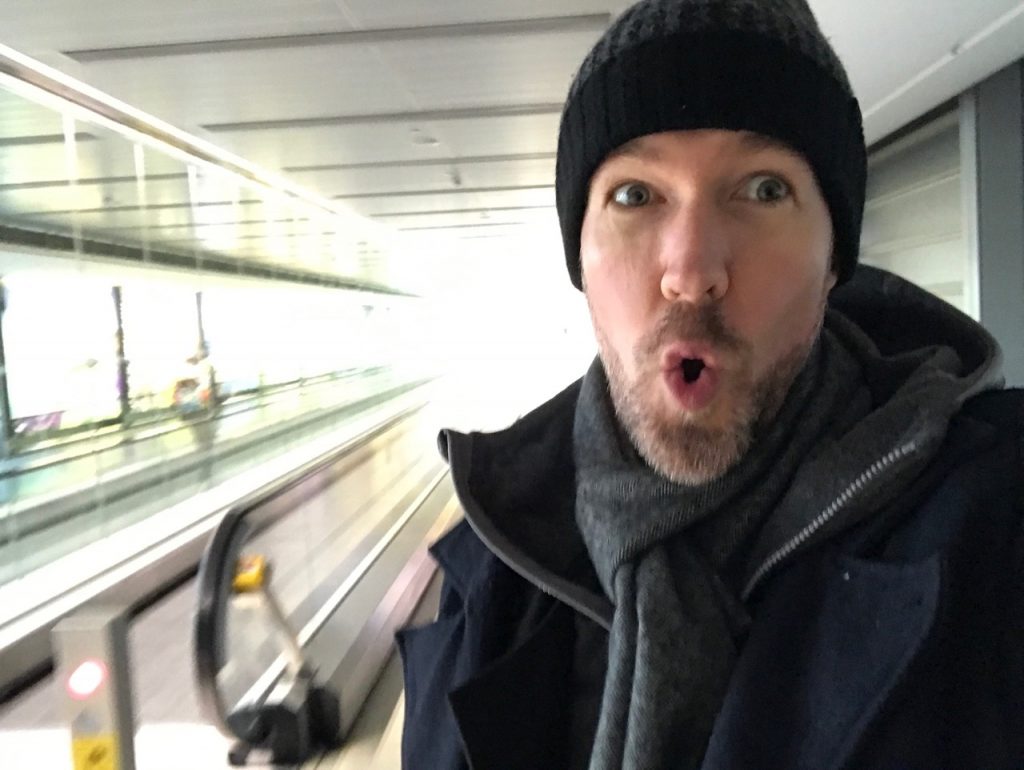 We flew into Dublin and were immediately charmed by the Christmas music and decorations in the airport — already we were starting to get into the festive mood!
That night we found Santa hats on our walk to Temple Bar. The streets were bustling with pedestrians wearing Santa hats and ugly holiday sweaters. we found a warm pub with live music and a sign that boasted the "best fish and chips in town!" With our first cool Guinness in hand, we listened to some lively Irish music and enjoyed some fantastic food. Yum!
While in Dublin, the Guinness Storehouse tour is not to be missed!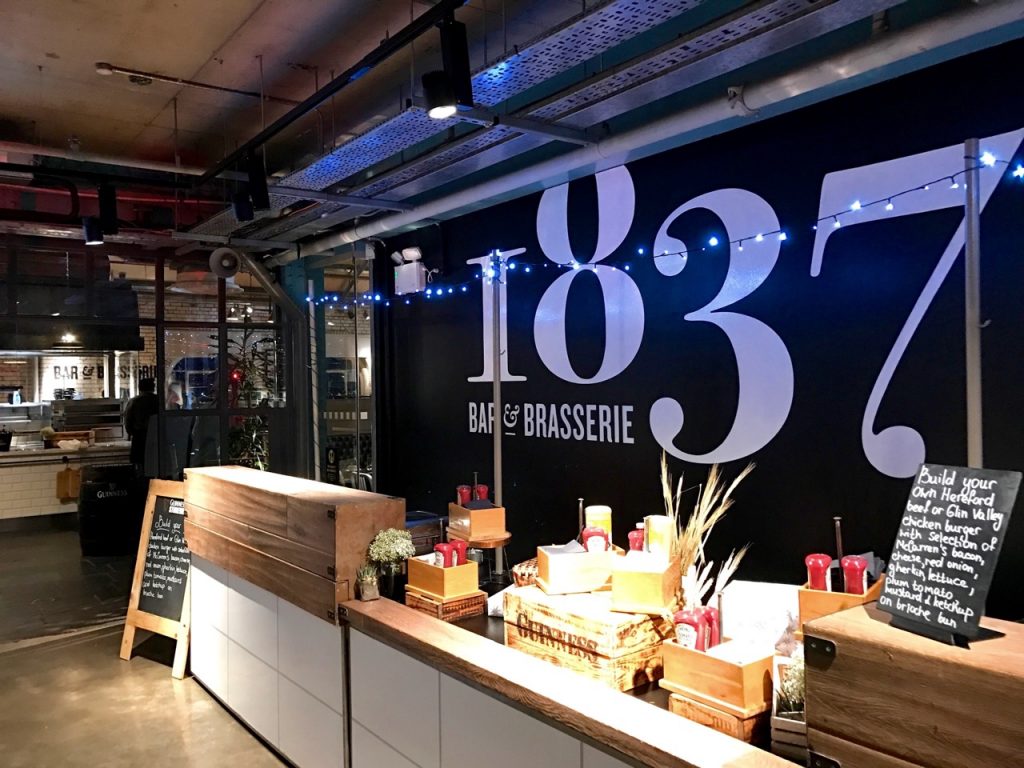 During the holidays, the onsite restaurant, 1837 Bar & Brasserie, is serving up something special: a spectacular three-course Christmas lunch, in addition to their awesome usual menu.
We arrived around noon, and started our Guinness adventure with the festive lunch. With a table overlooking the brewery, we were served incredible dishes that were inspired by Guinness and the holidays.
We then toured the storehouse. It was very interesting to learn about the history of Arthur Guinness and the 9000-year lease that he signed over 250 years ago for the original 4-acre brewery. Don't you just love Arthur's optimism?!?!
Each of the seven floors of the Guinness Storehouse has a different focus — from how Guinness is made (floor 1) to how to pour the perfect pint Guinness (floor 4), and beyond!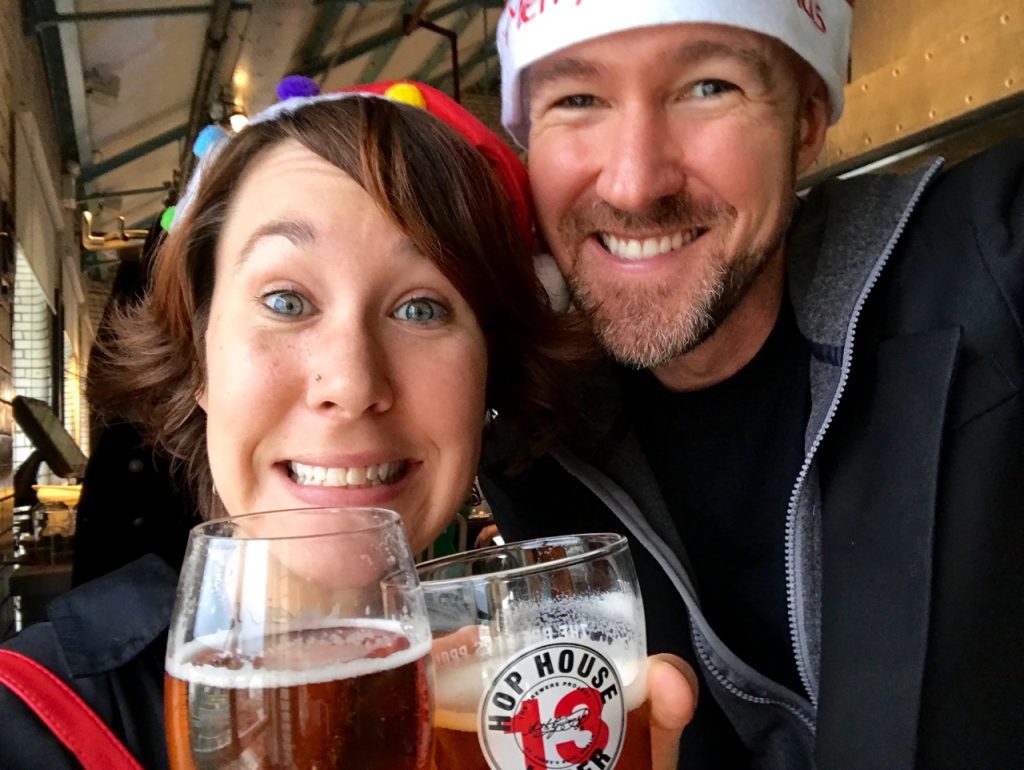 We ended the tour with a final pint from Arthur's Bar and sat for a bit people-watching while enjoying the Christmas decorations. The storehouse building has the world's largest pint glass going up seven floors, through the middle of the building — which makes for a really nifty effect!
Book a tour at the Guinness Storehouse! 
Dublin is a very fun city, although we found a lot of magic happens when you leave the city!
We were excited to explore a bit off the beaten path. Dan Dooley Car Rental is family-owned, with great customer service; they hooked us up with a little red car and wifi hotspot that gave us the freedom to explore the incredible countryside of Ireland at our own pace.
Curtiss really loved driving our manual car on the left side of the road. When you get off the highway, country roads start to get narrow and snake through a landscape dotted with sheep and cottages. With the hotspot, I navigated — allowing Curtiss to maneuver around the hedges.
We then headed across the country to Galway.
We stayed in a fantastic boutique hostel in the West End. The Nest Boutique Hostel is a new accommodation with fantastic style! As soon as we walked in, we felt comfortable and welcomed! There was a fire going, with comfy chairs around it. As you know, we're drawn to unique design, and The Nest was all that and more!
We stayed in an ensuite private room, with fantastic wifi speeds and use of the common kitchen downstairs. After freshening up a bit, we spoke to Gosia and James who gave us more restaurant and pub recommendations than we could possibly hit in one night. They were sharing local insider knowledge that you can't get from TripAdvisor. When you travel, this type of advice is pure gold!
The West End of Galway is an up-and-coming neighborhood. The city itself is quite walkable, which is ideal when you follow James and Gosia's restaurant and pub itinerary! We had dinner in Evolution in the West End. It had a very artsy and youthful vibe. We had a fantastic dinner and walked a few minutes to the historical center of the city. There we enjoyed our first Christmas market in Ireland. We also enjoyed a whiskey tasting sampler at a pub. Then we visited a charming wine bar above the cheese shop.
The next day we went to brunch on the water and saw the city during the day. On our walk back to The Nest, I was amazed by how many people we saw dressed up in Santa outfits and Christmas sweaters.
Compare prices! The Nest Boutique Hostel | TripAdvisor | Booking.com 
We then continued our road trip south to the Cliffs of Moher.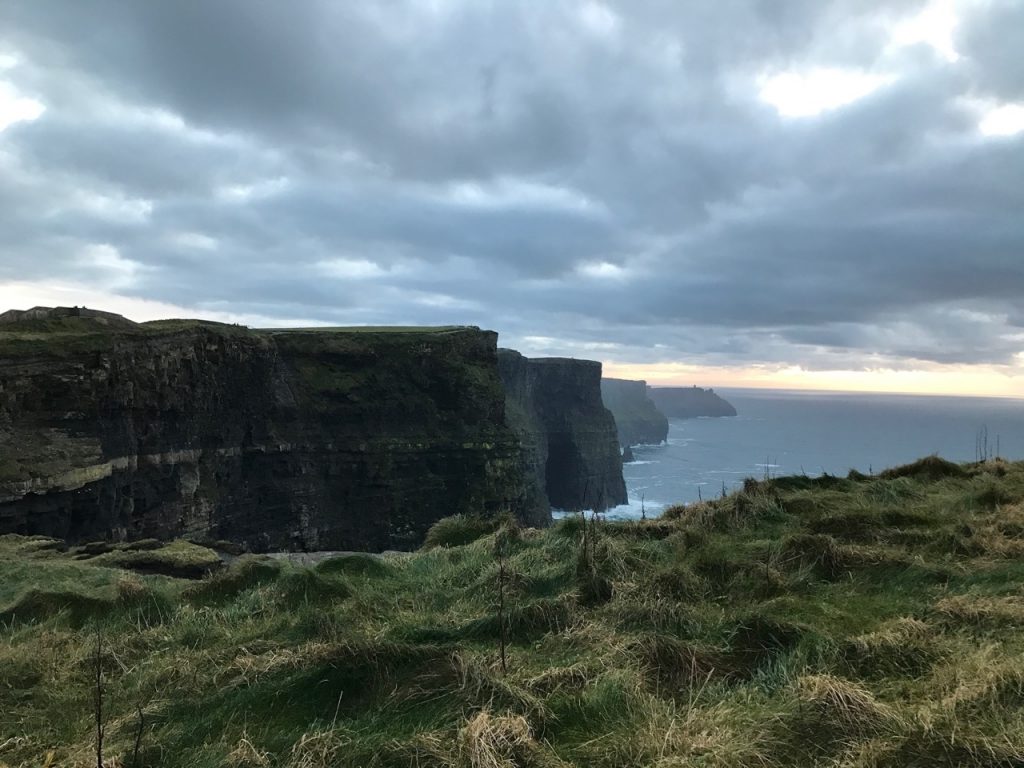 We reached the cliffs as the sun was setting. We were super lucky because the day was clear, not windy and not rainy: that is a majorly winning day in Ireland! We walked along the cliffs and were seriously bedazzled by their majesty. We jumped over the low fence (which you're not supposed to do, technically) and walked along the very edge of the cliffs. There were no handrails, and the straight drop down made my tummy do a little flip-flop. Although you can easily see if there's any strong wind, you would not want to chance being too close to the edge.
Book a tour of the Cliffs of Moher! 
We continued south that night, as we didn't have far to drive until we reached Dromoland Castle.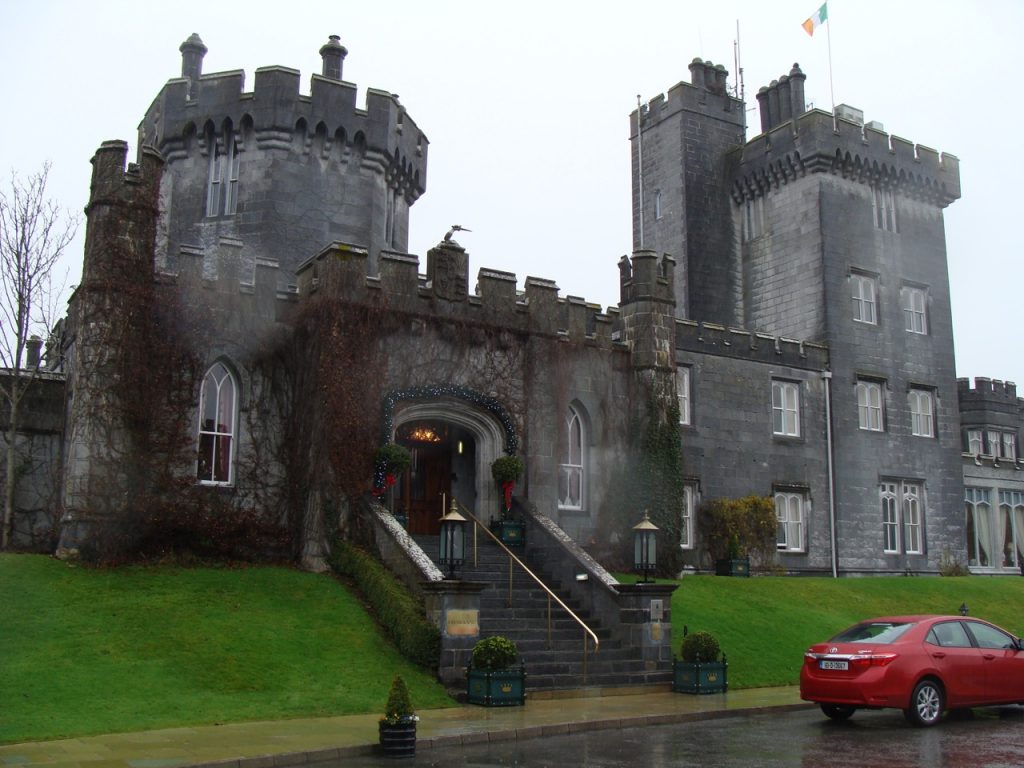 Dromoland Castle was beautifully illuminated as we drove up in our little red car. It looked like a fairytale castle.
The reception area was decorated in glittering Christmas lights and a large Christmas tree. The soft lights reflected off the rich wood furniture, and two sets of armor.
We were warmly welcomed and quickly checked in, then brought to our room. Our room was pure luxury! It was beautifully decorated, with modern furnishings that paid homage to the castle's rich history.
We quickly freshened up and changed clothes for dinner in the Earl of Thomond Restaurant. If you're feeling a little more casual, there's also the Fig Tree Restaurant in which you can enjoy a hearty meal by the fire.
We enjoyed an absolutely stunning three-course dinner at Dromoland Castle that night!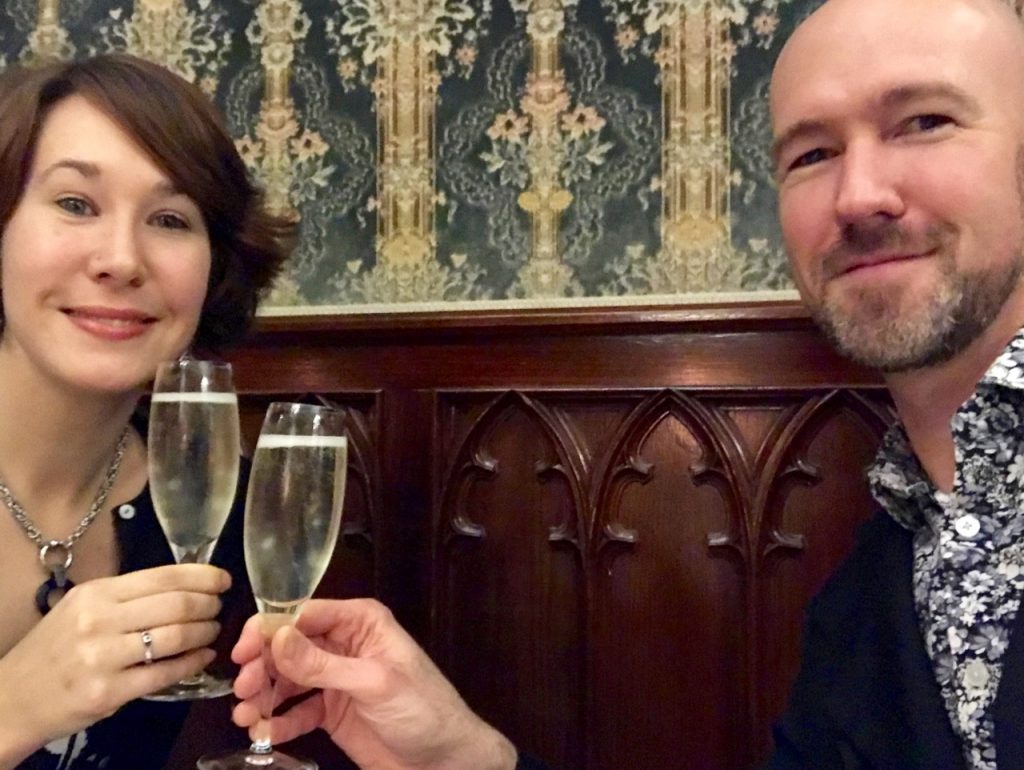 Curtiss and I started with a Prosecco toast between us.
Gerry, the on-site sommelier, was ever-present to make wine suggestions. I had ordered the salmon, and before my meal was served Gerry suggested a Pinot Noir which was not even on the menu. I felt that was a suggestion I could not possibly decline… and it was absolutely incredible!
It was wonderful to explore throughout the castle!
We ended the evening with a pint of Guinness in the Cocktail Bar by the fire. There was a man strumming on an acoustic guitar and singing Irish tunes.
Breakfast the next morning was held in the Earl of Thomond Restaurant and was another spectacular meal; we had the full Irish breakfast and buffet. Through the large windows and we could better see the vast lawns and manicured gardens that the castle overlooks.
Unfortunately we didn't have enough time to explore, but the castle offers a bunch of exciting activities that would be incredible to do — from archery and clay pigeon shooting to falconry and horse riding. They also have a beautifully relaxing spa, to massage away any stress.
Compare prices! Dromoland Castle Hotel | TripAdvisor
We drove our Dan Dooley rental car North to Castle Leslie Estate. Even the major highways in Ireland are rather picturesque. Towards evening, we stopped in a small town for food. The town was all a-glitter with decorations and Christmas music was even being played on speakers throughout the town — I felt like we were transported to a holiday theme park.
We arrived at our next castle after dark, and were welcomed by glittering Christmas lights of Castle Leslie Estate!
Our room was in The Lodge, which was newly renovated to be warm and welcoming, with Old-World charm. The Lodge is connected to the estate's stables, and our room overlooked the stables and yard. The estate has quite the equestrian program that can be custom tailored to anyone's needs and skills.
Our room was extremely comfortable, with a huge clawfoot bathtub perfect for a soak at the end of the day.
After a blissful night's sleep, we enjoyed a full Irish breakfast and buffet in Snaffles Restaurant.
We spent the day exploring the castle and surrounding grounds. The main castle is only a short walk up the drive and most definitely worth a visit!
We were able to check out a few of the bedrooms in the castle. Most rooms are named after the family member that occupied it. We were delighted to learn that the Leslie family were bit eccentric, having produced some talented poets and artists.
Everything felt quite original or lovingly renovated as we walked from room to room — we felt this only added to the Old-World charm.
During this time of year, the weather can turn on a dime; so when the sun's out you need to take full advantage of it! The Lodge and castle each have a boot room where you can borrow a pair of Wellies to enjoy one of the many walking paths on the estate.
As the sun was setting, we walked hand-in-hand along the lake to the boathouse. What a fantastic end to the day!
Book a stay! Castle Leslie Estate | TripAdvisor | Booking.com 
When we tried an impromptu castle visit, we had a slight blooper.
On our way back to Dublin, we thought we would stop at another castle; when Google Maps announced we had reached our destination we were royally confused — turns out Castleblayney was a town and not a regal castle as we hoped. Talk about having a silly tourist blooper!
What a special adventure!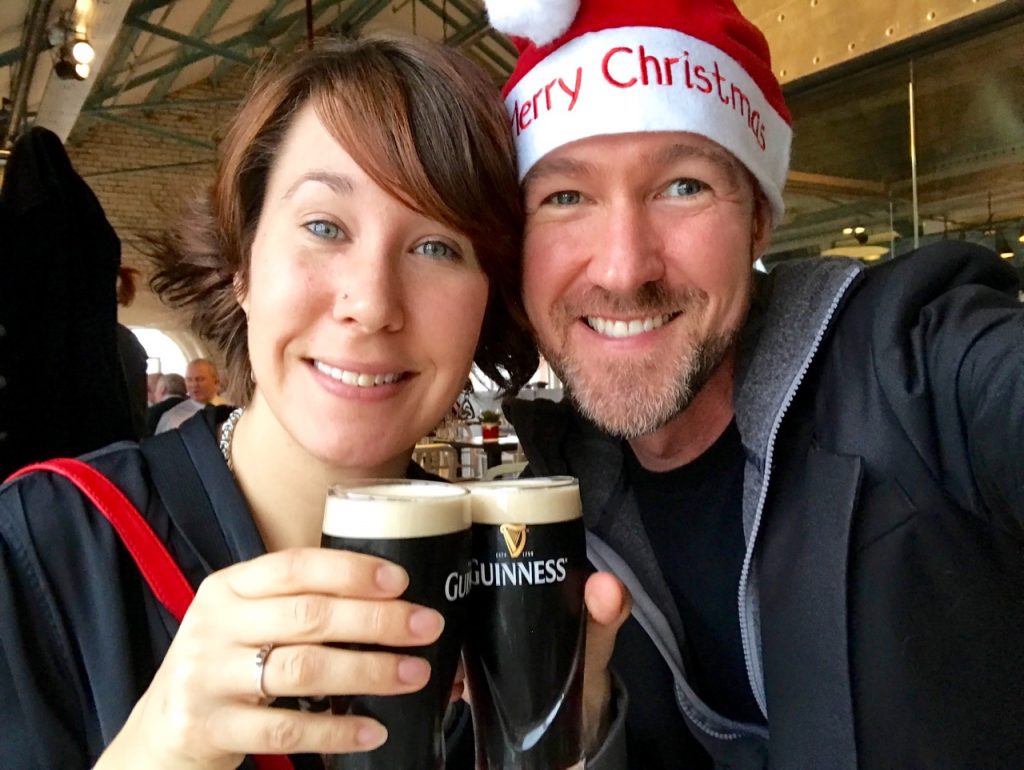 It was absolutely incredible to experience Christmas celebrations all over Ireland! If you love the holidays, Ireland is definitely a place you should check out. 
Enjoy this post? Pin it for later!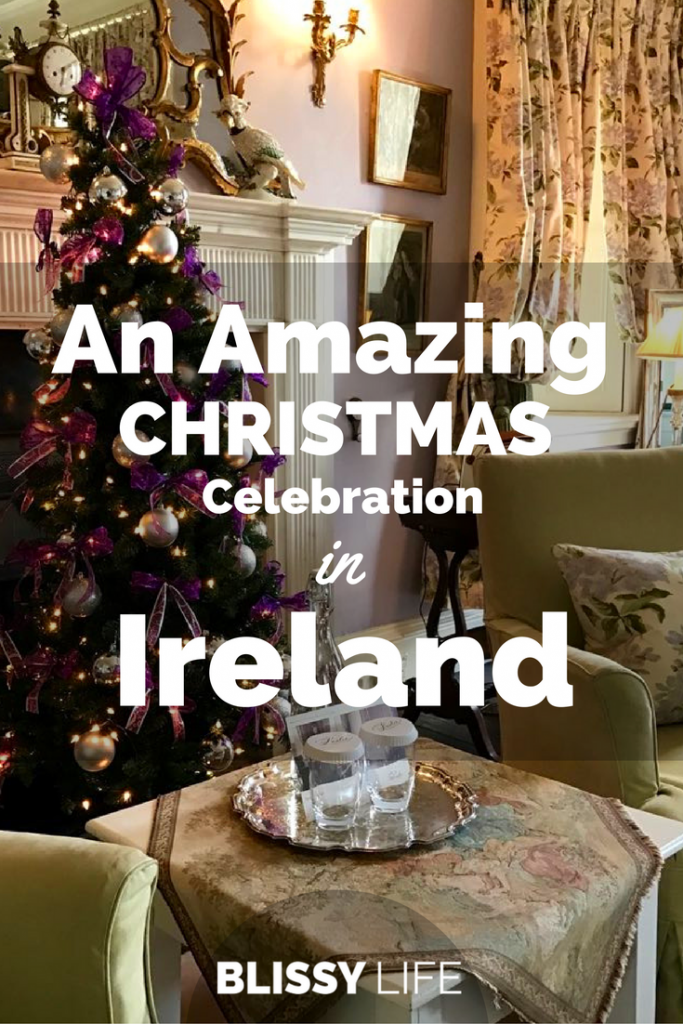 Ashley is exuberant about location independence! She relishes new experiences and working with boutique hotels and resorts. She's always thinking about design and food… and where they'll travel next!