How Marcus And Feli Connect Digital Nomads Worldwide
W

e felt a certain magic while in the presence of Marcus and Feli — that of of a growing tribe, and the vision that inspires it.

When we visited Ko Lanta, we had some great luck: our timing matched up with the intensive DNX camp — an intensive, week-long crunch, where nomads work side-by-side, share their projects, get feedback, and accomplish huge goals by the week's end. Pretty cool.

The folks behind this phenomenon? Marcus and Feli: a cool couple from Germany who are working their way around the world and putting together events and experiences that go a bit beyond the scope you expect.

We caught a moment to interview these fine founders of DNX, there at the verdant coworking space known as Kohub.

Speaking with these two sparkle-eyed visionaries was eye-opening, and mind-expanding.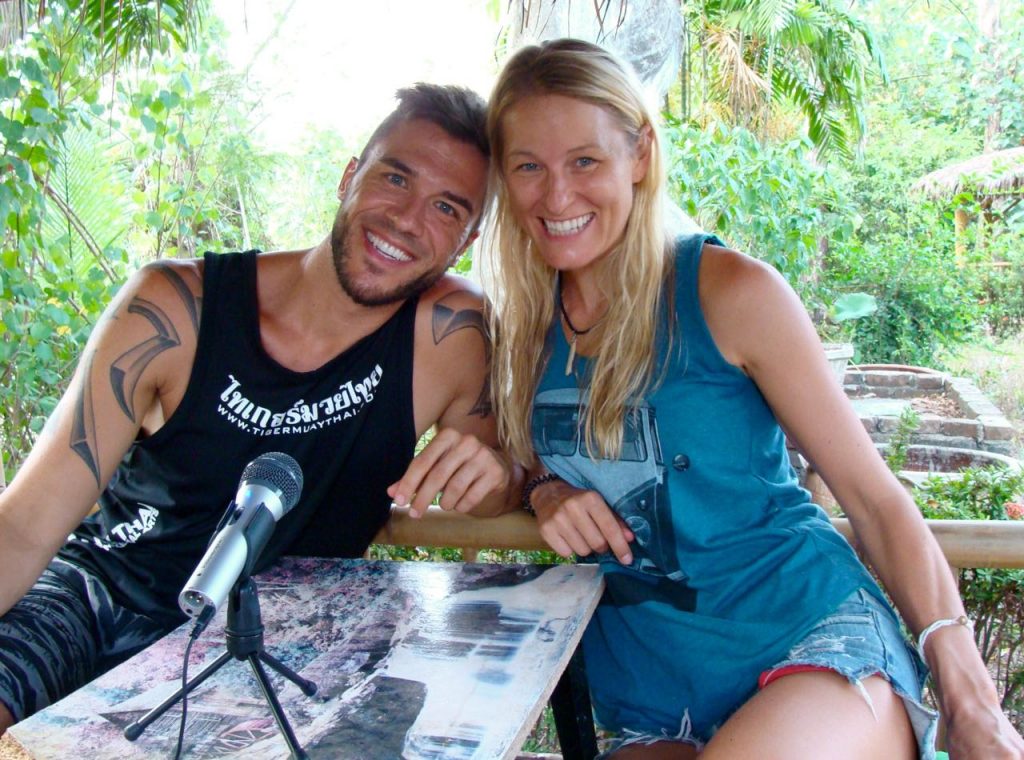 Jeez, we were still feeling the buzz from the conference in Bangkok.
We first learned of DNX because of our friend Jasper, who was speaking at DNX Bangkok. We joined in for the event, and — wow. We really weren't prepared for how cool it was. Lots of cool forward-thinking folks who question the norm and imagine a better way: not just for their own lives, but for the world.
One theme that emerged between a lot of speakers is the interconnectedness between everything. There was talk about consumerism, carbon footprints, empowering strangers around the world, and all kinds of stuff. That day was full of smiles and mind-opening ideas.
Now miles away from Bangkok, meeting with these organizers down in the relaxed island of Ko Lanta, we were still feeling the buzz of excitement. We couldn't wait to hear some of the vision from the founders themselves.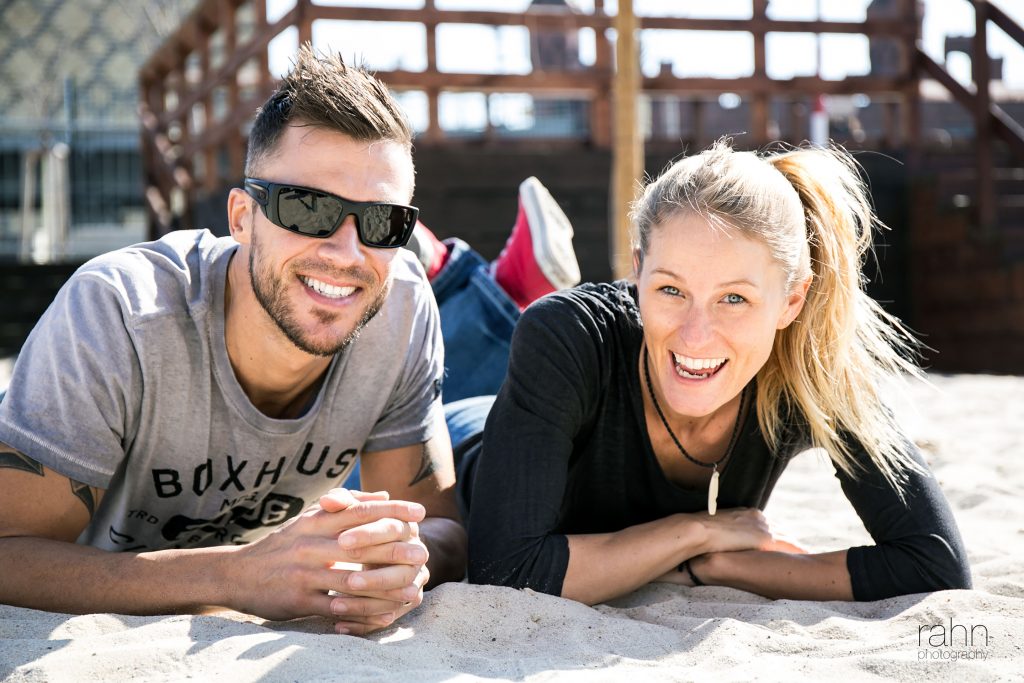 They were just wrapping up a DNX Camp.
There at the Kohub coworking space, Marcus and Feli had just led a DNX Camp: a series of days for nomads to converge, work on their projects, share feedback, and get together. Masterminds, break-out sessions, workshops — it's a whirlwind of sharing and discovery.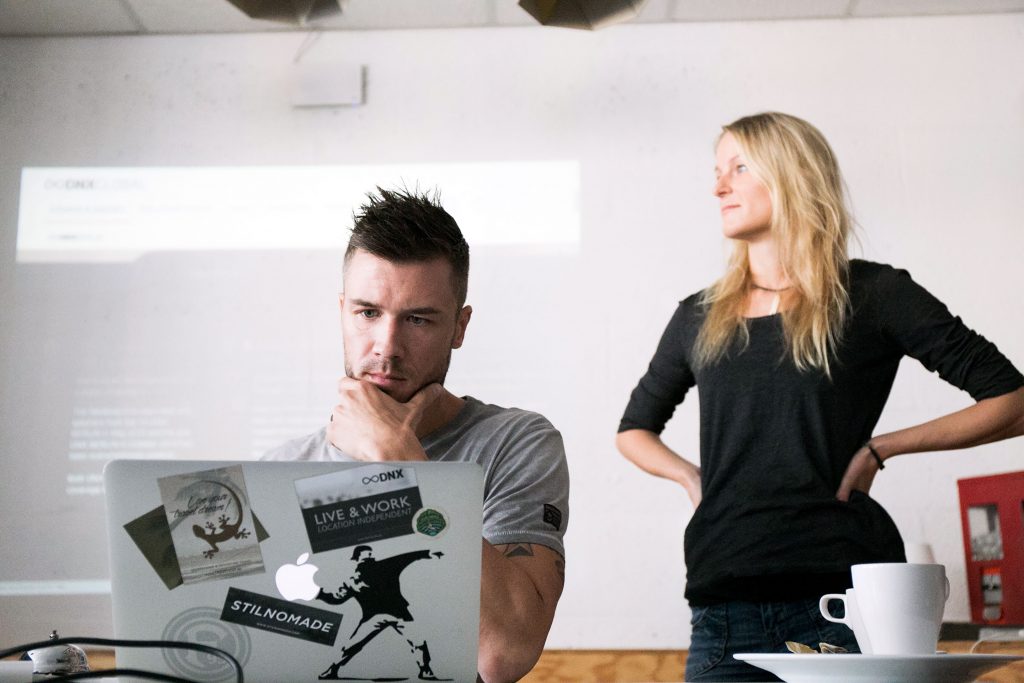 It's apparent that they care about improving the world, and making it more beautiful. Even amidst all the productivity, they had sparked a bunch of feel-good activities: they did some dog-walking at the welfare center, they cleaned up litter from the beach in an NGO project called Beach Hero. I especially love that they try to nurture local entrepreneurs. They are exploring ways to teach and learn with locals, too.
They are active every day. Some of the group joined Marcus in learning some Muy Thai, some joined Feli for yoga — it seemed that the buzz of energy and action was all around them. It's hard to imagine how they do it all.
We settled in together in a quiet bamboo pagoda next to a huge Buddha statue out in the garden. In the coworking space nearby, barefoot and sandle-footed nomads worked away in the open air. Leaves rustled in the breeze, and birds chirped. It felt like quite an idyllic work setting. Though, as nomads ourselves: we may be biased.
There were sixteen participants in this camp, and today was the final day in the series. It had been a blast! Marcus and Feli were all smiles — or perhaps that's just their regular state.
When we complimented them on their coolness, they had their origins to thank.
"When we made the decision (which was not very easy) to quit our jobs, I think it released a lot in our soul."
I mean, let's face it: Marcus and Feli have an aura of major coolness. They look cool, they act cool, and they do really cool stuff. When Ashley mused about where that coolness came from, Marcus had an interesting observation.
"It's hard to remember where things were three years ago, but I think we were already in a good, positive mood and good, positive vibe because we worked very hard in the corporate world — 9-to-5 jobs — and finally, when we made the decision (which was not very easy) to quit our jobs, I think it released a lot in our soul."
It really shows: when in the presence of these two, there's an electric excitement about what's possible. It turns out that the excitement isn't just a vibe; they have some really inspiring thoughts about human potential in today's world.
We may have found the reason for those contagious smiles, too.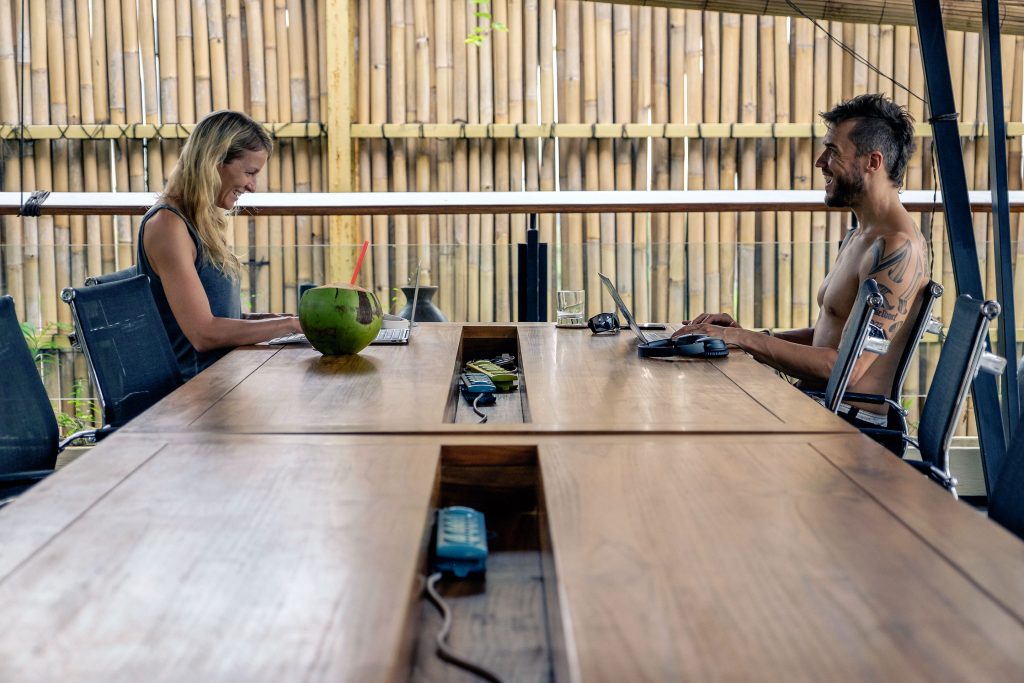 Marcus explained, "When we started out three and a half years ago, we were so caught by the entrepreneurial fire to release all our creativity that we were just happy and smiling and sitting at the laptop all day… it was just so great."
Marcus shared thoughts on empowering people.
"Being an entrepreneur gives us the tools and the powers to change something."
There's a lot of global awareness as a natural part of the nomad movement, and some of that manifests as helping the locals with skills and insights.
Marcus shared some observations about nomad entrepreneurs, and how we're in a unique position to help people:
"There's so much knowledge in our digital nomad community. We are all coders, designers, creative people doing cool stuff, and we can bring it to the local community, to help them to start to build some things. I think this is also a big responsibility we have, 'cause combining all this knowledge, and having the big picture of the world — because we've been traveling so much — we see the real issues… and being an entrepreneur gives us the tools and the powers to change something."
It's an important realization: as digital nomads, we're in a position to make an incredible difference in a fresh new way. As you attain a certain empowerment in "living the dream", you're uniquely qualified to share the dream with others. It's a beautiful point.
They have encouraging words for those of us still getting up to speed.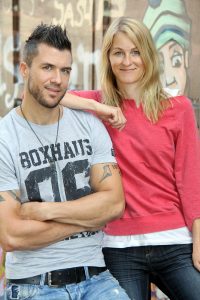 "At the beginning," explained Feli, "you could always feel it when we got back to Berlin — our home base — we got back to the stress. Then we felt like, okay: maybe we should go on the road again… and it always worked. We got on the road, and it got better, and we were laughing at things that we were thinking of in Berlin. So nowadays we are not in Berlin much anymore." Feli laughed.
Marcus adds: "Now it's very stable, what we are doing, and no one else can talk us out of it. But at the beginning you are a little bit insecure in what you're doing, especially in conventional surroundings, and the naysayers always questioning what you are doing, questioning you, and you always have to explain yourself."
Feli observed the power of new friendships! "Most of our friends are now doing the same." There is also the phenomenon of old friends who join in the fun. "Friends of mine from my former job, they are following us very successfully. I like this, that I have friends who switched their lifestyle." Feli beamed.
"Times have never been better than today to just try it." says Marcus. Once you read up, learn the challenges, and still feel 100% interested, there are lots of great resources and communities to help you build on whatever you're doing already.
'Times have never been better than today to just try it.' — @marcusmeurer95 #digitalnomad #nomad
Click To Tweet
I loved hearing about fave places!
"We feel very happy in Brasil!" Feli raved.
Marcus was fond of a very remote Philippine fishing village, where they started their travel blog, Travelicia. Feli clarified that it's actually not a very good place to work from, with the power and Internet switching off frequently. But Germany felt so far away, and they felt so disconnected from their old world — so they could really focus on their creative energy.
"I'm sure in Berlin we would have never done this." Marcus added.
Since we love working with resorts, we were curious to hear what aspects make a hotel or resort appealing for digital nomads.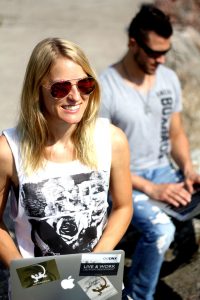 "Stable Internet!" Marcus exclaimed, first and foremost.
After that, he explained that he likes to work at a desk with a proper chair.
Feli observed that it's a good idea to separate nomads from regular tourists, to avoid distraction.
That said, they did have a fondness for taking a break. "I always like if accommodations have a pool," smiled Feli. "If you work a bit and then jump in the pool, and get back to work — I love it." Marcus loves having a gym, as well.
Feli liked having a place with cool air, to cool off sometimes. She also stressed the importance of having water all the time.
"I think it will get better and better, around the world." Marcus mused. He cited a bunch of new coworking places that have opened just in the last year or two. Pretty cool.
It's a good thing, too. They recalled a time when they were resigned to working at a regular ol' hostel (in Medellín, Colombia) and a party broke out. Since they were in the zone, they kept on working… while the party came to life all around them. People tripped on Marcus's laptop cord… and it fell on the ground! Not an ideal working condition, haha.
So it can be pretty nice to have a good place to work.
We loved that Feli mentioned another fave workplace of ours.
"Also convenient is: Airbnb." Feli noted. Since the homes have their own router and lots of amenities, you can easily set up and get things done with little hassle.
No matter where you're working, you've gotta make sure to get out and move around.
The expression in German is that "the roof is falling on your head" when you start to get cabin fever. We all know the feeling.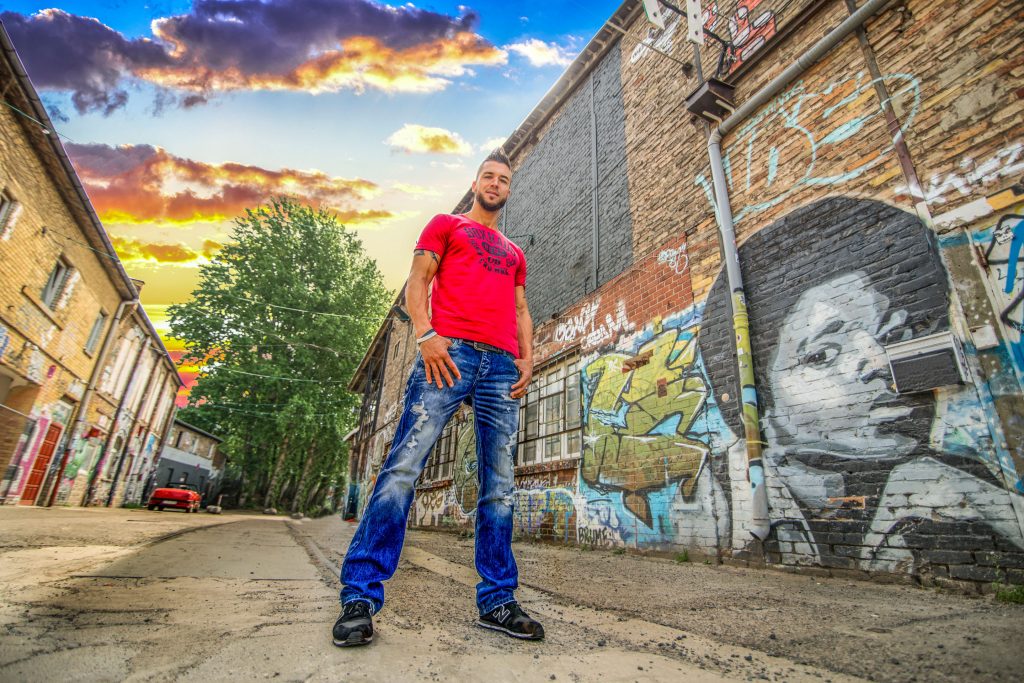 We were curious to hear about the future as they envision it.
Marcus and Feli love how the community is growing more connected, for one thing.
That said, they do envision that being a digital nomad won't be so special anymore, as more and more people get into it in the coming years.
One key thing about digital nomadism that Marcus noted, "It'll never be mainstream, I think, because it takes a lot of willpower and productivity. It's not for lazy people. You need to want this, 100%."
Marcus feels that we need to embrace the digital revolution that comes — not fear it.
Inspiration and learning are part of the job requirement!
Since Marcus and Feli are surrounded by fellow nomads, they are always sharing and learning.
"It's lots of fun to have an impact and to get all this feedback," Marcus appreciated. "It surprises us every day. We learn so much doing this stuff. We like learning. I think this is very important if you want to go on the road as a digital nomad: you have to be willing to learn all the time. Not just business-wise; also personally."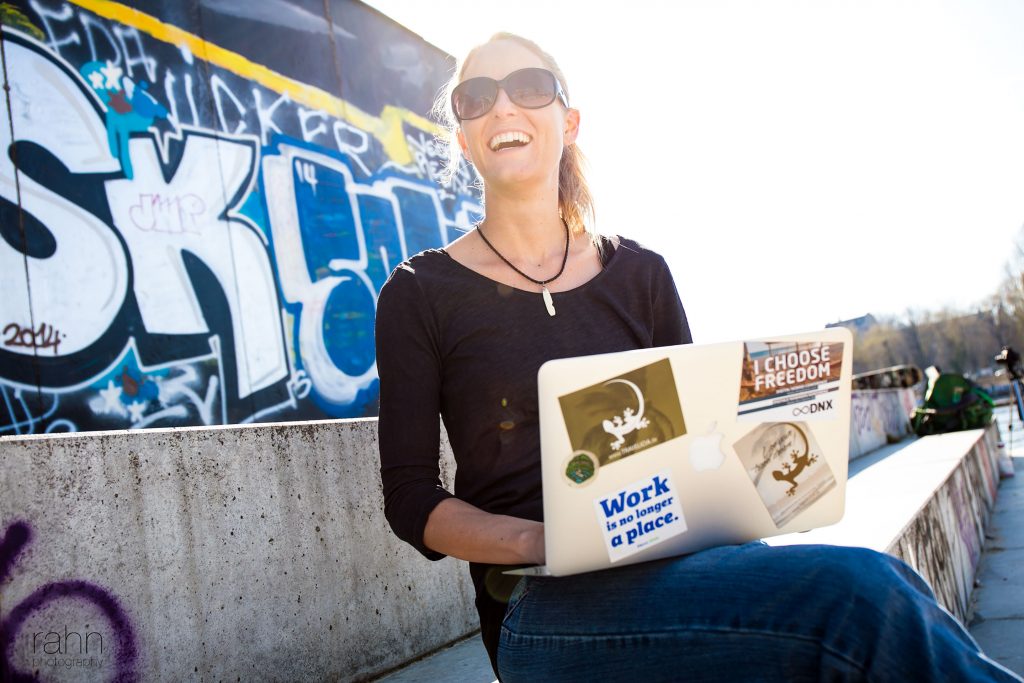 What have they learned, personally?
The problems that seemed important back home were actually really small, they marveled. At the same time, they have come to think big: even global.
They have recently discovered their love of kite surfing. It's awesome! …though it involves carrying around lots of equipment. They are kite surfing in Brasil, Greece, and beyond… it certainly seems like they are having a blast.
Traveling as a couple is pretty awesome for them.
They are able to step in for one another when it is needed, and they are like-minded. They have their own favorite things to do and friends to hang out with, and that's great.
Marcus loves to go out, Feli not so much.
"Sometimes she lets me go out… but she doesn't feel sorry for me the next day."
As a duo they seem like quite the superteam, and part of that magic is that they have complementing natures.
That doesn't mean that they are matching personalities! When it comes to going out — they have differing approaches.
We loved this admission by Marcus: "Sometimes she lets me go out… but she doesn't feel sorry for me the next day." (Aw. Haha.)
They have a big dream.
They confessed something really surprising: Marcus and Feli dream of having an island. They call it "DNX Island". They have the domain and everything, just in case the opportunity presents itself. Hey, why not?
DNX is pretty new, but growing really fast.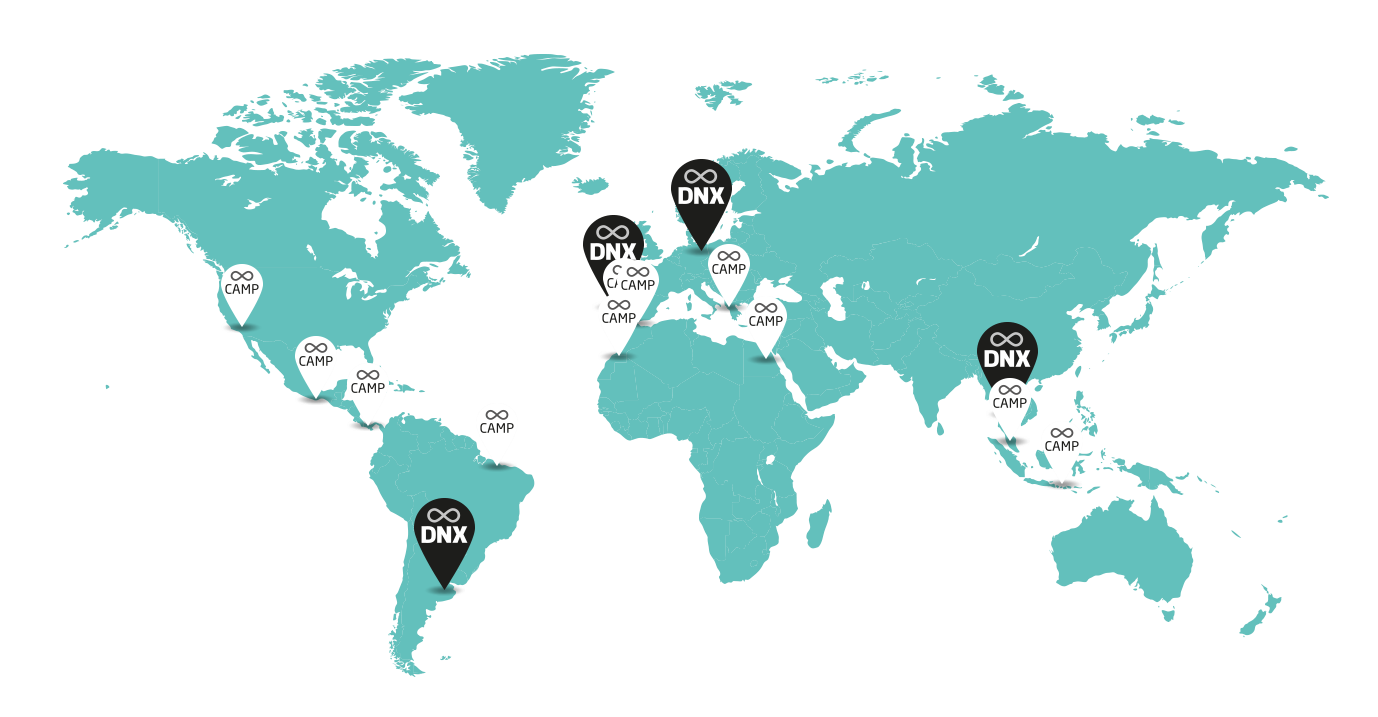 They got rolling in 2012, and now Marcus and Feli have over 20,000 folks in on their emails. They have events coming up in Lisbon and Buenos Aires.
Here's how they describe their vision: "We want to support all the digital nomads worldwide and connect them with each other. We not only help people live free, self-determined lives from anywhere around the globe, but we also try to help them improve all other areas of their lives. If you are happy and satisfied, you can pass along that joy by helping others."
Marcus and Feli love to partner up, and believe in support throughout the digital nomad community.
Why not jump in?
Check out DNX Global. We're so glad we've gotten to know it, and Marcus and Feli! What a tribe.
Enjoy this interview? Pin it for later!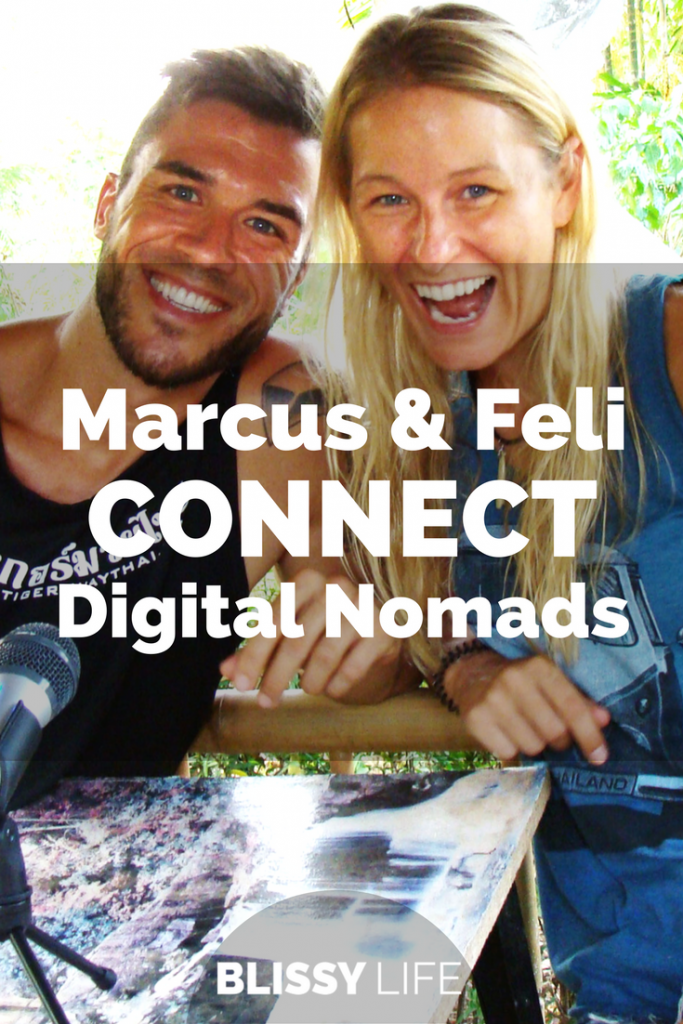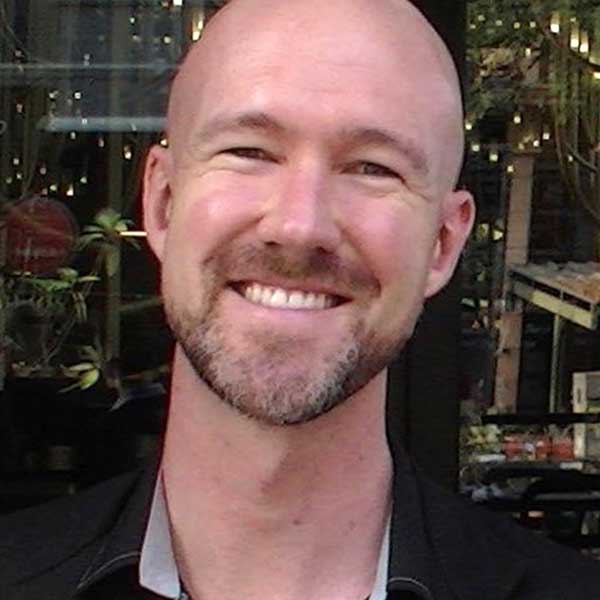 Curtiss is a lover of delicious atmosphere, experiments in location independence (and digital nomadism), and that magical place where wifi and paradise overlap.