Indulge In Moroccan Style At This Exquisite Fez Riad
We are enjoying Moroccan charm, more and more! Thanks to our adventures around Fez, from the old medina to the modern downtown, we have gotten a pretty good impression of the city, and we're fond. We were excited to experience staying on the very edge of the historic medina!  
Our adventures brought us to Riad Maison Bleue. The riad had a location that was exceedingly special, with a view that you'll just love. Most of all, it had a very special feel to it, which we'll elaborate upon, too.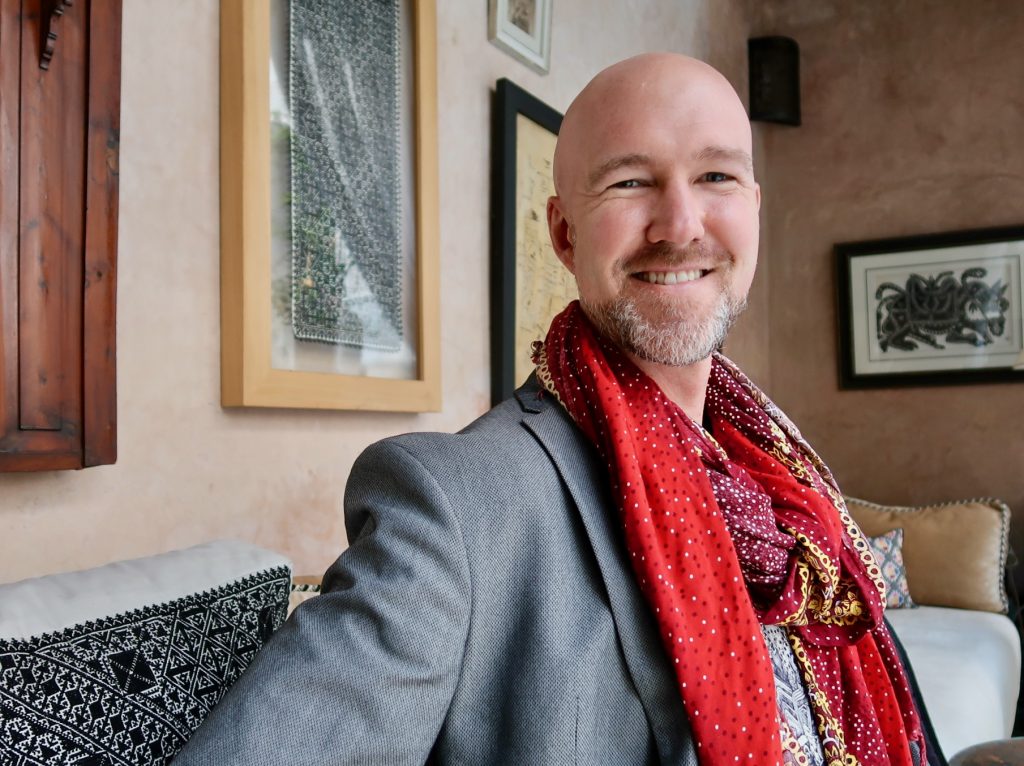 We are so excited to arrive at Riad Maison Bleue, with a pleasant welcoming lounge.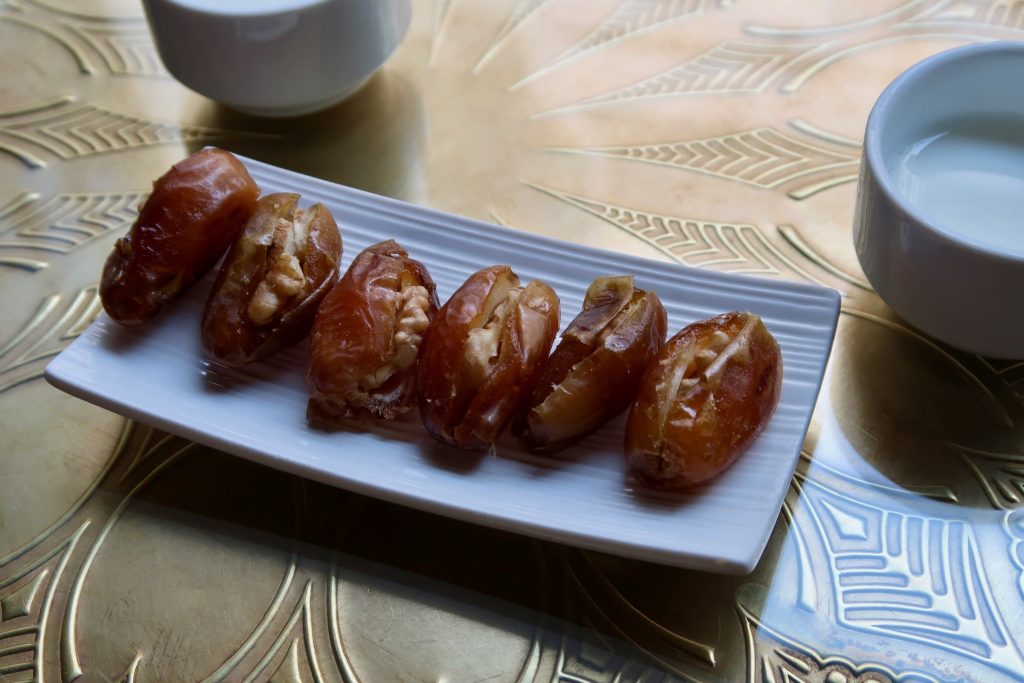 What a nice little treat upon our arrival!
We received a warm arrival while checking in. As our passports were processed we snacked on dates with nuts and a cup of fresh milk. 
Our room made our jaws drop!
As we were led into our room, our eyes widened. The space was enormous! The ceilings were incredibly high, and a huge four-poster bed awaited us, strewn with a romantic touch: rose petals. The decor was elaborate and pleasing, from the furniture to the architectural features. It was a special place, and it certainly made us feel special as well.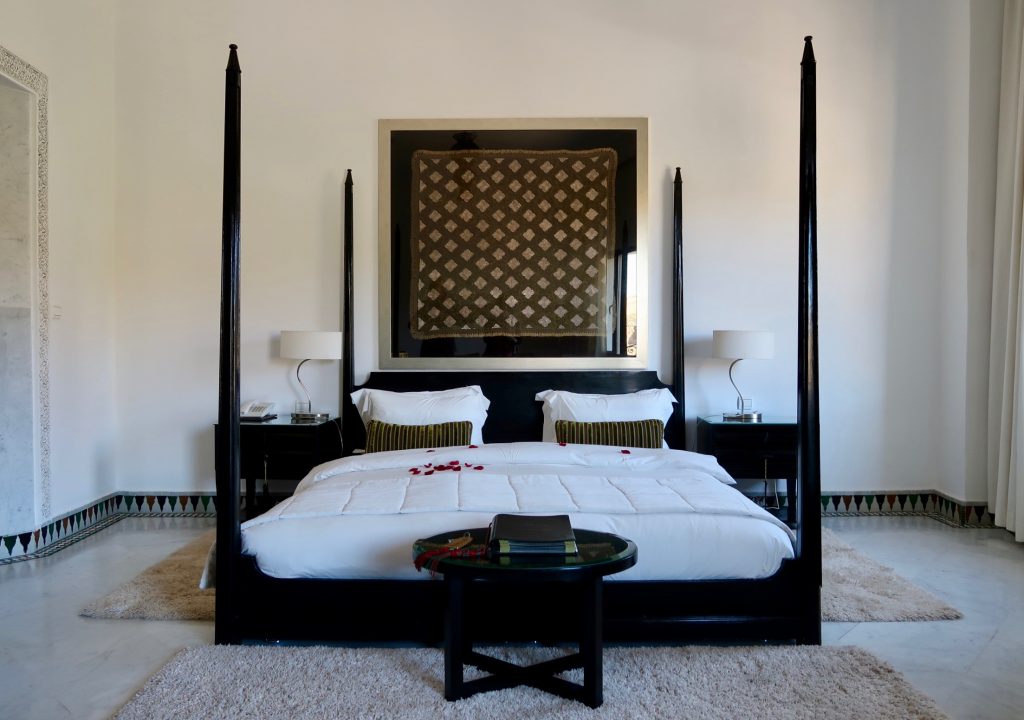 Our room was incredibly spacious — with an enormous bed!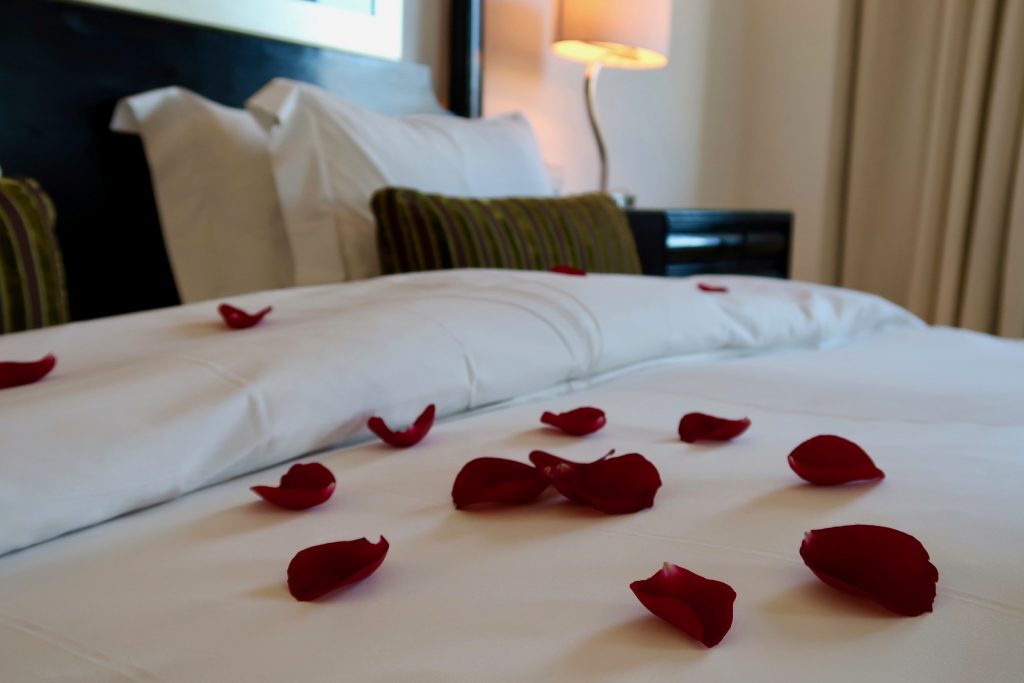 We smiled to discover romantic rose petals scattered about. Our room was incredibly spacious — with an enormous bed!
The bed and bathroom were decorated with rose petals! Making for a truly romantic stay!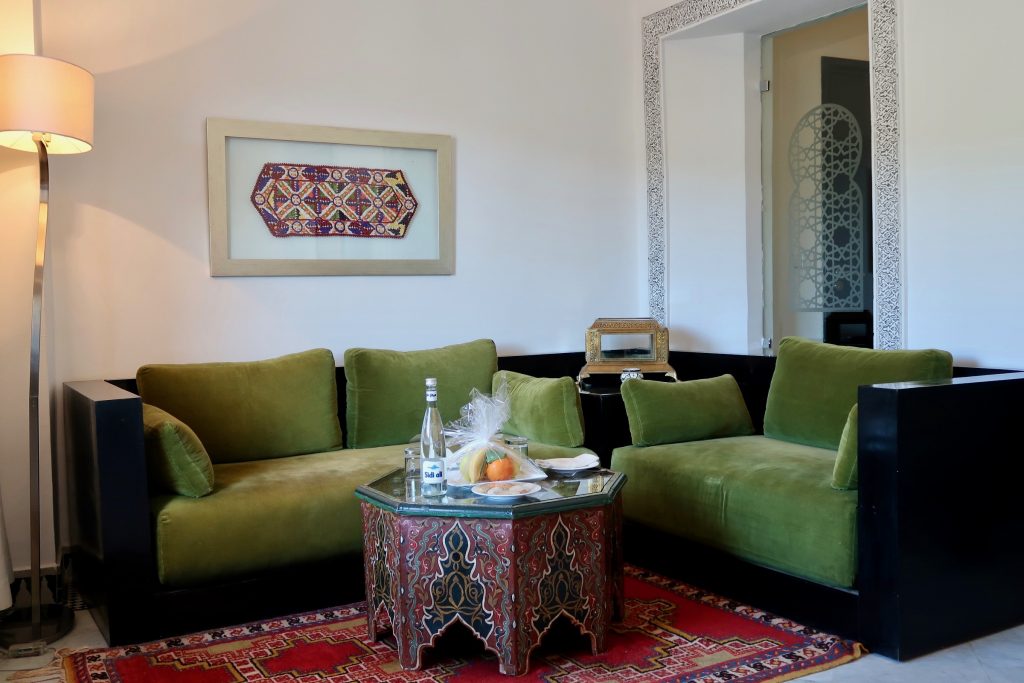 The lounging area was such a nice place to relax!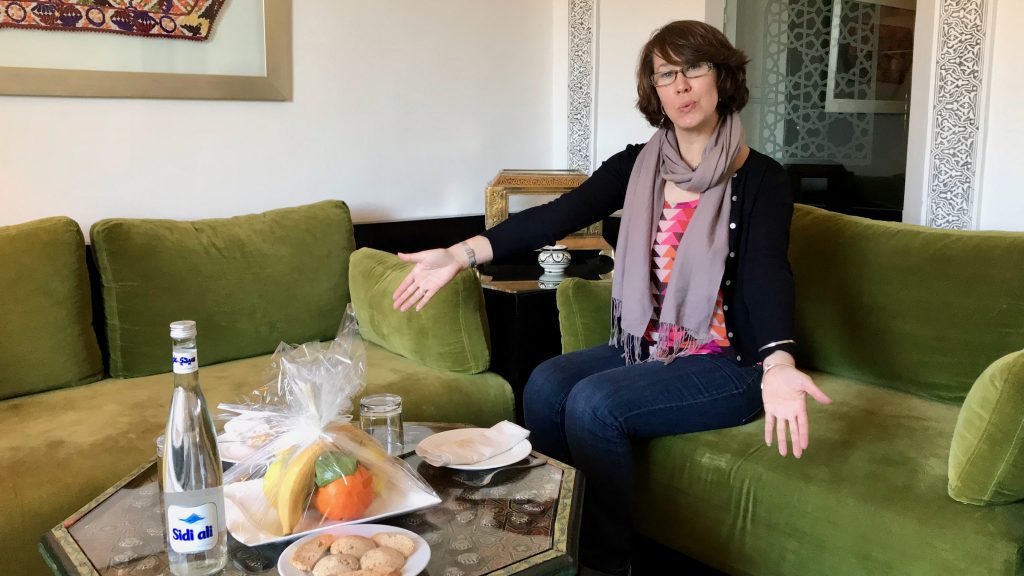 Ta da! What a nice welcome.
Our arrival in our room brought us a sense of relief and refreshment. A platter of fresh fruits awaited us, which made it especially nice to settle in and make ourselves comfortable.
We were excited to explore!
On our way to our room, we were shown some glimpses of the entire space, and it was enormous! This riad featured not just one main courtyard… but three! This is because the owners combined three smaller riads into one. Each of them seemed spectacular in its own way, and we were looking forward to checking them out.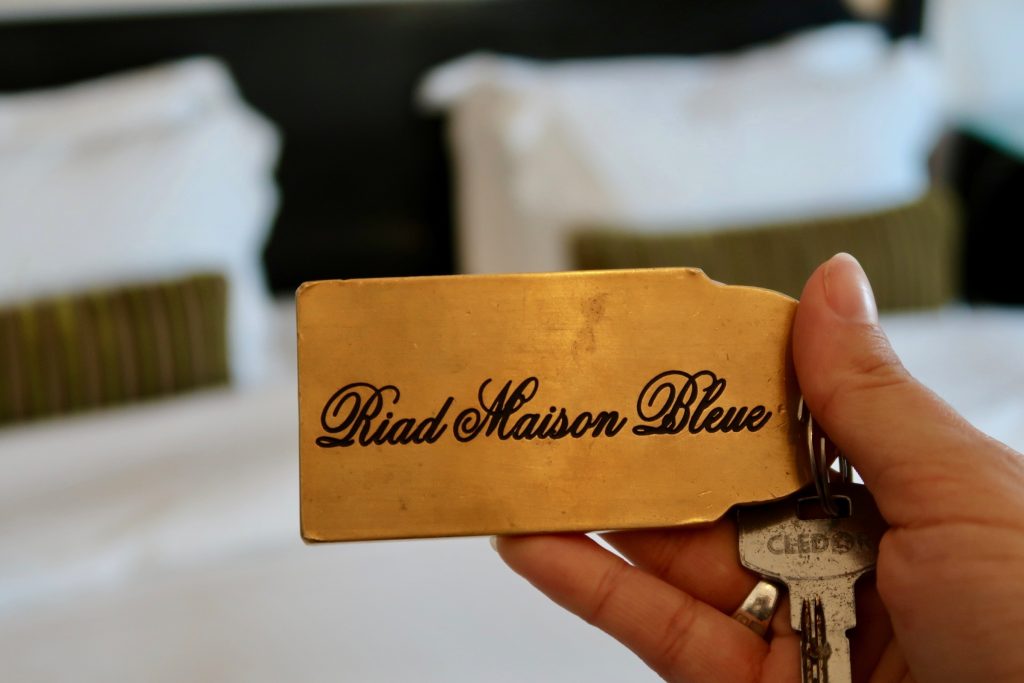 Even the keys have style.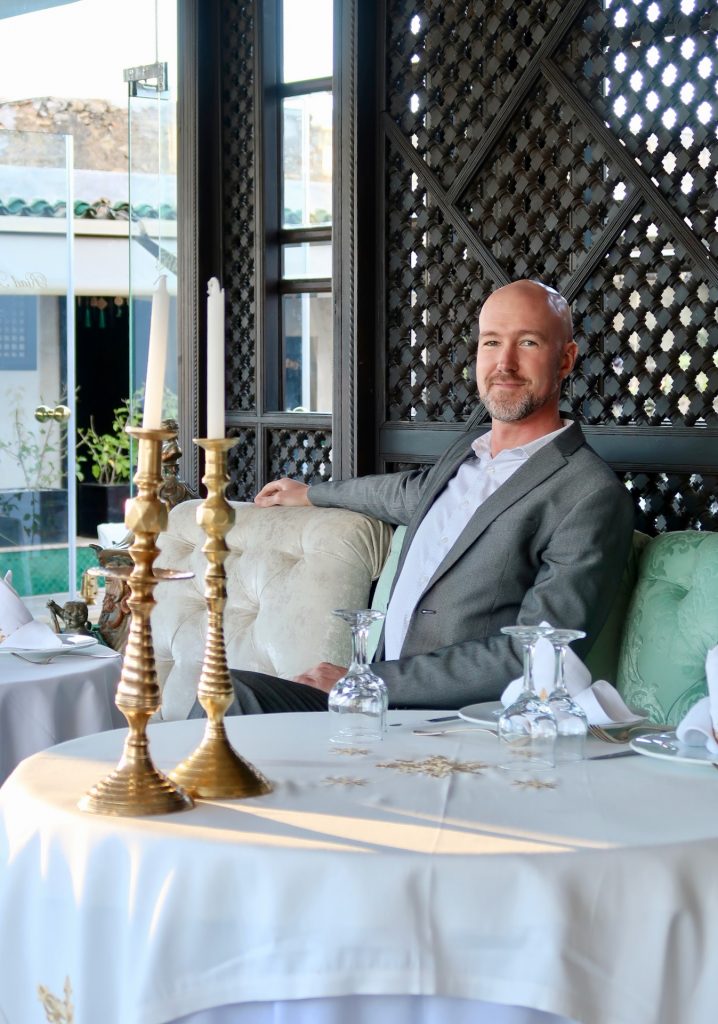 Candlesticks, candelabras and white tablecloths set such a nice tone for the upstairs dining area.
The view from the riad is astounding
One incredible feature about the location of this riad is that it is situated across from a wide, wonderful view. An old fortress known as Borj Nord rests atop the ridge across the way, and the whole panorama is free of buildings and clutter, even though the riad is conveniently positioned just a short stroll away from the attractive medina district. It's an exceptional spot, being right on the edge of the historical medina. Further off, in another direction, eye-pleasing old ruins capture your attention: the Marinid Tombs. All in all, it's mesmerizing — and it features some captivating parts of the history of Fez in a bedazzling way.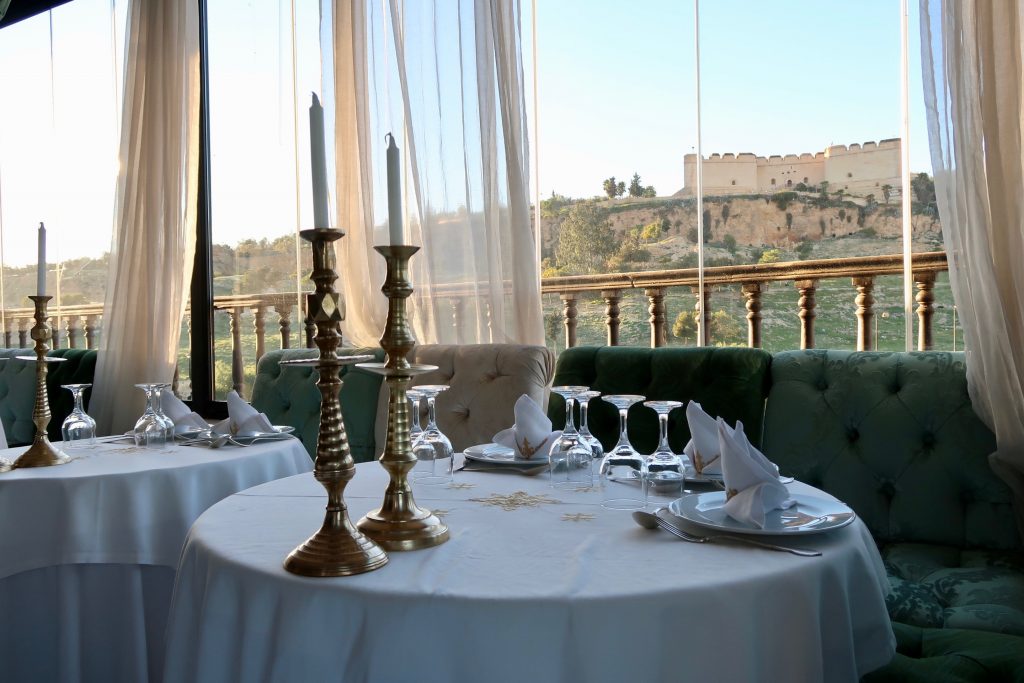 The view out to the northern fortress is truly spectacular.
Enjoy the outdoor roof space
We were especially pleased by all the interesting vegetation: plants, fruit trees, flowers, and all sorts of interesting things were growing, here and there. From flower pots and planters to wall vines and entire trees… there are all sorts of great plants to uplift your soul and spark your smile.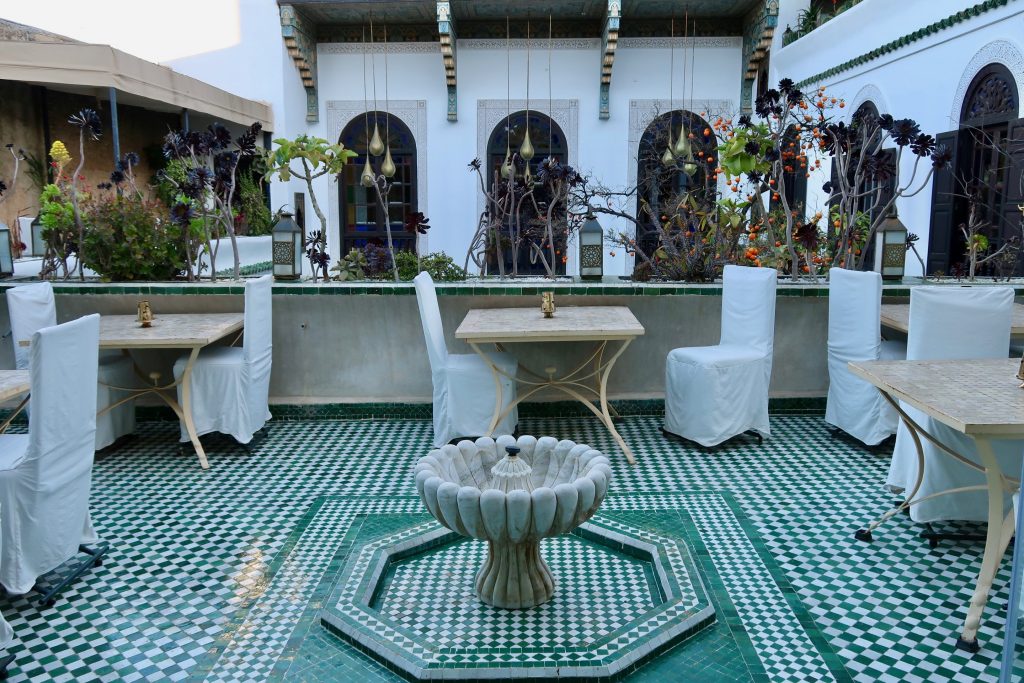 The upstairs patio has a fountain, with fruit and flowers all around.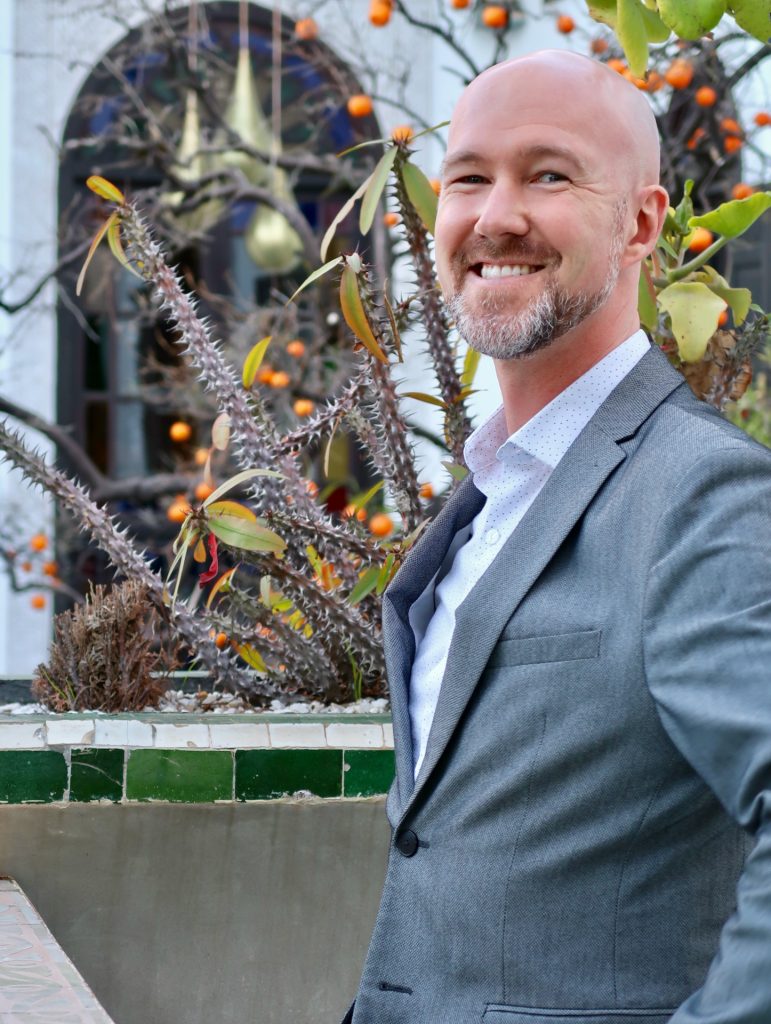 You can't help but smile when you see this atmosphere.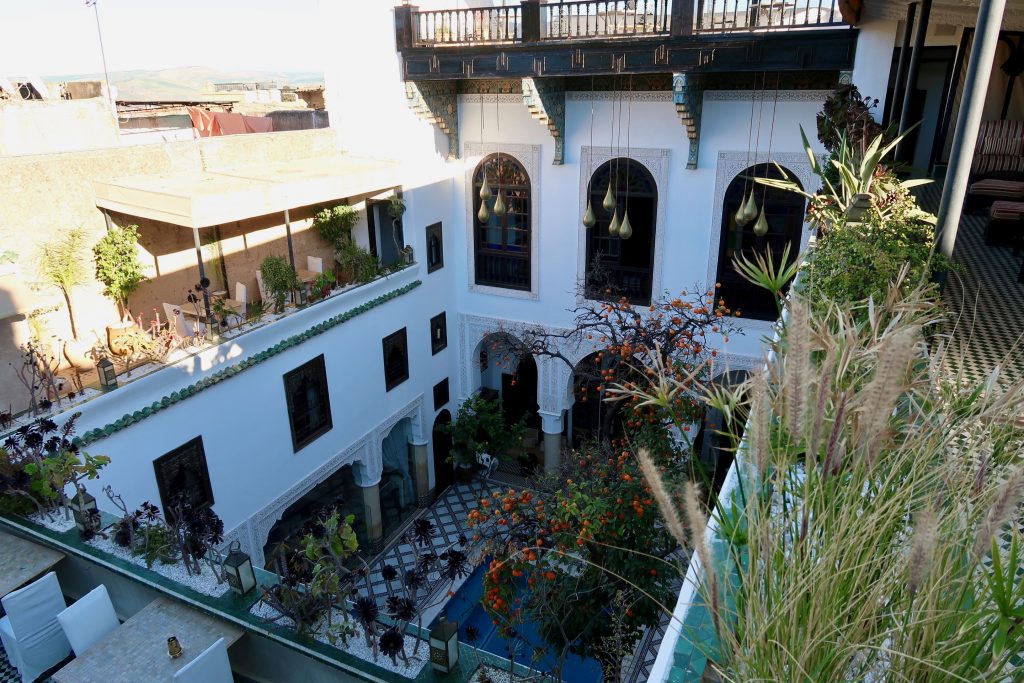 Each courtyard has a character all its own.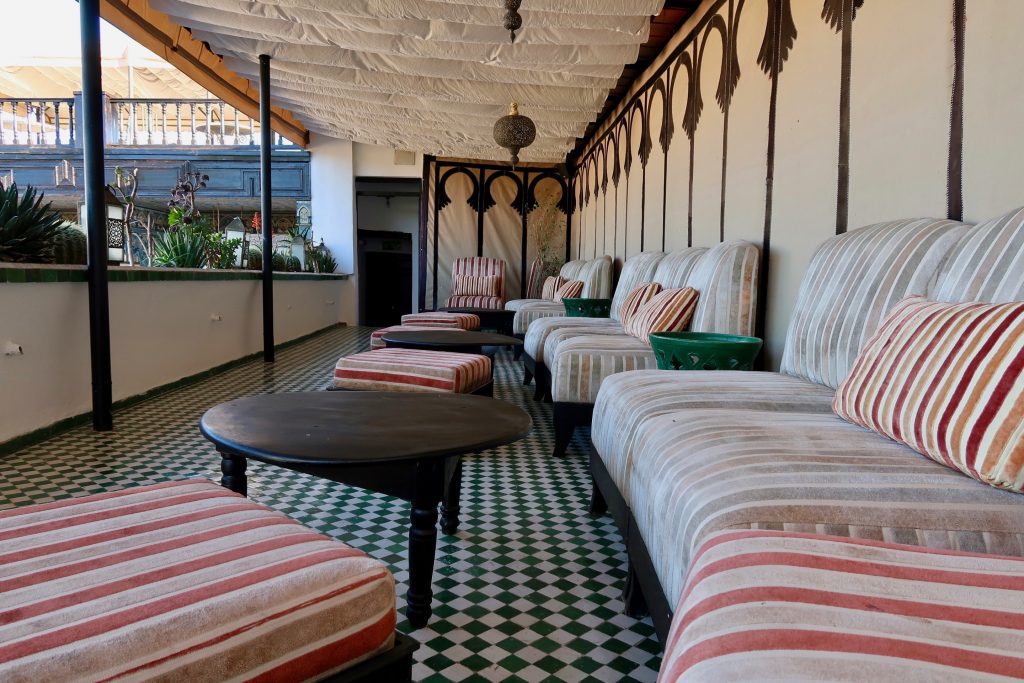 We felt drawn to lounge and chat in all kinds of cozy nooks throughout the riad.
These lounges were the perfect place to enjoy a glass of wine while watching the sunset!
Take a dip in the pool
Sadly, the weather was not warm enough for us to enjoy the cooling waters of the pool. Although the beautiful courtyard is the perfect place to relax and read a book.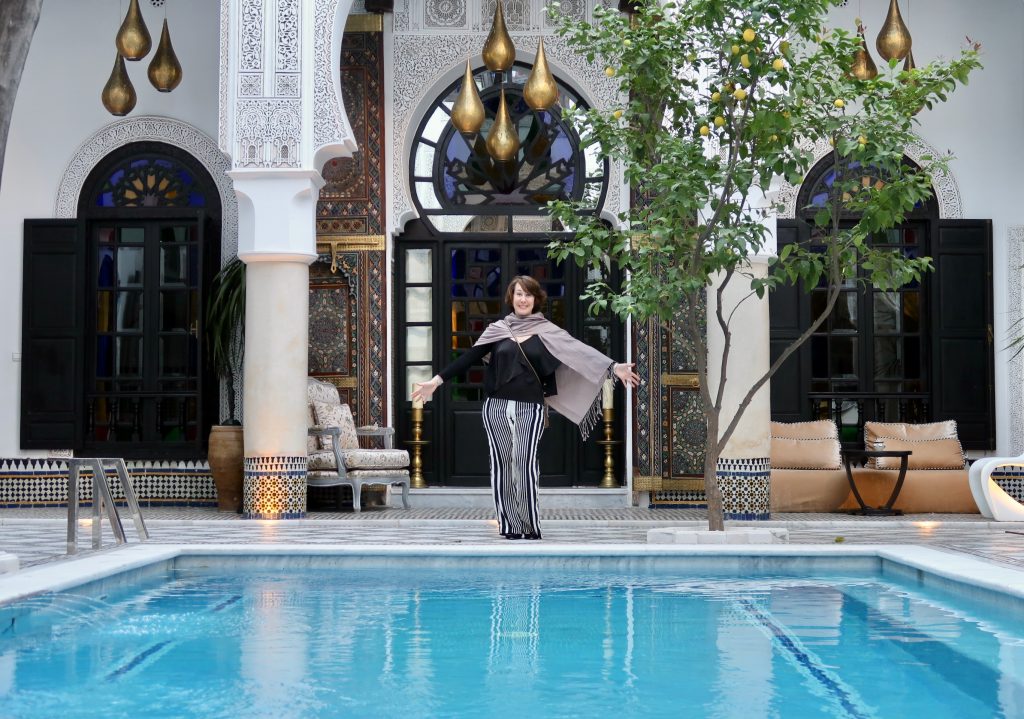 The main courtyard was one of our favorite spots — and it has a swimming pool!
Talk about style!
The design of the riad is incredibly intricate, and mesmerizing. Panels are carved in incredible detail. Floors are graced with sprawling mosaics. Furniture and decorations have details that you wouldn't believe. The overall effect is that you can get lost while looking up close at various features, and then as you step back and take in the whole, huge scene before you… the amount of talent, work, and craftsmanship comes together to make you say "wow".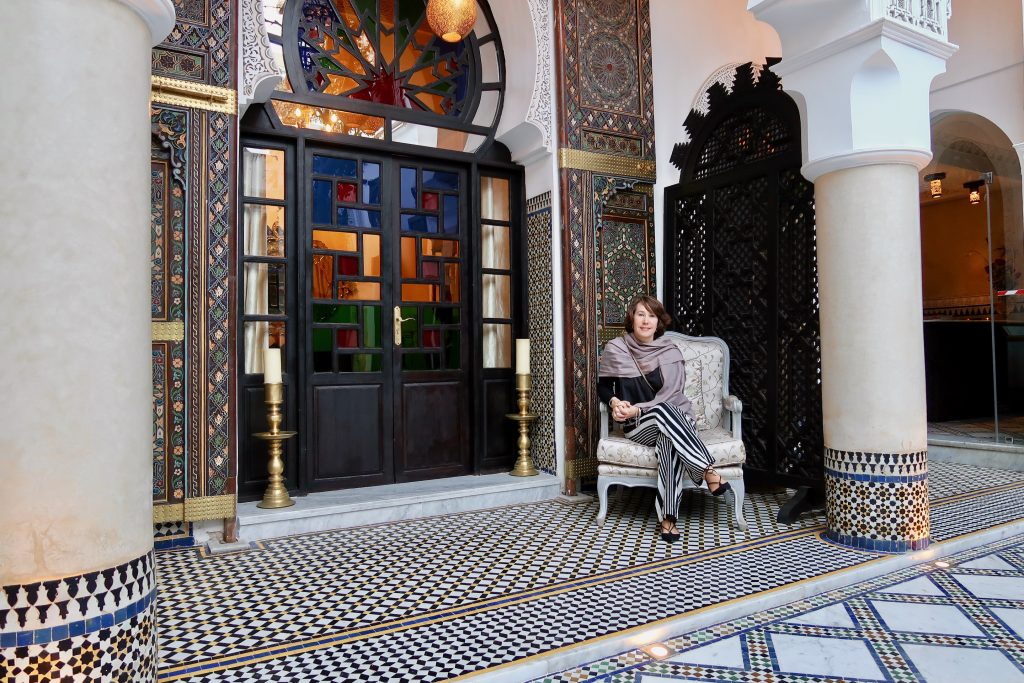 With this resplendent atmosphere, it's easy to feel like a special guest.
As you explore more of Fez, and Morocco in general, you'll start to appreciate the special character of each place. We certainly adored the unique charm of our first-ever riad experience when we arrived in Morocco, and we also appreciated our boutique hotel experience overlooking Fez in its own way, too. The more that you get to know the region, the more you notice the unique character of the variations.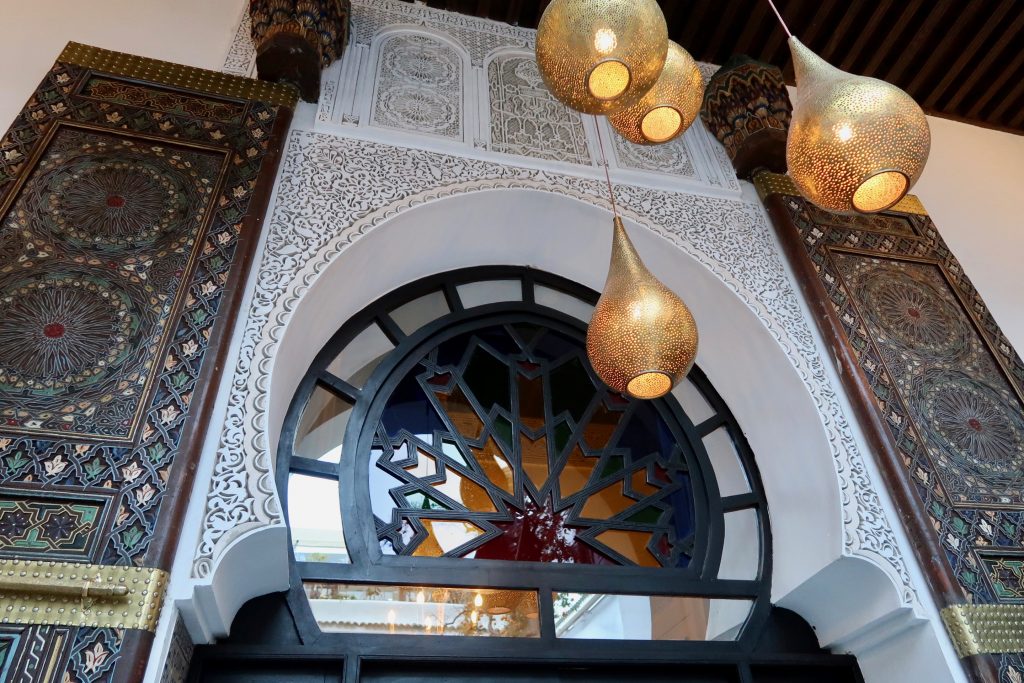 The lighting and decor were impressive around every corner.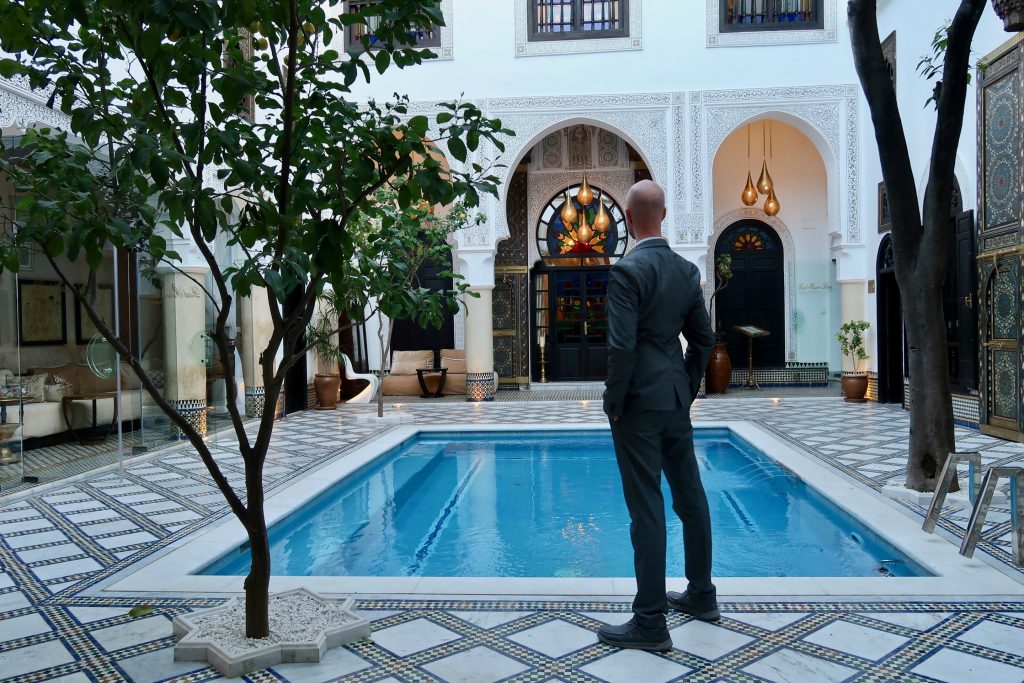 A fine spot for reflecting.
This riad has a uniquely charming feel to it
There are a few facets to the vibe, here.
For one thing, this riad feels elegant and at the same time approachable. On one hand, it has an air of grandeur to it: the courtyards are lofty, and the design throughout adds a feeling of majesty. At the same time, it feels very comfortable, inviting, and relaxing. There are various cozy nooks, striking perches, and pleasant sitting areas sprinkled all around the riad. There are comfortable couches, chairs, and benches throughout.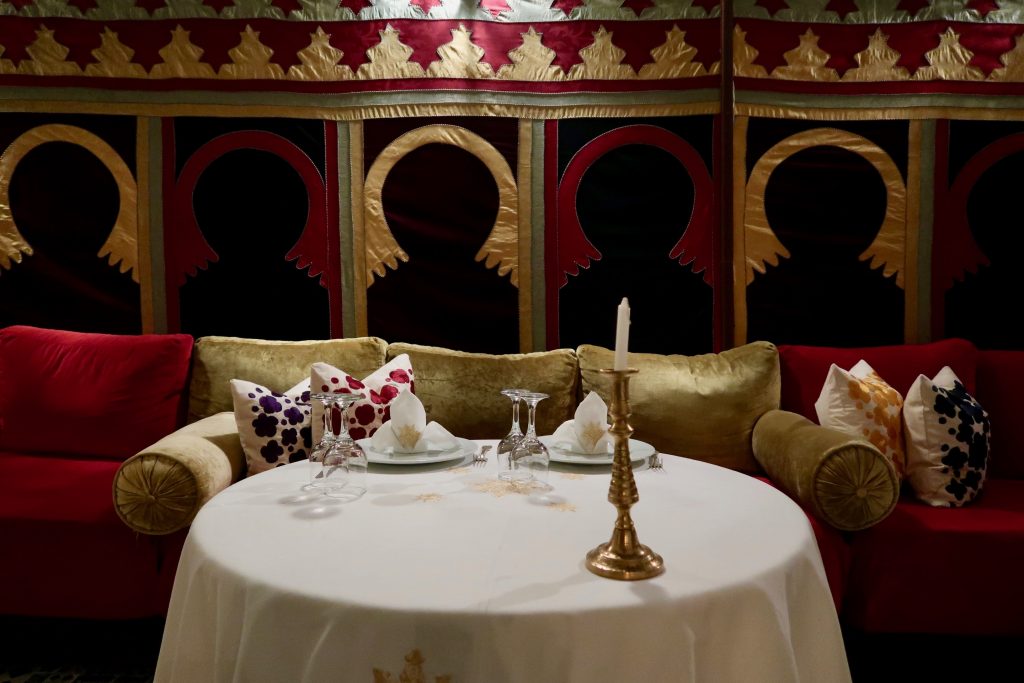 Many spots had a welcoming, sequestered charm to them.
Thanks to these features, the riad is quite adaptable to your taste. We (of course) found it to have a romantic appeal, especially in the evening when lights add a glow to the courtyard pool, and the halls are illuminated by candelabras. This would also make a refreshing place for a retreat, a place of focus of exquisite decor and delicious delights. Thanks to its location, it is also a really wonderful way to enjoy the attractions of the nearby medina on foot, while having a uniquely charming sanctuary to return to.
We delighted in dining in the restaurant
The riad boasts a truly elegant restaurant! The ambiance of dinner was something special. With white tablecloth, embroidered napkins, and radiant candlelight all around, the dining area feels warm and pleasing.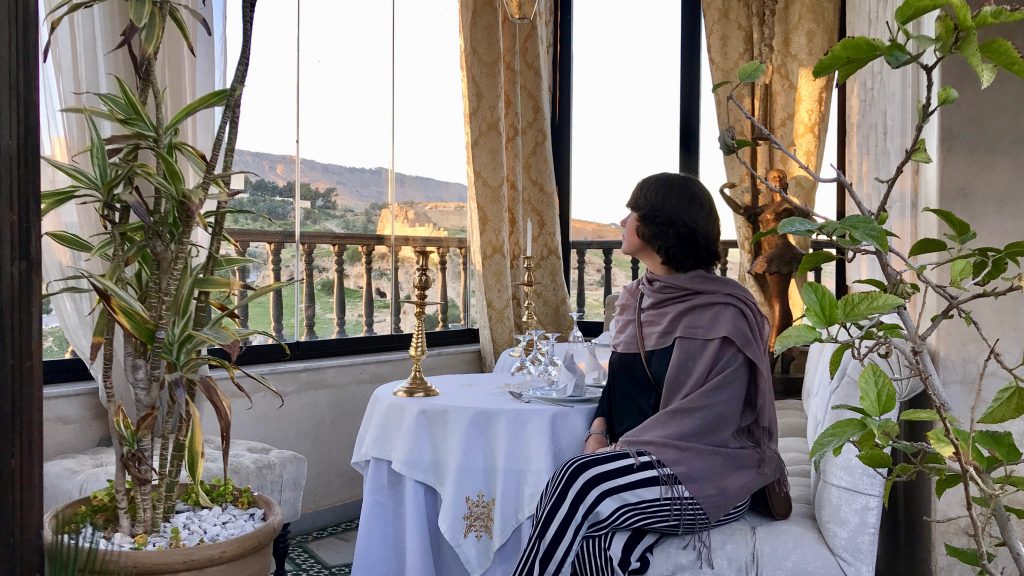 As the sun sets, the views get even more stunning.
The dishes of Moroccan origin were presented nicely. We especially enjoy the Moroccan salads, served in a variety of little dishes, each dish showing off its own special flavors and are meant to be shared.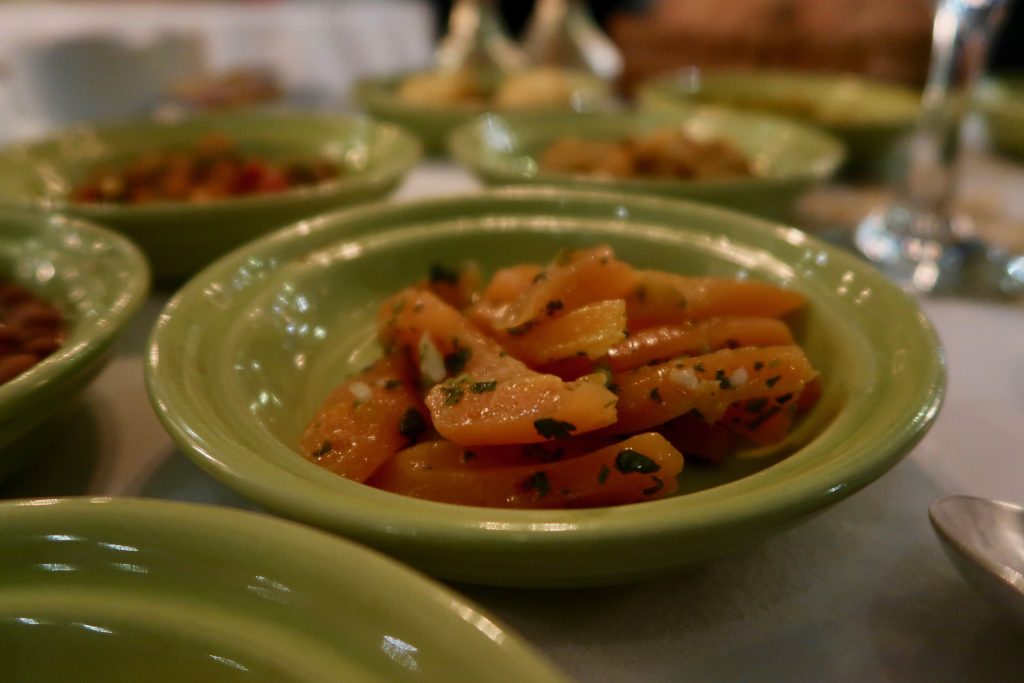 Moroccan salad entails a variety of little dishes — and each one of them is a unique, flavorful experience all its own.
We were quickly in a relaxed, convivial mood — chatting, laughing, and smiling our way through the evening.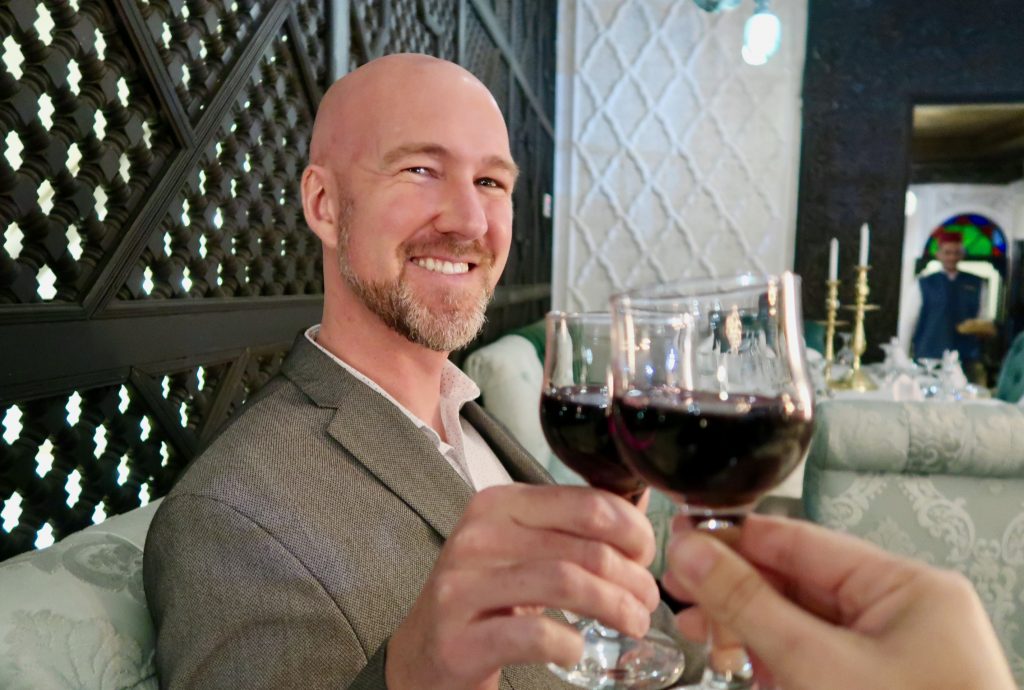 Cheers! By candlelight, we enjoyed a nice drink.
Breakfast perked us up nicely
In the morning, a buffet is served in one of the main courtyards.
One of the Riad's three courtyards has a grand dining atmosphere.
Starting our day, we were greeted by fresh ingredients of all kinds. We were especially fond of the smoked salmon and eggs made to order with our breakfast. We also enjoyed the things particular to Moroccan cuisine: dates, special breads, and such.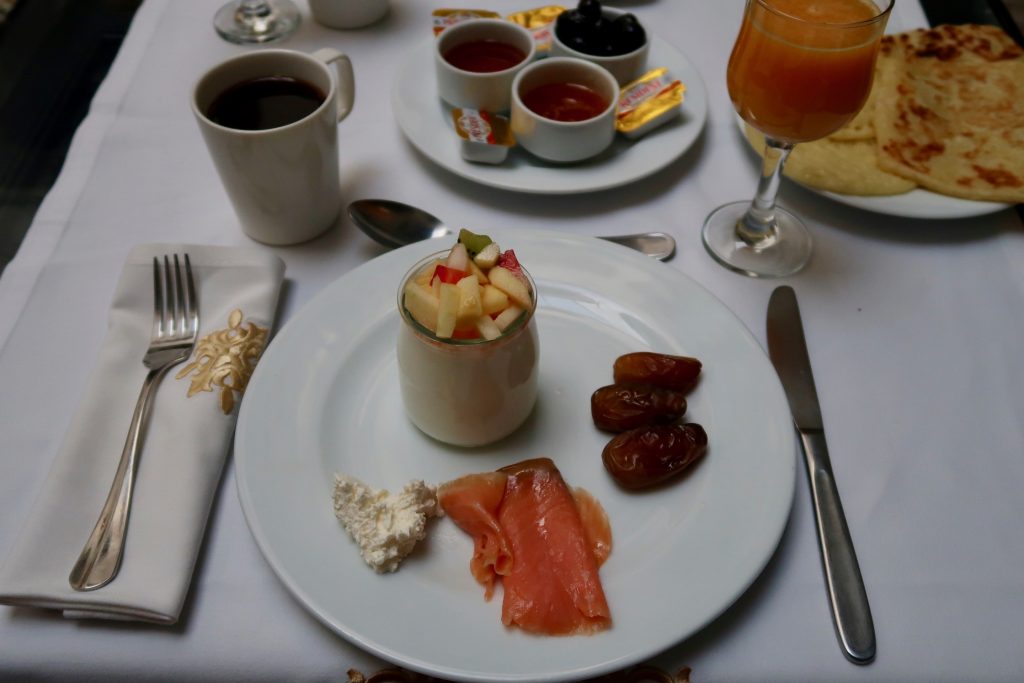 For breakfast, there is a wide selection of options — including fruit, yogurt, and smoked salmon.
Learn to cook amazing Moroccan food
This riad features a special kitchen where they host cooking classes — so you can learn to prepare some of your favorite Moroccan dishes! From our tasty experiences with Moroccan cuisine, this is an experience that we should enjoy, sometime soon!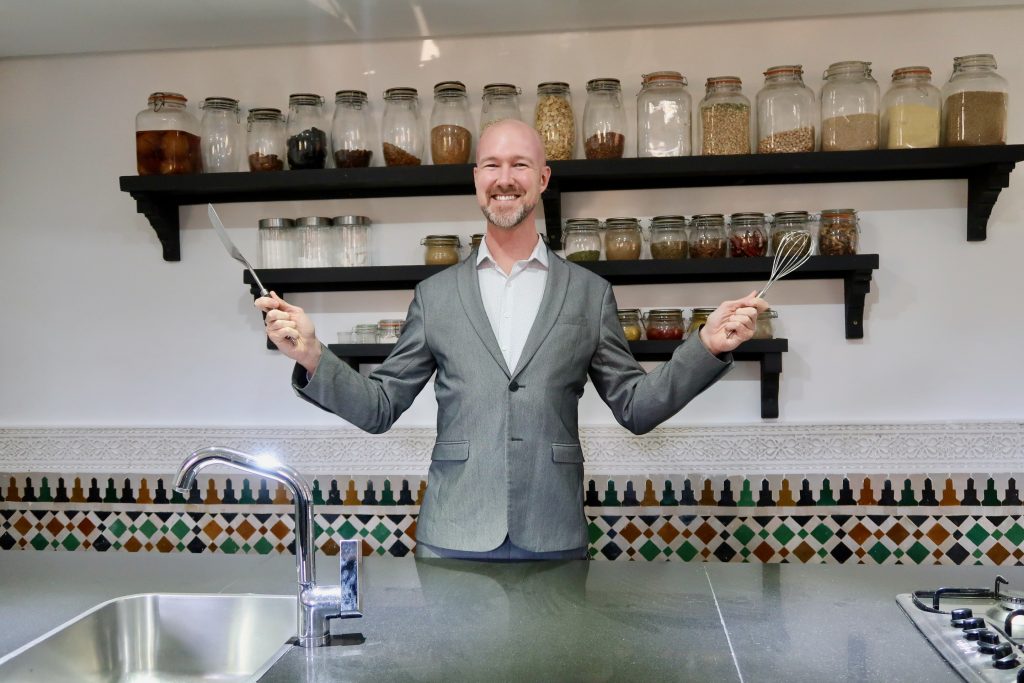 There's a room where they offer cooking lessons!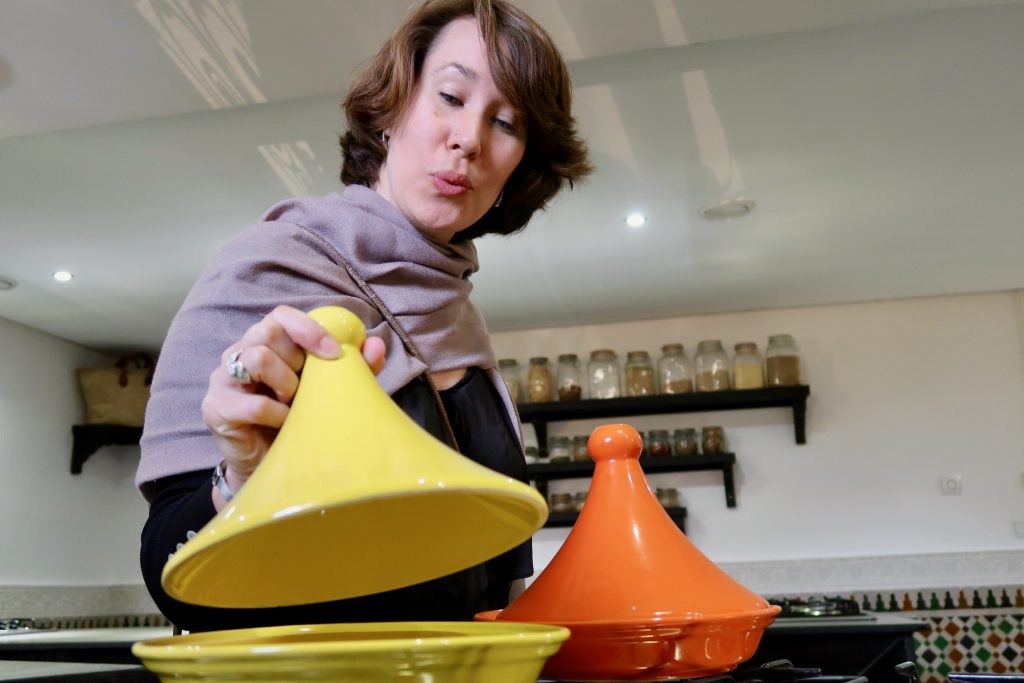 Traditional dishes like tagines — served in these vessels of the same name — are sumptuous delights
The tagine, is a traditional Moroccan dish, prepared in vessels like the ones above. The ingredients used can range widely, although my favorite tagine is lamb with dried fruits and almonds.  
Thank you, Riad Maison Bleue!
We had a wonderful stay, thanks to the great folks on the team there at Riad Maison Bleue. We appreciated the great experience there, and we hope that you do, too!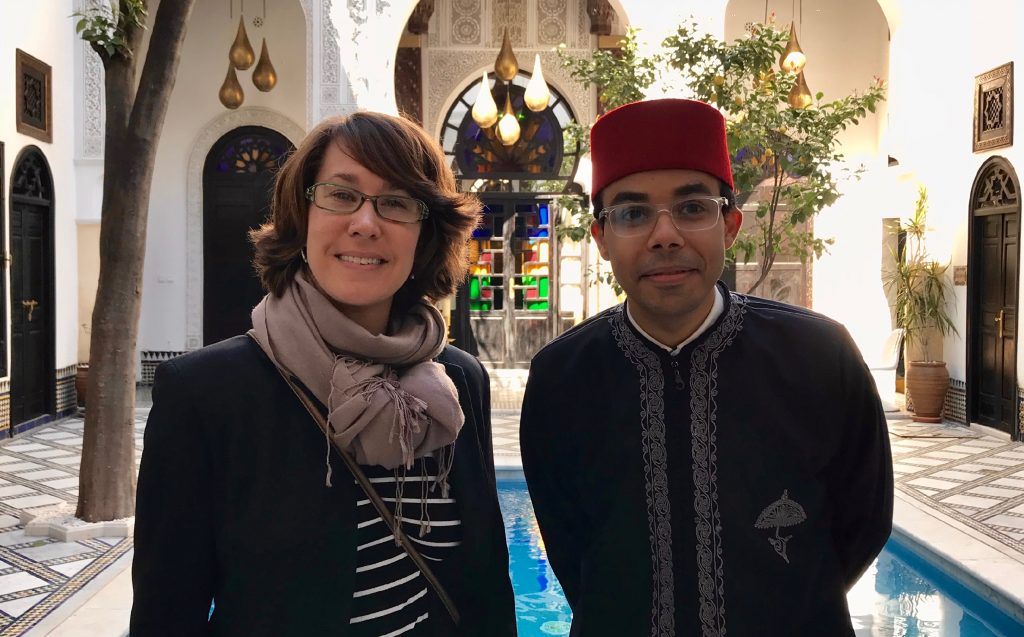 Thank you, Riad Maison Bleue, for a truly exquisite stay — and charming hospitality!
Enjoy this post? Pin it for later!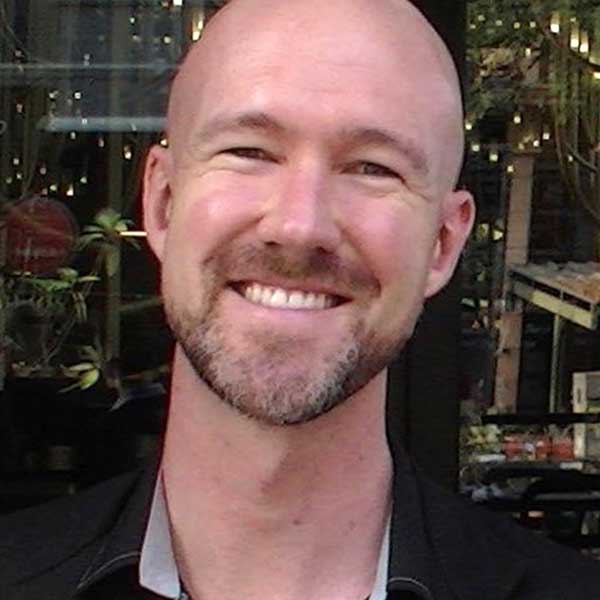 Curtiss is a lover of delicious atmosphere, experiments in location independence (and digital nomadism), and that magical place where wifi and paradise overlap.