Discover A Luxury Boutique Hotel Overlooking The Fez Medina
Fez, Morocco is well known for its sprawling historic medina, although there's much to be said for the newer parts of the city as well, which spreads out from the gates of the medina.
In our last post, we talked about staying in the bustling heart of the medina. Another awesome option you have is to stay outside of the old city. We were delighted to do just that as we relaxed for a few nights at Hôtel Sahrai. It is located on a hillside overlooking the Fez medina, and feels rather removed from the winding passages of the old town.
Starting our stay with a glass of mint tea
As we arrived, we were treated to a welcome drink of hot mint tea!
After checking in, we enjoyed a glass of sweetened mint tea. We have come to really love its refreshing flavor.
Why you might want to stay outside the medina
Staying outside the Fez medina is significantly more relaxing than the inside. If you're looking for tranquility, you may be hard pressed to find that in the medina's bustling alleys. That being said, the sights, sounds and shopping of the medina are only a quick taxi ride or hotel shuttle away!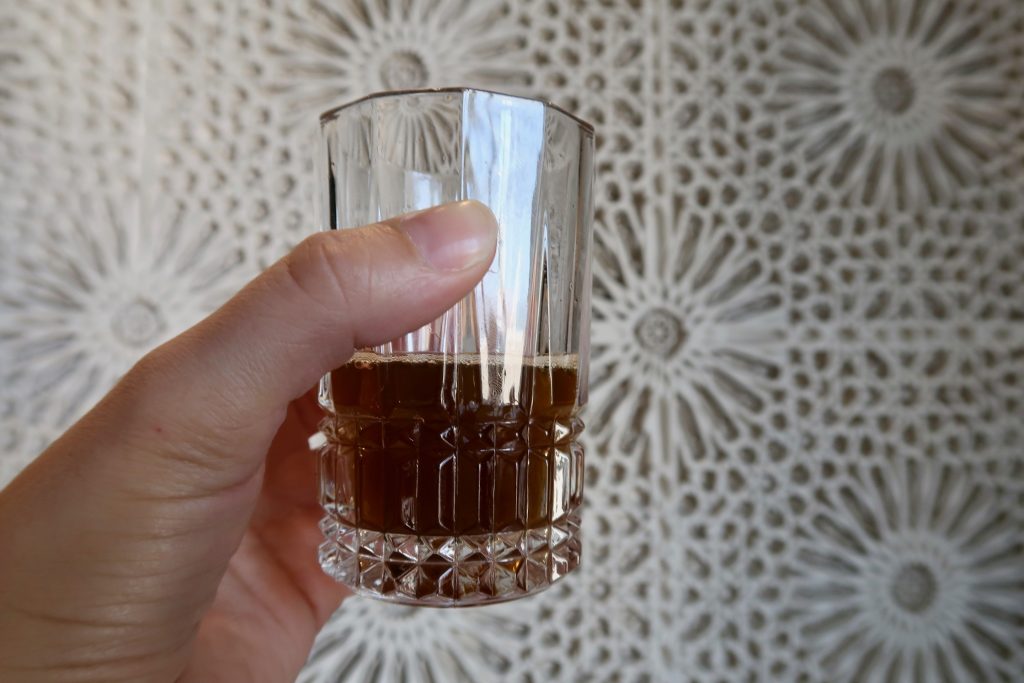 Mint tea is a go-to drink in Morocco, and easy to love!
Our room at Hôtel Sahrai
Our room was bright and airy, with huge windows overlooking the infinity pool!
Ahh, the style at Sahrai was evident: a comfy kind of chic!
We really enjoyed the luxurious, chic design of our room, and the rest of the hotel. The clean lines felt fresh and relaxing, while still giving a nod to the more traditional and elaborate Moroccan aesthetic that we experienced earlier, in a riad. I enjoyed taking a moment to peruse a collection of recipes from the Small Luxury Hotels of the World collection… Hôtel Sahrai is of course included!
We were immediately keen on exploring the hotel. It's pretty huge!
Dining by the pool
The view from the infinity pool is spectacular! Hôtel Sahrai is surrounded by green fields and a few wondering sheep, making the perfect backdrop for lunch!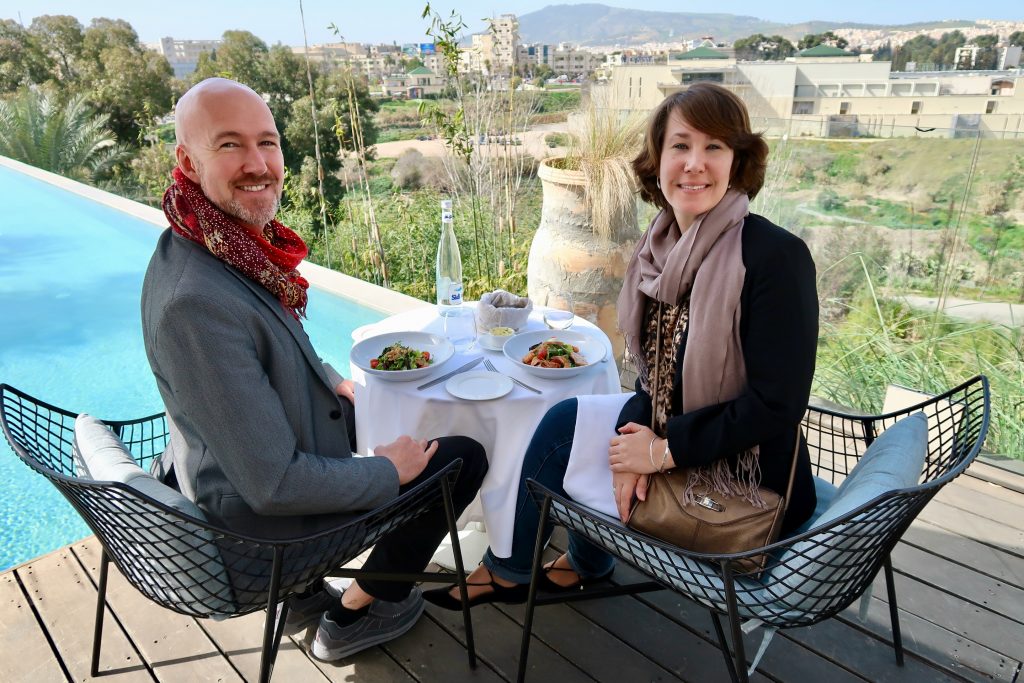 As we arrived to have lunch alongside the infinity pool, our spirits were uplifted.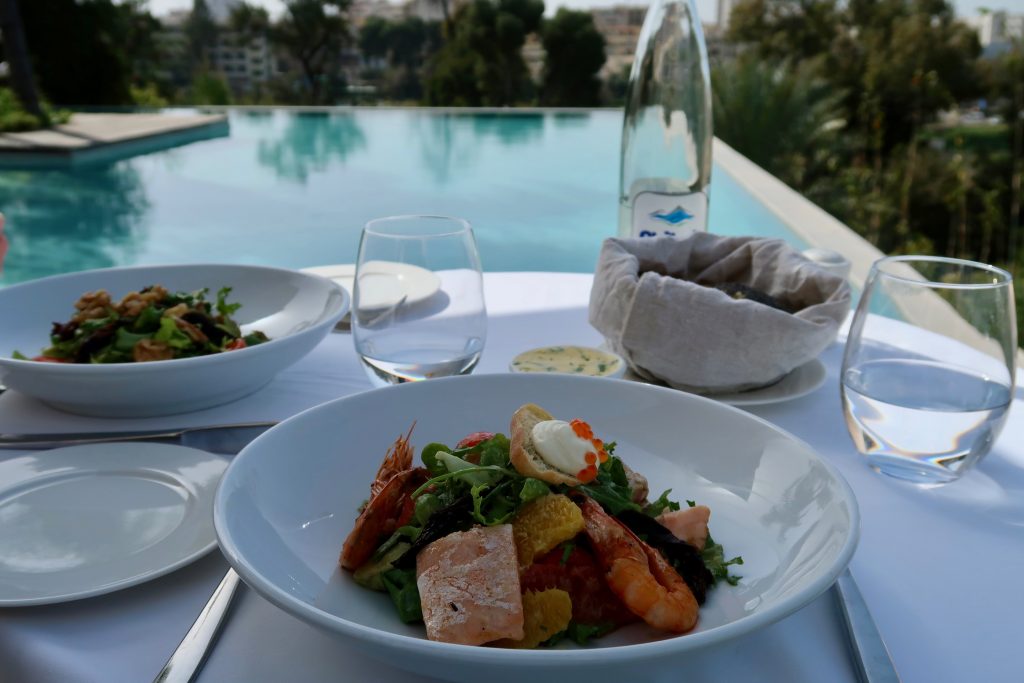 It's amazing to look out over the city of Fez as you dine.
We were extremely delighted by the fresh and very tasty salads we ordered! Sometimes we find it challenging to eat healthy foods while traveling, since we want to try everything! Moroccan food is some of our most favorite, and rather healthy!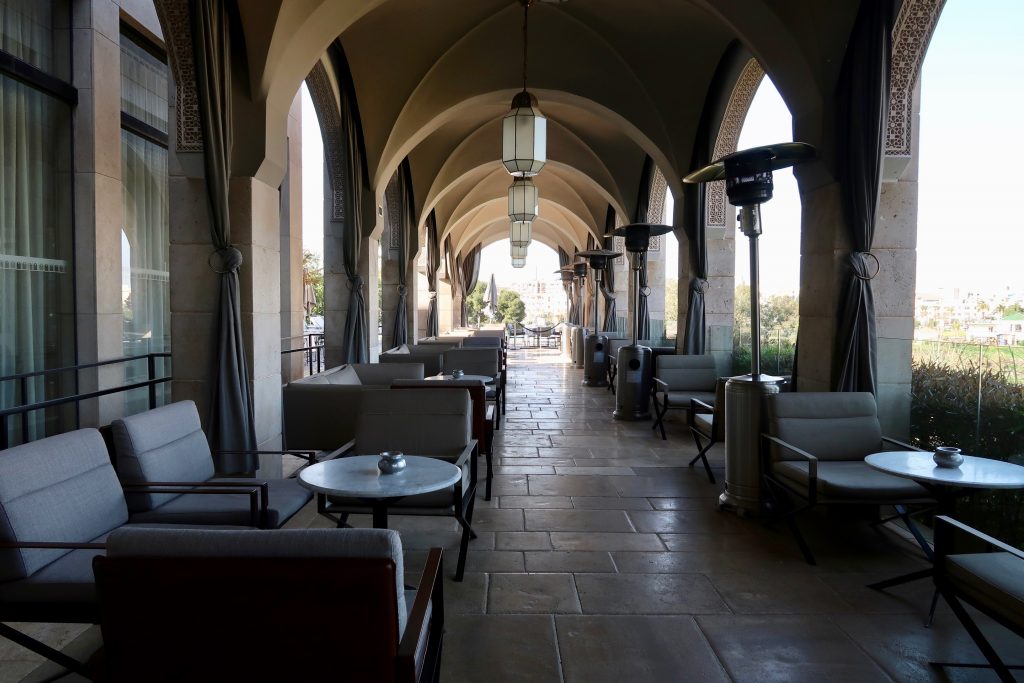 The archways of Sahrai are quite iconic. They star in the design of their logo, and they are the focal point of the hotel.
The iconic archways of Hôtel Sahrai make the perfect place to hide from the afternoon sun with a cool cocktail. Or maybe grab a good book and read a few chapters. This hotel is all about stylish relaxation.
Take a dip in the pool
After enjoying lunch next to this incredible infinity pool, don your bathing suit and jump in!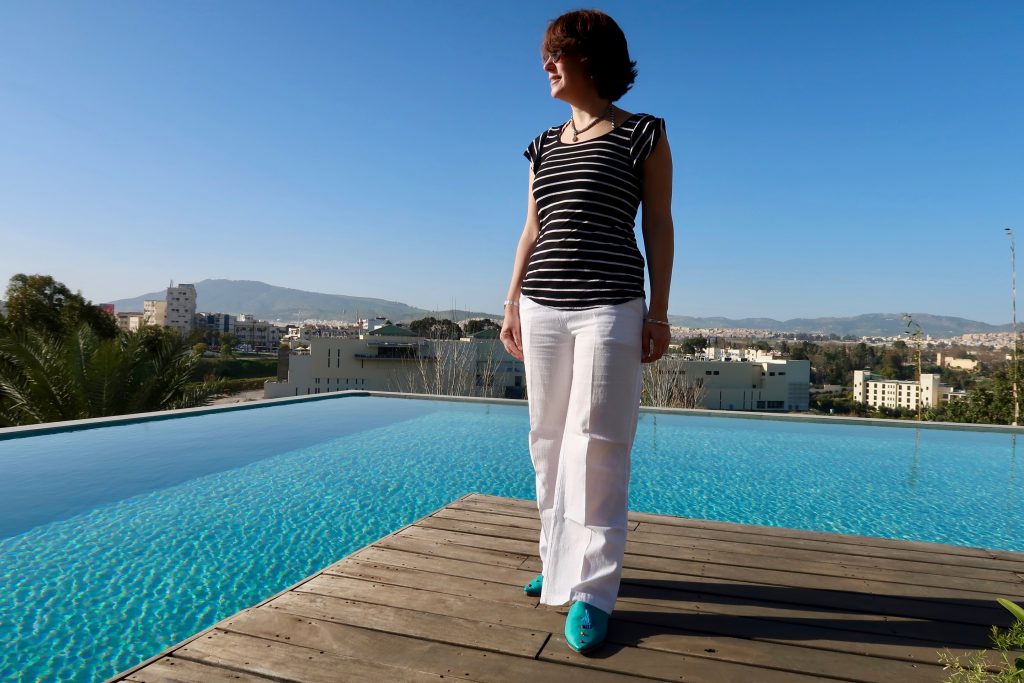 It's easy to feel like a superstar in this amazing environment.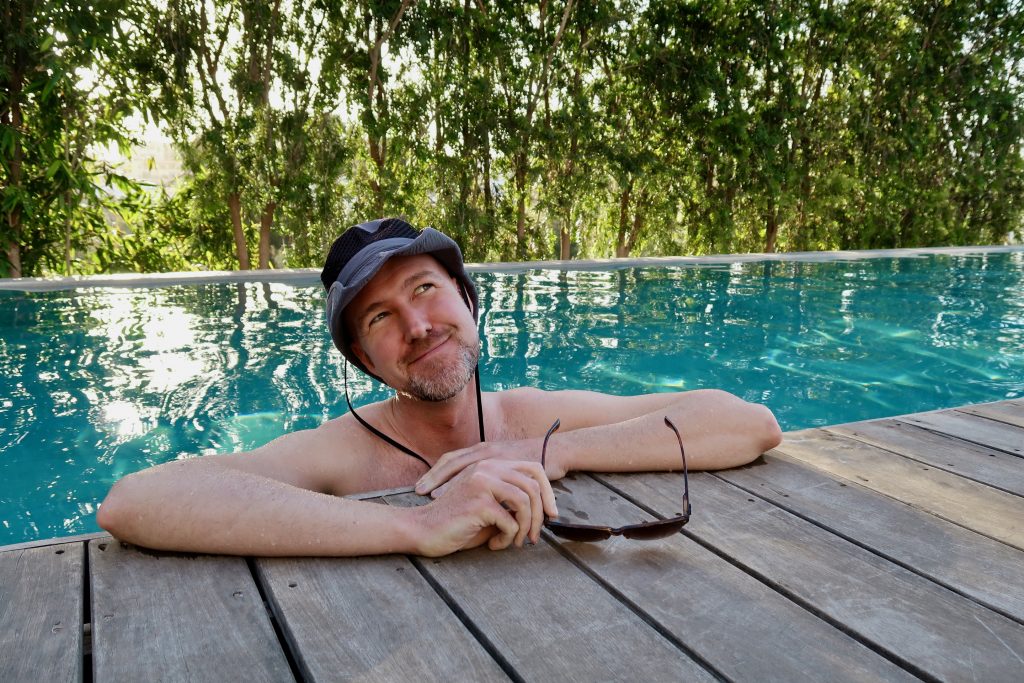 Perhaps Curtiss is thinking about when we'll come back… isn't he cute?!?!
Treat yourself at the spa
Sometimes it takes more than a glass of wine to help us relax. That's when it's time to treat ourselves to a rejuvenating spa treatment!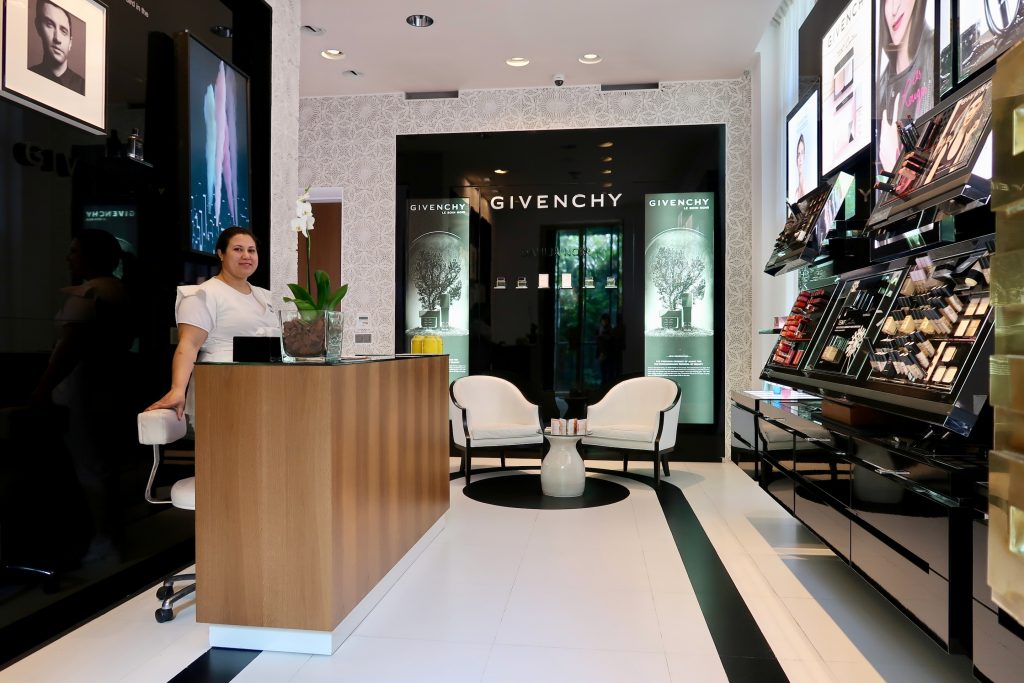 The Hôtel Sahrai spa is ready for your visit!
The Givenchy spa at Hôtel Sahrai is a truly luxurious way to pamper yourself. For a more romantic experience, book a couple's massage.
Hit the gym!
We realize this is not everyone's idea of fun while on vacation… but sometimes you just gotta move!!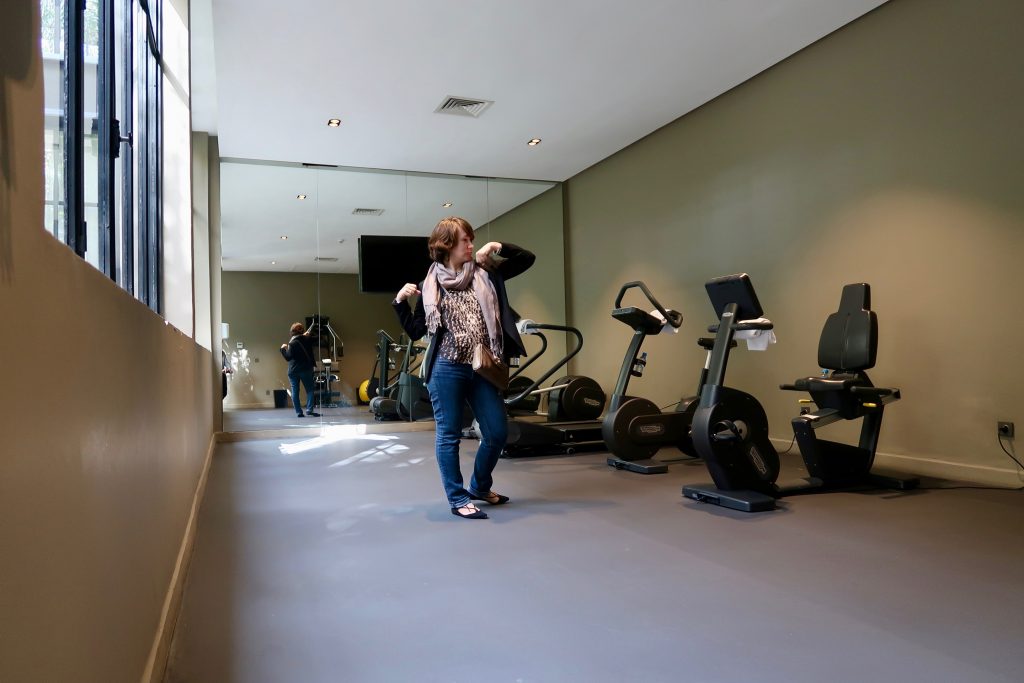 At the gym, Ashley flexed to show off her big guns.
For those special days, Hôtel Sahrai has a fully equipped gym. After your workout, don't forget to admire your hard work!
Did someone say "tapas"?
As the sun starts to go down, Hôtel Sahrai has various restaurant options to choose from!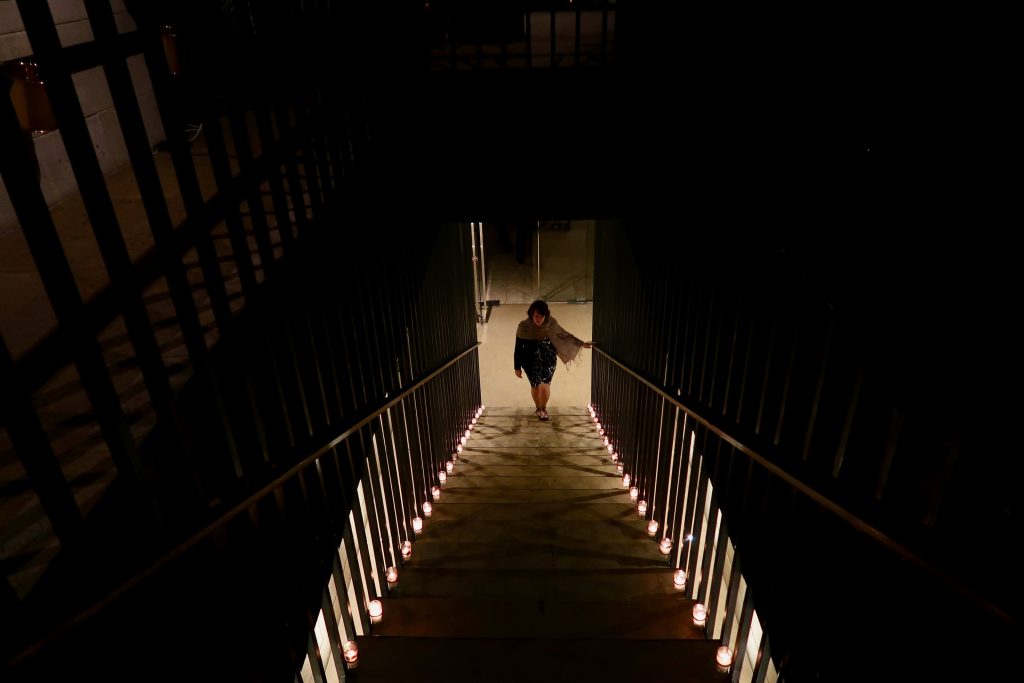 The atmosphere is wonderful when your staircase to dinner is lined with candlelight.
Get a little gussied up and head to the Jungle Bar, located on the upper floor. It is the perfect place to watch the sunset with a glass of wine.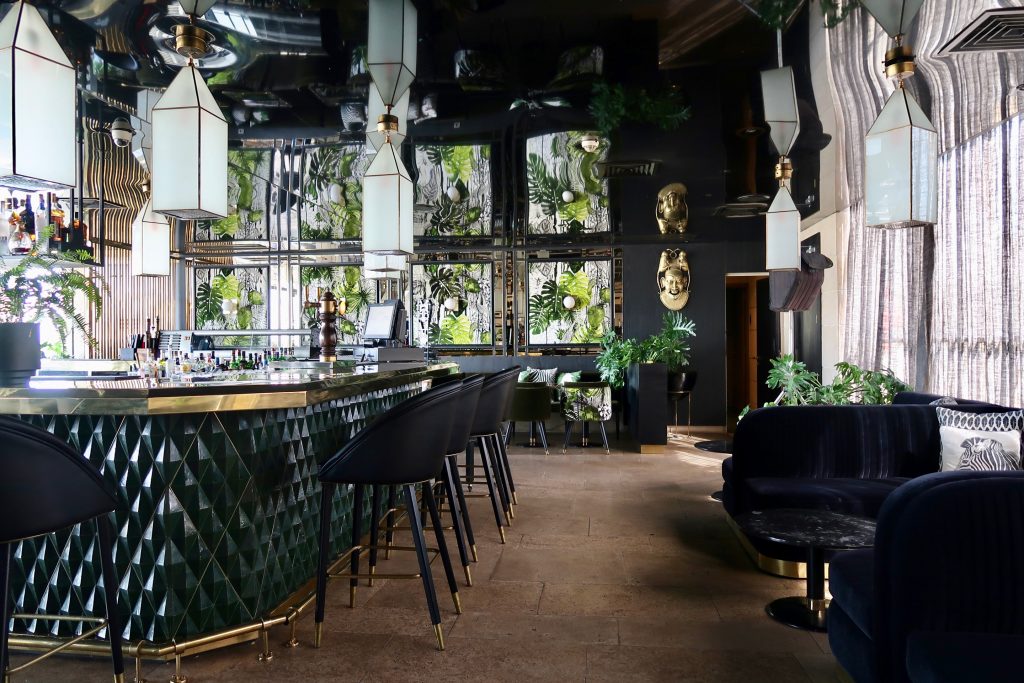 The Jungle Bar is a sexy lounge with a wild style.
The Jungle Bar is aptly named for being stylishly jungle-themed! Here, you can enjoy tasty internationally inspired small plates, tapas, and a drink. We were delighted to see many of the dishes used fresh produce grown in the hotel's gardens! We also loved listening to a great live band. So awesome!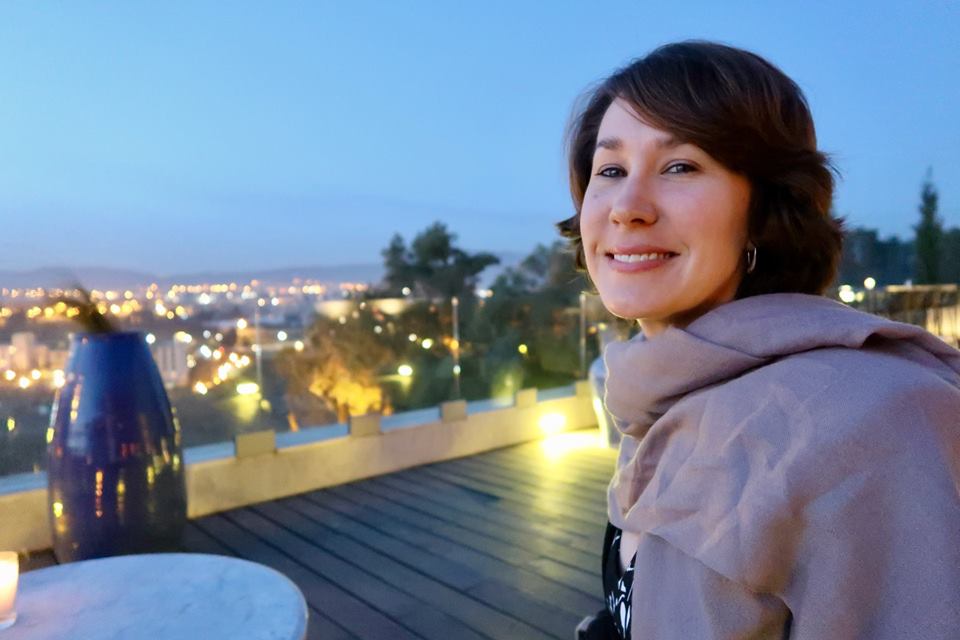 As the town of Fez lights up, the evening glow is amazing. And Ashley is radiant wherever we go.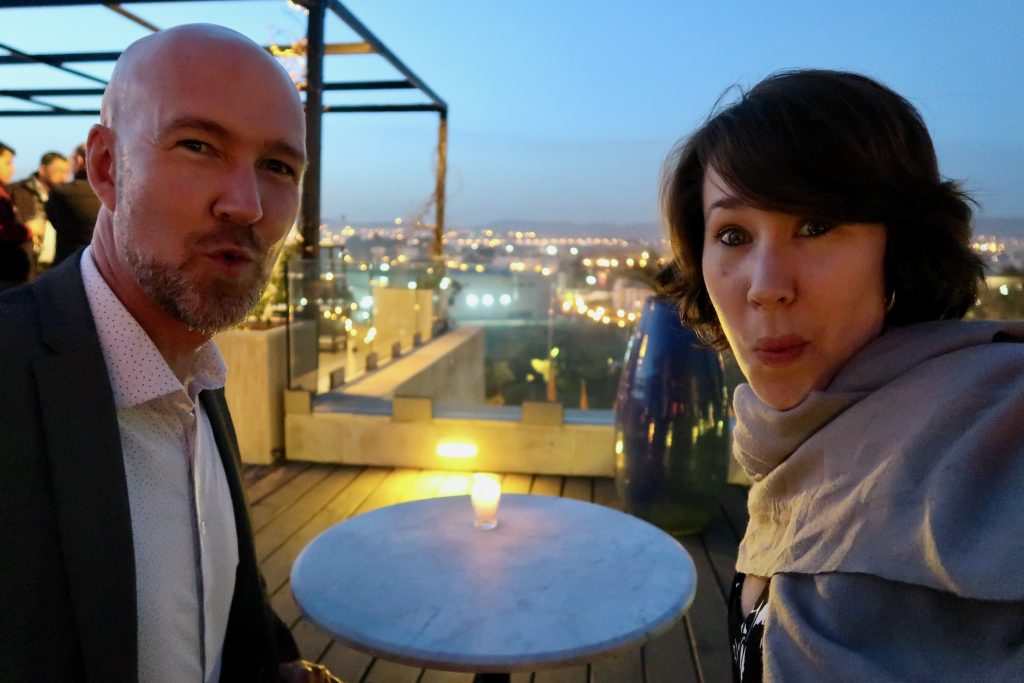 We were feeling relaxed, and having fun on the terrace of the Jungle Bar!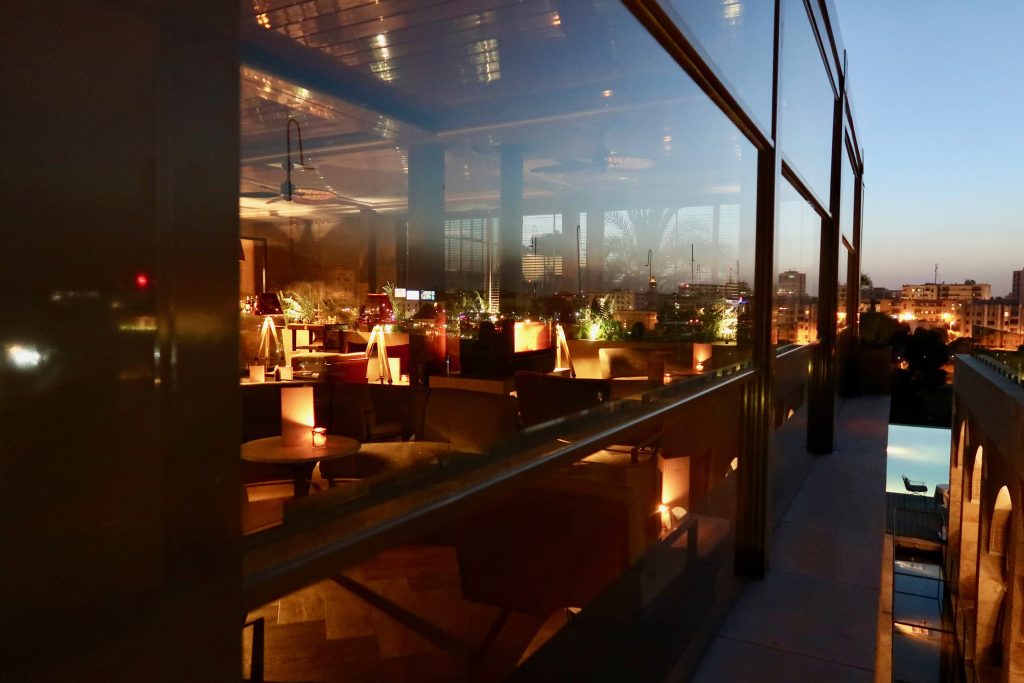 There were beautiful parts of the hotel we didn't even have the chance to explore!
Don't miss breakfast!
Every morning an incredible buffet breakfast is served.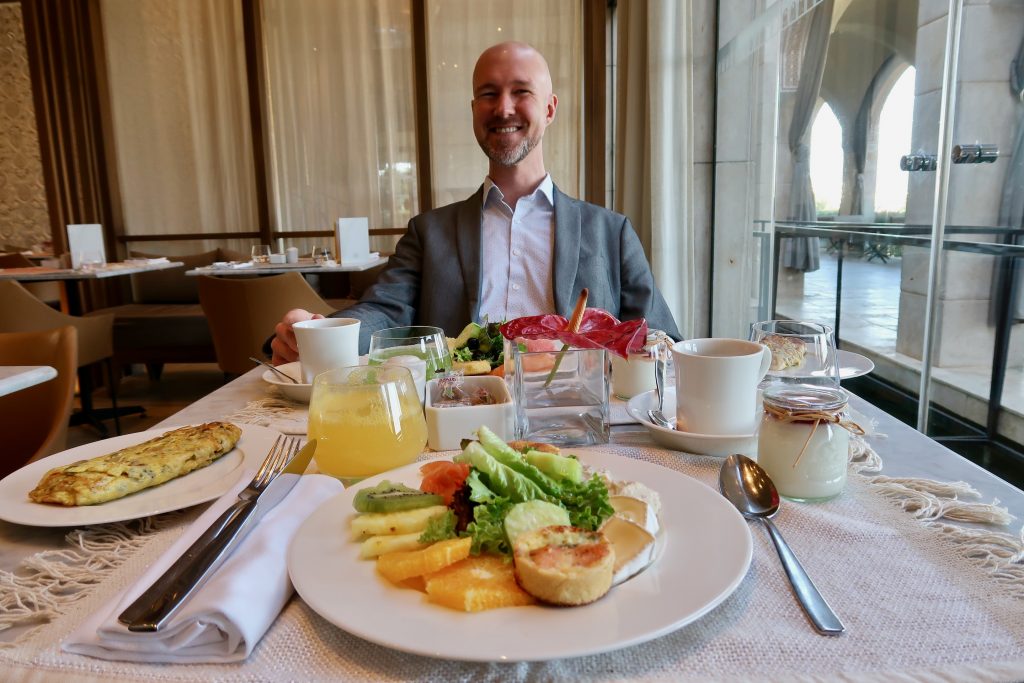 At breakfast, the array of options was more than we expected!
We enjoyed fresh coffee, and omelets made to order. The buffet offerings were everything you could want, from a fresh salad bar, to a sweet dessert table.
Thank you for an incredible stay!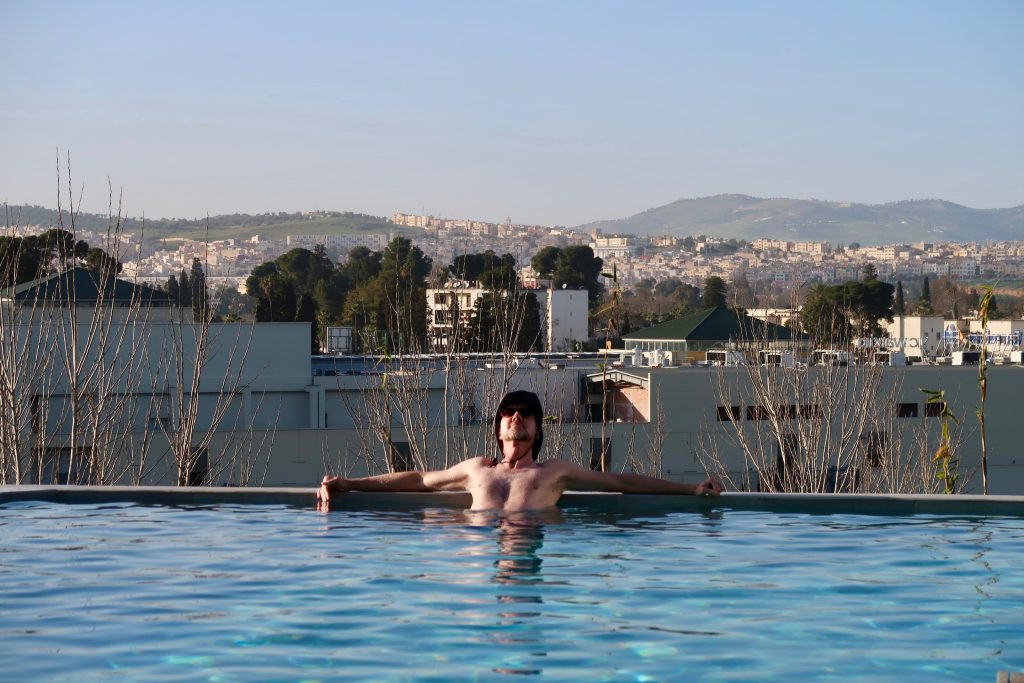 The pool was warm, and really pleasant.
Thank you Hôtel Sahrai for an incredible stay! Your elegant design charmed us immensely and we can't wait to visit again!
Enjoy this post? Pin it for later!
Ashley is exuberant about location independence! She relishes new experiences and working with boutique hotels and resorts. She's always thinking about design and food… and where they'll travel next!