A Spicy Getaway To The Island Of Spice & Chocolate
When you dream of a sunny getaway in the Caribbean, Grenada may not be the first island to come to mind — but from our recent experience, it should be!
It's one of the southernmost islands in the Caribbean, and isn't too traveled by tourists. When you visit one of the many beautiful beaches on the island, they are clean and have few people. Many times Curtiss and I have been the only people on the beach… where else can you find that?!?!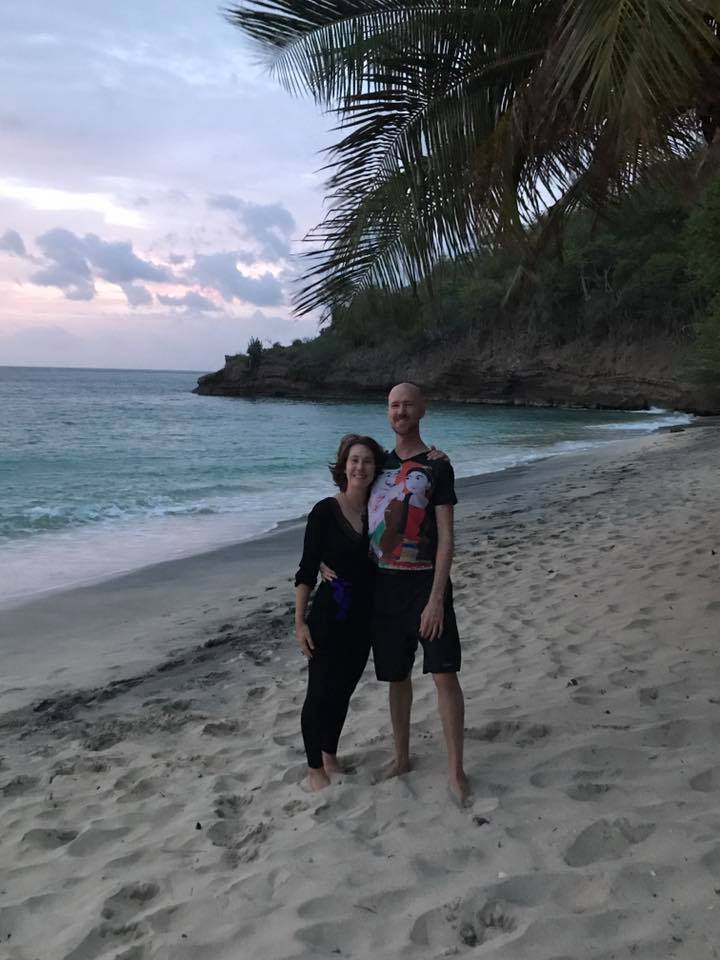 There are direct flights from Miami and London, making it a pretty easy to experience paradise.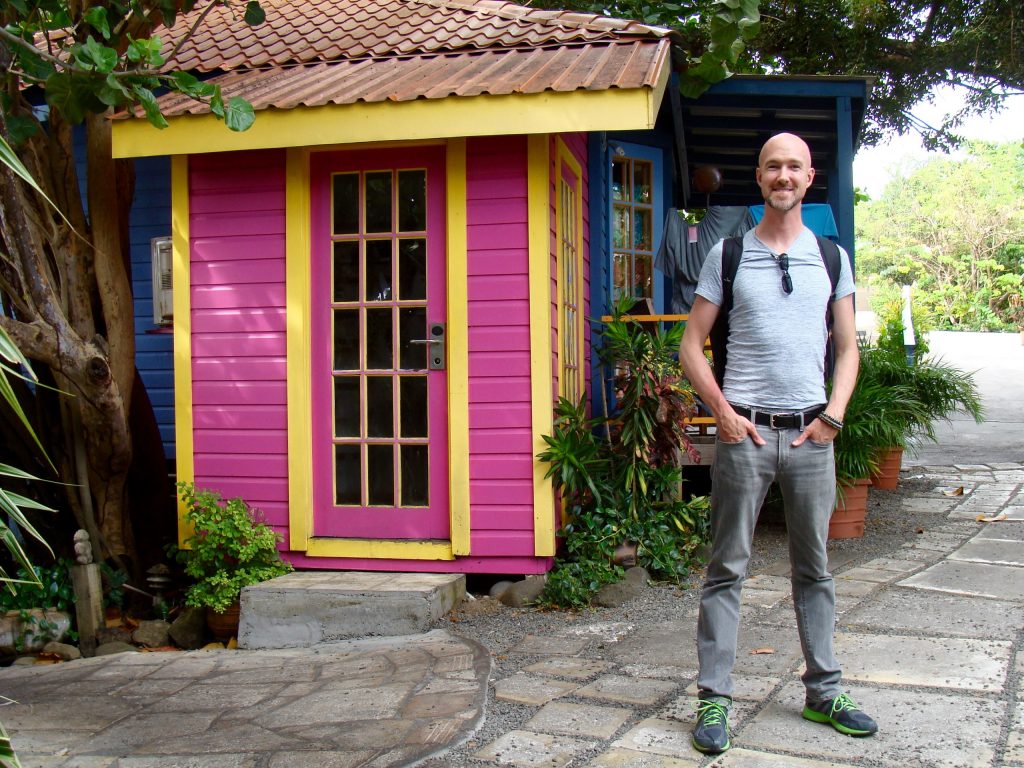 Maurice Bishop International Airport is small and you're able to find a taxi very easily. We stayed at True Blue Bay Boutique Resort, which is a stone's throw away from St. George's University (SGU) and a marina. You will immediately notice how wonderfully colorful the hotel is! The bright blues and oranges will dazzle your eyes.
Room with the best view!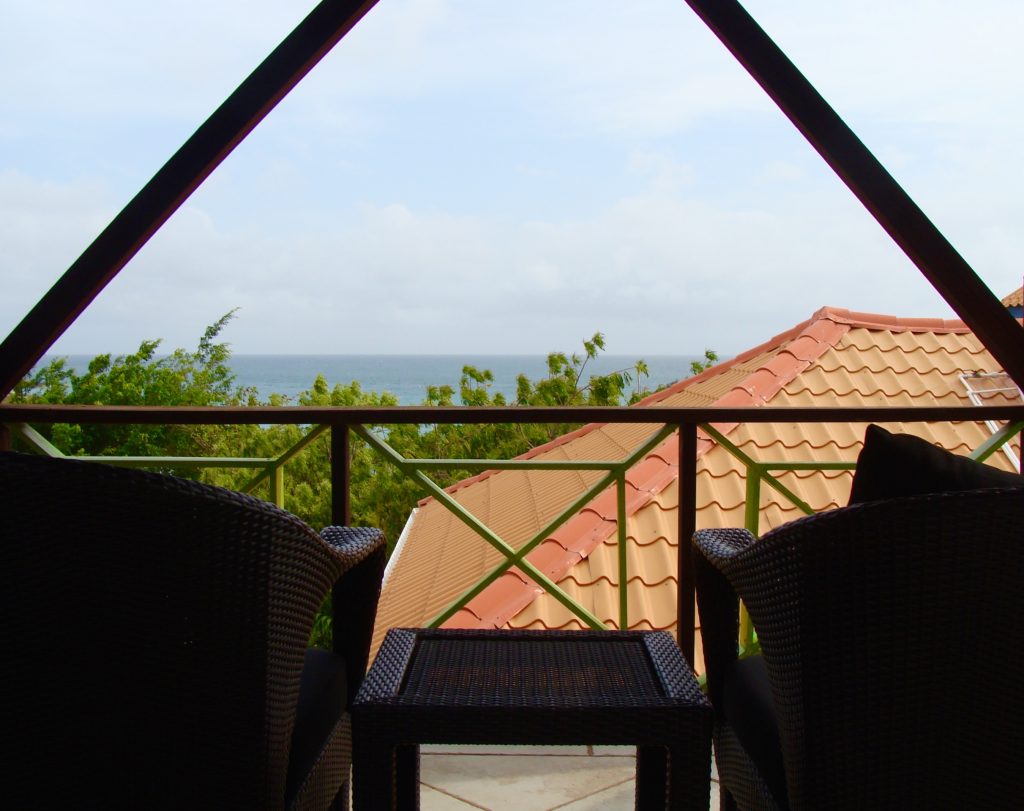 We stayed in a Tower room, that had a complete kitchen and jacuzzi tub. At sunset, we climbed the spiral staircase with a glass of wine (hold tight!) to watch the sun set over the water from our private tower. It was utterly romantic!
Book a stay! True Blue Bay Boutique Resort | TripAdvisor | Booking.com 
We enjoyed happy hour and dinner at Dodgy Dock.
This was when we noticed some familiar textiles from Mexico, as well as some dishes on the menu which are Mexican-inspired. Come to find out, one of the owners comes from Mexico! I'm actually writing this post while we're in Mexico, and I can't help but feel tickled by these experiences!
You will not be bored during your stay!
The hotel has a list of activities that they hold onsite every day! From yoga to rum and chocolate tasting, there's something for everyone!
During our stay, we took a fantastic tour of the whole island with Edwin. He used to work for the Grenadian Tourism Board and knows the island like the back of his hand. We drove from one side of the island to the other and stopped at incredible spice and chocolate factories along the way. We also always paused at the beautiful waterfalls. We felt this was the best way to see a lot of the island quickly, and we weren't disappointed. Speak to the front desk at the hotel and they will help you book a tour with Edwin. He's amazing.
Don't miss some relaxation by the infinity pool!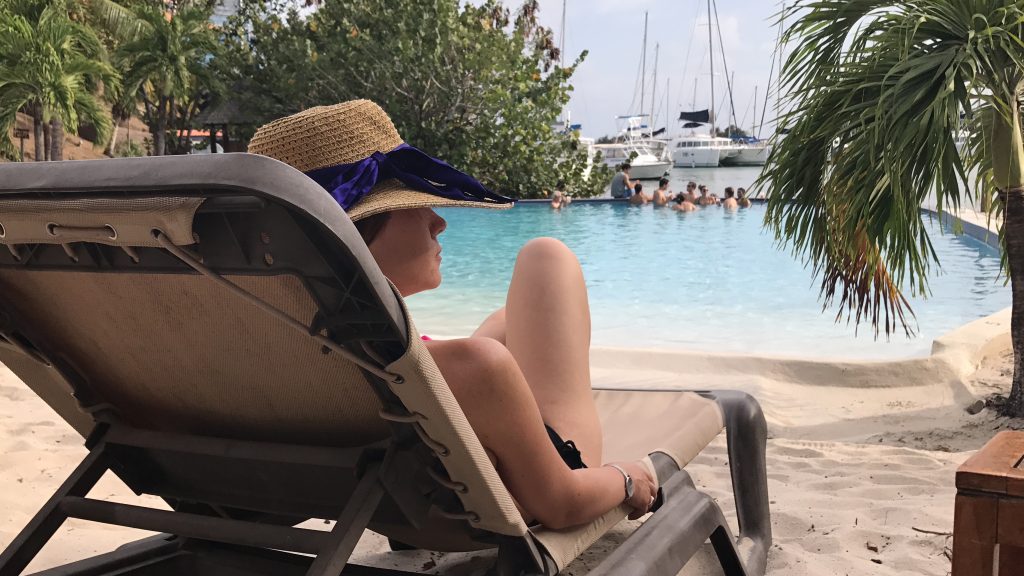 Although the hotel does not have a beach, we did not miss it because they have an incredible infinity pool that looks out over the marina. To break up your day, you can spend time at the second pool near the tower suites. There's a great place for kiddos to play and lounge, although we loved the tranquility of the infinity pool.
The beach is not far away!
You can also take the daily free shuttle to the beach just a few minutes' drive away. We've already gushed about how amazing the beaches of Grenada are!
Book a stay! True Blue Bay Boutique Resort | TripAdvisor | Booking.com 
Check out the bustling capital of St George's.
If you get the chance, check out St. George's. It's a bustling town on the water and unlike anything we've experienced before. You'll quickly notice the narrow and hilly streets that wind between new and dilapidated buildings. Pretty wild.
Grenada is a small island with incredible flavors!
Grenada is known as the Spice Island, which is not surprising based on the amount of nutmeg, cinnamon, and other spices that are grown and exported from the island. We were pleasantly surprised by the flourishing chocolate production on the island! There are a couple of estates that are producing some really incredible chocolate; they are proud to call themselves "tree-to-bark" chocolatiers because everything is done onsite.
Get your sweet on!
True Blue Bay Resort also hosts the annual Grenada Chocolate Fest. You can only imagine my excitement when I learned about this very sweet festival dedicated to one of my major food groups — chocolate. The festival is a full week of activities ranging from chocolate cooking classes, chocolate yoga and how chocolate-inspired fashion show. Folks could sign up to be a farmer for the day, and learn how cocoa is grown and harvested.
We were delighted to sign up for the chocolate yoga class! This is a video that the wonderful folks at True Blue put together of our yoga class… see if you can spot Curtiss and me in the back row!
Video credit to the Grenada Chocolate Fest and True Blue Bay Resort YouTube channel. 
We knew very little about Grenada when we first arrived on the island. As we explored and relished in the experience, we soon started to fall in love with this amazing place. We'll be going back to this lovely island and look forward to delving deeper into her secrets.
Thank you True Blue Bay Boutique Resort and Grenada Chocolate Fest for an incredible introduction to Grenada — we're hooked and will see you again soon!
Enjoy this post? Pin it for later!
Ashley is exuberant about location independence! She relishes new experiences and working with boutique hotels and resorts. She's always thinking about design and food… and where they'll travel next!