Kicking Back And Relaxing In Barcelona
Welcome to Barcelona!
There's so much to see and do in this vibrant city, that you should not worry about how many tapas you enjoy on a tapas food tour. That being said, some times it feels good to slow down for a few days and if your location independent like us, or a digital nomad, you may need to get some work done.
Silver ApartHotel Barcelona was the perfect place to do this!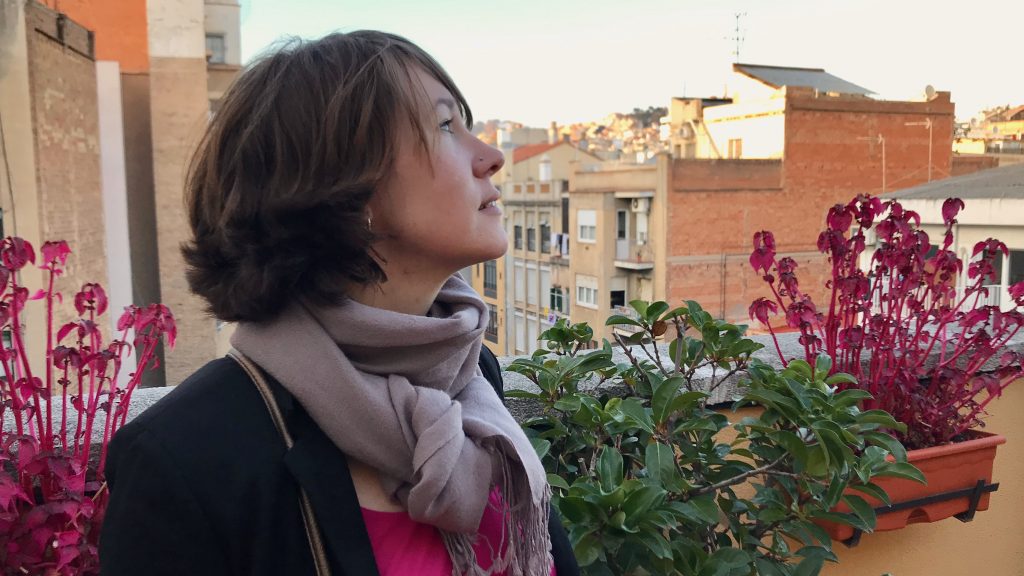 Ta da! It was so nice to arrive at Silver ApartHotel in Barcelona, and we really enjoyed our huge rooftop terrace looking out over the skyline.
What a cool place to relax.
We were delighted to see that our room had a huge terrace with outdoor seating! It was beautifully decorated with flowers and overlooked the Barcelona city skyline. It felt like a little sanctuary amidst the hustle and bustle.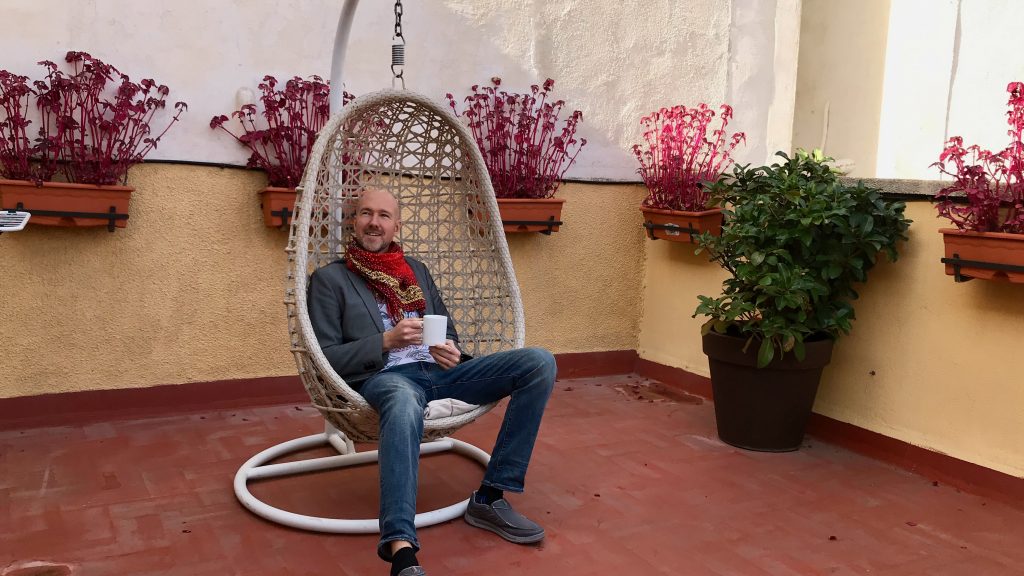 Curtiss enjoying a cup of joe as he gets ready for the day!
Help yourself to the kitchenette.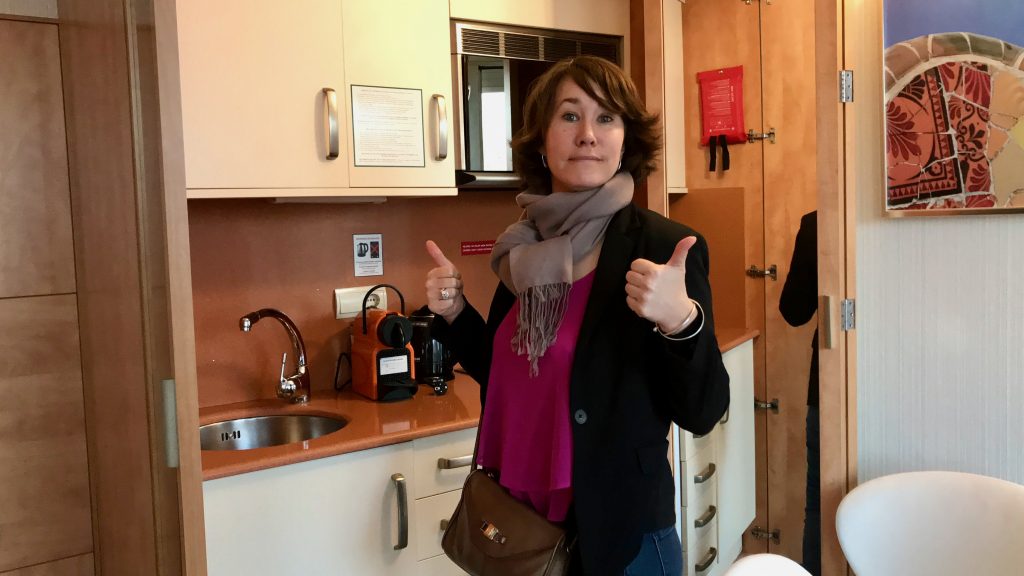 Kitchenette? We're fans!
When we travel, we're always fans of having a kitchen, or kitchenette! It's a great way to prepare healthy snacks while relaxing or catching up on work. Usually, it's a must-have for us if we are staying longer than a few nights.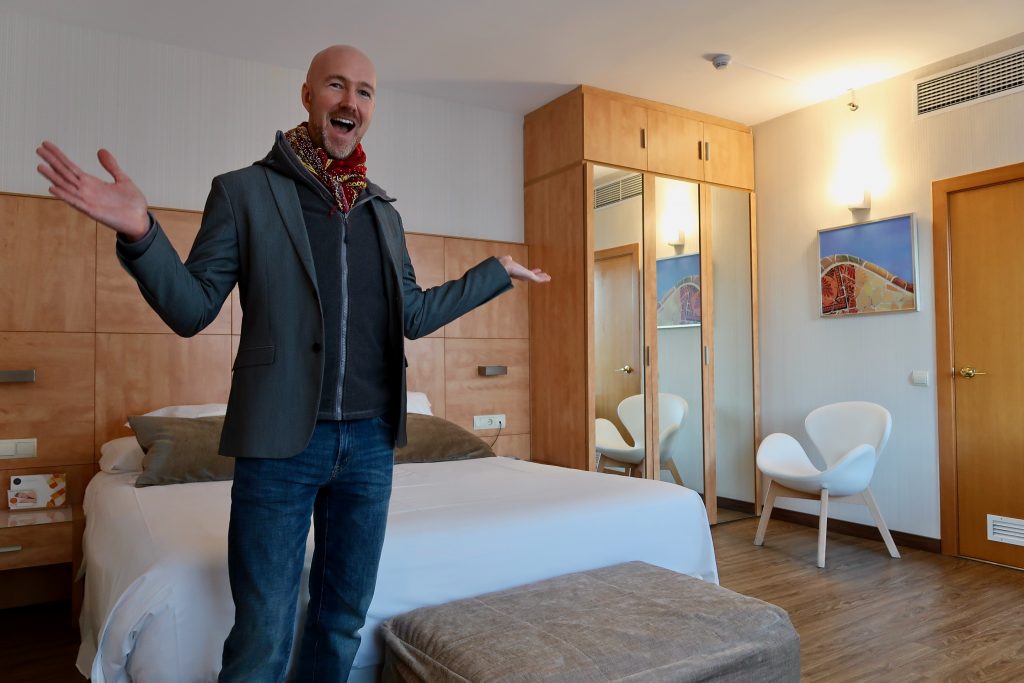 It's called an ApartHotel because it's like a home away from home — with a special style all its own.
Curtiss enjoyed the clean and sleek design of the room. It had everything we needed for our stay!
Don't skip breakfast!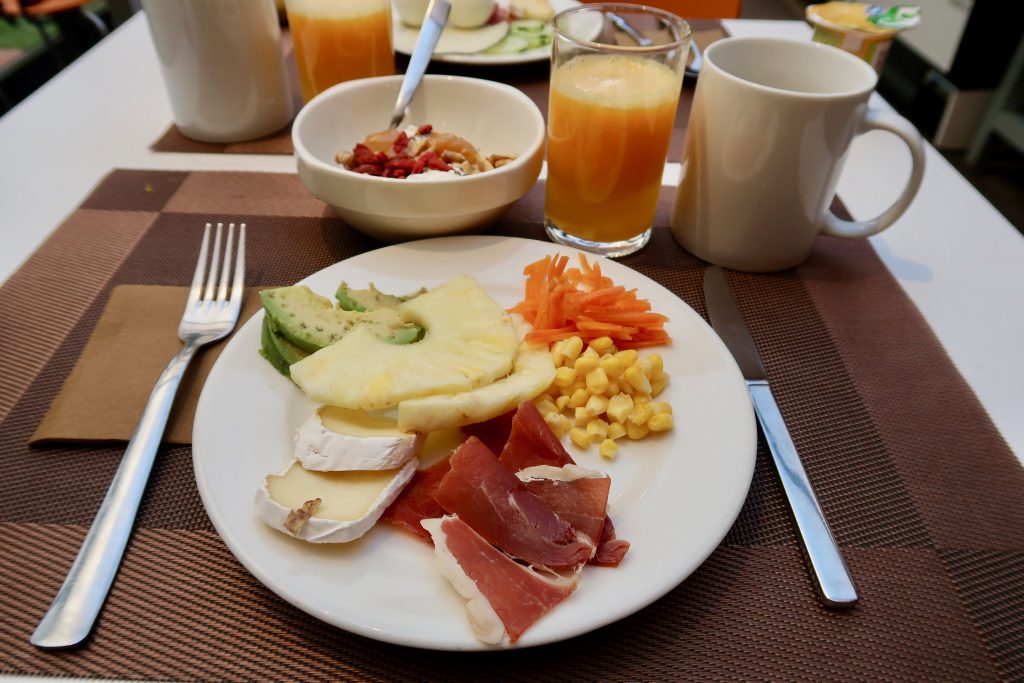 Breakfast was full of options — including some iconic Serrano ham.
A wonderful continental breakfast is served daily. We were really delighted with the selection and relished breakfast the fresh and local foods and a fresh cup of coffee every morning. As you know, breakfast is the most important meal of the day!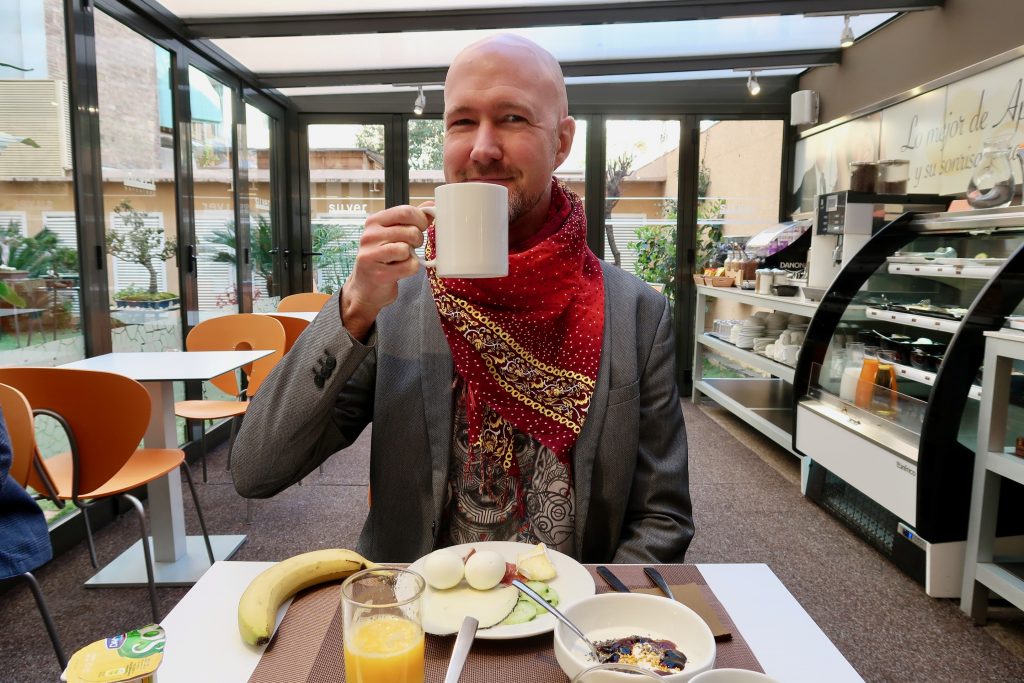 Mmm, coffee.
Soak up the sun in the garden!
The garden — with its bonsai trees and a little fountain — was a nice touch!
The hotel's garden is a hidden gem! Enjoy breakfast among the magical bonsai trees or read a book by the fountain.
Cocktail hour on the terrace.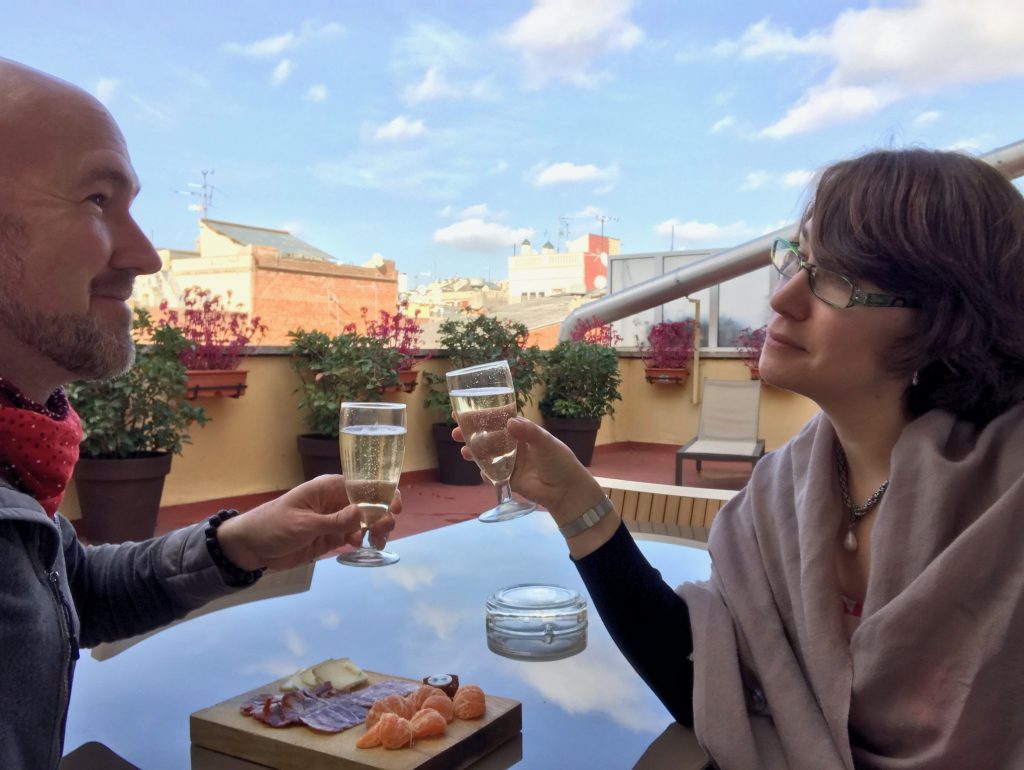 We made ourselves a nice platter of treats, and clinked glasses of bubbly cava. ¡Salud!
After a day of focus, we enjoy unplugging together with a snack and drink. Also, sometimes it's nice to be able to stay in and enjoy this luxury. We found everything we needed in our room's kitchenette to enjoy this lovely cocktail hour on the terrace. What bliss!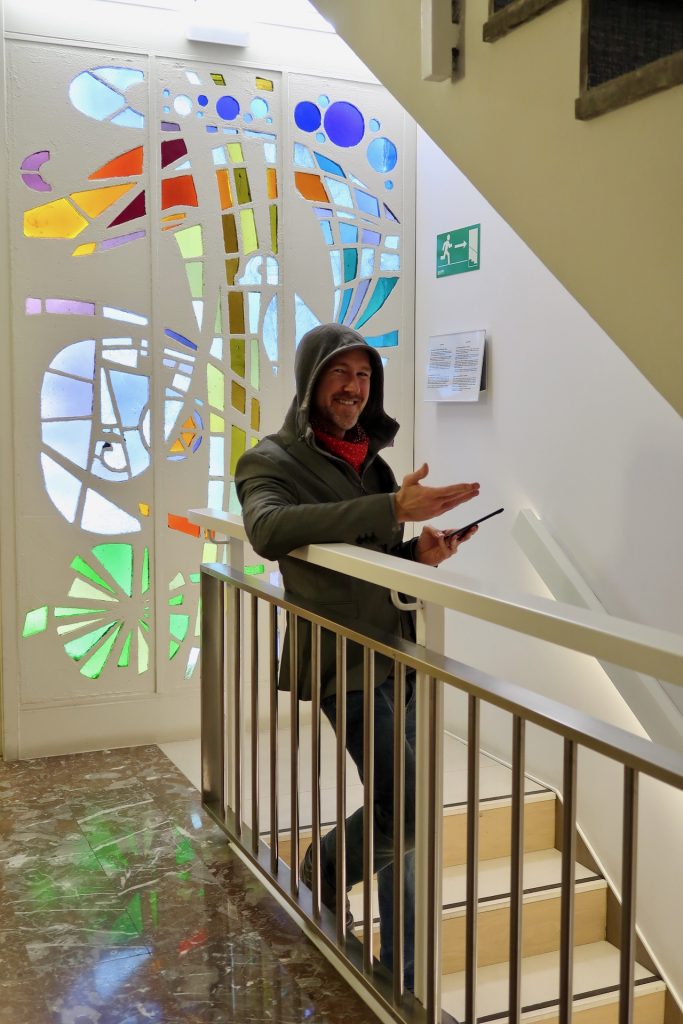 We loved the fun and colorful design of Silver ApartHotel Barcelona.
Relax or play a tune in the lobby!
"Play Me I'm Yours" made us giggle. ❤️
We really enjoyed how warm and welcoming the lobby was. There were large tables and comfy chairs to read and work in. There was always a funky red piano that was just begging for someone to play with it. :-)
Enjoy the local cuisine!
We're really getting into lightly-fried eggplant drizzled in honey. Try it!
Just around the corner from the hotel is the restaurant called Taberna del Cura or "Tavern of the Monk". There, I fell head over heels for the fried eggplant. It's a very simple dish, and so delish! It's crispy eggplant, drizzled with honey.
The hotel is ideally located and there are so many great restaurants within walking distance, of which Taberna del Cura was just one. That being said, the metro station is a hop and a skip away, so you can explore every part of the city pretty easily.
Thank you, Silver ApartHotel Barcelona for an incredible stay! You made the perfect base for our Barcelona adventures!
Enjoy this post? Pin it for later!
Ashley is exuberant about location independence! She relishes new experiences and working with boutique hotels and resorts. She's always thinking about design and food… and where they'll travel next!