Pica-Pica Like A Catalan With A Barcelona Food Tour!
What in the world is a pica-pica?!?!
If you're like us, you're rather familiar with tapas, and the joy or sharing small plates with friends over a glass of wine. But what in the world is a pica-pica?!?! With the help of the Barcelona Tapas Tour: Pica-Pica in Poble-Sec Walk by Context Tours, we learned how to pica-pica like a real Catalonian (that is indeed what you call folks from Catalonia!)
We highly suggest taking this tour — or any of Context food tours — as soon as you arrive in Barcelona, so you can get a better understanding of what locals eat, and why. Also, you'll receive expert suggestions on where to eat in the city!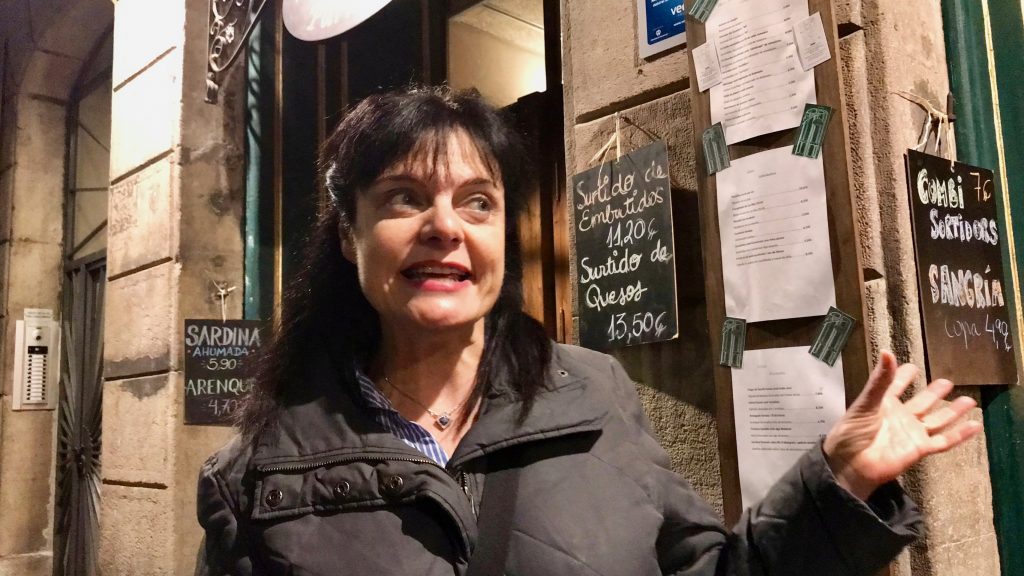 Our charming guide for the evening was Esther. She was waiting for us at the meeting spot in the Poble-Sec neighborhood and quickly set a lively tone for the tour. As we knew from a previous Context food tour in Paris, it's best to come hungry! Seriously!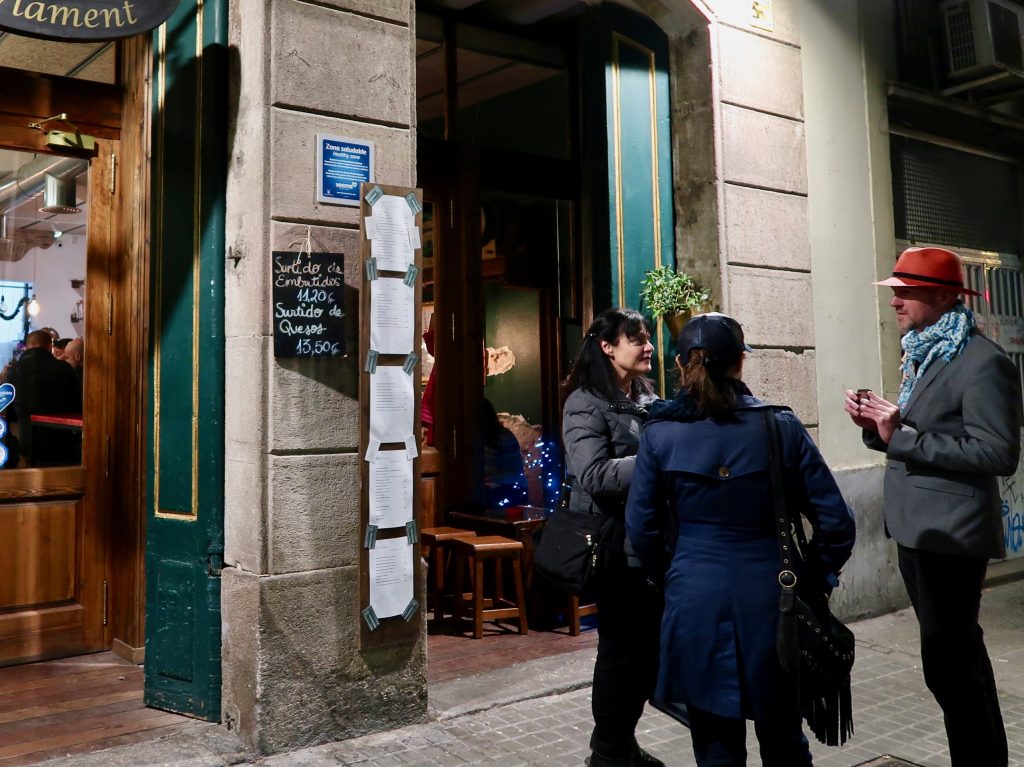 Esther set the stage for an evening of Catalan food and tradition at our first stop!
Getting down to the bottom of a pica-pica!
As we sit down to enjoy our first stop of the tapas four, Esther shares with us where the name pica-pica comes from. It's loosely based on the idea of a chicken pecking a little here and little there. 
We were already having a blast exploring Barcelona, during the day, who knew we've been pica-pica-ing for days and didn't even realize it!
But why is Barcelona so keen on tapas? Great question! It comes down to being sociable and sharing food with friends. You can enjoy tapas at restaurants and bars, or at home with the family. 
We were definitely feelin' the magic!
With explanations sorted out, we were ready to dine! But first, a little drink to get started….
This isn't your mama's vermouth.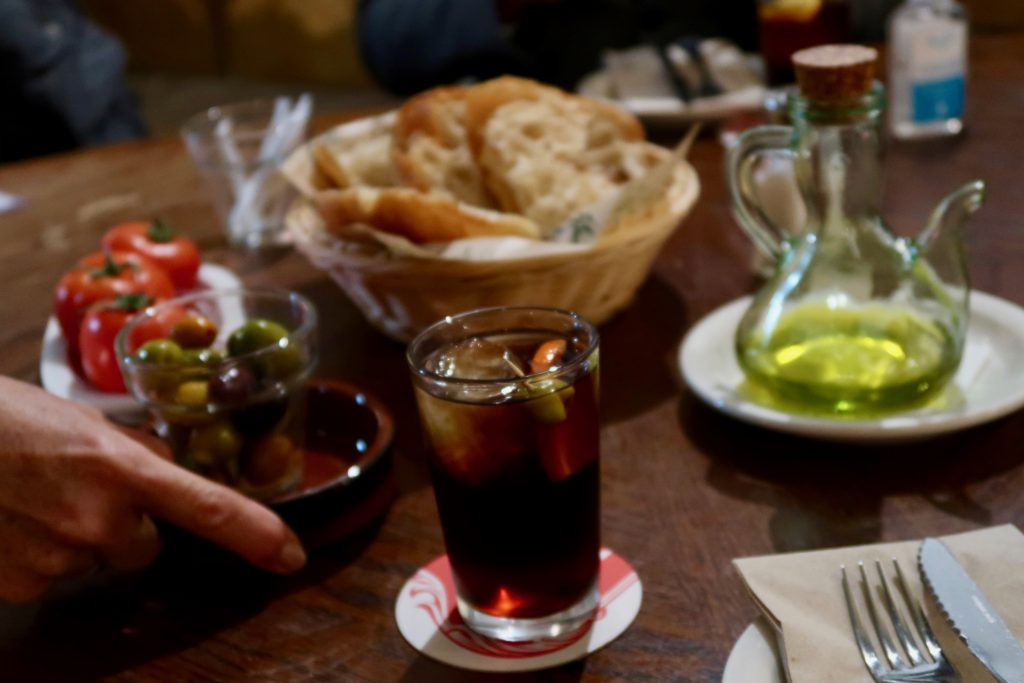 The vermouth that you may be served is different from another kind of vermouth you know from martinis and such. 
This vermouth is made with savory herbs, and it's an appetizing way to tantalize your taste buds at the start of the evening. The restaurant makes their own and serves the drink with an olive and orange slice. It was unlike anything we've tasted before — it was slightly sweet, herby, and almost tasted medicinal (but not in a bad way).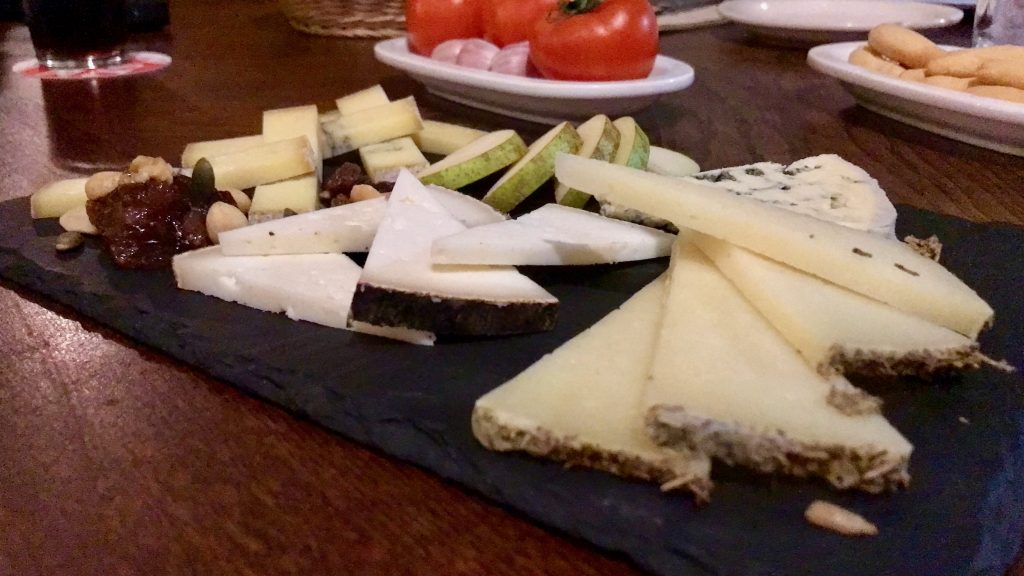 Paired with the vermouth, was a platter of local cheeses, fruits, nuts, and preserves.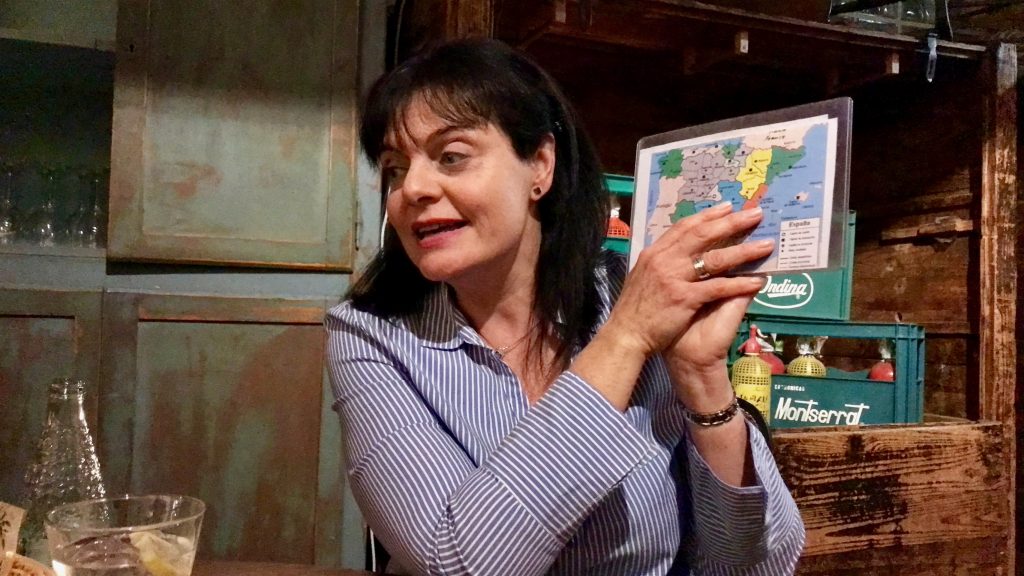 It was really interesting to learn about the various regions of Catalonia, and the foods that come from those areas. Coming from the United States, we were impressed by the range of products they're able to grow and make in the Catalonian region. From the mushrooms and truffles from the Pyrenees Mountains, to rice fields and fruits in just a bit South, it all sounded amazing.
Learn how to prepare Catalan tomato bread like a local! 
Nearly every restaurant you'll visit in Barcelona will serve you tomato bread at the beginning of the meal. It was awesome to learn from Esther how to prepare it. It's amazing how we better appreciate the crispy toasted bread now that we know how to rub the bread with garlic and tomato, and add a light drizzle of olive oil — also, it's super easy and can be something you make at home with friends when you return from your travels.
It looks like Curtiss is a fan! 
We learned about pinxos at our second stop!
As we warmed up with a lovely glass of red wine, we learned about pinxos (or pinchos). They are simply tapas that are bite-sized, often held together with a single toothpick. In the evening, you will see restaurants with platters of pinxos lining their bar, and folks get to choose what they want, and the restaurant generally counts the number of toothpicks and/or dishes at the end to tally your bill.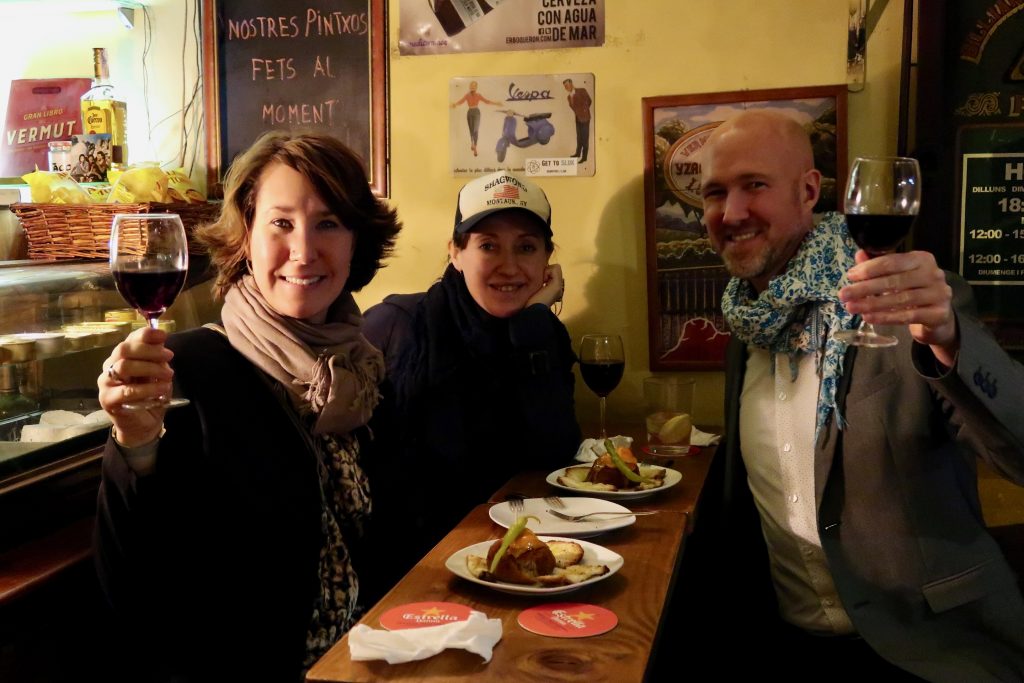 With a glass of wine in hand, we sampled a gooey chicken croquette and spicy bomba. Both are served warm, and really have a "comfort food" vibe.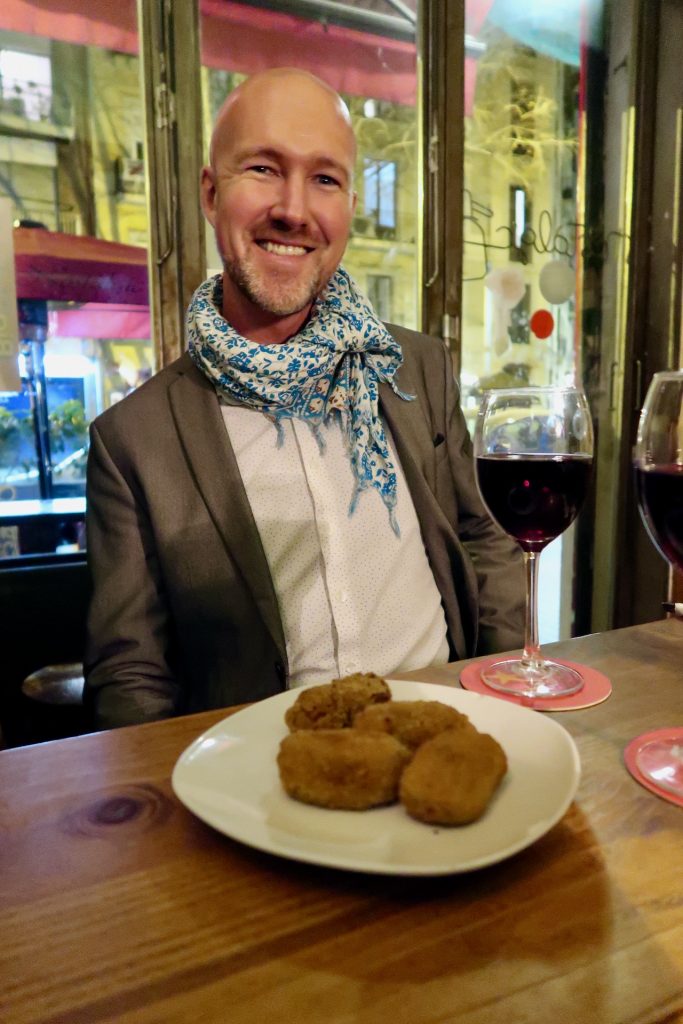 Tapas can be a little work of art! 
We were blown away by our third stop! Quimet & Quimet is family-owned and famous for their unique and tasty creations! Paired with a glass of chilled white wine — (a necessity since it is tapas) — we enjoyed two montaditos (which is a small, open-faced sandwich) that were made right before our eyes.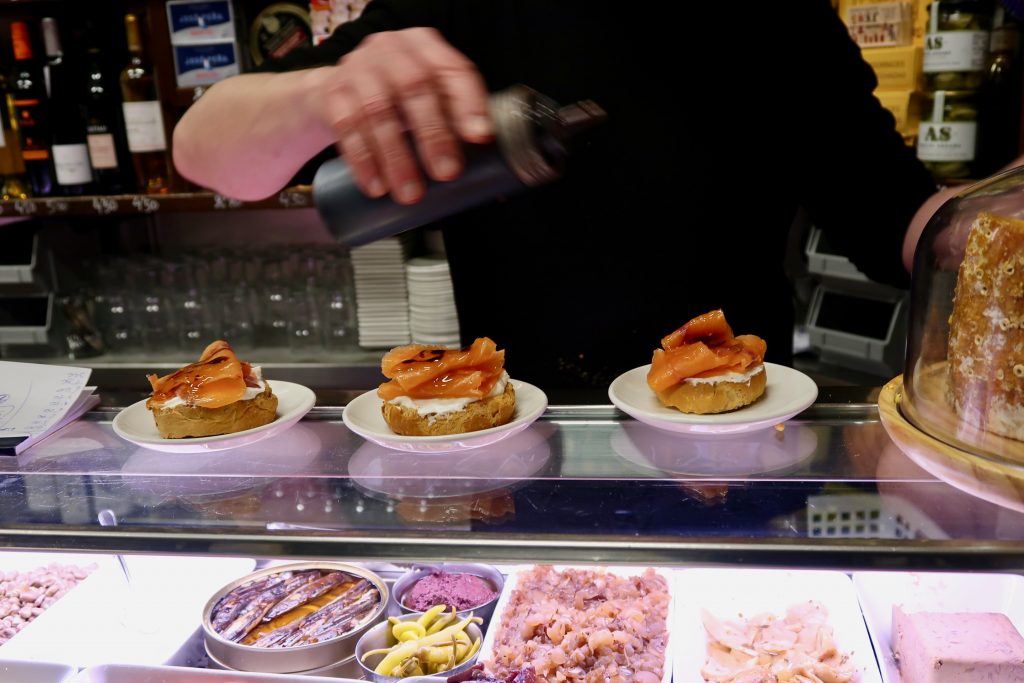 The first was smoked salmon on Greek yogurt and toast, drizzled with truffled honey. 
The second was tender shrimp on sundried tomatoes layered on toast, topped with a dollop of black caviar. Oh yeah! 
This bar is so popular that there is often only standing room. But it doesn't matter; the tapas are that good! We will definitely revisit and try more tasty creations when we return to Barcelona! 
We ended the tour with a little Birthday celebration!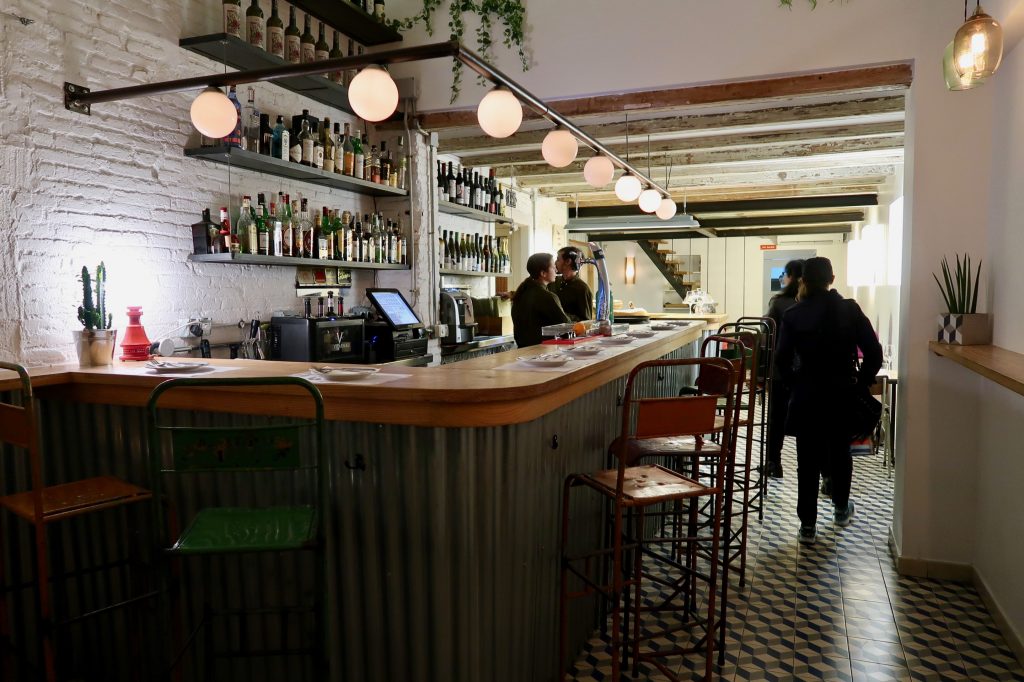 The last stop of the evening was a trendy restaurant, with a lovely relaxed atmosphere.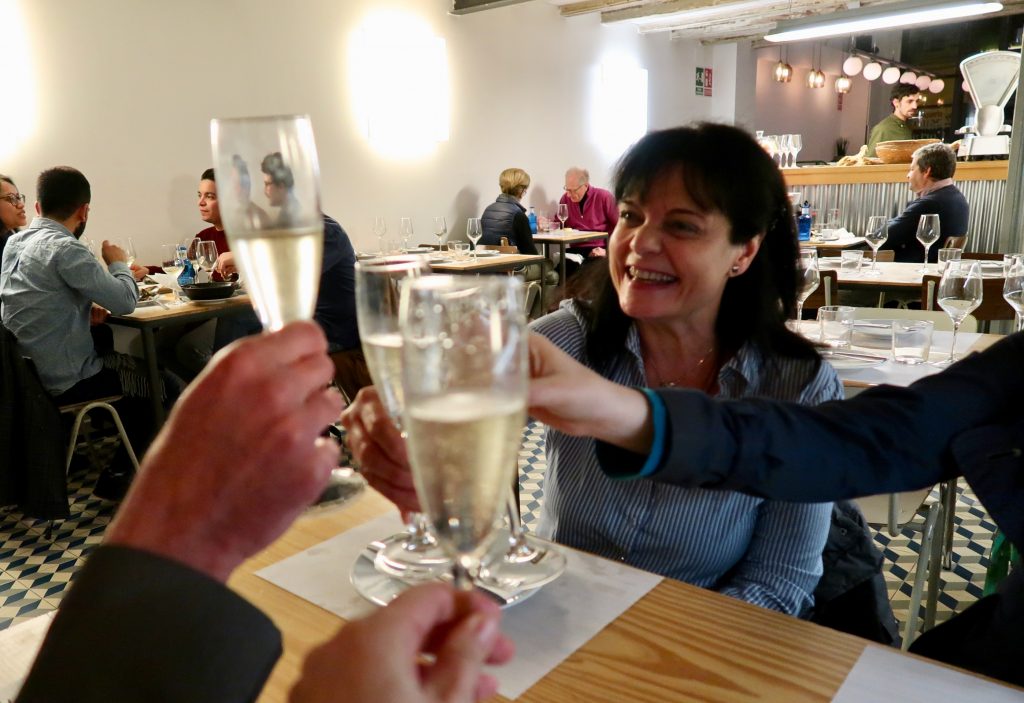 It just so happened to be Ether's birthday, and we were delighted to celebrate this special day with her. Of course, we needed to toast her with a cool glass of cava! Cheers, Esther!
The last dishes we enjoyed were unlike dishes that we enjoyed earlier in the night — they were crispy fried artichoke hearts, drizzled with honey, and a gooey truffle cataloni, slathered in cream.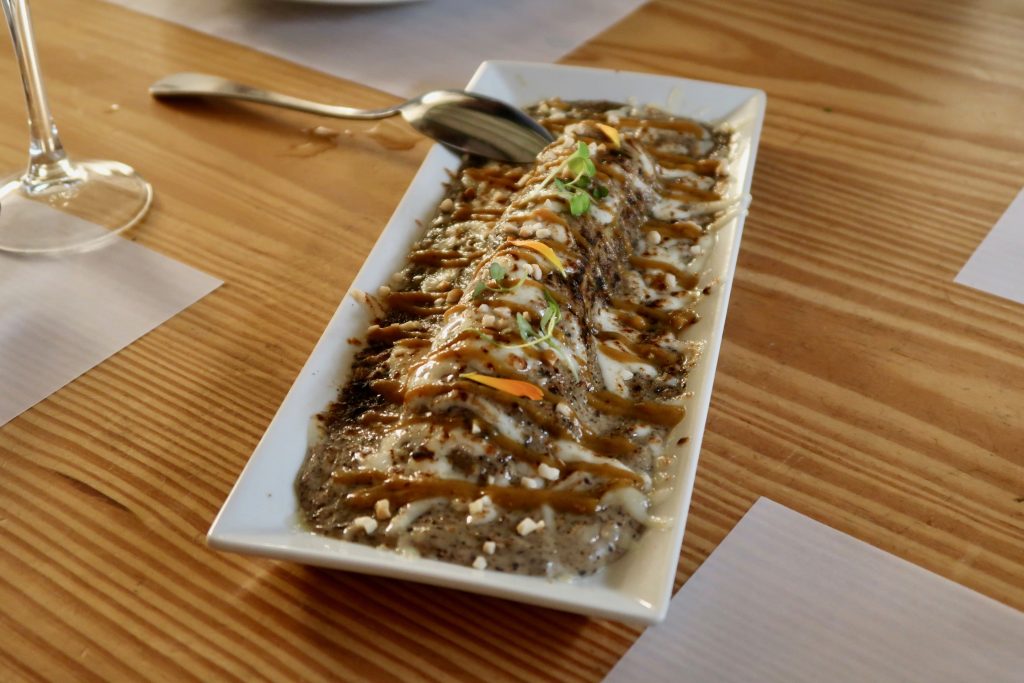 As you can tell, they are dishes that you would sit down to enjoy, rather than while standing at a counter. They were the perfect ending to a delightful evening of learning how to pica-pica like a local!
Barcelona comes alive at night! 
Even if you're an early-bird, we highly suggest walking around the livelier streets of Poble-Sec or the gothic quarter. You may get lost within the windy, cobblestone streets, but you'll also stumble across some hidden gems that you may not have found otherwise!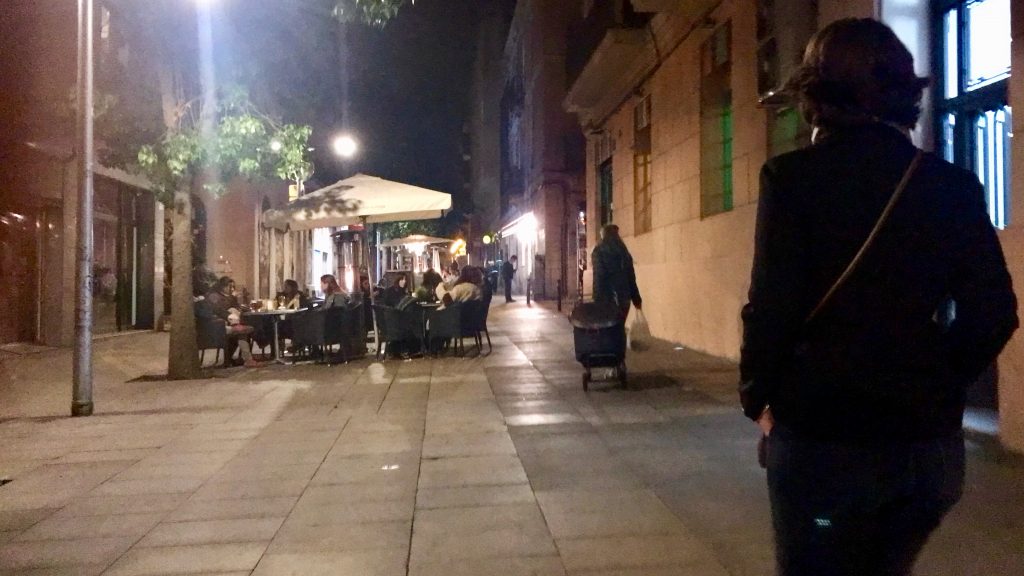 It's amazing to realize some of the habits you develop in your own life. A great food tour like this one can freshen up your perspective, and make you look at dining in a new light.
For example, it seems bewildering to us to hear that Barcelona folks typically have dinner at 9pm or 10pm. To us, that feels rather late! Although when you realize Catalonians enjoy 4 or 5 meals spread out through the day, it makes sense for folks to enjoy a late night snack.
It all makes more sense, with context! Ha! See what we did there?!?!
Anywho, this was our second Context Travel tour and we can't enough wonderful things about the experiences! They may be offering a tour at your next destination, as they are now located in over 50 cities in the world.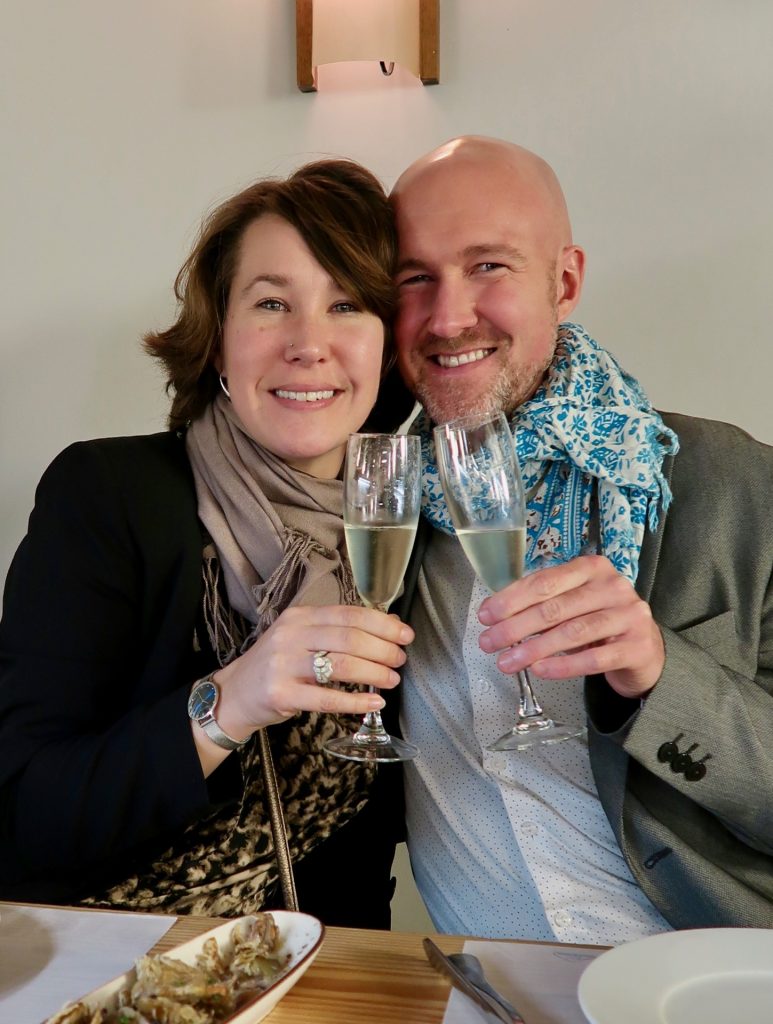 Cheers!
Ever been on a food tour, or something like it?
What was it like? Let us know in the comments. Thanks!
Enjoy this post? Pin it for later!
Ashley is exuberant about location independence! She relishes new experiences and working with boutique hotels and resorts. She's always thinking about design and food… and where they'll travel next!