Let Your Mouth Do The Exploring In Local Markets!
When you visit a new location, how do you learn about it?
You may have only a handful of days if you are on holiday, or a tad longer if you are fortunate. Some would advise to jump right into the boiling pot of sights and smells a new location can offer and not blink– but I want to know, where do you start this exploration?!?!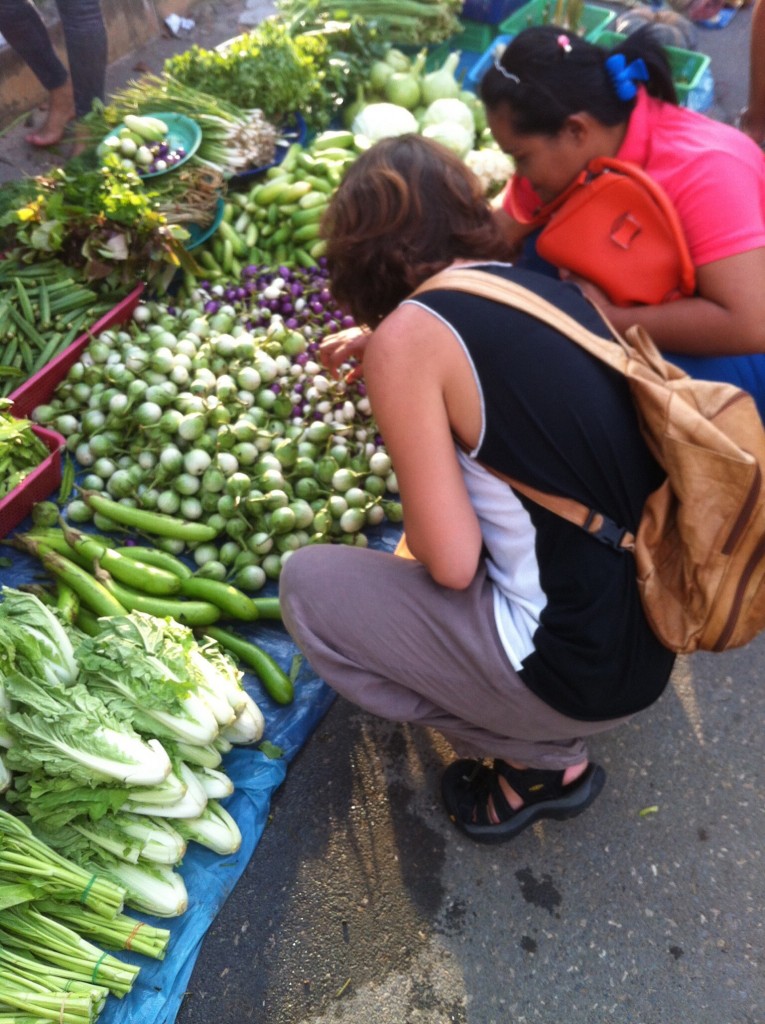 As someone who really enjoys leading with their taste buds–trying fun new food is high on my Blissy scale; it's no small surprise one of my favorite ways to learn about a place is to scope out a local market and feast! Your mouth may be missing out if you aren't sampling the unlikely goodies in your local markets! I'm keen on the element of surprise, there's usually foods I recognize– but I'm drawn to the smells wafting from food carts and stalls that are selling goodies I've never seen before.
I'll try most things once.
but there are a couple of key points to make the most of your market adventure (and not regret it days later). Take a moment to see what the local peeps are eating, and from which stand. Crowds are a really good sign: you get to people-watch, and strategize your next taste adventure. Also — not to sound like your mother — it's always best to watch the food being cooked in front of you.
Motivate yourself to check out local markets, and experiment with what you find!
We went to the bustling night market in Ao Nang to check out the foodie offerings. Right when we arrived we saw a man grilling something tightly wrapped in banana leaves. Anything grilled is really high on my "hella yeah" list, but the smell coming from these charred green packages was sweet and rich– simply mouth watering. We were told each sachet contained a banana in sticky rice. Sold! We ate them for dinner and had leftovers with breakfast the next day. The gooey banana and smokey leaf flavors reminded me of camping as a youngling.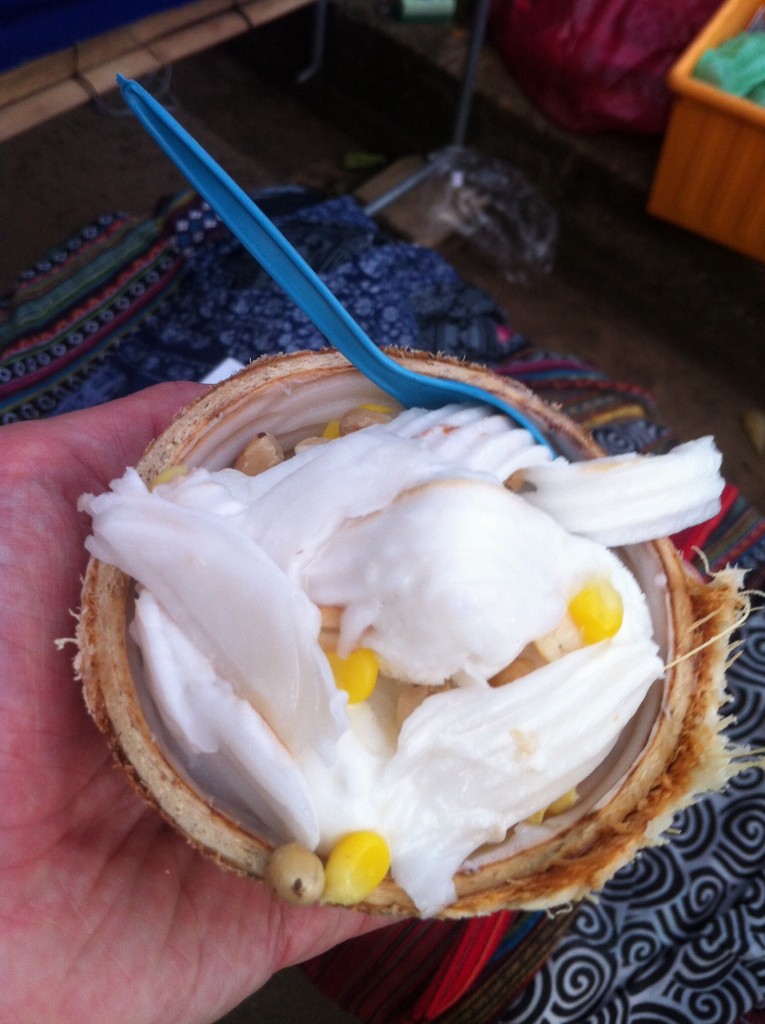 At the same market, we saw people walking around eating something out of coconut bowls– that's all it took to perk our interest. When we found the originating stand, they were selling coconut ice cream over sticky rice, topped with corn and peanuts. Wowzers, what a crazy taste adventure this one was! The ice cream was made from real coconut water and had the salty tang that is so refreshing on a hot day. The sticky rice absorbed soupy ice cream and added great texture. The corn and peanuts… made it healthy? It was an unexpected combination of sweet and savory.
This little adventure introduced new flavors to us that are unique to Thailand. I'm day dreaming about going back and having more coconut ice cream and what new flavor I will discover next!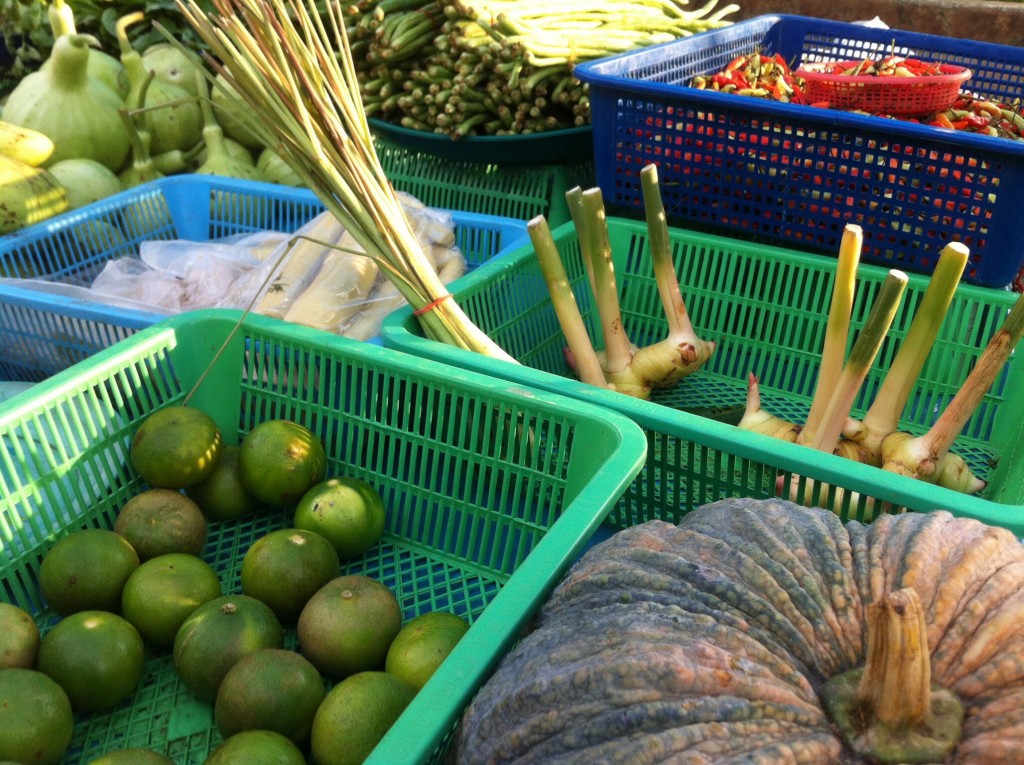 I was shown by the someone buying the same purple veggie how to tell if they are over-ripe.
Take a fresh look at your familiar local markets, and then treat your mouth to a flavor adventure!
How do you experience the flavors of a fresh or well-beloved place?
Enjoy this post? Pin it for later!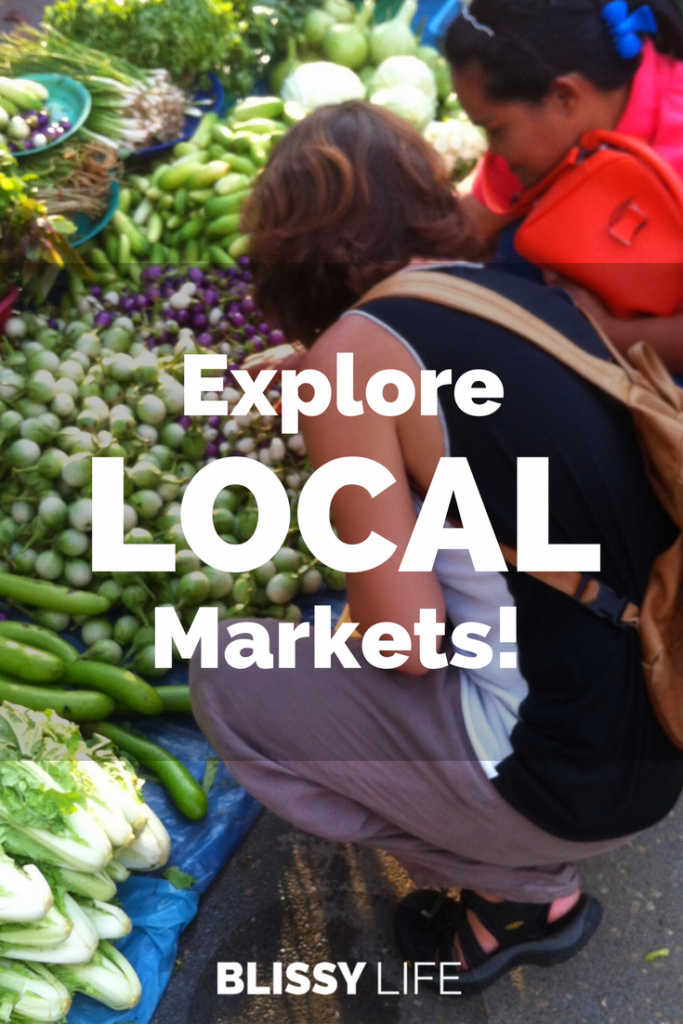 Ashley is exuberant about location independence! She relishes new experiences and working with boutique hotels and resorts. She's always thinking about design and food… and where they'll travel next!